Making all your sweet dreams come true, home bakers in Singapore offer quality home baked goodness, as good as any artisanal bakery you'll find. Whether you want halal bakes, customised cakes for your next celebration, or the best chocolate cake on the island, this is a handy guide to our favourite home bakers in Singapore.
All these Instaworthy home bakers in Singapore want is for their customers to feel all the love and effort they have put into their baked goodies. So if you see a treat you like, show them some love and start putting in orders for your home baked goodies! Don't forget to share on social media and give them a shoutout; a little goes a long way!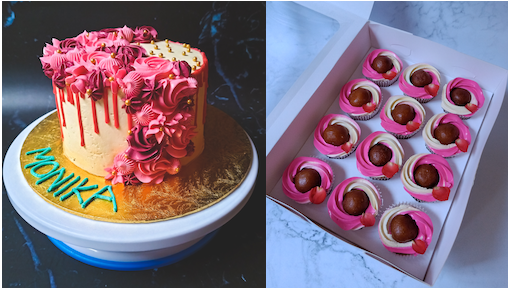 A girl who simply loved sharing her cooking tutorials on Instagram suddenly found herself customers asking for baked goods. Grabbing the opportunity, she discovered her love for baking and PreetyTasty was born.
From simple brownies to unique cupcake flavours and custom-designed cakes for all occasions, PreetyTasty always ensures one thing - all your goodies are a visual treat and super tasty!
This Instagram home baker makes Lavender Vanilla Cupcakes; Ondeh Ondeh Cakes and Cupcakes paired with homemade Coconut Gula Melaka filling and a not-so-sweet Gula Buttercream; Salted Chocolate Chip Cookies that are the perfect combination of chewy and soft in the centre with a crispy bottom; and more.
Also, check out PreetyTasty's moist and rich Signature Chocolate Cake and Cupcakes - a recipe perfected after much trial and error; top-selling Blackout Brownies with fudgy black cocoa and Nutella drizzle; and decadent Gulab Jamun Cupcakes - the Indian dessert rediscovered with rosewater cardamom flavour and rosewater buttercream.
To place an order, WhatsApp (+65) 8019 5193 or send a DM via Facebook or Instagram.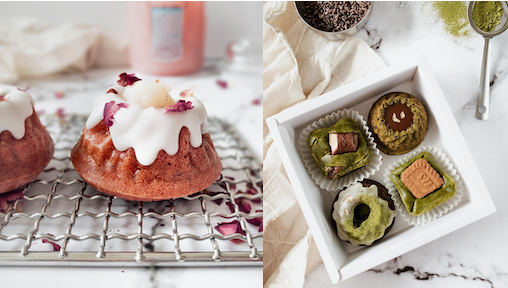 Gaily Bakes came about from Michelle's passion for baking and as a platform to channel her creativity. The word 'Gaily' stands in line with what she feels about sweet treats - bright and attractive, creating light-hearted and cheerful moments.
A chanced encounter with Hawaii Butter Mochi got her intrigued to incorporate the chewy texture of Mochi into traditional sweet treats like bundt cakes, brownies, madeleines, and savoury mochi muffins. From then on, Gaily Bakes has focused mainly on Mochi Bakes.
Best selling bakes include Matcha Lava Mochi Blondies, Mochi Bundtlettes, and Mochi Lava Brownies. Michelle created the recipe for Mochi Lava Brownies when she had the idea of incorporating her Black Cocoa Brownies with a chewy texture.
Gaily Bakes' pretty Mochi Bundtlettes are a great wedding and party favours idea and come in flavours such as Lychee Rose. Also popular are Tasting Boxes with themes such as Happy Hour Box (alcoholic), Matcha Box, Hojicha Box and Chocoholic Box.
To place an order, head to @gailybakes Instagram bio and click on the link for the Google Form which is released every Sunday at 8pm. Follow the Telegram channel to be notified of flash sales from time to time.
For enquiries on party and wedding favours, group buys and corporate orders, email [email protected] or send a DM via Instagram.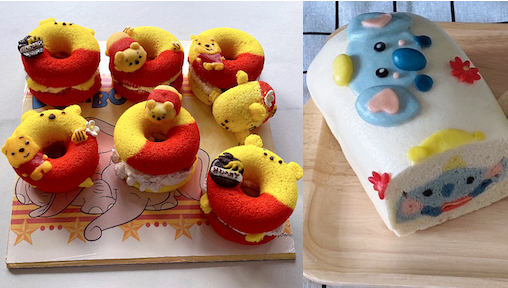 Looking for the perfect treat or birthday cake for kids? Look no further! Little K Kartoon is an experimental home baker who loves to create cute cartoon characters with her baked goodies. Whether your kid loves Mickey Mouse, Winnie The Pooh or Dumbo, Little K can try to recreate any cartoon character of your choice.
Especially known for their Chiffon Cakes that come in various flavours including chocolate, strawberry, earl grey, and mango, Little K Kartoon also offers buns and pastries. The baked products are completely customisable and the delicious small chiffon doughnuts are very popular for afternoon tea parties and celebrations.
If you want the little ones to learn the art of baking chiffon cakes, Little K also conducts baking classes for kids from 4 to 12 years old. Follow on Instagram to find out when the next class is going to be held.
Place your orders via DM on Instagram or Facebook, or email [email protected]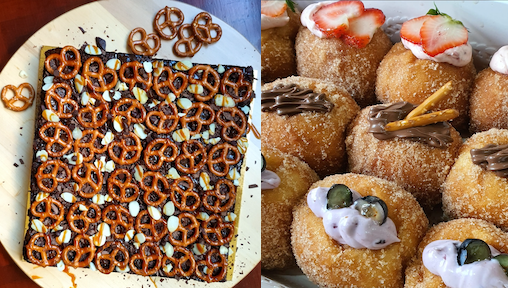 Leaving a banking career spanning 27 years, this home baker decided to pursue her baking passion and start an online bakery. Her mission is to deliver quality cafe style bakes at a reasonable and affordable price.
She offers Serawa Durian Cutouts, Ondeh2 Cutouts, Salted Caramel Brownies, Brownie Towers, Bundt Cakes and more. Check out the yummy Bombolonis in various flavours such as Nutella, strawberry, blueberry, Milo Dinosaur and Biscoff.
The Baking Momma focuses on desserts that can be easily shared or serve at family gatherings or corporate events. All baked goodies are freshly baked upon order with love a day before or on the day of collection. Bite into the bakes and feel the love in every bite! Did we mention the bakes are all halal?
Make your order via DM on Instagram.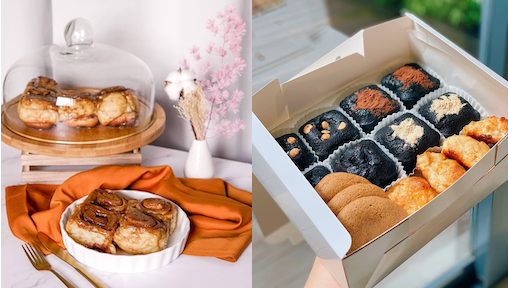 Home baker Xin Ying started Bread & Butter in 2020 as a passion project. Every bake has a story behind it, inspired by her loved ones who have supported her through this baking journey.
So, why the name 'Bread & Butter'? Here's what she has to say, "I'm a huge bread lover and I'm hoping for my passion project to one day become my bread and butter. Also, my all-time favourite quote is 'We love our bread, we love our butter, but most of all, we love each other'."
Check out this home baker's premium artisanal bakes, especially her signature Brownies. They come with different fillings including flavours such as Luscious Gula Melaka Kaya and Fragrant Matcha Milk Spread made with Japanese Matcha and Hokkaido Milk.
Other highlights are the Honey Butter Biscuits made with French Butter and premium Japanese Flour; Cinnamon Sticky Buns that are baked in a yummy sticky caramel; and Gula Melaka Loaf made with pure Gula Melaka, topped with a crunchy walnut streusel.
Order online via breadandbutter.cococart.co, DM on Instagram, email [email protected], or WhatsApp/Telegram (+65) 9635 2694.
Bookmark this page as we continue to update our guide to the best home bakers in Singapore!