Desserts are the ultimate indulgence. Whether it is a slice of cake, sprinkled cupcakes or sweet pastries, desserts are great for so many occasions - celebrations, cheat days, or simply ending off a meal on a sweet note. 
With the number of halal bakeries in Singapore on the rise, our Muslim friends have more dessert choices to treat themselves to. Here are the top halal bakeries in Singapore to get your dessert fix. Sweet-toothed or not, these halal desserts are sure to get you on a sugar high.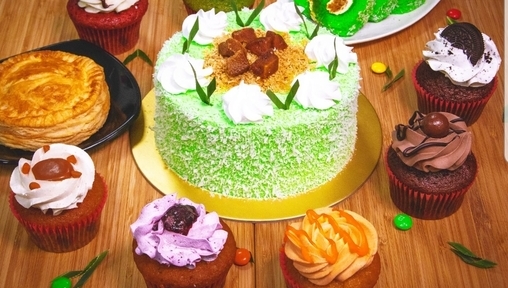 For cake lovers living in the North, you don't have to travel far to get your dessert cravings satisfied. Fitri Creations Halal Bakery is a grab-and-go bakery with two outlets located in the Sembawang and Yishun and provides delicacies such as cupcakes, pastries and brownies.
Some of their bestsellers include ondeh-ondeh cakes, tapak kuda rolls, savoury pastry puffs and cupcakes which come in so many flavours such as Thai Milk Tea Cupcake, Salted Caramel Cupcake and Snickers Cupcake. Fitri Creations Halal Bakery also provides cake customisation services should you want to have a customised cake for birthdays and special events.  
Fitri Creations Halal Bakery was founded by Chef Siti Lim, a professional pastry chef with over a decade of experience working in five-star hotels under her belt. Besides being just a bakery, Fitri Creations Halal Bakery is a one-stop centre for all your baking needs. Whether you're a stay-at-home mother or an aspiring baker, Fitri Creations Halal Bakery will help you to enhance and upgrade your baking skills and even empower you to start your own desserts business. 
If you feel like indulging in some desserts, you can contact them at (+65) 8787 4033, message them on Facebook or simply walk into their bakery. 
Location: Training Academy - 21 Woodlands Close, #07-39, Primz Bizhub, Singapore 737854, Bakery Shop - Multiple locations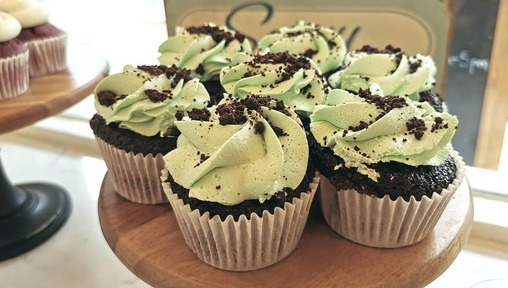 Step into a world of fun, comforting and experimental desserts haven. Fluff Bakery has risen to be one of the most popular halal bakeries that many of our Muslim friends patronise. 
The fluffy cupcakes have been bestsellers and well-loved for years with over a hundred cupcake flavours. Fluff Bakery's menu has since expanded and constantly changes every week, bringing you the element of surprise. With desserts such as rustic cakes, cheesecakes and tarts, you will be in for a sweet treat. 
Location: 4 Jalan Pisang, Singapore 199071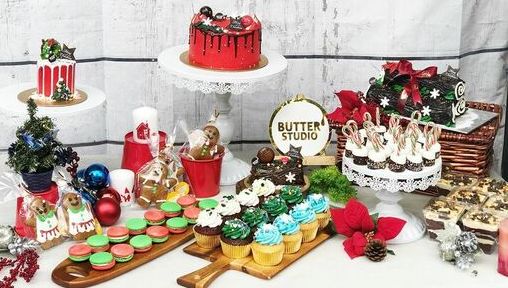 Priding themselves as "hand-baked goodness", Butter Studio has been serving desserts that are pretty, personal and comforting. Where traditional meets contemporary, this halal bakery brings people together. 
Butter Studio was created to honour the spirit of artisan homemade goodness while infusing a unique and playful spin on familiar home-style baked goodies. Butter Studio's desserts are handcrafted daily with the finest quality ingredients and deeply inspired by the time-tested recipes passed down through the generations. 
Some of the popular items on the menu include the award-winning Salted Caramel Red Velvet Cake, Salted Gula Melaka cupcake, and Sea Salt Nutella tart. Butter Studio also provides tall party and whimsical cakes, perfect for your next party! 
Visit Butter Studio from time to time to try their seasonal-flavoured desserts.  
Location: 147 Jalan Besar, Singapore 208865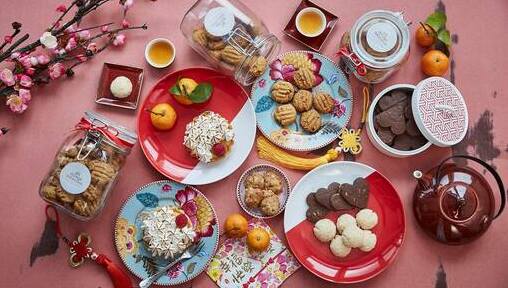 All Things Delicious is a halal bakery at Arab Street specialising mainly in cakes and pastries. A display of desserts and the smell of freshly-baked pastries will warmly welcome you the moment you step into this bakery.
Winning hearts one cake at a time, All Things Delicious have everything from sweet to savouries such as cakes, brownies, cookies and scones. Some of their bestsellers include Chocolate Almond Shortbread, Raspberry Pistachio Cake and Square Carrot Cake. 
All Things Delicious is also a cafe so you can munch on a proper meal before indulging in desserts. They also offer wedding cakes and have a catering service for events. 
Location: 34 Arab Street 01-01, Singapore 199733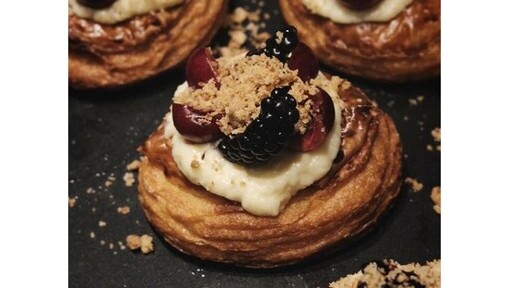 If you're looking for something less sweet, Mother Dough Bakery has all the savoury desserts and pastries. Enjoy a fresh crusty sourdough baguette or a rye fudge brownie with a cup of tea to start off your day. At Mother Dough, the bread is baked fresh daily and entirely handcrafted with artisanal techniques. They also offer cakes such as Signature Lemon Cake and Banana Nut Cake. 
With a team of dedicated bakers at Mother Dough is ready to bring you desserts like sourdough bread, pastries, croissants and cakes. Be sure to stop by this halal bakery for some desserts in Singapore. 
Location: 749 North Bridge Road, #01-01, Singapore 198717