Stepping into a bakery and enjoying the aroma of freshly baked bread is one of the simple pleasures of life. Whether you're looking for sourdough, ciabatta, or buttery croissants, we've got the list of artisanal bakeries in Singapore offering the best of artisan bread and pastries.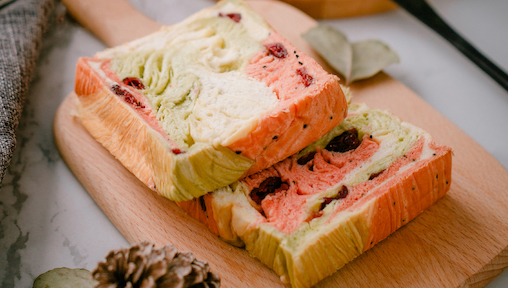 All the way from China, Sugar Toast comes to our shores with their first outlet at Wisma Atria. Proudly showcasing artisanal handmade bread in Singapore, Sugar Toast is offering fourteen varieties of toast and one glorious Cheese Crown.
Sugar Toast is all about unique flavours and Instaworthy whimsical designs. The brand specialises in artisanal breads that are made with only quality ingredients, natural colouring, and without preservatives. The dough is made with high-protein flour specially imported from Japan, a secret ratio milk to water mix, then enhanced with condensed milk for an unmistakable fragrance, before being individually flavoured. They are painstakingly handmade in a process that takes up to four hours, and characterised by distinctive swirls that are a result of careful braiding of dough, making the breads instantly recognisable.
It's love at first bite with their Rainbow Cranberry Toast. Also on the menu are Purple Sweet Potato Toast, White Chocolate Matcha Toast, Dragon Fruit Walnut Toast, Salted Cheese Toast and lots more.
Get your toasts from Wisma Atria, #B1-48.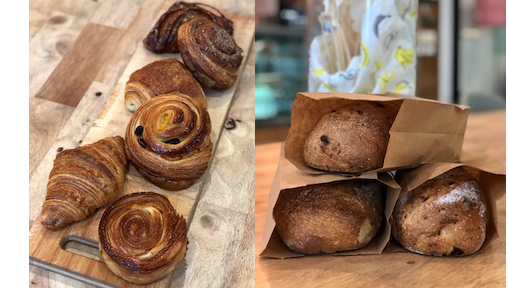 enjoue is an artisan bakery in Singapore offering freshly baked bread and pastries with islandwide delivery.
Looking for the perfect sourdough to make avo and toast or eggs benedict at home? The bread at enjoue bakery are made without the use of yeast but instead a sourdough starter. So, you'll find authentic rustic bread such as the Pain au Levain (plain sourdough) which is made using unbleached whole wheat European flours, levain (sourdough starter), sea salt, and is fermented over a longer period so as to create a chewy crumb and a sturdy crust.
Their pastries are lovingly hand-rolled and made only using premium French butter. Starting from scratch, the process takes up to three days to mix the dough and lock in the butter. Using a special dough to butter ratio gives their pastries a nice butter-rich aroma, unique flavour and flaky texture. 
Try their good 'ol Butter Croissant and you'll know what we are talking about. Filled with delicious goodness, all prepared in-house using their own recipes, choose from classics such as the  Granny Smith Danish or pastries inspired by local flavours such as the Gula Melaka Scroll.
Shop online or pick up your fresh baked goods from Jasons Deli at Marina Bay Sands Shoppes, Cold Storage at Great World and One-North Fusionopolis.
One of the hottest spots in the neighbourhood, Tiong Bahru Bakery celebrates freshly baked bread and handmade pastries. Cosy up to their popular croissants - from their original buttery croissants to flavoured croissants such as almond and matcha. Apart from croissants, you can pair your cuppa coffee with a Pain au Chocolat, Kouign Amann or their various quiches.
If you're going for brunch, try Tiong Bahru Bakery's newly launched sourdough waffles which can be enjoyed savoury or sweet with Thai mango, lemongrass chantilly and caramelised almonds. Taste this and more at TBB Raffles City and TBB Funan.
Hop into one of their six bakeries or order online.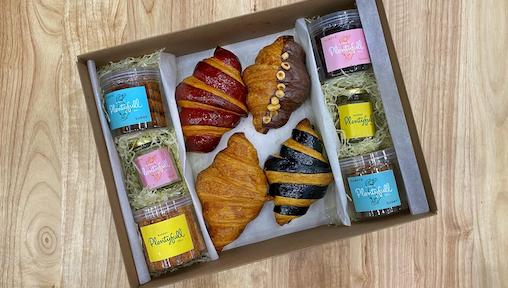 Honest, hearty and homemade bread made from scratch daily - Plentyfull Bakery and Deli is set in a gorgeously simple space offering artisanal recipes and special bread freshly baked on-site. They even have vegan, vegetarian, and gluten-free options.
Their freshly baked bread and baked goods such as Superfood Moringa and Pumpkin Seed Sourdough, Umami Miso Baguette, and six variations of croissants in flavours such as Rose Beet and Baklava are well-loved. If you're not so much a fan of the sweet stuff, then their Truffle Hustle croissant should hit just the right spot - layers of flaky, buttery croissant, perfumed with the distinct aroma and flavour of truffle.
Pick up from their Great World outlet or get it delivered to your doorstep by sending a message on WhatsApp (+65) 9029 8201.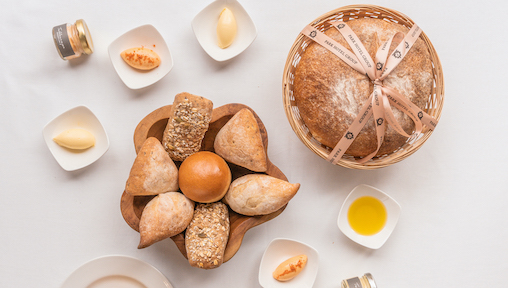 Tablescape brings the comforting allure of their bread trolley straight to your doorstep with their brand new Bread and Butter Set. The charming gueridon service has been part of the Tablescape experience from the beginning. Recapture that Tablescape magic at home with their Bread and Butter Set.
So, what's in the set? A large sourdough round loaf, crusty on the outside, beautifully aerated on the inside. The other four bread items are rotated seasonally, so there'll always be something new and fresh for the palate. Currently, you'll get the brioche, mini baguette, onion bread and multi-grain bread. Let's not forget the accompanying condiments - jars of Tablescape's signature housemade unsalted butter, fresh house-churned lobster butter, and a delicate, rich truffle oil. The set is also beautifully and sustainably packaged, making them perfect gifts. Each loaf is wrapped in recyclable brown paper bags, then enclosed in a beautiful re-usable canvas tote.
Order online 24 hours in advance.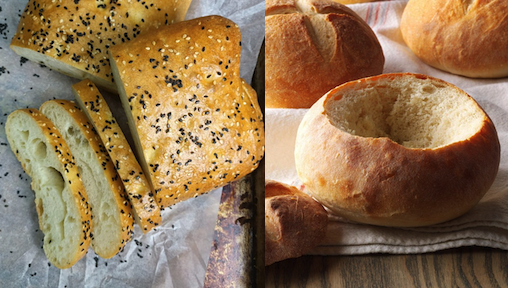 Founded in 2016 by renowned local pastry chef Daniel Tay, Old Seng Choong offers traditional baked treats to celebrate every joyous occasion. The concept is created as a tribute to his father, a baker and confectioner himself for over 30 years, and named after the well-loved Seng Choong Confectionery, which was established in 1965 and run by Daniel's parents until its closure in 1996. 
Aside from rolling out promotional items for calendar events such as mooncakes for Mid Autumn Festival and pineapple tarts for Chinese New Year, Old Seng Choong offers old school bakes with a more nostalgic slant. For example, you'll be able to get your hands on Brioche Crown, Brioche Loaf, Cereal Bread, Ciabatta, Raisins Bread, Sourdough Bread Bowls, Turkish Bread and more.
Visit their flagship bakery at The Central or order online.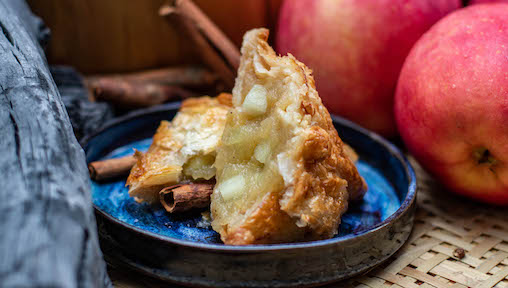 Kafe Samsa by modern Central Asian restaurant The Nomads is named after a local pastry typically enjoyed in Uzbekistan and Kazakhstan.
The cafe naturally focuses on Samsa - a buttery delight - offering levelled up versions that are perfect for tea time indulgence. In addition, Kafe Samsa also stocks a range of products such as spices, jam, bread, butter, candy and tea, that are either made in-house or sourced from Central Asia perfect for home cooking and dining. 
Try their Apple Samsa which is an exquisitely aromatic apple 'pie' like none other! Sweet apple chunks and puree are folded with earthy spices of cinnamon and cloves.
Pop by the cafe at Telok Ayer or order online.