Get into the mood of the Mid Autumn Festival with some of the most decadent mooncakes in Singapore. Whether for indulging together as a family or to gift relatives and corporate associates, we've curated a list of premium durian mooncakes, as well as the tastiest snowskin mooncakes and traditional baked mooncakes. So, take your pick (or picks)!
Durian Mooncakes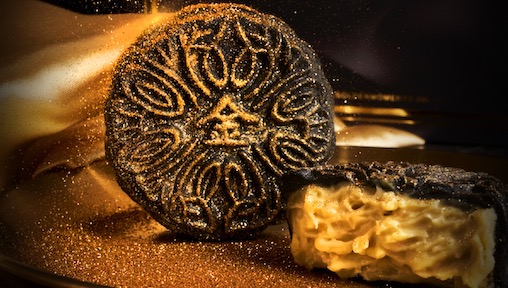 Restoring festive cheer this Mid-Autumn Festival, leading durian artisans, Golden Moments, are offering a new and improved range of Durian Snowskin Mooncakes that are healthier with no added sugar.
Sink your teeth into three new flavours — Docello Hazelnut Chocolate Mao Shan Wang Mooncakes, Premium D24 Snowskin Mooncakes, and Lychee Martini Snowskin Mooncakes. Back by popular demand is Golden Moments' best-selling Signature Mao Shan Wang Durian Snowskin Mooncakes, known for its bamboo charcoal Snowskin sprinkled with lavish gold dust, encasing 100% pure Mao Shan Wang Durian.
Adding a Midas touch to the Mid Autumn Festival, Golden Moments has also tied up with SK Jewellery to launch the limited edition 24K Truffle Mao Shan Wang Snowskin Mooncakes with a Gold Gift set at an auspicious price of SGD888. The gift set comprises four luxurious Mooncakes embellished with five layers of 24K gold foil, a royal golden serveware set, and Golden Moments branded 99.9 24K Pure Gold Bar (2g), designed and produced by SK Jewellery.
Whether for family and friends or corporate associates, simply order online. Islandwide delivery is available with the option to select multiple delivery addresses. Also available to purchase at Shell, NTUC Fairprice Finest, and various pop-up booths.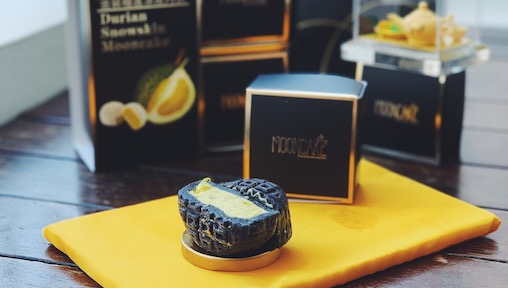 Known for their premium durian desserts such as durian gelato, durian sago, and durian daifuku, Sweetnessthatlingers has launched their Premium Mao Shan Wang Durian Snowskin Mooncakes. Anyone who has tried their durian desserts will know that they only use the best quality of pure Mao Shan Wang durian flesh. This fresh durian is incorporated into thin charcoal bamboo snowskin so you get a perfect black and gold Mid Autumn Festival treat!
Artistically set in an elegant box of four, the snowskin mooncakes are individually packed to ensure the highest quality upon opening. These durian mooncakes make for a nice family get-together or as a beautiful, presentable gift. They even include a free chiller bag with reusable ice packs to ensure freshness upon delivery.
Besides Mao Shan Wang Durian Snowskin Mooncakes, Sweetnessthatlingers also offer traditional baked mooncakes such as White Lotus with Salted Egg Yolk and Mung Bean with Salted Egg Yolk.
To order, DM via Instagram @sweetnessthatlingers or head down to their shop at 200 Pandan Gardens, #01-07, Singapore 609336.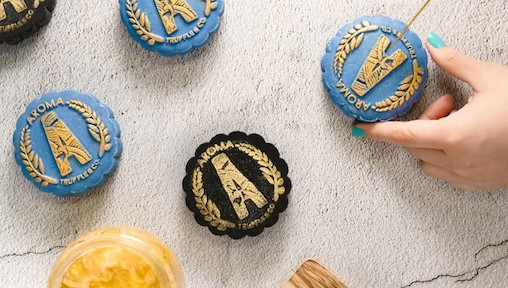 Aroma Truffle's gold-dusted beauties that took Singapore by the storm are back to tantalise taste buds this Mid Autumn Festival.
The Black Charcoal Musang King Mooncake is generously filled with the flesh of pure Musang King durian originating from Raub, Pahang. This rich durian mooncake is encapsulated in a 100% natural Black Charcoal snowskin that is infused with premium Black Winter Truffle from Spoleto Italy, then delicately garnished with edible gold dust for maximum decadence.
The Butterfly Pea Musang King Mooncake comes in a beautiful blue hue which is extracted from the natural colour of the Butterfly Blue Pea flower. It also has a hint of aroma from the flower. The core filling is a divine combination of pure Musang King durian flesh mixed with bits of premium Black Winter Truffle harvested from Italy.
Order online.
Snowskin Mooncakes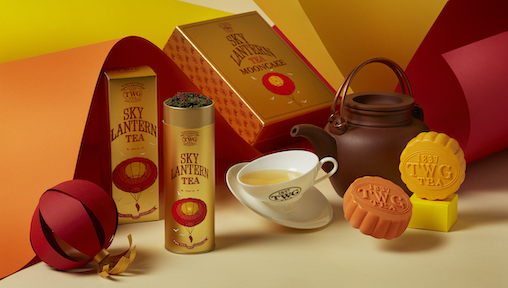 Heralding the arrival of the Mid Autumn Festival, TWG Tea adds a modern twist to time-honoured classics with the Sky Lantern Tea Mooncake Collection. A pioneer in tea-infused delicacies, TWG Tea refines the classics with a fresh array of traditional baked mooncakes and snowskin mooncakes in eight inspiring flavours to entice tea and mooncake lovers.
The Sky Lantern Tea imparts notes of ripe black cherry and pale rose petals, the exquisite leaves of this green tea blend release an ethereal aroma as crisp as an autumn night and as enduring as love itself.
From the classics like the iconic Constellation baked mooncake infused with Singapore Breakfast Tea, roasted melon seeds and an embedded salted egg yolk heart; to new favourites such as the Pure snowskin mooncake accented with Sky Lantern Tea, raspberry bits and a white chocolate heart of raspberry rose confit; and the local-inspired Serenity snowskin mooncake with Coconut Tea and pandan infused lotus filling, white chocolate and a heart of roasted coconut and lotus cream, discover these indulgent tea-infused mooncakes and create your very own bespoke TWG Tea mooncake gift box.
Order online.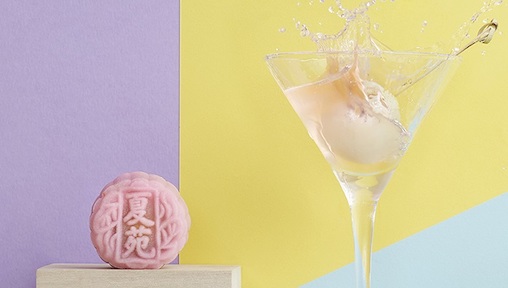 Celebrate the Mid Autumn Festival with family and friends and indulge in a curated selection of traditional baked mooncakes and snowskin mooncakes presented by The Ritz-Carlton, Millenia Singapore.
If you are cutting down on the indulgence, exercise some form of portion control with Summer Pavilion's bite-sized mini snowskin mooncakes of various flavours including Lycheetini and Green Tea.
Order online.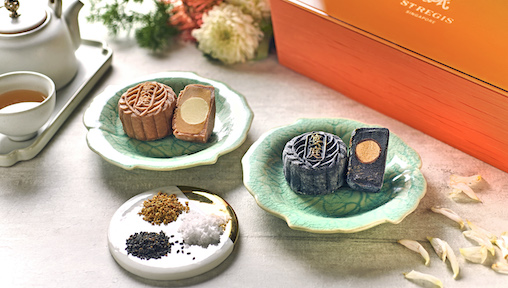 St. Regis
This Mid Autumn Festival, celebrate with Yan Ting's impeccable mooncake collection of intricately handcrafted gems created by Yan Ting's Pastry Chef Vanness Chai. Teeming with premium ingredients, the menu offers baked perennial favourites appealing to those who have a penchant for the classics as well as inventive snowskin renditions including a mainstay of Pure Mao Shan Wang Mini Snowskin Mooncake.
For those with a love for tea, be captivated by their tea-infused snowskin flavours. The delicate, brown-hued Royal Milk Tea with Honey Osmanthus Truffle Mini Snowskin Mooncakes, made with Dong Ding tea leaves. Enveloped in an activated charcoal snowskin this year is the Black Sesame Paste with Caramel Sea Salt Truffle mooncake - a salty-sweet indulgence, the nutritious-blend of rich and smooth black sesame paste reveals contrasting layers of texture with a velvety caramel truffle core and sea salt flakes.
Order online.
Traditional Baked Mooncakes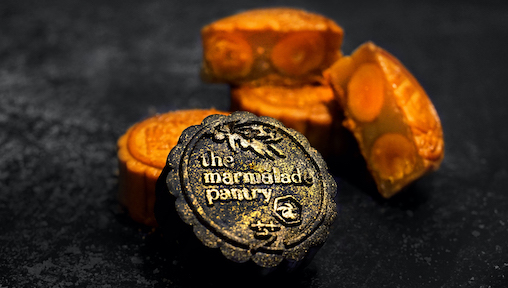 Homegrown bistro The Marmalade Pantry celebrates the Mid Autumn Festival in Singapore with a stylish collection of four distinctive baked mooncake flavours. Made with a low-sugar and no-lard recipe, these delectable mooncakes come tastefully packaged in a chic hand-woven scarlet handbag.
The Double Yolk with White Lotus Paste Mooncake is a luscious treat with the traditional flavour of golden salted egg yolk enrobed in velvety low-sugar white lotus paste, while the Macadamia Nuts with White Lotus Paste Mooncake adds a satisfying crunch to a classic delight. A traditional favourite with a modern twist is the new Baked Taro Mooncake with Lychee Flavour. Finally, the Golden Charcoal Baked Mooncake with Black Sesame is an exquisite combination of black sesame and melon seeds with low-sugar white lotus paste, encased in black charcoal skin sprinkled with edible gold dust.
Order online.