Finding a trusted hair salon and stylist in Singapore can be a daunting task. You can always research online for the name of a popular salon, but who do you actually book an appointment with? We've done the hard yards here and listed out the top hair salons in Singapore with the hair stylists that we trust. Each of them come with years of experience and a skill set that will match your expectations and leave you looking hair-tastic good!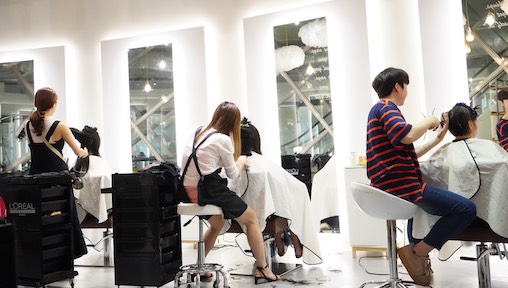 Boutique hair salon, The Space provides personalised services by Korean Master Stylists who genuinely understand Singapore's weather and how our hair reacts to it. With more than 15 years of experience between them, the master stylists at The Space come with a deep understanding of hair texture and conditions. 
Led by Director Lee Han, who is known for his perms and haircuts that are easy to manage at home and grow with your hair, day by day without looking out of place. Lee Han pays a lot of attention to details such as sectioning hair to balance facial features and bring out the best in your face. Don't know what you want done with your hair? Plenty of Lee's loyal customers come back to him year after year and leave it to him to suggest new styles and experimental looks - drastic or simple!
Should you be looking for the latest Korean hairstyle trends, consider Jenny who comes with a good sense of what's trending amongst the young and fashionable, and can suggest what would suit you the most. Customers love her for her cheery personality as well as the effort taken to explain each step of her styling process. 
Sha-Sha is another of The Space's experienced stylists and specialises in voluminous curls for short to medium hair. With more than 16 years of experience in Korea, Melbourne and Singapore, she works patiently to deliver styles that are elegant and sophisticated. Her style is deeply influenced by mentor, celebrity stylist Kang Sung Woo, under whom she trained during her early years. With a good command of English, and understanding of what both locals and expats in Singapore are looking to achieve, Sha-Sha at The Space Korean Hair Salon is able to guide customers through the process of choosing and designing their own versatile looks.
The Space Korean Hair Salon, 2 Handy Road, #04-06 The Cathay, Singapore 229233. Phone (+65) 84116561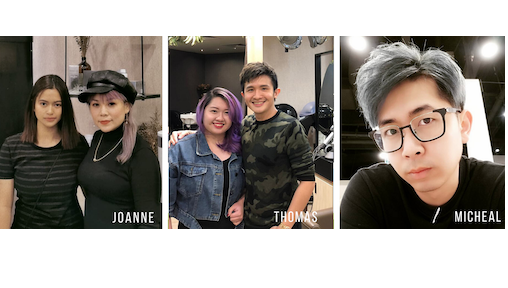 Established in 1994, hair experts Kimage were founded on a guiding belief that personality can be amplified through the craft of hairdressing. 10 outlets and one hairdressing school later, the team at Kimage are known through the little red dot for their mastery of everything hair related. If you are wondering who to book at Kimage, each stylist comes with a skillset that will match your preferences. 
Thomas Goh is the Principal Stylist based out of Kimage Parkway Parade and is known all for his incredible hair colouring skills. Don't believe us? Check out this video that was posted on Instagram and you'll want to book that appointment right away!
Michael Tan, is a Senior Stylist based out of Kimage's Marina Square outlet and is the one we turn to for all scalp related issues and treatments. Not one to oversell, we've often come back with a "just cleanse well and be kind to your hair" remedy, so you know that he is really genuine about scalp health! He's also fabulous with colouring jobs as well as giving you the haircut your face frame deserves! 
The best part about Kimage is that you don't have to spend too much to sport the best hair style in town! They've got a choice of both Senior and Junior Stylists with varying prices, thus making hair dressing accessible to all. If you would like to go with a Junior Stylist, consider booking in with Joanne Lin. A friendly face, that is skilled in colouring and hair perms, Joanne exhibits great talent for someone with less than 2 years of hairdressing experience. If you want to find out more watch this video on this budding star!
Kimage, Multiple locations. Kimage, Multiple locations. Book here or email enquiry@kimage.com.sg with your queries.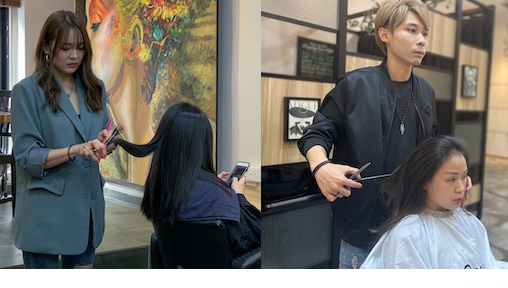 Want a salon that knows its ways around face shapes and skin tones? Awarded hair salon, Picasso Hair Studio, are known to drive innovative hair solutions, including some of the most unique perm styles, with the goal of giving you a hairstyle that compliments your facial features.  Think humidity and your hair don't agree with each other? Picasso pride themselves on their scientific approach to hairdressing and offering solutions that are low maintenance and easy for customers to manage in Singapore's weather conditions. 
Master Trainer, Jeremy is loved for his perming and colouring skills. With over 10 years of experience under his belt, Jeremy has permed and rebonded more than 400 heads a year and really understands how to work with different hair types! With a number of awards on his wall for best hair designer in the cut, style and colour categories, he's popular but surprisingly patient and detailed - no rush jobs here!
Creative Director at the Bugis branch, Tiffany is another stylist at Picasso who comes highly recommended. Whether it's her no pretence, warm and bubbly personality or the ability to give you an honest opinion about a style, this hairdresser will feel more of a friend than a stylist. After rescuing several customers from hair disasters, Tiffany has earned the reputation of having a magic hand! And should you want to push the envelope on style or colour further, she can work with some exciting options while keeping them work-friendly - think dark ombre hair or even inner hair colour without looking out of place!
Liu Ziwei, is the Creative Director at their Tanjong Pagar branch and is known to work meticulously with each stroke of colour or curve - to deliver on a complete overall effect that is natural and visually stunning. Whether its hair colouring or perming, know that these are skills have been painfully perfected by Ziwei over the years, by practising for hours after the salon was closed. An upcoming hair stylist who has created a loyal following for the unique 3C colour creations and natural-looking perms.
Picasso Hair Studio, Multiple locations - Bugis, Phone + 65 62910691. Tanjong Pagar, Phone (+65) 62240221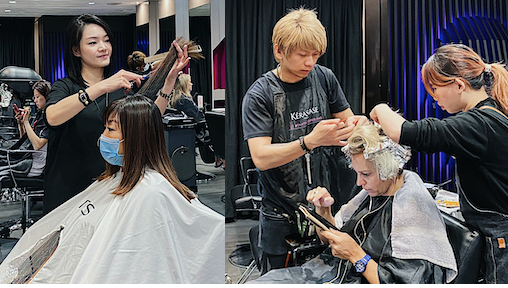 There's no hiding the fact that Chez Vous remains one of our favourite salons in Singapore for consistently delivering the best of styles and haircuts, and their 'Only Hair Directors Allowed' policy where each stylist has a minimum of 10 years' experience. As a winner of numerous awards, Chez Vous has a fan following consisting of both locals and expats in the city. In fact, we know it on good merit that the stylists here are on speed dial for a number of the city's top socialites and who's who!
If you are wondering who to book in with at Chez Vous, Chief Salon Director Serene Tan would be a good one to pick! With over 20 years of experience in haircuts, hair colouring (including dealing with Caucasian hair) and highlights, she is also selected by KMS Singapore to be a trainer for KMS-related cutting & styling courses for hairdressers in Singapore She's also got quite a few awards and ambassador titles under her belt! One of the few hair stylists in Singapore who have completed the Hair Practitioner's Certification Course under the International Association of Trichologists Programme, Serene is known to work behind the scenes on a number of fashion shows and events regularly. 
Salon Director, Victor Liu is also a hugely popular hair stylist at Chez Vous. With over 15 years of experience and key strengths in colouring, highlights, balayage, he's the goto stylist for anyone wanting to try out wearable (subtle) balayage or creative colouring. Having worked with some of the top salons in Singapore, Victor is well versed with managing hair for customers across the red dot and delivering on styles that are weather-friendly as well as easy to maintain. And if you are one for certifications, Victor's long list features an impressive line of courses from London, South Korea, Taiwan and Japan and with top notch brands and academies. Experience and expertise - needless to say, you'll be in great hands! 
Chez Vous, 391 Orchard Road #05-05 Ngee Ann City Podium Singapore 238872. Phone (+65) 6732 9388, email: emailus@chezvoushair.com
Kemistry got on our radar as a salon where the stylists are open to experimenting and developing new hairstyles. Whether it is complex chemical works or modern hair treatments, they are certainly skilled and ready for the job. They also work with hairstyles and cuts that frame a face shape to match personality and style preferences.
As the founder of Kemistry, Jimmy Yap is passionate about the skills he brings to the table. His talented hands have worked with a number of luxury magazines and his haircut skills are those that are eagerly sought after in Singapore. 
With over a decade of experience, Timz has worked alongside the top hair talents in the industry, as well as celebrities and prominent figures. With a speciality in cuts, he has done hair works for television productions in Singapore as well as runway shows for top international luxury brands.   
Pandy specializes in chemical works and hair treatments and has had years of experience working in top salons in Singapore. With her quality of work, clients feel assured in her hands, with Pandy delivering technical works that leave clients more than satisfied. 
Kemistry, Scotts Square B1-23, 6 Scotts Road Singapore 228209. Phone (+65) 6970 9226