Getting your hair to shine, frizz-free is definitely possible in humid Singapore. Whether it's the formaldehyde-free Mucota Algana or the all-new Hydrogen Straightening, there's plenty you can do to keep your mane in all its glory.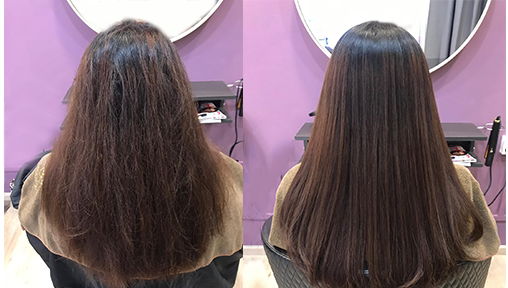 Have you heard of Mucota Algana rebonding? Part enriching treatment and part-straightening,  this formula gives nourishment to frizzy hair while changing its structure. Formaldehyde-free, Mucota Algana is a revolutionary hair conditioning treatment that uses Argan Oil to repair and enhance hair integrity.
At Tresses, Algana Rebonding starts with a first wash to take off any build-up, followed by application of the Algana Cream for 10-15 minutes. This is then coupled with a second wash, a blow-dry, ironing, application of the next cream or neutraliser for another 10-15 minutes, a third wash and blow-dry to style.
What can you expect? Hair feels softer and smoother with no frizz. Algana is formulated with just the right PH balance to gently lift hair cuticles to the right levels, allowing maximum product penetration. This triple-action treatment will moisturize, soften and repair your hair from within.
The best part about the hair treatment is its longevity! At 6 months or longer, the Mucota Algana treatment is a no-formaldehyde solution to getting rid of frizzy hair. Should you prefer a perm instead, the Mucota Algana treatment can be paired with a perming session instead of rebonding too!
The Mucota Algana Treatment at Tresses is priced from $200 for men and $220 for women based on the length of your hair.
Tresses, 18 Tai Seng Street, #B1-05/06, 18 Tai Seng, Singapore 539775. Call +65 6214 3505 to make an appointment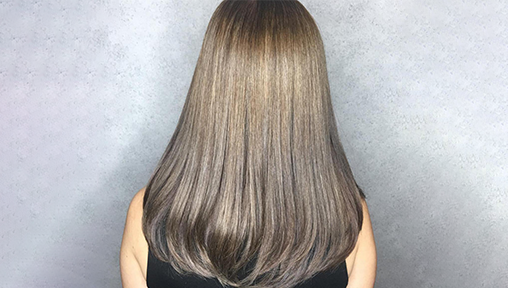 Hairdressers of choice for many in Singapore, Kimage offer a range of treatments for all types of hair. Their Keratin treatment remains one of the most popular and easy to maintain for frizzy hair.
Using Keratin(a protein found in hair strands), it helps to strengthen frizzy hair and gives it structure. The Keratin treatment at Kimage is a special chemical-based hair therapy that is designed to increase the elasticity, sheen, thickness, and health of the hair. The procedure helps to restore lost keratin in the hair through an artificial method otherwise known as Keratin Treatment. The hair treatment process is pretty straight forward too. When you arrive at Kimage, your stylist will first wash your hair to remove any build-up. This is followed by application of the keratin cream or treatment and straightening it with a flat iron to seal it in. 24 hours later, you can wash your hair and be ready to lead life frizz-free - for some time.
Expect results to last up to 3 months and with proper post-Keratin Care (shampoo etc), they could last even longer. Frizz will truly be-gone!
The Keratin treatment at Kimage ranges from $350 to $450, depending on the length of your hair.
Kimage, multiple locations. WhatsApp 9643 2700 or book online to make an appointment.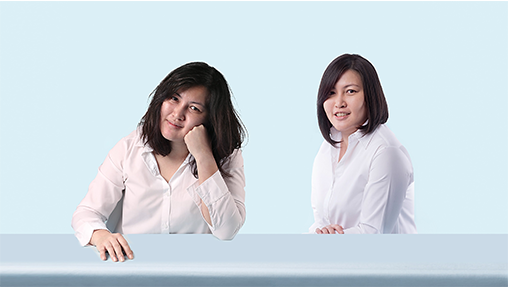 Damaged, dull-looking hair bringing you down? Then this frizzy hair treatment was made for you! After years of repairing hair damaged by chemicals and colouring processes, Chez Vous developed the revolutionary semi-permanent therapy - Hair Botox + Fillers.
The first-ever salon hair treatment in Singapore to be inspired by aesthetic beauty treatments, Chez Vous' Hair Botox + Fillers Programme works like Botox and hyaluronic fillers for the skin, which effectively smoothen wrinkles and plump facial contours.
This ground-breaking hair therapy fills up the "holes" in the hair cuticles (tell-tale signs of sustained damage) with long-lasting reparative hair supplements such as micronized amino lipids, natural jojoba and avocado oils, and keratin concentrates to strengthen and reduce breakage. It also does not contain any hair relaxers or softening agents that break the disulphide bonds in the hair, making it suitable for even those whose hair can no longer undergo chemical procedures.
During the process, 50% of stubborn frizz is smoothed away with silk protein and ceramide, and hair is saturated with hyaluronic acid leading to intensive hydration. Results you ask? Lasting a good 3 months, this programme at Chez Vous restores unruly, frizzy and damaged strands into smooth and healthy-looking hair. 90 days of hair bliss in just 120 minutes - sign us up right away!
The Hair Botox + Fillers treatment at Chez Vous is priced from $405
Chez Vous. 391 Orchard Road, Ngee Ann City Podium, #05-05, Singapore 238872. Call +65 6732 9388 to book an appointment.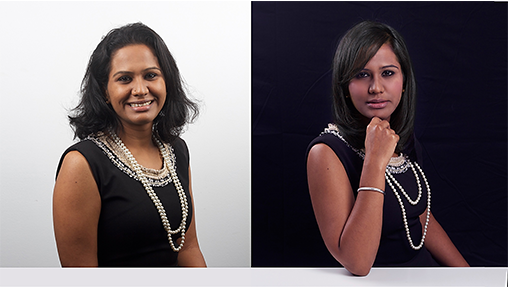 If you are always running out of time when it comes to styling your hair, the Goldwell Kerasilk Keratin Treatment Service is one to turn to. This treatment at Chez Vous: Hideaway provides a long-lasting transformation of unmanageable, unruly and frizzy to perfectly smooth, soft and manageable hair.
The hair treatment process involves the application of Goldwell's Kerasilk Keratin followed by blow-styling with heat ironing the hair to seal the concentrate in, wash and blow-dry your hair a day later and you've got mane - a gorgeous and smooth one at that.
Lasting up to three months, the hair treatment can help reduce the time and effort spent in styling your hair on a daily basis. The secret lies in the high-performing, thermal-activated Goldwell KeraShapeTechnology that actively interacts with the hair's structure to give you that smooth, frizz-free effect and neat-looking hair effect after your daily quick blow-dry routine.
And you can do all this in a setting like never before! Combining a clever menu of super premium hair services along with experimental retreat-like touches, Chez Vous: HideAway is truly the concept of the future! Quirky settings, perfect for your Instagram shots and affordable luxury at its best - if there's one place we want to go hide, it is here.
The Goldwell Kerasilk Keratin Treatment at Chez Vous: Hideaway is priced from $298 onwards.
Chez Vous: HideAway. 391B Orchard Road, Ngee Ann City Tower B, #14-04, Singapore 238874. Call +65 6219 3558 to make an appointment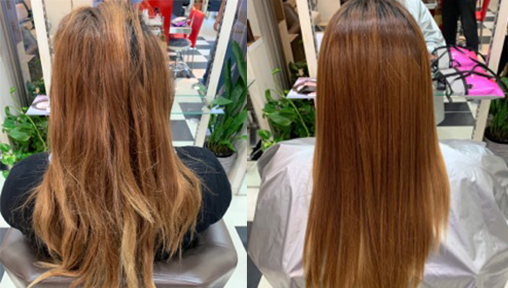 Popular hair treatment in Japan, the Hydrogen Straight Treatment at NINE by Sweet Basil is the latest kid on the block for improving quality of hair.
Helmed as a zero-damage procedure, this newly discovered process cuts and reconnects the connection of hair cells and straightens curly, frizzy hair.
We've been told that its ability to cause no damage, is indeed a first for the hair industry. If repeated several times, this treatment at NINE has the ability to improve the quality of hair, bringing it close to its virgin state.
So, if you have bleached, frizzy hair or tons of split ends, the hair treatment can actually help improve the hair quality with repeat use and over time.
Results include waves being straightened out as the acidic power of the treatment brings back bounce and resilience to hair strands and volume to the roots. Did we say zero damage?
The Hydrogen Straight Treatment at NINE by Sweet Basil is priced from $280.
NINE by Sweet Basil, 26A Purvis Street, Singapore 188603. Call +65 6337 3661 to book an appointment.