We met and spoke to the new Ambassador of Finland to Singapore His Excellency Antti Vänskä as we were very interested in hearing about Finland's work for equality with the Hän Honour, Europe's focus on having a sustainable Europe for a sustainable future, and the fact that winter holidays are so popular in Finland that they're now focused on marketing their summer holidays.
Vanilla Luxury: What do you love most about Finland?
Ambassador Antti Vänskä: I really cannot single out one thing that I love most about Finland. I love Finland as a whole. I love its people, I love its nature and culture. I enjoy the four seasons so distinctive and intriguing in their own ways. I would make spring longer, however, if I could! I am proud of our history and grateful for earlier generations for making Finland for what it is today. I welcome everyone to come and visit Finland to find out what they like most in our country.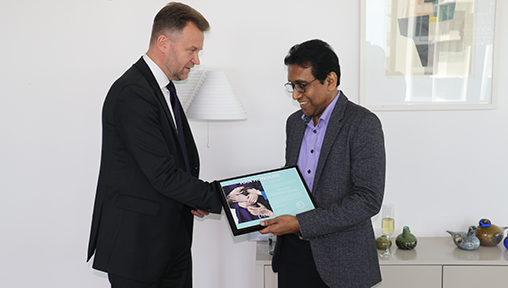 Vanilla Luxury: Share with us more about the Hän Honour?
His Excellency Antti Vänskä: The Hän Honour is part of a new campaign by the Finnish Ministry of Foreign Affairs launched in June, to encourage international discussion about equality and inclusivity, and to support everyone who is working to promote them. Finland's embassies around the world are selecting local individuals and groups for official recognition on their work on equality locally.
We are pleased to have honoured Mr Thambyrajah T from Singapore who is an EXCO Member of Singapore Indian Development Association. He is one of sixteen individuals around the world who has been presented the Hän Honour.
Equality is an important core value for Finland and its people. We believe that equality is the basis for a strong and well-being society. "Hän" is a word the Finnish language. It is a third-person pronoun and means both "she" and "he". It is the symbol of the equality campaign.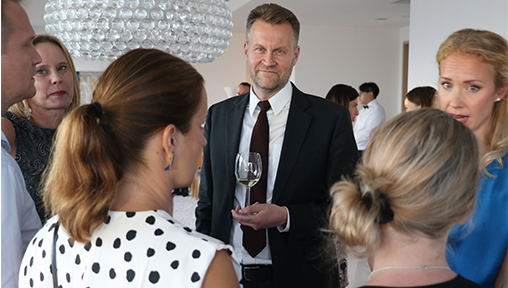 Vanilla Luxury: We hear the Finland Embassy in Singapore is going meatless on Monday, tell us more about this initiative?
Ambassador Antti Vänskä: Finland's Presidency of the Council of the European Union started on the 1st of July, with the slogan for the Presidency being "Sustainable Europe – Sustainable Future", stressing the importance of the EU's global leadership in climate action. The Embassy of Finland in Singapore honours the sustainability goal by concrete action. We commit ourselves to Meatless Mondays until the end of 2019 meaning that during our Presidency, the Embassy staff will choose non-meat lunch options. Production of meat has higher carbon and water footprint than that of a non-meat based diet.
Embassy's initiative is a minuscule step but it is a step in the right direction and all positive steps are important. With this challenge, the Embassy wants to emphasise the fact that everybody's action matters. Reassessing our daily practices individually and together as a community can really make a difference. We are also encouraging all the other European Union Embassies in Singapore to join us for the #meatlessMondaySG.
Vanilla Luxury: What are some Finnish food that you highly recommend tourists visiting Finland for the first time to try?
Ambassador Antti Vänskä: Typical Finnish dishes usually include meat or fish, potatoes or root vegetables, wholemeal products like rye, wheat and oats, or berries. Because of the long winter and short summer, the agricultural produce in Finland has historically been somewhat limited, which has had an impact on food as well. This is why seasonal and fresh products are used when possible, with the emphasis on purity of the original flavours. Some of the traditional dishes you can only get on specific holidays or seasons, based on how they are available or prepared.
Tourists most often will want to taste the Karelian pies, smoked, cold smoked or cured with salt (think gravlax) fish either salmon or local Finnish whitefish varieties, rye bread, reindeer meat, mushrooms, peas or salmon soup and different meat stews.
Dessert or sweet treats like Finnish oven-baked pancake, cinnamon rolls and anything with berries like bilberry (Finnish blueberry) or lingonberry pie, are always a good choice. Also, 'Leipäjuusto' known in English as Finnish Squeaky Cheese with Cloudberry Jam is something quite unique.
Of course, salty liquorice, or 'Salmiakki' in Finnish is a must-try for many, but for people not liking liquorice, Finnish chocolate is loved by everyone.

Vanilla Luxury: What do most people not know about Finland?
Ambassador Antti Vänskä: Most people know Finland as a travel destination or Santa Claus.
Surprisingly, not a lot of people know that the word sauna comes from Finland, where we have almost 3 million saunas in a country of 5,5 million inhabitants and also 187,888 lakes. Finland is 470 bigger in size than Singapore, which is why our population density is only 16 people per km2 (Singapore 7 804/km2).
Finnish people drink the most coffee in the world per capita and have the most number of heavy metal bands per capita!
Some may not know that Finland has a lot of focus on innovation and technology, as well as increasingly also on circular economy and sustainability.
Vanilla Luxury: If you were asked to plan the itinerary for someone visiting Finland for the first time, what would be your recommendations?
Ambassador Antti Vänskä: The capital of Finland, Helsinki, offers a lot of different things to see with many activities available within a short distance. The Helsinki Cathedral and Suomenlinna-island are the top two spots for tourists. A winter trip to Lapland however, will be most interesting and unique to Singaporeans, with snow, skiing, reindeers and, if you are lucky, northern lights.
Depending on the length of the trip and the time of year, areas such as Lakeland and Turku will offer different perspectives to Finland. Like the other Nordic countries, Finland has some of the world's best "Freedom to Roam" opportunities. This means that you can pitch a tent, forage for wild lingonberries or catch fish in the lakes for free and without worry.
*Banner Photo Credit: MCI