F&B
Restaurants and Bars in Singapore: New Menus and Openings in 2022
Published Date
: 30 Nov 2022 10:00

Find out what's cooking in our food paradise by checking out our list of new openings and menus at these restaurants and bars in Singapore
What's cooking in Singapore's vibrant F&B scene? We've rounded up the exciting new openings as well as new menu launches at some of our favourite restaurants and bars in Singapore.
Bookmark this page and keep checking back as we update the list every month!
New Menus, Restaurants and Bars This November 
Available from 12th December 2022 - 1st January 2023, Genius Central Singapore has prepared a Festive Menu for an inclusive meal. Their star item is Chef Cynthia Louise's Vegan Wellington ($32++), which is made with a mushroom base filling served with a miso-glazed roasted pumpkin salad, and housemade vegan gravy with caramelised onions. 
For non-vegetarians, Chef Cynthia has a Roasted Paprika Chicken Leg ($34++) marinated in smoked paprika, mixed herbs, lemon and is served with grilled fennel, eggplant, broccoli and potatoes braised in pomodoro sauce. 
An absolute treat is the Lobster Linguine ($38++), served with a half poached Boston Lobster baked in garlic, herbs and linguine oozing in lobster bisque. 
What's a celebration without some Christmas inspired cocktails? The Star of Christmas ($18++) consists of spiced gin, vermouth, campari, orange bitters, and blackberry soda fill. 
If you're a fan of chocolate, you would not want to miss The Barry Manilow Christmas Concert ($18++). It is made with white chocolate, Luxardo cherry, vodka, spiced cashew milk,dark chocolate flakes and cocoa powder. 
Last but not least, Reindeer Games ($18++), if you are in the mood for something sweet, give this cocktail a try. A blend of Ballantines whisky, green chartreuse, lemon, sapphire sugar, pomegranate soda, and baked rosemary. 
Food is considered a basic human right and yet globally, 1 in 9 people are still going hungry. Every order of a main course from our festive menu, will give us the opportunity to provide a meal in return to someone in need. 
Genius Central Singapore is located at 01-01 7-13 Amoy Street Far east square, 049949.
New Menus, Restaurants and Bars This October
Give it up for this month's most anticipated opening - Barood! From the creators of dynamic open-fire restaurant Revolver, comes Barood, an unexpectedly fun Latin-Indian twist to an Izakaya. Tucked away on the second floor of the same shophouse, you are welcomed to a world of plush seats, darkened hallways and sumptuous shades of plum and chocolate. 
Look forward to sexy Latin and Mediterranean beats and a superior selection of inventive cocktails. Inspired by historical foodways of the world, sip concoctions of clarified green apple, vermouth, Italicus and vodka shaken together; or an espresso martini redefined with cold brew okra coffee, roasted coconut and vodka crowned with a head of hot hazelnut foam liqueur.  Our absolute favourite? The Naked Flower, a Roku Gin masterpiece with Cocchi Rose Aromatic Flowers - just sublime!
Joining the line-up is a spirit collection of over 200 labels, with a focus on single malts. There will also be a playful selection of up to 20 wines and sake for the taking.  
And then there's the food! The team of chefs, led by Saurabh Udinia, delivers a menu of exotic tapas-style dishes. The Otoro Tostadas with a mix of Otoro and Yuzu flavours on traditional Indian Papdi are a winning starter. Follow through with Bombay Uni Toast - mouth-melting Uni with spatterings of tamarind on bread pakora. You will also find plenty of sumptuous flavoured Sloppy Joe's, Wagyu Melt Quesadillas and the absolutely decadent Lobster Tacos. Don't leave till you've tried the Mini Duck Pancakes, pulled duck on Paniyaram with Tomato Chutney, and the Goat Biryani Arancini, a stunning pulled Goat Biryani twist to the Italian crowd pleaser. 
Barood. 56A Tras Street. Singapore 078977. Phone: (+65) 9622 3410 Reservations:  [email protected]
Helmed by classically-trained Kyoto Chef Kenta Yamauchi, formerly of Michelin-starred Gion Fukushi in Kyoto, Hazuki treats you to Kyoto-style Japanese cuisine.
By the people behind Sushi Masaaki, Hazuki is a space designed for those who appreciate sophistication in even the smallest touchpoint. A reservations-only venue, its sliding doors open only to those with a special QR code. 
Chef Kenta takes every effort to source for rare and fine ingredients, from shiro miso from a heritage Kyoto maker that supplies only to very select restaurants in Japan, to wild caught seasonal fish. Each and every single ingredient used at Hazuki is carefully sourced from Japan, and each is thoughtfully turned into expressions of the season. 
Each menu is a showcase of versatility, starting with a finely executed Hassun (八寸) items — a preview of the season, artfully plated in an assembly of starters that tease the palate. Sushi and sashimi items are sliced from premium catches of the season, with Chef Hirohito Tanaka selecting the choicest cuts from the whole fish. Delicately crisp tempura items demonstrate a mastery of highly precise cooking, while signature items showcase Chef Kenta's unique culinary philosophy. 
In a shabu shabu of A5 wagyu sirloin, the star is not only the premium cut, but a broth concocted from artisanal Kyoto shiro miso, a dashi base, painstakingly made over long hours with the best Hokkaido kombu and katsuobushi. With fresh black truffle shaved over, the dish presents a blend of rich umami, comforting creaminess, and intriguing earthiness, all in perfect balance. A dish of tender wild-caught awabi (abalone) from Chiba prefecture, served in a sauce blended from its own liver and 30-month aged Parmigiano.
Hazuki is located at Takashimaya, Ngee Ann City, Level 5 and has five menus priced from $180 to $380.
New Menus, Restaurants and Bars This September
藝 yì by Jereme Leung presents a revitalised menu of refined contemporary Chinese culinary creations, served alongside signature favourites with a modern touch whilst retaining traditional flavours and classic styles.
We started off tasting Masterchef Jereme Leung's favourite drinking snacks, his Deep-Fried Homemade Charcoal Tofu with Shichimi Togarashi and Pan-Fried Cuttlefish Cake on Quinoa with Spicy Tangy Salsa.
For appetisers, we had Hokkaido Scallops on Cordyceps Flower & Spinach Rolls in Spicy Sesame Sauce - a cold dish originating from the coastal province of Zhejiang,  Sliced South African Abalone & Vegetarian Abalone, Stem Lettuce with Sichuan Green Pepper Dressing that had a decent heat to it. We also had his Double-Boiled Chicken Soup with Fish Maw, Bamboo Fungus and Matsutake Mushroom which was served in a Coconut. 
For mains, we had the Iberico Pork Roll wrapped with Crispy Seaweed with Pickled Sliced Green Mango & Homemade Specialty Sauce which took 10-hours of careful slow-cooking and Poached Rice with assorted Seafood in Shrimp Broth served with crispy Brown Rice. 
Housed in The Capitol Kempinski Hotel, The Bar at 15 Stamford unveils a new bar menu that will take guests on a transoceanic journey across the Austronesian Islands. Developed by Bar Manager Edriane Lim and The Bar at 15 Stamford team, the expertly crafted cocktails explore tales of way-faring and trade that defined the Austronesian region. 
The menu lists 16 cocktails divided into two sections: Signature Cocktails and Austronesian Islands, and features vintage Bacardi advertisements alongside a history of the Austronesian Islands, with crisp images of each cocktail to enable you to visualise each drink.
Try the Plantation 1840 ($24), a strong yet refreshingly long drink composed of Black Tears Rum, sweet vermouth, pineapple juice, sugarcane juice syrup, lemon juice and fresh mint, and served in a copper mug. Each ingredient recognises Balestier, who planted pineapple and sugarcane during his time on the island whilst setting up copper stills to distil rum from sugar syrup. 
The drinking menu also features one of Singapore's most extensive rum selections, with over 200 rums to explore. Guests can request a range of cocktail classics and bespoke creations that will seduce the most sophisticated connoisseurs. Rum enthusiasts can enjoy a range of rum flights, such as Don Facundo's Legacy ($40), which features the story of Don Facundo Bacardí Massó, who founded the first BACARDÍ rum distillery in Santiago de Cuba. 
After a successful opening this June, celebrated  American Chef Nancy Silverton's 120-seat Cal-Italian restaurant Osteria Mozza at Hilton Singapore Orchard will increase its offering to include a deliciously different lunch  experience along with the highly anticipated debut of Silverton's world-famous artisanal  pizzas. 

Served exclusively for lunch is a selection of classic American-style salads, reimagined by  Silverton the way she enjoys eating them. Start with the widely popular Nancy's Chopped  Salad ($26++), a toss-up of iceberg lettuce, radicchio, red onion, provolone, salami, cherry  tomatoes, ceci and a punchy oregano vinaigrette. The Shrimp Caesar ($30++) is a classic  aioli-based Caesar salad with a cluster of pan-fried shrimp, house-baked anchovy  croutons blended with olive oil, and generous servings of Parmigiano Reggiano. Diners  can also opt for the Roasted Chicken Salad ($26++) featuring napa cabbage, olives,  grain mustard and a house roasted chicken. 

Pizza at Osteria Mozza is a pleasure reserved exclusively for lunch. The menu features nine of Pizzeria Mozza's most famous pizzas perfected by Silverton's constant refinement,  created with a new dough recipe that Silverton now uses in all Mozza restaurants. The  dough is made with a special mix of two kinds of King Arthur bread flour, blended with  spelt and rice flours. The result is a different pizza crust than what diners would be familiar  with from before – an ultra-high airy and puffy cornicione with a deep sourdough flavour,  complemented with a fine, crisp base. The pizza-making process takes three days from start to finish, allowing long fermentation  to develop the dough's ideal taste and texture before being cooked in the restaurant's  custom Wood Stone wood-burning pizza oven fired with California almond wood for its  fruit wood flavour, high heat, low smoke and balanced sweetness. Priced from $34++, the 10 signature pizzas showcase a wide variety of expertly sourced  and prepared toppings. 

Heartier, meatier pizzas include the Fennel Sausage with panna, mozzarella, red onion  and scallion; and Meatballs with housemade pork meatballs, mozzarella di bufala, roasted  tomato, chili flakes and oregano. 
Lighter flavours include one of Silverton's all-time favourites, the Burrata served with slow roasted tomatoes and Sicilian oregano; the earthy Funghi Misti topped with fontina,  taleggio, thyme and a mix of portobello, oyster, shiitake and button mushrooms; Bianca with fontina, mozzarella, creamy sottocenere and sage; and classic Margherita with the  holy trinity of mozzarella di bufala, tomato, and basil. 

While Osteria Mozza's impressive 280-label Italian wine list is de rigueur for a fancy night  out, diners can wash down Mozza's salads and hearty pizzas with two draft beers the  restaurant is launching for lunch at $19++ per pint. The first is a pale lager with citrus,  bitter tones and floral notes from Menabrea, the oldest continuously producing brewery  in Italy. The other draught beer is a citrusy Golden Ale from local craft brewery  Crossroads Brewing Co. Diners can also enjoy a selection of classic Italian cocktails like negroni, aperol spritz,  espresso martinis.
New Menus, Restaurants and Bars This August
Located within Capitol Kempinski Hotel, Sushi Sakuta is a 16-seater upscale omakase concept that showcases indulgent selections of seasonal ingredients at their peak. Chef-owner Yoshio Sakuta's precise and measured hand can be found in every exquisite detail of the omakase experience — be it in his considered selection of produce and technique; the fine balance between neta (topping) and shari (sushi rice); or in the elegant matches of umami richness with clean, pristine flavours. Sushi Sakuta is an expression of his lifelong quest for perfection in creating sublime experiences that are  intentionally inclusive. 
While still working at the highest level of his craft, the 44-year-old holds himself to delivering experiences that will connect with connoisseurs and ingenues alike. The unassuming Chef's masterful understanding of what best pleases his guests' palates stems from having spent over two decades honing his craft. Chef Sakuta embarked on his career at the age of 18 and cut his teeth at celebrated sushi as well as omakase style restaurants, before moving to Singapore in 2017. The detail-oriented chef prizes simplicity and elegance in the experience as well as the cuisine he offers, even personally blending the nikiri shoyu, shari (sushi rice), and the tea at Sushi Sakuta.
The heart of the 8-course luxury omakase experience here lies in the hands of the chefs. Working alongside Chef Sakuta is Chef Shunsuke Yoshizawa. Aficionados in Singapore will know him as Yoshi, most recently the head chef of Shinji by Kanesaka at The St. Regis Singapore. Together, the accomplished chefs demonstrate how the basis of Japanese cuisine fundamentally reposes upon craftsmanship — the self-assured work of practised hands that wield strength and gentleness in as much equal measure as precision and passion. On the palate, this can be experienced in the way each piece of neta falls over its hand-pressed mound of shari, shaped to complement taste and texture. The temperature and seasoning of both neta and shari are similarly calibrated to enhance every guest's experience.
We thoroughly enjoyed every single dish especially the Shijimi Soup, Marbled Flounder, Kinki Shabu Shabu, Deep Fried Belt Fish with Caviar and the Steamed Abalone with Abalone Liver Sauce is honestly the best we have had in Singapore. Chef Sakuta's meticulous technique in handling these fresh produce resulted in freshness in every bite. All his sushis were delicious from Baby Sea Bream, Young Squid, Bonito, Medium Fatty Tuna, Fatty Tuna, and Sea Urchin. We ended our omakase experience with the Japanese Tiger Prawn, Sea Eel, Miso Soup and of course, the sweetest and juiciest Japanese fruits.
Sushi Sakuta serves one menu for both lunch and dinner priced at $500 and reservations are required. The restaurant is located at Level 1, The Capitol Kempinski Hotel Singapore, and is open for lunch at 12.30pm, and dinner at 7pm. It is closed on Mondays, and Thursdays at lunch.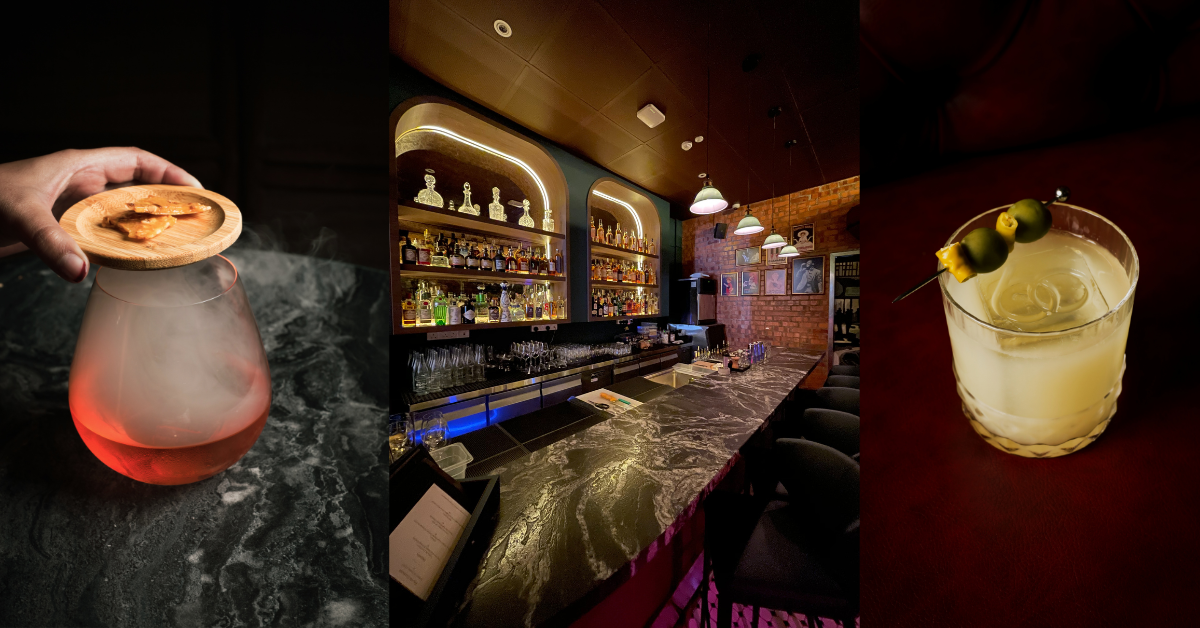 Located inconspicuously at the back of Asador, is the new 60ml by Asador, a spirit-forward cocktail bar. The name says it all, each cocktail contains 60ml of spirit instead of the standard 45ml and we were really pleased to see how well they have managed to price their drinks. 
Cocktails that stood out to us were their Spiced Margarita ($25++), as the name says it all. Ocho Blanco is infused with Jalapeno which most certainly packs a punch. The heat is balanced with Codigo 1530 Agave Nectar and fresh lime. If you love a fresh, citrus drink to beat Singapore's heat, knock back a few of their Basil Smash ($22++). Made with Ketel One Vodka, Oleo Saacharum - which takes a whole lot of effort, this refreshing cocktail is balanced with lemon juice and fresh basil. 
Their White Negroni ($23++) is really easy to drink and consists of Martin Millers Gin, Suze, Lillet Blanc and an Olive tuile. Nothing comes close to their Reverse Espresso Martini ($22++), it is by far one of the best Espresso Martinis we have had in Singapore. It is that one last drink to have before you call it a night. 
60ml by Asador also serves an extensive array of spirits, aperitifs and digestifs along with bar bites and their Anchoas, made with Santoña's premium 00 anchovies on toast, are a must-order. 
Reservations are highly recommended as this bar seats just 25. 60ml by Asador is located at 51 Joo Chiat Place, Singapore 427775. 
Modern European restaurant Caviar is delighted to welcome onboard Head Chef Denis Jacques Lartigue, an established French culinary veteran who has honed his skills and accumulated a wealth of experience over a career spanning over 40 years.

Together with up-and-coming local Sous Chef Joshua Hariharan, the pair are pleased to unveil their first collaboration – a 5-course Gifts of Summer Menu ($228) showcasing the season's choicest ingredients and flavours, for a limited time only from 18 July to 30 September 2022.

Hands down one of the freshest bakes we've ever had in a restaurant. Their Beef Tallow Brioche made with beef fat, rolled with parsley and glazed with fermented garlic honey comes along with their Caviar Butter made with 28% Baeri Sturgeon roes. 
Another personal favourite was their snacks - Cured Foie Gras on Toast, Cod Fish Croquette topped with Uni, and Jerusalem Artichoke.

Simply art on a plate, Head Chef Dennis presented us with his Obsiblue Prawn, a prized shellfish from France coveted for its meatiness and sweetness. First minced then combined with banana shallots and pickled apples, the prawn mixture is rolled within creamy avocado slices and finished with a robust prawn cream and a nutty Polanco Siberian Grand Cru caviar. A piquant and refreshing house-made chilli and mango kombucha sauce serves as the perfect foil to this rich and creamy dish.
Another key highlight from the new menu is the Sakoshi Bay Oyster, a nourishing cream of braised potatoes in an aromatic kombu and chicken stock, with sea asparagus from France and a succulent Hyogo oyster. Anointed with delicate Giaveri White Sturgeon caviar, this dish is sprinkled with the zest of house cured salted lemon.

Caviar is located at 390 Orchard Road, Palais Renaissance #B1-06-07, Singapore 238871.
Premier Indian restaurant Yantra has reopened its doors to Singapore with an unparalleled culinary experience curated by esteemed Indian culinary historian Priya Sen. Together with Executive Chef Pinaki-Ray the new menu takes on traditional Indian recipes that were once exclusive to chefs from royal households. Expect vegetarian and non-vegetarian small and large plates and a culinary journey through India.

The menu features dishes such as Calcutta's iconic Nizam's Kathi Kebabs, succulent mutton skewers grilled over charcoal and wrapped in a tender paratha and Butter Chicken made the way it was always meant to — sans the dairy and nuts. Our favourites included the Chaat Banarasi, a take on traditional Indian chaat dunked in aerated yoghurt and a hard-to-find Bhutanese and Tibetan dish, Ema Datshi which  is a decadent chilli-cheese soup made with seasonal produce.

Always a crowd pleaser, the Hyderabadi Chicken dum Biryani  is cooked in a veil or purdah with flavours of mint, coriander and saffron. End the meal on a high note with Bhapa Doi, a steamed sweet Bengali yoghurt speciality, garnished with dried wild Mahua flower raisins and Mahua treacle.

Also, look forward to the new elegant decor by celebrated designers Matthew Shang and Paul Semple of MSDO. Each of the five dining spaces in Yantra feature crafted finishes, furnishings and details inspired by a contemporary take on Indian architecture, art and craft. It would be hard to miss Yantra's Corbett Bar, a gin and whisky bar inspired by India's oldest national park. Corbett Bar features private whisky lockers and an exclusive, globally-sourced collection of the finest wines and spirits with an inviting safari theme, featuring leopard wallpaper, and photographs of safari camps. 

Yantra is located at Tanglin Mall,163 Tanglin Road #01-129/130/131, Singapore 247933.
New Menus, Restaurants and Bars This July

Shangri-La Singapore is bringing back Ministry of Crab, No.35 on Asia's 50 Best Restaurants, for an exclusive pop-up from 19 to 22 July 2022. 
Crustacean specialist Chef Dharshan Munidasa of Ministry of Crab collaborates with Shangri-La Singapore for a limited four-nights only dinner event, showcasing a delectable five-course menu featuring the restaurant's most popular dishes using Sri Lanka's famed mud crabs and Garlic Chilli Prawns - our personal favourite dish from his menu. 
The five-course menu created by Chef Dharshan consists of Crab Liver Pâté, an umami flavour bomb served with Melba toast; Avocado Crab Salad, a winning combination of decadent crab meat with wasabi mayonnaise served in an avocado; Garlic Chilli Prawn, a dish that reflects the chef's half Japanese and half Sri Lankan heritage, using Sri Lanka's large lake prawns, cooked in olive oil, Japanese soy sauce, garlic and chilli flakes. The star of the show is Ministry of Crab's signature Pepper Crab, cooked in hand-crushed Sri Lankan peppercorns and simmered in pepper stock, resulting in a flavoursome, mildly spicy sauce with a slightly sweet profile to compliment the fresh crab. End the dinner on a sweet note with the Coconut Crème Brûlée, a tropical twist to the classic French dessert.
This exclusive five-course menu is available at SGD198++ per person from 19 to 22 July 2022, 6pm onwards at The Dutch Pavilion. With limited seats available, secure this experience at bit.ly/ministryofcrab22. To make a reservation, please call (65) 6213 4398, or Whatsapp (65) 9030 0187 or email [email protected]. 

Renowned Michelin-starred Chef Mauro Colagreco needs no introduction and his latest restaurant Fiamma, at Capella Singapore captures the essence of an intimate, familial Italian dining experience. 
Fiamma, which means flame, embodies his burning passion for cooking, and represents the  warmth  and  comfort  of  the  Italian  spirit  of  family  dining. Chef Colagreco was influenced by his grandmother's cooking and memories of his childhood and the menu at Fiamma presents nostalgic and familiar Italian dishes.
Pizza at Fiamma is a tradition made into art. A must order is their Pizza Tartufo that is topped with smoked scamorza cheese cream, tuscan salami, with shaved fresh black truffle. Our favourite antipasti was their Carpaccio Di Pomodoro E Pesca  which was thinly sliced tomato and peach carpaccio, pistachios, chives and ginger vinaigrette.
An Italian meal would not be complete without Fiamma's Tiramisu, which is made with mascarpone cream, biscuit, espresso coffee and amaretto. We will most definitely be back to try more dishes from the menu. 
Fiamma is open daily for lunch and dinner. Reservations are highly recommended.  

Award winning Chef Malcolm Lee has launched his second restaurant, Pangium, which dishes up contemporary straits cuisine, in the Gallop extension of Singapore's Botanic Gardens. 
The 1st menu began with 4 locally inspired snacks that went through several phases of research and development before Chef Malcolm was satisfied to present his rendition of Kueh Pie Tee, Keropok, Ngoh Hiang, and Mee Sua Kueh. We personally enjoyed his Keropok and naturally wanted more only to learn that Chef Malcolm had actually bought every variety of prawns available at the wet market, before concluding that "ang kar sea prawns" were "the" prawns for his Keropok. Next on our plates were Pang Susi, Dumpling Udang Nanas Lemak, and Hee Peow Soup. We have never had Pang Susi before and this iberico pork cheek, with white kampot pepper, candied winter melon, and roasted coriander seed, just hit the spot in terms of a mouth full of flavours. It was a medley of sweet, savoury and ended with a little heat. 
We then tasted Ikan Chuan Chuan and Chef Malcolm's Nasi Ulam. Where do we even begin? Chef Malcolm has managed to successfully elevate Nasi Ulam, without losing the essence of this dish. His Nasi Ulam consists of over 17 different types of herbs and was very fragrant and flavourful. Accompanying dishes included Sayur Lodeh with organic tempeh, japanese vegetables, Westholme Wagyu Beef Short Rib Kapitan with incubator pumpkin, Sambal Tempoyak Kuning, Oxtail Buah Keluak Sambal, serunding daging, Bergedil with sunny-side up quail egg, dried squid sambal tumis, Kerabu Jantung Pisang, Achar made with jumbu, lotus root, guava, starfruit and Sambal Belachan. 
For desserts, we had Musk Melon Sago, Young Coconut Sorbet, and an assortment of Kueh with Kueh Bingka being our favourite. 

Reservations are required as this intimate restaurant seats up to 28 guests, and is currently focused on its dinner tasting 8 course menu priced at $248++. 
New Menus, Restaurants and Bars This June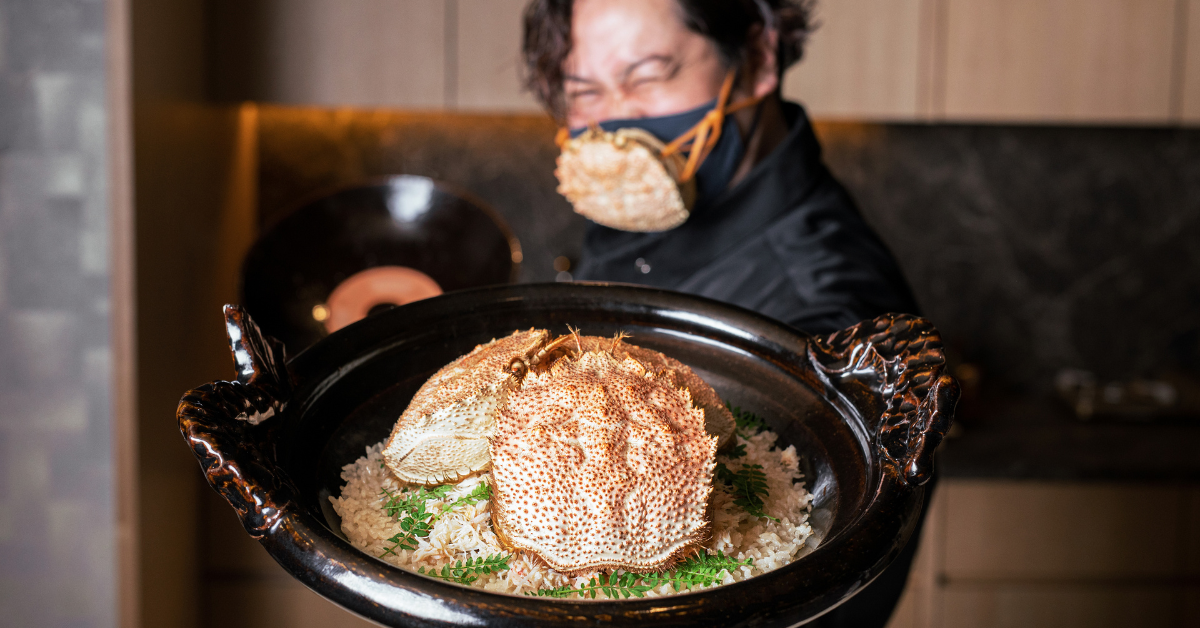 Located at Shaw Centre, omakase concept Jinhonten is the latest addition by the Les Amis  Group. Helmed by Head Chef Issey Araki, alongside Executive Chef Makoto Saito, the restaurant beckons diners on a culinary expedition where the season's finest harvest and produce are honoured and presented in its most pristine form. 
Beyond the discreet and semi-hidden entrance is an intimate and immersive space, where a ten-seater counter takes centre stage. Here, to the uplifting strings of shamisen virtuosos Yoshida  Brothers, Chef Issey and his Japanese chefs conjure each course with a gentle hand, finesse and precision. Throughout the meal, diners will be led in on the details about the catch and produce as they are prepared and plated amid the fastidiously-neat kitchen with various traditional cooking equipment, including a Japanese binchotan grill and cypress box steamer among others. 
With only one prix-fixe menu each for lunch and dinner (S$180++ for eight-course lunch and S$450++ for ten-course dinner), Chef Issey and his team can focus on sourcing for and serving only the finest premium ingredients airflown mainly from Japan. Depending on the time of the year, seafood and produce are procured from the markets in Toyosu, Hokkaido, Kyushu and even Fukuoka. On occasion, Yonezawa beef from Yamagata prefecture is also featured on the menu – widely recognised as one of the top wagyu beef. Yonezawa beef is exclusively available in Singapore only at select Les Amis Group restaurants.  
We tried Jinhonten's omakase menu and a few dishes definitely stood out. We absolutely loved their Murasaki Uni and Botan Ebi from Hokkaido and Kristal caviar served on a homemade egg-yolk sauce. Chef Issey's Abalone dashi was remarkably flavourful and is made with black abalone from Yamaguchi, konbu and sake, with no salt or sugar added. His Handroll was a playful surprise made with grilled Nodoguro on sushi rice, homemade diced narazuke, wrapped in a minute-toasted nori sheet topped with a dab of freshly-grated wasabi. Jinhonten's Deep Fried Tachiuo topped with Kristal caviar and Charcoal Grilled Hida Beef grilled over binchotan served with Japanese asparagus had us wanting more. 
Jinhonten. 1 Scotts Road, #01-11, Shaw Centre, Singapore 288208.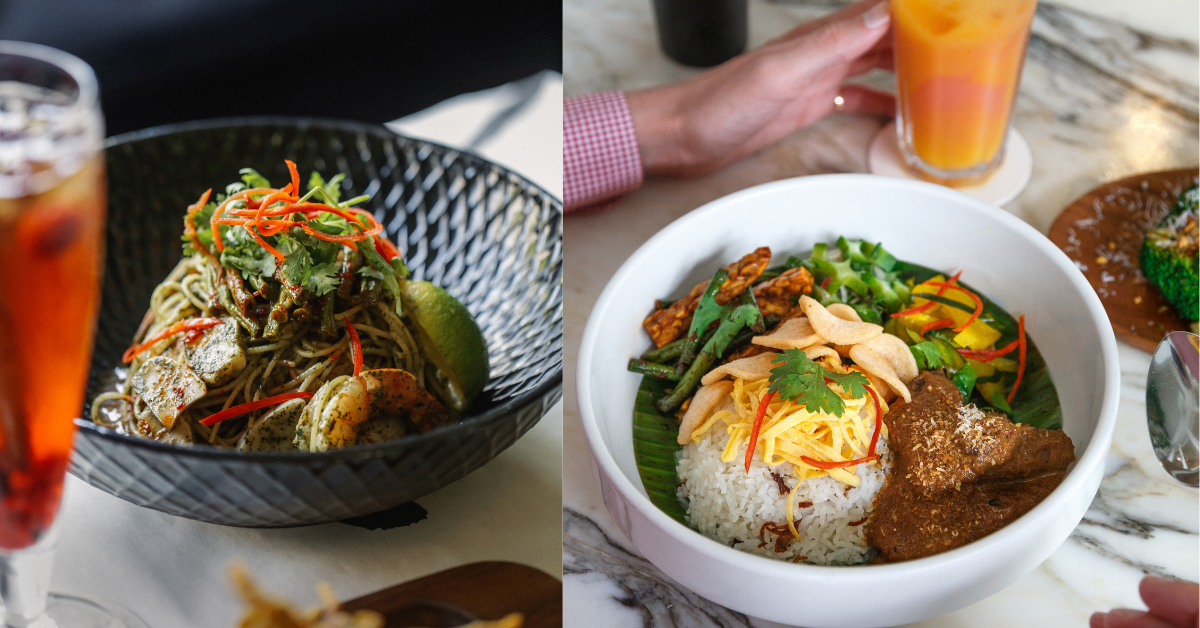 Drawing inspiration from the magnificent seaside villas which once proudly lined the East Coast Road, the new PS.Cafe Katong outlet features tiled ceilings and a maroon and black marbled floor, giving a gentle nod to the Peranakan heritage of the location. The new space also features a pet-friendly breezy terrace, so your beloved four-legged friends can finally be a part of the PS.Cafe experience!
Expect the usual scrumptious PS.Cafe classics as well as the debut of some brand new creations. The extensive outlet menu features the popular PS. Big Breakfast (S$27) - this is a breakfast fit for a king indeed, where you can expect glistening fresh eggs, rashers of smoked bacon, spinach, baked beans, the choice of an angus or pork sausage, buttered toast and a rocket and basil salad with honey truffle dressing.
Those who are looking for something fresh and green can opt for the wholesome goodness of the Superfood Salad (S$27), which features a luscious medley of nature's best in the form of fresh blueberries, baked pumpkin, quinoa, broccoli, roasted almonds, garlic and crispy romaine. The iconic Truffle Shoestring Fries (S$17) remains an ever-present menu classic.
The Original Laksa Leaf Pesto (S$26), an exclusive at PS.Cafe Katong, is a veritable kaleidoscope of cultures mixed into one bowl, comprising spaghettini, king prawns, fishcake and french bean sambal. Adding a little spice to the menu, those who enjoy southeast asian flavours should try another outlet exclusive – Bali Beef Cheek Rendang Rice Bowl (S$29), which features meltingly tender beef cheek clad in a thick, multi-layered rendang sauce.
Dessert aficionados will be glad to learn that the famous and extremely generously portioned Double Chocolate Blackout Cake (S$18) and the iconic Sticky Date Pudding (S$15), as well as other familiar, delicious confections remain staples of the dessert menu. PS.Cafe Katong also premieres a brand new sweet dish, the PS. Katong Chendol Panna Cotta (S$15), which is a delightfully creamy, coconutty play on a well-loved local favourite.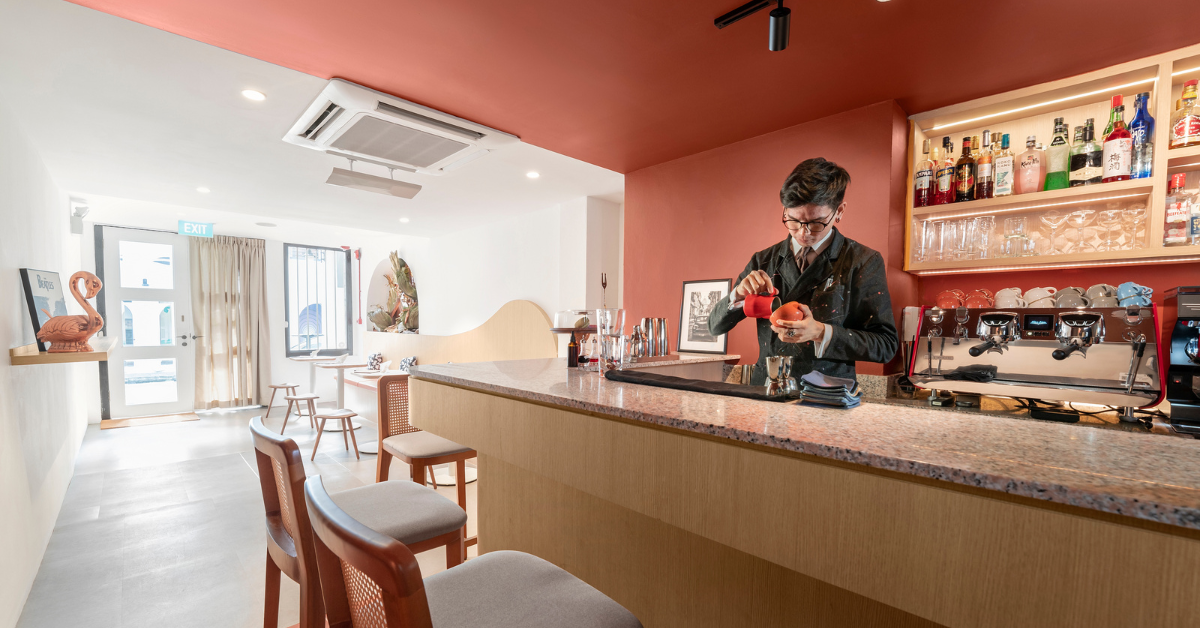 Flamingo is the all-day coffee bar arm of Stay Gold Flamingo by homegrown bartending mavericks Jerrold Khoo and Bai JiaWei. Headlined by veteran barista Mohd Adly Soh Bin Mohd Azmy who has designed the drinks programme there. The team has worked with local specialty roaster Cumulo Coffee to develop custom coffee blends for Flamingo.
The coffee menu boasts both straight Double Espresso, milk-based coffee drinks such as White as well as innovative coffee-based concoctions such as the Coffee & Sparkling Coconut and Dirty Matcha, a matcha latte from Gyokuro paired with a shot of espresso. Another brew concoction exclusive to Flamingo is the Flamingo Affogato. Here, shots of espresso are poured over Bandung ice cream for a tantalising creation for the sweet-toothed. Feeling a bit cheeky? The Espresso Martini is a definite crowd-pleaser.
Coffee aside, the beverage menu offers an extensive selection of drinks that are refreshing and easy on the palate, perfect for sipping and whiling the hours away. On offer is a curated selection of beer and an array of fruit-centric, low-ABV cocktails including the Aperol Kombu Spritz (S$19), made of strawberry kombucha, prosecco and Aperol; the sweet and refreshing Pink Guava Bellini (S$19), and Elderflower Cooler (S$19) which is perfect for Singapore's tropical weather.
Inspired by Mediterranean flavours, on offer on the new food menu are Pita Breads served with homemade dips like Courgette Pesto, Sunflower Hummus and Garlic Confit. There are also Mediterranean-centric salads – Orzo Salad (S$14) and Quinoa Salad (S$14) with options to add portions of Steak (S$8) or Garlic Prawns (S$6), and heartier options such as Salmon Lasagna.
Don't forget to try the moist and delicious homemade Chocolate Banana Bread!
New Menus, Restaurants and Bars This May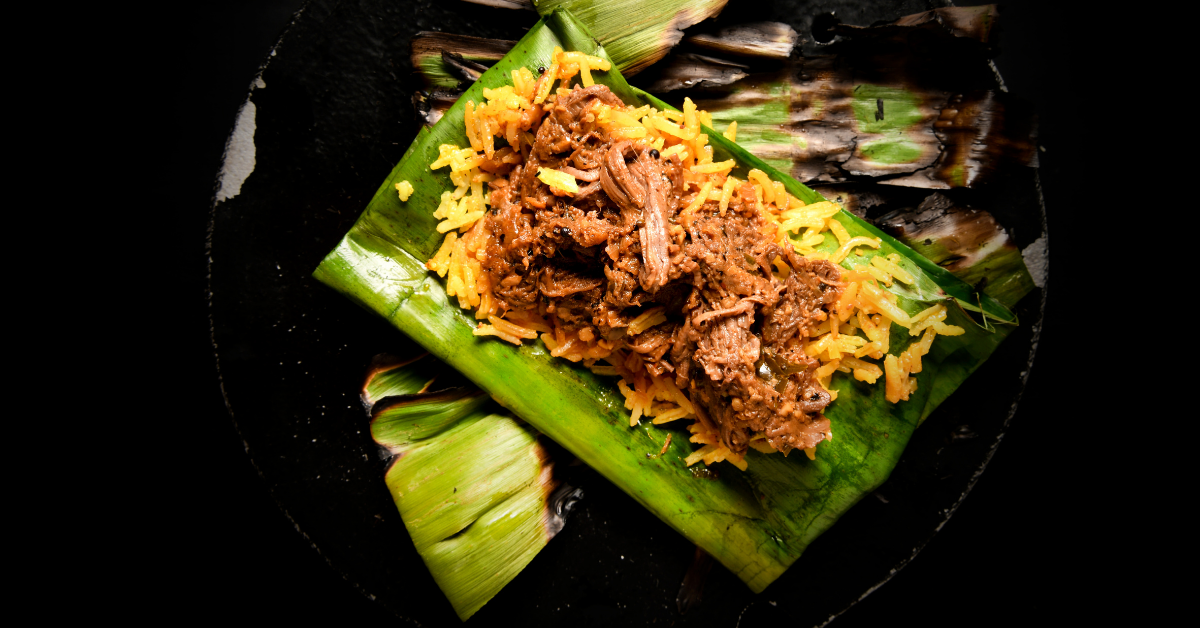 The award-winning progressive Indian grill on Tras Street has unveiled its fifth menu and we loved it. While most of the authentic signature ingredients remain, Revolver takes regional influences and showcases a new menu with interesting spice profiles, sauces, and more.
We tried their Dinner Experience Menu which is priced at $199++ and absolutely loved their Stuffed Corgette, Tomato Pickle which you do not find at other progressive Indian restaurants in Singapore. Their fresh paneer is flown from in from Delhi and it is just soft; what paneer should actually taste like. We were most impressed by their Pulled Brisket, Kerala Pepper Rice which was packed with spices and flavours just bursting through. The Parmesan Kulchette with Fenugreek and Potatoes were very comforting flavours although we were really stuffed by the end of our meal. 
For dessert, even those without a sweet tooth may enjoy their spin on the Indian dessert Rasmalai, flavoured with mango and cardamom.
Revolver has a different lunch menu and also a menu for vegetarians. We highly suggest you make your reservations in advance as we cannot wait to taste their next menu.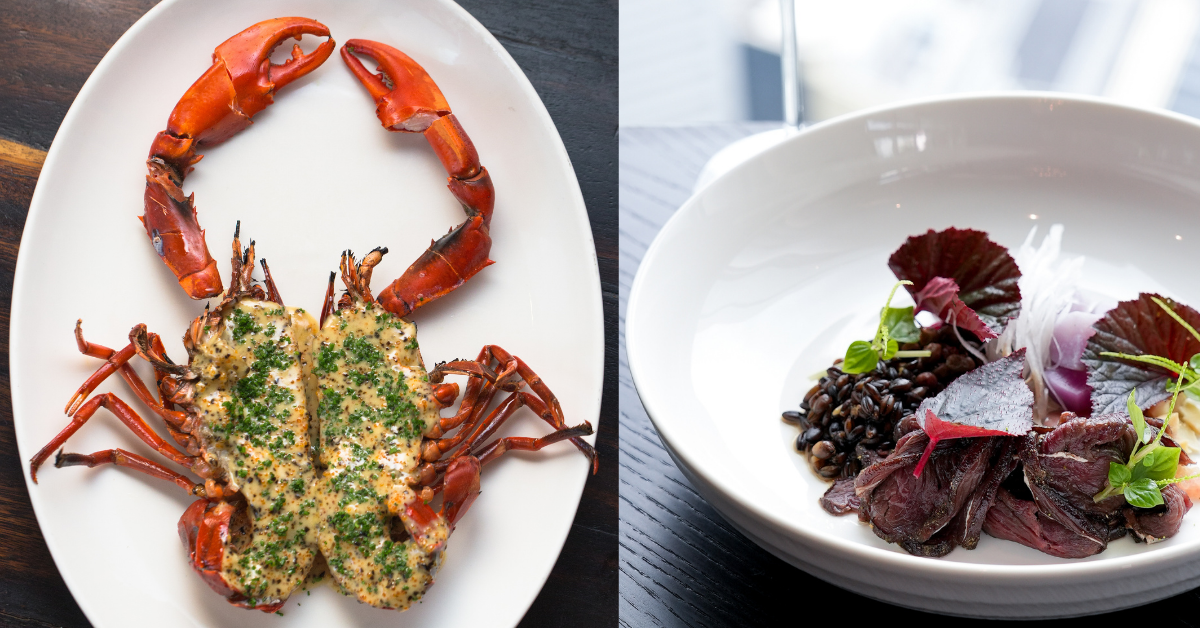 Burnt Ends; KAARLA
The inaugural Plating Up WA: Singapore Edition, is a dining festival that connects food-loving Singaporeans with the best of Western Australian produce. It kicks off on 1 June 2022 with 21 participating restaurants and bars presenting their specially created dishes and drinks during this month-long promotion.
Each Singapore venue will present at least one menu item using a WA ingredient. Made-in-WA craft beers like Rocky Ridge Brewing Company's Ace IPA, Otherside Brewery's The Floor is Guava and well known Margaret River wines from Moss Wood and Cullen will also be on offer.
Some of the participating venues include:
Burnt Ends, the Michelin-starred modern barbecue restaurant headed by Perth native chef-owner Dave Pynt, plates up two dishes – WA marron, tobiko, and kombu beurre blanc; and Fremantle Octopus and Romesco.
Meatsmith Little India will feature a dish of deep-fried spiced Fremantle octopus, sweet chilli and onion coulis, smoked masala potatoes, crispy kale, grilled meatsmith sausage, grated horseradish and Spanish onion.
Executive Chef Peter Rollinson at FLUTES Restaurant, the modern European restaurant in National Museum, offers diners a degustation menu including Exmouth Spanish mackerel, Western King prawns, Blue Ridge marron, and Margaret River Wagyu.
Chef John-Paul Feichtner at newly opened Australian restaurant KAARLA dishes up salt-cured kangaroo with WA black barley and condiments.
Elegant, chic, and warm, So France prides itself on its classic French fare. From Burgundy Escargots en Persillade, Canard aÌ l'Orange, Beef Bourguignon, and Oeufs Meurett, a combination of perfectly poached eggs, Bordelaise sauce prepared with Burgundy red wine, chunks of bacon. Each dish is prepared with precision with sauces taking up to three days to perfect.  
The French bistro has reignited its love for dinner parties and wine soirée at their second location on Claymore Road, featuring the Chef's signature dishes including new additions to the menu.
Relaxed banquette seating, cosy corner tables, and an alfresco terrace gives diners a myriad of seating options and injects just the right je ne sais quoi quality for lunch catch-ups, and romantic dinner out, or food and drinks with friends after work.
Traditional French fare is far from vegetarian, but the kitchen has crafted a colourful selection for both vegetarians and vegans such as Green Asparagus Salad, Mediterranean Salad with hummus, Beetroot Tartare, and Zucchini Gratin.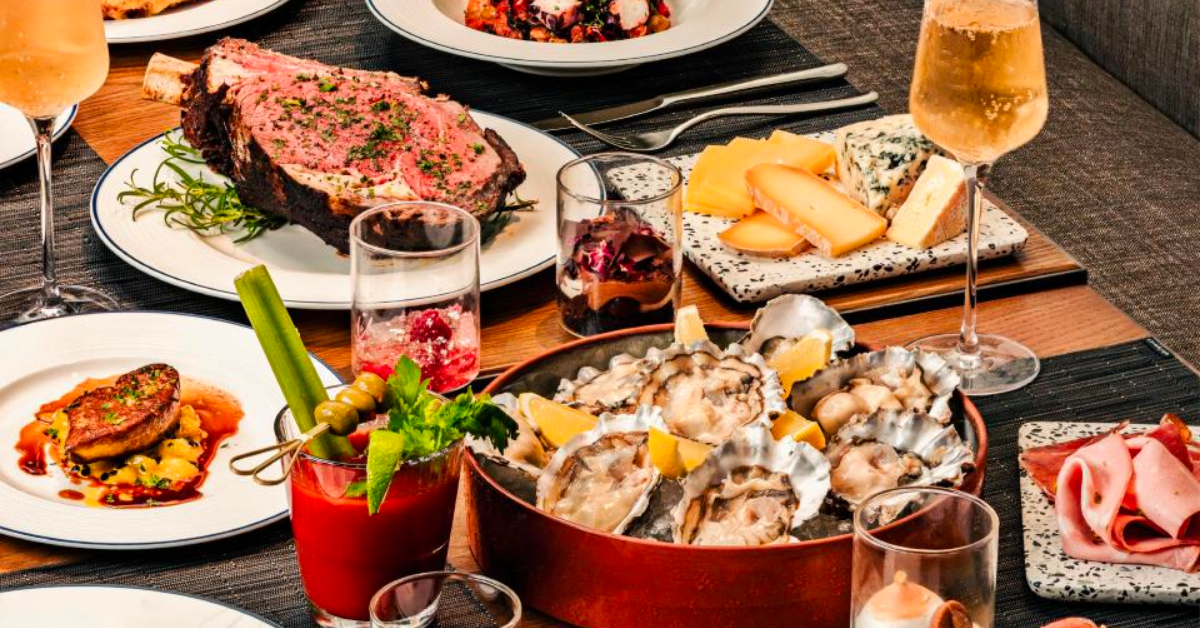 Everyone's most-loved Sunday brunch will be given a whole dose of opulence with the launch of the Grand Sunday Champagne Brunch Buffet at Estate, the residential all-day dining restaurant of Hilton Singapore Orchard. Redefining what it means to indulge, the Sunday brunch affair delivers an array of epicurean delights inspired by flavours from around the world, classic brunch favourites, premium ingredients of the freshest quality, free-flowing bubblies and vinos.
Enjoy a wide variety of succulent seafood like tiger prawns, snow crabs and scallops, including three types of unlimited freshly shucked oysters – Canadian, Irish and Fine de Claire. Specially for brunch, diners can look forward to one of the city's largest cheese offerings available on a hotel buffet, with 32 types of cheeses including soft, hard, and blue from Janier, an acclaimed five-generation French purveyor of fine cheese.
Diners can also indulge in other exquisite delicacies including Homemade terrines like Pâté en Croûte, Foie Gras, and Scallop; Homemade Black Truffle Pasta with cage-free 65-degree egg and Parmigiana-Reggiano; Pan-fried Foie Gras with apple and passionfruit compote; Whole Wagyu Prime Rib with Yorkshire pudding and bordelaise sauce; Whole Stuffed Suckling Pig available at the live carving station; and Estate's signature Black Truffle Roasted Duck, a guaranteed crowd-pleaser.
Also part of the buffet spread are special Chinese, Malay, and Indian-style dishes like Hong Kong-style 'Bi Feng Tang' Mud Crab, Braised Pork Knuckles with Sea Cucumber, Ayam Masak Merah, Ikan Masak Asam Pedas, and Kerala-style Prawns with Coconut Curry and Lamb Vindaloo.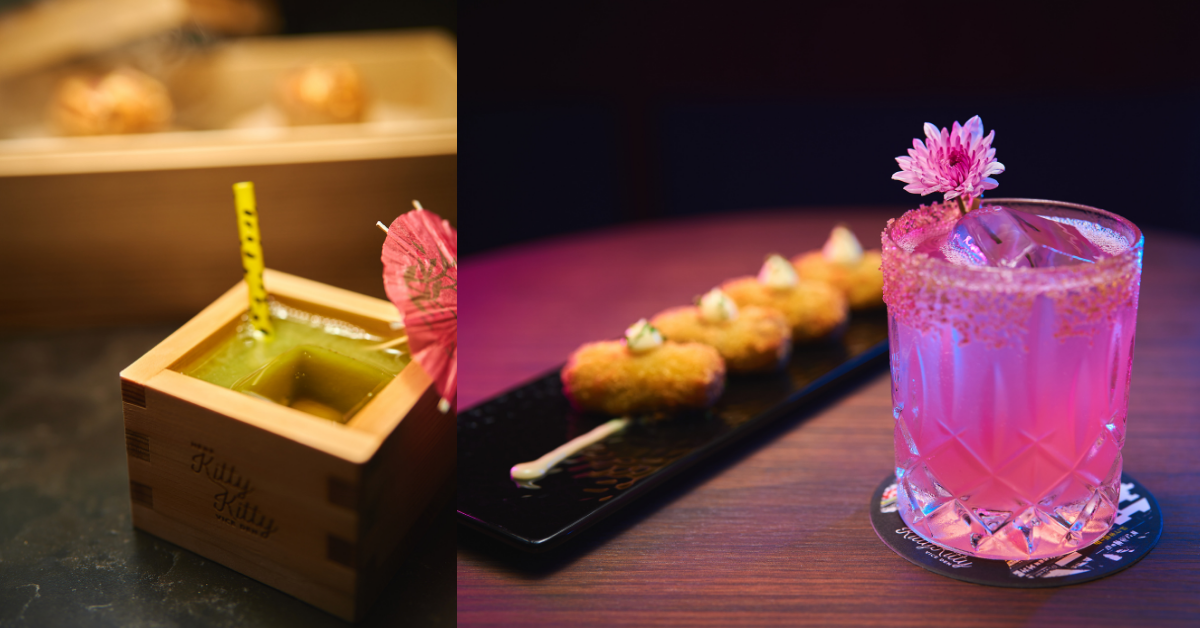 A 1950s Shinjuku-inspired Japanese speakeasy bar, Here Kitty Kitty by the Zouk Group is a colourful ode to the vibrant scene of Japan's Golden Gai district that is home to a collection of mismatched, tumbledown bars. From its dramatic lantern-adorned entrance and selfie booth that is perfect for the 'gram to the just-this-side-of-kitschy interiors, the bar offers a glimpse the into famed nightlife district.
Cosy up to cocktails with a Japanese twist created by mixologist Gary Mandobo. Signature tipples include the Geisha with Roku Gin, yuzu, Cointreau and egg white, garnished with housemade green tea dill. Foraged is Gary's take on the classic gin and tonic elevated with botanical elements — the French herbal liqueur Green Chartreuse and shochu — then finished with a herbaceous garnish of dill and basil.
A crowd favourite is the Watermelon Sugar, a signature cocktail from sister outpost Hello Kitty Kitty Las Vegas. This refreshing concoction features watermelon cubes muddled with Don Julio Blanco Tequila and Cointreau, then served in a glass rimmed with citrus salt.
To accompany your drinks, Chef Angus Chow presents "Japas" — elegant, moreish snacks that combine Spanish and Japanese cooking techniques and ingredients. Nibble on Smokin' Ocean Jewels, served in a wooden box that dramatically opens to clouds of applewood smoke that clear to reveal two uni and ikura tartlets.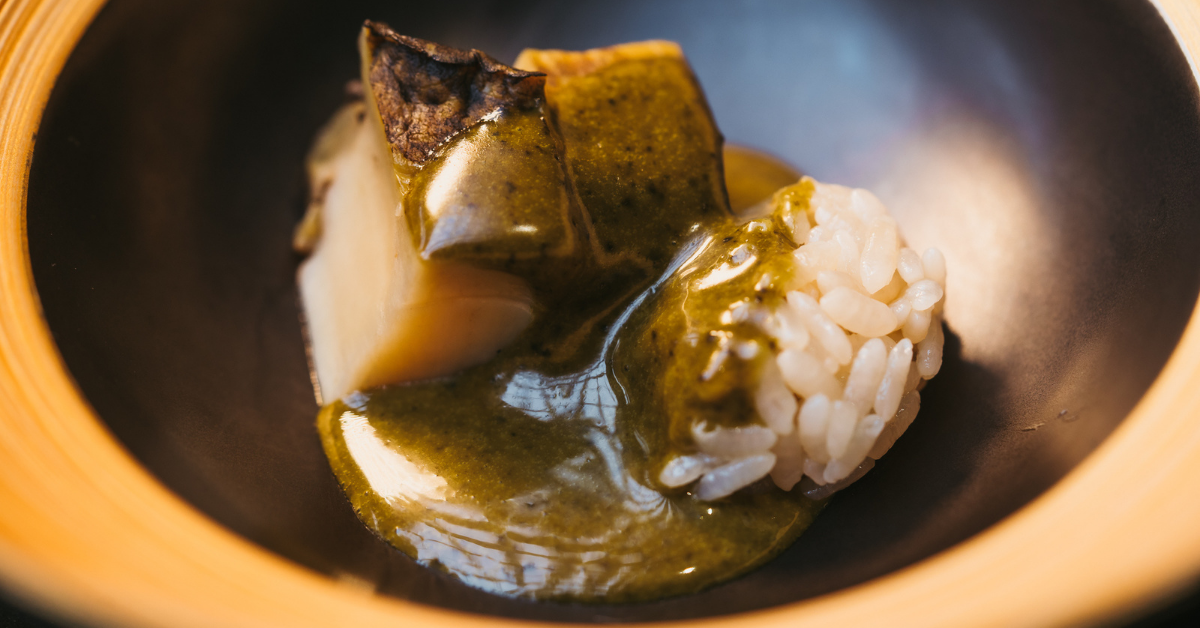 Chef Daisuke Suzuki presents a more relaxed iteration of the traditional omakase dining experience while anchoring it in the philosophy of omotenashi. Originating from sado, the Japanese tea ceremony, omotenashi is the act of selfless hospitality that is centred around care for the guest.
Over the course of his career, Chef Suzuki has developed his own culinary signature style, down to the shari or vinegared rice that is one of the building blocks of sushi. Washing then soaking the short grain rice in water for eight to 10 hours before cooking yields a mildly sweet taste that is beautifully tempered by vinegar.
This shari is the perfect anchor for Chef Suzuki's Sushi Platter, exquisite morsels of aged fish and seafood, delicately seasoned to bring out their natural flavours. For example, the Shiro Ebi or white shrimp is merely kissed with salt and lime while the Sayori or halfbeak fish is paired with green onions.
In the cooked dishes, Chef Suzuki takes guests on a gastronomic journey with an indulgent twist. The Kinmedai with Monkfish Liver juxtaposes slices of the fish — slow-poached in water, sake, salt and konbu — with slabs of rich monkfish liver. Orange vinegar soy sauce lends a touch of freshness.
To go with your omakase meal, sake sommelier Genta Yamashita offers selections from renowned distilleries such as Suigei, Hakurakusei and Isojiman.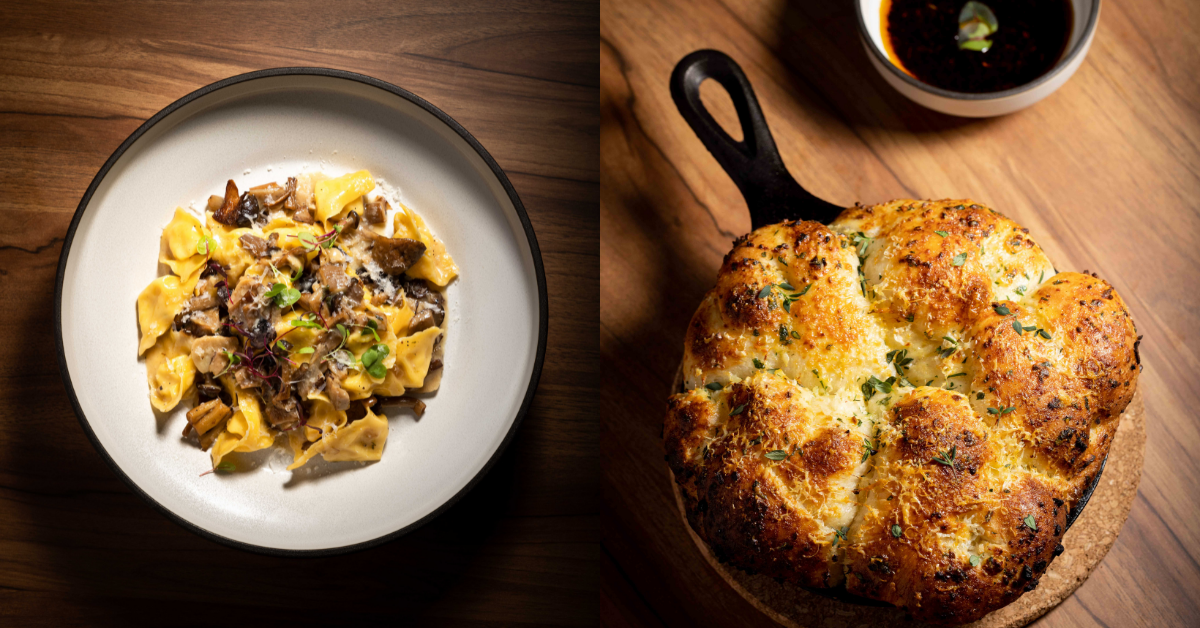 The latest concept by The Dandy Collection offers So-Cal Italian food inspired by the founders' experiences in California, where they found the bold, bright and fresh approach to Italian cuisine unforgettable.
Here are some of the noteworthy dishes on the menu: The Smoked Bucatini, like its name suggests, is smoked before being tossed with a revised pork ragu in bianco with classic Soffritto. This bianco, unlike the classic, transpires a light, fresh feel. The pasta is finished with Parmigiano shavings and a touch of bone marrow.
Similar to tortellini, the Celery Root Cappelacci pasta is stuffed with celery root puree and cooked in a sauce of roasted field mushrooms, topped with Parmigiano.
Arriving at the table in a cast-iron skillet direct from the oven, the West Coast Garlic Mops bread is on the menu to mop up all the sauces from other dishes. Inspired by California's Garlic Knots, which were a childhood staple for many kids growing up on the coast, the dough gets bathed in a mixture of garlic, oregano, extra virgin olive oil and Grana Padano.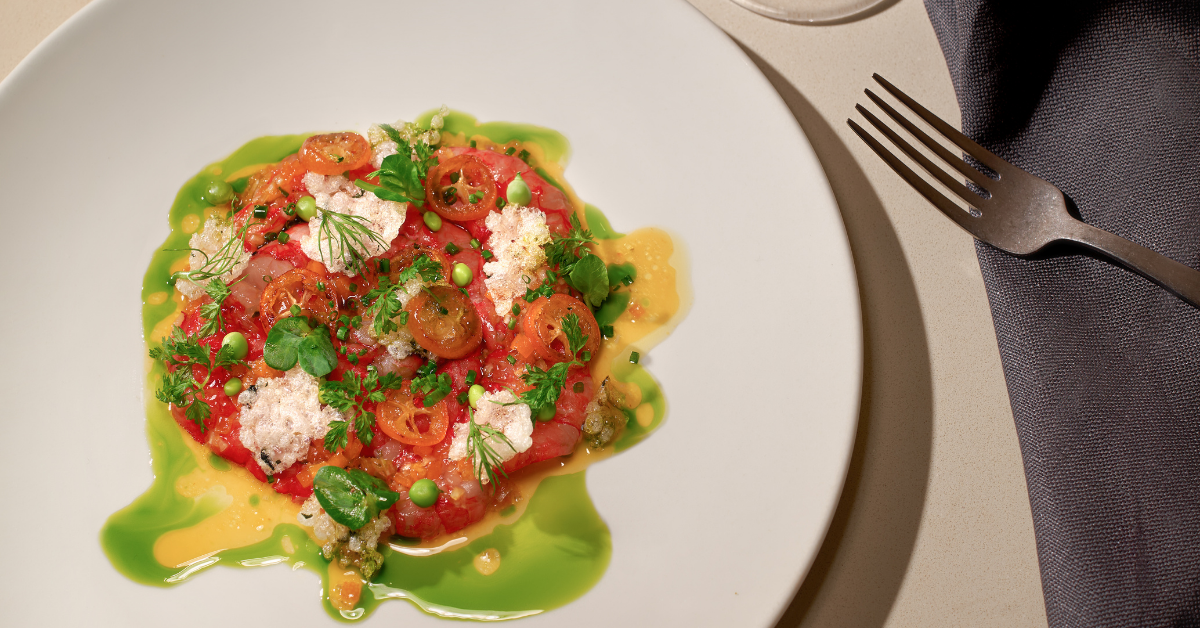 Capella Singapore and Chef Mauro Colagreco, announce the opening of Fiamma on 15 June 2022; presenting authentic, traditional family cuisine inspired by the acclaimed, Michelin-starred chef's Italian heritage.
A wonderfully surprising starter is the Crudo di gambero rosso, comprising of red prawn tartare. The dish is inspired by the stunning variety of prawn, Gamberoni, which he had discovered in the San Remo region along the coast of Northwest Italy. At Fiamma, the dish is made complete with kumquat and fava beans.
Of the wide variety of main courses, Chef Mauro casts focus on the Pescato Del Giorno, or Fresh Catch of the Day, which he elects to present with influences from the region of Liguria, which is known for its seafood. At Fiamma, the fish is first grilled on the fire grill before being finished in the oven. Completing this highlight, it is served with seasonal vegetables, olives and capers, a sauce of lemon juice & fish stock, and fresh herbs.
Every meal at Fiamma must end on a sweet note with Chef Mauro's Dolce creations, such as the classic Affogato al Café, and Semifreddo, which boasts a blend of unique textures and flavours from the frozen nougat with nuts, pistachios, fresh almonds, cardamon and seared apricots.
From 18 to 25 May 2022, Min Jiang at Goodwood Park Hotel is hosting a '8 Hands Culinary Showcase: A Rediscovery of Cantonese Classics' that is sure to spark fond nostalgic memories for some and intrigue the rest. Elevated with modern finesse and presented in decadent lunch and dinner set menus, each elaborate, labour-intensive dish requires skills honed from years of experience. For the first time ever, the '8 Hands Culinary Showcase: A Rediscovery of Cantonese Classics' will see the union of four veteran Chinese Chefs – Chan Kwok, Chin Hon Yin, Chung Ho Shi and Min Jiang's very own Chan Hwan Kee – in a momentous occasion to present rarely seen traditional Hong Kong-style Cantonese dishes that date back at least three decades. Gourmet Ambassador Moses Lim, also a well-known actor, host, comedian, celebrity food critic and food connoisseur brings his invaluable knowledge to this event.
Diners will be treated to rarely seen masterpieces such as Steamed Rice Vermicelli with Tiger Prawn and Ikura on Egg White (Moses Lim); Crispy-fried Milk Custard, Pan-fried Australian Scallops stuffed with Minced Shrimps (Chef Chan Kwok); Classic Pan-fried Prawn on Toast, Pan-seared Japanese Bell Peppers stuffed with Dace Fish and Minced Jinhua Ham (Chef Chung Ho Shi); Double-boiled Bird's Nest in Minced Chicken Broth with Yunnan Ham, Diced Chicken and Crabmeat (Chef Chin Hon Yin) and Baked Peony Flower Red Bean Pastry (Chef Chan Hwan Kee and team). 
Reservations can be made here or email [email protected].
New Menus, Restaurants and Bars This April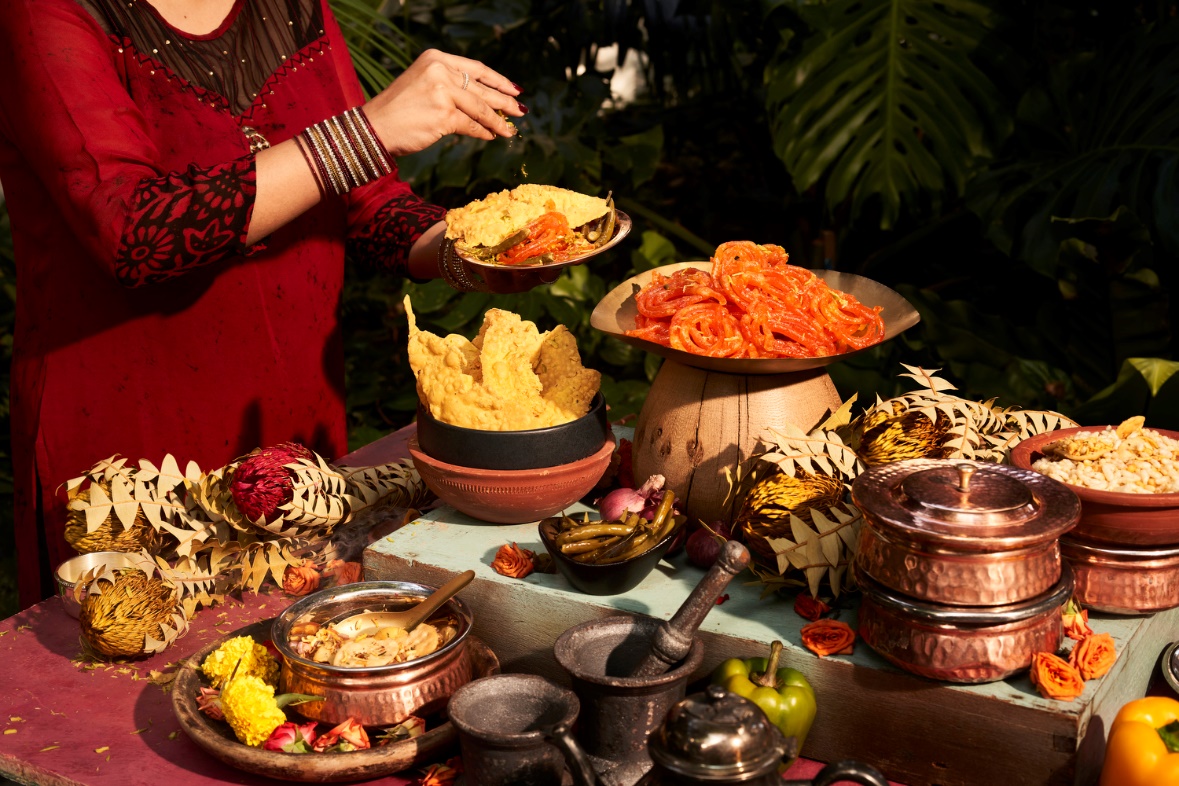 Experience the exuberant flavours and aromas of India through an impressive gastronomic spread of street food specialties at the historic Tiffin Room at Raffles Hotel Singapore from now till 5th May 2022. Drawing on award-winning Chef de Cuisine Kuldeep Negi's rich experience and his Indian roots, the limited-time menu, Street Food Festival, showcases iconic street food from various distinct parts of India.
Offering a rich and evocative culinary journey through India's diverse melting pot of flavours, the street-food specialised menu begins with Bombay Bhel Puri, Mumbai's very own puffed rice mix tossed in sweet and spicy chutneys; and Moong Dal Ladoo, flavoursome yellow lentil and radish dumplings from New Delhi. Savour delectable appetisers including Amritsari Fried Fish, a marinated deep-fried fish recipe originating from Punjab; Bharwa Mirchi, Rajasthani stuffed chilli with potato and spices; and Kolkata Kathi Roll, deliciously smokey boneless chicken leg prepared alongside bell peppers before being enveloped in wheat flour bread, or its vegetarian alternative that features Indian cottage cheese in place of chicken.
Relish in two exquisite main courses - Kheema Curry, an aromatic Lucknowi royal Mughlai minced lamb curry and Nazaqati Botti Pulao, succulent grilled lamb kebab biryani, presented in the signature tiffin box and complemented with Onion Parantha. The vegetarian menu is just as delightful, presenting a moreish starter of Vegetable Kebab, a grilled Lucknowi favourite comprising an assortment of vegetables topped with almonds and figs; alongside a delectable main course of Chole Bhature, Punjab's much-loved chickpea curry accentuated with heady spices and served with fried bread, pickled onions and deep-fried masala chilli. Guests can look forward to the indulgent Jalebi Fafda, a famed Gujarati crunchy street snack made with gram flour and paired with green chilli alongside the classic spiral-shaped sweet perfumed with saffron syrup.
The Street Food Festival menu will be available for lunch and dinner in both non-vegetarian (S$88++ per guest) and vegetarian (S$78++ per guest).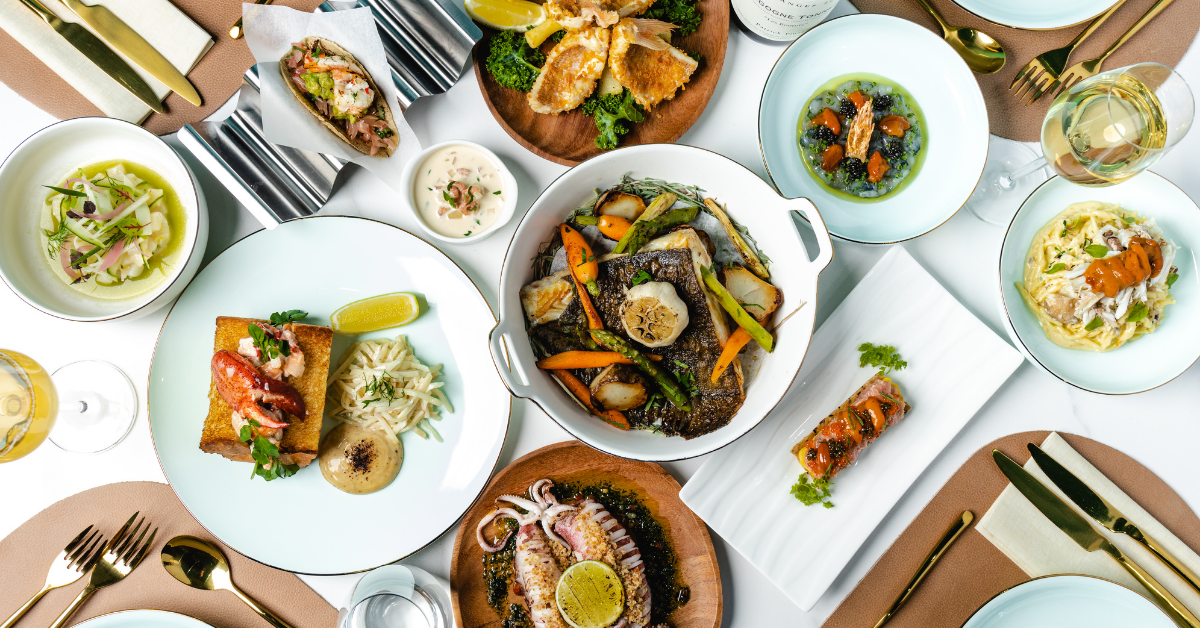 Poisson opens its doors this March with an extensive seafood menu. Curated by Geoffrey and Executive Chef Ma Yee Khang, the menu reflects the freshest, premium seafood accentuated by the finest seasonal produce and flavours and, critically, the perfect balance of zest and spice. Sourced from sustainably certified fish farms and independent, international seafood suppliers, each ingredient on the menu is ethically harvested and of the highest quality. 
We absolutely enjoyed their Sensational Saturdays brunch menu especially their Negitoro Ikura topped with Bashun Uni and Caviar, Grilled Hokkaido Scallop Ceviche, and Marinated Scottish Salmon Tortilla and the list goes on. Their brunch comes with a free-flow of champagne priced at S$148++ per person. This place is a dream for seafood lovers and pescatarians but more importantly, we experienced great service, delicious food and generous pours.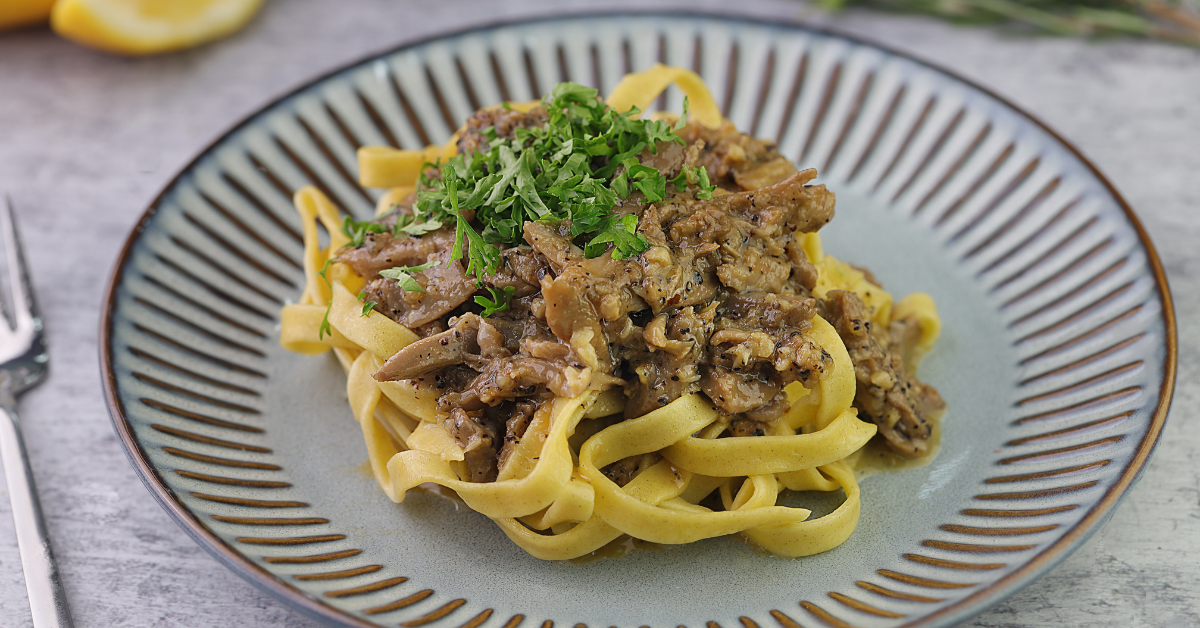 Famed for their char-grilled meats and handmade pastas at affordable prices, Meat & Gree Collective is helmed by law graduate-turned-chef Kieran and NUS Engineering undergraduate Tim. The duo turned their passion into a profession to chase their food dream and produce good food for Singaporeans.
Promising an authentic Southern barbecue experience, the Baby Back Riblets ($15) is slow-cooked for 12 hours and coated with homemade tangy and smoky BBQ glaze. Their Smoked Salmon Sandwich ($18) is a bold combination of smoked salmon cured and smoked in-house, with lime crema and green apples which adds a touch of crunch and sweetness. 
Drawing unanimous praises from fans and foodies, the pair offers a delectable range of handmade pastas under their subsidiary brand, PityPartyPasta. Taking the centerstage is the Duck Pasta ($18) - the restaurant's rendition of a French-Italian classic, featuring creamy handmade fettuccine paired with flavourful and tender shredded duck meat prepared in confit.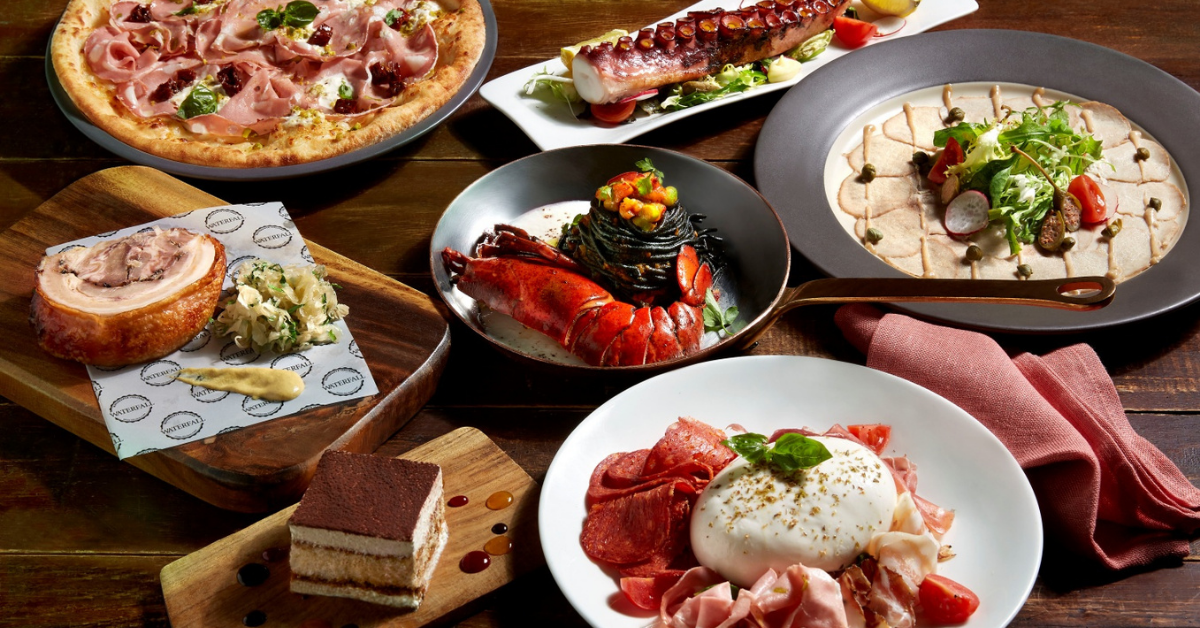 Tucked away in the lush, landscaped gardens of Shangri-la Singapore, Waterfall Ristorante is pleased to welcome onboard Chef Simone Loisi from Puglia as its new Chef de Cuisine.
From 18 April, diners can look forward to Chef Simone's repertoire of authentic Southern Italian specialties featuring a vibrant and sumptuous showcase of dishes that spans his hometown specialities, signature handmade pastas and main courses.
Dishes we loved include Caprese Di Mare ($28), Mortadella e Stracciatella ($29), Orecchiette Broccoli E Salsicca ($28) which is a pasta made with broccoli, Italian pork sausage meat and handmade Orecchiette pasta,  and their Polpo alla Plancia, a whole octopus leg which is first steamed till tender then grilled over high heat to achieve a caramelised char.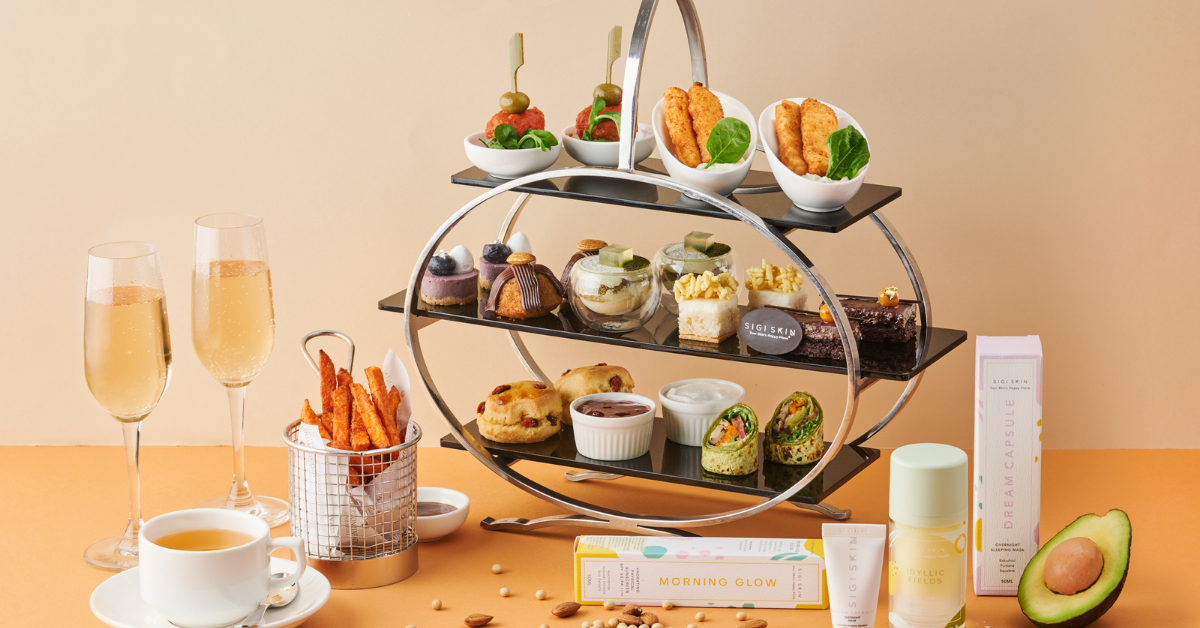 One of our favourite local skincare brands, Sigi Skin, has collaborated with InterContinental Singapore for a superfood vegan afternoon tea!
This uniquely decadent vegan afternoon tea features items inspired by superfood ingredients found in Sigi Skin's award-winning skincare such as acai, matcha, yuzu, pumpkin, spinach and more.
Highlights from the tiered high tea include sweet treats - Acai Blueberry Vegan Cheesecake, Banana Oatmeal Cake, Coffee Chocolate Crèmeux, Green Tea Tiramisu and Tropical Yuzu Custard.
Accompanying the charming selection of sweets are enticing savoury treats such as Goji Berry Scone, Tomato Concasse with Plant-based Meatball Skewer, as well as Pumpkin Mousse, Avocado and Mushroom with Tomato Arugala in Spinach Wrap.
This seasonal collaboration launches on 1 April 2022 and will be available until 30 September 2022 at The Lobby Lounge, InterContinental Singapore.
Each Vegan Afternoon Tea: Sigi Skin Edition guest will also receive a selection of the brand's skincare range in deluxe sizes (worth S$65) so as to kickstart their vegan skincare journey with Sigi Skin towards happier, healthier skin (applicable for the first 150 dine-in orders only).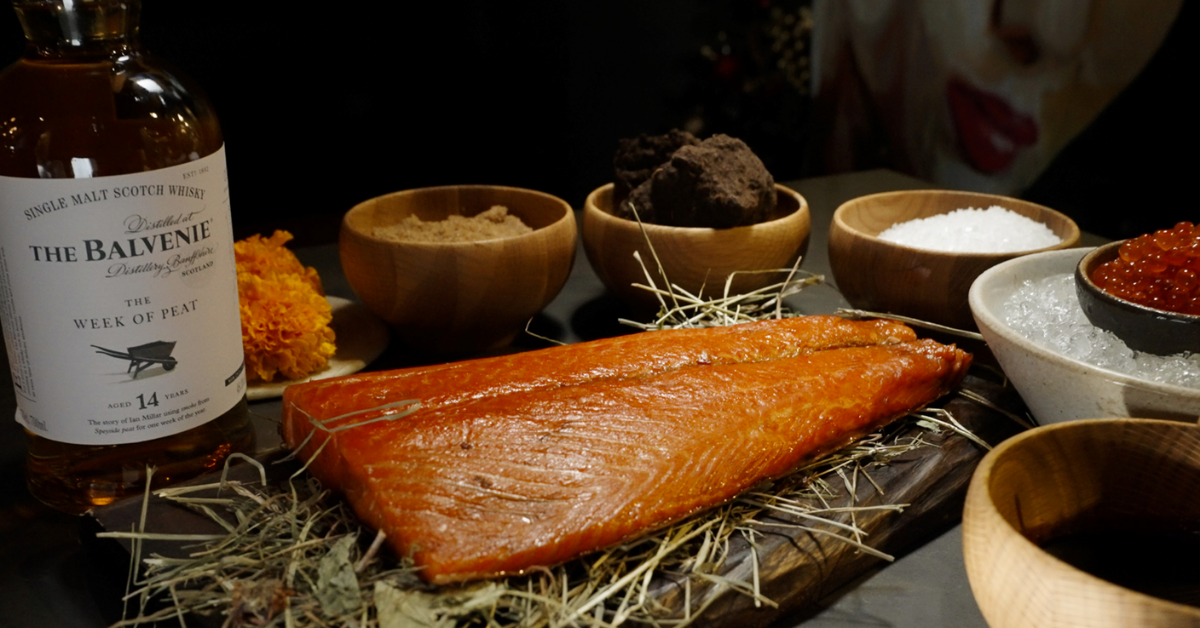 Chef Walsh has crafted two dishes and a whisky-based cocktail that are all paired with The Balvenie's roster of storied whiskies. For the main course, salmon is cured, brushed with The Balvenie 14 Year Old The Week of Peat, cold-smoked, and then hot-smoked. "We're also going to glaze it with molasses treacle, which is quite popular in Ireland. It has a stickiness and umami-ness that pairs greatly with the smokiness of the whisky. We add a bit of horseradish for some heat and top it off with some roe and flowers. It's a dish that brings back a lot of memories from eating smoked salmon in Ireland when I was a child," Walsh explains. 
His second dish is a dessert presented inside a box and is inspired by his childhood winter memories with his father. Charcoal dough is cut into small logs to resemble peat and then deep-fried and filled with a peat-smoked milk ice cream. They are served with The Balvenie DoubleWood 12 Year Old to enhance the smoky aroma. The whisky's vanilla and cinnamon notes lift the dessert. 
Lastly, to celebrate its recent MICHELIN Star accolade, Chef Walsh and his team have crafted a cocktail called Star in Orbit. "It is a playful take on a whisky sour," says Walsh. Using The Balvenie Caribbean Cask 14 Year Old as the base, lime juice, umeshu, honey, sage, and egg whites are added. The drink is given a dry shake, and then a hard shake, before serving. "The hint of fruit and toffee notes from The Balvenie Caribbean Cask 14 Year Old provide a lingering finish to this cocktail," he shares. 
Till 21 April 2022, diners can enjoy these whisky-paired delicacies at Cure. The three dishes will be available as part of a full menu for S$396++ with alcohol pairing (includes one dram of The Balvenie 12-Year-Old DoubleWood, one dram of The Balvenie 14-Year-Old Caribbean Cask, one Star in Orbit cocktail and other complementary pairings). The Balvenie drams can still be ordered a la carte if diners opt to order without the full alcohol pairing.
Reserve a table here.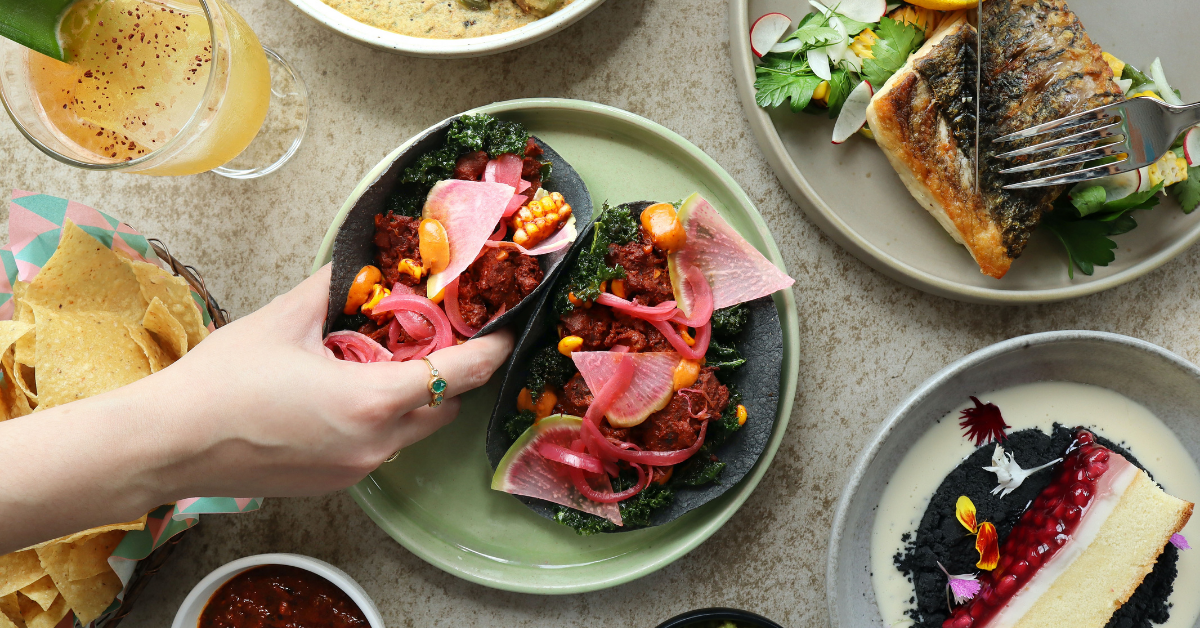 It's earth month and the Super Loco Group has teamed up with Australian plant-based start-up Fable Food to pave a carbon-conscious way of eating and drinking. From 4 to 30 April 2022, clean eating with sustainability in mind will be made easy with this plant-based meat alternative made from shiitake mushrooms.
Available as a four-course dinner set menu priced at S$80 per person or as à la carte specials, the line- up is carefully curated around sustainably sourced, ethically-raised ingredients with a low-carbon footprint that have been sourced locally or regionally, with the total carbon calculation of the set menu amounting to 7.51kg in carbon emissions.
What dishes can you expect? Garden Flautas (S$19) for crispy spinach herb tortillas filled with earthy Mexican truffle, crispy quinoa and goat cheese. The traditional al pastor is given a plant-based makeover with the Fable Al Pastor Taco (S$10).
Flaunting coastal Mexican flavours are three takes on sustainably farmed barramundi from local fishery Kühlbarra. Lucha Loco's Pan-Fried Barramundi (S$32) is served with nutty cauliflower arroz, corn textura, and amaranth drizzled with a verdant pepita dressing. Super Loco Customs House's Barramundi (S$34) perks up pan-roasted slabs with zesty salsa verde, soft herb salad, and corn tortillas; while Super Loco Robertson Quay's Barramundi (S$36) amps up spice levels with piquillo pepper and grilled corn salad, chopped jalapeños, and salsa verde.
Dessert comes in the form of Pomegranate Tres Leches (S$14). Also offered as part of the set is Zero to Hero (S$21), a zero-waste cocktail that upcycles a melange of fruit waste into a tropical tequila infusion that takes the edge off from both the planet and patrons alike.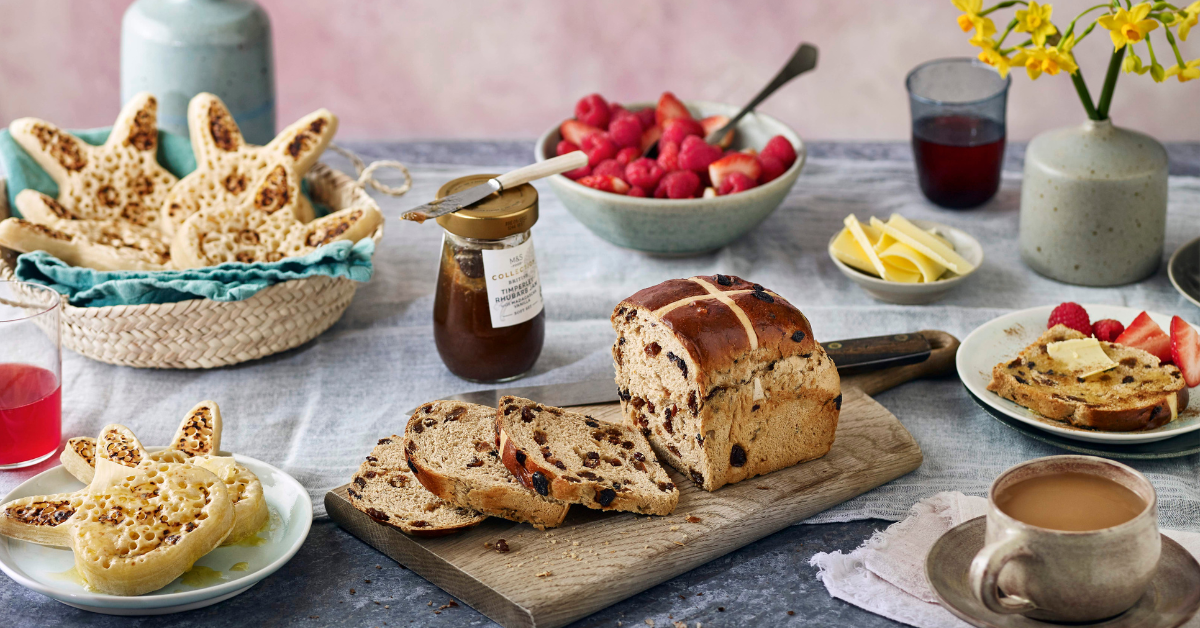 From Hoggie the Hedgehog to Inky the Octopus, M&S has expanded their Easter range to make gifting for friends and families cuter than ever! M&S's premium quality milk and white chocolates come in various shapes and characters including sausage dogs, octopus, bunnies and colourful easter eggs.
M&S has even launched two new speckled egg products, and both are suitable for vegetarians! The Boozy Hen Party is strictly for grown-ups only: 10 milk, dark, white and golden blond chocolate eggs filled with alcoholic cocktail centres.
While nothing beats the indulgence of their beloved Luxury Hot Cross Buns, it's always fun to have a twist on the traditional! From golden blond chocolate to extra mature cheddar and red Leicester, M&S's flavoured hot cross buns this year are stepping it up a level.
New Menus, Restaurants and Bars This March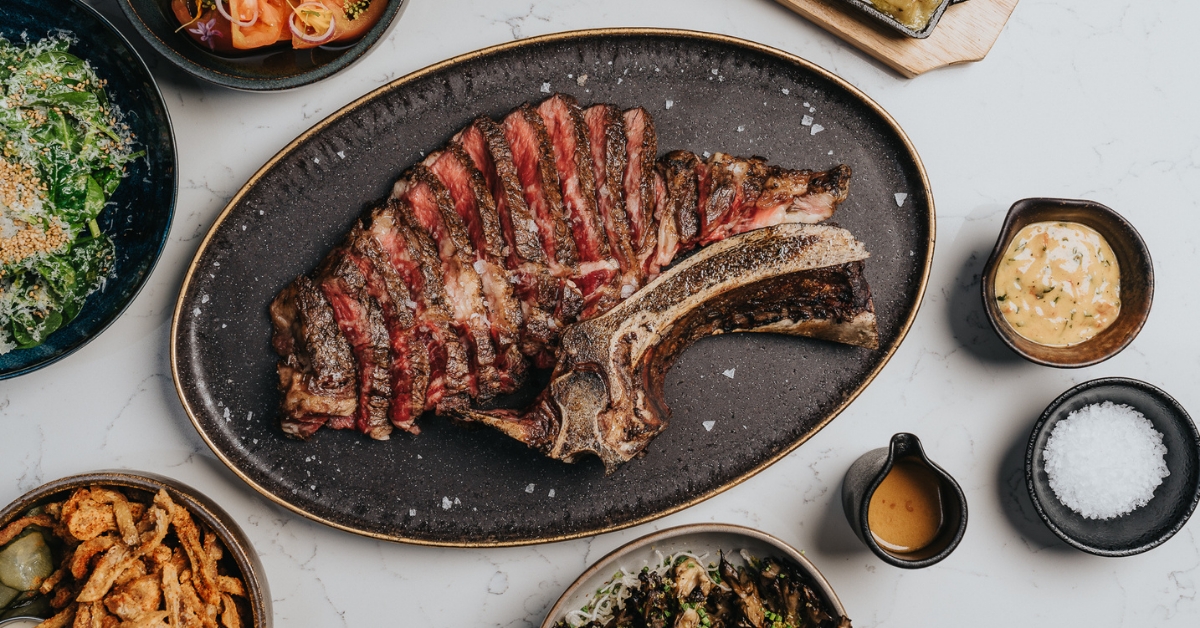 Located at 21A Boon Tat Street, Meadesmoore is a must-visit for anyone who loves their steak. They are a modern steakhouse that specialises in unusual cuts of beef from trusted award-winning premium producers. We started with appetisers and their Breaded Pig's Head and Bone Marrow stood out for me. It was my first time trying Breaded Pig's Head with preserved lemon mayonnaise, and I must say I was pleasantly surprised. 
We were fortunate enough to taste their Zabuton, Rib Cap, Onglet, Flat Iron and Prime Rib. I personally enjoyed all their steaks as they were all so flavourful. The Zabuton has excellent meat to fat ratio and it is best served rare so as to experience its texture and flavours. Their Rib cap is one of the rarest and most prized cuts of beef known for its luxurious marbling and umami finish. The Onglet is also known as a "butcher's steak" as they would keep this for themselves because it's tender yet flavourful despite having very little fat.  The Flat iron is a tended but leaned steak that is a modern or new age beef cut discovered only in 2002. Prized for its generous marbling and cap of fat, the Prime Rib is another that is perfect to share. 
Must-order sides to go along your steak includes their Spinach Salad that was just so light, Maitake Mushrooms and Gratinated Mac & Cheese. Do not leave without having their Chocolate, Chocolate & Chocolate, it is worth every calorie!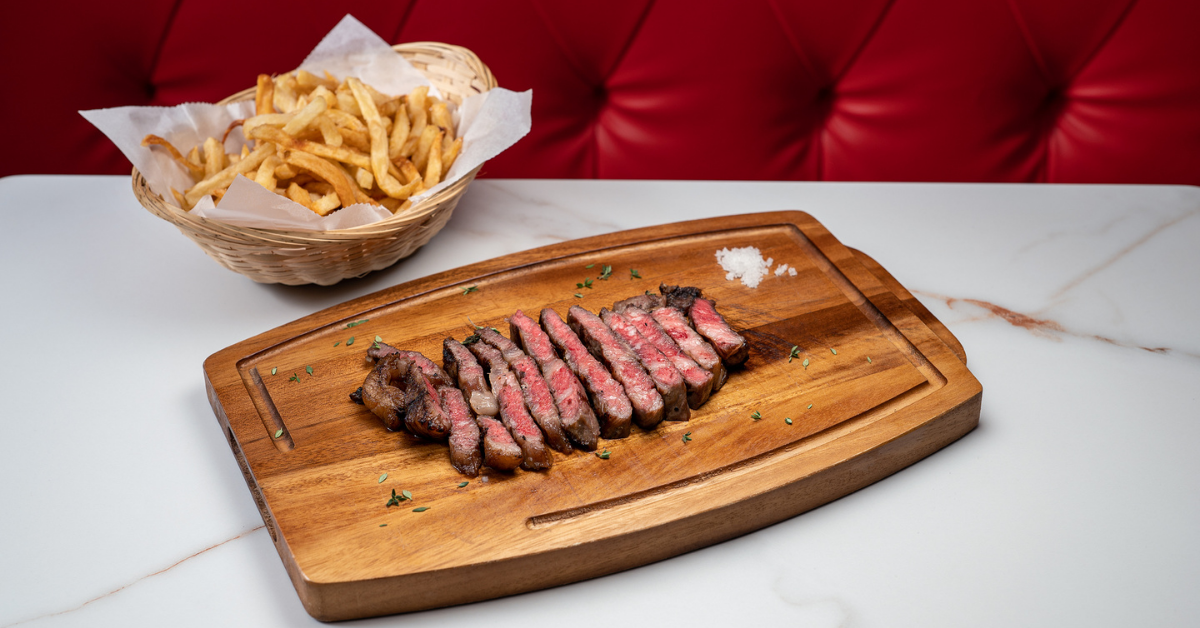 Les Bouchons at Rochester Commons ('Les Bouchons Rochester') is housed in a beautiful two-storey bungalow surrounded by a verdant al fresco area that showcases a pétanque court that is rarely seen in Singapore. Guests are invited to immerse themselves in the French boules sport with an ice-cold pastis (an anise-based spirit) over a languid weekend afternoon; a quintessential South of France pastime which Les Bouchons Rochester celebrates.
New entrées exclusive to Les Bouchons Rochester include French Ceps Soup with Truffle Oil (S$16); French Heirloom Beetroot Salad (S$17) and Terrine de Foie-gras "Maison"; a Foie-gras Terrine served with Onion Chutney and Toast (S$26). The star dish was their Grilled Sirloin Wagyu, a Japanese Hokkaido Black Wagyu MB +6/7 (S$78). Add on the Pan Seared Foie Gras (60g for S$12).
Another highlight is their extensive wine list of approximately 100 labels including both old and new world wines, rare and vintage selections, of which 80% are from France, including several exclusive labels.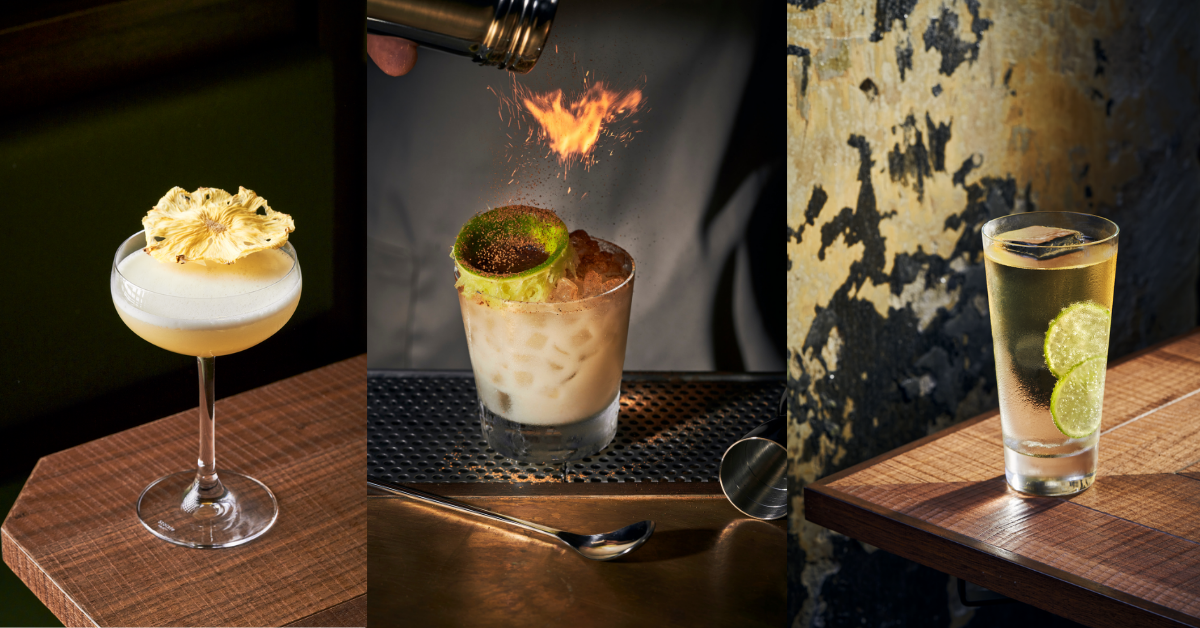 Our beloved Jigger & Pony Group has relaunched Sugarhall as a rum-focused cocktail pub, nestled right above Rosemead. A perfectly cosy spot for post-work drinks or fun get-togethers, Sugarhall returns with a new approachable attitude while retaining the feel-good energy and same old passion for rum. Expect the casual vibes of a neighbourhood pub, where Bar Operations Manager Davide Boncimino and Principal Bartender Sam Loh present a rediscovery of classic cocktails. 
Embodying Sugarhall is returning crowd favourite cocktail Dark & Stormy (S$24), with a localised refresh. Based on Hampden 8 year aged overproof Jamaican rum that poses an intense estery fruitiness, the highball-style classic is finished with fresh lime and Sugarhall's brand new "I Shot the Ginger'' ginger beer. Brewed at The 1925 Brewing Co., the ginger beer ferments young, old and galangal ginger with lager yeast and a secret blend of spices. Knowing its fans, Sugarhall will also serve the crushable drink in a Mega Stormy (S$50) size!
Espousing their dedication to the sugarcane spirit is the Daiquiri (S$22) with two types of rums; Bacardi Superior 1909 rum asserts fresh notes of citrus and vanilla while Veritas blended rum lends its aromatic palate, resulting in a tasty sipper. Other highlights include the PornStar Martini (S$24) - pandan adds depth of flavour to the vodka and passionfruit classic - and the H&M Sour (S$24), a gin sour accentuated with green tea and hazelnut.
If you're a true rum fan, then you can look forward to the Rum of the Month. Introducing premium or exclusive rums as a flight and a cocktail, explore the ever-growing selection with the guiding hands of Sugarhall's bartenders.
Sugarhall also celebrates the joys of a well-deserved drink with their Happy Hour. Running 4pm-6pm daily, the offerings rotate monthly with cocktails going at S$14 each, as well as the Sugarhall Sorachi Ace Lager and wines by the glass available at S$12. A steal!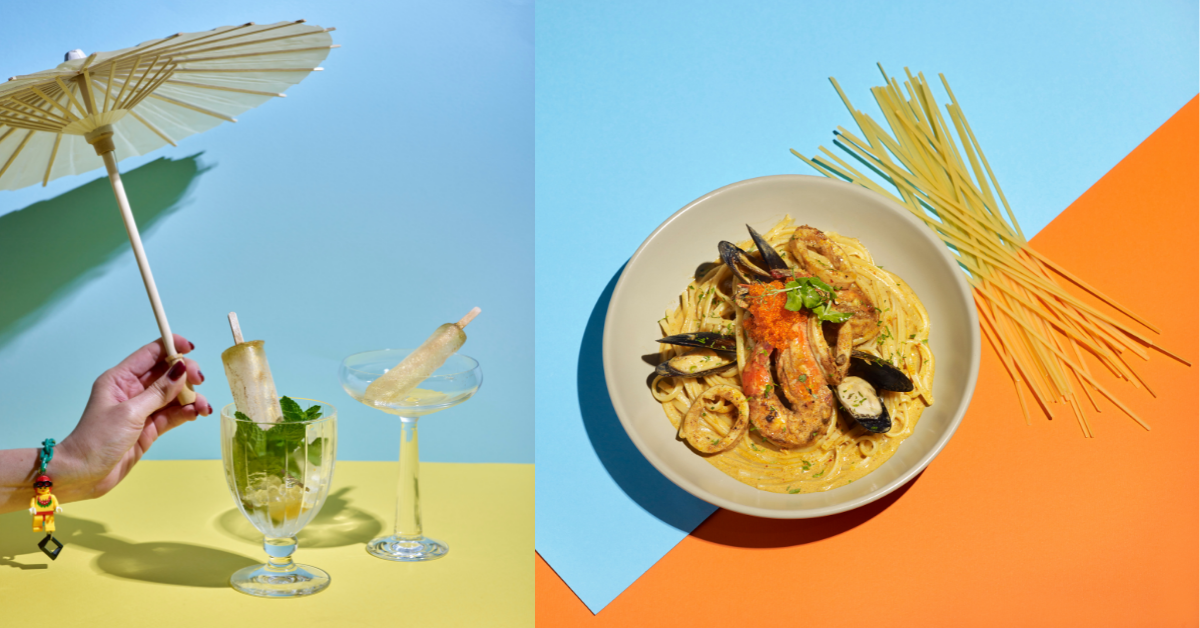 Espresso with vodka? Sounds like the perfect perk-me-up for some. Frozen cocktail with siracha? Why not! This is RATIO – a quirky, unusual cafe and gastro bar constantly pushing the limits on what "normal" means.
This new kid on the block at ION Orchard proudly showcases the world's first 5th wave coffee robotic barista that makes the perfect Latte and Piccolo using Tiong Hoe coffee beans. This impressive AI-powered robotic barista can make cold and hot espresso-based beverages to your preferred ratio precisely and consistently with order and speed. The Super Manual can grind, tamp, extract espressos and create perfect latte art like an experienced human barista!
Unique to RATIO, is the exciting signature cocktail offerings where two frozen cocktails will come with "Push Your Limit" options that allow you to customise your alcohol level from 0% to 100% (up to 5 shots!).
A perfect balance of sweet and sour flavours, Dragon Tears will refresh you with its mix of pineapple rum, dragon fruit puree, soursop juice and lemon basil. Take a sip of Life's a Beach and be transported to the seaside. Contained in a coconut husk, the combination of tequila, mango puree, coconut water, lime and ginger flower syrup awaits your indulgence. Awaken your inner child with Passion Pop, an icy treat of rum, glitter syrup, lime, passionfruit and mint that is served as an ice-cold popsicle.
Highlights on the food menu? RATIO's Seafood Laksa Cream Linguine presents juicy fresh tiger prawns, mussels, and squid on a bed of al-dente linguine, drenched in a rich piquant laksa-spiced cream sauce. For those looking for a meat alternative, the IMPOSSIBLE Kimchi Burger will not disappoint as you sink your teeth into a succulent grilled plant-based patty glazed with savoury picante sauce, topped with irresistibly moreish kimchi and melted cheese, sandwiched between two golden brioche buns.
There is always room for dessert, even more so when it is an aesthetically-pleasing one. Settled in an elegant martini glass is a creamy-smooth custard, infused with floral rose notes, break through the clear caramel sugar brittle and indulge in the delightful Rose Crème Brulee beneath. You may even request to hide a ring inside the crème brulee to surprise your love!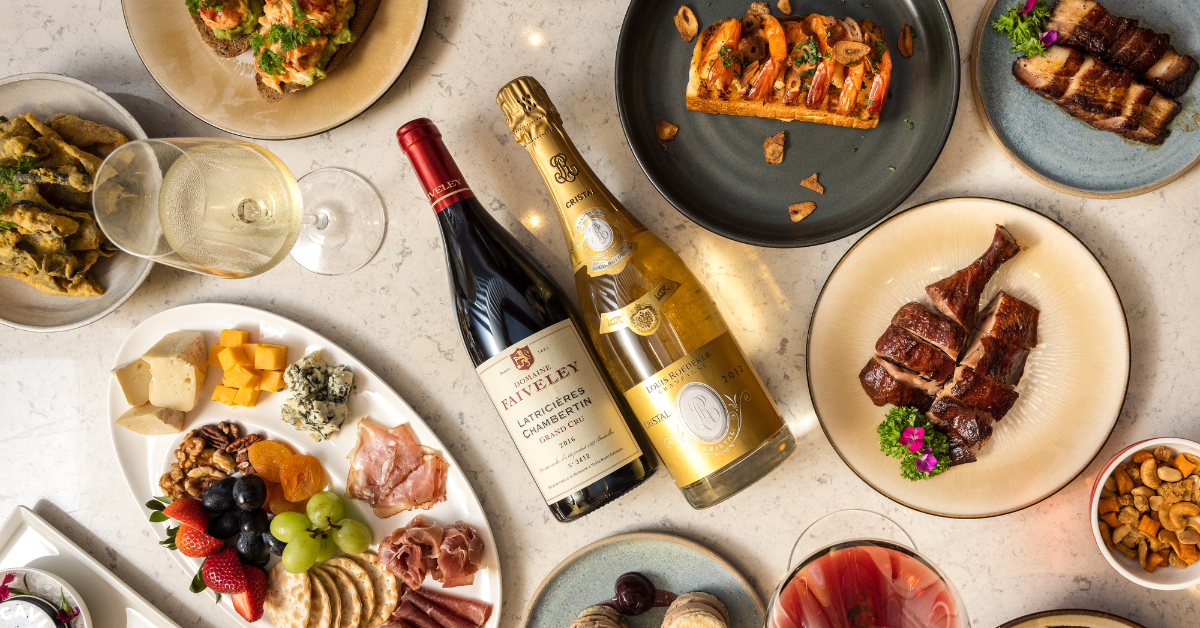 Introducing Graft8 (pronounced 'graft bar'), a new wine lounge by fine wine merchant Grand Vin. An ode to fine wines, Graft8 features an enviable wine list dreamt up for wine lovers from all walks of life – be it the sophisticated wine drinker, budding appreciator, or simply for the curious.
Tucked away in the lobby of Sheraton Towers Singapore, Graft8 comes alive every Monday to Saturday, from 3 pm till late, hosted by a team of experienced sommeliers. With a world-class collection of more than a hundred types of wines assembled by Sommelier Trainer Manda Oei, you can discover new favourites from a list that includes Champagne Louis Roederer famed for their Cristal cuvée, esteemed Burgundian house Domaine Faiveley and Napa cults like Hundred Acre.
Wines are available both by the glass and by the bottle, so for a luxurious, lounging evening, you can relish the taste of some of the top labels in the world without having to quaff an entire bottle. The only wine venue in Singapore offering premium fine wines by the glass, Graft8 is intended as a destination for wine discovery and appreciation, and with wines to suit any mood, occasion or budget.
While wine and Chinese cuisine may sound like an unusual pairing, they can make quite the dynamic duo! Indulge in delectable Chinese food and Asian bar bites alongside your selection of fine wines with the special Li Bai menu, available from 5pm – 9pm.
Biestecca Tuscan Steakhouse celebrates its 10th anniversary with a "best of Bistecca" menu priced at S$138++ per person. Available for the month of March, Bistecca will be serving up its most popular dishes of the last ten years.
The special menu is centred around Bistecca's Signature Sharing Steaks, premium F1 Wagyu (marble score 6+) beef exclusively imported from Australia. Cuts include the Fiorentina, a classic T-bone or the Costata, a bone-in ribeye with both options ranging from 900g to 1.3kg, depending on the number of guests at the table.
You can choose between three starters, Fremantle Octopus, Pan-seared Scallops or their Burrata. The menu also includes a choice of House-Made Pasta either the Busiate, a beef and tomato ragu or Japanese Pumpkin Agnolotti; and of course, a range of sides such as their classic Steak Fries, Brussels Sprouts, and a decadent Italian take on Mac n' Cheese among others.
Dessert lovers won't be left disappointed with a choice of four indulgent desserts including traditional Panna Cotta and Tiramisu, Black Forest Ganache and the delicious Sticky Date Pudding. To round out the gourmet dining experience at Bistecca, each guest will receive a complimentary glass of bubbles, red or white wine.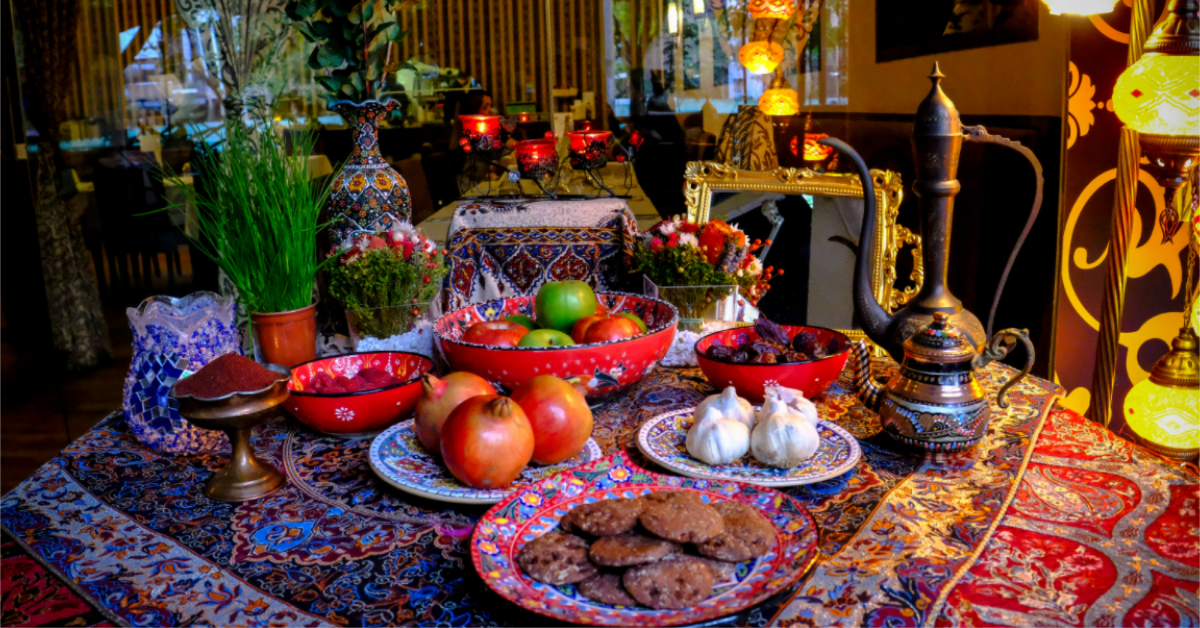 Celebrate Nowruz at Shabestan Singapore
Nowruz, also known as the Persian New Year, marks the beginning of spring in the Northern Hemisphere. In celebration of this auspicious occasion, Shabestan Singapore is having a Persian buffet on 20 and 21 March 2022 for dinner from 6pm - 9pm; featuring over 25 dishes including their popular dips, salads, soups, appetisers, charcoal-grilled kebabs, Persian stews, and of course dessert.
Like most festive celebrations, food is an integral part of Nowruz and there are several special Persian dishes served during Nowruz. This year, Shabestan will be having both Kuku Sabzi, a traditional Persian omelette made with fresh herbs, eggs, and Tahchin, an Iranian rice dish primarily consisting of rice, yoghurt, saffron, and eggs.
Must-try dishes for Nowruz also include Ash Reshth, a signature Persian Noodle Soup,  Fesenjan, an iconic Persian stew made with pomegranate and walnut sauce, and Ghormeh Sabzi, a savoury medley of fresh lamb, cooked with red beans, herbs, sun-dried lime and fresh vegetables.
Popular charcoal-grilled kebabs such as Lamb Kubideh, Mahi Kebab, Sabzi Kebab will be on the buffet menu. A new addition to the charcoal-grilled kebabs is the Beef Shish Kebab that is made of marinated chunks of fillet mignon. 
S$98++ per person / S$48++ per child 
*Delivery and takeaway also available from 1.30pm - 8.30pm.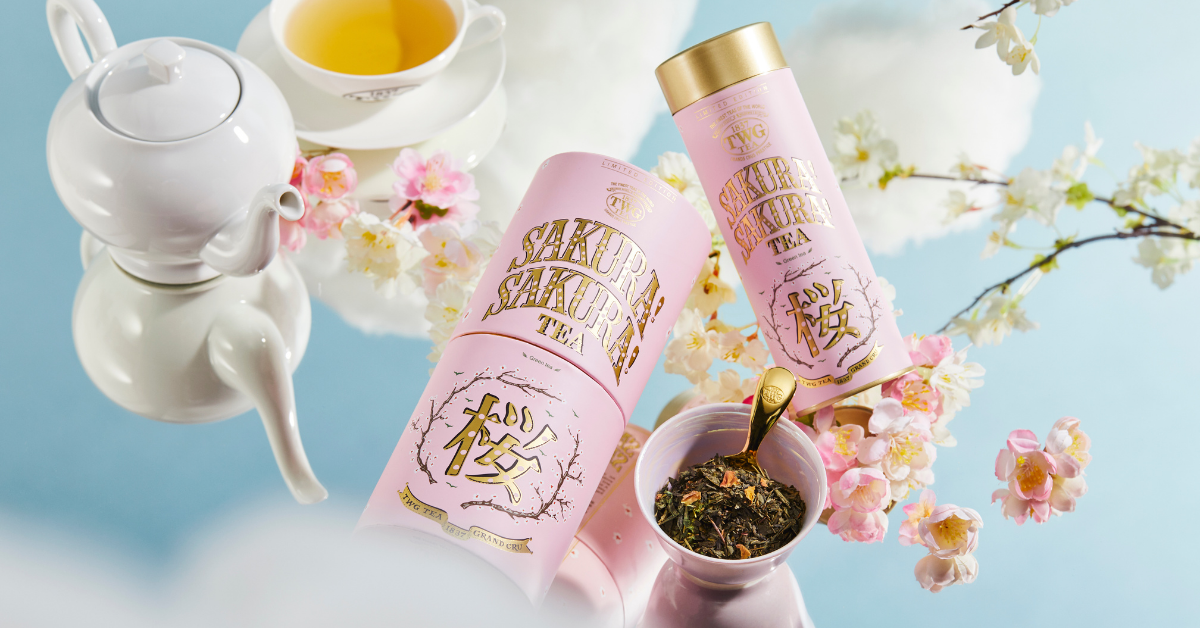 This season of renaissance, let TWG Tea transport you with the ethereal beauty of Spring in a cup of the limited edition 2022 blend of Sakura! Sakura! Tea. Sakura! Sakura! Tea retails from 10 March 2022 and is priced at S$48 with just 800 pieces available in Singapore. 
Beautifully handcrafted with notes of wild Rainier cherry and sweet rose petals, this green tea yields an aromatic and elegant infusion enveloped by soft lingering hints of floral sweetness. Encased in the soft, luxuriant hues of pink and gold in a collectable tea tin adorned with delicate florals, this marvellous blend rejuvenates and refreshes your mind and body with vitamin C, and anti-inflammatory and antioxidant properties.
Pair this fragrant tea with Sakura! Sakura! Tea-infused macarons with exquisite white chocolate and vanilla ganache, accentuated with natural flavours of green tea and a sweet bouquet of cherry blossoms. These macarons are available in boxes of 6, 12 and 24 priced at S$12, S$24, S$48 respectively.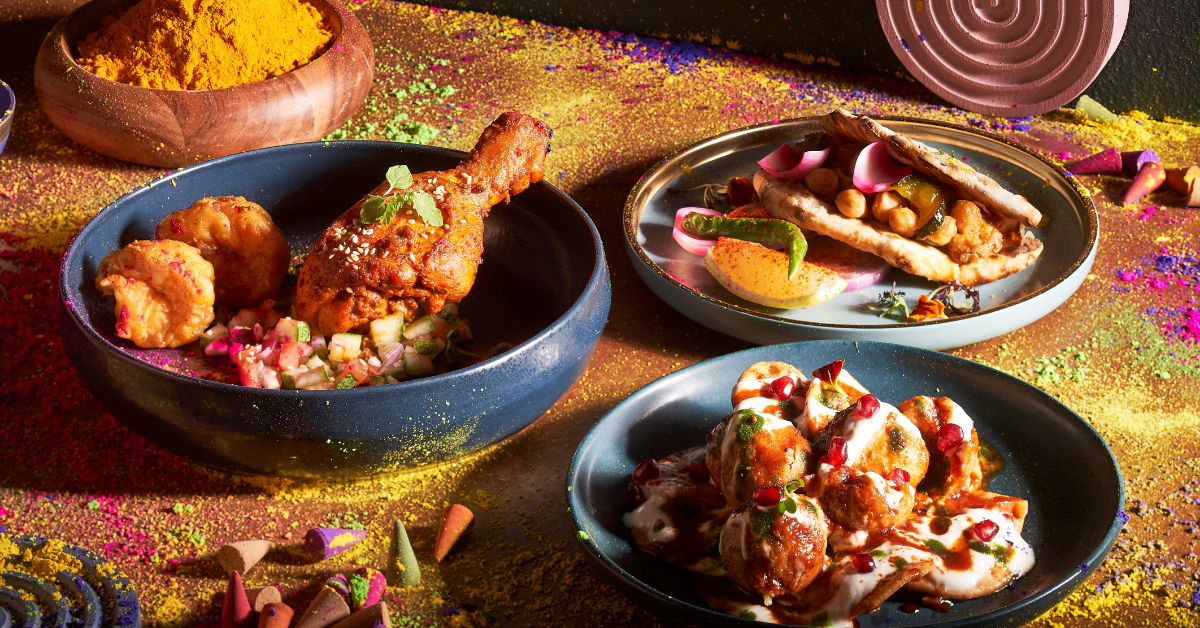 Delight in the joy and captivating flavours of Holi – India's Festival of Colours, with a charming spread of North Indian specialities at the historic Tiffin Room at Raffles Hotel Singapore. Masterfully curated by Chef de Cuisine Kuldeep Negi, the limited-time menu, The Joyous Flavours of Holi, is available exclusively from 5 to 19 March 2022 in both vegetarian (S$88++) and non-vegetarian(S$98++) options, alongside a wine-pairing (additional S$58++) option for an elevated celebratory experience.
The festive feast begins with Dahi Bhalla Papadi Chaat, Tangdi Kebab (tandoori-grilled chicken), Jhinga Till Pakora (crispy prawn fritters), Chole Kulche (chickpea masala with naan). For the main course, guests may savour the delectable Tawa Fish, a flavourful pan-seared barramundi served alongside refreshing mint and coriander paste; Darbari Gosht, succulent lamb chop in an aromatic cardamom curry; and Murgh Lazzez, tender chicken breast in a rich almond and cashew nut gravy.
The vegetarian starters are Mushroom Till Pakora; crispy mushrooms with sesame seeds, Channa Dal Tikkki; black chickpea cutlets. Mains feature Paneer Prunes Kofta Curry; a creamy cottage cheese dumplings stuffed with prunes in tomato gravy, Chatpate Aloo; potatoes tossed with an aromatic spice blend. Both menus are served with Indian Basmati rice as well as Masala Charmagaj Naan and Laccha Parantha, alongside an array of chutneys and pickles.
For desserts, satisfy your sweet tooth with a tantalising assortment of Paan Rasgulla; delectable betel leaf flavoured cheese dumplings, Pista Gujia; traditional sweet dumplings stuffed with coconut and dried fruits,  and Gur Parre;  enticingly crispy sweet bites made from jaggery.
For all enquiries and reservations for dining experiences at Raffles Hotel Singapore, call (+65) 6412 1816 or email at [email protected].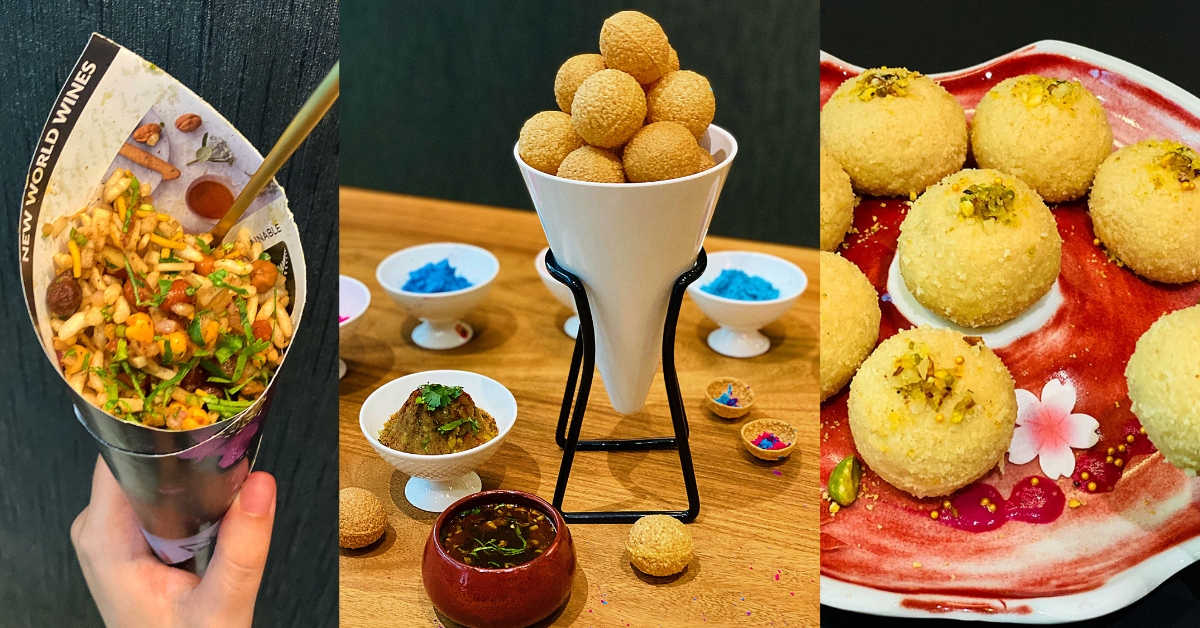 Aapon welcomes the spring season with 'Kolkata Local', bringing the flavours from the city of joy to you. Talk about Kolkata street food and you will instantly visualise mouth-watering phuchkas, crunchy rolls, chow mein noodles, and more. Aapon has exquisitely curated a menu catering to this Holi Festival for a time of celebration and feast, available for lunch dinner from 17 to 19 March 2022. So gather the family and make your way down to Aapon!
Phuchka is basically the spiciest version of Panipuri from Kolkata filled with a mixture of black chickpeas and potato filled with tangy tamarind water, to be popped whole into your mouth for a literal burst of flavours. A snack that is usually eaten during the Holi festival, Jhal Muri is a delicious mixture of puffed rice, boiled potato, chopped fresh cucumber, tomatoes, green chillies, coconut, sprouted Bengal gram, boiled yellow peas, seasoned with a special spice mix, generous sprinkling of pungent mustard oil, and black salt.
The rolls come in both non-vegetarian and vegetarian options. Choose from crisp yet soft Parathas stuffed with Chicken tikka, Paneer tikka or Egg with cucumbers and onions, loaded with Chef's secret sauce. End the meal with Nolen Gurer Kachagolla - a famous Bengali sweet cheese confection elevated with the flavour from date palm jaggery.
Holi menu: S$40++ for 3 dishes | S$60++ for 5 dishes
Beyond the festive menu, Aapon's a la carte menu is extensive with a mix of authentic Bengali dishes and familiar North Indian dishes. Coveniently located in the CBD, drop by for their affordable set lunch menu at just $25++ per person - especially great for corporate lunch meetings. Fridays are Briyani special! The restaurant also has a bar that offers unique cocktails that make use of Indian spices such as masala chai spice and cumin seeds, so head over for after-work drinks with colleagues and friends.
Location: 140 Robinson Road, #01-01 Crown @ Robinson, Singapore 068907
Cult pizzeria from Brooklyn, New York, Roberta's Pizza opens its first international outlet at Marina Bay Sands Singapore! The pizza house will offer the full range of pizzas and salads from Roberta's menu, including favourites from the original Brooklyn eatery such as the Famous Original, Bee Sting and Cheesus Christ.
The Stracciatella with House Bread (S$15) is a must-try with housemade stracciatella — a soft, fresh cheese best known as the delicious centre of burrata that is also made from scratch here in the Singapore kitchen. Best to share this one!
We personally loved The Bee Sting (S$28), which is a piquant pie with tomato, mozzarella, Calabrese salami and basil, finished with housemade chilli oil and honey that gives a real kick. The refreshing salads on the menu also make a great accompaniment to the pizzas.
Don't forget to pair your pizzas with Singapore's local beer. The lemongrass lager by 1925 Brewing Co. goes especially well with the wood-fired thin pizzas.
New Menus, Restaurants and Bars This February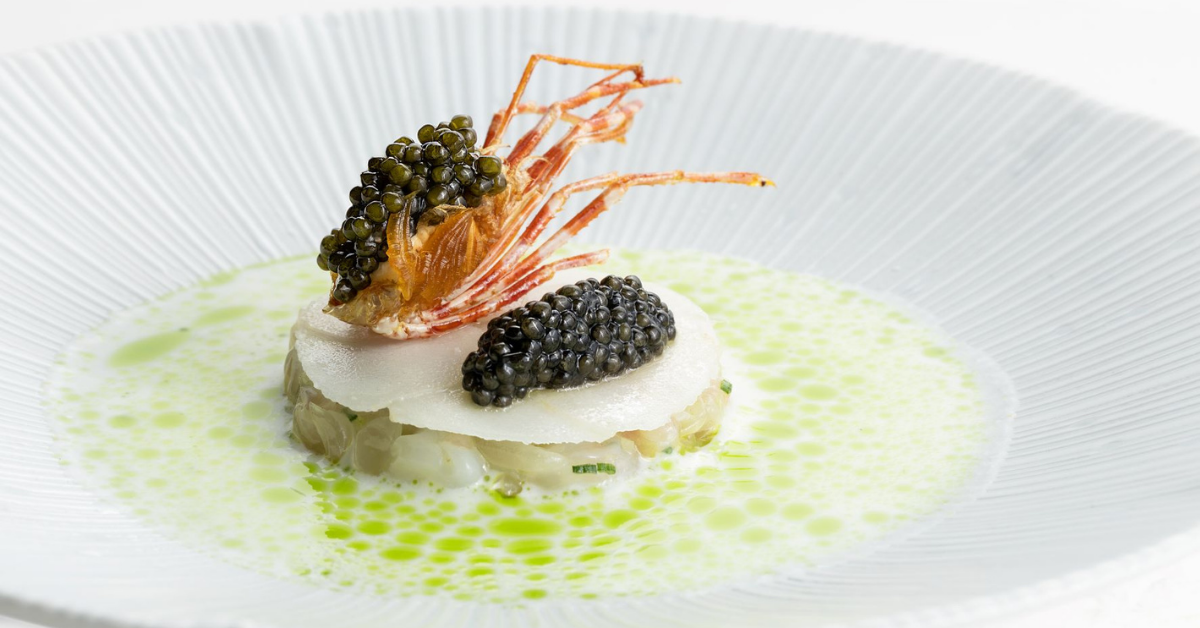 Located at Palais Renaissance, Caviar features 8 of the world's best Caviars including world number 1 Kaluga Queen, Oscietra, Sevruga and Beluga. Helmed by a young team of Chefs, every dish we tasted was simply exquisite. Available for lunch, dinner and now weekend brunch, do make your reservations in advance as this contemporary modern restaurant only seats 24. We tried their lunch and the dishes that stood out the most to us included Botan Ebi which featured Buttermilk, Kaluga Kaluga, and Kaluga Queen Cross-Breed.
The Uni Pasta was definitely a surprise, a great idea to add Salted Lemon and Kaluga Kaluga. Chef Karleen did not need to ask how we liked our steaks done as the Westholme Wagyu with Smoked Mash, Asparagus and Kaluga Queen Cross Breed was truly decadent.
Last but not least, a must-try is their dessert called "Sake" made with Sake Lees, Lime and Polanco Siberian Reserve. No meal is complete with champagne or wine pairing, and at Caviar, even whisky goes.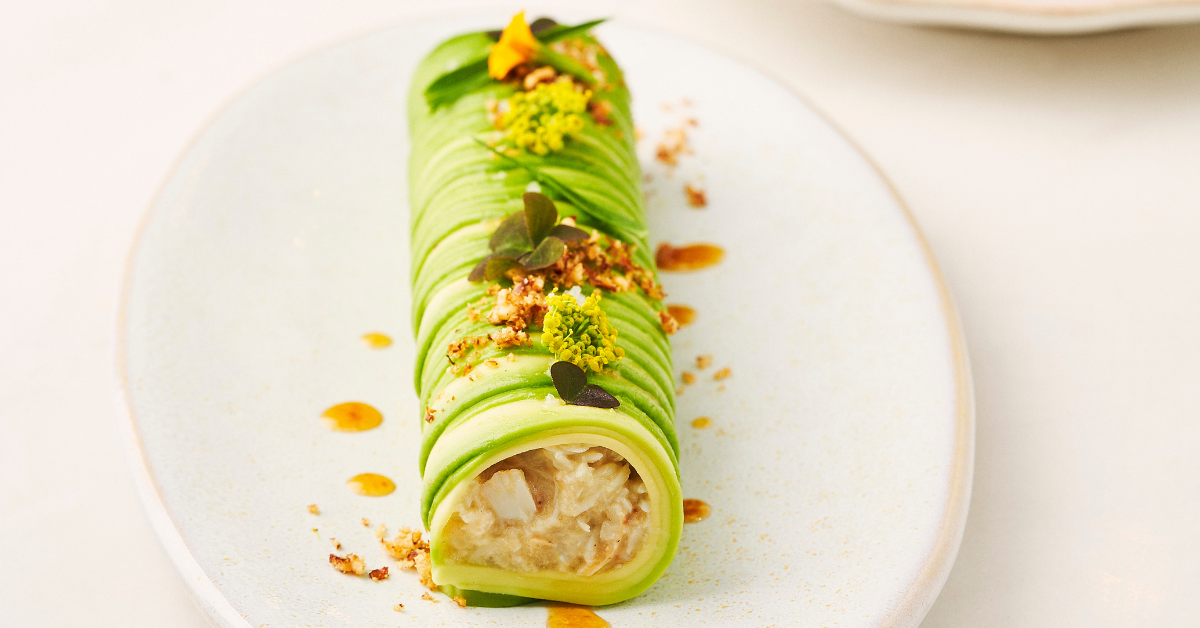 A modern Californian fine dining restaurant housed in a 1920s heritage building, Rosemead is driven by local and sustainable ingredients, with particular attention to seasonality, peak freshness, and an emphasis on maximizing the natural flavours of the ingredients used. The first dish that always sets the bar for a restaurant is their House Rolls and Rosemead did not disappoint. Shokupan glazed with maple syrup, smoked bacon and kombu is broiled on the grill and it comes with a savoury Shitake Cultured Butter.
Another beautiful dish was their Mangrove Crab Tartine with Avocado and Yuzu Citrus that was garnished with micro herbs from Edible Garden City. We were impressed by the size of their Roasted Hand Dive Scallop that was quite sizable but nothing beats their Whole Roast Chicken and Leeks with Winter Black Truffle. This dish speaks to you the moment it is on the table. Highly recommended for sharing, Rosemead uses 1.2kg fresh young chickens from Malaysia, dry brines, and is slowly roasted over the fire, which results in a very juicy chicken.
For dessert, Rosemead has options that cater to every palette from Chitose Farm Strawberry and Heirloom Beetroot, Sudachi Lime and White Chocolate, Burnt Honey Meringue and Malted Chocolate Milk.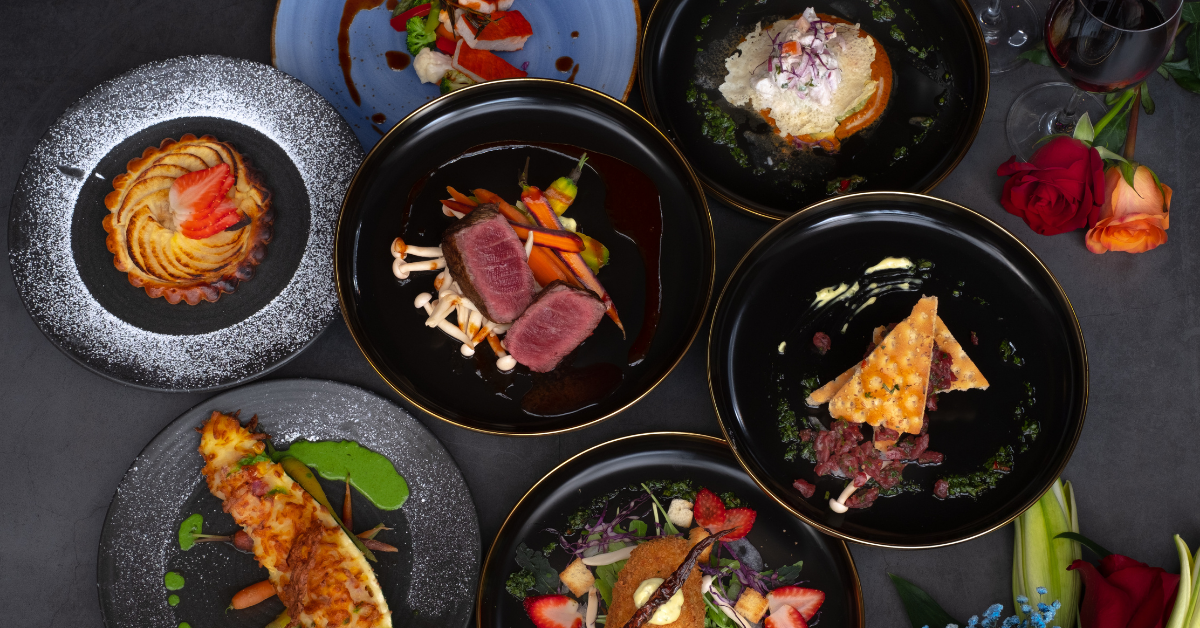 A fan of Latin American cuisine and music? Executive Chef Alex Moreno has curated a 3-course dinner menu with wine or prosecco included for you and your partner. Available from 11 to 14 Feb 2022, this 3-course dinner includes an appetiser of your choice, a main course, and dessert.
Cuban Executive Chef Alex highly recommends his Mil Hojas de Aguacate y Cangrejo, which is an avocado and crab tart served on crispy parmesan sheets. The pan-seared Filet Mignon with red wine and balsamic sauce which comes with a side dish of your choice, and his house-made Apple Tart. 
For vegetarians, there's the Golden Egg which is a deep-fried stuffed avocado on a salad nest, Zucchini Boats which is a Mexican-style zucchini canoe stuffed with mixed vegetables which comes with a side and Chocolate Lava Cake for dessert.
S$70++ per person includes 2 glasses of wine / prosecco | S$140++ per person includes 1 bottle of wine / prosecco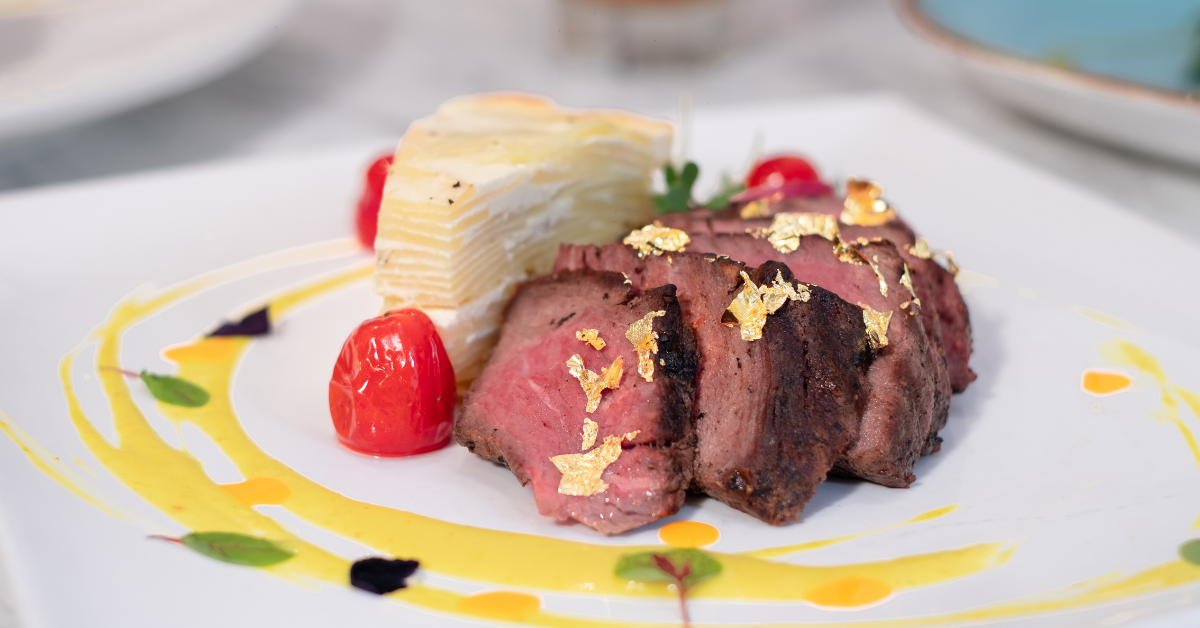 Halal restaurant Permata located at historic mansion Gedung Kuning has curated a progressive Nusantara Valentine's menu available for both lunch and dinner from 11 to 14 Feb 2022. 
Priced at S$88++ per person, which includes an Asmaradana mocktail, guests can look forward to sharing an appetiser platter that consists of a Lychee & Pomegranate Kerabu Salad and Pan-Seared Scallops with Lemon Ginger Burnt Butter. 
For mains, choose between Permata's signature Chargrilled Filet Mignon with Spicy Tumeric Lemon Cream, Scalloped Potato, Asparagus and Tomato Confit or Pan-Seared Barramundi with Sambal Berlado, Scalloped Potato, French Beans and Tomato Confit. 
To share for dessert is the Dark Golden Fried Banana with Vanilla Ice Cream, Salted Caramel and Almond Flakes and Panna Cotta topped with Green Bean Mousse and Golden Dust.
New Menus, Restaurants and Bars This January
Since Nov last year, iKO had been deep-diving into traditional Japanese cuisine to fish for fresh ideas that inform its new menu. More than ten weeks later, the transformed iKO is revealed. 
Catch iKO's gastro maestro Dylan Ong, also chef-owner of Franco-Asian restaurant The Masses, serving up binchotan-grilled items, sashimi, and more fun mod snacks to go with the tipples. Meant for sharing, the food offerings include stuffed tempura jalapeño, scallop carpaccio with chilli, wagyu sukiyaki, and spruced up kaisendon featuring a medley of seasonal fish from Japan and yuzu-based tonkotsu broth.
To go with these vogue creations, iKO lists European wines in addition to Japan's pride and joy that is sake. Most ingredients used in the dishes are air-flown from Japan. 
Choose to sit by the bar and watch the action up close, or pick a low table to cosy up with loved ones. Either way, guests get to soak up iKO's leisurely charm as swagger Japanese hip hop and rap fills the air.
iKO is located at 65 Neil Road, Singapore 088897.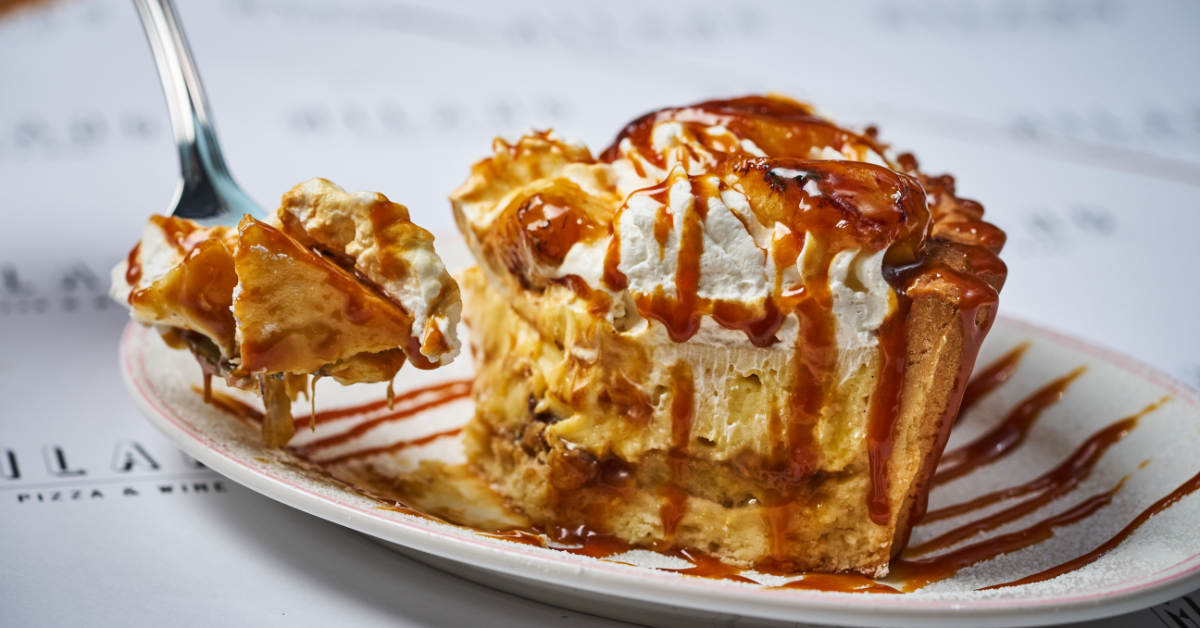 Already well-known for their artisanal and experientiaal venues such as Pasta Bar, Papi's Tcos, bar Milano, Bang Bang, and LuLu's Lounge, the SJS group is excited to welcome diners to Milano Pizza & Wine located at Craig Road, where guests can enjoy three pizza styles - Artisanal 400 degree sourdough NEO-Neopolitan, Sicilian Grandma, and Buttercrust Pan Pizza.
We started our evening by sipping their Pinot Grigio Cucumber Spritz which paired very well with their Spiced Honey Brussel Sprouts that many of our friends loved. What stood out for us were their Mortadella & Burrata Sicilian Grandma Pizza that was divine and their Handmade Pasta. We had the Rigatoni 40 Clove Garlic Tomato Sauce that was made with San Marzano Tomato, Confit Garlic and Fresh Basil. Another must-order dessert is their Banana Cream Pie that had us wanting more!
Milano Pizza & Wine is located at 10 Craig Road, Singapore 089370.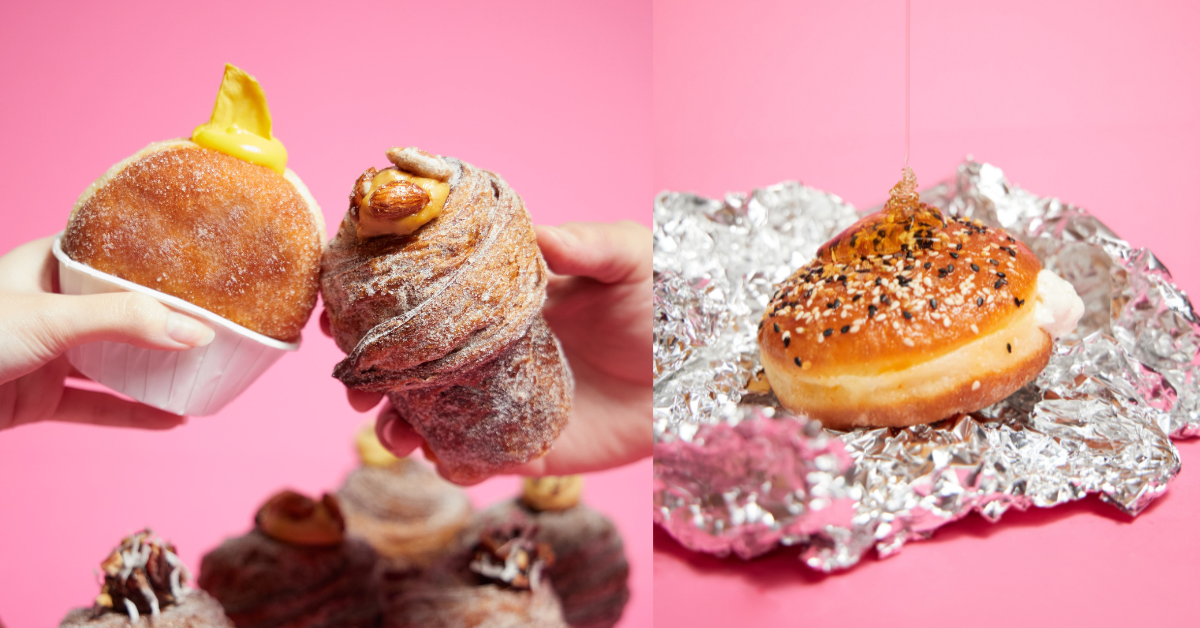 Sink your teeth into Mr Holmes Bakehouse's fully revamped menu which includes their first-ever savoury cruffin - Sundried Tomato & Bacon Jam - and brioche donut alongside three sweet variants. The new line-up also includes a twice-baked croissant, danishes, buns, cookies, muffins and sandwiches.
New from now till end of Mar 2022 is a trio of cruffins inspired by Singaporean's penchant for decadence which includes a German Chocolate cruffin, lush Irish Cream cruffin, and  an exclusive PBJ by PBD cruffin created in collaboration with Park Bench Deli that revisits the American classic with a tart strawberry rhubarb and nutty almond butter twist, topped with whole candied almonds.
Another savoury favourite, Everything Donut is just as promising as named. Piped with chive and caper cream cheese, each brioche is glazed with spicy Sriracha honey and a coat of house-made Everything seasoning for an all-round toothsome ball.
Other standouts include Bacon Mac & Cheese Danish, Bourbon Caramel Pecan Sticky Bun, Gluten-Free Lemon Blueberry Muffin, and Vegan Chocolate Fudge Cookie.
Mr Holmes Bakehouse's new menu is available for purchase in-store and online. The store is located at 9 Scotts Road, #01-01/02/03 Pacific Plaza, Singapore 228210.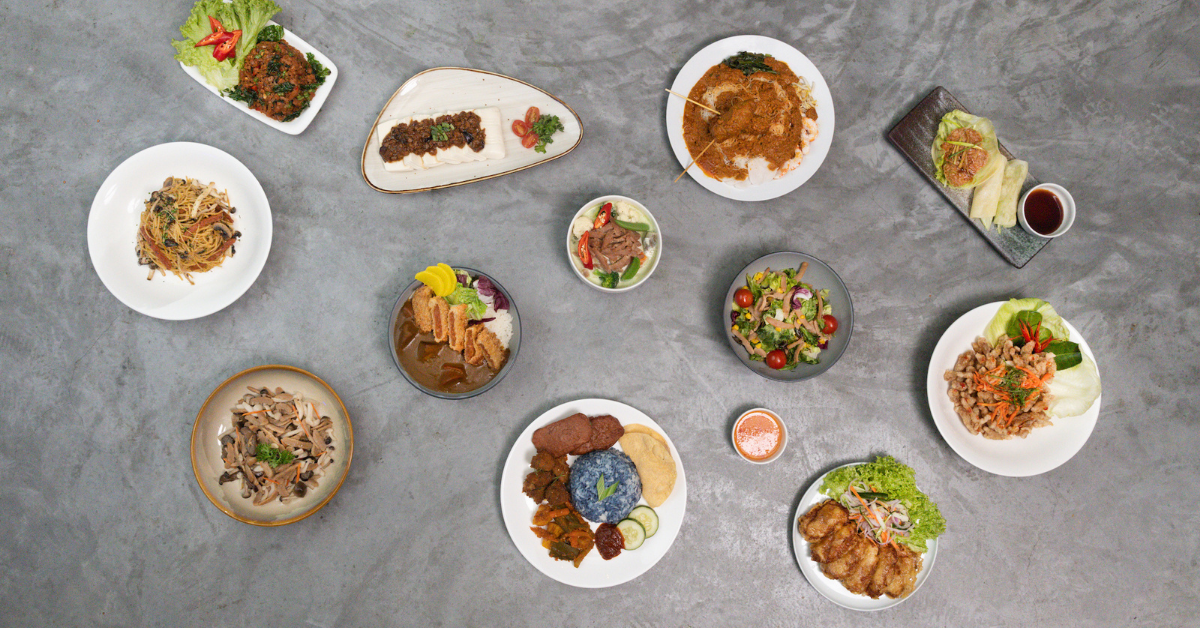 Concerned about the environment? Scientists say cutting out meat and dairy is the best way individuals can tackle the climate and wildlife crises, as the food system is surely one of the most important ones as it is globally responsible for about a third of all greenhouse gas emissions. If you haven't heard of them already, Green Monday Group is an award-winning social venture and creators of OmniFoods and Green Common, their one-stop culinary destination for plant-based eating.
In lieu of #Veganuary, Green Monday has partnered with over 50 restaurant and coffee shop outlets in Singapore to provide a great variety of delicious vegan options to suit different palates and budgets. They are trying to make vegan food options easily available in supermarkets and restaurants, so you can simply make substitutes whenever you can.
Restaurant partners of Green Monday, many of whom have created brand new dishes for #Veganuary 2022, include The Fullerton Hotel Singapore and The Fullerton Bay Hotel, Sheraton Towers Singapore's Li Bai Cantonese Restaurant, Food Loft, Shi Zhi Wei Kitchen, Donburi no Tatsujin, Daily Green, Teik Kee, Saveur Thai, and Common Grill by COLLIN'S. What kind of dishes can you expect? Vegan versions of local favourites such as Laksa, Hainanese Chicken Rice, Nasi Lemak, Satay Bee Hoon, Peking Duck, and more!
Order from the partner restaurants directly. To order from Green Commons, you may do so online via Oddle.
Common Green is located at 1 HarbourFront Walk, VivoCity, #01-169/170, Singapore 098585.