beauty
Made in Singapore: Local Beauty Brands to Watch Out For
Published Date
: 27 Sep 2022 10:00

From clean beauty and skincare to personalised makeup, these local beauty brands need to be on your shelfies - and pronto!
Seeking local beauty brands to shop from? We are so excited to see the changing landscape of beauty in Singapore, thanks to some of the most forward-thinking brands - all born locally! From sustainable makeup to ground-breaking skincare, these beauty brands are ones to watch out for.
Hands up if you've ever gone shopping for a foundation or face powder and come back empty-handed. Many of us have a hard time finding those in-between shades when it comes to coverage. Now there's a local solution that you'll love!
Individual Collective is a made-in-Singapore brand dedicated to changing the way women use makeup. The first in Asia to launch a DIY FaceDiscovery Kit where users get to self-blend and take control of what goes into their face powder. Think customised colour, correctives and skin benefits- all blended into a one-step buildable powder coverage.
Individual Collective Founder, Marilyn Ng, started out as a makeup artist who advanced into training roles with reputable MNCs, and notably trained and groomed Singapore Airlines cabin crew under her belt. Possessing over two decades of experience in beauty, she aims to champion mindful beauty through clean cosmetics.
Advocating foundation basics by introducing a 100% Talc-free customised mineral powder, blended to suit every skin tone in between, Individual Collective is now transforming faces, one base shade at a time. Think of it as your first step to mindful clean beauty!
Kale, lingonberries and chia seeds — superfoods are no longer just found in salads or smoothies, they've become a mainstay of skincare products too. Homegrown Singaporean beauty brand Rooki Beauty is dedicated to creating skincare essentials that declutter your routine and respect YOUR skin's unique chemistry. Rooki Beauty makes an impressive feat of including superfood ingredients with the right amount of power in order to make a visible difference to your skin.
Best of all, the range is Tropical climate-friendly and you can stay cool and comfortable with formulas that are light on the skin yet effective and worth the investment.
Rich in antioxidants and vitamins, the Rooki Beauty Green Pulp Paste Masque is a clear winner that transforms from a plant-powered green gel to a milky white paste when activated. Carrots, tomatoes, matcha, kale and soybeans work together in harmony to replenish the skin's natural ecosystem, leaving it softer, brighter and perfectly balanced.
With a minimalist aesthetic that looks as good on store shelves as it does on bathroom counters, you'll find a wide range of products to choose from and a personal favourite to love!
Make your way into health and wholeness with Roots & Ceremony, a homegrown beauty brand that aims to provide holistic self-care for your inner and outer selves. Believing in harnessing the best that the world has to offer, Roots & Ceremony offers restorative blends for every body, and for every soul while being vegan, cruelty-free and free of sulfates, parabens and synthetic fragrances. 
When it comes to pampering your skin with nourishing and soothing products, Roots & Ceremony's Body Care Collection makes an excellent choice. Using 100% pure essential oils to enhance the well-being of your mind, body and spirit, your skin and senses will feel revitalised and healed. Centre your mind and cleanse your skin with the hydrating Inner Peace Purifying Cleanser. Formulated with a non-drying aloe vera gel, purify your skin with this Amethyst-infused hand and body cleanser. After a long day, take in the woodsy, earthy scent as you dip into a comforting bubble bath to soak the stress away. 
For self-care on the go, try the Reset, Refresh & Restore Discovery Kit which features three travel-sized body care formulas in a convenient zip pouch. Zen out with this compact kit that is designed not just to care for your skin but to be incorporated with wellness rituals like breathwork, body scan and palm inhalation. Ideal for travelling, this calms and grounds your mind, soul and body no matter where you are.
Remind your loved ones of the importance of self-love, with the perfect Gift Bundle from Roots & Ceremony. Gracefully packaged in an exquisite floral gift box filled with dried flowers, the receiver will get to enjoy the full-sized Inner Peace Purifying Cleanser, Clarity Crystal Sugar Scrub and Self-Love Nourishing Lotion. 
With free shipping within Singapore over S$80 and worldwide shipping via Asian Beauty X, you can up your self-care game with Roots & Ceremony starting now!
Made for our hot and humid weather in Singapore, Glowfully formulates clean beauty products to help your skin glow from within. Start off by detoxing your skin with the Glowfully Charcoal Beads Gel Cleanser. You may be intrigued by the idea of charcoal beads, so what exactly do these power beads do? Acting like a magnet, the charcoal draws out pore-clogging pollutants and impurities from your skin without stripping away the skin's essential moisture. Other than being a gentle cleanser, it is also mildly scented with Geranium essential oil for you to enjoy a relaxing mini spa experience each time you cleanse! Free of Paraben, Phthalate and Formaldehyde, you will be safe from any toxic chemicals.
While our skin goes into recovery and repair mode during sleep, it is also prone to losing moisture. Infused with high concentrations of Glowfully's key ingredients: Niacinamide, Amino acids, Aloe Vera and Chamomile Extract, Glowfully's Advanced Healing Elixir (S$58) provides hydration like no other. Promising to delay all signs of ageing and intensely reinvigorate sleep-deprived and dry skin, this night cream is tailored for Singapore's climate and the most sensitive of skin. With a cooling sensation, this refreshing gel emulsion also contains Antarcticine – which helps strengthen the skin barrier to delay the signs of ageing and spur collagen reproduction! Say goodbye to wrinkles and fine lines and achieve a radiant look with the Advanced Healing Elixir. 
Need help choosing the right product for your skin? Glowfully has your back with a free online skin analysis quiz to help you find your best Glowfully product combination!
A strong believer of sustainability and fresh skincare and body care products? Head over to Oasis Skin and explore a wide array of handmade natural products cooked up weekly in their Beauty Kitchen. Cook, yes. Oasis Skin believes in sourcing the right ingredients to whip up legitimate remedies for your skin and packaging them in the most eco-friendly way possible! Without compromising on the quality and the experience, Oasis Skin ensures that its products are rich in plant actives with zero fillers and chemicals.
If anyone is seeking a light facial oil to hydrate and heal your skin, opt for Instaglow. You will be surprised to know that Instaglow is not only safe for all skin types but also helps purify and strengthen skin prone to acne, eczema, atopic dermatitis and other related skin issues. This luxe and ultra-gentle facial treatment come in handy to soothe irritation, heal scars and promote firmness of the skin.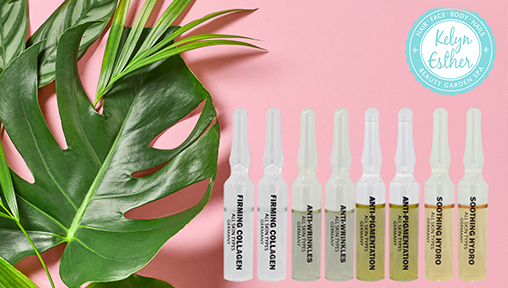 ​
Holistic beauty and wellness solutions provider Kelyn Esther is on a mission to provide organic and natural beauty - from the inside out! This local beauty brand hosts a range of skin care products, wellness treatments at their own salon as well as beauty and health supplements that cater to a range of audiences including those on a keto diet. Kelyn Esther's story started from experiencing miraculous skin improvement after soaking in the Dead Sea in Israel. Being a firm believer in the benefits of plant-based ingredients, they began their quest for effective natural and organic beauty treatments using Dead Sea minerals and botanicals.
Each of their natural and organic skincare products is carefully designed using clinically proven natural plant-based actives that ensure your complexion gets a nourishing boost. Using sustainably sourced, high-quality ingredients that are grown without pesticides, their products are formulated with a deep-rooted passion for everything natural.
Their popular and award-winning Kelyn Esther Intensive Treatment Ampoules contain condensed active ingredients sealed in air-tight glass vials to retain freshness. Ten professional-grade ampoule types, specially formulated to treat different skin conditions are what keep their customers coming back for more! With Kelyn Esther's professional consultation, the intensive treatment ampoules series is personalized to suit your skin condition regardless of your age. Simply walk into the Kelyn Esther Garden SPA and choose from a range of personalised beauty treatments including organic facials, eyelash lifts, teeth whitening, nail services and more; all available at one indulgent location.
In Japanese folklore, a Tapir is a nightmare eater which helps keep children feeling safe. It is no wonder A Tapir's Tale is named after this comforting creature as their products provide the same amount of reassurance for parents. Aiming to contribute to the exceptional experience of caring for your baby, A Tapir's Tale adopts nature-derived skin soothing ingredients to be used on delicate skin without any irritations. Taking it a step further with the curation of premium lab-tested key actives such as Hyaluronic Acid and Ceramides, A Tapir's Tale's products are beneficial for the little ones and the entire family.
As babies are more susceptible to skin issues such as eczema and heat rash due to their underdeveloped sweat glands, it may be tough searching for the right moisturising lotion without causing any flare-ups. Why not check out the Moist Milk? A milky lotion boasting three essential ceramides, it helps supplement and preserve skin moisture and oil content while strengthening the skin barrier. This gentle and safe formula makes it great for newborns, children and even adults with sensitive skin! Without any greasiness after applying, you will be left with soft and silky-smooth skin. 
Indulge in fuss-free skincare to attain illuminating skin with Sigi Skin – your skin's happy place! Who says you can only have healthy skin with a tedious skincare routine? Sigi Skin is here to make your life easier with effortless products that are both effective and toxin-free. Infused with superfoods and clinically approved actives, you can easily find the products you need to help you build up a simple stress-free routine. 
For most of us who do not have all the time in the world every morning, Sigi Skin's Good Day Vibe is a lifesaver. With just three products: the award-winning Kaleanser, waterless essence Dew Potion and their latest waterless moisturiser Idyllic Fields; your skin will be soft, hydrated, well-protected and ready for the day. 
In need of a trusty sunscreen with no white cast or greasy film? Do yourself a favour by getting the Morning Glow Physical Sunscreen! Featuring acai and avocado extracts to keep your skin looking youthful and supple, this hydrating vegan skin is waterproof and light on the skin. Suitable for all skin types, this sunscreen will leave you with bright moisturised skin.  
Beyond the fancy marketing, beauty fads and unrealistic claims, BSkin strives to provide you with the best and most carefully devised formulations to make a difference for your skin. Powered with a 6 CORE Antioxidant System which comprises of a plethora of super-ingredients for your skin, Bskin has gathered nature's most effective antioxidant ingredients and combined them to rejuvenate your skin. Bolstering their claims, they have made sure to have their products be clinically proven and dermatologically tested by The Clinical Trial Centre for Bio-Industry at Semyung University, Korea!
Ever wished you could have a sunblock, moisturiser, make-up base and foundation all rolled into one? Well, it is no longer a pipe dream as BSkin has you covered with their Smart Skin Cream SPF50! No more time-consuming makeup routines and layers of products with this 4-in-one Smart Skin Cream. Ensuring you a shine-free and flawless complexion with maximum protection, the Smart Skin Cream evens out your skin tone and can be layered to cover up your blemishes! Get the Perfect Pairing For 2-Min Makeup Set to finish off your makeup with the Flawless Finish Perfecting Loose Powder for a glowing complexion for the rest of the day.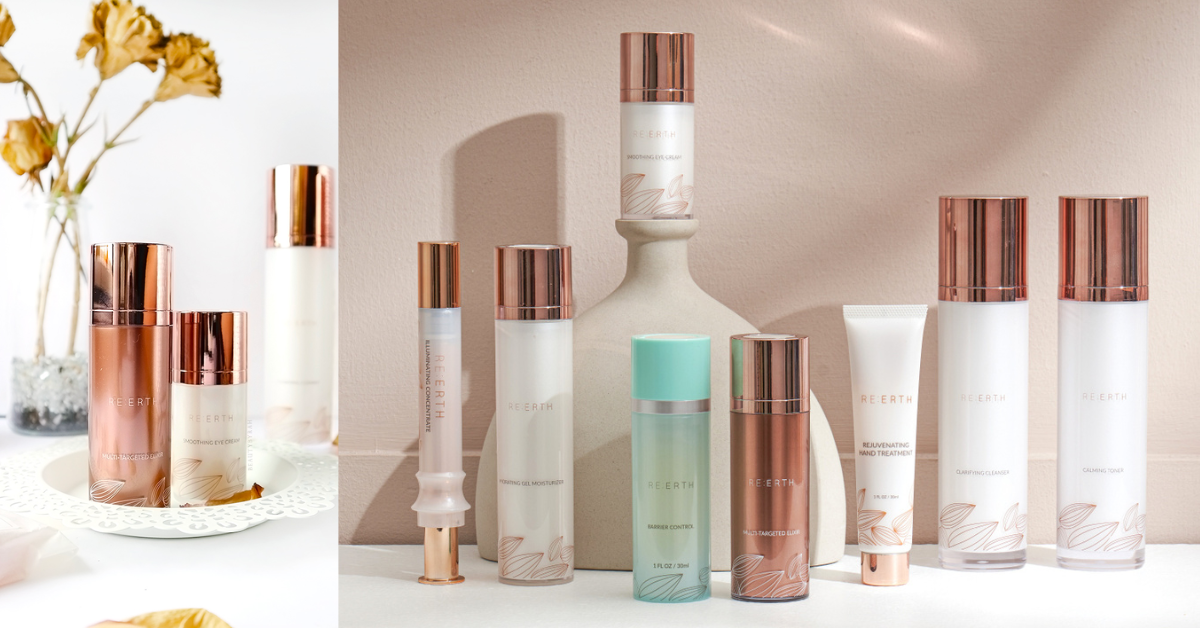 Mindful skincare and local beauty label RE:ERTH has been on our list of favourites, for a variety of reasons. They use mindful formulas powered by nature-derived actives, including powerful, Japanese White Turmeric. Cruelty-free, the skincare brand offers efficacy through a few hero products, that help address a series of issues, especially for our tropical climate. Promoting a minimalist approach towards getting that 'mochi-skin', RE:ERTH is changing the way we use our skincare, one (and gorgeous at that!) bottle at a time.
Newbies should try the Multi-Targeted Elixir, a lightweight high-potency serum that is quick to absorb and leaves behind no stickiness. You'll find that it rejuvenated the skin, shrinks the appearance of pores and leaves behind a healthier, firmer and glowing complexion. Another best-seller, the Illuminating Concentrate is a spot lightening serum that targets the root of hyperpigmentation with a high-potency formula. Expect brightened skin with an even skin tone. 
Driven by an ethos – "supercharged clinical", Allies Of Skin is a Singapore beauty brand that is unafraid to create smart, biocompatible, effective products using potent nutrients. With an award-winning range of products, the brand has taken over the beauty world by storm globally and can now be found in some of the most prestigious retailers in 34 countries. Coming up with unconventional yet effective products fresh from the lab, Allies of Skin consistently pushes the boundaries of dermatology to stay an ally of your skin. 
This desire for constant innovation resulted in the success of the world's first 35% Vitamin C waterless formula. While most Vitamin C serums today contain 15%-30% Vitamin C and are formulated with water, Allies Of Skin's 35% Vitamin C+ Perfecting Serum is supercharged with a powerhouse of 25% Ethylated L-Ascorbic Acid, 10% Tetrahexyldecyl Ascorbate and more. Using no water to prevent oxidation, meant that the serum stays potent and fresh to enhance radiance and protect against environmental aggressors while paving the way for brighter, firmer skin. Recommended for all skin types, grab this serum for plumper and younger skin! 
All natural, vegan and cruel-free, Handmade Heroes promises and stands by its belief in clean and sustainable skincare. Halal-certified and vegan-friendly, this inclusive Singaporean skincare brand strives to create quality and effective products that are accessible to all.  
Keep your lips looking dewy and hydrated throughout the day with Handmade Heroes' Hyaluronic Lip Dews. Priced at just S$9.90 for one, this purse and pocket-friendly Lip Dews come in 4 colours: colourless, light pink, natural red and Venetian red! Packed with all-natural ingredients: coconut oil, cocoa butter and vitamin e, with the addition of Hyaluronic Acid for a boost of hydration, you will love this juicy lip dew. Twist the pen to dispense the lip dew to add a natural pop of colour to your lips and replenish its moisture at the same time. 

Often, we forget that our fingers are also in need of some self-care. Treat your hands to a luxurious treatment that can be done within the comforts of your home with the Oat Mighty Cuticle Oil. Made with 8% colloidal oats and Vitamin E to penetrate deep into the skin, the cuticle oil will leave your hand looking youthful and soft. Similarly, the colloidal oatmeal will create a protective film over sensitive skin and boost the strength of your nails. Simply give the pen a few twists, brush the oil on your fingers and massage them in for healthy-looking hands!