"You know that feeling you get from drinking a kale-loaded smoothie or eating a superfood salad? Rooki Beauty transforms your favourite superfoods into antioxidant, vitamin and phytonutrient-rich skincare products so that your skin can feel incredible too."
All of 26, Rooki Beauty's founder Hayley Teo knows a thing or two about superfood skincare. Her brand works on clean chemistry with ingredients that deliver - and by a mile! We speak to her about her journey here, why her products work and the magic that is Green Pulp Paste Masque.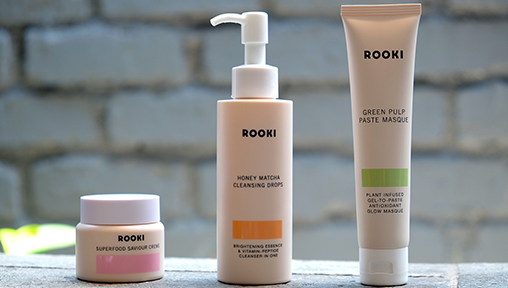 Vanilla Luxury: Tell us about yourself and how you started this journey of superfood skincare with Rooki Beauty?
Hayley Teo: I started my career as a digital content creator in an agency, as I went to school for business and studied marketing. It took me about 3 months to realise that I didn't want to be in an agency for the rest of my life. Although I had fun creating content for big brands, I felt that I could do something that really made a difference.
So I quit and started my own skincare line. Back then, I didn't have a clue what I was doing. I was kind of a hobbyist and started off making handmade clay masks and lip balms and selling them at popups. I was just following my passion. For one year, that's exactly what I did, experimenting and having fun like a skincare chef.
After a while, I realised that what I was doing had serious potential and that's when I decided to amp everything up and find a proper lab for manufacturing. It took another year of research, sourcing and working with top formulators in Japan before I finally had the courage to make the leap to create Rooki Beauty and share my vision of a high-performance superfood skincare brand.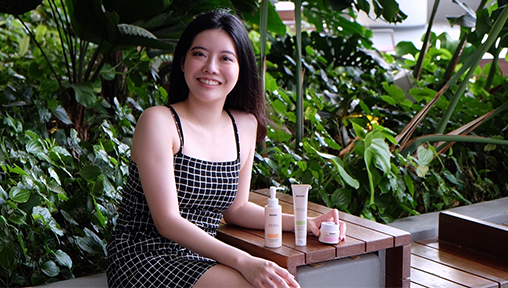 Vanilla Luxury: Why Rooki Beauty? What does it stand for and how do you hope to be different?
Hayley Teo: One of the questions I often get when people first meet me is, 'why did you decide to call your brand Rooki?' And I always tell them it's because that's exactly what I am! I suppose it's strange because, in skincare, everyone wants to be known as an expert. I thought it would be fun to have a brand name that was little tongue-in-cheek, maybe even slightly subversive. I also really liked the idea of having a 'rookie mindset', of being a self-starter. When you're a rookie, you're hungry for opportunities. You haven't experienced failure yet, so you have courage.
Rooki Beauty is a clean skincare brand that uses superfoods. That means that we don't shy away from using synthetic ingredients - so you'll definitely see supercharged actives like retinol, hyaluronic acid and peptides in our formulas. What I'm not supportive of is using nasty chemicals like parabens, sulphates and artificial fragrances in formulas. At the end of the day, I believe that consumers are really just looking for one thing: skincare that works without compromising their health.
Vanilla Luxury: What is the range Rooki Beauty offers and who is your typical customer?
Hayley Teo: Currently, we have 3 products - Honey Matcha Cleansing Drops, Superfood Saviour Creme and Green Pulp Paste Masque. In a few months, there will be 3 more products, I can only reveal for now that they are multi-tasking serums and that we've been planning them for a year already.
My typical customer is someone who lives an on-the-go lifestyle but also understands the importance of self-care. These are women who understand that food isn't just fuel, it's nourishment; and that skincare isn't just a chore, it's an investment. They might be intimidated by all the noise in the skincare market, and that's where Rooki Beauty can help.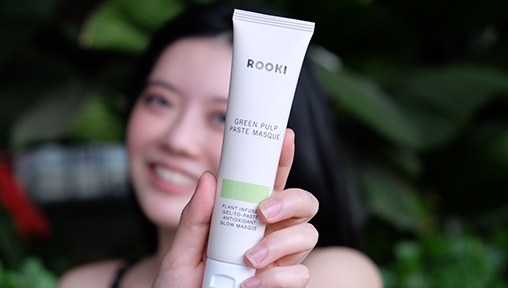 Vanilla Luxury: If we had to buy one Rooki Beauty product, what should it be and why?
Hayley Teo: Green Pulp Paste Masque, hands down. It's not like a vitamin C serum or eye cream where you have to use it for 6 weeks to see results. You can just use it once, wash if off and be like: "Oh wow, my skin looks amazing!" This is probably why it's our most popular product.
People find the texture of Green Pulp really intriguing too: when you squeeze it out, it's like a green gel but once you massage it in, it transforms into a milky white paste that feels warm. I've had people tell me that the feeling is really addictive. I think it's the perfect masque for modern women - hardworking, focused and cruelty-free.
Vanilla Luxury: What are the challenges you face on a daily basis? Is being a skincare brand founder as glamorous in real life?
Hayley Teo: Right now, our biggest challenge is brand awareness. People ask me all the time how I can outsmart the competition, when actually for 90% of beauty brands, it's about outsmarting obscurity. You can have the right formulas but still be forgotten. Sometimes it feels like a race against time to get your name out there.
Being a beauty brand founder is actually not as glamorous as it looks! Once in a while, you get to do cool stuff like product testing and trying out the latest skincare tech, but beyond that, you're really just a glorified professional problem solver. You have to wear many hats, do everything and do it fast.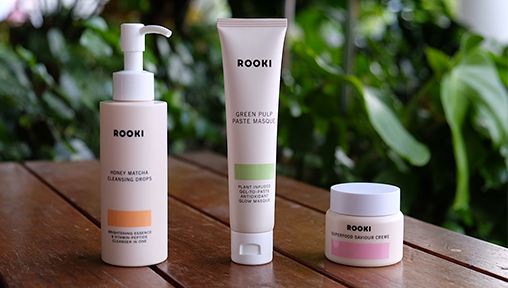 Vanilla Luxury: What do you do when you aren't at work?
 Hayley Teo: Watch documentaries. I'm a documentary fanatic, I love learning about the natural world through shows like Blue Planet. I recently finished a documentary series about planetary ecosystems called The Planets and it has given me such a new perspective on life and allowed me to see how my problems are so minuscule compared to the grand scale of the universe.