Superfood skincare brands have taken over our beauty shelves! From the use of luscious avocados to youth-inducing berries, the trend continues to grow, and from strength to strength.
Do superfoods work on a topical level, you ask? While ingesting superfoods can help your body and overall health, but your skin is pretty much last to reap any of those benefits. This is why, applying the said superfood on your skin in the form of natural skincare, can make a world of a difference. A dewy, healthy glow along with a stronger skin barrier, sort of a difference! 
Today, we round up some of our favourite superfood skincare brands and tell you exactly what makes them such power horses in a tub(e)!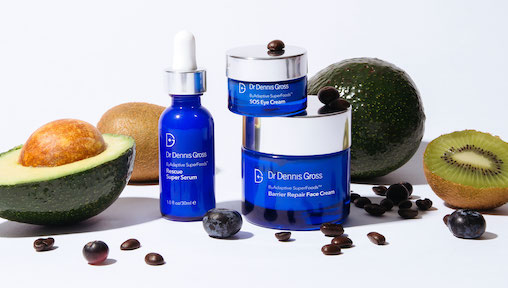 Are you starting to notice signs of stress-induced ageing such as worry lines, tired eyes, red patches, flare-ups, dryness and dullness, emerging on your face because of your busy schedule?  Dr. Dennis Gross's NEW B3 Adaptive Superfoods range (suitable for all skin types) has landed on cue to combat the five signs of stress-induced ageing.
This B3 Adaptive Superfoods Complex comes powered by microencapsulated niacinamide (B3), superfoods, and adaptogens - the perfect cocktail to stress-proof our skin.
Take the Dr. Dennis Gross' B3 Adaptive SuperFoods Rescue SuperSerum. This scientifically engineered microcapsules of superfoods, adaptogens, and niacinamide (B3) is a powerful anti-stress serum for boosted absorption of vital nutrients that help correct and prevent visible signs of stress.
Dr Gross says, "the superfoods (including avocado, cacao, kiwi Kakadu, coffee) heal, repair, and prevent all skin conditions including stress and ageing."
This proprietary, naturally sourced blend of nutrient-dense superfoods supply skin with a rich cocktail of antioxidants, essential fatty acids (EFAs), and replenishing ingredients. Together, these superfoods work synergistically to help minimize the appearance of deep-set wrinkles and fine lines through promoting healthy collagen, enriching, and strengthening the skin's surface. Further, they soothe and help even skin tone, leaving skin feeling plump and firm with a brighter, more even complexion!
The Dr. Dennis Gross's NEW B3 Adaptive Superfoods range includes the Rescue Serum, Barrier Repair Face Cream and SOS Eye Cream.
Is your skin stressed, irritated, prone to sensitivity, or just needs some extra TLC? Glow Recipe is a clean, fruit-forward, unapologetically fun skin-care line inspired by Korean beauty with plenty of first to market innovations in skin technology.
The Glow Recipe skin-care formulation philosophy pairs effective superfruits and superfoods with proven actives for an unexpected sensorial experience that delivers lasting hydration, healthy skin benefits and a natural, lit-from-within glow.
Adding to their line up for divine-smelling(and feeling) product range is the newest skin saviour on the block: the Avocado Ceramide Recovery Serum, a milky, lightweight formula that cocoons sensitised skin in a protective, healing layer of powerful actives. It comes with nourishing avocado extract and butter, strengthening ceramides, calming allantoin and rice milk.
This innovative recipe soothes redness, supports the skin barrier, and nourishes your skin for a healthy equilibrium with zero irritation. Antioxidant-rich avocado extract and avocado butter nourishes, hydrates and helps prevent future damage. Allantoin and rice milk provide ultra-soothing, hydrating, smoothing, and skin-balancing benefits to the skin. 
Complete your routine with some more Avo-induced goodness from the brand. Add the Glow Recipe Avocado Melt Retinol Sleeping Mask as a moisturising rescue mask (wash off after 10 minutes for soft, plump skin) and the Avocado Melt Retinol Eye Mask to help awaken the eyes. Glowing skin - from the inside out!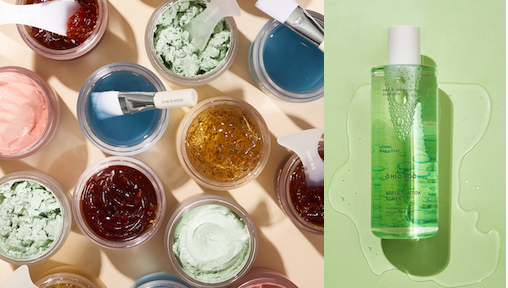 Ksisters prides itself on curating the best Korean products for the Singapore market, taking pains to ensure these offerings suit multiple skin types and are comfortable to use in our climate.
OHIOHOO (pronounced as O-hai-yo-hoo) is one such top-notch K-beauty, vegan and clean skincare brand that makes products at an accessible price point. All of their products are dermatologically tested and undergo extensive trials and samplings before being launched to the market.
Their popular OHIOHOO Re'Juice Wash Off Face Masks come in a range of Superfood variants, including OHIOHOO Re'Juice (Fig) that is formulated with 88% natural ingredients, including 1.6% real Fig and 12% Fig Fruit Extract. This mask improves skin texture and tone, perfect for those who want to perk up dull skin and smoothen coarseness at the same time.
The OHIOHOO Re'Juice (Parsley), is a deep-cleansing clay mask that does not dry out your skin and provides #porecare and #sebumcontrol. A Green Recipe full of Parsley, it is formulated with 88% natural ingredients and 50% Jeju Parsley Extract to gently remove the excess sebum in pores. This clay mask also contains a specially curated mix of superfoods such as Kale, Basil, Arugula and Wasabi to clear sebum and impurities. 
OHIOHOO Re'Juice (Beet), comes formulated with 94% organic ingredients that fight swelling and water retention, hydrates skin (Plum), and delivers nutrients. This mask will help reduce puffiness from late nights, your monthly periods, or fatigue, and ensure skin stays firm and plump.
For anyone looking to gently exfoliate sensitive skin, you should also consider the OHIOHOO Apple Toktok Toner. Formulated with Apple Fruit Water, this gentle exfoliating toner removes dead skin cells, and cleanses your face to prepare, moisturise and remove dead skin(corneous) - as well as control sebum production. A little shake to the bottle will activate bubbles in its carbonated water and make way for smoother glass skin!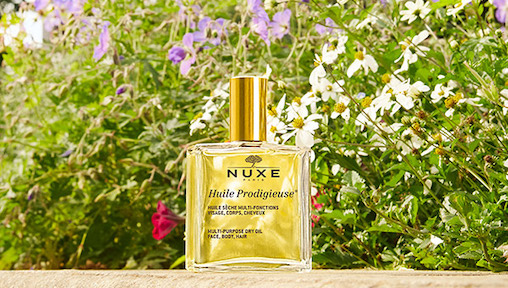 NUXE is back in Singapore! As one of the leading French cosmetics brands in pharmacies, NUXE has grown from a small Paris-based research laboratory to an international "love brand" that has won the hearts of millions of women all over the world!
The iconic Huile Prodigieuse®, launched in 1991, contains seven precious botanical oils and 98% natural ingredients providing long-lasting hydration for the face and body. Its antioxidant action and "anti-pollution shield effect" and its power to reduce the appearance of stretch marks makes it a perfect daily companion. With its inimitable dry oil texture and its addictive fragrance with sunny, sensual notes, Huile Prodigieuse serves up a sensorial experience AND works well for our tropical climate.
Brimming with superfoods such as nourishing macadamia(oil), protective hazelnut, sweet almond, it also contains moisturizing Tsubaki oil, argan oil, borage oil and camellia oil, and a legendary fragrance of orange blossom, magnolia and vanilla.
Got sensitive skin? The NUXE Rêve de Miel® collection also combines the nourishing action of precious botanical oils and the softening effect of Honey. Honey is one of nature's most cherished superfoods containing important antioxidants, natural healing properties, and the ability to promote collagen production. The powerful combination of Honey with precious botanical oils gives an ultra-comforting formula that is especially effective for dry and sensitive skin!
NUXE is available exclusively online on betime.com.sg and official Lazada LazMall Flagship Store and NUXE Shopee Mall.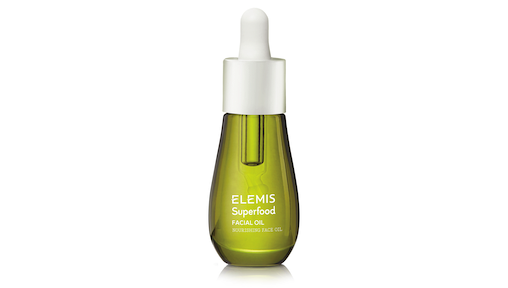 What is good for the body is good for the skin and nothing packs a more powerful punch than superfoods in your skincare! That is why Elemis has developed a facial oil that harnesses their potent natural and nutritional elements, allowing the skin to benefit directly from them. Rich In antioxidants and minerals, the Superfood Facial Oil acts as a personal trainer for the skin, keeping it supple, strong and healthy–the key to a smooth, glowing and radiant complexion!
This award-winning facial oil is highly concentrated and formulated with a blend of 9 Superfood Oils including Broccoli, Rosehip, Flaxseed and Daikon Radish to feed the skin. Light, non-greasy and easily absorbed, this nourishing facial oil helps to plump and smooth. Dull skin? It will also minimise the look of dullness and enhances skin radiance for a glowing complexion. But that's not all, there's a whole range of new superfood-enriched skincare at Elemis that is waiting for you. Available on their website or on the Elemis flagship store on Lazada.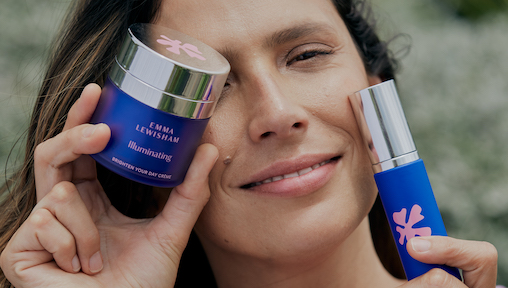 Natural, clean skincare that rivals the most recognized luxury brand worldwide - that's Emma Lewisham for you! Emma Lewisham makes uncompromising natural skincare, that is backed by scientific results. Instead of using two or three ingredients, they use up to 30 high-performing 100% natural ingredients and high concentrations that have scientifically validated results.
Meet Acerola extract, a superfood for the skin that is rich in vitamin C, beta-carotene, several polyphenols, vitamin B folate and, when formulated correctly, protects and brightens the skin's complexion. Emma Lewisham's Brighten Your Day Crème contains antioxidant powerhouse Acerola extract which forms a protective barrier for the skin to fend off factors such as pollution, oxidative damage and free radicals. True to Emma Lewisham's innovative green-tech ethos, the Day Crème is scientifically shown, through in vitro testing, to rebuild the skin's natural collagen production synthesis at a cellular level.
Other best-selling products by the brand include Emma Lewisham Skin Reset Serum, Supernatural Anti-Ageing 72-Hour Night Crème with Collagen Peptides and the Illuminating Oil Cleanser with Flower Enzymes, Papaya & Chia. Every ingredient in each of their formulas has 100% traceability and is designed to be 100% clean.
Emma Lewisham offers international delivery to Singapore! Orders over S$150 receive free express shipping, while those below are charged a flat rate of S$10.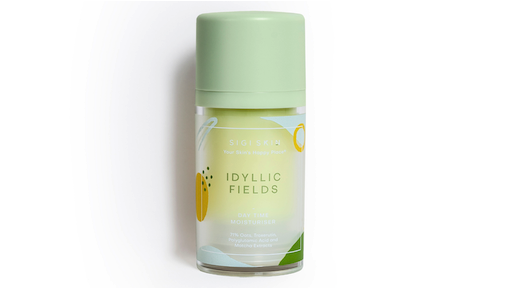 As a homegrown skincare hero, Sigi Skin is known for its superfood infused products that are both effective and free of toxins.
Sigi Skin works towards empowering consumers with skincare knowledge by focusing on formulating products that are stress-free, effective and convenient to help cultivate good skincare habits.
Their newest addition to the range Idyllic Fields is a waterless daytime moisturiser that effectively addresses skin concerns such as skin dryness, inflammation and compromised skin barrier functions. Its soft souffle crème texture sinks into the skin immediately, providing instant hydration and relief from skin irritations.
Made up of a comprehensive and soothing superfood blend of 71.9% oats, troxerutin, polyglutamic acid and matcha extracts, Idyllic Fields is formulated to restore the skin barrier of sensitive complexions and rebalance skin.
Expect stronger, healthier and smoother skin with each use!
Other notable products by Sigi Skin include our favourite Tea-Tox, a 20% Probiotics sheet mask, Dew Potion, an essence mist and Dream Capsule, an overnight repair mask.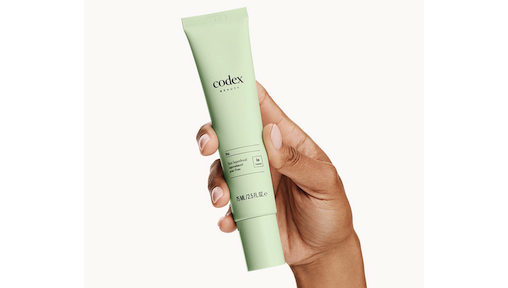 Have you discovered Codex beauty yet? Codex Beauty Labs is a biotech company grounded in science, dedicated to supporting the microbiome, and pioneering products having clinically proven meaningful skincare benefits.
Their Bia Skin Superfood is made with a blend of natural, organic and vegan botanical extracts and oils - BiaComplex™️. BIA Skin Superfood feeds and firms your face (and body) through the unique BiaComplex™️, based on ancient Celtic herbs and supercharged with modern science. 
This multi-tasking hero functions as a hand cream, night cream, after-sun balm and all-around fix for any type of dryness (it's especially great if you suffer from eczema, dermatitis or rosacea). It's incredibly moisturizing but glides on beautifully light with a buttery texture. Bia Skin Superfood deeply hydrates, revitalizes, and restores the skin's moisture-retentive barrier. What's more, the multipurpose cream is EWG, Ecocert, Leaping Bunny, and Vegan certified.
Explore more of the Codex Beauty range at www.codexbeauty.sg.