Making all your sweet dreams come true, home bakers in Singapore offer quality home baked goodness, as good as any artisanal bakery you'll find. Whether you want halal bakes, customised cakes for your next celebration, or the best chocolate cake on the island, this is a handy guide to our favourite home bakers in Singapore.
All these Instaworthy home bakers in Singapore want is for their customers to feel all the love and effort they have put into their baked goodies. So if you see a treat you like, show them some love and start putting in orders for your home baked goodies! Don't forget to share on social media and give them a shoutout; a little goes a long way!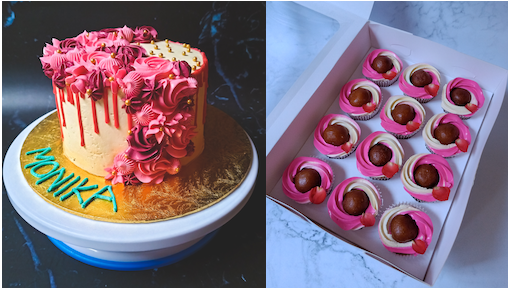 A girl who simply loved sharing her cooking tutorials on Instagram suddenly found herself customers asking for baked goods. Grabbing the opportunity, she discovered her love for baking and PreetyTasty was born.
From simple brownies to unique cupcake flavours and custom-designed cakes for all occasions, PreetyTasty always ensures one thing - all your goodies are a visual treat and super tasty!
This Instagram home baker makes Lavender Vanilla Cupcakes; Ondeh Ondeh Cakes and Cupcakes paired with homemade Coconut Gula Melaka filling and a not-so-sweet Gula Buttercream; Salted Chocolate Chip Cookies that are the perfect combination of chewy and soft in the centre with a crispy bottom; and more.
Also, check out PreetyTasty's moist and rich Signature Chocolate Cake and Cupcakes - a recipe perfected after much trial and error; top-selling Blackout Brownies with fudgy black cocoa and Nutella drizzle; and decadent Gulab Jamun Cupcakes - the Indian dessert rediscovered with rosewater cardamom flavour and rosewater buttercream.
To place an order, WhatsApp (+65) 8019 5193 or send a DM via Facebook or Instagram.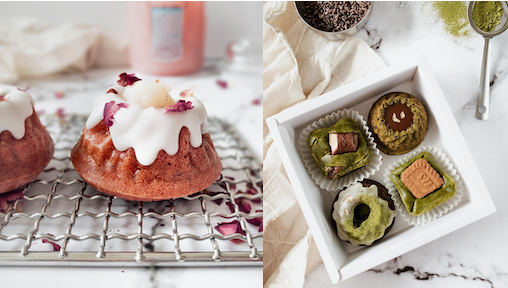 Gaily Bakes came about from Michelle's passion for baking and as a platform to channel her creativity. The word 'Gaily' stands in line with what she feels about sweet treats - bright and attractive, creating light-hearted and cheerful moments.
A chanced encounter with Hawaii Butter Mochi got her intrigued to incorporate the chewy texture of Mochi into traditional sweet treats like bundt cakes, brownies, madeleines, and savoury mochi muffins. From then on, Gaily Bakes has focused mainly on Mochi Bakes.
Best selling bakes include Matcha Lava Mochi Blondies, Mochi Bundtlettes, and Mochi Lava Brownies. Michelle created the recipe for Mochi Lava Brownies when she had the idea of incorporating her Black Cocoa Brownies with a chewy texture.
Gaily Bakes' pretty Mochi Bundtlettes are a great wedding and party favours idea and come in flavours such as Lychee Rose. Also popular are Tasting Boxes with themes such as Happy Hour Box (alcoholic), Matcha Box, Hojicha Box and Chocoholic Box.
To place an order, head to @gailybakes Instagram bio and click on the link for the Google Form which is released every Sunday at 8pm. Follow the Telegram channel to be notified of flash sales from time to time.
For enquiries on party and wedding favours, group buys and corporate orders, email [email protected] or send a DM via Instagram.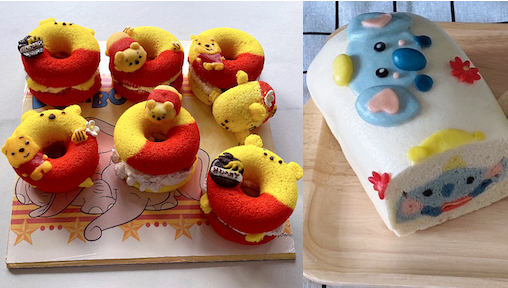 Looking for the perfect treat or birthday cake for kids? Look no further! Little K Kartoon is an experimental home baker who loves to create cute cartoon characters with her baked goodies. Whether your kid loves Mickey Mouse, Winnie The Pooh or Dumbo, Little K can try to recreate any cartoon character of your choice.
Especially known for their Chiffon Cakes that come in various flavours including chocolate, strawberry, earl grey, and mango, Little K Kartoon also offers buns and pastries. The baked products are completely customisable and the delicious small chiffon doughnuts are very popular for afternoon tea parties and celebrations.
If you want the little ones to learn the art of baking chiffon cakes, Little K also conducts baking classes for kids from 4 to 12 years old. Follow on Instagram to find out when the next class is going to be held.
Place your orders via DM on Instagram or Facebook, or email [email protected]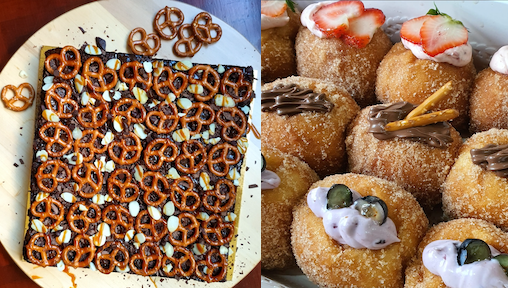 Leaving a banking career spanning 27 years, this home baker decided to pursue her baking passion and start an online bakery. Her mission is to deliver quality cafe style bakes at a reasonable and affordable price.
She offers Serawa Durian Cutouts, Ondeh2 Cutouts, Salted Caramel Brownies, Brownie Towers, Bundt Cakes and more. Check out the yummy Bombolonis in various flavours such as Nutella, strawberry, blueberry, Milo Dinosaur and Biscoff.
The Baking Momma focuses on desserts that can be easily shared or serve at family gatherings or corporate events. All baked goodies are freshly baked upon order with love a day before or on the day of collection. Bite into the bakes and feel the love in every bite! Did we mention the bakes are all halal?
Make your order via DM on Instagram.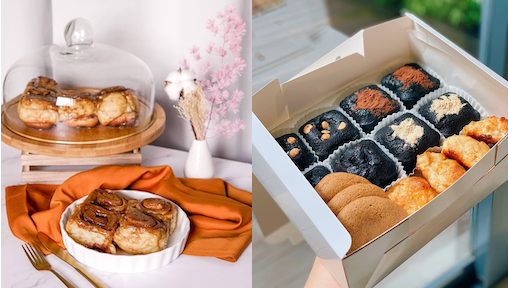 Home baker Xin Ying started Bread & Butter in 2020 as a passion project. Every bake has a story behind it, inspired by her loved ones who have supported her through this baking journey.
So, why the name 'Bread & Butter'? Here's what she has to say, "I'm a huge bread lover and I'm hoping for my passion project to one day become my bread and butter. Also, my all-time favourite quote is 'We love our bread, we love our butter, but most of all, we love each other'."
Check out this home baker's premium artisanal bakes, especially her signature Brownies. They come with different fillings including flavours such as Luscious Gula Melaka Kaya and Fragrant Matcha Milk Spread made with Japanese Matcha and Hokkaido Milk.
Other highlights are the Honey Butter Biscuits made with French Butter and premium Japanese Flour; Cinnamon Sticky Buns that are baked in a yummy sticky caramel; and Gula Melaka Loaf made with pure Gula Melaka, topped with a crunchy walnut streusel.
Order online via breadandbutter.cococart.co, DM on Instagram, email [email protected], or WhatsApp/Telegram (+65) 9635 2694.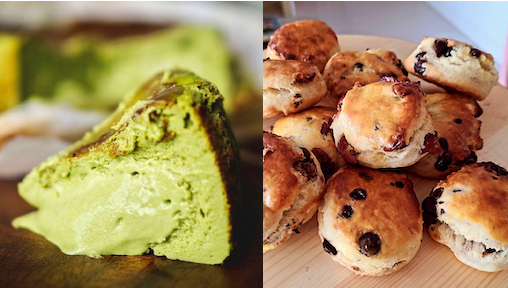 XueEn is a full-time working mum and a dessert fanatic. She often found that the baked goodies available were too sweet for her child and the elderly in her family. So, together with her love and passion for desserts, she decided to share her healthier bakes through her Instagram account.
XueEn only uses organic raw sugar in her Instaworthy bakes. She specialises in burnt cheesecake, cookies, and tiramisu - both alcoholic and non-alcoholic versions. The burnt cheesecakes come in a variety of flavours including Original, Dark Chocolate, Strawberry, Tiramisu, Mao Shan Wang Durian, and Hojicha.
The cookies menu consists of Double Chocolate Chip, Plain Chocolate, Double Chocolate Mochi, Houjicha Chocolate Mochi, and even Lactation Oats cookies.
Other baked goodies on offer by XueEn are Madeleines, English Scones, and  Seasonal Chiffon Cakes in flavours such as Biscoff Choco and Ovaltine Nutella.
Using only premium ingredients, you can enjoy desserts with healthier options that do not compromise on taste. For those looking for low carb desserts, keto options are available too!
Order via DM on Instagram or contact XueEn at (+65) 9758 8286.
Brod & Paj is a plant-based bakery specialising in vegan-friendly cinnamon rolls. They use only clean and simple ingredients, no artificial colouring and flavouring, and 50% less sugar.
Alia started her Instagram account @gingercooksfavbooks during the Circuit breaker last year to share simple healthy recipes and her gardening experience to grow the community in her neighbourhood for trading homegrown produce. One day, she made vegan cinnamon roles, posted it on her Insta feed, and started getting inquiries from family and friends. That's how @brodandpaj was founded.
The cinnamon rolls are made using organic Ceylon cinnamon, their signature vegan-friendly dough (also used in most of their other pastries), and slathered with a smooth cashew frosting, creating a decadent experience. Being less sinful, these are kid-friendly too!
Also on offer are savoury pies such as Mushroom Pot Pie and Potato "Egg" Pie made with tofu as well as sweet pies including Spiced Apple Pie and Chocolate Banana Pie.
Check out their Instagram for more information and order online.
Owning an ice cream shop has always been a dream for Mia Kusen, the founder of Mrs Plump's Ice Cream. The idea of superfood ice creams came as a complete accident when Mrs Plump's twin boys were infected with Hand, Foot and Mouth Disease. The then toddlers were only able to eat ice cream for an entire week due to mouth ulcers. Struggling to find any nutritious ice cream on the market, she decided to create her own!
The most popular flavour - Chocolate Kale - was Mrs Plump's first creation whereby dates were used to replace sugar and ground-up dehydrated kale was added to ensure her boys got their daily dose of greens.
The Superfood Ice Cream Range also consists of other superfood goodness such as Banana Dates, Strawberry Yoghurt, Vanilla Chia, and Superblues (made with blueberries and blue pea flowers). Loved by adults and children alike, these healthier ice creams are nutrient-rich with added vitamins, minerals and fibre. They are naturally sweetened with fruit, dates and organic agave. No refined sugar, dextrose, maltodextrin, corn syrup or any highly processed sweeteners are used at all. 
These guilt-free premium treats are handcrafted locally in small batches. The range has since expanded to include dairy-free ice creams, vegan ice creams and popsicles, and even keto-friendly ice creams. It's time to indulge on cheat day too!
Exclusively for VL readers, use the code "VL20%OFF" for first-time customers (valid until 30 September 2021 for purchases over S$30, excludes delivery fee).
Check out Instagram and Facebook for more info and place your order online.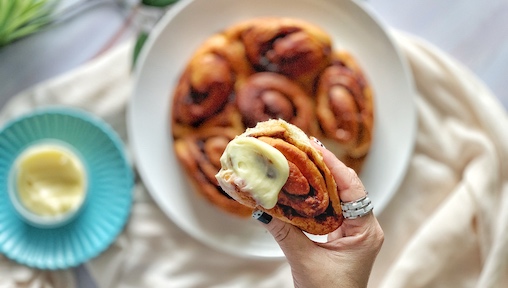 Image credit: @rontreechan
Seeing her mom bake since she was young, Dharshy developed a passion for baking. From baking birthday cakes to Christmas goodies, her favourite bakes from her mom are Cinnamon Rolls. So, in April 2021 she started Mei Mei Bakes, a nickname given to her at home.
Dharshy calls them "Ugly Cinnamon Rolls" because, let's face it, they are not that pretty. But not to worry, the beauty is in the taste!
Currently, Mei Mei Bakes has 2 items on the menu - Ugly Cinnamon Roll Pecan (S$19) and Ugly Cinnamon Roll Original (S$15). The Pecan is a little richer with a nutty caramel flavour while the Original is a classic. Both are paired well with Cream Cheese Swoop ($3) and come in an 8-inch tray. The Original comes in 7 pieces while the Pecan comes in 6 pieces.
With 2 trays ordered, you can enjoy S$2 off! There's free delivery for orders above S$80. Otherwise, islandwide delivery is S$10.
Order via WhatsApp (+65) 9225 1220 or DM on Instagram.
Baking you the best of both worlds, Celina offers chocolate and cheese in every bite of her cheesecake brownies. A communications professional by day and a baker by night, Celina has always had an interest in trying out new recipes. While experimenting, she came across a recipe on cheesecake brownies and she loved the combination. She then started making different flavour combinations and perfected her cheesecake brownies, ensuring they can be enjoyed without being overly sweet.
As the name suggests, she specialises in one type of bake – cheesecake brownies - essentially a layer of decadent creamy cheese over a layer of dark chocolate brownies. Flavours include Classic, Red Velvet, Oreo, Nutella, Mixed Berries, Earl Grey Almond, Match White Chocolate, and newly launched Coffee Cheesecake Brownies. Mix two flavours and you get a cute checkerboard! During festive seasons, she also offers seasonal favours such as Bailey's chocolate cheesecake brownies.
The cheesecake brownies are available in regular boxes of 36 bite-sized pieces or small boxes of 16 pieces. Hit her up for birthdays, gatherings, special occasions like Teacher's Day, as well as baby's first month and corporate orders to enjoy customised hand-drawn designs.
Make your order via DM on Instagram or Facebook at least 3 days in advance.
Bookmark this page as we continue to update our guide to the best home bakers in Singapore!