Eyebrow embroidery and microblading in Singapore are amongst the top services that customers have indulged in after the lockdown. Aside from the fact that your eye area is most visible under a face mask, eyebrow embroidery or microblading is also a long-lasting procedure. This means that you'll get long term results for a relatively short amount of time spent in a salon. If you too are considering getting your eyebrows embroidered or microbladed, these salons in Singapore are best equipped to manage most skin types. 
Need a refresh of eyebrow embroidery or cleaning up of a microblading botched-up job instead? Don't hesitate to speak to the technicians, as the staff at these salons have truly been through it all.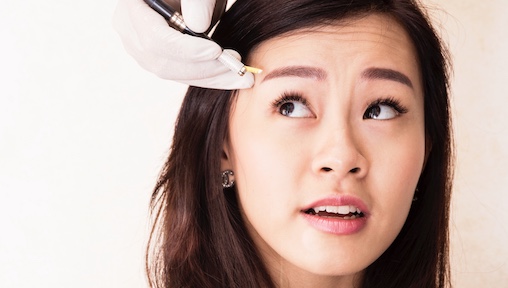 Still haven't been to Highbrow? As Singapore's one-stop solution for brows, lashes, nails and waxing, Highbrow is known for its expertise in eyebrow embroidery and microblading. Started over 9 years ago, the brand has multiple outlets islandwide and are popular for their special technique, tools and aftercare that produce the most attractive brows in the city.
Highbrow prides itself on delivering a natural, long-lasting result without resulting in any bruising or deep cuts. Their team have in fact helped many customers recover from previously botched-up eyebrow embroidery - a common complaint from those who don't know where to get their eyebrows microbladed. 
When it comes to eyebrow embroidery and microblading, you get 3 choices of strand by strand, misty or a combination of strand by strand and misty brows with graduated colours. The brow shape is customised to your face shape during a thorough, initial consultation. Prefer your eyebrows natural? Customers love Highbrow's specialization in colour mixing during eyebrow embroidery, so you'll know that the end results will be a natural and defined look. 
Their technique of Natura brows adds delicate strokes according to the direction of hair growth, making the brows look more perfect. 7D brows is another eyebrow embroidery process where lines are drawn in the direction of the growth of the eyebrows. This method adds some multi-dimensional and complex lines that make the eyebrows look more realistic.
Misty brows give a more defined silhouette brow design, similar to applying brow powder for a fuller look. You can expect the brow shape to be thicker and straighter.
As the first to bring new eyebrow embroidery techniques and brow trends to Singapore, there's no wonder that Highbrow remain the preferred semi-permanent makeup destination for many in the city. 
Highbrow, The Star Vista, Capitol Piazza and Parkway Parade. Call (+65) 87988988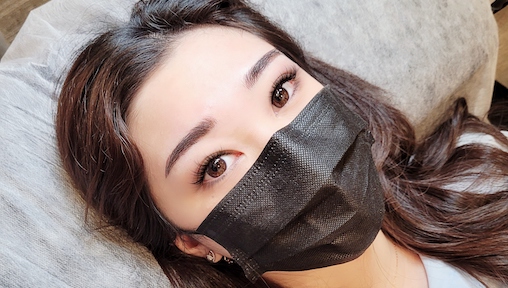 Microblading is a great solution not only to fill up sparse brows but also to enhance naturally full ones! The results of microblading can be nearly life-changing for many especially for those who are dealing with hair-loss or have naturally thin brows. 
Jo Artysan specialises in an extended range of brow styles, from natural and hyper-realistic brows to trendy Korean brows, using the latest microblading techniques in the market. Their continuous commitment to upgrading their skills on a yearly basis also ensures that you don't get awkward coloured green or red brows and that you have a pair of brows that you can call your own. This is how you can be assured that they are truly amongst the top eyebrow embroidery and microblading specialists in town! 
Fine hair-like strokes are carefully and strategically implanted to create ultra-natural brows that merge with your own eyebrow hair. As far the pain level goes, many of Jo Artysan's clients say that the treatment was painless and some of them have even fallen asleep during the process! 
All eyebrow embroidery brow services at Jo Artysan are bespoke and highly personalized so you will not have to worry about walking out with over-done dark and angry brows. 
Microblading is an excellent and valuable way to easily achieve great brows every day without having to spend too much time drawing them with a pencil or other makeup. Are you ready to get this painless and life-changing treatment? We suggest you call in for a consult immediately!
Jo Artysan. Hotline (+65) 8889 2880, Whatsapp (+65) 8889 2880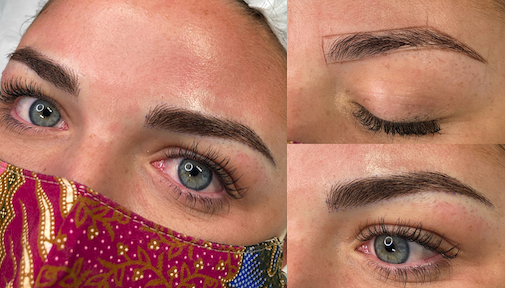 If you want to get your eyebrows done in a cosy, comfortable environment( no busy malls!), try one of Singapore's leading home-based eyebrow embroidery and semi-permanent makeup salon, The Beaute Canopy. The brand is known for its premium semi-permanent makeup services that use only high-quality products as well as disposable beauty tools brought in, straight from Germany. 
Founder, Cheryl Lee left her corporate job to start this growing beauty business that has now earned the reputation of one of the city's top places to get eyebrows, eyelashes and lip treatments done. The treatment area is designed to be cosy, tidy and comfortable. 
You'll also notice that Cheryl is a PhiBrows Royal artist who uses her PhiBrows Divider or to accurately measure the dimensions and shape of your eyebrows. Her customers value the time she takes to design brows that suit your face shape, painstakingly marking the points and angles to take into consideration.
Consider trying out The Beaute Canopy's Signature Nano-Microblading & Shading service. This best-seller helps to keep your eyebrow embroidery and shape as natural as possible. The shape of your eyebrow is calculated using facial morphology to achieve what is called the 'golden proportion'. This means that you get eyebrow embroidery for a shape that will truly enhance your features and face angle. As the treatment uses the finest nano-blades, you'll also get ultra-natural strokes that mimic the rest of your eyebrow hair. 
Want to know more? Contact The Beaute Canopy for an appointment and consultation to achieve your best ever eyebrow embroidery yet!
The Beaute Canopy, 266D Punggol Way. WhatsApp: (+65) 82330166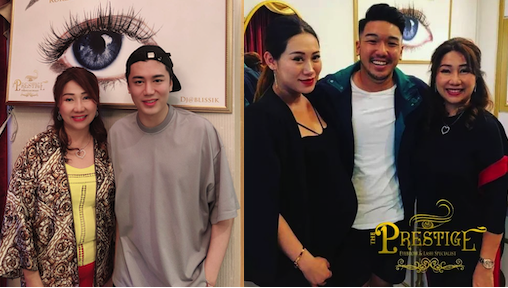 As Singapore's leading luxury eyebrow embroidery and lash bar, The Prestige Eyebrow & Lash Specialist is a one-stop destination for natural enhancement of your beauty. Open to both male and female customers, their popular treatments include Korean Nano eyebrow embroidery, microblading, semi permanent makeup, eyelash extensions, eyelash perm, as well as several other facial and hair removal treatments.
Helmed by celebrity eyebrow Professor Irene Teo, Prestige Eyebrow & Lash Specialist has been featured in many magazines, newspapers and on Mediacorp Channels and Channel U. Celebrity Professor Irene Teo specialises in Feng Shui Eyebrow Microblading($888) and has worked with several Singaporean celebrities and socialites such as Kim Lim and Frances Low, YouTubers and Influencers like Sylvia Chan, Aiken Chia from Night Owl Cinematics.
The Prestige Eyebrow & Lash Specialist is also the first eyebrow and lash bar in Singapore to focus on men's eyebrows and eyelashes. Eyebrow Specialist Jocelyn Wong specialises in 'Men Power Up Eyebrows' ($588) that give a distinct impression and help men look more professional in their workplace. Prestige Eyebrow & Lash Specialist also offer services such as eyebrow embroidery for men, eyelash extensions for men, eyelash perm for men as well as face and eyebrow threading. It is common to see famous personalities such as actor Zhang Yao Dong, Lawrence Wong, socialite Benjamin Khoh and bodybuilding winner Jason Chee getting their eyebrows done.
Want to know more about their Korean Nano Tech Eyebrow Embroidery($188 onwards)? This latest trend from Korean ensures your eyebrows are shaped thick and flat with a slight angle. This style gives a more bold look compared to traditional embroidery and may be suitable for only certain face shapes.  It is therefore advisable to consult your eyebrow beautician for a suitable shape that best fits your facial features. 
Want to start off small with an eyebrow tint instead? Try their Eyebrow Tinting service($38) for men and women that gives very natural-looking, enhanced eyebrows that last for around a month.
If you'd like celebrity Eyebrow Professor Irene Teo or Eyebrow Director Jocelyn Wang, to work on your eyebrows, make sure to ask the staff for them when making your booking!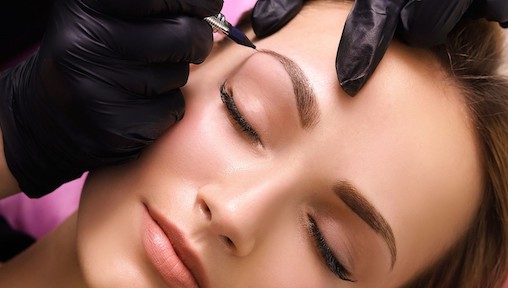 Well known in the circuit for their International Accredited Cosmetics Tattoo and Permanent Makeup Courses, Brow Mastery have been teaching salons in Singapore the art of semi-permanent makeup and eyebrow embroidery for over 15 years now. 
An appointment at Brow Mastery starts with calculating your overall face ratio to ensure your brow shape suits the features. Brow Mastery also takes into consideration the direction of your brows growth and your brow bone. Their pigments are botanical-based and usually last up to a few years with no touch-ups needed in between. Have oily skin? These botanical-based pigments are even suitable for those with extremely oily skin. 
As the Innovator and Trademark Owner of  ΜΕΣΟ ® a micropigmentation techniques - the world's 1st non-invasive, non-machinery, no downtime or aftercare procedure, Brow Mastery have broadened their skillset to other forms of permanent makeup too. A whole host of semi-permanent makeup services are available including Ombre or Powder Eyebrow Micropigmentation, Eyebrow Hair Stroke Microblading, Eyeliner, Lip Blush and Hairline or SMP Scalp. 
No downtime or aftercare ointments, and absolutely zero hard selling for up-gradation of packages, this is medically-backed eyebrow embroidery service to seek. Did we say there was even a free, first, no obligations consultation!
Brow Mastery International. 82 The Atrix #02-05 Singapore 388409. (1min Link Bridge from Aljunied MRT). Email: hello@browmasteryintl.com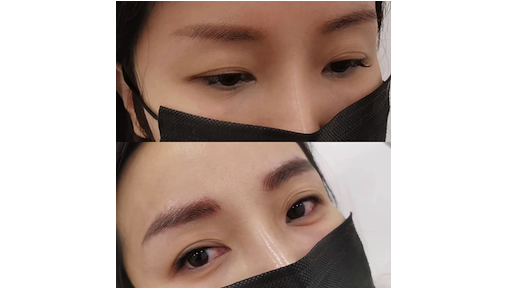 Browart Studio is known to work with extreme detail, care and expertise and this is why they are amongst the most popular salons for eyebrow embroidery and microblading in Singapore. 
Browart Studio has provided eyebrow embroidery on the island for years and has worked with many actresses and celebrities on eyebrows, permanent eyeliner and lip embroidery too! Exceptional designing with natural-looking eyebrows matched with the latest beauty trends and techniques keeps the staff at this eyebrow embroidery salon going. 
When they design your brows to match your face shape and enhance your features, the eyebrow embroidery at Browart Studio will ensure these last a long time using a high number of fine strokes. The process starts with the technician analysing the structure and condition of your current brows along with the expectations of the design. They will then suggest options of shapes and draw out the shape to bring that visualisation to life. 
The actual process of embroidery takes place with a small scalpel and tiny needles, but unlike eyebrow tattoos only penetrate the uppermost layer of your skin - so don't worry about long-lasting injuries or scabs. The whole process takes 1 hour and with the help of the local anaesthetic, there is no pain involved. 
Browart Studio, 290 Orchard Road, Paragon Medical Lobby F, #17-11. Singapore 238859. Call (+65) 6702 0768 / (+65) 9824 4400
Did you know that Dreamlash are experts at Korean eyebrow embroidery and microblading too? Known for their natural-looking lash work, Dreamlash has also got a solid reputation for all types of semi-permanent makeup including brows. 
They work by designing a pair of brows suitable for your face contour and also choosing the right pigment or colour so it is not overwhelming or too dark. Dreamlash work towards creating natural-looking eyebrows and use organic plant-based pigments that do not turn red, green or blue over time. With a lasting power of 1.5 to 2 years, their eyebrow embroidery works make really wise investments.
Opt for their famous powder mist or microbladed brows and be rest assured that the team at Dreamlash will deliver what suits you best. Want other semi-permanent makeup too? Dreamlash also does eyeliner embroidery, a procedure that makes your eyes look brighter and awake. For more information or help choosing what procedure to get done, simply drop the helpful staff at Dreamlash a message.
Dreamlash, Citylink Mall and Compass One. Whatsapp (+65) 88098846