Semi-Permanent makeup. Intrigued by eyebrow embroidery or microblading, eyeliner embroidery, lip blushing and even hairline embroidery? Semi-permanent makeup is a great way to cut down makeup time drastically and wake up with that 'always ready' look! 
You can see semi-permanent makeup on almost everyone these days - from Instagrammers showcasing permanent eyeliners to regulars amongst us getting lip blush and eyebrow embroidery done, everyone is enjoying the convenience it brings us! 
But where do you go to get the right job done? We've rounded up the experts in the field who can deliver the semi-permanent makeup of your dreams!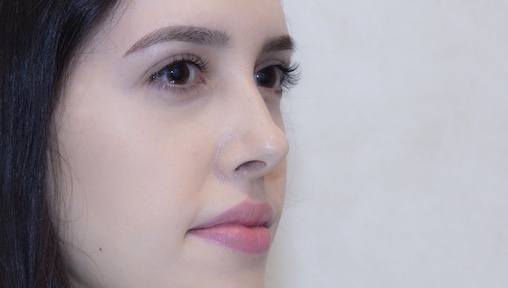 When it comes to eyebrow embroidery and other forms of semi-permanent makeup, Highbrow is a brand force to reckon with. Highbrow prides itself on delivering a natural, long-lasting result to their semi-permanent makeup. With the ability to go just on the epidermis layer (without deep cuts and bruises), their experienced team of makeup specialists led by Creative Director, Andy can deliver top-notch, semi-permanent work across eyebrows, eyeliner or lip blushing.
When it comes to eyebrow embroidery and microblading, you get 3 choices of strand by strand, misty or a combination of strand by strand and misty brows while the brow shape is customised to each individual's needs after a thorough consultation. Customer's rave about Highbrow's specialization in colour mixing so you get a natural, defined look when you sign up for eyebrow embroidery. 
Their eyeliner tattoo or permanent eyeliner scales just on the inner skin of the epidermis giving sharp and on point clear lines. This is important so that the dye colours are not runny or blurry! Looking to enhance the shape of your lips? The shape of the lips can be enhanced for the better via Highbrow's Lip Define service that uses German products and gives them the right shade of 'always beautiful'!
The semi-permanent makeup at Highbrow pays more attention to health, ensuring that it is only applied to the surface of the skin to reduce skin pressure. At the same time, in order to ensure durability, the second and third colouring is carried out alongside for uniformity of colour on the skin. Great technique, matched with plenty of attention to your skin health - now that's the type of semi-permanent skill set you want!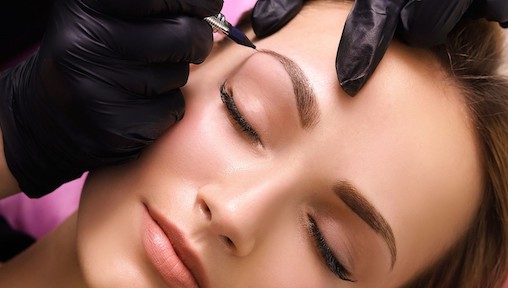 Well known in the circuit for their International Accredited Cosmetics Tattoo and Permanent Makeup Courses, Brow Mastery have been teaching salons in Singapore the art of semi-permanent makeup for over 15 years now. These award-winning, medical micropigmentation specialists, are led by a member of the International Board of Medicine and Surgery. 
An appointment at Brow Mastery is quite scientifically led too! They'll use numbers to calculate your overall face ratio to ensure your brow shape suits your face. Brow Mastery also takes into consideration the direction of your brows growth and your brow bone. Their pigments are botanical-based and usually last up to a few years with no touch-ups required! They are even suitable for extremely oily skin. 
As the Innovator and Trademark Owner of  ΜΕΣΟ ® a micropigmentation techniques - the world's 1st non-invasive, non-machinery, no downtime or aftercare procedure, Brow Mastery have broadened their skillset to other forms of permanent makeup too. A whole host of semi-permanent makeup services are available including Ombre or Powder Eyebrow Micropigmentation, Eyebrow Hair Stroke Microblading, Eyeliner, Lip Blush, Hairline or SMP Scalp and Areola Micropigmentation! Want help with your stretch marks, Vitiligo or scars? Brow Mastery can help with those too using their patented technique in micropigmentation.
With no downtime or aftercare ointments, no hard selling or upgrading of packages and a free, first, no obligations consultation - this is the medically backed micropigmentation or semi-permanent makeup to seek!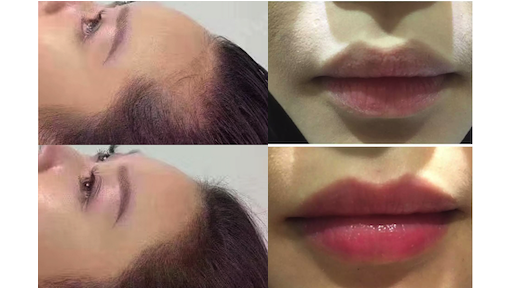 Browart Studio has built a solid reputation for eyebrow embroidery in Singapore and other semi-permanent makeup. Known for their superior design and natural looking eyebrows, they provide eyebrow embroidery or microblading, eyeliner, lips, hairline and areola embroidery. 
The best eyebrow embroidery involves a process that looks like a tattoo but penetrates the dermis and can last up to 2 years with touch-ups. At Browart Studio, the method of eyebrow embroidery involves using a high number of fine strokes providing an intricate and natural-looking result. The skilled technique helps to add colour pigment to the skin that fills spare areas and makes brows fuller.
Eyeliner embroidery can look unsteady when using a machine, this is why Browart Studio uses a manual method to deliver a straight line that naturally enhances your eyes. Hairline looking a bit scanty? Hairline embroidery is an efficient and easy way to get rid of the empty spaces on your forehead and also makes you look younger. Browart Studio's hairline embroidery is similar to eyebrow embroidery and makes your hair look presentable and fuller - at a fraction of the cost of a hair transplant. 
And for those looking to enhance their lips and wake up beautiful every morning and without any pain(yes, that's right!), the natural lip embroidery at Browast Studio is a customer favourite. Lip Embroidery, also known as 'Lip Micro-pigmentation' or 'Permanent Lip Color', is a procedure that improves the shape and colour of your lips by depositing organic micro-pigments into the upper layer of the lip's skin with a needle. Browart Studio's lip embroidery is done without drawing a lip line - the result is a natural look with rosy lips!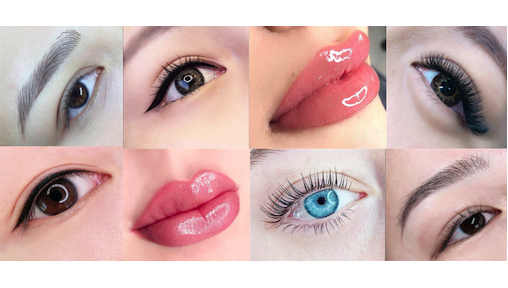 Want an aesthetic leader that specializes in semi-permanent makeup in Singapore? You can't go wrong with Jo Artysan! An aesthetic boutique that offers ground-breaking, industry-leading semi-permanent makeup, Jo Artysan cater to a range of services such as microblading eyebrows, eyeliner embroidery, hairline embroidery, eyelash extensions and lash lifting. We are talking REAL customer reviews too - Jo Artysan gets genuine customers who truly love their service. Just take a look at their busy appointment calendar, that is often booked out 4-8 weeks in advance and you'll know it's testament to their popularity and quality of service.
Every client is offered a bespoke experience based on expectations, skin condition and previous semi-permanent makeup work. For eyebrows, you'll get the whole range of options - microblading or eyebrow embroidery, microshading, Ombre Powder Brows, Brow Correction, tinting, lamination and even good old threading. 
Have you been wanting to try eyeliner embroidery? Jo Artysan are known for their natural eyeliner embroidery service that includes options such as the Korean Baby Eyeliner, Classic Eyeliner or the glam Mega Doll Eyeliner. For those who'd like to add radiance to their smiles, consider Lip embroidery at Jo Artysan too. A service that customises natural feminine looking lip colour to match your skin type and lifestyle, this is an easy way to plump up your lips immediately - and for a long time too!
Customers also rave about Jo Artysan's Hairline Embroidery service which is known to deliver truly remarkable results. Bid goodbye to bald hair spots, with hairline embroidery that has helped a number of customers wake up feeling confident. Regardless of the semi-permanent makeup you choose, you know you are in good hands at Jo Artysan!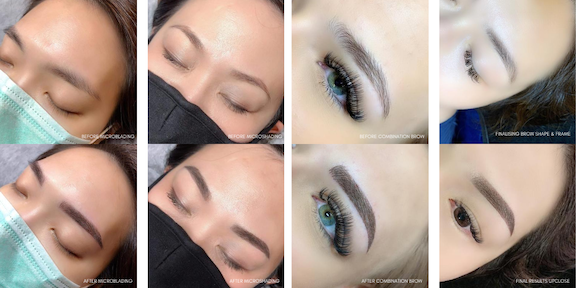 Lash Inc SG is a luxury eyelash extension and eyebrow embroidery salon that comes armed with a team of highly skilled and certified beauticians who customers in Singapore have been raving about. The ability to elevate your natural features is Lash Inc SG's biggest forte and the reason for the many overwhelming customer reviews on their pages. 
In sync with their vision of offering personalized experiences, Lash Inc SG's studio stocks a vast range of lashes and brow pigments, and has brought in the revolutionary YUMI lash lift and tint service to Singapore. Each client is rest assured that they will be thoroughly pampered under the able hands of their competent beauticians and leave each session as the best version of themselves.
Offering multiple brow designs for clients to choose from such as popular microblading, microshading, combination brows and ombre brows, you'll definitely find a design or eyebrow embroidery type to suit your style. A typical eyebrow embroidery session at Lash Inc SG starts with analysing the brow shape and skin type as well as understanding the client's preference on the shape and what would work best for them. This is followed by eyebrow mapping, making sure the embroidery gives perfect symmetry to the face using the golden ratio technique. Numbing cream is then applied to ensure the process is pain-free. Micro feather-like strokes are drawn in to mimic your natural brows, resulting in a hyper-realistic, full set of brows. Finally, a quick swipe of pigment colour is placed over the brows and allowed to seep into the skin to allow for long-lasting retention.
Worried about your eyebrows turning grey or red? All brow pigments used at Lash Inc are formulated as extremely stable and it prevents colour from modifying until it fades out completely. The result is a pigment which does not fade into an unattractive greyish purple or pure red.
With minimal downtime and colour that stays true, the Eyebrow embroidery and semi-permanent makeup at Lash Inc SG is a thorough process that is sure to leave you happy!
Want 20% off? Simply book using the promo code 'LASHINCSGVL'  and get 20% off all services with the exclusion of touch-ups.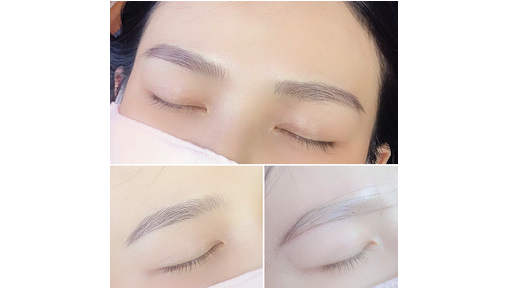 Korean eyebrow embroidery may have a cult following worldwide, but plenty of customers in Singapore, face a tough time finding the right artist for it. This is why Min Kim, the founder of Brow Meister decided to start her own, home-based salon to show customers in Singapore what true Korean eyebrow embroidery was all about. 
Having been trained and certified in Korea, Min wants her clients to achieve and sculpt envy-worthy eyebrows, almost as if they've been blessed with them naturally.  Customers swear by her ability to achieve natural-looking brows that need no downtime at all! 
Brow Meister provides 6D embroidery and misty brows services and also a host of semi-permanent makeup and eyelash services to keep you looking beautiful through day or night! Whether it's getting that lash lift, eyeliner embroidery or filling gaps in your hair with hairline embroidery, you'll know you are in good hands with Brow Meister.
What's more, if you combine any two semi-permanent makeup services, you will get to enjoy $100 off from the total price. For first time customers, you get to enjoy 10% off if you follow Brow Meister on Instagram! Celebrating a birthday? Enjoy $88 off from the usual price on your birthday month.
We are pretty sure you want to make an appointment now! Simply contact Brow Meister via WhatsApp at (+65) 9021 2357 or their Instagram page @brow_meister.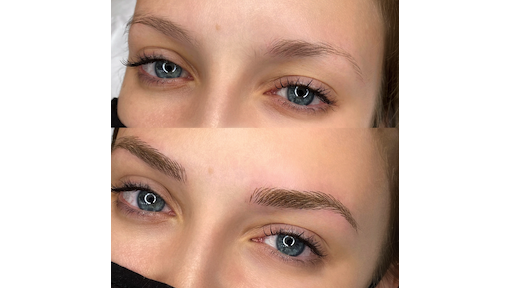 We are huge fans of Gergert Beauty Academy here at Vanilla Luxury! From their iconic Brow Lamination service to keeping the island's lips on point, the range of semi-permanent makeup at this popular academy will keep you coming back for more. 
Founder and permanent makeup master Ola Gergert at Gergert Beauty Academy hails from Russia and truly believes semi-permanent makeup is a gift that every modern woman deserves and owes herself! Specializing in the most natural and the latest permanent makeup techniques such as microblading or powdery brows, exclusive Lip Blush and smokey eyeliner, you'll be sure to find something to suit your lifestyle and expectations at her salon. 
Each client is unique: the look, the personality and their desire. And Ola believes that applying a technique without considering individuality creates nothing. She knows how to create a natural look with SPMU which in turn requires an in-depth understanding of each client. It also requires an extraordinary skill level to enhance the natural beauty already possessed by her client.
Semi-permanent makeup at Gergert Beauty Academy is the skilled process of implanting pigment right in the very upper layer of your skin - it is not regular tattooing and neither do they want it to stay on you forever! So, whether it's adding definition to eyebrows with eyebrow embroidery, brightness to your eyes with eyeliner embroidery or fullness and colour to your lips 24x7 via lip blushing methods, you know that Ola at Gergert Beauty will treasure your current features and ensure your experience is nothing short of the best. All while keeping it as natural as possible! 
Results you ask? You will always look your "best" whether swimming, showering, working out, playing with kids, or sleeping. The biggest benefit of semi-permanent makeup is to save your precious time and wake up beautiful!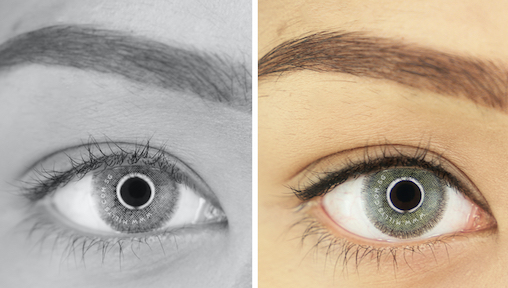 Milly's was first established in 2008 at Far East Plaza as a pioneer beauty salon. Fast forward a few years and Milly's now provides a comprehensive range of beauty services including semi-permanent makeup with outlets located strategically across the island. Whether it's eyelash extensions, eyebrow embroidery or eyeliner embroidery you are looking for, Milly's will provide the service using high-quality products to leave you feeling even more confident. 
Eyebrow Embroidery at Milly's is a process in which coloured pigment is added into the skin, filling in the sparse areas of your brows to give them a full and flawless look. This technique is also great for thickening existing eyebrows or darkening them and making them more obvious. Milly's uses an organic non-toxic colouring that is made from plants and offers 3 different types of eyebrow embroidery: Gradient Brow, 6D Brow, and popular 6D Softedge Brow. The 6D Softedge Brow method is a mixture of fine strokes using the feathering technique and the powdery effect of a gradient brow. Giving a softer and more natural look compared to 6D and Gradient Brow.
The eyeliner embroidery or tattoo at Milly's is a process where coloured pigments are applied into the top layer of your upper lash line, giving you brighter, fuller-looking eyes! The whole process takes about 1.5 - 2 hours and can last up to 1 -  2 years. The longevity of the eyeliner embroidery varies for every individual and factors such as skin cell turnover rate, individual skin type, colour absorption of individual skin and metabolism. If you are worried about pain, the therapist at Milly's will apply numbing cream before proceeding with the eyeliner embroidery - and you can always ask for top up's if you need!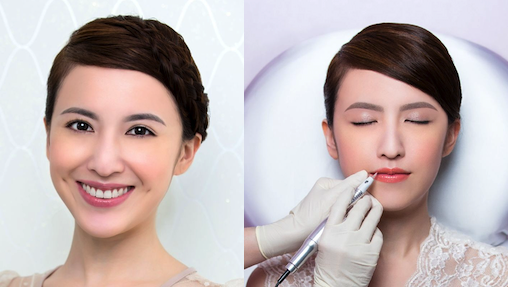 Employing the Erabelle Cosmetic Artistry technique, the brow artists at Erabelle customise the perfect eyebrows to accentuate your features and face shape. Expect natural semi-permanent makeup, achieved through a specialised Soft Shading technique that layers mineral and organic micro-pigments into your skin. The design process by itself is truly a work of art! Crafted to look natural and fitting to your unique features, Erabelle set the stage with a face shape and eyebrow analysis, design, trim and tweeze, and finally complete with pencilling of brows with colour to suit skin tone and hair colour.
Allergy sufferers will appreciate the patch test that takes place before the application of pigments. Erabelle uses safety-assured mineral and organic micro-pigments that are certified to be dermatological-safe, allergological-safe, microbiological-safe and toxicological-safe. A patch test for any allergy to the micro-pigments used will be conducted.
Natural rosy lips on your mind? Always look radiant with natural-looking lip colour, custom-blended for your skin tone and style with Erabelle's Eralip programme. Discover the ultimate in subtle semi-permanent makeup, achieved through a specialised Soft Shading technique that layers mineral and organic micro-pigments. A healthy-looking shade that accentuates your smile - this is the lip blushing and lip embroidery method you'll love!
Banner image: Erabelle