fashion
Where to Buy Fashionable Face Masks and Sports Masks for Men in Singapore
Published Date
: 25 Sep 2020 10:00

Trendspotting the most stylish men's face masks and high-performance sports masks in Singapore you can buy online
While we have just entered Phase 2 in Singapore, Covid-19 is far from gone. So, we don't need to remind you that the moment you step out of your house, wearing a face mask is an absolute must (unless you're out for a run in your neighbourhood).
Numerous women's fashion labels have started offering stylish face masks, even ones to match your outfit. But, why should girls have all the fun?
Check out our list of brands that are selling fashionable and sports masks masks for men, that you can easily buy online.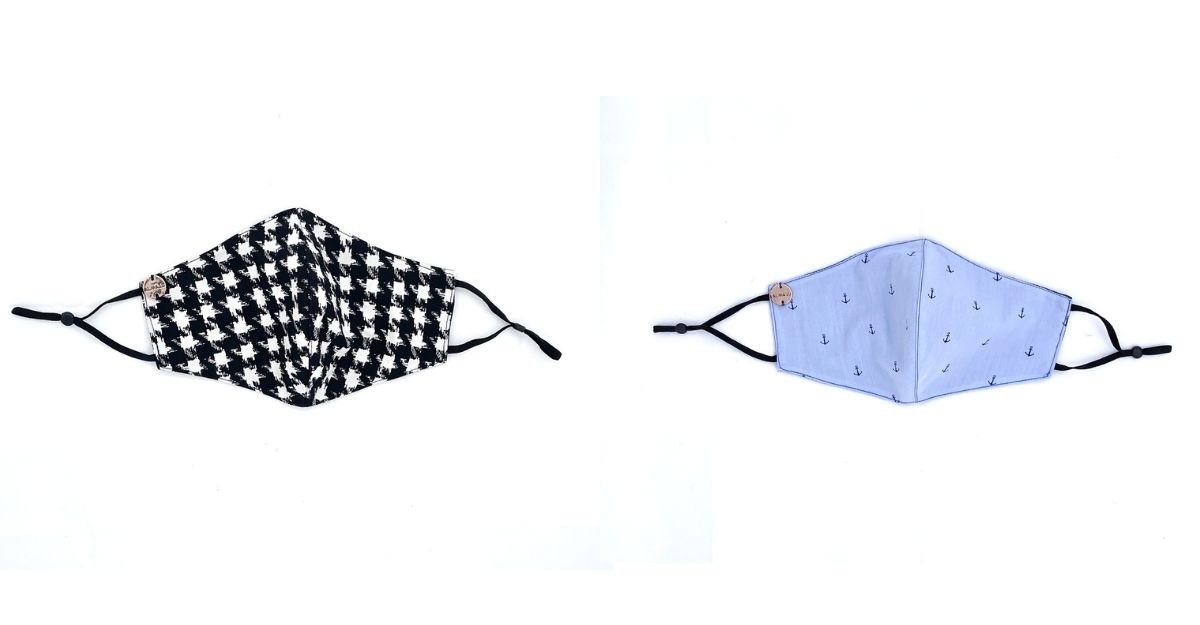 Think stylish face masks are only for women? We think not! AL.MA.LU is a homegrown Singapore brand that ensures men too can be safe with style. Born with the aim of actively supporting the Covid-19 emergency without forgetting about design and fashionability, AL.MA.LU have a range of face masks for men that you'd definitely be proud to flaunt!
Having worked for many years as a celebrity stylist in Milan and Rome, Founder Martina Calabresi brings to her brand a range of artistic expression and versatility in design. You'll see that seamless stylishness and practicality in her masks too - spread across one of the broadest size ranges we have seen, Man, Woman, Teenager and Kids!
We love how AL.MA.LU customise each face mask for men with hand-embroidered initials! They are also working for large corporations to produce custom-made masks that match with suits or shirts!
The masks for men at AL.MA.LU are mainly 100% Cotton or Poplin. In Italy Poplin is commonly used for high-quality men shirts, and that's why the brand chose to use it for face masks! Poplin fabric is characterised by its distinctive ribbed texture and tightly closed weave. This gives the fabric the lustre that we all love. Worried about mask hygiene when you are eating? Every mask by AL.MA.LU comes in a small satin bag for storage when they are eating or smoking without the fear of making it dirty!
If you need some inspiration, check out this stylish Man Blue Poplin reversible mask that gives you two designs in one face mask so you can match with multiple outfits. The Man Tie Pattern Reversible Denim can be worn with formal and casual outfits alike.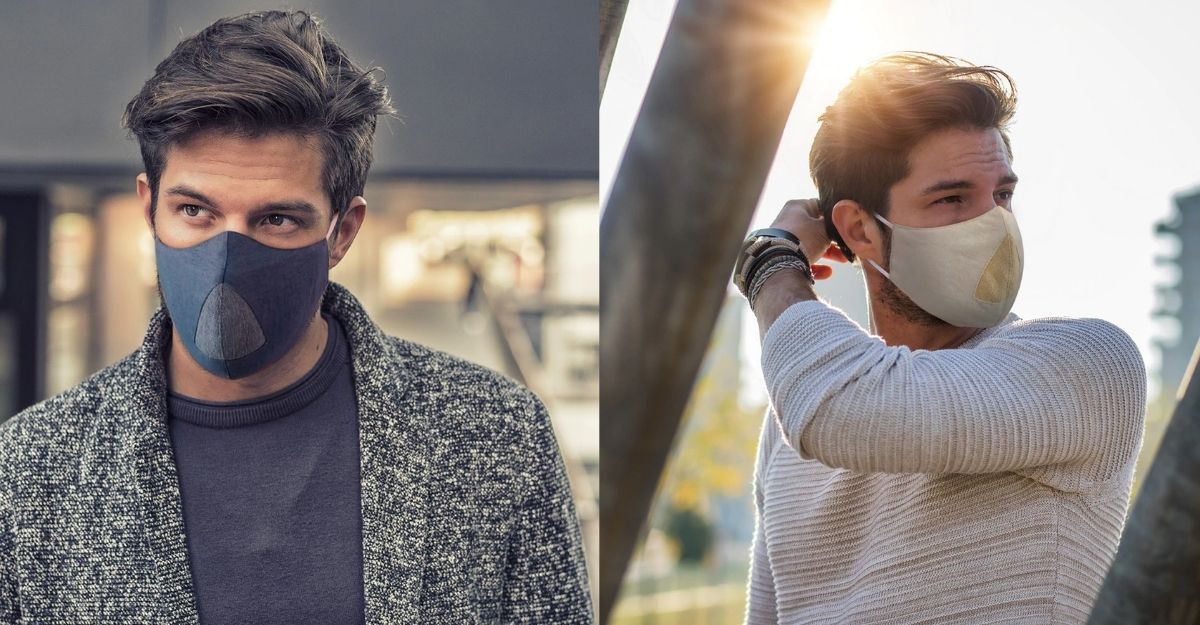 Did you know that lotus microfibres absorb 7 times their weight in water, dry 3 times faster than cotton and are hypoallergenic and smooth on the skin? If comfort and quick-drying is what you are after we recommend trying the masks by Acala Stem. Made of lotus fibres, a fabric that's been worn since the 5th century by Buddhist monks and the highest of royalty, Acala Stem's unique organic face masks are both breathable and super-comfortable!
And they are kind to the environment too! The production process of the lotus fibre requires no water, gas, oil or electricity to produce, making it the most earth-friendly fabric in the world! In fact, even the stems are lifted from underwater on a raft and oar.
The outer layer of the Acala Stem face masks is soft organic cotton while the middle layer works with lotus microfibre technology. Creating a static charge, thanks to its 200,000 fibres per inch of fabric, it filters over 4 times more than ordinary cloth and is 20 times thinner than a human hair!*
The fibres are especially breathable and super absorbent for a humid climate such as ours. Worried about chemical dyes? Acala Stem use Dystar dye, a certified Ecotex that contains no heavy metals to produce their signature and unisex colours. Specially designed to fit men's faces, make sure to choose the 'Large' size when you order.
Acala Stem partners with a textile social enterprise in Cambodia which empowers women to work from home with their children in their own provinces, with flexible hours. They've already been able to help re-employ 60 women with the growing worldwide demand for these organic face masks.
*Source: French Institute of Textiles (IFTH) April 2020.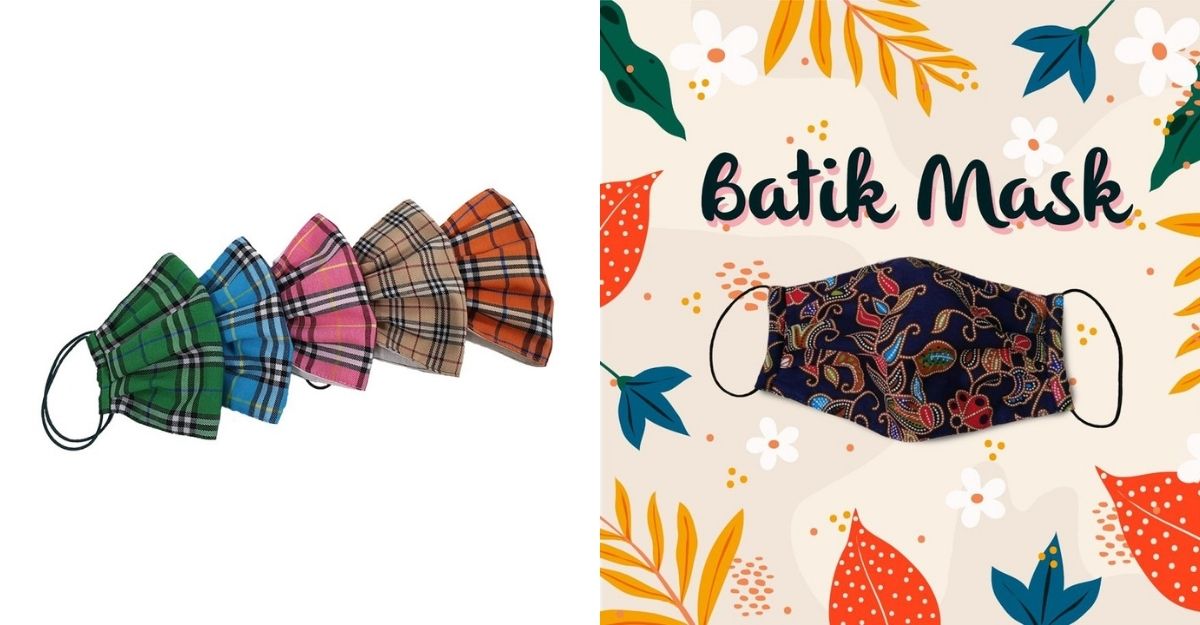 A celebration of the Singapore story, culture and memories, Timeless Gifts are a go-to for the finest premium Singapore art and gifts. They are also making face masks for men, women and kids now! Whether its multicoloured camo prints, plaids in masculine colours or solid colours that you are after, protecting yourself with these reusable, washable and eco-friendly cloth masks by Timeless Gifts is easy! There's even a pocket inside each mask where you can put filters.
Batik lovers will enjoy the original SIA batik face masks by Timeless Gifts that come in an assortment of prints, along with male-friendly, neutral colours. Should you be a man of classics and wear quality masks with no prints on them - you can choose from a wide variety of plain colours, a whopping 10 colours to be exact!
Should you be in the market for face shields for your kids, take a look at the collection at Timeless Gifts. With island-wide delivery and flat shipping rates as low as $3, shopping for the safety needs of yourself and your family has never been this convenient!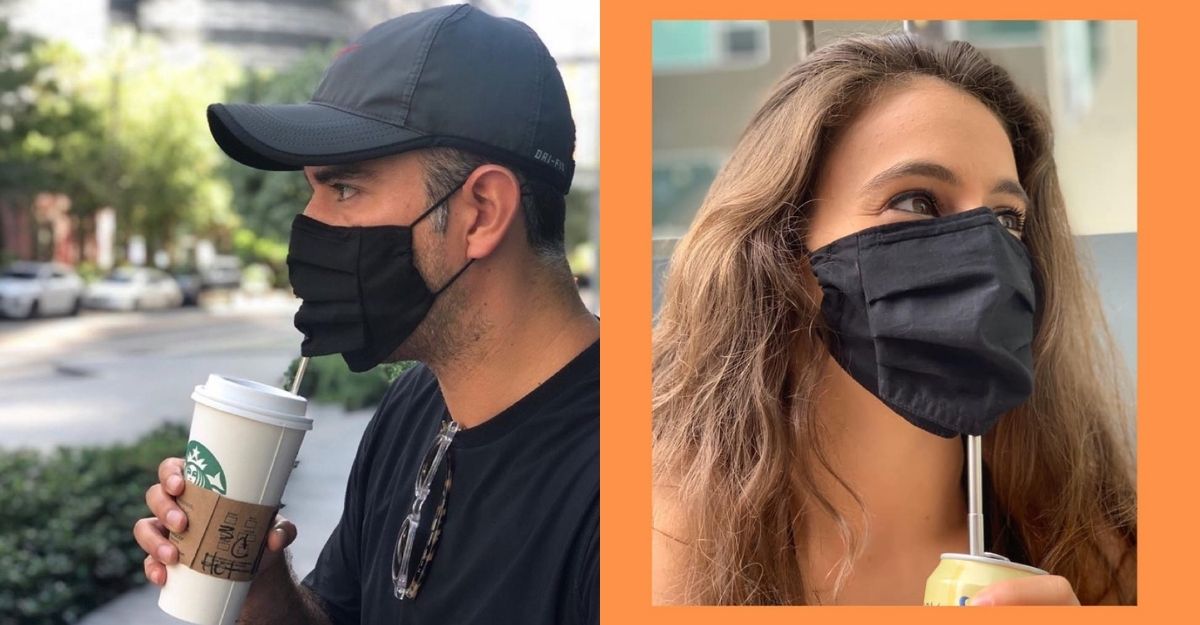 One big problem with face masks? If you're thirsty, you either have to take it off (which defeats the purpose of wearing a face mask) or not drink. Redee has designed the first mask that allows you to drink safely with a straw when you're out - keeping your mouth and nose completely covered and unexposed.
So, now you can drink safely with your mask on! The unique design of the Redee Mask allows you to insert a straw through a covered, unexposed opening. There's no need to sacrifice safety while enjoying your coffee, water, tea, or alcoholic drink. It's perfect for safely drinking water on a walk, sipping coffee at the grocery store, or enjoying a cocktail at the bar.
The Redee Mask is made from premium cotton and features a pocket to insert a replaceable filter. Mask on. Drink on.
Redee Mask ships worldwide and can be ordered here, along with their highly popular Alcohol Flush (or "Asian glow") support product, Redee Patch.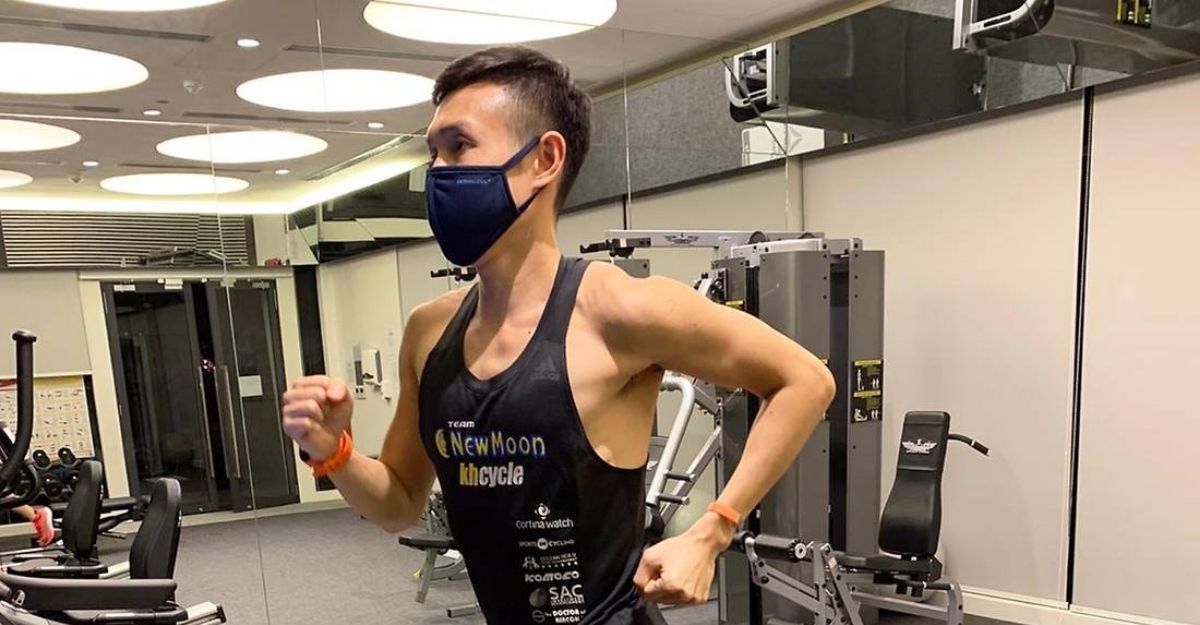 Home-grown company, Dermacool, offers comfortable, cooling and breathable sports masks in Singapore. Specially designed for the fitness enthusiast, the face mask is recommended for light to moderate intensity cycling and running, gym workout, brisk walking and an ideal choice for everyday wear.
Why is the Dermacool sports mask good for fitness enthusiasts? Dermacool's fabric is able to handle sweat without getting heavy because it does not hold moisture and dries five times faster than cotton. This thermo-regulating high-performance fabric is designed for optimal breathability and wicking, thus making it suitable for the hot and humid climate in Singapore. 
The Dermacool mask is nanotechnology-enhanced and comes embedded with various minerals including zinc oxide and titanium oxide. This provides it antibacterial properties and keeps the face masks odour-free. What's more? You can have fun in the sun knowing that you are protected from damaging UV rays. In fact, their masks provide a sun protection factor of UPF50!
The durable face mask comes in four sizes and features three-layers of filtration. Just wash between uses, and it can easily last you up to 100 washes.
Get 10% off with promo code 'VANILLACOOL10' only on Aurigamart.com. Valid till 31 August 2020. Only valid on Aurigamart and one time use per customer. 
Dermacool Sports Mask is now available for order at Aurigamart, Lazada, and Shopee.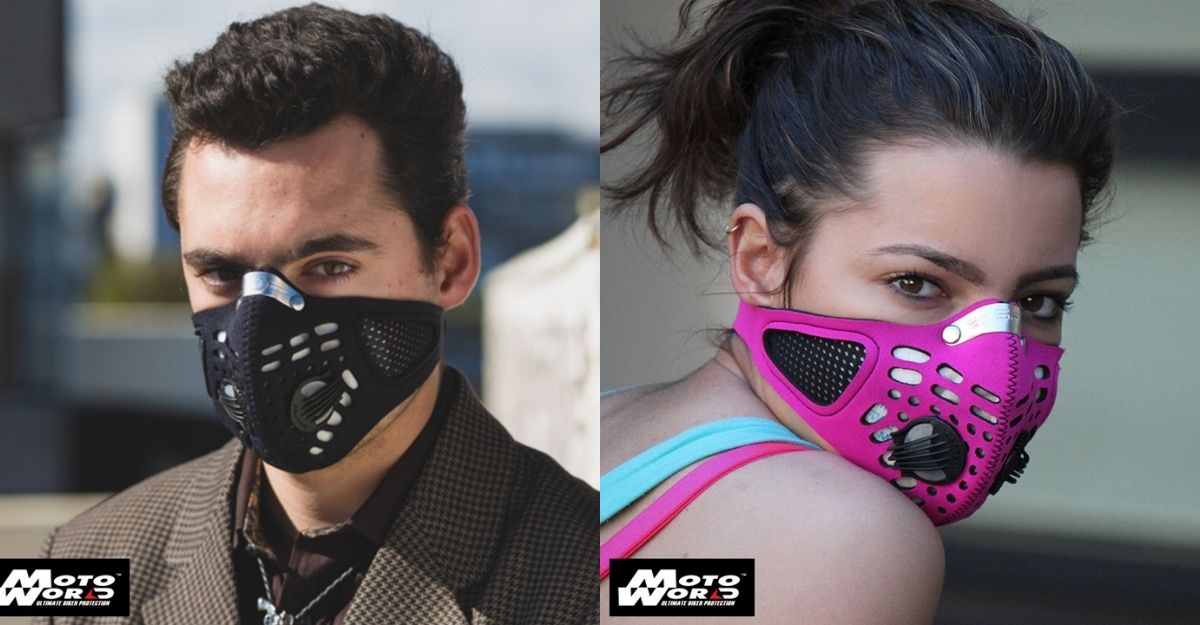 Respro face masks have been manufactured and distributed from the UK for over 20 years with the aim of providing protection from harmful levels of air quality and pollution in urban environments. 
In fact, the filter materials used in Respro face masks were primarily developed for military use, thus requiring excellent filtration properties yet at the same time requiring an airflow efficiency that would not impede the user's activity. This means good breathability so you can use their face masks when undergoing exercise or other activities involving physical exertion.
The valves in Respro face masks are also designed to release heat, carbon dioxide and water vapour - the three components of exhaled breath - from the mask in readiness for the next breath of inhaled air. This results in higher airflows, ensuring comfort even when engaged in heavy sports.
Made from Neoprene material that is resiliently stretchable, it allows the face masks to conform easily to varying facial features, sealing around the face, thus ensuring a good seal and a comfortable fit. Respro face masks come in two sizes to comfortably accommodate 90% of the adult populations - medium and large.
Free delivery for orders above SGD 50 at https://www.motoworld.com.sg/respro.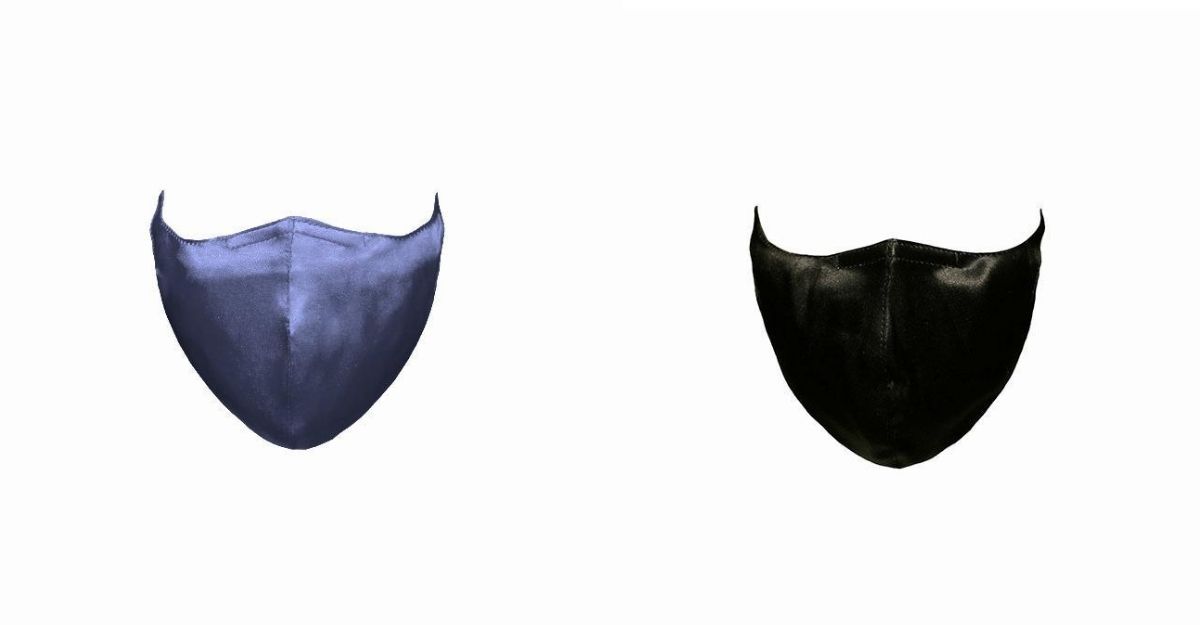 Fashion Designer Lisa Von Tang also sells top quality face masks for men! Their range of face masks come in washed silk and linen fabrics and make a great choice for both special occasions and everyday use. Luxuriously comfortable, LVT's face masks for men are contoured for a flattering fit and lined with 100% Fine Oxford Cotton that is incredibly soft on the skin.
The face masks by LVT come in sixteen colour options: thirteen colours in 100% silk colours (Monogram Lime, Monogram Black Gold, Lavender Rose, Sangria, Olive, Rebel, Angel, Scarlet, Washed Indigo, Tomato, Cobalt Blue, Teal or Fuchsia) and a classic Poly Silk (Black) - so you can truly choose your mask to match your shirt, pocket square or stick to basic neutrals. 
They also carry two face masks for men in upcycled natural linen, and Navy and Grey colours that will suit dapper office wear or a casual outfit at your favourite weekend jaunt. 
All facemasks for men also come with a dust bag that keeps them safe when you're dining!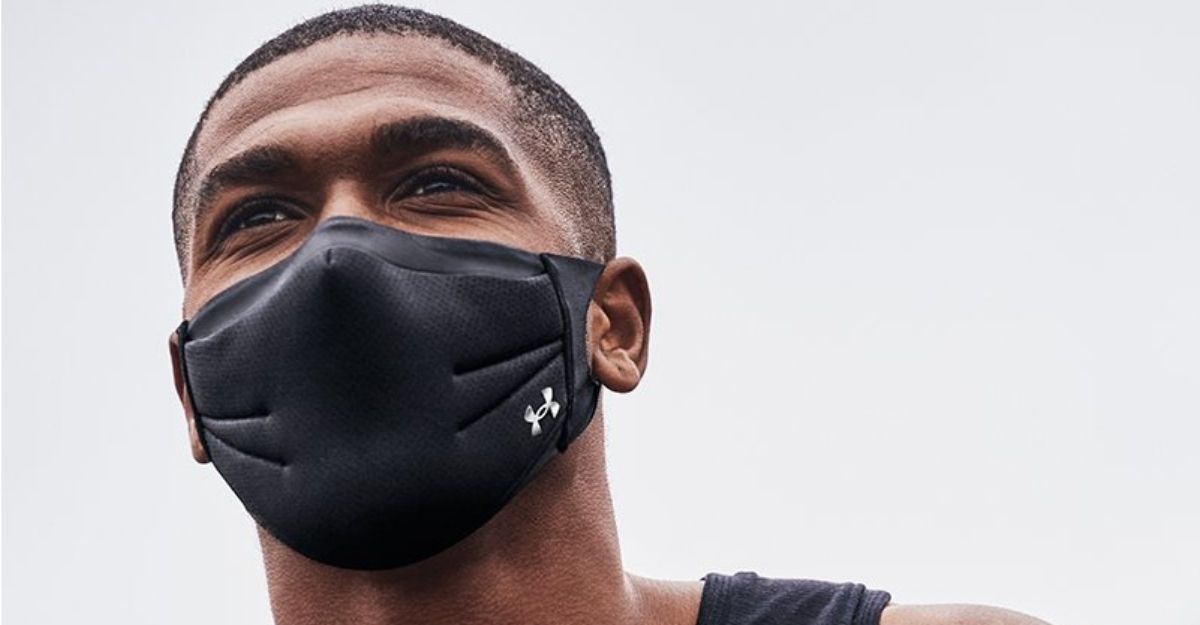 Looking for a face mask that can be worn while playing sports or working out? Under Armour has engineered a first-of-its-kind performance mask for athletes. 
If you are wondering whether you should wear a face mask if training in public or outside, you are technically not required to during any strenuous activity, but if you want to feel safer, Under Armour has a solution.
The UA SPORTSMASK is a reusable, water-resistant performance face mask designed for maximum breathability. This face mask functions to reduce the spread of respiratory droplets by the wearer. The top of the mask features a moldable nose-bridge to help secure it in place and mitigate airflow to the eyes, helping to prevent glasses from fogging. It can also be washed and dried, making it more eco-friendly than many single-use, disposable options.
The UA SPORTSMASK is available online.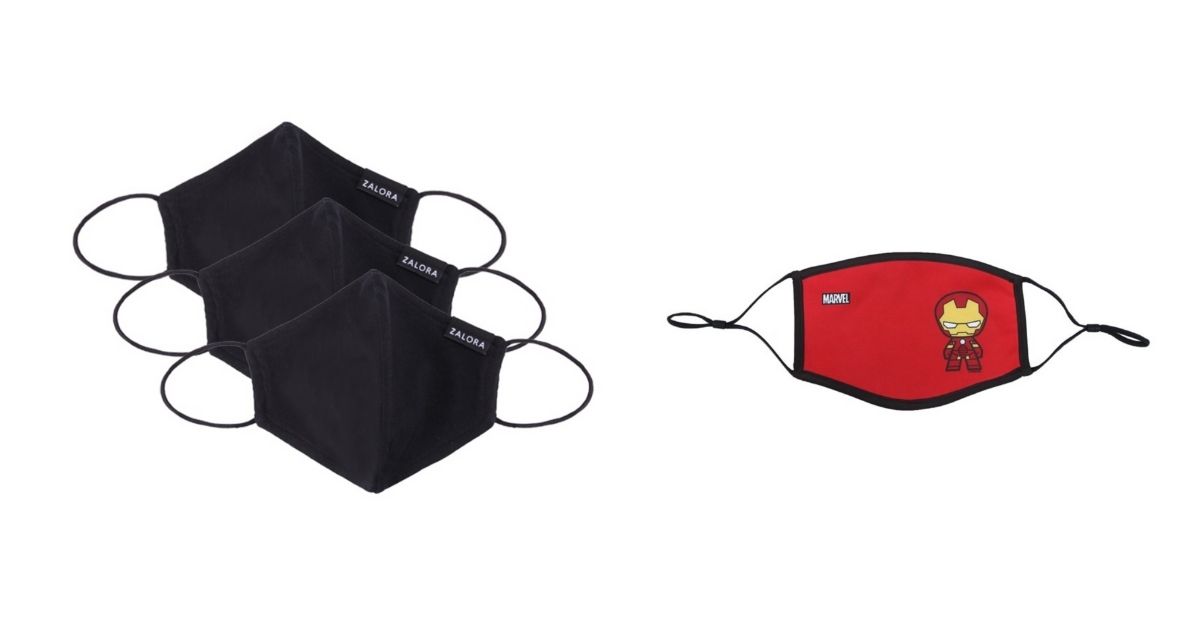 Online fashion retailer, Zalora, has face masks from numerous brands. From basic and plain face masks to patterned and printed ones, you'll find something to suit your daily wear or workwear.
If you're all about the superheroes, Zalora even has fun Adult size reusable face masks with Disney prints. Check out their large Marvel Reusable Masks featuring Captain America and Iron Man. You can even get matching face masks with your kids as these come in small sizes as well with various other familiar characters.
Zalora ships to Singapore, Malaysia, Brunei, Hong Kong, Philippines, Indonesia, and Taiwan.