Wondering where to buy fashionable face masks or perhaps you're looking for masks that can be comfortable for the kids to wear all day at school. You can now buy fashionable face masks in Singapore from a range of businesses. Whether it's giving back to charity, using ethically sourced fabrics or working with local designers, these face masks will have you and your little ones covered - literally and fashionable so!
Note: These masks are not medical grade. Some come with filters while others have pockets to add-on your own filters.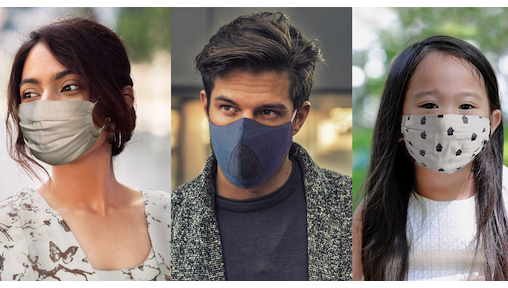 Looking for super-comfortable face masks that can be worn by adults and kids alike? Try a fabric that's been worn since the 5th century by Buddhist monks and the highest of royalty!  Acala Stem's unique organic face masks contain lotus fibres from the lotus stem. There are a lot of health benefits in the lotus stem. For centuries eastern philosophers have sworn by the lotus's remedial healing abilities, which they believe can aid the treatment of anxiety, headaches, heart ailments, asthma and lung issues. The production process of the lotus fibre requires no water, gas, oil or electricity to produce, making it the most earth-friendly fabric in the world! In fact, even the stems are lifted from underwater on a raft and oar.
The outer layer of the Acala Stem face masks is soft organic cotton while the middle layer works with lotus microfibre technology. Creating a static charge, thanks to its 200,000 fibres per inch of fabric, it filters over 4 times more than ordinary cloth and is 20 times thinner than a human hair!*
The fibres are especially breathable and super absorbent for a humid climate such as ours. The lotus microfibres absorb 7 times their weight in water, dry 3 times faster than cotton, are smooth on the skin and hypoallergenic. Acala Stem use Dystar dye, a certified Ecotex that contains no heavy metals to produce their signature and unisex colours.
Psst… want Lotus Microfibre face masks for your kids too? Fresh stocks arriving 14th June!
Acala Stem partners with a textile social enterprise in Cambodia which empowers women to work from home with their children in their own provinces, with flexible hours. They've already been able to help re-employ 60 women with the growing worldwide demand for these organic face masks.
*Source: French Institute of Textiles (IFTH) April 2020.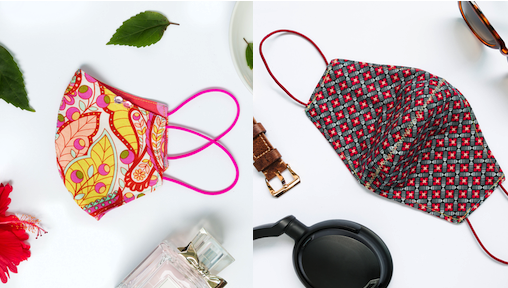 Here's how you can be safe with style. AL.MA.LU is a brand made in Singapore, that was born with the aim of actively supporting the COVID-19 emergency without forgetting about design and fashionability. Running on the motto of "Be Safe with Style'' and founded by Martina Calabresi, the face masks by AL.MA.LU are sure to please! 
Having worked with a number of celebrity stylists in Milan and Rome, Martina brings with her a range of artistic expression and versatility in design. But her masks work beyond just being beautiful - they are practical too!
For instance, do you find it hard to get a mask to fit odd, in-between sizes? The face masks at AL.MA.LU are spread across one of the broadest size ranges we have seen - Man, Woman and Teenager, Young kids (7-12 years old) and Small kids (2-6 years old)!
For fans of Mummy and Me or Daddy and Me outfits, now you can buy the Minime collection at AL.MA.LU and look cute as buttons too. 
And it doesn't end there! From a range of fabrics, satin and lace included, to colours that are subtle as well as stand out, you'll find masks as gorgeous as they can get on here.
You can also actively support those who have fought the COVID-19 emergency in the first few months, via dedicated donations for the Singapore Red Cross made available on the AL.MA.LU website.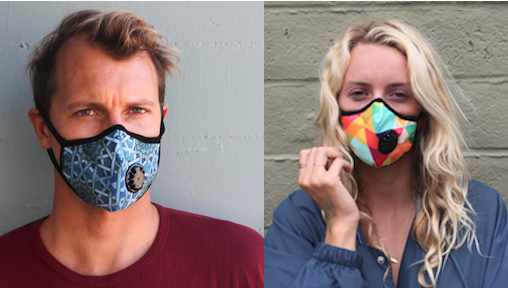 If you want a stylish mask that holds up against airborne particles with great breathability, take a look at Vogmask. Vogmask is a simple, non-invasive way to protect respiratory health and an essential tool to advocate for your own wellness. Founded in San Francisco in 2011, Vogmask is passionate about having the best quality masks on the market.
Do you find face masks and the disposable N95s uncomfortable to wear for extended periods of time? Loyal customers love Vogmask's breathability and their 95% conforming filter class-tested for viral and bacterial filtering efficiency at >99.9%. The team behind Vogmask have spent years planning, designing, perfecting and finally manufacturing Vogmask in South Korea. They are now sold worldwide in North & South America, Europe and Asia and have a bevvy of loyal customers. 
Fusing fashion and function, Vogmask is a superior product suitable for the entire family - sizes range from small, medium, medium +, large and extra large! kids love their "ninja" appeal and cute design. More importantly, they stay on and fit their small faces.
Vogmasks will be back in stock end June, loyal customers say it's worth the wait!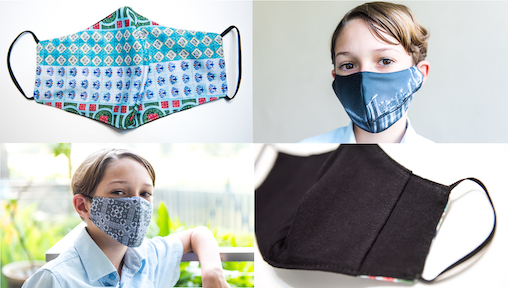 Singapore based artist, Sandra Macheroux enjoys using colour, images and quirky techniques to create high-end photography with an artistic edge. She sees herself as a storyteller capturing moments and natural visuals that connect with people.
Up until recently, her work was mainly available as fine art photography prints but she's now expanded her product line to include a variety of Singapore themed gift ideas. These include tea towels, puzzles, coasters and in view of the COVID-19 pandemic now also face masks!
As a mum to teenage boys herself, she realised that wearing masks at school all day long can be quite tough for our kids. You'll find her masks include both adult and kids sizes, as well as an older child or teenager size for those with a smaller face. They are also unisex in print and use skyline and colourful street photography to make for beautiful masks. The Peranakan tile range (colour and BW) is in fact one of her best selling styles! 
These Duckbill 2ply masks come with an outer water-repellent fabric while the inner layer is made of organic cotton. You'll also find a filter slot in these machine washable beauties.
As with any art, numbers are limited, so don't miss out on these fun masks - a silver lining during troubled times!
Free standard postage islandwide or there's an expedited courier delivery option too.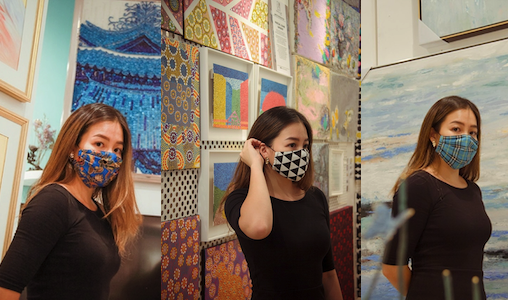 A celebration of the Singapore story, culture and memories, Timeless Gifts are a go-to for the finest premium Singapore art and gifts. They are also making face masks for women, men and kids now! Whether it's newly launched Japanese prints, plaid face masks in five different designs or vibrant solids in over 15 colours, you'll have plenty of options to choose from and even match with your outfit for different occasions.
Protecting yourself with these reusable, washable and eco-friendly cloth masks by Timeless Gifts is easy! There's even a pocket inside each mask where you can put filters and even fit a surgical mask for extra protection.
Batik lovers will enjoy the original SIA batik face masks by Timeless Gifts that come in an assortment of prints and shades. If you are someone who is constantly out and about, you can choose from a wide variety of plain colours to perfectly match with your outfit of the day!
Should you be in the market for face shields for your kids or face masks for your man, take a look at the collection at Timeless Gifts. With island-wide delivery and flat shipping rates as low as $3, shopping for the safety needs of yourself and your family has never been this convenient!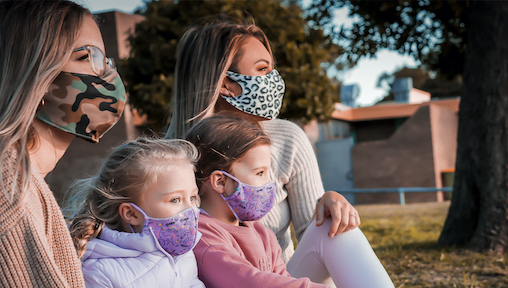 Struggling to find breathable, fashionable face masks in Singapore that double up as sports masks too? 100% Australian owned, The Mask Life is a movement in personal hygiene fashion that delivers face masks which are reusable, washable and reversible. Better still, they are made with sports performance fabric, which has moisture-wicking properties to draw moisture away from the face and keep you going in Singapore's humidity!
Each mask comes with a Hydrophile coating to help reduce water absorption and material contamination. Fast drying, reusable and easily washable, the face masks by The Mask Life make conveniently and worthy additions to your mask collection. Whether you are after fun kids' face masks - dinos, spaceships or unicorns, or need face masks for adults(male or female), you'll find a range of colours, prints and fashionable, reversible designs that will fulfil your families' mask needs.
We love that they also come in bulk packs of 3, 5 and 10, and can be personalised based on your office requirements with logos, prints or initials!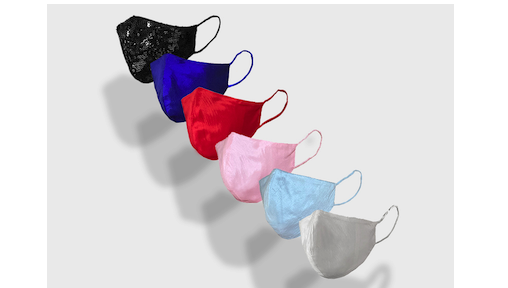 Fashion Designer Jo Kilda has launched a series of Silk Face Masks starting from SGD$45. Made entirely out of 100% raw silk and satin silk lining, these silk face masks are not only gentle to the skin which reduces breakout that many women have recently been experiencing. Wearing a silk face mask also makes it easier to breathe as silk is excellent in absorbing or releasing moisture. You can now look stylish while keeping your skin hydrated and smooth over time.
10% of all sales from these Silk Face Masks will go to Dayspring, a home for teenage girls who have undergone emotional and physical abuse.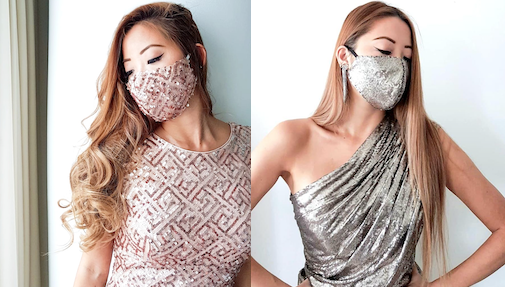 MASKELA is providing comfortable, high-quality face masks that are fashionable and functional. Join the army of Style Ninjas protecting our communities and fighting the spread of COVID-19.
Rock the MASKELA face masks which are contoured for a comfortable and flattering fit, have a filter pocket for disposable filters, are double-layered for increased effectiveness, and have an inner netting which enhances breathability. Once used, just machine-wash and reuse.
For every purchase of MASKELA face masks, two medical masks will be donated to help frontliners around the world.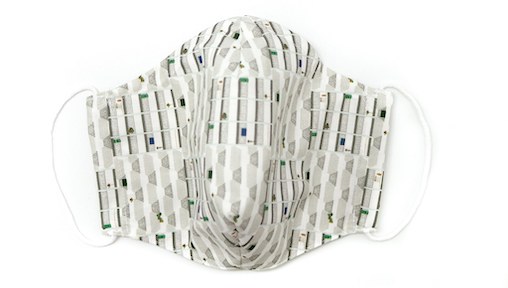 CYC Made to Measure has reusable face masks in 3 different sizes - large, small and kids. Made in Singapore, each face mask comes with a washable N95 hydrophobic filter. Known for their premium quality, these face masks are made from cotton fabrics from renowned shirting mills. 
Sales from their reusable face masks go to their Masks for Migrants initiative to produce 300,000 face masks for migrant workers in Singapore.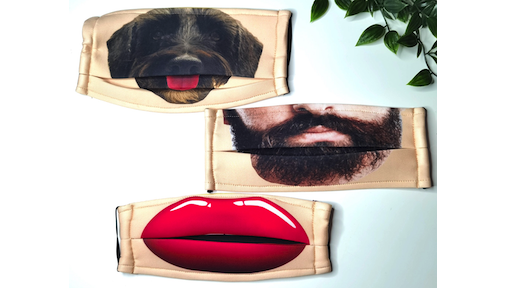 Lips opening to a toothy smile, a bearded mouth or a dog with his tongue out! If you want to add a little bit of fun to mask wearing and give back to charity, take a look at the range at Free Movement. The first of its kind in Singapore, the bespoke FM transformation masks by Free Movement come in 3 different designs. 
Each of these novel, reusable face masks is hand sewn in Singapore by the Free Movement Team with love, with a one of a kind customised fabric, steamed under high temperature for disinfection, wrapped with care, and delivered by courier.
Part of the proceeds from the masks go to ARC Children's Centre, a non-profit charity that cares for children with cancer or life-threatening illnesses. For every #TransformationMask sold, Free Movement makes a child-size mask for the children in ARC Children's Centre and any other child who is in need! Should you like to donate directly to ARC Children's Centre, click on the link here!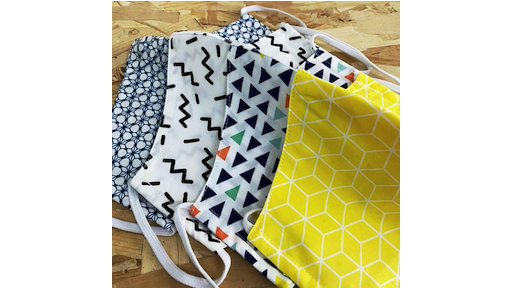 Independent Market was launched to share the appreciation and love for independent Singapore designers, makers and publishers. From cheeky gift ideas to alternative Singapore souvenirs, they are the marketplace for well-designed and quintessentially Singaporean goods - and now face masks too!
The soft, breathable fabric masks from Independent Market are loved by everyone - adults and kids included! Washable and reusable the masks are made with double-layered 100% cotton fabric, with an inner cotton gauze pocket for inserting a disposable filter (not included). 
Their choice of fabric is breathable and hypoallergenic, which is beneficial for those with sensitive skin and children as well. Adult Masks come in a variety of sizes too! From Petite Adult or Teenagers to Standard Adults, and XL.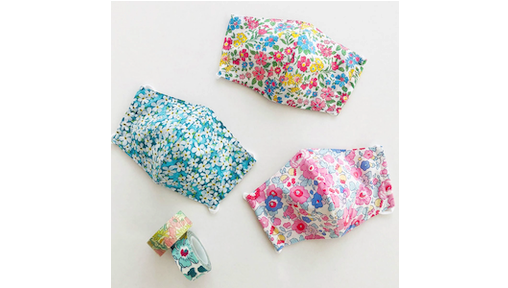 Looking for pastel, floral prints? Elizabeth Little's range of adult and children masks is one you'll adore! Based in Singapore, their signature pieces are produced locally using organic cotton, fine Japanese linen, and heritage Liberty prints. Elizabeth Little works with like-minded craftsmen in the region who are ethical in their practice and give way to stunning wardrobe pieces your kids will love to wear. 
Their masks too are sustainably produced from production offcuts. Every mask sold gives another mask for a child from a vulnerable family. These washable and reusable masks come in child and adult designs and with elastic ear loops that can be tied for a better fit if needed.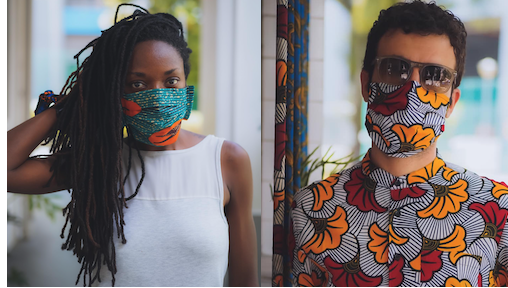 Olive Ankara face masks have an inside pocket where you can fit your surgical masks for increased protection. Putting all their remnants to good use, these face masks have been handmade using cut-off fabrics made from 100% cotton wax. Olive Ankara's printed face masks are reusable, washable and reversible with elastic bands. Simply wash in cold water to reuse.
10% of the revenue will be donated to local charities helping migrant workers and Singaporeans in need.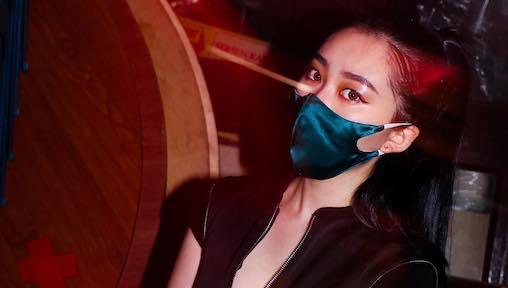 These fashionable face masks from LISA VON TANG are designed based on the N95 structure with an added luxurious comfort. Lisa Von Tang's face masks are contoured for a flattering fit with a padded nose bridge that holds the face mask in place and lined with pure Egyptian cotton from Italy that is incredibly soft on the skin. The outer layer comes in 100% satin silk or poly-silk or upcycled natural linen and the face masks come in two sizes - small/medium and medium/large - as well as eight different colours. 
Buy one LISA VON TANG face mask and donate 5 surgical masks to Contribute.sg for those who need it the most.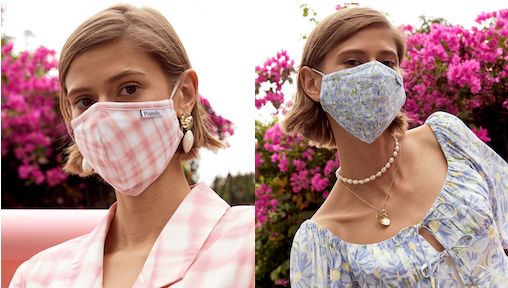 Fashion brand Pomelo is expanding its range of antibacterial face masks to now include new, brighter designs. Keep your eyes peeled for face mask design collaborations with Happyberry and more.
This is all part of the Pomelo Cares initiative to support organisations leading COVID-19 relief efforts in Singapore, Thailand and Indonesia. Want to get involved too? Donate funds directly to their partner healthcare organisations such as the Singapore Red Cross Society through the Pomelo App.