fashion
Where to Buy Comfortable Loungewear and Pajamas in Singapore
Published Date
: 28 Sep 2023 10:00

Comfortable, stylish and ideal for our weather! Here's to a great night's sleep with the best pajamas and loungewear in Singapore
Your choice of pajamas and loungewear goes beyond just clothing – it is a statement of your personal comfort and an expression of self-care. Find the right set and you can transform a mundane routine to a luxurious experience, one that you will look forward to night, after day. 
With that in mind, we have curated a selection of our most loved pajama brands in Singapore that have redefined loungewear. From luxurious fabrics to innovative designs, these brands have mastered the art of crafting sleepwear that not only envelopes you in softness but also reflects your unique style. 
If you are still wondering where to buy that comfortable set of pajamas in Singapore, these are the ones to try on!
Comfortable Loungewear and Pajamas in Singapore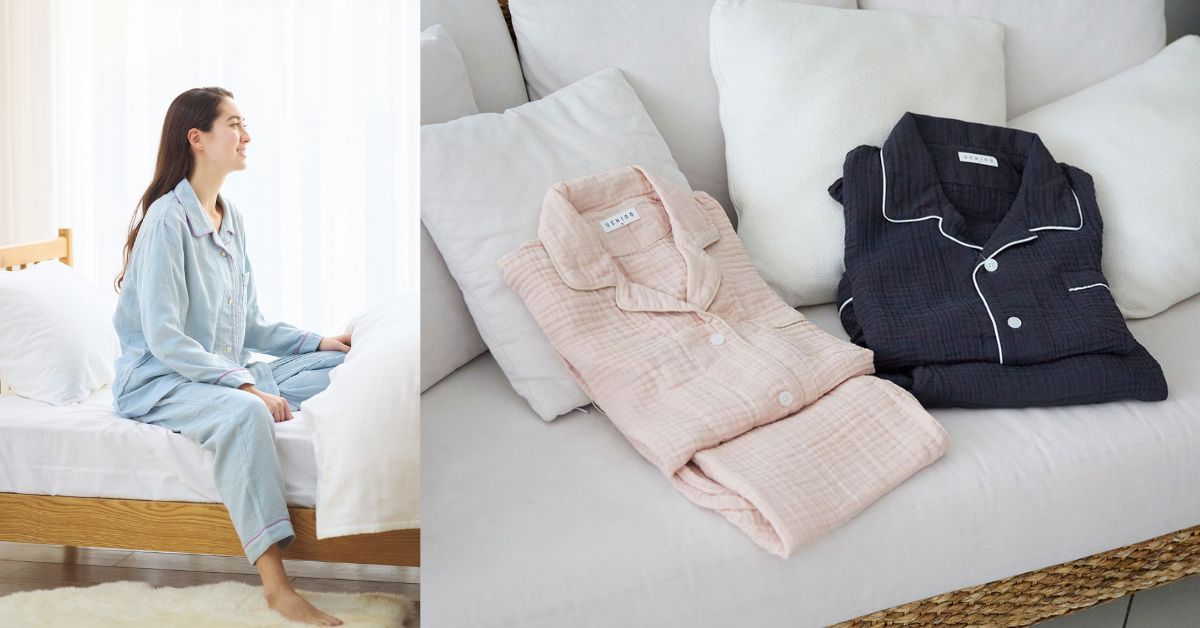 If you have had the chance to try Uchino's best-selling towels, you will love the idea of enveloping your skin in their patented material as pajamas! Established in Japan in 1947, Uchino has been at the helm of producing 100%, top–quality cotton towels and bath linen using patented technology. Quality approved by the Japan Atopic Dermatitis Patients Association, this ultra-soft material is gentle even on the most sensitive of skin types.  
The nightwear and loungewear collection from Uchino is made using the same patented material, in both marshmallow gauze and crepe gauze.

The Marshmallow Gauze is gentle, light, and soft, leaving you with a relaxing feeling so today's fatigue is not carried over into tomorrow. It is also highly absorbent and hence does not feel sticky even if you sweat at night. Air permeability means you will always feel dry and comfortable, and its moderate warmth retention protects you from the cold while you snooze.  
The Crepe Gauze material on the other hand is naturally shrinkable, lightweight, and breathable. Its small surface area in contact with the skin keeps the skin dry and comfortable, even when perspiring. Crepe Gauze is an excellent choice for those with sensitive skin as it is super-soft and causes no irritation when worn. 

Uchino's relaxing clothes free you from the stresses of everyday life by focusing on gauze fabrics that sport excellent water absorbency and moisture retention properties. Best of all, these luxuriously soft pajamas by Uchino are available for both men and women, so you can both relax at home in absolute comfort. 
Available at www.uchino.com.sg/category/home-wear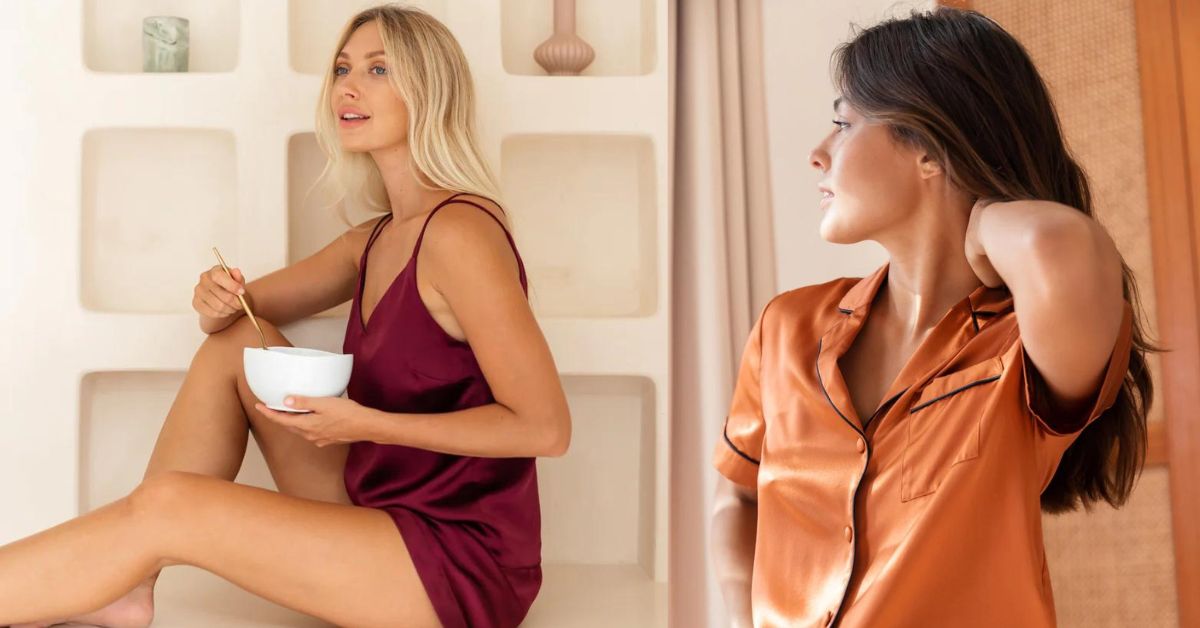 Silk Madame's premium pajamas will allow you to indulge in the height of luxury and relaxation. These pajamas are manufactured from the best Grade 6A mulberry silk, which guarantees strength, durability, and a luscious sensation against the skin. 
Plus they are meticulously handcrafted. The silk fabric is soft and hypoallergenic, making it ideal for people with sensitive skin and offering a calming sensation while you sleep. In addition to being beautiful, the silk fabric is sustainable and has a minimal carbon footprint, which fits with your preference for eco-friendly products.
Treat yourself to the cross-back camisole set in a captivating burnt orange shade, designed to make you feel beautiful and at ease within the confines of your home. With Silk Madame pajamas, you can elevate your relaxation time to new heights and indulge in the ultimate pampering experience.
Available at silkmadame.com.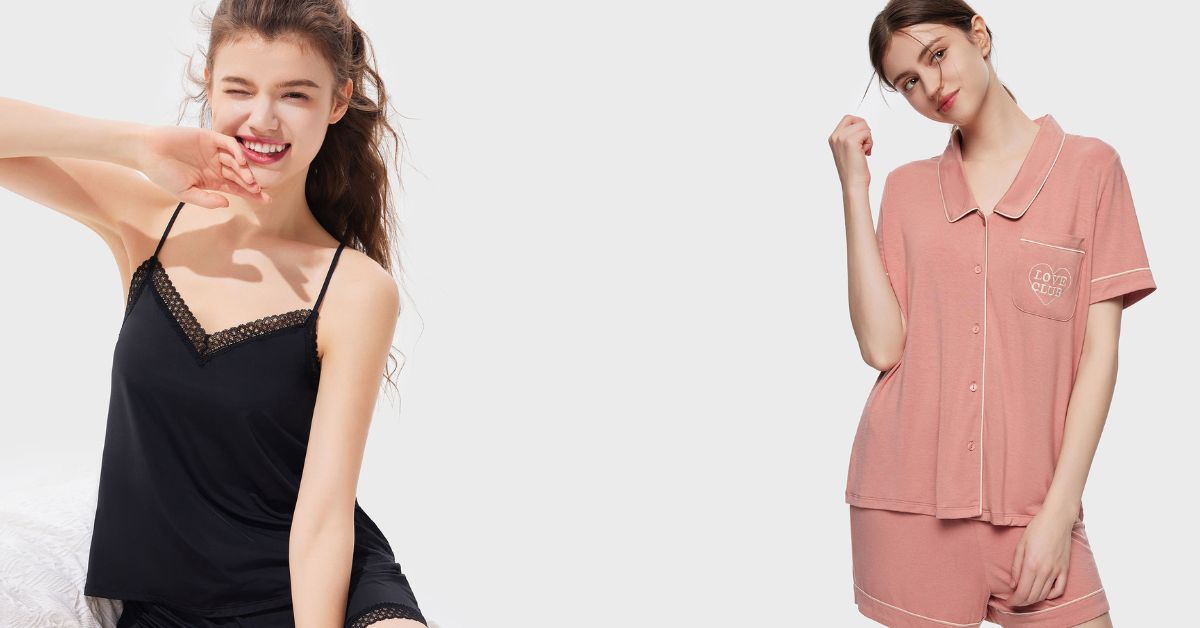 When it comes to finding the best pajamas that cater to everyone's preferences, 6IXTY8IGHT stands out as a frontrunner. With a rich history dating back to 2002, this fashion brand has evolved from its roots in lingerie to become a comprehensive provider of sleepwear, loungewear, and more. With over 300 stores across Asia, including Singapore, 6IXTY8IGHT has made its mark by offering a wide array of choices to suit every individual's taste.

For those seeking a touch of luxury, their Maci Cami Set with satin finish are the epitome of elegance and comfort. The shiny satin fabric glides against the skin, while the ruffle trim details add a feminine and playful touch. On the other hand, if you prefer something more breathable and suitable for all seasons, their Maisy Pyjama set made with 100% cotton gauze is a great choice. The natural crinkle and airy weave of the fabric ensure breathability and gentle comfort, making it a versatile option year-round.
Available at sg.6ixty8ight.com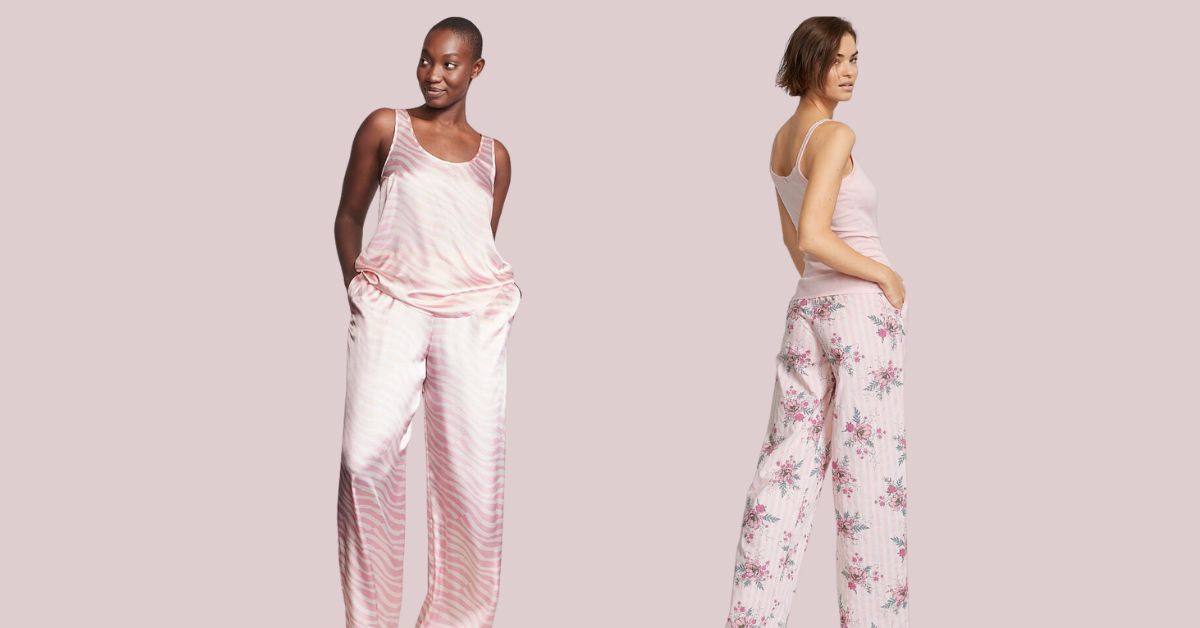 Victoria's Secret pajamas and loungewear offer the perfect balance between comfort and style. Whether you're inclined towards their iconic stripe collection or prefer something more relaxed, Victoria's Secret pajamas embody both comfort and a sense of fashion-forward style.
With their signature Satin Short Pajama Set featuring a short-sleeved button-up and matching shorts, you can enjoy a full eight hours (or more) of uninterrupted beauty sleep. The easy fit of the pajamas ensures a relaxed and comfortable feel, allowing you to move freely throughout the night. The short-sleeve, button-front top hits at the hips, giving it a chic and breathable fit - perfect for our hot summer nights. 

Available at www.victoriassecret.com/sg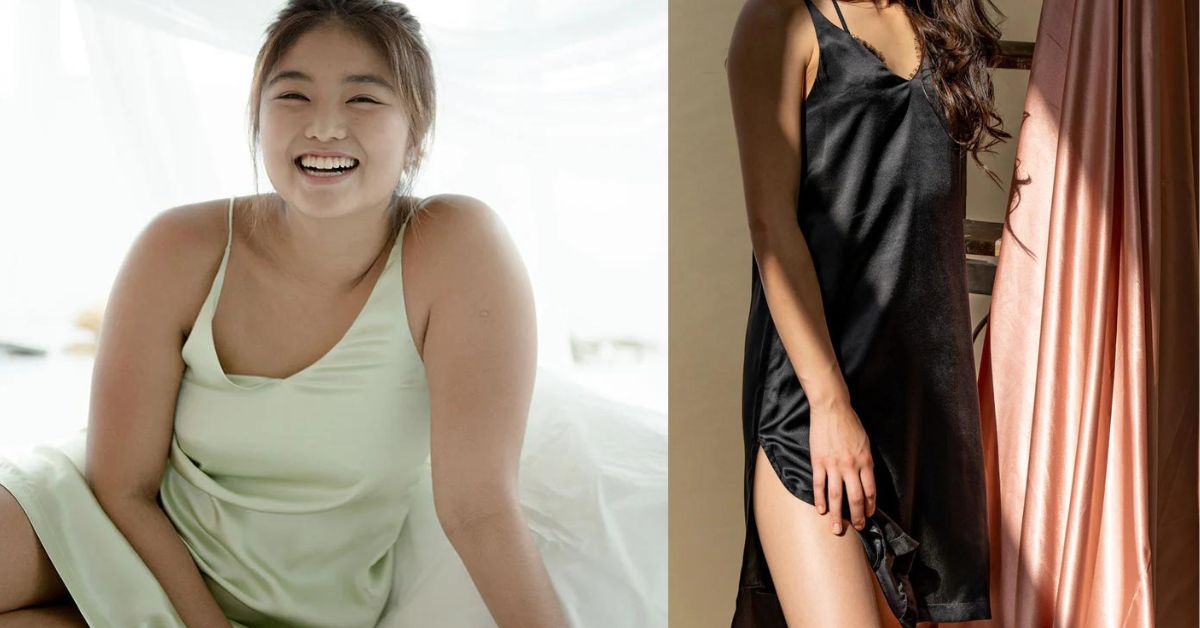 Perk by Kate is a local homegrown Singaporean brand with some of the best loungewear that will make you look and feel amazing. This brand understands the importance of both style and comfort and that it all starts from within. With a high-touch experience awaiting you, Perk by Kate offers a diverse range of options to cater to your preferences.
For those seeking a touch of femininity and luxury, the lace from the Alexis Romper paired with luxuriously soft satin creates a loungewear ensemble that exudes at-home chic. The Alexis romper, with its satin button detailing that adds a vintage vibe, strikes a balance between modern and old-school romance.
If you envision beautifully intimate and intricately designed styles that complement your body shape, then the Imagine Asymmetrical Chemise is a must-have. Luxuriously made from indulgent satin, this chemise drapes elegantly on your body, accentuated with embroidered tulle lace at all the right places. It celebrates the unique curves and contours of women's bodies, making you feel confident and beautiful.
With Perk by Kate, you can enjoy the greatest lounge wear Singapore has to offer. Their attention to detail, dedication to quality, and wide selection of alternatives will make you look and feel fantastic, ensuring a sumptuous and comfy lounging experience unlike any other.
Free shipping included at www.perkbykate.com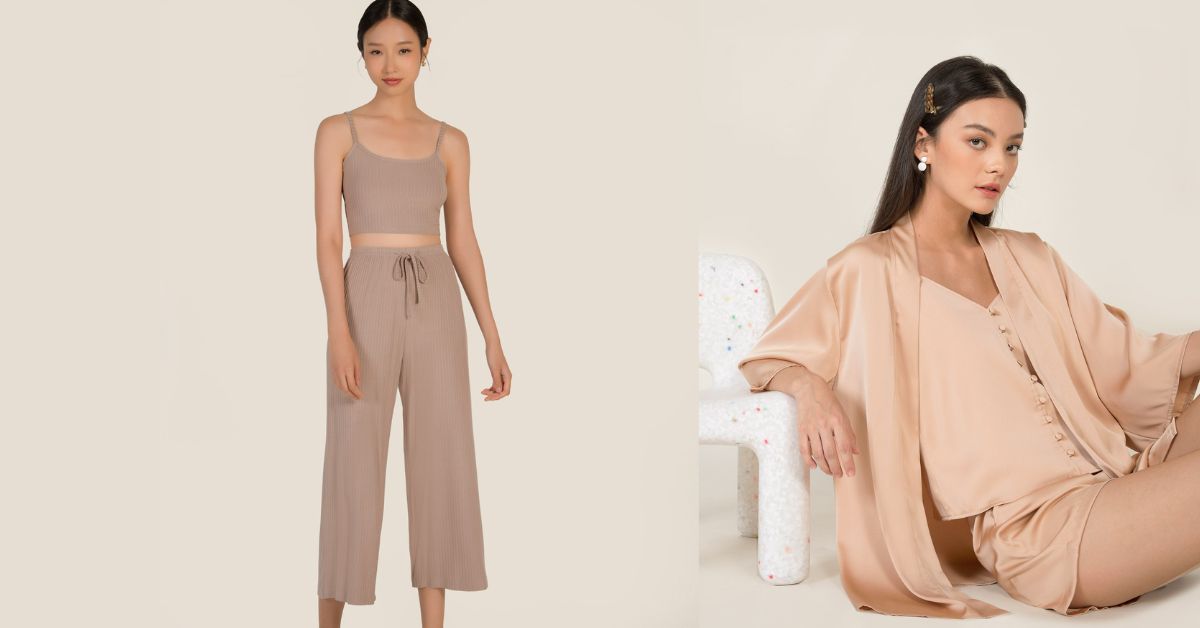 Hervelvetvase (HVV) is one of the best loungewear companies in Singapore, thanks to its designs that are classic, elegant, and romantic, capturing the essence of modern femininity. Their signature floral prints and well-cut maxi and midi dresses have become affiliated with the brand's aesthetic. But move beyond their floral dresses, and you will find they offer a range of casual and comfortable wardrobe staples, including oversized blouses, knit tanks, shorts, and cotton dresses. These pieces are amazing for those seeking a relaxed and effortless style while still maintaining a chic and fashionable look.
What distinguishes HVV is its attention to detail and usage of high-quality textiles. Their Vikas Drawstring Trousers are created for comfort and style, exemplifying their dedication to developing loungewear that feels cool and refreshing on the skin. The ribbed pattern offers a unique touch, while the fabric's high stretchability allows for optimum movement and comfort.
HVV also offers free shipping on all orders above $100.
Available at www.hervelvetvase.com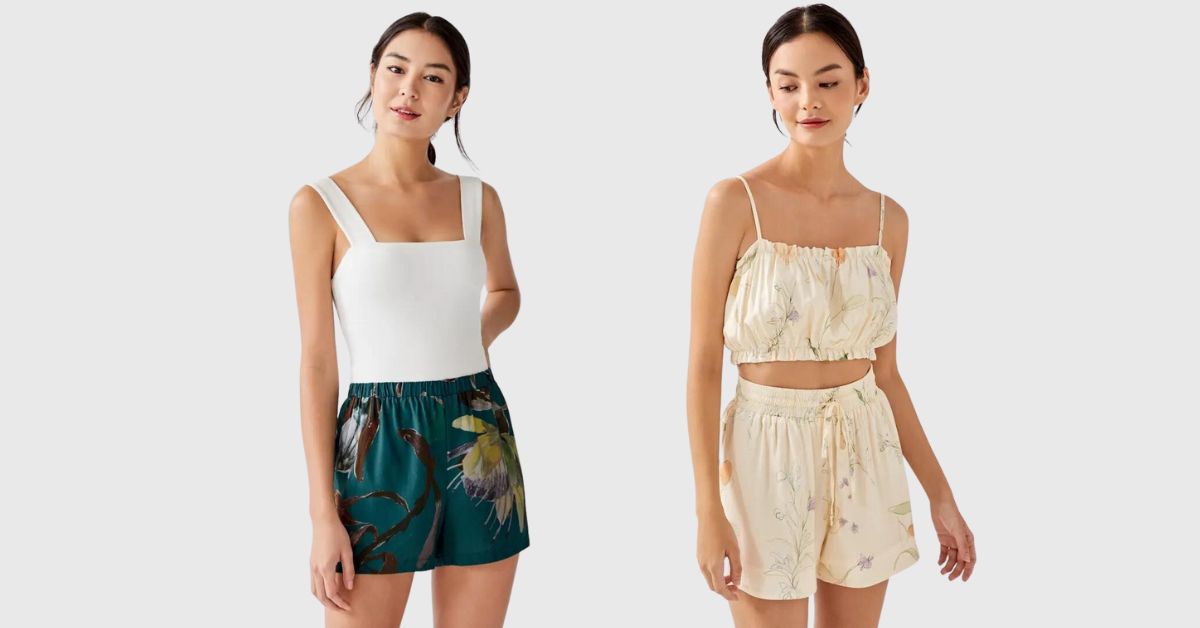 Love, Bonito is not just a brand; it's a movement that empowers women to embrace their individuality and express their unique style. Their commitment to celebrating diversity and self-expression extends to their loungewear collection, making it the best starting point for women to explore their personal style.
Designed in Singapore, Love, Bonito's loungewear captures the essence of effortless dressing, perfect for unwinding and slowing down. Their in-house designers ensure that each piece is made with care, focusing on quality and value through thoughtful yet functional design details. They are dedicated to perfecting the Asian fit, recognizing the diverse body shapes and sizes of the modern Asian woman.
Love, Bonito's loungewear collection also showcases their signature prints such as their Halia Elastic Lounge Crop Top or their Helene Relaxed Button Down Shirt, adding a touch of uniqueness and personality to each piece. From soft and lightweight rayon kaftans to comfortable and stylish pyjama sets, their loungewear exudes a sense of relaxation and self-expression.
Available at www.lovebonito.com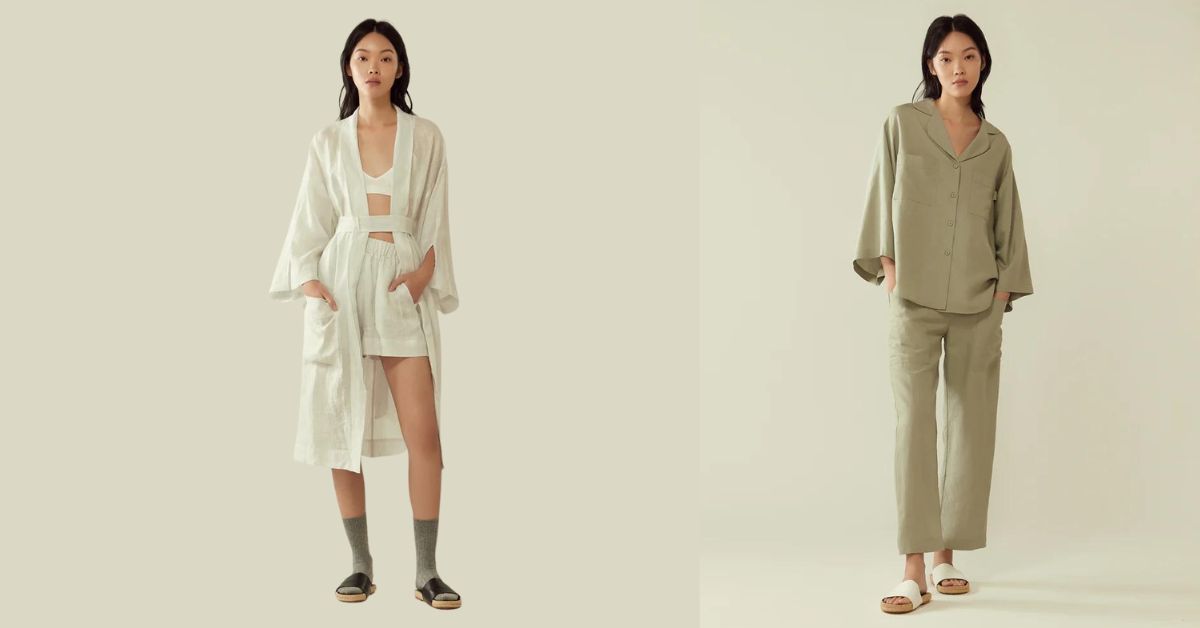 As a Singapore-based womenswear label, Rye has established itself as a homegrown brand that offers the best loungewear for women. With their philosophy of less-is-more and a focus on transitional capsule collections, Rye embodies the essence of comfortable and timeless loungewear.
One of their standout pieces is the super-comfy lounge boxer shorts. Made from washed linen material with a pinstripe pattern, these shorts offer a relaxed fit and feature a wide elasticated waistband and side pockets. The fully lined design ensures optimal comfort and durability, while the use of 100% linen fabric adds a touch of luxury.
Another essential piece from Rye's loungewear range is the ribbed jersey tank in a warm cinnamon shade. This 90s-inspired tank top is designed for a close and comfortable fit, made from soft ribbed cotton with a hint of stretch. The sleeveless design and racer cut style add a chic and sporty touch, while the logo detail at the hem adds a subtle branding element.
Available at www.r-y-e.co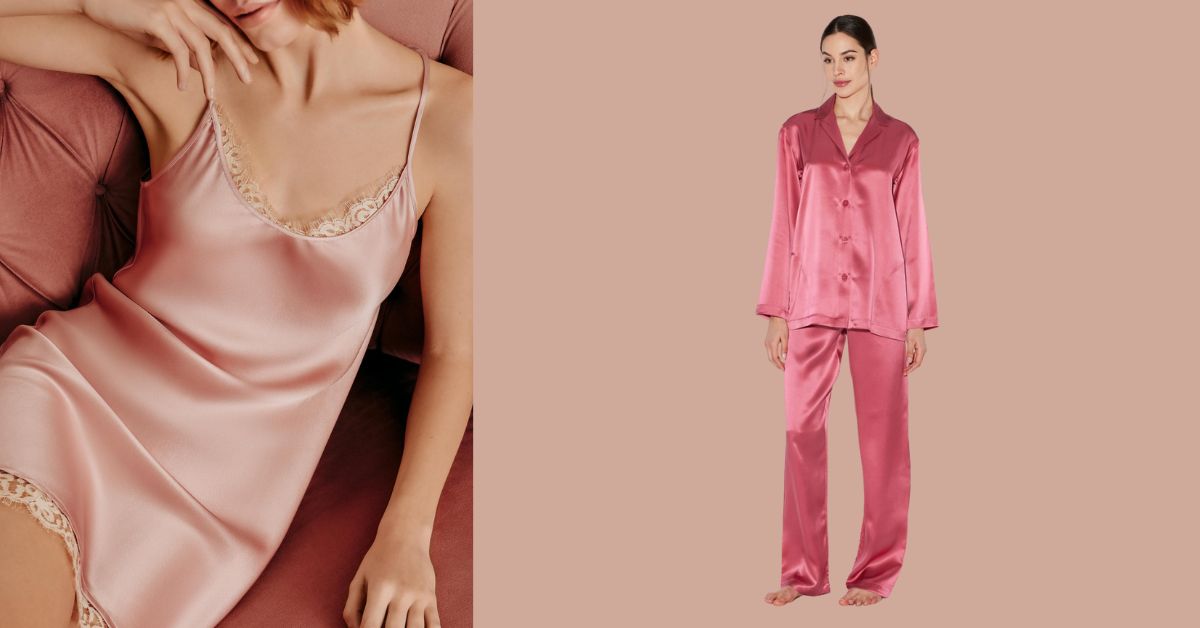 When it comes to pajamas and loungewear, La Perla is as luxurious as it gets!  With a rich heritage dating back to 1954, La Perla was founded by Ada Masotti, a talented and courageous Italian woman with a vision to create exquisite corsetry. Starting in a small laboratory in Bologna, a town renowned for its silk factories and textile manufacturers, Ada used her exceptional skills as a corset maker to create pieces that celebrated feminine beauty.
The Silk Slip dress from the Per Lei collection is one of their great creations. The Short Slip in Pink, precisely crafted from rich silk and embellished with La Perla's distinctive Leavers lace in a contrasting shade of Natural, is a flexible and elegant choice that smoothly transitions from day to night. Finish the appearance with the complementing Shorts or mix and match with other favourite separates to achieve the desired effect.
Don't worry the ship to Singapore too! Available at asia.laperla.com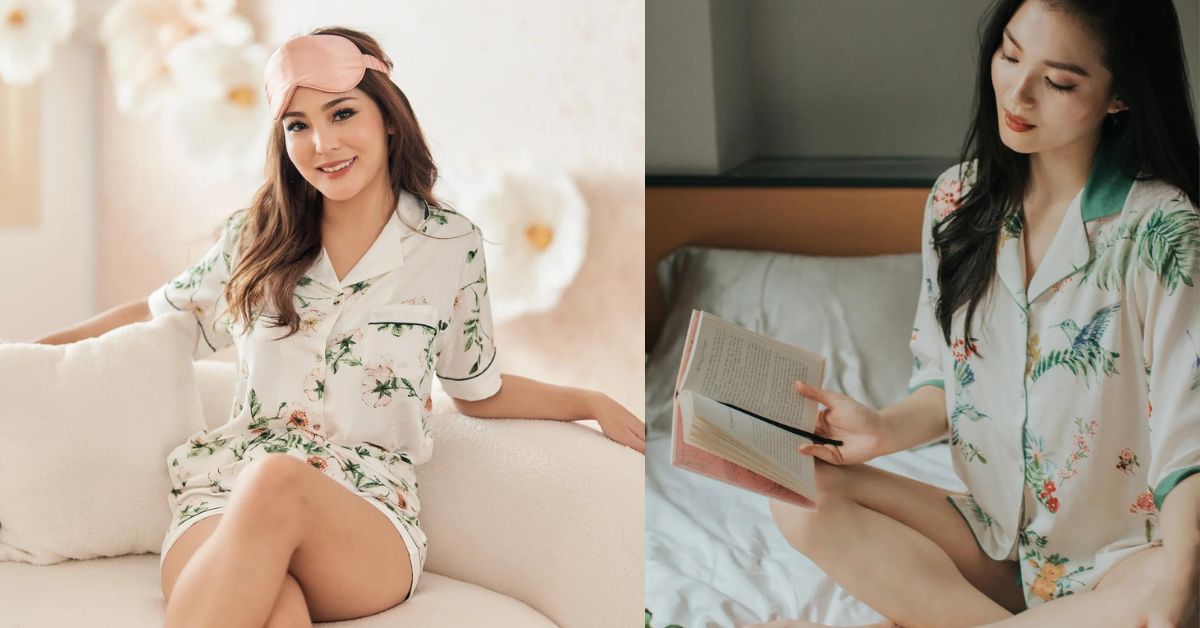 Famous for its exceptional comfort and whimsical designs, Bells and Birds has established itself as a go-to destination for the most comfortable of pajamas. Since its inception in 2014, the brand has captured hearts with its stunning sleepwear range. Each piece, whether it's the beautiful lace robes or the luscious silk loungewear, is painstakingly handcrafted in Singapore by talented artisans who pour their hearts into every stitch.
What truly sets Bells and Birds apart is their ability to infuse whimsy into their pyjama designs. The Sicilian Summer PJ Set, for instance, showcases a captivating print inspired by the idyllic Italian island, featuring fruits and leaves reminiscent of the coastal beauty of Taormina. The addition of pockets on the shorts adds a delightful touch of functionality and practicality. This attention to detail and playful elements are what make Bells & Birds' pajamas stand out as both comfortable and whimsical, bringing a touch of magic to bedtime rituals.
Available at bellsandbirds.com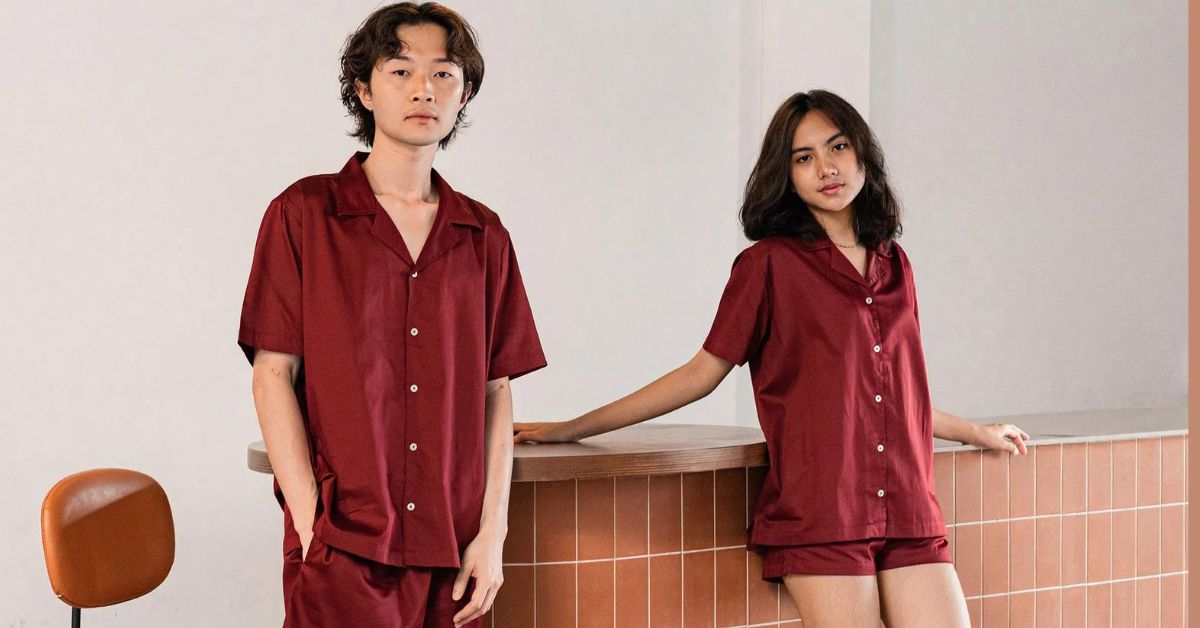 Sojao offers the best organic loungewear suitable for both men and women, while also ensuring its unwavering commitment to sustainability. They prioritize the well-being of our planet and people by adhering to the Global Organic Textile Standard (GOTS), the leading worldwide standard for organic fibres. This ensures that every step of their supply chain, from seeds to sheets, is genuinely organic and ethical.
For women we recommend the Organic Cotton Women's Loungewear Shirt that is crafted with buttery-smooth and super-soft fabric, providing all-day comfort.
As for men looking to ace their loungewear look, try the super-comfy yet stylish Organic Cotton Men's Loungewear Shorts. Who says comfort and style can't go hand in hand? 
Available at sojao.shop
If you're looking to elevate your loungewear and add a touch of romance to your free time, try  Susy+Bae. With their effortless approach to dressing and dedication to creating pieces that make you feel special, this brand is the go-to for those seeking comfort without compromising on style. 
Their collection features stunning designs with romanticized patterns that evoke a sense of softness and femininity. Take, for example, the Lucia Sleep Dress in Flowerfields, made from 100% GOTS organic cotton. The delicate ruffles and pintuck folds add a romantic touch, while the loose shift cut ensures a breezy and comfortable fit. Similarly, the Ida Sleep Set in Natural Dobby offers thoughtful details like a subtle geometric pattern and petite ruffles, creating an elegant and feminine silhouette. 
Embrace the beauty of their designs and enjoy loungewear that combines comfort and romance seamlessly.
Available at susyandbae.com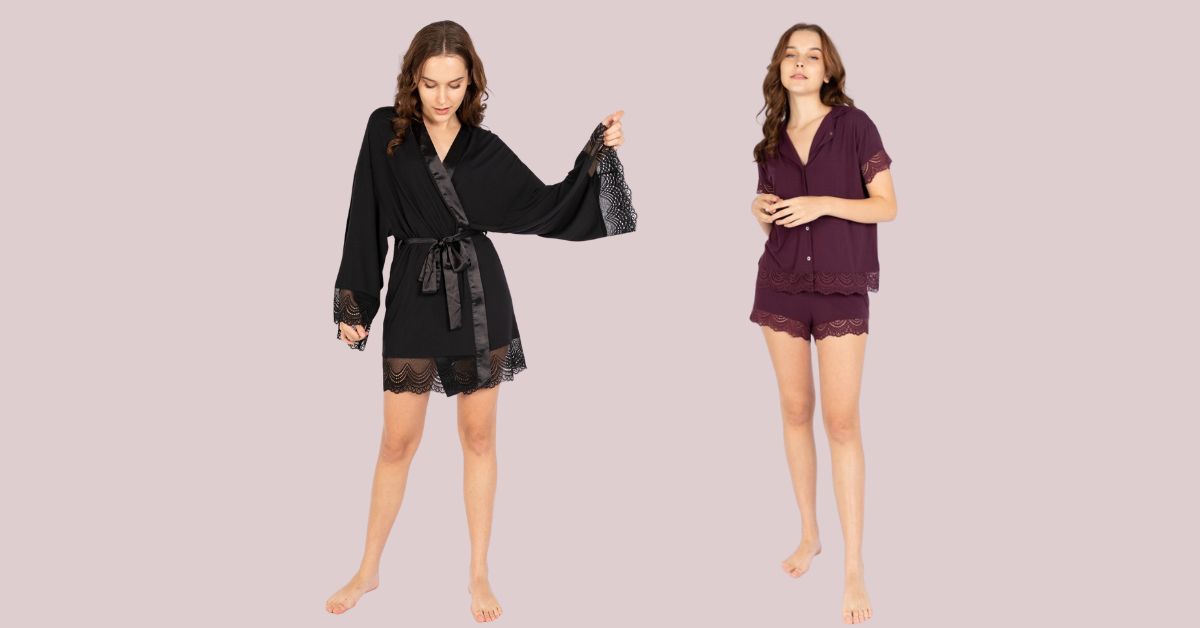 Rawbought is a brand that captures our attention not only for its exceptional quality but also for its unique perspective. Created by three sisters, Soukaina, Boutaina, and Amira, who grew up in the apparel manufacturing industry, Rawbought understands the struggles women face when searching for the perfect sleepwear.
Beyond quality and comfort, Rawbought is dedicated to ethical practices. Owning the entire production chain allows them to work closely with trusted suppliers who share their values and passion. Every piece is meticulously cut, stitched, and packed with the highest attention to detail in their very own facilities, ensuring the utmost quality without any compromise.

A prime example of Rawbought's exceptional offerings is their Carezza Lace Short Set Pyjamas. This collection beautifully blends their favourite buttery-soft Lenzing Modal fabric with delicate lace accents, creating a more luxurious and seductive twist on classic pajamas. The short-sleeved top and shorts with soft lace trims exude a regal feel, making you look and feel like the queen that you are. 
Psst....Rawbought also carry a range of sleepwear and loungewear for men and kids so you can dress up the whole family in ulta-luxe and comfort through the week!
Free shipping for orders in Singapore at rawbought.com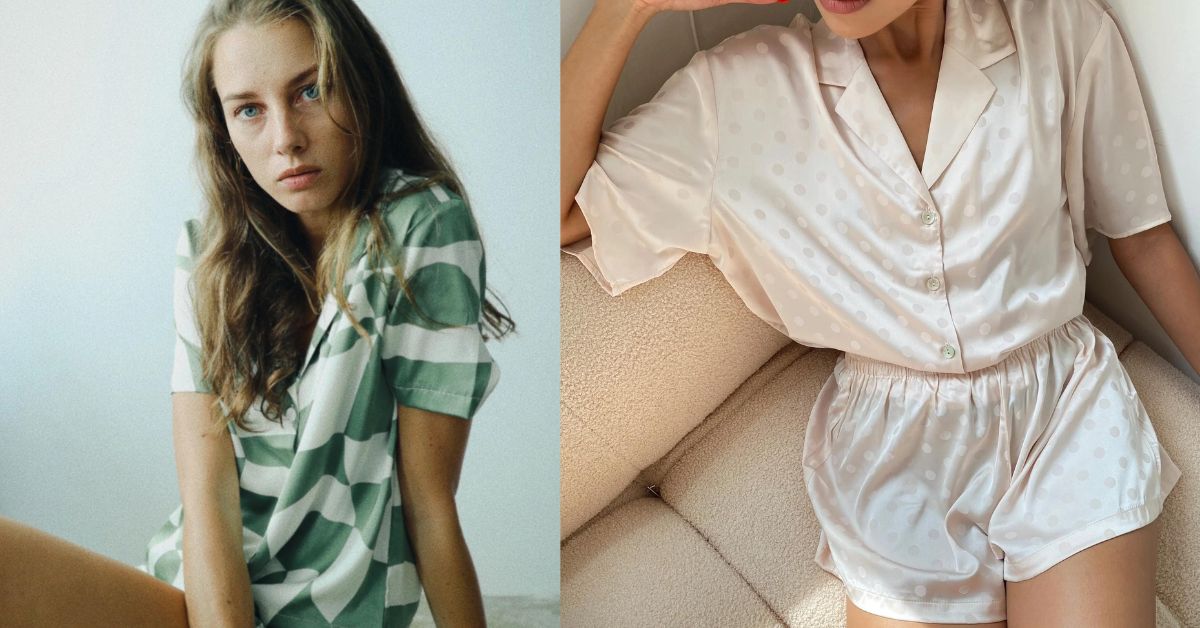 When it comes to selecting the greatest pajamas that mix comfort and outstanding quality, the silk selections by White Trousseau truly make the mark. Their dedication to making every lady feel confident and beautiful is reflected in their meticulously produced creations. 
The Lottie Silk Pyjamas Set in Blush Pink, a great combination of elegance and comfort, is one of their highlight items. Made from 100% soft and smooth viscose silk, these pajamas elevate your daily routine and create a luxurious experience. The silky texture glides across your skin, offering a feeling of indulgence. With its beautiful blush pink colour and matching shorts, this set exudes sophistication and class. It's delightful for lounging in bed or enjoying a relaxing day on the weekend. Bestie getting married? These make amazing wedding presents too!
Available at www.whitetrousseau.com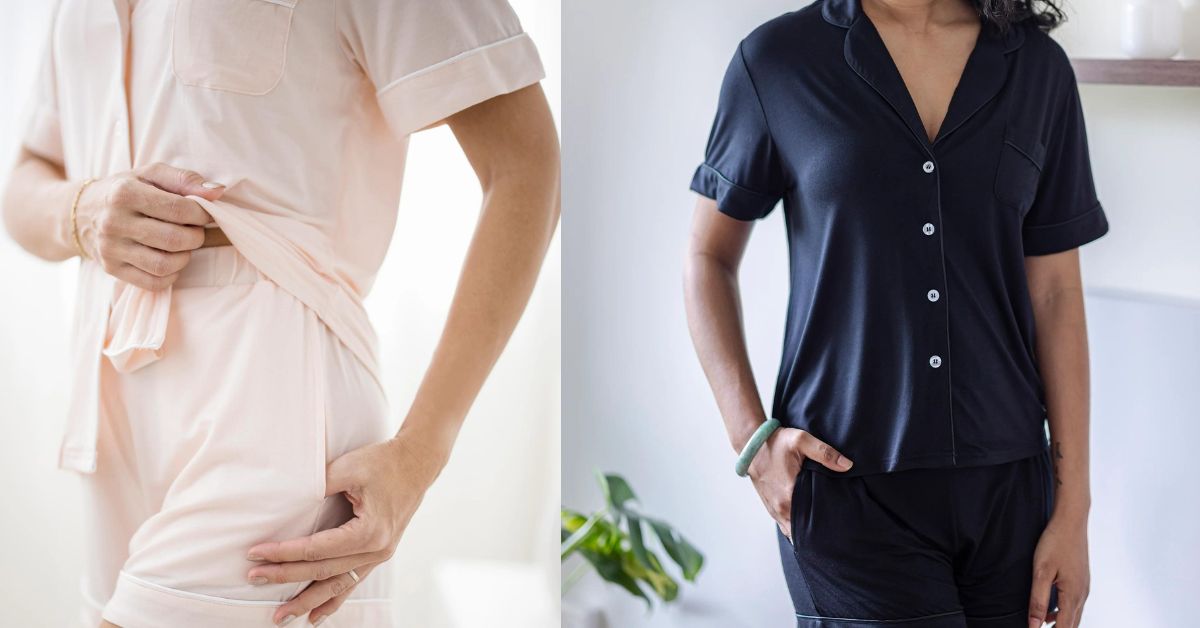 If you're looking for pajamas that not only provide ultimate comfort but also boost your energy levels with a good night's rest, take a look at Selenightco. Their mission is to help create better days through better sleep, and their dedication to promoting quality rest is evident in their thoughtfully designed clothing.
Selenightco recognizes the value of comfort and has designed its Signature Collection pajamas with buttery-soft and breathable fabrics. For example, the Signature (Pants Set) Pyjamas Pants in Noir are constructed of 95% high-quality bamboo and 5% elastane. This combination feels velvety against your skin while also providing excellent breathability and thermoregulation. Their relaxed fit offers the ideal blend of comfort and roominess, allowing you to sleep in a bit longer and wake up feeling refreshed.
By selecting Selenightco pajamas, you can sleep well knowing that you're making a sustainable choice without compromising on comfort.
Available at www.selenightco.com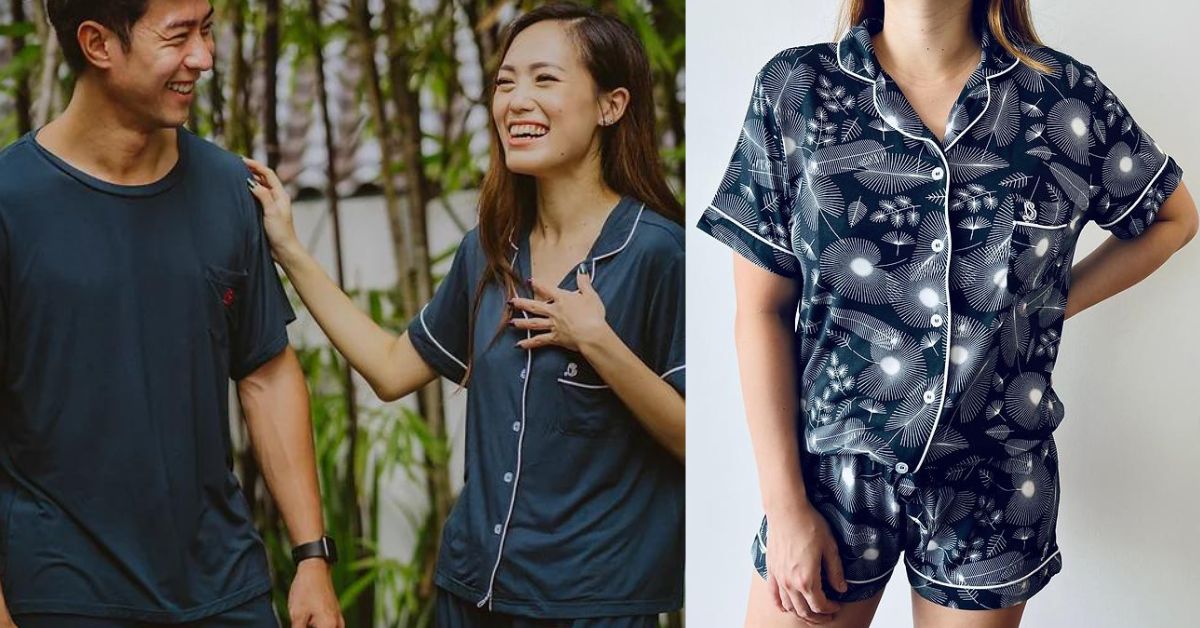 Crafted from highly breathable, soft, and anti-odour bamboo fabric, Sleebbee pajamas offer every level of comfort for snooze time. The use of sustainable, hypoallergenic material makes them suitable for all skin types, ensuring a gentle and soothing experience for everyone.
What sets this collection apart is its unique prints, designed locally in Singapore. With different themes to suit various occasions, from sleep to house parties or even WFH video calls, there is something for everyone. In addition to their exceptional design, these bamboo pajamas are double-stitched, ensuring durability for everyday wear.
This collection even offers a set deal that allows you to enjoy both men's and women's pajamas at a discounted price. This limited bundle set commemorates the launch of their first men's bamboo pajamas. By purchasing the bundle set, you not only receive the perfect pajamas for yourself, but you also get to share comfort and style with your partner.
Available at www.sleebbee.com
Now that you've got your sleepwear sorted, it may be time to reflect on your mattress and pillows. Need inspiration? Take a look at our round-ups on the best mattresses and pillows for all kinds of sleepers to maximise your snooze time.