home & living
The Best Mattress in Singapore For a Cooler, More Comfortable Sleep
Published Date
: 04 Jul 2023 10:00

From innerspring and memory foam, to latex and mattress-in-a-box styles, these are the top mattress brands in Singapore for every type of sleeper
Have you been looking for the best mattress in Singapore? A multitude of studies have proven that sleep is not a luxury, but a crucial necessity. Sleep not only primes our memory, but also triggers the release of hormones regulating energy, mood, and mental acuity. When we don't get enough quality sleep, our concentration, productivity and creativity levels all take a hit, proving that an investment in all things sleep related, including a quality mattress should be on top of your priority list.
With that said, picking out a good mattress can be quite the challenge.. There are simply too many considerations to look out for when shopping for a mattress in Singapore - comfort, durability, supportiveness, price range and more. Look no further as we have come up with a comprehensive list of the best mattresses in Singapore to cater to all your personal preferences and specific needs. Here's to a lifetime of quality zzzs.
Best Mattress in Singapore
​Sterra Wave - Singapore's ONLY 5-Star Hotel Grade Mattress at Value Prices
A homegrown brand set to improve the lives of people at home, Sterra believes that everyone deserves a high-quality life through convenience, health and comfort. The local brand takes pride in its excellence in delivering top-notch product quality, design, and customer service at affordable prices - mattresses included!  
The Sterra Wave Mattress is Singapore's ONLY 5-Star Hotel-grade mattress. Sold at a pocket-friendly price it offers cooler, more comfortable, and a better night's sleep. 5X more affordable than premium luxury mattress brands Sterra Wave Mattress offers the same specs, technology and quality, at a far more accessible price point.
Do you find yourself compromising on sleep because of your hectic and busy schedules? Sterra Wave Mattress is carefully designed to provide 2 times improved sleep quality by ensuring that you get 2 times worth of rest and recovery. 
And if you are looking for a mattress that will aid you with neck and back pain relief, look no further because their mattresses provide neck and back care. An ideal posture support with its 5-Zone Zoning Pocketed Spring Technology makes it suitable for all types of sleepers - side-sleepers, back-sleepers and stomach sleepers. 
Designed specifically for the Singaporean climate, the Sterra Wave Mattress is also perfect for hot sleepers. Their mattresses help keep you cooler when you fall asleep and it stays cool throughout the night. The Sterra Wave features cooling ice silk fabric and a triple cooling system technology to keep you feeling incredibly cool and comfortable while staying 99% anti-bacterial for Singapore's hot and humid weather. 
Certified by Switzerland STANDARD 100 by OEKO-TEX®, motion proof(won't move if your partner does!), the list of features and benefits is never ending with the Sterra Wave. Try it out for yourself and experience why this 5-star hotel-grade mattress is a cut above the rest! 
Shop your Sterra Wave mattress today! 
Sterra Wave, UB One, #01-22 Ubi Ave 4, Singapore 408830. Contact: (+65) 3165 0198 (WhatsApp), (+65) 3165 0198 (Telephone), or email [email protected]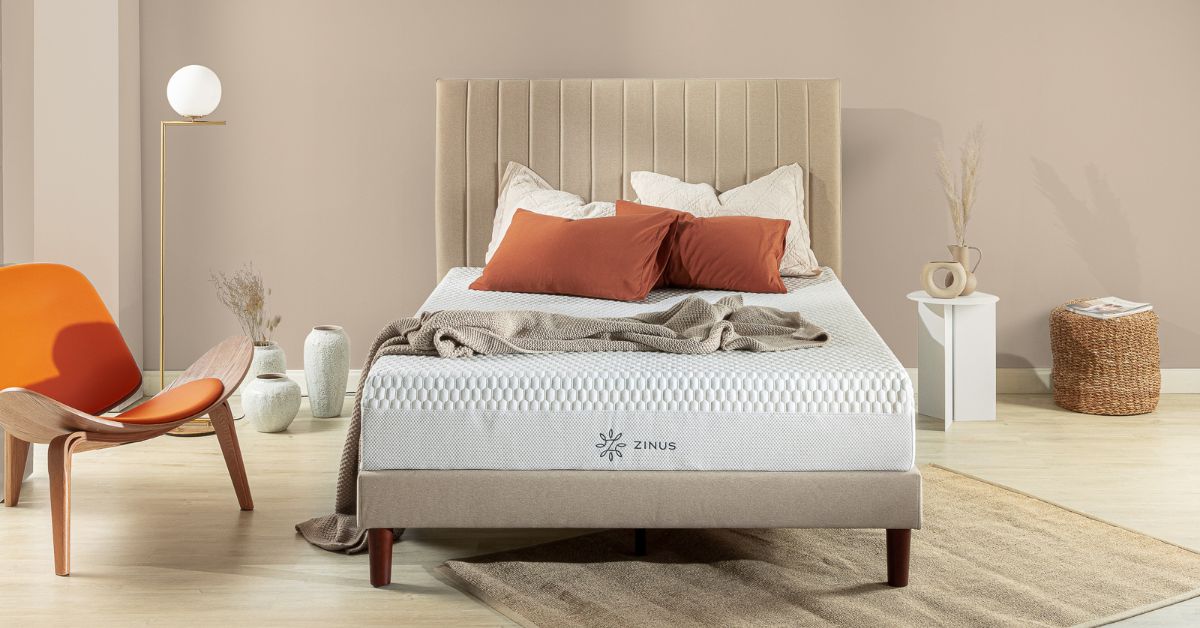 ​*Illustration purposes only
Zinus Latex Mattress - Top Natural Latex Mattress That Keeps You Feeling Cool
On a mission to deliver the world's finest sleep products, Zinus make some of the most comfortable mattresses in Singapore - and ship them straight to your door. 
Zinus mattresses are also infused with natural ingredients such as green tea, olive oil and charcoal, to eliminate harmful phthalates, chemical flame retardants and formaldehyde. Best of all, these well-designed products come at pocket-friendly prices, making Zinus one of the more affordable mattress brands in Singapore. 
Zinus' best-selling 25cm Euro Top Latex Hybrid 'Cool' Spring Mattress comes with their signature Ultra Cool Fabric which is cool to the touch and optimized to bring your sleeping experience to the next level. No more sweaty nights! 
The 100% Natural Latex layer contains organic antimicrobial properties and is hypoallergenic. Because of its all-natural origin, you do not have to worry about toxic chemicals being present in a latex mattress. The natural latex layer is also hypoallergenic, causing fewer allergic reactions making it a great option for young families and those with sensitive skin. 
If you are troubled by back pain, the mattress core spring system, iCoil® Pocket Spring System, provides pressure-relief support, and customized spinal alignment. It also has minimal motion transfer from sleeping partners.
CertiPUR-US certified means you can be assured of durability, performance and environmental stewardship - for all Zinus Mattresses.
Aside from offering free delivery, Zinus gives a 10 Year Warranty and a 100-Days Free Trial for your peace of mind. You can opt for hybrid options of Memory Foam and Latex and choose from 4 local sizes - Single, Super Single, Queen and King. 
With prices starting from just $579 before discount, Zinus is your most affordable route to better sleep.
Zinus, Multiple outlets at Upper Paya Lebar, Woodlands, Redhill and West Park. Contact: (+65) 68566639.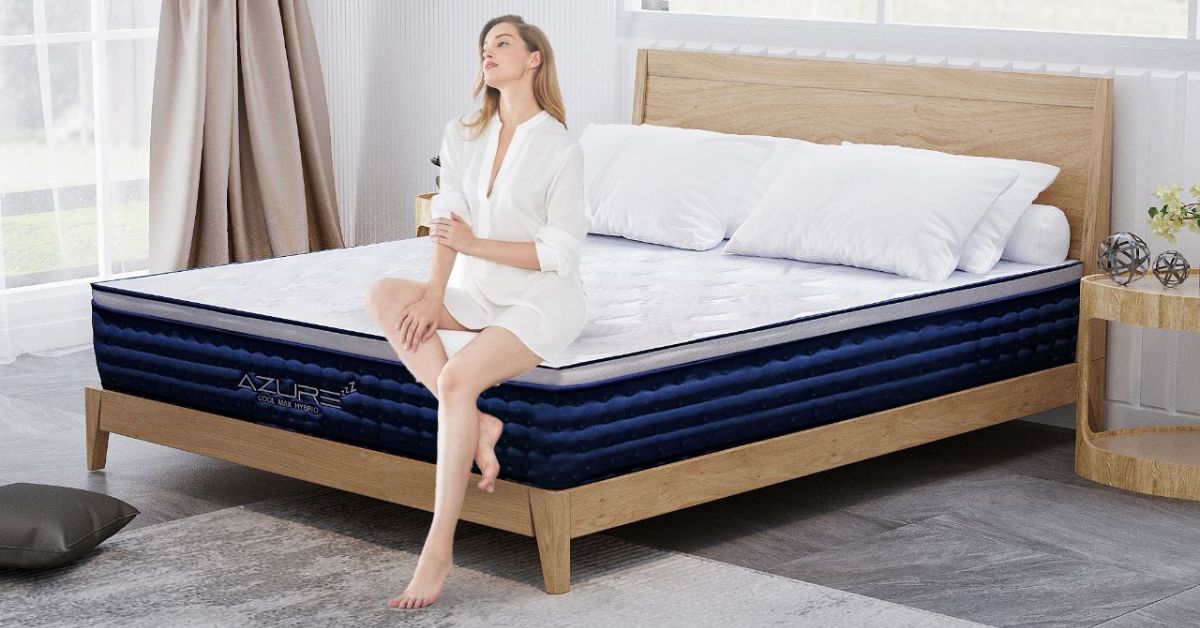 Prepare to embark on a journey to dreamland like no other! Say farewell to restless nights and awaken to a world of rejuvenation and blissful slumber with Azure Mattress. Offering four mattress options designed to your unique preferences and needs, Azure Mattress strikes the perfect balance between affordability and luxury. 
If you think a good-quality mattress comes with a hefty price tag, take a look at Azure Premium Comfort – a mattress enveloped in luxurious bamboo fabric and enhanced with the responsive qualities of latex. It gives all the feelings of opulence and comfort, with an easy-on-the-pocket price point! 
For a cooler option, the Azure Cool Hybrid is a 10-inch Euro Top mattress with a Tencel fabric cover and comes infused with cooling gel and latex. This cooling gel allows for a refreshing and temperature-regulated sleep, unlike other warmer counterparts. 
If you need to up the ante further, we recommend the Azure Cool Max Hybrid an epitome of luxury and comfort. This 12-inch Euro Top mattress, features an exquisite ice silk fabric cover, cooling gel, and latex. All leading to that deep, much-wanted sleep which leaves one feeling refreshed the next morning!
Got questions? Azure Mattress is supported by the highest-quality craftsmanship and customer service. Their team of sleep superheroes is always ready to assist, ensuring your journey to the land of dreams is as smooth as silk. 
While their store is closed on weekends, we recommend visiting or reaching out to them on weekdays to explore their offerings and embrace the sleep revolution that Azure Mattress has to offer. Rest easy knowing that your perfect mattress is just a few clicks away.
Azure Mattress Showroom Address:. No 21 Woodlands Close, #02-15 Primz Bizhub S(737854). Phone: (+65) 8786 8888. 
Email: [email protected]. Customer Care Hours: Mon – Fri 9 am – 6 pm EST.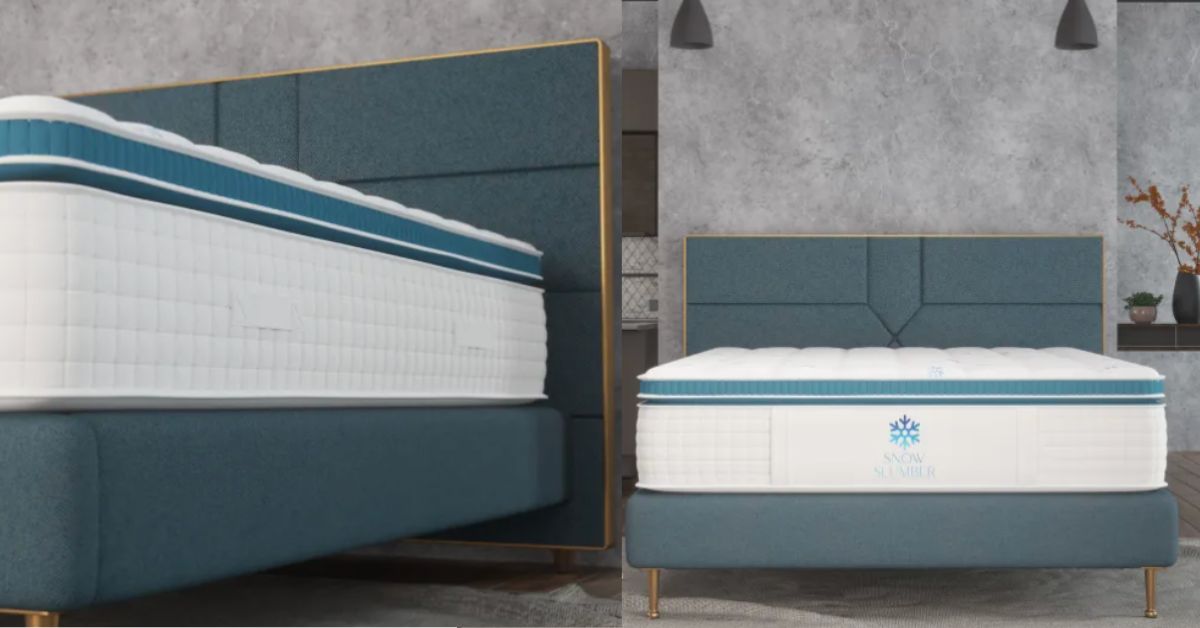 Founded in 2021, SnowSlumber is Singapore's pioneer in mattresses with cold engineering and complete back support. SnowSlumber strives to make the best mattresses to beat the Singapore heat, taking innovations and research from Germany, Japan and the United States to our homeland to create the coldest mattress in the world. Their best-seller, the Snow Luxury Hybrid Mattress will be the coldest and most comfortable mattress you'll ever experience. Built with six unique layers and their ActivSnow+ material, SnowSlumber mattresses are engineered to stay cool throughout the night as heat dissipates from your body and away from the surface of your mattress within seconds. Get to fall asleep fast naturally and sleep cool throughout the night. Hot sleepers or anyone dealing with night sweats would benefit from the cooling properties of SnowSlumber's mattresses. 
Besides its cooling properties, SnowSlumber mattresses also provide superior comfort and the perfect firmness being 13 inches (33cm) thick and designed to be soft enough to make you feel like you're sleeping on the clouds, but firm enough to support your joints. Want to choose how firm your mattress is? SnowSlumber comes in two firmness options - Soft and Firm. Constructed with premium materials, SnowSlumber also ensures that your mattress lasts for a long time without it sinking or becoming uneven, providing customers with a 15 years warranty – how's that for quality assurance?
Read our interview with SnowSlumber founder, Ethan Sim, here
SnowSlumber, 110 Lorong 23 Geylang #05-08 Victory Centre Singapore (388410). Contact: (+65) 8863 3016.
 ​Simmons - Mattress with Superb Support and Comfort 
The iconic Simmons Original Pocketed Coil technology has formed the basis and foundation of all Simmons mattresses today, and the aim remains clear – to provide consumers worldwide with quality sleep. The Beautyrest Eternity Mattress features the Simmons Original Pocketed Coil spring system where each pocketed coil can move independently and respond to different weights, contouring the mattress effectively for equal body support, preventing joint and neck pains no matter what position you sleep in.
True to their name, all Beautyrest mattresses by Simmons offer luxurious comfort for your daily dose of beauty sleep with the help of their innovative Pillow-Top Sleep Surface Finish. The mattress has a built-in pillow pad that hugs the contours of your body like a cloud, anchoring you to deep sleep all throughout the night. This surface finish gives you that luxury level of softness, making it feel like you're at your favourite hotel for a staycation every night.
​Winter Sleep - Mattress Tested to Keep You Up to 8 Degrees Cooler
Cooling mattresses are one of the most sought-after these days with the weather being extra hot and humid. If you're also on the lookout for a cooling mattress, consider Winter Sleep.
Most cooling mattresses have materials that feel cool to the touch or have marginal temperature-regulating properties, but this one uses 3 new innovative layers (NanoFibre Glacier Silk™, MemoryCloud Latex™ and WinterCool Massage Foam™), that's been tested to keep you feeling up to 8 degrees cooler while you sleep. The MemoryCloud™ Latex provides continuous support for where your joints and back need it most for efficient joint pain relief, while the WinterCool Massage Foam™ helps to give your spine the optimal support it needs to rest. Besides this, Winter Sleep is also perfect for those of you with sensitive skin as it is anti-microbial, anti-parasitic and hypoallergenic. No wonder it is recommended by the top chiropractors in Switzerland. 
Winter Sleep, Ravago, 36 Kaki Bukit Place, #01-01, Singapore 416214. Contact: (+65) 8952 6028 (Whatsapp).
​Tempur - The Mattress for Uncompromising Support and Comfort
Specially designed to reduce pressure points and spread body weight evenly for better sleep, a Tempur mattress makes for an expensive but sound investment. Why does everyone love Tempur? From their unique pressure-relieving TEMPUR® Material, created from NASA technology to the 30 years of expertise in sleep and innovation, the promise of better, longer and deeper sleep makes this a choice brand year after year. 
Offering a range of mattresses, from soft to firm, and in different sizes, you can find the exact mattress of your choice and liking. Tempur's Cloud mattresses feature TEMPUR® Extra Soft Material that instantly cushions you for extraordinary comfort. Its CoolTouch™ Technology keeps your cover feeling cool to the touch and helps absorb excess heat. 
Alternatively, if you prefer firmer mattresses, try the Tempur's Original 19, a perfect balance between firm and soft, with Original TEMPUR® Material. This collection is perfect for those who prefer sleeping on a mattress with a medium feel. Mattresses come in a variety of heights to suit different preferences. Don't take our word for it, try a Tempur mattress personally at one of their many showrooms across Singapore.
Tempur. Multiple locations island-wide
​Woosa - Convenient Bed in a Box Mattress + Adjustable
The bed-in-a-box concept originated in the USA and refers to online mattress shopping and receiving your bed literally wrapped up in a box, making delivery easy breezy. 
This local online mattress label was founded by Tyler Peh and Jon Lim, two Singaporeans who just wanted a good mattress to catch some quality sleep. After years of research, they crafted an ultra-comfy 'made in Belgium' mattress using hand-selected materials from Europe, including quality latex and memory foam. The result? The perfect mattress aligned well to almost every sleeper's needs with the right amount of firmness and softness. If you/ve been looking for an adjustable bed for a customizable bedtime experience, here's your chance to. While you're shopping, consider getting the ​​Woosa Adjustable Bed Base. With the Woosa Adjustable Bed Base, you will finally be able to upgrade your bedroom experience by customizing your preferred positions in bed. Whether it's a head lift to alleviate snoring, a leg lift to reduce lower back pain, or just a comfy position to Netflix to, the bed base to any angle you desire. Every frame comes with additional features such as dual USB charging ports as well as gentle massage vibrations to lull you to a blissful sleep. 
Woosa, 1 Tampines North Dr 1, #07-01 T-Space, Singapore 528559. Contact: (+65) 9848 5822. 
​King Koil - Trusted Mattress of Long-Standing Quality
King Koil has come a long way representing the epitome of quality and value. It is now surely one of the top leaders in the industry. No matter which King Koil mattress you choose, you will be impressed. For instance, the King Koil ICA Pocketed Spring Mattress, designed to help your muscles relax, is made with heat-treated individual pocketed springs that provide even weight distribution while lying down. It is also padded with extra firmness and greater stability to provide additional support specifically for your back. The ICA Pocketed Spring Mattress is also made with anti-dust mite, antibacterial and antifungal technology to keep allergies at bay. Shop this mattress with peace of mind as it is covered under a 15-year warranty.
​Sealy - Premium Mattress Approved by Orthopedic Surgeons
If you're looking for a mattress brand that's been around the block for a while, Sealy is one of the most reputable brands on the island. With a history that dates back to 1881, the company started to manufacture mattresses in collaboration with orthopaedic surgeons. As a result, each element of a Sealy mattress is well-considered, ensuring maximum comfort and support. Hence, you can be assured that any mattress you get from Sealy will be a good one. 
The Sealy Posturepedic Palatial Crest is made from the best technological innovation and the finest materials possible. Together, they are engineered to give you ultimate comfort, unsurpassed quality and support that will last for years. What is it made of? Sealy's Responsive Support Technology, consists of three stages of support. Extremely durable and comfortable, it's definitely a safe bet. 
If you're feeling overwhelmed with their range of choices, head over to their site to check out their helpful guide to find out which mattress suits your needs and budget most!
​Origin Mattresses - Doctor-Approved, German-Designed Mattress
Origin's mission is to improve sleep worldwide by cutting out the gimmicks and focusing on what truly matters: the products and the technologies behind them. Founded in Germany, Origin combines the best knowledge of their award-winning german design team as well as a consortium of doctors worldwide (chiropractors, physiotherapists, and more) with the best materials out there, in order to provide the optimal spinal alignment and comfort we all look for in our mattresses 
Their best-seller, the Origin Hybrid Mattress, stands out for feeling plush and indulgent, yet still supportive. In other words, it's a soft mattress that doesn't sink in or sag. The Origin Hybrid Mattress is a hybrid model is made from a combination of six luxurious layers including our signature cooling memory foam, high-quality pocket springs for added durability, and natural latex. that combines coils and foam layers that conform to your body, making it ideal for side sleepers, back pain sufferers or anyone that prefers a cushioning feel. Doctor-approved and with 18+ awards and media features internationally for the "Best Mattress in Singapore", Origin is definitely one of the most trusted brands when it comes to mattresses. With their credentials, you can be sure you're getting top-certified comfort and will awaken fresh and revitalised!
Origin Mattresses, Ravago, 36 Kaki Bukit Place, #01-01, Singapore 416214. Contact: (+65) 68649634.