home & living
Where To Buy The Best, Premium-Quality Towels and Bath Linen in Singapore
Published Date
: 09 Dec 2022 10:00

If you've been meaning to level up your bathroom space with luxury towels, this list is all you need
Are you looking for high-quality, premium towels in Singapore? Since they're being used every day,  towels and bath linens should be worth the splurge. However, more often than not, we do not realise the true luxury of cosying up to a lavishly soft towel after a long soak in the bathtub or even a quick cold shower. It is just one of those things or experiences we don't realise we need - until we try it!
High-quality bath towels are not only great for self-care but also an easy way to update the look of your bathroom. Add a splash of colour or textures to keep your space looking fresh, both for yourself and your house guests.
Here's a list of brands that sell hard-working towels which can also serve as beautiful extensions to the style of your nest. 
If you are yet to try a sumptuously plush Uchino towel, we would highly recommend starting here first! Established in Japan in 1947, Uchino has been producing the highest quality 100% cotton towels and bath linen using patented technology. Quality approved by the Japan Atopic Dermatitis Patients Association, their super-soft material is gentle even on the most sensitive of skins - babies included! 
Uchino's range of luxury towels offers a variety of sizes, colours, patterns and textures so you can find one that suits your lifestyle and needs. Best of all, these dry quickly and don't smell mouldy in Singapore's humidity! 
Our favourite? There's nothing like the Super Marshmallow Bath Towel, an award-winning miracle fibre that is surprisingly light and soft despite its volume - just like a marshmallow! Rare extra-long-staple cotton threads are spun into superfine 60-count yarn, and because the yarn is very thin and soft, it allows for excellent absorbency.
If you prefer Waffle towels, try the Air Waffle Light Bath Towel, Uchino's most lightweight towel yet. It is made from a unique hollow yarn with exceptional quality, utilizing crevices within the yarn itself to generously capture air. 
And for a truly indulgent gift, consider the Uchino Binchotan Charcoal Towel, which is crafted from rayon and cotton mixed with fine Bincho charcoal powder. Bincho charcoal is top-quality charcoal made by burning Kishu ubame oak at the extremely high temperature of 1300 degrees Celsius. When wolves through rayon fibres and blended with cotton it yields the most beautiful and rustic shade evocative of Japan's "wabi-sabi" aesthetic. A perfect addition to anyone's bathroom space! 
Singapore's first official Uchino store is opening at Raffles City #03-06. Follow Uchino's Facebook and/or Instagram account for some amazing opening promotions or contact the store staff. Plus, customized embroidery service available from October 2022, only at Uchino Raffles City store.
Uchino is also available at Takashimaya B1 and Isetan Scotts 4F. Or simply shop online and get 10% off your first purchase. Worldwide shipping available.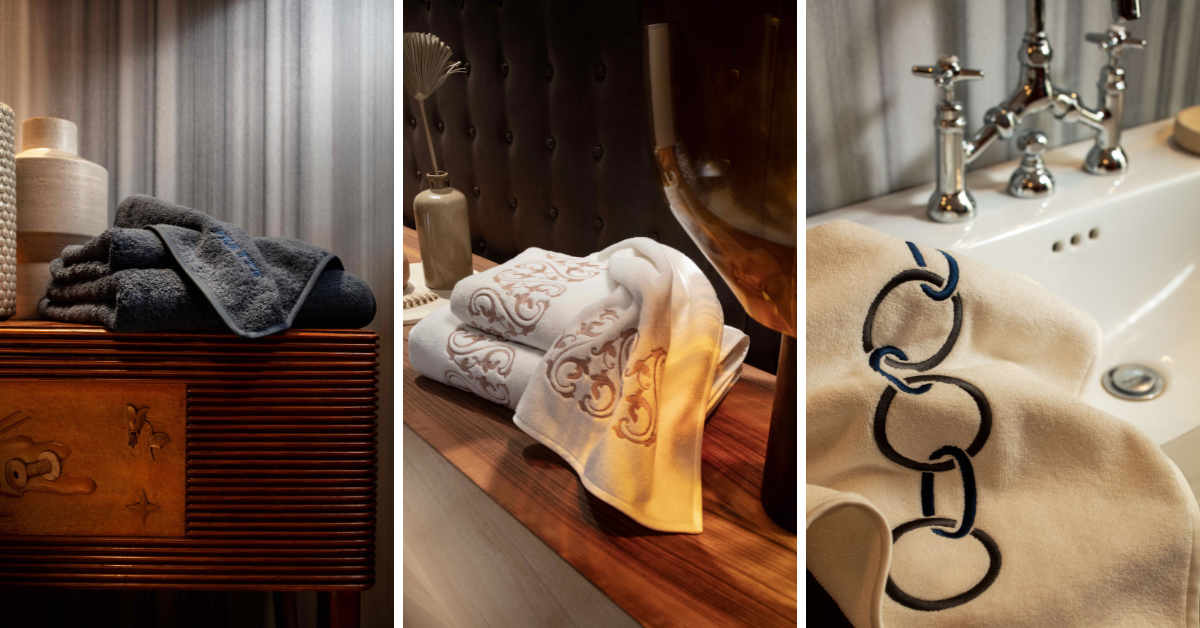 For 160 years, Frette has brought comfort to homes with masterfully crafted linens, stitched to perfection in collaboration with the most skilled Italian artisans. Known for their original designs and inimitable finish, Frette linens can be found in the most luxurious hotels, homes, yachts and aircrafts around the world.
Extending beyond the bedroom, their carefully curated selection of bath linens is meticulously designed with personal expression and customisation in mind. The collection is designed to bring a touch of luxury wherever you go with its introduction of fresh colours for the season including Storm Grey and Midnight Blue and with subtle elements of Dawn Pink allowing for dynamic personal style and taste.
Sublimely soft, the Unito Bath collection is crafted from plush cotton terry with rounded edges and finished with cotton piping, and the signature Frette logo embroidered on the corner. 
For an artfully regal feel, Ornate Medallion bath linens have been brought to life with Dusk Pink embroidery. Composed of soft cotton terry and featuring intricate arabesque embroidery along the border, the Ornate Medallion embroidered bath collection is sumptuous to the touch and incredibly stylish, adding a touch of opulence to the modern bath.
And finally, lusciously soft with elegant dual-toned chain jacquard in contrast hues, the Links Embroidery bath collection is made with pure cotton terry and finished with a cotton sateen border – making this the perfect way to end a relaxing bath. 
Frette is located at L1-10, The Shoppes at Marina Bay Sands. 
Founded in 1994, British luxury brand, The White Company has been producing some of the finest bedroom, home, clothing, and fragrance goods for 28 years and counting. 
Head to their website and you'll find a range of towels, bath mats robes and more, principally in white, designed to fit your minimalist bathroom.
Cosy yourself up in one of their towels after a long soak in the bath and realize what true luxury is. The Hydrocotton Towels are ultra-soft, 100% Turkish cotton towels that feature a ribbed design. The opulent Turkish cotton lends a lavish, plush feel that becomes even softer after every wash. Additionally, this bestselling range of their makes use of a clever 'low-twist' technology that makes it supremely fluffy and dry QUICK, making it the perfect towel for busy households, children and anyone who loves a comforting texture. 
The 700 GSM (that's grams per square meter, which correlates with thickness) heavy-weight towels are available in 6 different variations, from the Face Cloth (30cm x 30cm) to the Super Jumbo (115cm x 180cm), which is longer than the average towel, making it perfect for taller users or those who like more coverage. If you're an entertainer, consider the Hydrocotton hand towels in your hallway bathroom to give your guests that touch of lavishness alongside stylish bath accessories available on their site as well.
The White Company offers free delivery to Singapore when you spend £150 or more and £20–30 for orders under £150.
Looking for luxurious bath linen in Singapore that comes at an affordable price? 
Made from the finest, sustainably-sourced materials and with a focus on great craftsmanship, Weavve Home sell premium towels, bedding and homeware that deserves a space in your home. Carefully designed, each of the products is tested to ensure the greatest comfort, safety, durability and most importantly, suitability to Singapore's hot climate. 
If you crave the fluffiness of hotel towels, Weavve's collection includes absorbent bath towels that are as plush as they are quick-drying. Available in Plush Bamboo, Silver Infused Cotton and Ultra-Soft Cotton Towel variants, these come in a range of sizes and are suitable for everyone in the family. 
The Ultra-Soft Cotton Towels are made of 100% Combed Pakistan Cotton, 650gsm(super-soft) and boast long loops and woven with spacious gaps, for high absorbency and quick drying benefits. They offer consistent, reliable performance and a wonderful feel, without being too heavy.
The Silver Infused Cotton Towel, is made from 100% combed long-staple cotton and infused with antibacterial SILVERPLUS® treatment - Silver ion antimicrobial technology that aids to eliminate up to 99% of odour-causing bacteria. It is also Oeko-Tex® Standard 100 certified, making it certified free from harmful chemicals.
Do you prefer Bamboo towels? Then try the range of Bamboo Towels by Weavve Home, which is hypoallergenic, anti-bacterial and eco-friendly. Featuring 100% bamboo fibre, these are gently woven and can be used even on the most delicate and sensitive of skin types. And unlike other types of fibres, bamboo does not retain long-term moisture which effectively eliminates bacteria-causing odour. 
Plush, soft and durable - get started on your spa-like bath experience with Weavve Home today!
Kinza as a brand is all about helping consumers upgrade their bathrooms to a luxurious spa-like experience. They believe that a shower after a long day is just the superpower you need to unwind and celebrate those big dreams. 
Every Kinza towel is hand-weaved using Japanese craftsmanship with over 130 years of history and experience in making the world's best towels. Kinza's award-winning luxury towels are lauded for their Mōsō Bamboo material that gives the ultimate relaxing spa experience, every single day.
Made from 100% Mōsō Bamboo, Kinza's towels come with nifty features such as better water absorption. These also dry 3 times faster than cotton towels due to their unique Airweave™ technology.
Bamboo towels are also naturally self-cleansing and eliminate 99% of bacterial growth compared to conventional cotton types.
Kinza's bath linen comes Oeko-Tex® Certified, so you know that their towels are organic, hypoallergenic and eco-friendly. Perfect for people with sensitive skin, as well as babies.
It is Kinza's mission to not only offer the softest and most comfortable towels in the world but to also inspire a community around relaxing bath experiences and empower people to pursue their dreams. Here's to that pampering bath - every day! 
Comprising the very best in quality weaves and textures, Sheridan's speciality is beautifully soft bath towels crafted with premium materials from around the world. Their bath linens are definitely worth splurging on for its quality construction and ability to stand the test of time.
Their comfortable, and thicker-than-usual bath towels are designed to provide everyday luxury through their rich absorbency. Shop across their range of bath linens for the perfect combination of texture, weight, thickness and softness to cater perfectly to everyone in your household's needs.
The Luxury Retreat Collection is exactly what its name suggests - luxurious bath linens reminiscent of those at a 5-star Bali resort due to its incredibly plush hand-feel that has a slightly heavier weight to it. Indulge yourself in a spa-like experience right at the comfort of your home with this range's bath towels, face washers, bath mats and more, made with 100% Turkish Cotton. 
Cart the towels on their website or on Lazada!
Bed Bath N' Table is one of Australia's top homewares and lifestyle destinations for luxury bedding, towels and home decor. Their fluffy, absorbent bath towels are made from high-quality cotton or bamboo, ensuring durability and a luxurious feel. Shop from their extensive range of patterned bath towels and plain-dye options in various beautiful colours. 
Looking for an alternative to your usual cotton towels? Check out one of their classics, the Bamboo Towel range. The towels from this range are made from a unique blend of combed cotton and bamboo, making them provide superior absorbency for an easy drying experience. Why bamboo? The reason lies in the fact that the magical plant is naturally anti-bacterial and mould resistant. It also offers excellent moisture wicking and has inherent hypoallergenic properties, making the Bamboo Towel range ideal for any household.
Get a feel of their towels' cloud-like softness for yourself at their physical stores located at Parkway Parade, Suntec City Mall, Great World City and Plaza Singapura.
Crate & Barrel is another brand known for its signature lush Egyptian and Turkish cotton towels. 
Living in a hot, humid Singapore, quick-dry towels are a must-have and Crate & Barrel just happens to make one of the best ones. One of their newest ranges is the Quick-Dry Organic Cotton Bath Towels. The Organic Turkish cotton in this towel weaves seriously soft, fluffy and durable towels with a secret superpower: quick-dry technology. The long-staple yarns are spun using a unique method that creates air pockets between the fibres, increasing the textiles' absorbency, decreasing their drying time and creating a super-fluffy finish. 
Looking to transform your home bathrooms for spa-like experiences? Start with organising your bathrooms with these deluxe towels that come in a set of 6. The set comprises 2 washcloths, 2 hand towels and 2 bath towels. Did we mention that the set makes for an amazing housewarming gift too?
Get them online through their website or their physical store at ION Orchard!
Sourcing for premium-quality towels from a local distributor? Check out Next.sg's bathroom collection which features similarly luxurious Egyptian cotton towels without the costly international shipping fees. 
Their Egyptian Cotton Towel range is produced with 100% Egyptian extra-long cotton pile, giving the towels an extra soft finish and high absorbency levels. With a thickness of 600 GSM, the towels feel extra plump and fluffy, making them the ideal towel to cosy up to after a hot bath. Additionally, the towels are said to be designed to retain their colour, meaning they will look new for longer. Phew, no more worrying about wearing out your towels!
Enjoy hotel-style luxury with the soothing Hotel Collection Splendour Bath Towels, available at Robinsons. The Hotel Collection Splendour Bath Towels have an extremely luxe, hotel-quality feel that will hold up wash after wash. Available in 5 different colours, they are made from single-ply, long-staple cotton, which has been finely combed for a soft, blanket-like texture. They are OEKO-TEX Standard 100 certified, toxic-free with no formaldehyde, proving it to be a step above the average towel. 
Complete the look with coordinating bath sheets, hand towels and bath mats available at Robinsons too!
Brooklinen's mission is to deliver simple, beautiful, high-quality home essentials at a fair price. 
Their most popular range by far is the Super-Plush collection. Their bestselling towel weave is what its name suggests - super plush! Spoil your senses silly with its ridiculously soft texture due to it being made from 100% Turkish cotton. Slightly larger than bath towels, these bath sheets are ideal for tall ones and those who love extra coverage. Its substantial 820 GSM and durable z-twist construction prove the towels to be one of the best towels in the game. 
Want to spice up your bathrooms with some vibrancy? Their towels are available in a whopping 13 colours, including hibiscus pink, ocean blue, pine green and more. 
Upgrade your bathroom into your dream spa by getting the Super-Plush Move-In Bundle which comes with everything you need for your entire bathroom: 4 bath towels, 4 hand towels, 4 washcloths, and a bathmat. And yes they ship to Singapore!
If you always wanted to try a Turkish Towel, you can get the best ones in Singapore at Tara's World. 
Founded in 2011, Tara's World is a homegrown brand that offers a glimpse of what a traditional Turkish lifestyle looks like with its range of everyday Turkish products. Specifically, they are known for making an eclectic range of peshtemals which are large, flat and velvety soft bath towels used in legendary Turkish spas. 
These are made from the best Turkish cotton and are highly durable due to the tightly woven pieces of fabric. Absorbent and quick drying too, they can be your best companions for yoga class runs and beach outings! Did we mention that peshtemals can double up as a chic cover-up at the beach, a fashionable tablecloth, a cosy baby blanket and more? We love a good multi-functional product.
Choose from a variety of designs featuring varying patterns and colours that may compliment the aesthetic of your bathroom. Add a pop of colour to your bathroom with the Ladine Peshtemal in hot pink and denim, or tone down the colours in your bathroom with the neutral Mira Peshtemal.
Check out Tara's Wolrd's linens at their studio and The Attaby Collective in Joo Chiat and A Raft of Otters at Tanglin Mall.