F&B
Where to Buy Cakelets, Mini Cakes and Bento Cakes in Singapore
Published Date
: 16 Oct 2023 10:00

Looking for delicious bento cakes or cakelets in Singapore? Indulge in these exquisite mini cakes that will elevate any celebration
Are you on the quest to find mini cakes or what are often called bento cakes and cakelets in Singapore? The perfect small-sized treats that can elevate any intimate celebration, whether at home, office or at school, cakelets are literally the cutest pint-sized of delights! 
Whether it's a birthday party, anniversary, or any celebratory occasion, these mini cakes are designed to make your events even more memorable. Crafted with precision and filled with delightful flavours, cakelets offer a unique and visually appealing dessert experience. What's more, the minimalist sizing means you don't have to worry about wasting cake or having to spend too much on an exquisite design!
Read on, as we take you through our favourite bakers that make the most beautiful and delicious cakelets in Singapore. 
Where to Buy Cakelets and Mini Cakes For Your Intimate Celebrations in Singapore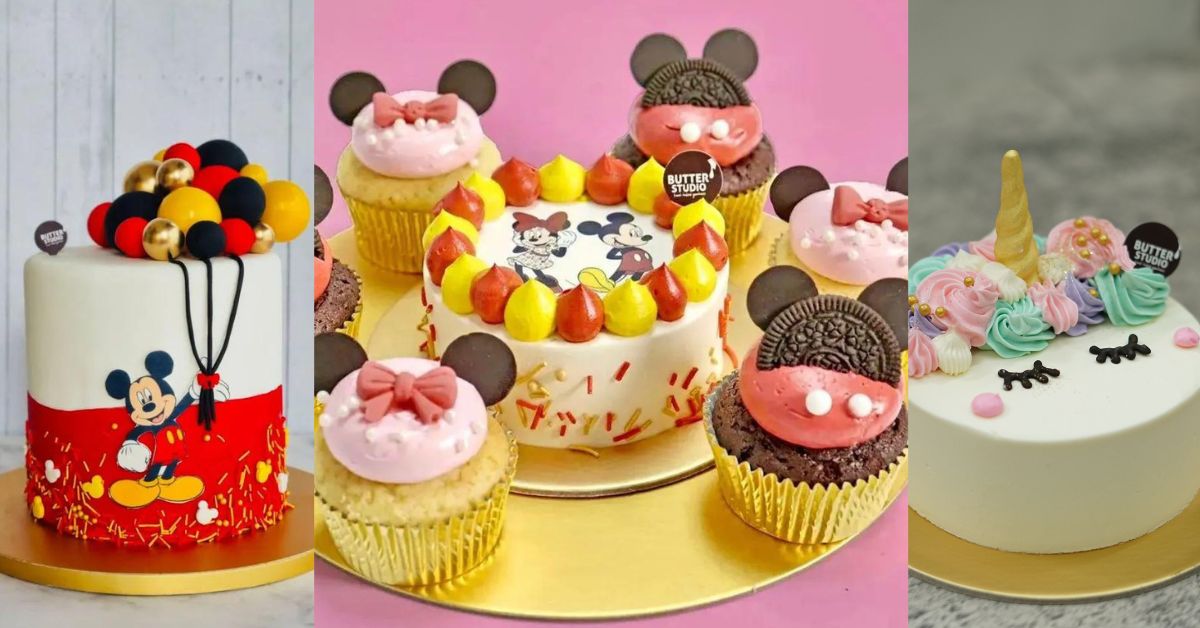 Did you know that Butter Studio was the first brand to launch cakelets and cupcake platters in Singapore? Established in 2011, Butter Studio was founded upon the belief that every milestone in life is worth celebrating - the big just like the smallest occasions. This is why as much as we love their comprehensive and halal-certified cake menu, we also adore the range of cakelets and thematic cupcakes that Butter Studio have to offer. 
Inspired by time-tested family recipes, Butter Studio infuse their playful spin on home-style bakes making the most beautiful petite sized cakes in Singapore. This curated selection of handcrafted mini cakes is great for cosy celebrations, or to share with that special someone. Feeling peckish and don't want to order an entire cake? Butter Studio's petit cakes are perfect when you want to unwind and indulge in cake - all by yourself! for celebrating a day with just yourself!  
Furthermore, Butter Studio's cakelets are made with only high-quality ingredients like farm-fresh eggs and seasonal fruit, making them a top choice for kids' birthdays too. Have a class celebration or need to cater to a larger gathering? Choose their Cakelet Platters that come in a variety of vibrant colours and themes that all children will love! Each platter includes one 4-inch cakelet surrounded by 6 cupcakes in assorted flavours. 
Butter Studio is also the only authorised bakery for Disney's range of cupcakes, cakelets and design cakes which makes it an easy stop for Disney fans - young and old!
That's not all. Butter Studio also sell delicious treats to mark all major celebrations in Singapore such as Halloween, Christmas, CNY, Hari Raya and Mother's Day. Keep an eye out for their new collections and be sure to place an order before these run out. 
Need a cake urgently? Butter Studio are also available on all major delivery platforms like Deliveroo, Grab Food and Food Panda.
Butter Studio. Multiple locations islandwide. To place an order, visit https://order.thebutterstudio.com/en_SG/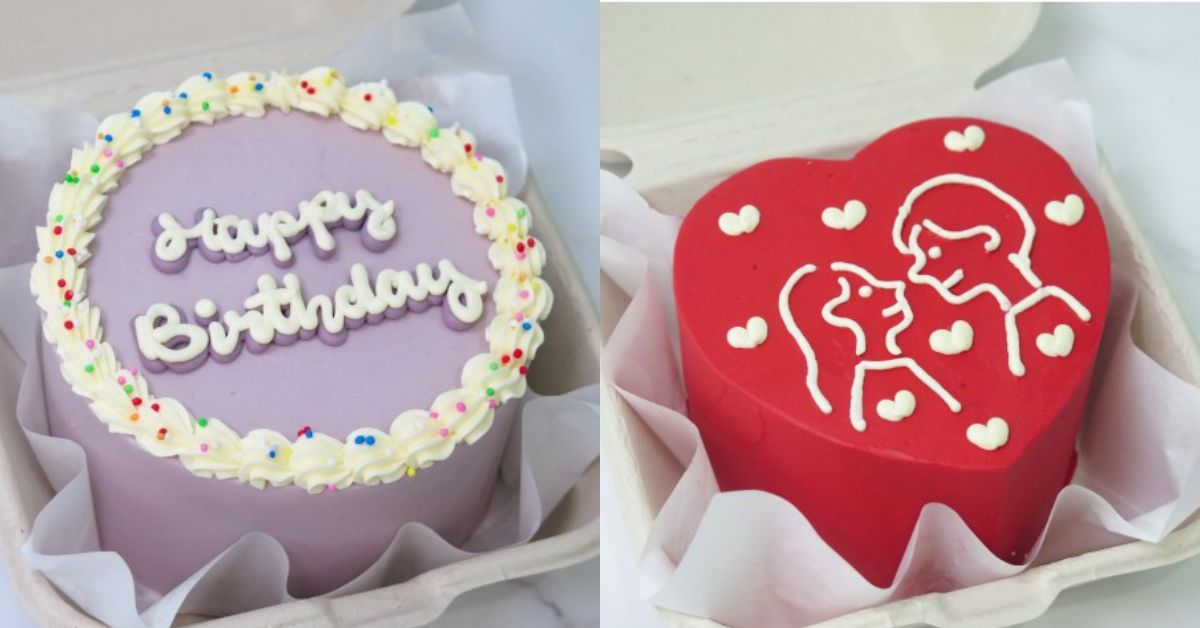 Discover TheFrostedChick's range of pre-designed Korean bento cakes, specially crafted for any celebration - be it birthdays, Mother's Day, or Valentine's Day, or let your creativity run wild and create your own unique cake. Their bento cakes contain fluffy sponge layers with various flavours you can choose from and are adorned with buttercream frosting. Measuring 4" in diameter and are perfect for serving up to 2 people, these cakelets are an ideal choice when you want to show your appreciation to a loved one with a mini birthday cake. 
If you're spending a special evening with a loved one, the Love Couple Heart Bento Cake ($45) is a simple yet cute way to express your love. It is not only perfect for sharing between two people, the cake comes in an adorable couple design too! Alternatively, you can personalise your very own Minimalist Bento Cake ($30). Choose a buttercream colour of your liking and pipe a message of up to 20 characters on top of the cake. As a special bonus, every cake order includes a complimentary greeting card and a pack of 6 metallic gold candles to add a touch of elegance to your celebration.
For a limited time, enjoy free flexi delivery for orders above $150 at TheFrostedChick.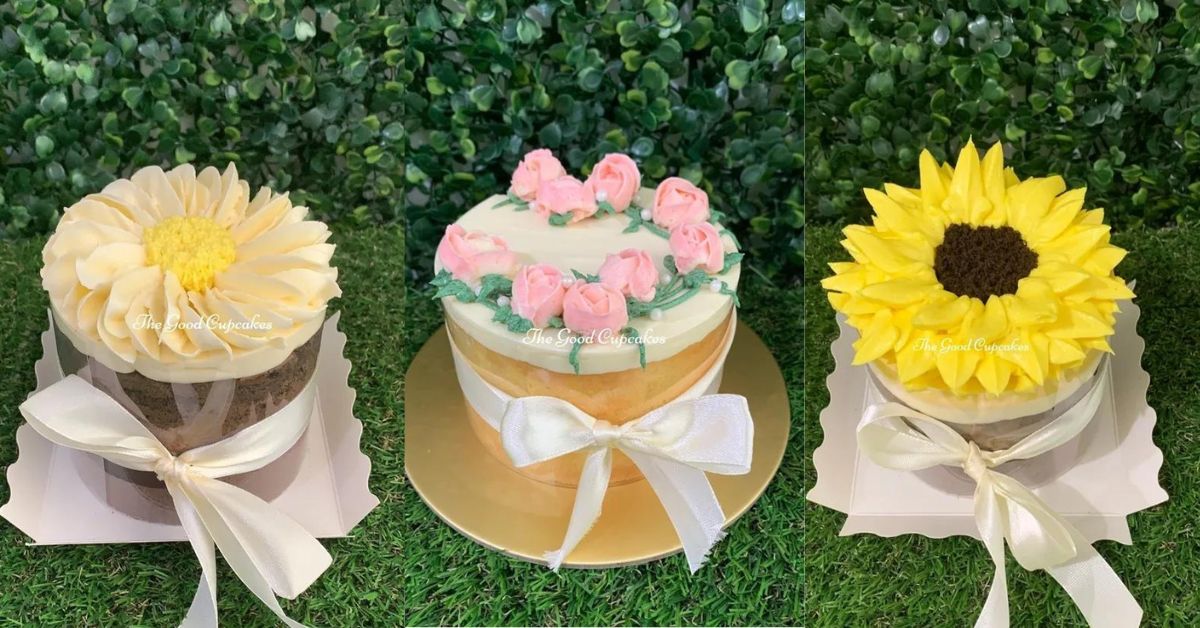 Introducing The Good Cupcakes, home to the first and only 150 calorie cupcakes in Singapore which area lower in sugar and calories. Not forgetting to mention, they have created their own line of miniature cakes known as the 4" Petite Floral Cakes! These Petite Floral Cakes are crafted using the same low-calorie recipes, ensuring a delightful treat without the guilt. Designed to be shared by 2-3 people, they make for a gorgeous little gift to express gratitude or celebrate a special birthday for a cosy duo.
Choose from the two best-selling flavours, Strawberry Shortcake and Dark Chocolate Ganache, each offering a burst of indulgent taste. The Petite Floral Cakes come in three beautiful designs, Roses, Daisy, and Sunflower, adding an aesthetic touch to your celebration. Priced at $38 each, these cakes can serve as a delightful treat or a heartwarming gesture to bring a smile to someone's face.
For more information, visit The Good Cupcake's website.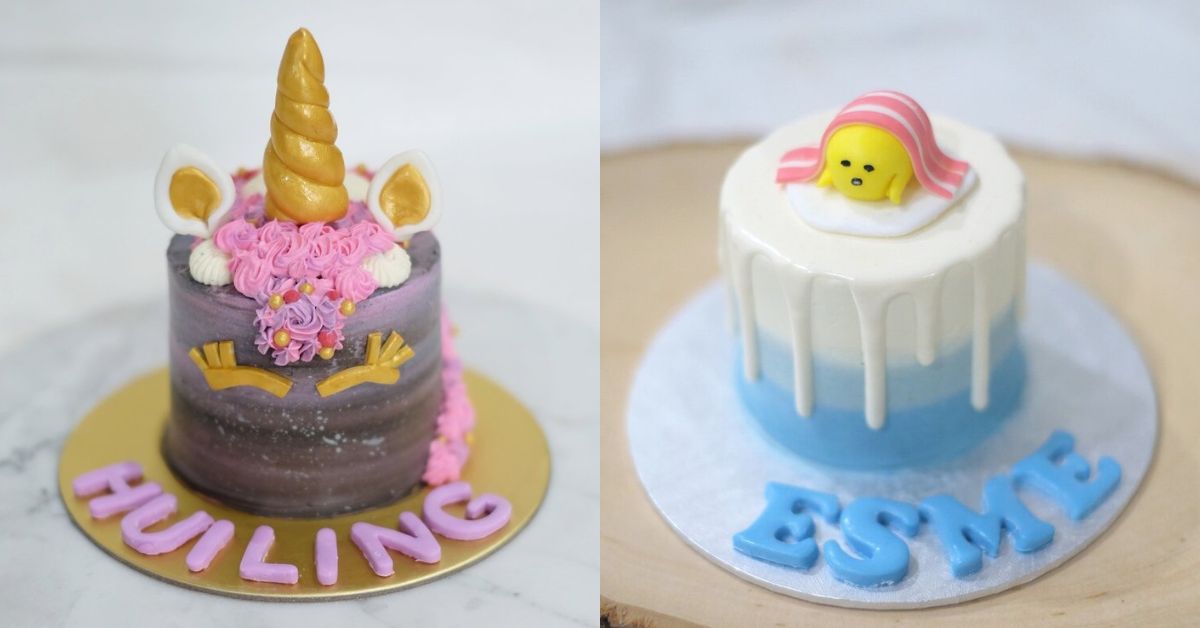 For those seeking a small yet indulgent treat to celebrate with, check out the Gourmet Mini Cakes by Midnight Baker. With a collection of delectable mini cakes, they can be customised to your liking. Boasting adorable designs with 3D characters and are beautifully adorned with buttercream frosting, toppers, and macarons, these cakelets are a feast for both the eyes and the taste buds. The mini cakes measure approximately 3 inches in diameter, making them the perfect bite-sized delight for any occasion. 
Starting from $20 each, each mini cake comes in a range of flavours you can choose from. Explore their best-selling flavours which include Earl Grey Lavender, an aromatic infusion of earl grey tea complemented by buttercream mixed with dried lavender flowers, as well as Chocolate Salted Caramel, a must-try for all chocolate enthusiasts.
Place your order on Midnight Baker's website today.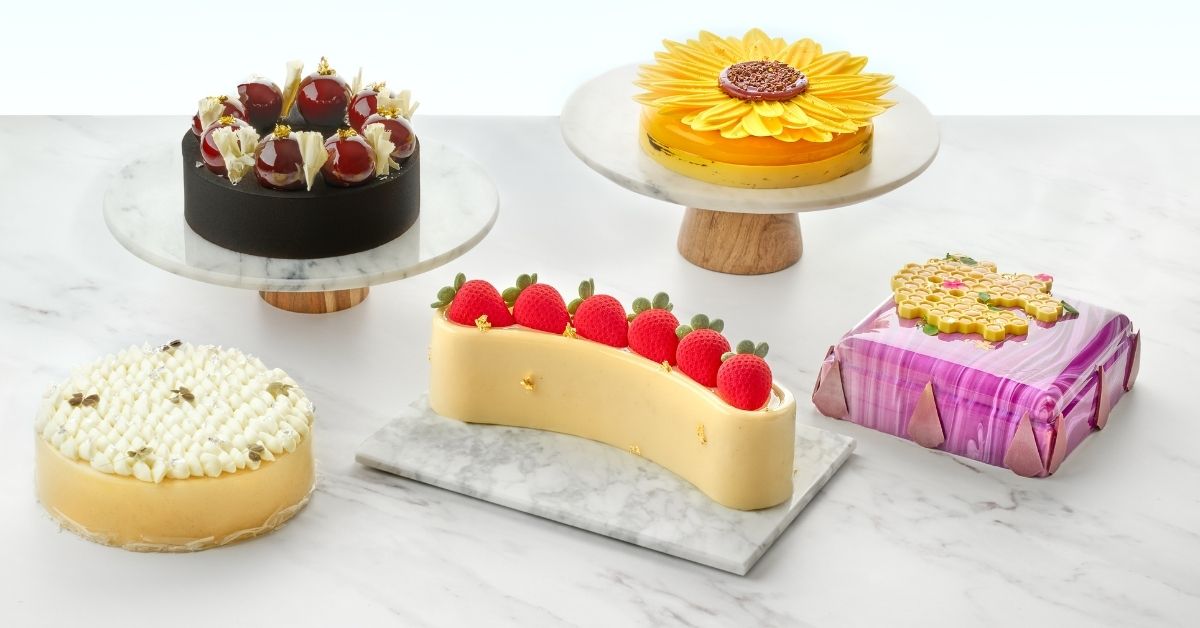 Hilton Singapore Orchard's newest epicurean delight, Artistry in Bloom, features a collection of nature-inspired cakes, pairing French culinary techniques with the artistry of Japanese aesthetics and ingredients. Ginger.Lily's Executive Pastry Chef Cindy Khoo has curated an assortment of cakes with captivating blends of flavours and textures inspired by her culinary journey through Kyoto, Osaka, and Tokyo. 
Anticipate the unique fusion of Japanese flavours in the vibrantly purple Manuka Beni Haruka (small $12), where the velvety embrace of Japanese Sweet Potato Mousse harmonises with Mandarin Orange Spiced Compote, Manuka Honey, and Hazelnut Joconde Sponge.
This poetic symphony of flavours and textures finds its crescendo in The Sunflower (small $12). A masterpiece that marries Bergamot Tea-infused Pain de Gênes with a rich Alphonso Mango Compote and Mango Mousse. 
Avant-garde elegance finds its form in Ginger.Lily Reimagined (small $12). The innovative combination of house-made Ginger.Lily Marmalade, zesty Sudachi Mousse, and Whipped Ganache converges within a delicate White Tea Roll. 
There are also elegant recreations of timeless flavours in the Strawberry Mochi Shortcake and Ginger.Lily Cacao Garden. 
Available from 8 September, the Artistry in Bloom collection can be savoured at Ginger.Lily, located on Level 5 of Hilton Singapore Orchard or ordered from the Ginger.Lily online store.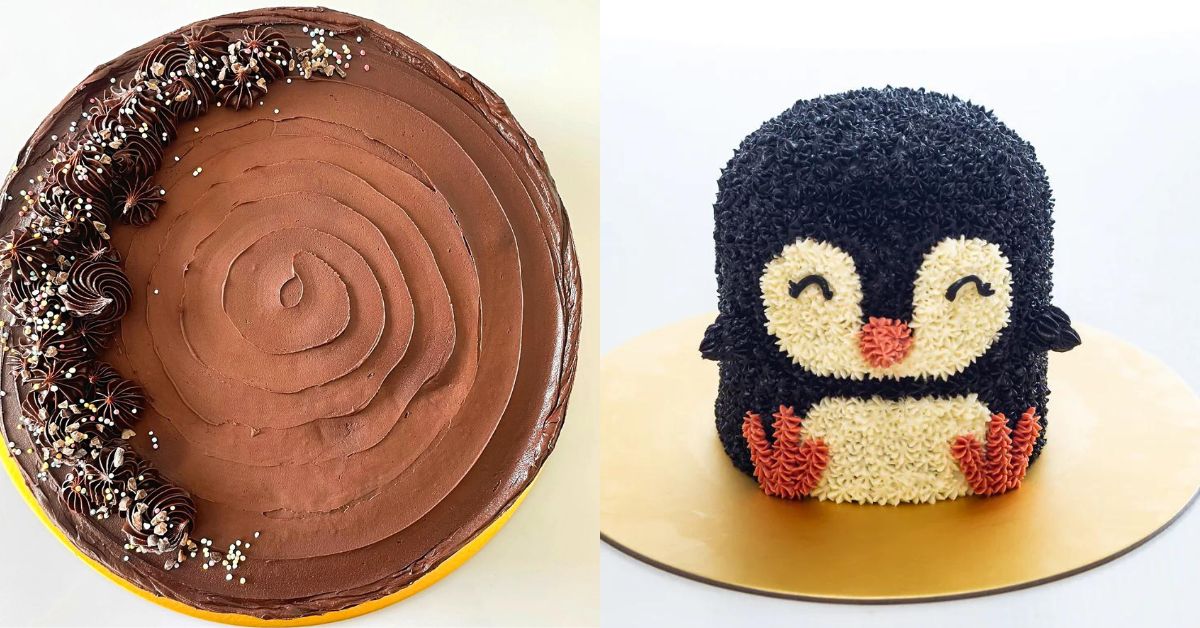 For smaller celebrations that require a touch of sweetness, discover the delightful Mini Cakes Series from Ugly Cake Shop. Ugly Cake Shop is a bakery cafe and online cake shop that takes pride in baking delicious, artisanal cakes in Singapore. Not only do their cakes bring joy to taste buds, but they are also halal certified and contribute to feeding hungry children in Timor-Leste. Furthermore, they refrain from using artificial colouring, artificial flavours, fondant, or gum paste, and focus on creating beautifully balanced cakes using natural ingredients. 
Indulge in The Big Daddy Cake ($35), their signature creation that is super chocolatey and moist. This cake is a true chocolate heaven, guaranteed to satisfy chocolate lovers of all ages, including kids. For an adorable treat, try the Claire - Mini Penguin Cake ($100), featuring a delicately piped penguin design using buttercream frosting. This adorable penguin design cake is a 4-inch, 3-layer cake, perfect for 4 to 6 individuals with smaller appetites. What sets this cake apart is that it is made using only natural food dye, ensuring a more wholesome and delightful experience.
For new customers, use promo code "NEWUGLYCAKE" for orders above $60 at Ugly Cake Shop.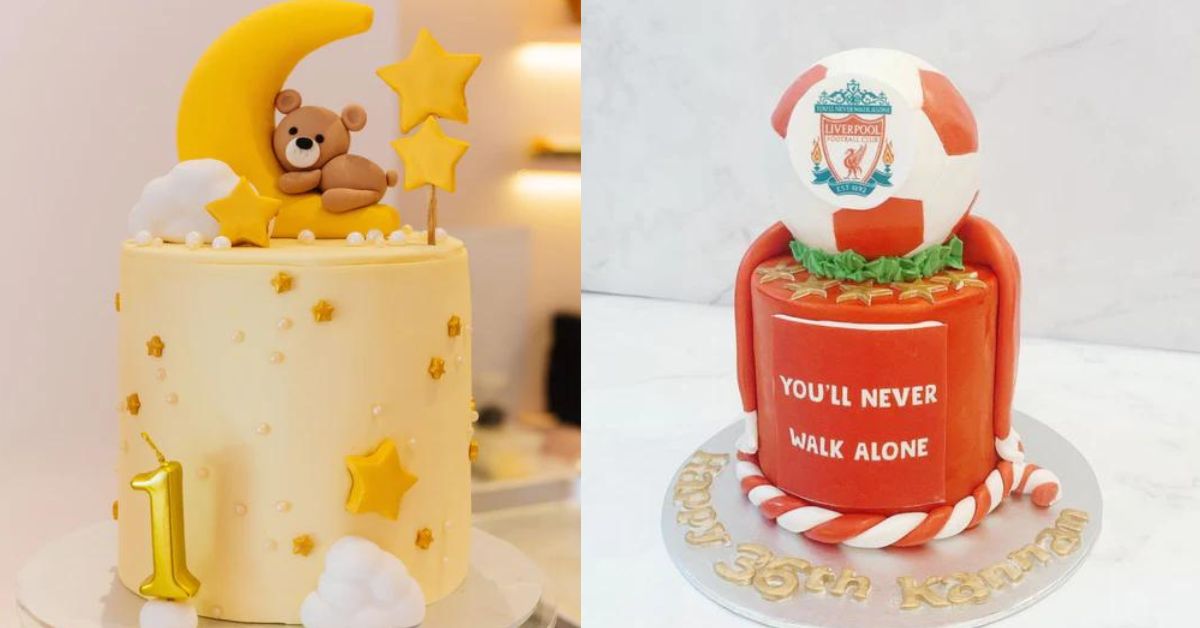 As a homegrown cake shop in Singapore, Temptations Cakes holds a special place as a Heritage Singapore Cake shop, cherished by its loyal fans. This cake shop honours the traditions of world-class French baking while adapting to the latest lifestyle trends to bring modern and innovative products. Their Petite Cakes collection contains a range of beautifully decorated cakes, ranging from simpler designs to meticulously crafted fondant cakes. 
Hosting a first birthday celebration? The Wish Upon a Star cake ($115) is nothing short of perfection. This petite cake showcases an adorable brown fondant bear lounging on the moon, surrounded by twinkling stars. Hold your little angel peacefully in your arms during the photo session and take pride in knowing that you've given them the best, just like they are your moon and stars. 
Calling out to Liverpool fans! Game on for the number one Liverpool fan with this soccer-themed cake. Celebrate with the Petite Liverpool cake ($120), proudly donning matching jerseys and scarves. 
Shop Temptations Cakes' collection of petite cakes on their website.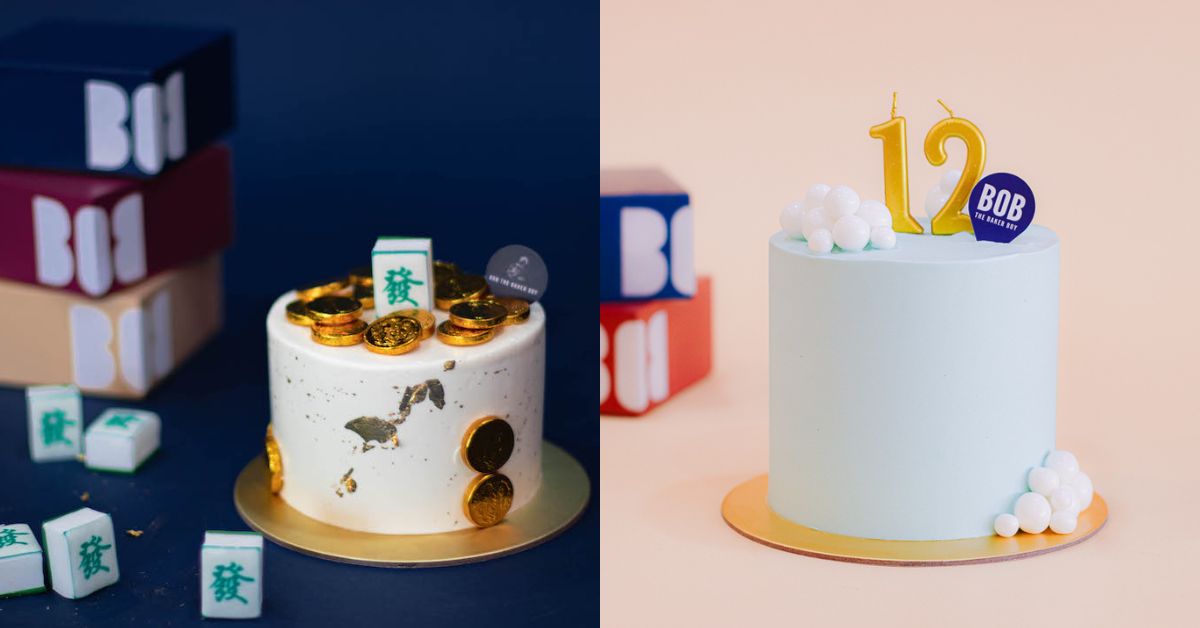 Introducing Bob The Baker Boy, your go-to destination for dainty and photogenic mini cakes in Singapore. These petite 4" diameter cakes are perfect for satisfying your casual cake cravings or as a delightful birthday gift. Designed to serve 2 to 3 people, they are ideal for your next private celebration.
Searching for a mahjong-themed cake in Singapore? Look no further with the Lucky Fa Fortune Mahjong Mini Cake ($59). This petite mini cake is filled with chocolate gold coins and features an edible mahjong tile, making it a delightful treat for any mahjong enthusiast. Alternatively, the Dusty Pastel Blue Clouds Mini Cake ($59) is an insta-worthy blue theme cake. Blue-themed cakes are trending, especially for baby showers. At Bob The Baker Boy, they offer a variety of blue colouring options to suit your preferences, including royal blue ombre, navy blue, and pastel blue.
Flexi delivery is available from $9.90 onwards, or enjoy free islandwide delivery for orders above $150 at Bob The Baker Boy.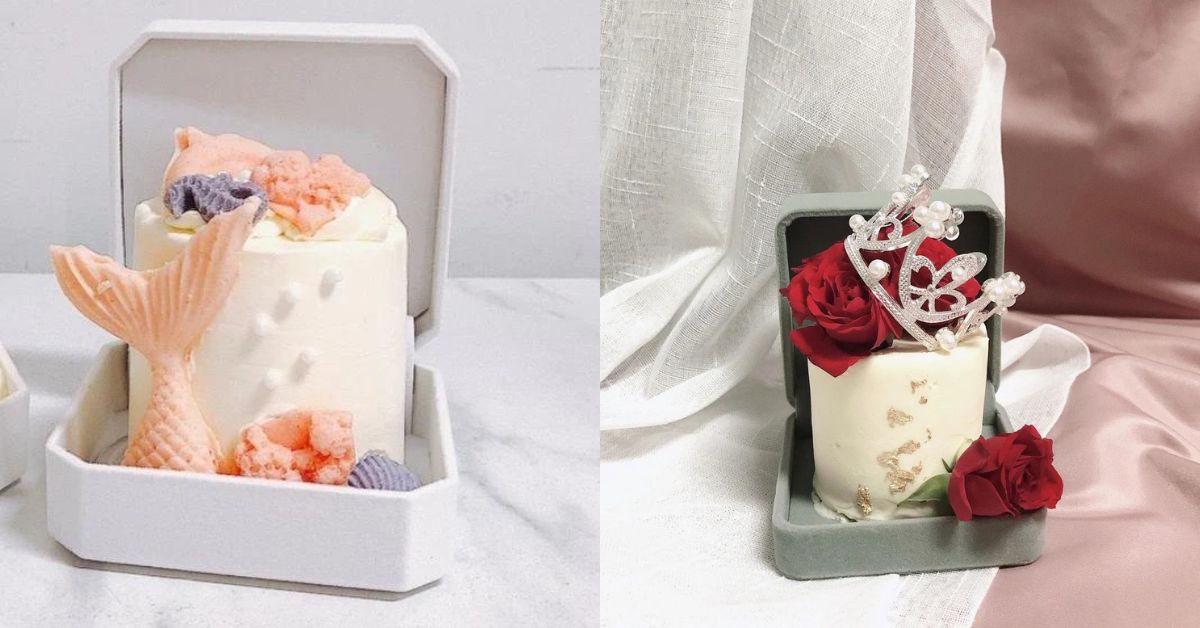 Discover the delightful world of mini cakes in Singapore with Honeypeachsg. Designed to cater to couples, friends, and small families with 1 to 2 people, their mini cakes are the perfect choice for those hosting smaller parties and private celebrations. Their cakes are presented in a Jewelry Box or a Small Cake Box and can be customised with Fondant Messages or wording to add a personal touch.
The Mermaid Tail - Jewelry Mini Cake ($32.90) features a cute mermaid's tail and an elegant crown atop. Indulge in the enchantment of this lovely mini cake as it is perfect for a 1st or 2nd birthday celebration. Alternatively, experience the elegance of the Red Roses Crown Cake - Jewelry Mini Cake ($39.90). The ideal choice for intimate birthday celebrations, surprise someone special with this beautiful treat that is sure to leave a lasting impression. 
Enjoy flexi-delivery at $9.90 or free delivery for orders above $150 at Honeypeachsg.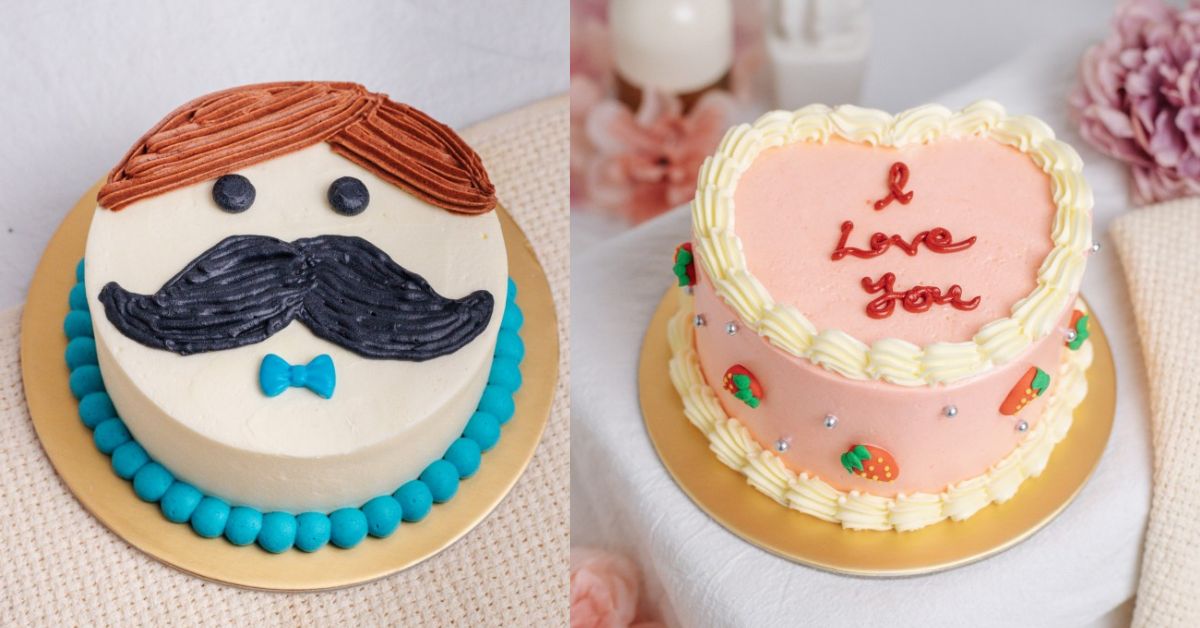 Edith Patisserie is the ultimate cake shop in Singapore renowned for its standard and custom bakes, as well as an array of mini bites and gifting options to elevate your next celebration. Immerse yourself in the charm of their beautifully decorated 4" mini cakes. With many designs to choose from, there is something perfect for every celebration.
Celebrate Father's Day 2023 with the 4" Mini Father's Day Cake ($38.90). This masterpiece is lovingly crafted with meticulous attention to detail, featuring a charming moustache and a dashing blue fondant bow accented with elegant blue rim piping. Order your Mini Father's Day Cake and create an unforgettable experience this Father's Day.
Indulge in a burst of love with the 4" Mini Heart Cake ($46.50). Delicately adorned with a pastel pink smooth frosting, it is further enhanced with strawberry-shaped icing and silver pearl decorations. Surprise your special someone with this mini cake and personalise it with a custom piped message, adding an extra touch of sentiment.
Enjoy free delivery for orders above $150 at Edith Patisserie.