There are plenty of hair salons in Singapore but who do you trust with your precious hair? Singapore's love affair with hair and all things beauty means we get first access to some of the best hair trends and concepts in the world. This is why knowing the right hair salon and hairstylist for the job, can take your hair to next-level-stunning! Read on to find out which are the best hair salons in Singapore and who you should be booking for your next appointment.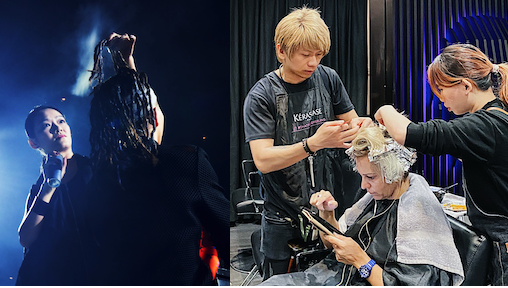 Almost always listed as one of the best hair salons in Singapore, Chez Vous Hair Salon is the first director-only luxury hair salon on the red dot with a team of highly experienced experts. Chez Vous has consistently topped the list of the most positively reviewed hair salons online and is the undisputed leading luxury premium salon after 26 years of operations in Singapore. Founded in 1995, Chez Vous has won numerous beauty awards and has set the benchmark for exceptional service. Its pioneering spirit and in-depth expertise have resulted in many first-to-market innovations such as the Chez Vous Trilogy Hair Care System, Hair Botox +   Fillers Therapy and Advanced Sugar Hair Lamination treatment.
Chief Salon Director, Serene Tan is also the Manager of Chez Vous Hair Salon and has over 20 years of experience under her wing. With her key strengths lying in haircuts, caucasian hair colouring and highlights, there's no wonder that Serene has been selected by KMS to be the Trainer for KMS-related Cutting and Styling Courses for hairdressers across Singapore. She was also chosen to be one of the 'Top 5 KMS Style Ambassador & Performing Artists' representing Singapore. Serene is one the few hairstylists on our sunny island to have completed the Hair Practitioner's Certification Course under the International Association of Trichologists Programme. She is often seen providing backstage styling for fashion shows and is the go-to stylist for many award-winning lifestyle bloggers.
Salon Director, Victor Liu, also the Supervisor of Chez Vous Hair Salon comes with over 16 years of solid hair styling experience. His key strengths lie in hair colour, highlights and wearable balayage. Known for his creative colouring skills, he has completed the Vidal Sassoon Academy (London) Salon Creative Colour Course and supported and participated in L'Oreal INOA Avant Garde Hair Show. He is also a Goldwell Master Colourist. Victor is known for his ability to provide hair colour that is manageable and suited to his customer's personality. He has worked with a range of Mediacorp artists as well as attended several other beauty and fashion events to showcase the skill.
Like what you read? Now you know which of these top hairstylists to book for your next hair appointment!
Chez Vous, 391 Orchard Road #05-05 Ngee Ann City Podium Singapore 238872. Phone (+65) 6732 9388, email: [email protected]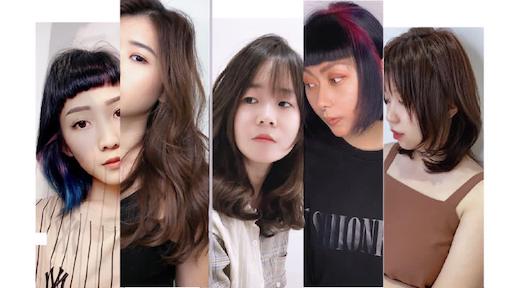 Do you always try to follow trends and then realise that they may not suit your hair and face profile? As one of the best hair salons in Singapore, Be U Hair Design is known for their one-of-a-kind tailored and customised hair services. With their keen eye for detail and the Be U Creator programme, they match your desired hairstyle with your facial contours. At Be U Hair Design, the stylists make it a point that you leave the salon feeling more like your best beautiful self - Be U, Be Yourself!
Want a trusted hairstylist for life? Director Sherlin Yap is known as a 'Colour Goddess' who knows just how to create a fresh new vibe with balayage and other hair colour techniques. She isn't just amazing with colours though; Sherlin has a way with hair cuts and perms that help her successfully tame frizzy hair for both men and women. Skills aside, Sherlin is VERY easy to talk to. With her sincerity and genuine personality, she is someone you can connect with immediately - almost like a friend you haven't met for 10 years! 
If you are after a top hair perm or hair colour service book Tony Lin, Senior Designer at Be U Hair who goes the extra mile to give hair care and hair design tips during your consultation. Beyond hair colours (which he is really good at!), many of his customers follow him from the West to Centrepoint to get their hair permed. Whether it is S curl, C curl, Korean perm or European curls, Tony will advise honestly and accurately on the type of curls that best suit the customer! He doesn't exaggerate and instead shares a lot of tips to make sure that the hair turns out exactly what you love. So when he says 'yes', you can be sure that the hair will turn out perfect! 
Finally, Desmond Khoo is brimming with creativity, detail and aesthetics and his hair work shows far beyond his years. We particularly love how his hair colour services have clear lines and texture - perfect for that Instagram shot! Desmond attributes this skill to the many mentors he worked with in his 7 years in the industry, who guided him and shared techniques on how different effects can be achieved. Since then, Desmond has been adding to his repertoire by keeping ahead of the latest trends and working with regular customers to create new hair designs. 
Be U Hair Design. The Centrepoint, 176 Orchard Road, #01-33J Phone: (+65) 6909 3250
We love a hair salon that works with our face shape and skin tone to deliver hairstyles that look unique! Picasso Hair Studio are known to drive innovative hair solutions, including some of the most sought-after perms in Singapore, with the goal of giving you a hairstyle that compliments your facial features. 
Master Trainer, Carmen has 15 years of experience in this industry. She sees hairdressing as an artistic inspiration and hair as a piece of fashion accessory that is being worn on every customer's head. Carmen specialises in Japanese Haircut, Men's Haircut, Customising Perms for her customers and Creative Colorings such as Balayage and Ash Tone Colors. She is a great communicator and listens attentively to her customers' needs to achieve the hairstyles they desire. Her greatest pleasure comes when she sees her customers happy with the hairstyle that she has created for them.
Creative Director at the Bugis branch, Tiffany is another stylist at Picasso who comes highly recommended. Whether it's her no pretence, warm and bubbly personality or the ability to give you an honest opinion about a style, this hairdresser will feel more of a friend than a stylist. After rescuing several customers from hair disasters, Tiffany has earned the reputation of having a magic hand! And should you want to push the envelope on style or colour further, she can work with some exciting options while keeping them work-friendly - think dark ombre hair or even inner hair colour without looking out of place!
Liu Ziwei is the Creative Director at their Novena branch and is known to work meticulously with each stroke of colour - to deliver on a complete overall effect that is natural and visually stunning. Whether it's hair colouring or perming, know that these are skills have been painfully perfected by Ziwei over the years, by practising for hours after the salon was closed. Now a Hair colour trainer in the salon,  Ziwei has created a loyal following for his unique creative colour creations.
Picasso Hair Studio, Multiple locations - Bugis, Phone + 65 62910691. Novena, Phone (+65) 6224 0221
Designed by the multi-award-winning hair salon, Chez Vous, as its second outlet, Chez Vous: HideAway aims to revolutionize the way people think of a salon experience. That means not only do you get a comprehensive menu of hair services, guests also get to enjoy a list of value-added, complementary and experimental "spa"-like benefits. Each Associate Director takes only up to 5 appointments, each 2-hour slot, in a day. This is to ensure that the team has optimal time and attention to work on each guest's hair. We love that Chez Vous practices transparent tier pricing, which makes it highly affordable and without the unnecessary stress of package hard-selling.
If you are after the colour correction, balayage or highlights, you want to book Associate Director, Shawn Chia. With over 14 years of hairstyling experience, he was chosen by Goldwell Singapore as one of the top 3 hairstylists to present the Pure Pigments colouring technology to other hairdressers in the country. He is also known for his exceptional skills with Caucasian Hair and highlights, rebonding and perms. Troubled scalp? Shawn is also a Certified Kerastase Scalp Specialist who can help analyse your scalp and its needs. As one of the few hairstylists that are on speed dial for Singapore's beauty editors, you'll want to get in his dairy and pronto!
Chez Vous: HideAway is hidden at 391B Orchard Road, Ngee Ann City Tower B, #14-04. To make a reservation, reach them at [email protected] or call 6219 3558.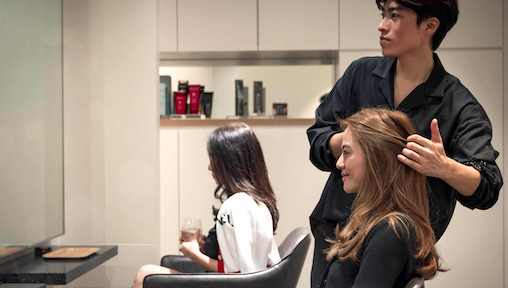 Ever since its inception over a decade ago, La Source Hair has been striving to create stunning hair masterpieces that would make heads turn. In addition to staying on top of the latest trends in the market, they also endeavour to provide natural nourishment to your gorgeous hair from within. 
The hairstylists at La Source are not only highly receptive to your needs and requirements but also committed to delivering world-class hair treatment services that have been tailored to your individual specifications. La Source Hair is a definitive destination for all guests who wish to achieve luscious, healthy, and stylish designer hair without undergoing any harsh chemical treatments.
Want a real hair veteran who knows how to manage all types of hair? One of the best hair stylists in Singapore, Nik comes with 20 years of experience, which began in his hometown of Seoul with Juno Hair - one of the most celebrated salons there. He then moved to Singapore and was with Koinonia Salon for four years before joining Leekaja Beauty Salon, another top Korean salon in Singapore.
With his warm personality and exceptional hair-cutting skills, he's won a legion of loyal clients, from high-society stars to career professionals and stylish homemakers. Nik's strengths lie in his signature perm (from volume perm to magic setting) and treatments (Cinderella to the latest Ogenex Hair Therapy). "Removing frizz can go a long way in transforming how you look.
I've dedicated much of my hairdressing life to helping ladies remove their frizz through Korean Original Volume Rebonding methods and helping Men remove unwanted volume for a better-sculpted cut. ' says Nik. Hair that's healthy and minus the frizz? We'll take some of that!
La Source. The Shopping Gallery @ Hilton, #02-17/18. Singapore 238883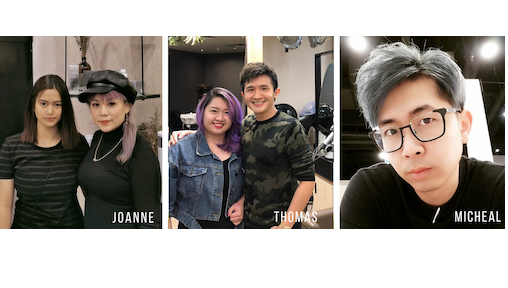 Hair experts Kimage were founded on a guiding belief that personality can be amplified through the craft of hairdressing. 10 outlets and one hairdressing school later, the team at Kimage is comprehensive and huge, so who should you be booking?
Thomas Goh is the Principal Stylist based out of Kimage Parkway Parade and is known all for his incredible hair colouring skills. One look at this video and you'll want to book an appointment with Thomas right away!
Michael Tan, is a Senior Stylist based out of Kimage's Marina Square outlet and is the one we at Vanilla Luxury turn to for all things hair and scalp! We love that he does not oversell, and often just sends us home with tips on treating your hair right, instead of a whole scalp-based programme.  He's also great with hair colour as well as face-framing haircuts!
Low on budget? The best part about Kimage is that you don't have to spend too much to get the hairstyle that you love! You can choose between Senior and Junior Stylists who come with different years of experience and can send you home with equally great hair. If you want to book a Junior Stylist, consider Joanne Lin. Joanne is skilled in colouring and hair perms and exhibits a great talent for someone with less than 2 years of hairdressing experience. Find out more on this video!
Kimage, Multiple locations. Kimage, Multiple locations. Book here or email [email protected] with your queries.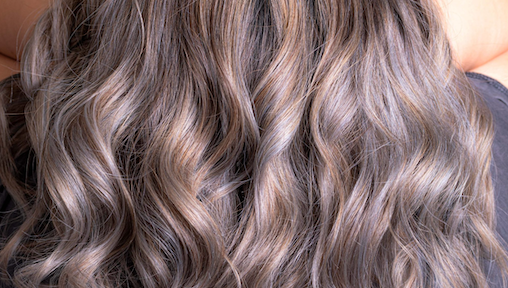 Want to experiment with your hairstyle? Kimistry is known for their creative streak and you'll find their stylists more open to experimenting and developing new hair concepts. So, whether you are after chemical treatments or just a refresher hairstyle, you'll find they carry the skills to send you home with top-notch hair. Kemistry also works with hairstyles and cuts that frame a face shape to match personality and style preferences.
As the founder of Kimistry, Jimmy Yap is passionate about the hairdressing skills he brings to the table. He has worked with a number of luxury magazines and is often sought after by the lead influencers in the city. 
Stephy Lok is the Creative Hairstylist and known for quality chemical hair procedures that leave customers gleaming with great hair after! Are your favourite stylists busy? You'll also find other hairstylists and team members at Kimistry who can help deliver technical works that leave clients more than satisfied!
Kimistry, Scotts Square B1-23, 6 Scotts Road Singapore 228209. Phone (+65) 6970 9226