If like us, you are always looking for a frizzy hair solution that doesn't leave your hair flat, you want to read this! Chez Vous has recently launched a way to achieve ultimate glossiness and control with their revolutionary new Advanced Sugar Lamination hair treatment. Did we say it takes all of 60 minutes?
We recently tried this express frizz-fighting, hi-gloss treatment and haven't stopped raving since!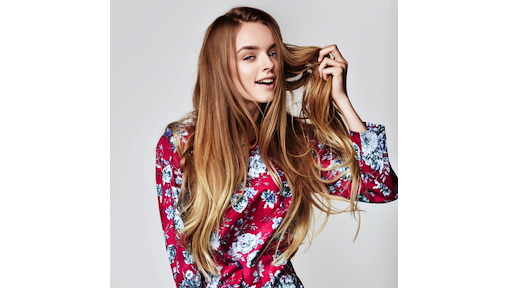 Why Sugar Lamination?
Did you know that Hair Lamination has already caused quite a stir around the world? Similar to paper lamination, Hair Lamination helps repair and restore the defensive layer on our hair, protecting it against heat and harsh chemical damage. What you get in return is shine, softness and healthier-looking hair with lesser frizz.
In 2021, Singapore's top hair salon Chez Vous upgraded Hair Lamination with the revolutionary power of sugar. Chez Vous' exclusive treatment not only coats your hair externally with a proprietary thin layer of laminate made up of ceramides, collagen, hydrolysed silk and natural oils but also repairs them internally using state-of-the-art sugar-based hair strengthening actives. These patented and innovative ingredients penetrate deep into the cortex to strengthen hair's internal structure by up to 3X than that of untreated hair.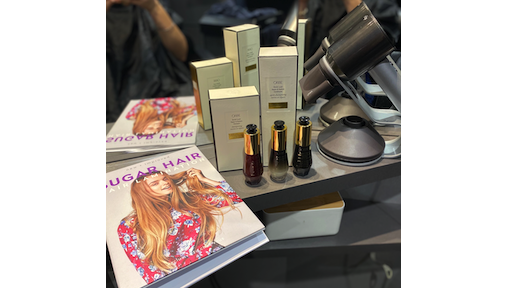 What is the process of the NEW Advanced Sugar Hair Lamination treatment?
Just 60 minutes. Chez Vous' revolutionary NEW Advanced Sugar Hair Lamination is an express frizz-fighting, hi-gloss and deep-reparative treatment that takes all of 60 minutes!
The treatment starts off with a short hair massage with the Oribe Cote d'Azur Luminous Hair& Body Oil. 

This is followed by a cleanse using Oribe Serene Scalp Shampoo that contains Sugar Maple Extracts to soothe the scalp and hair while protecting it against free radical damage. 

Step 3 involves the application of Vitamin C booster Sugar-based Hair Strengthening Actives. 

Then your hair is blow-dried 100% and a flat iron is used to seal the treatment. 

This is followed with a few drops of Oribe 2% Hyaluronic Acid and Linoleic Acid booster in the form of a Collagen masque. 

After rinsing enjoy a quick Closing Massage with Oribe Cote d'Azur Luminous Hair & Body Oil, followed by moisturising cream on damp hair. 

This is then blow-dried to finish - ALL UNDER 60 minutes!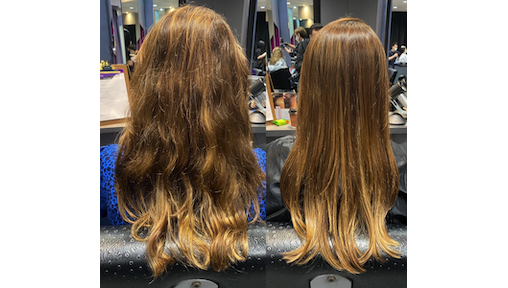 What can you expect after the treatment?
We love the fact that the Advanced Sugar Hair Lamination Treatment at Chez Vous does not make our hair poker straight. In fact, the possibility of keeping our natural wave, frizz-free, made us try it in the first place! What we did not expect was how relaxing this "express" treatment truly was. Devoid of chemical odour, with plenty of massage treats thrown in.
Gone are the days of waiting hours to process your hair! The under 60 minutes promise, makes it an ideal treatment for those of us with busy calendars or low patience. What's more, the new Advanced Sugar Lamination delivers! Post wash, hair felt soft and shiny - with a very obvious, newly acquired hi-gloss.
Did it pass the 'first-wash-at-home' test? We think so! Our otherwise frizzy hair needs a long time to tame with the dryer. The treatment made it so much easier to manage, faster to dry, and with that silky, shampoo-advertisement look we all vie for. Better still, the treatment does not leave hair flat like a keratin or straightening treatment. The effects of Advanced Sugar Hair Lamination last up to 6 weeks based on the products you use at home. The treatment can even be done immediately after hair colouring as it does not cause significant fading of the dye.
Prefer a poker-straight hair look? You can always choose different versions of the new Advanced Sugar Hair Lamination treatment based on what you want to achieve and how much time you have!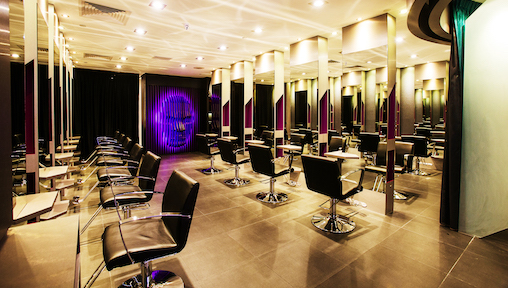 The AdvancedSugar Hair Lamination at Chez Vous starts from $235. Guests can enjoy 20% off Advanced Sugar Hair Lamination when they opt to do it immediately after a colour service at Chez Vous (Main Salon).
Chez Vous is located at #05-05 Ngee Ann City Podium(Takashimaya), Singapore 238872. Call 6732 9388 to book an appointment, or log on to www.chezvoushair.com for more information.