It's that time of the year again where childhood dreams of lacy white sparkle studded princess gowns, white and peachy flower bouquets and elaborate centre-pieces come to a reality. Yes, that's right, it's the season of 'I dos'!
Wedding of your dreams is usually a once in a lifetime affair and most of us can't afford a David Tutera to give us that glorious wedding. So, we at Vanilla Luxury have specially curated a list of 5 top wedding car rentals here in the Lion City to make your fairytale wedding dream come true. But really, it's also our one small way to prevent you brides from turning into bridezillas.
Wedding Cars Singapore
From a cute VW Vintage Beetle to an enigmatic Rolls Royce Phantom to a boisterous party bus, Weddings Cars Singapore is a one-stop-shop for a diverse range of cars to fit any wedding theme of yours. Their packages of 4 or 10-hour rentals are incredibly affordable and are chauffeur-driven. Rest assured, no one from your bridal or grooms party will have to carry the designated driver badge - we call this a win!
Wedding Cars Singapore has been around since 2008 and Wedding Cars Singapore deals with approximately 300-400 car rental bookings a month, no wonder it is one of the go-to wedding car rentals in Singapore.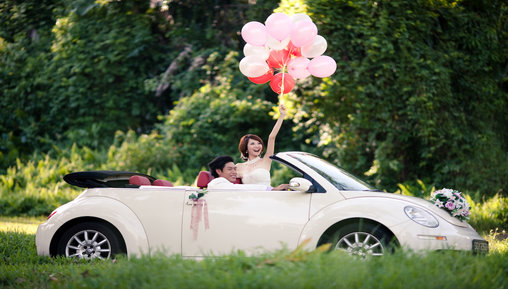 Photo Credits: Wedding Cars Singapore
+65 6735 2735 | sales@weddingcars.sg
Ace Drive Singapore
If regal and sophistication are the middle names of your wedding, Ace Drive is your best bet for a wedding car rental in Singapore. A winner of Singapore Tatler's Best Car Rental Award in 2013 and 2014, they have a reputation of having the most sought after luxury and exotic cars and carry many cabriolets and convertibles. After all, convertible cars are associated with high class and style. Not only that, they have an abundance of gorgeous in-house car wedding décor offerings. We are certainly drooling over that Maserati GranTurismo.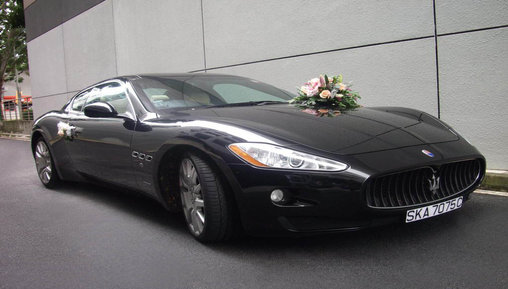 Photo Credits: Ace Drive
Ace Drive | 50 Ubi Ave 3, #01-01/02, Frontier Building
+65 6585 5555 | info@acedrive.sg
The Wedding Limo Company
This could very well be our favourite wedding car rental in Singapore. The Wedding Limo Company boasts the largest fleet of luxury classic cars on the island and they ooze sensuality, timelessness, vintage and James Bond (The Sean Connery Era). With 4 categories to choose from, you're spoilt with impeccable choices. Roll in style in a Rolls Royce Silver Cloud for that suave Frank Sinatra romance or a Morgan +4 for a whimsical accentuation to your wedding. Even we can't decide!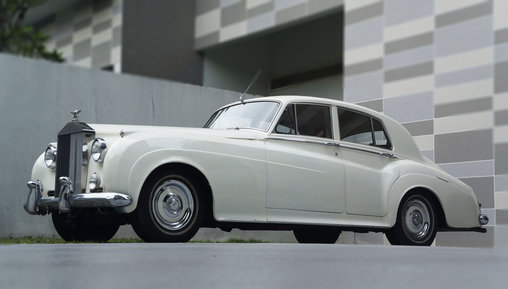 Photo Credits: The Wedding Limo Company
+65 6835 4600 | info@theweddinglimo.co
Volks Wedding
Nothing spells retro-like pre-67 Volkswagen car. Classic Volkswagen cars add fun, charm and some groovy to your wedding. Be transported back in time with Singapore's oldest beetle, a 1953 Oval Ragtop in old English white or the ultra-rare and 1966 Split Screen VW Bus. Volks Wedding also offers wedding décor of flowers, handcrafted bows and adorable 'Just Married' signs.
Volks Wedding has 3 versions of bay window VW Buses, a sea-green 1972, a fire engine red 1976, as well as a fair lady pale beige 1973! Bring on the flower-power themed weddings!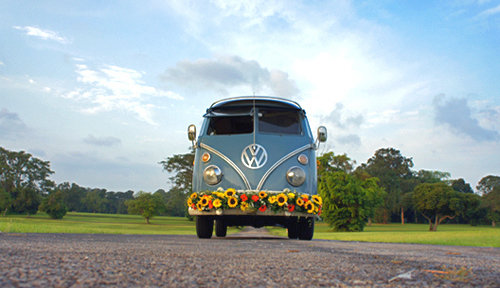 Photo Credits: Volks Wedding
+65 9239 9632 | volkswedding@gmail.com
Wedding Carriages
Wedding Carriages is dedicated to give you 'The Ride of a Lifetime' on your very special day at extremely affordable prices. Those of you on tight budgets, this is definitely for you. They carry an extensive car fleet and the one we are most excited about is the Chrysler Stretch Limo as it fulfils our version of a Las Vegas wedding. For a more sleek, speedy and sophisticated vibe, hop into a Bentley Mulsanne or a Maserati Quattroporte.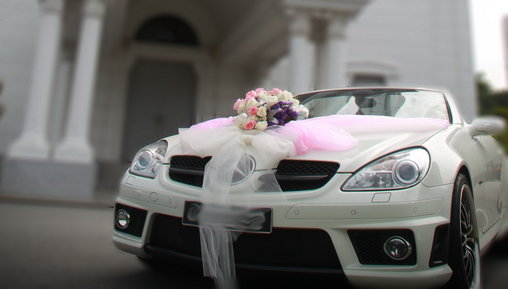 Photo Credits: Wedding Carriages
Wedding Carriages | 8 Burn Road, #15-13, Trivex, Singapore 369977 
+65 9844 0793 | Weddingcarriages@gmail.com