lifestyle
Tips to Win at Life by Silicon Valley Woman of Influence, Ari Horie
Published Date
: 07 Aug 2016 03:17

"Being unstoppable does not mean you keep hitting the same wall a thousand times. Try to go under it, around it or tickle the wall so that you can go through it."
When a confident woman steps into a room, all eyes are invariably drawn to her. Something like that happened with Ari Horie as well. Despite being tired and jetlagged on her whistle stop tour of Singapore, she left a powerful impression on all who came to listen to her at a talk organised by CRIB Society.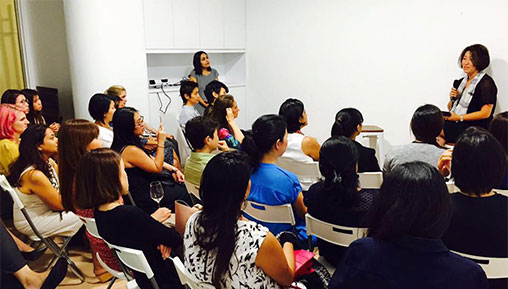 Ari is the Founder & CEO of Women's Startup Lab (WSLab), a founder development accelerator based in the heart of Silicon Valley. A prominent entrepreneur, Ari has been named one of Silicon Valley Business Journal's "Women of Influence in Silicon Valley" in 2015, one of CNN's 10 Visionary Women of 2014, and "40 over 40" Women to Watch in 2015.
The mission of Women's Startup Lab (WSLab) is to catalyze women-run startups and guide them to victory through powerful leadership training, an influential network of coaches and advisors, and the ongoing & lifelong support of a community of alumni. WSLab and Ari have also been featured in The Huffington Post, Wall Street Journal, Forbes, Silicon Valley Business Journal, Fast Company, Marie Claire "20 Women Changing the Ratio", and Success Magazine.
Ari was authentic and engaging, sharing her story right from the days when she was an exchange student in the US who spoke poor English to landing a seemingly impossible job at IBM through sheer guts and determination. From setting up and scaling WSLab to giving her mom a fighting chance in her battle against cancer, every part of Ari's journey motivates and inspires to never take no for an answer.
Before her talk, Ari sat down with this writer to elaborate more on her philosophy and strategy for business and for life. Here are the key takeaways from the interview and the talk.  
1. Aim Impossibly High
Ari believes that if you aim really high, you'll land in a good place, no matter what happens. Be audacious. Ask for more. Don't put yourself down. Never settle for anything but the best. At the same time, you must think out-of-the-box. Hustle. Be so good and so tenacious that people bend the rules for you. You may not know the path in the beginning but trust that people will show up at the right time. Finally, own your work and success. You deserve it.
2. Embrace Your Individuality
Ari was raised by a single mother in Hiroshima who understood the importance of individuality. When all the other students went to school wearing a red backpack, Ari's mother gave her a pink backpack to make her realize that she is unique and she must not be afraid to be different. Being authentic has been key to Ari's success all her life.
3. Create a Support System
The key philosophy of WSLab is Hitology. Hito means 'human' in Japanese and Hitology stands for creation and innovation for the people, by the people. This does not just refer to focusing on doing the best for your customers. It also means creating a team that supports your vision and your spirit. It means building a network of mentors, advisors and investors who can help you fulfil your goals. As a founder, you don't have to do it alone. You just can't.
4. Stay Inspired Every Day
Your vision has to be very clear. Ari's vision is a little girl looking up and smiling – as she doesn't have to face the challenges that women in our generation deal with. Ari asks herself every day – if I quit, will I realise this vision? Is there a better way to achieve this vision? And then she takes the best step to move closer to her vision. You must also be your biggest cheerleader. No one else will do it if you don't. Most importantly, surround yourself with positive people. Stay far away from toxic people.
"Don't take life so seriously. Have a sense of fun and adventure. Keep trying, Then failure becomes a part of the game. But remember, if you have to play a game, play a big game. Always."
Contributor: Megha Singh

Megha is a corporate consultant who works with small businesses to create inspiring and effective communications across all platforms. She is a strong advocate of female entrepreneurship as a solution to many of the issues faced by women around the world. Writing is her passion and she is currently working on her first novel. Megha dabbles in tarot and floristry when she needs a break from words.