Think of classic American food in Singapore and immediately the mind conjures images of mouthwatering barbecued baby back ribs, a juicy steak or a classic burger. With their American-sized portions, American diners are one of the most family-friendly restaurants in Singapore to dine with kids and groups of friends.
In the mood for smoking western food? Check out our list of steakhouses, barbecue joints and smokehouses in Singapore.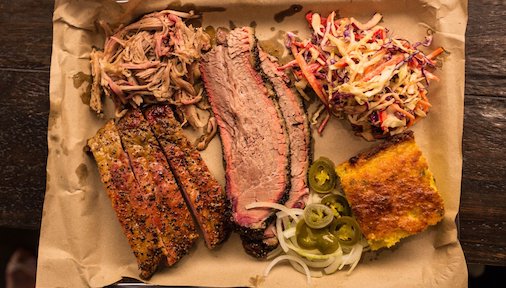 Decker Barbecue is all about honest cooking and authentic Texas barbecue. The focus is on quality meats, the time-honoured tradition of low and slow smoking, honest pricing, and Southern hospitality. Just good food, generous drinks and great tunes in Robertson Quay.
Decker Barbecue owns the only A.N. Bewley smoker in Asia, and cook just like pitmasters do in Texas - using wood only: no gas, no electric, no cheating. The meats are smoked for up to 16 hours in their custom-built smoker from Dallas. You'll find meats such as Wagyu Brisket, Pulled Pork, and Spicy Lamb Sausage at this smokehouse. You can even have custom ordered meats such as a Whole Turkey or Dinosaur Beef Ribs which must be pre-ordered 4 days in advance. 
Decker Barbecue will be open only for dine-in from 19 June 2020.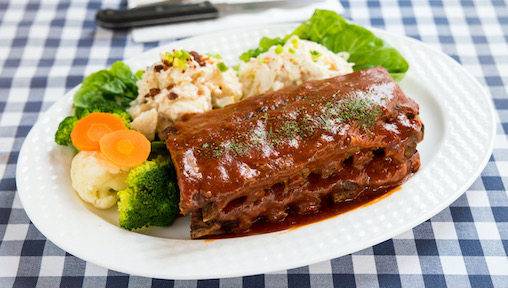 One of the first American Restaurants in Singapore, Jerry's BBQ & Grill is well-known for their Pork Ribs and Buffalo Wings which remain popular till today. Step into the restaurant and you are greeted with smokey smells of delicious authentic American barbecue classics.
Check out Jerry's BBQ & Grill takeaway and delivery menu featuring premium grill dishes such as Black Angus Steak made from tender and juicy ribeye or striploin; as well as house speciality barbecue dishes like BBQ Pulled Pork, Beef Brisket, and Smoker Roasted Chicken. Complement your mains with side dishes such as Mashed Potato, French Fries, Steamed Vegetables or Mixed Salad.
There are also seafood options available such as Fish and Chips, and Grilled Salmon Fish Fillet. For vegetarians, you can go for Mushroom Soup, Quesadilla, or Mild Spicy Spaghetti Alo Alo. End off on a sweet note with their homemade Tiramisu.
Call (+65) 9822 5187 for island-wide delivery (minimum order S$60). No minimum order and no service charge for takeaway. With the recent announcement of Phase 2 starting on 19 June 2020, Friday, Jerry's BBQ & Grill will be open for dine-in from this weekend as well. Bookings and reservations in advance recommended.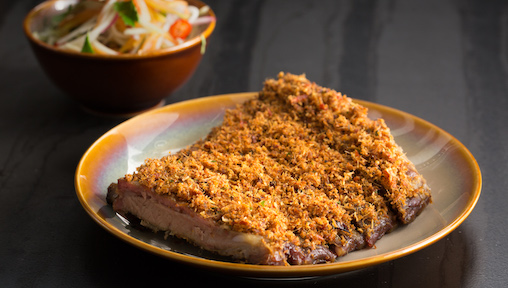 Southern American smokers, Meatsmith smokehouse is the restaurant in Singapore to go to for barbecued meats. Think Western barbecue with a twist.
Meatsmith Little India serves modern Indian barbecue with dishes such as Pork Ribs, Duck Cigars, Beef Kebab, Crab Briyani, and Bombay Butter Naan. Meatsmith Telok Ayer offers wood-fired barbecued food such as Pork Belly, Buffalo Wings, Beef Brisket, and their Signature Cheeseburger. 
Order from Meatsmith with islandwide delivery here. Meatsmith Telok Ayer and Meatsmith Little India will be open for dine-in from 19 June 2020 as well.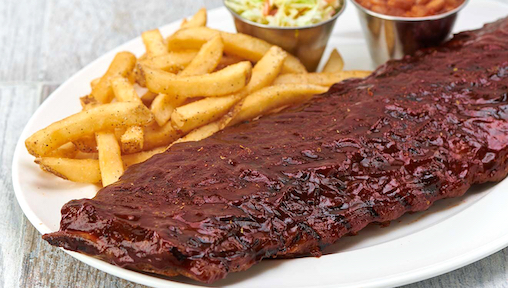 This globally recognised American restaurant chain offers the entire experience from Western food to live music entertainment.
Hard Rock Cafe is known for their Baby Back Ribs seasoned with their signature spice blend, then glazed with house-made barbecue sauce and grilled to perfection, served with seasoned fries, coleslaw and ranch-style beans.
Another highlight is their Original Legendary Burger - a Black Angus steak burger with smoked bacon, cheddar cheese, crispy onion ring, leaf lettuce and vine-ripened tomato, served with their signature sauce on the side.
Call (+65) 6235 5232 to pre-order for delivery and takeaways. Also available through FoodPanda and Deliveroo.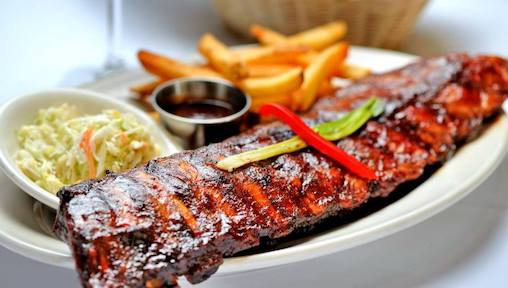 Inspired by a 1940's Chicago bar and grill, Dan Ryan's serves American food such as steaks, baby back ribs, sandwiches and salads in a friendly and lively atmosphere near Orchard Road.
Typical of classic American restaurants, Dan Ryan's features period music, vintage light fixtures and posters, an antique train circling above the bar, and an artist's mural depicting vintage Chicago nightlife.