Brunch: the go-to meal that's suitable for most occasions. From lavish birthday celebrations, casual meet-ups with friends or just playing host to guests in town, brunch is a great excuse to eat out. We have put together several brunch options in Singapore which includes champagne brunch, cocktail brunch, Japanese brunch and even a Dim Sum brunch.
Saturday Brunch in Singapore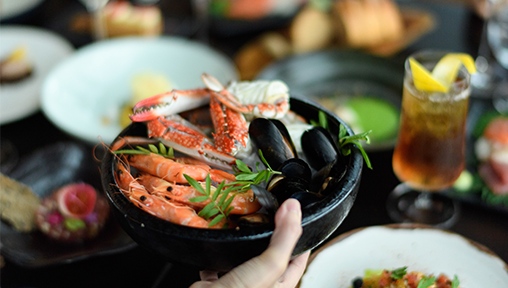 With a breathtaking view of urban Singapore, Skai situated in Swissotel Singapore overlooks Marina Bay Sands. If you're looking for brunch with a view, it's got to be Skai. We absolutely loved the breakfast bellini that leaves you wanting more. We highly recommend the Wagyu Beef Tataki and Skai Steak. We loved how Skai has got the portion size spot on as we were able to taste multiple dishes without feeling too full. Skai also offers a visual feast with its latest collaboration with ruby chocolates that are a must try. Naturally pink without added colourings or berry flavours, ruby chocolate's unique fruity notes paired with the creaminess of cocoa makes for a taste different from other chocolates.
Enjoy free-flow of cold and hot dishes straight from Skai's kitchen, fresh seafood and a dessert station. Do not miss out on signature desserts like Matcha pancakes or their fancy chocolate fountain at Skai's Saturday brunch. Perfect for a relaxed, romantic anniversary date where you can sit back and take in the majestic view of Singapore's iconic cityscape. Available on Saturdays from 12 pm to 3.30 pm. Reserve a spot online or call +65 6837 3322.
Price: SGD168++ with free-flow champagne, cocktails, wines and beer
2. Kinki - Japanese Brunch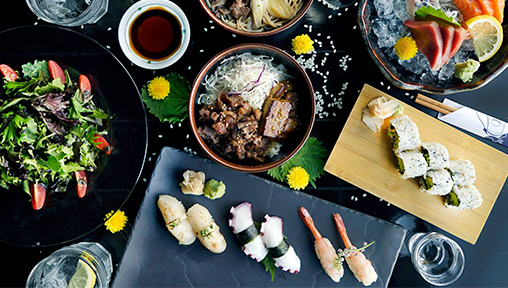 For an Asian twist on western brunch, check out Kinki, a restaurant that serves traditional and contemporary Japanese cuisine. Forget the usual champagne or cocktails, Kinki offers free-flow of Sake, Shochu, Beer and Prosecco for just an additional $35++. Saturday brunch at Kinki promises a buffet of fresh sashimi, sushi, maki amongst other delectable mains. Available on Saturdays from 12 pm to 3 pm. Book online to enjoy a sumptuous buffet-style menu.
Price: SGD93++ per person with free-flow Sake, Shochu, Beer and Prosecco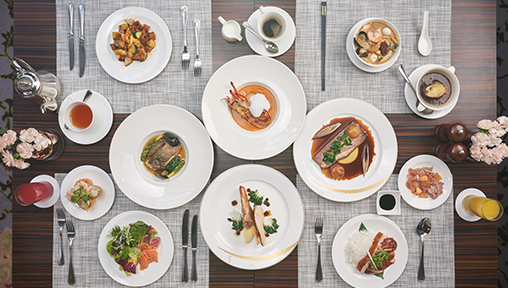 Local favourites come together with French classics at Brasserie Les Saveurs as it offers up an exciting Saturday brunch that features a mix of Singaporean hawker and French delights. From Hainanese Chicken Rice and Singapore Laksa at live stations to DIY stations where you can make your own Rojak and Kueh Pie Ti, this Saturday buffet brunch elevates local hawker dishes to fine dining courses that are still as authentic in flavours. As a semi-buffet, you get to pick your main course - Signature Baked Laksa Lobster Thermidor; Pan-seared Seabass with crab and Assam broth, which was personally our favourite; and Ravioli du Dauphine with mushroom and feta cheese for vegetarians. End on a high note with the dessert table filled with sweet treats true to Singapore flavours including Gula Melaka and Pandan. Available on Saturdays from 12 pm to 2.30 pm. Call +65 65066860 or book online to reserve a spot.
Price: SGD128++ per person inclusive of a flow of wines, SGD148++ per person inclusive of a flow of 'R' de Ruinart Brut NV
Sunday Brunch in Singapore
4. LAVO Singapore  - Champagne Brunch Singapore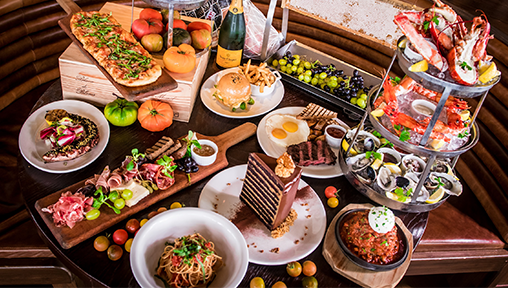 Located at Marina Bay Sands, LAVO Singapore offers their Sunday Funday Champagne Brunch. Start your Sunday champagne brunch with the raw bar which has a selection of Oysters, Shrimp Cocktails, Chilled Lobster, Chilled Snow Crab, Chilled Scallops, Green Lip Mussels, Yabbies, Poached Salmon, Middleneck Clam. Indulge in your favourite carved meats at LAVO Singapore's Sunday Funday brunch with Roasted Pork Roulade with Juniper Agrodolce, Broiled Beef Tenderloin with Horseradish Cream & LAVO Steak Sauce, Whole Roasted Free Range Chicken with Red Wine jus and  Confit Fingerling Potato. 
Our must-try dishes are the Seared Foie Gras with Apple Chutney on Puff Pastry and the LAVO Singapore yummy Parmesan Cheese Wheel with Linguine Pasta Cacio E Pepe Style. 
Being an Italian restaurant, LAVO Singapore's Champagne Brunch has outdone itself with brick oven pizzas like Carne Pizza and Salmon Oreganato with Garlic Butter and Breadcrumbs.
For those with a sweet tooth, an entire assortment of Muffins, Croissant Mignardises, Petit fours, Gelato and Sorbet awaits you. We enjoyed their B-52 flavoured gelato that was delicious. This brunch buffet is available on Sundays, from 12 pm to 3 pm. Book online or call +65 6688 8951.
Price: SGD158++ per person with Champagne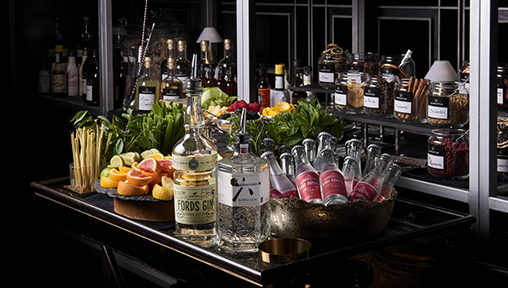 Kick back and let loose with a booze-filled buffet brunch at Manhattan, our choice for a pleasantly naughty cocktail brunch. We had fun customising and creating our very own alcoholic drinks with Manhattan's Boozy Milkshake station, custom Bloody Marys and Gin and Tonics. Don't miss out on Manhattan's selection of innovative cocktails like the Th-aiquiri, inspired by the strong flavours of Thai cuisine, this cocktail is an interesting mix of bird's eye chilli tincture, kaffir limes and a lemongrass cucumber syrup, perfect for a fun Sunday cocktail brunch.
Manhattan's cocktail brunch features Asian inspired dishes that are strong on umami flavours with courses such as Saint Jacque Scallop, BBQ Pork Belly and Lavender Blinis. Available every Sunday from 12 pm to 3 pm. Call +65 6725 3377 to reserve a spot.
Price: SGD158++ per person free-flow cocktails, wines and beers or SGD195++ with Billecart-Salmon Brut Reserve Champagne
6. Hilton Singapore - 50% off 2nd person for Citibank Cardholders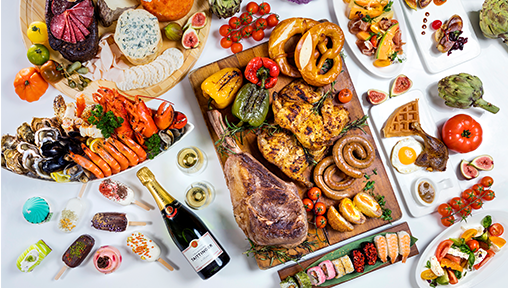 The Ultimate Hilton Sunday Brunch offers a wide range of tasty international dishes with eight live stations. Don't forget to visit the cheese room, an entire room that houses a lavish assortment of up to 30 varieties of European cheese. End the whole Sunday brunch experience on a sweet note! From the famous Hilton cheesecakes to a wide variety of treats, this is one brunch that is great on a Sunday if you're a Citibank cardholder. Get 50% off every second diner with up to 5 redemptions per reservation. Available on Sundays from 12 pm to 3 pm. Call +65 6730 3390 / 6737 2233 for reservations. 
Price: SGD128++ per person with free-flow Prosecco, Beer, Wines or SGD168++ with free-flow Taittinger Champagne, Beer, Wines
Weekend Brunch in Singapore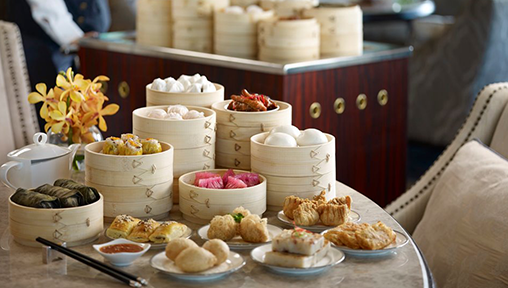 Dim sum is not just for high tea, it's also the perfect answer to weekend brunch when you are craving some Chinese food to start the day. Kick off the weekend with Clifford Pier's Heritage Dim Sum brunch. Get your fix of popular dim sum such as steamed Siew Mai with roe, dumplings and steamed custard buns from hawker carts directly to your table. Explore their hawker themed live stations to enjoy local favourites, a great way to introduce foreign friends to hawker fare without subjecting them to long queues or unbearable heat. A weekend brunch featuring dim sum and local hawker favourites is a refreshing change from the usual western fare that is offered for brunch. Clifford Pier's Heritage Dim Sum brunch also comes with free-flow of Veuve Clicquot NV Brut Champagne. Available on weekends from 11 am to 2 pm. Call +65 6877 8911 / 8912. 
Price: SGD133++ per person with free-flow Veuve Clicquot NV Brut Champagne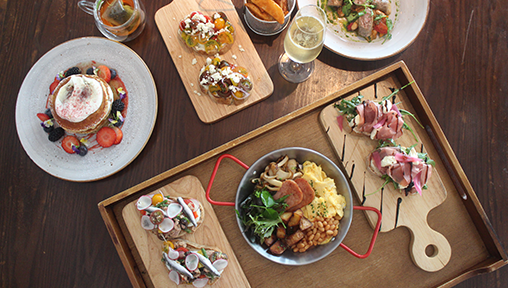 Offering five hours of free-flow alcohol, Ginett is a place that's great if you just want a light weekend brunch with an endless supply of wine. Savour brunch French style at Ginett, a French-inspired bistro that is known for their amazing wine collection. Start the weekend right with signature brunch items at Ginett, from tartines like the healthy Tuna Niçoise Tartine to sweet pastries like Mille-feuille, you can't go wrong with the affordable breakfast fare at Ginett. To spice things up, Ginett is now offering their charcoal grill items during brunch if you're looking to start the day with a rich, meaty brunch.
If nothing on the menu tempts you, try customising a breakfast that's to your taste. Choose from various types of bread with add-ons like avocado or spam. There's also free-flow sparkling wine for an additional $30++. Available from 11.30 am to 4 pm. Book online or call +65 6809 7989.