In lieu of International Women's Day and honouring the contributions made by women, we are putting a spotlight on these fashionistas who were brave enough to foray into the world of fashion and business.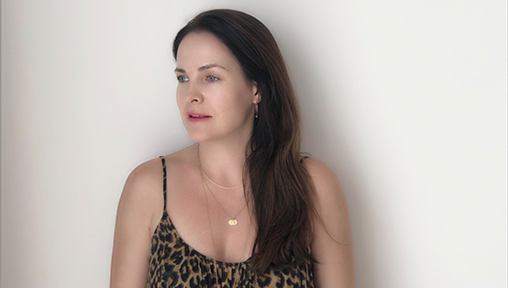 A Norwegian travel enthusiast, Kirsti Bass makes customised minimalist necklaces, bracelets and earrings that are perfect for everyday wear. Every piece of Bass Jewellery tells a story of its owners - whether it's a mother incorporating her child's initials in her necklace or a grandmother whose charm bracelet reminds her of her grandchildren.
All Bass Jewellery is crafted out of sterling silver and 14K gold and comes beautifully gift wrapped in their signature boxes. Better yet, the jewellery pieces start at an affordable price of SGD 39 and can be delivered worldwide.
Vanilla Luxury: Tell us why you started Bass Jewellery.
Kirsti Bass: While I worked and lived in London I started making jewellery just as a hobby. After moving to Singapore 11 years ago, I took lots of different courses in jewellery making and design, before I set up Bass Jewellery. I love customizing and creating jewellery for my customers that fits them just right and becomes a piece they love wearing all the time.
My Initial Necklaces are my bestsellers. Some women choose to wear their own initials or their partner's initials. I'm also more than happy to add charms such as a star or heart to make it even more special or even another necklace layer.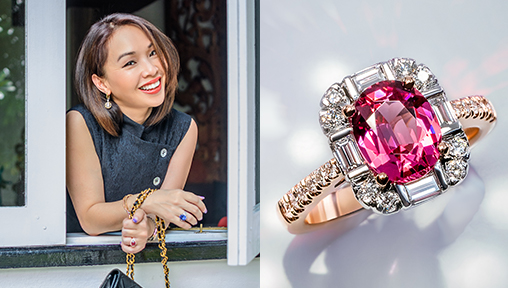 Taking a cue from her mother who would always wear bright, vivid and happy colours to work, Maddy Barber founded MADLY - offering colourful bespoke fine jewellery which people have come to love. Maddy's love for gemstones and jewellery comes from her mother and started from a young age as she played dress up with her mother's jewellery. Now, many of their jewellery pieces feature one-of-a-kind and rare gemstones including Garnets, Spinels and Tourmalines.
Vanilla Luxury: Tell us more about MADLY and your style of bespoke jewellery.
Maddy Barber: People have come to know MADLY for our bright, bold and colourful style. Our 'classic MADLY' style involves lots of asymmetrical designs where stones are set slightly askew and occasionally a little off-centred… because life is such and so are we!
Breaking free from the norms of fine jewellery, we do not speak in hushed tones nor do you need to be dressed up for us to give you the attention you deserve. Focusing on quality, we believe in giving you quality time and educate you on the value of our products so you know exactly what you are buying. We also extend those high standards of quality to our level of service, gemstones and craftsmanship.
Our works speak for themselves and a strong word of mouth from our clients and jewellery fans from all around the world is something that money just can't buy.
3. Carolyn Kan, Founder of Carrie K.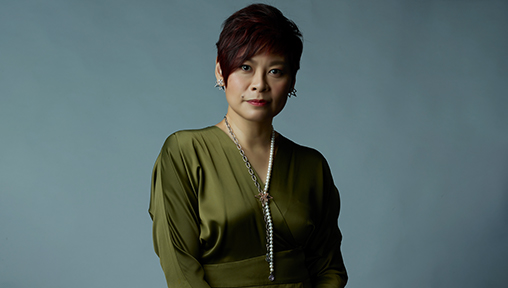 Image Credits: @chongshadyrepublic
You may have liked the idea of wearing a pearl necklace but hesitated to do so because it looks too traditional or isn't your style. Carolyn Kan is reinventing how the pearl necklace is perceived and worn with her new Pearl Bar concept.
Leave it to Carrie K. to invent the Carrie K. Duō, an interchangeable clasp that connects two parts of the Pearl necklace together with chic accessories to create more than 160 possible looks! Just take a look at how gorgeous Paige Parker looks in her ensemble (pictured above). What's more? With every pearl necklace sold, SGD 50 goes to AWARE Singapore to support research and advocacy for single mums.
Vanilla Luxury: Tell us more about Carrie K.'s new Pearl Bar which will be launched on 29 March 2019.
Carolyn Kan: In 2015, I made my first attempt to redesign the silhouette of the classic pearl necklace with Carrie K.'s "Pearls of Wisdom". Customers liked how "Pearls of Wisdom" looked but longed for something even easier to style and change the looks on their own.
With Carrie K.'s new Pearl Bar, we unveil a line of pearl necklaces that isn't just versatile to fit every style, occasion and neckline but can be assembled quickly and easily whilst walking out the door to work, and can be "pimped up" for red carpet statement glamour. I hope you'll be able to show off your unique style, be it classic with a twist or elegant with an edge!
4. Aliya Dossa, Co-founder of Safari Swag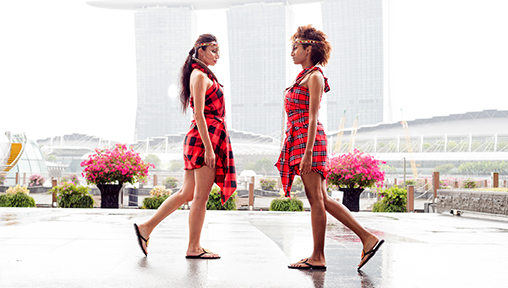 Having successfully brought Fervor Montreal fashion jewellery to Singapore, Aliya Dossa has taken on a new business venture. For decades, artisans from the Giriama and Maasai tribes in Kenya, Africa, have been putting their hearts and souls the precious craft of beading, ensuring its survival from one generation to the next. With the aim of taking this craft forward around the world via a collection of handmade sandals, Aliya co-founded Safari Swag.
Each pair of Safari Swag sandals is crafted from certified Kenyan treated leather in a working environment that is productive, nurturing and ethical. In addition to producing quality hand made footwear, they are also dedicated to making the lives of their employees and their families better through charitable donations. One such charity is the Hope for the Girl Foundation which through their sponsorship enables girls to enjoy a full education to help better their prospects for the future, turning them into potential doctors, teachers or even the leaders of tomorrow.
Vanilla Luxury: Having launched several successful fashion brands including Joseph Ribkoff and Fervor Montreal, what's your advice to women looking to get into the fashion business?
Aliya Dossa: Fashion can be a pretty brutal industry so what does it take to make it? A passion for fashion, belief in your brand, and most importantly, self-confidence. The world is yours… all you need to do is to go out and get it!