lifestyle
Culinary Challenge: Can Rugby Players Cook Laksa?
Published Date
: 13 Apr 2016 12:48

For the first time after a decade, the Singapore sevens is slated to kick off this weekend and there's no denying that the rugby players themselves are excited to be in town. By excited we mean they're excited to experience the local culture of course.
For starters, yesterday, four players from the Qantas Australian Men's Sevens Team, Cameron Clark, Sam Myers, Frank Winterstein, and Stephan van der Walt, headed down to Singapore's iconic food court, Lau Pa Sat to try their hand at whipping up some steaming bowls of laksa.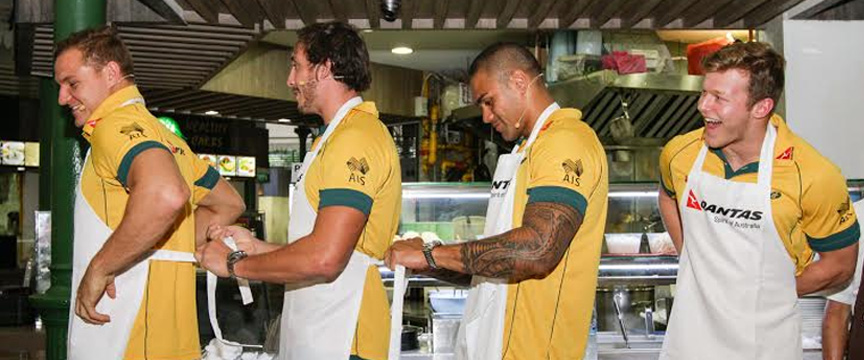 Image Credits: Song Tao, Imagica Production
After a quick tutorial from Chef Ah Huat of Song Kee Fishball Noodles, all eyes were on the sportsmen as they maneuvered their way around the stall picking up essential ingredients to create the most delicious laksa. From piling on the chilli to skipping cockles or adding raw beansprouts, let's just say each one of them definitely delivered their own flair. Now whoever says rugby players are all brute?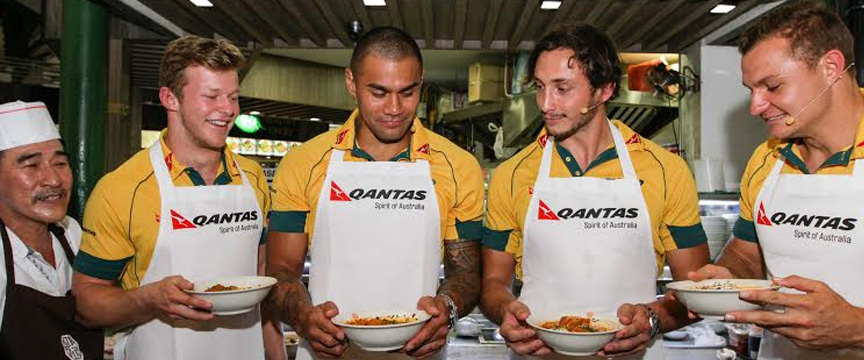 Image Credits: Song Tao, Imagica Production
The verdict? Frank Winterstein took home the prize but that's not to say the other bowls were not just as delectable - the judges were definitely impressed!
So after everyone was done with the Qantas-hosted laksa challenge, Vanilla Luxury sat down with Stephan van der Walt as he shared a little bit more about rugby and what he's looking forward to this weekend at the Singapore sevens.
Vanilla Luxury: Beyond rugby, what's your favourite sport to watch live?
Stephan van der Walt: I do love watching rugby but maybe soccer! To be honest I don't watch any other sport besides rugby. Oh, tennis! I do enjoy watching tennis. I love to go to the Australian Open and Roger Federer. It's very quick, and you don't know what's going to happen. I've tried to play it myself and it's a very hard sport to pick up.
Vanilla Luxury: What's your favourite holiday destination?
Stephan van der Walt: I like Cape Town and Europe, Eastern Europe. I've done a couple of Asian countries as well, really like that. I like Laos, Cambodia and Thailand. Really love those remote destinations. I like to have a look around at different cultures.
Vanilla Luxury: Thoughts on rugby being recognised as an official sport at the olympics
Stephan van der Walt: Really excited about that. It's definitely going to lift the games.
Vanilla Luxury: What's the most embarrassing moment on the field?
Stephan van der Walt: Nothing crazy yet other going on the wrong side before but you just change ways. Nonetheless, it's still embarrassing.
Vanilla Luxury: What has been the highlight of your rugby career?
Stephan van der Walt: Highlight has been Hong Kong, last weekend. It was massive and the crowd was unbelievable. We couldn't even hear each other on the field, that's how loud it was, so it was pretty difficult to place the team. It was awesome to be out there.
Vanilla Luxury: What is the one thing people do not know about rugby?
Stephan van der Walt: They tend to assume that you get hurt a lot but you actually don't. Your body just tends to brace itself for the impact. It's not a thug kind of sport, it's instead a very enjoyable sport.
Vanilla Luxury: What are you looking forward to at the Singapore sevens?
Stephan van der Walt: We're looking forward to playing at the National Stadium and just another opportunity to perform and hopefully take home the cup.
The HSBC World Rugby Seven Series Singapore will be held this weekend from 16 - 17 April. For more information and tickets, click here.