beauty
Best Places For Lip Embroidery In Singapore
Published Date
: 27 Sep 2023 10:00

Lip embroidery is the best option to achieve rosy healthy-looking lips without having to touch up now and then
Looking for the best lip embroidery in Singapore? Being able to go mask-free when outdoors after two years brings back the need to reapply lipstick every now and then. While plenty of brands promise long-lasting lipsticks like the Dior Lip Tattoo or Etude House Lip Tint, these do not guarantee that your pigment will stay on. You may still need to touch up every few hours or after every meal. 
Save time on makeup by getting lip blushing or lip embroidery done instead. Lip embroidery is a cosmetic procedure that enhances the lips' natural colour and definition, bringing a fuller and symmetrical appearance. Not to be confused with lip tattoo, lip embroidery is the depositing of organic micro-pigments into the epidermis of the lips with a fine needle and depending on the techniques and substances used, lip embroidery can last for years.
Whether it is your first time or you are looking to change your usual studio, here are some beauty salons in Singapore that you can visit for lip embroidery or lip blushing in Singapore.
Leading eyebrow embroidery and semi-permanent makeup salon JPro Beauty specialises in a variety of lip embroidery styles to suit all client preferences. From creating a gradient effect to adding a pink healthy glow to dark or pale lips to even correcting asymmetries, their experienced artists can help you achieve whatever results you are looking for.  

The lip embroidery service at JPro Beauty implants coloured micro pigments into the outermost surface of your lip. This is done with single-use, micro needles to get that plump, filled-out effect.
Your lip embroidery will start off with a consultation, to discuss the expectations and results of the procedure. Don't worry, the process is virtually painless as a numbing cream is applied prior to the embroidery. Should you still feel discomfort, just let your lip artists know and they will re-apply the cream to help further.
After the numbing cream, the artists will contour and shape your lips according to facial morphology followed by implanting micro pigments in a shade that works for you. With lip pigments sourced from world-renowned Perma Blend and outsourced from the USA, you can be rest assured that you are getting both quality care and premium products.
The entire process takes 2-2.5 hours and the pigments can last well up to 2 years. What's more, the lip embroidery at JPro Beauty comes with a one-touch-up service included.  
Book that appointment for luscious lips, right away!

JPro Beauty - Brow. Lash. Nail. 104 Jurong East Street 13, #01-102, Singapore 600104 and 5 Coleman St, #03-22, Excelsior Shopping Centre, S179805. Phone: (+65) 98003928
The Brow & Beauty Boutique has been one of Singapore's leading experts in the semi-permanent makeup industry. Passionate about defining earnest service and achieving high customer satisfaction, they are all about natural-looking results.
The Brow & Beauty Boutique is led by Director Tiffany, a proficiently trained and certified (International IFBC) technician who is well-known across various institutions.  Her technical skill set training and field experience had allowed her to recruit a team of passionate artists who are equally skilled to understand, assess, recommend and enhance your aesthetic profile. 
The Lip Embroidery service is a cosmetic procedure that will enhance the shape and colour of your lips. Accentuating the intensity of your lips, the process styles them to look fuller, younger and more symmetrical. This procedure is also sometimes called 'lip micro-pigmentation', 'lip-embroidery' or 'lip blush'.
Your appointment starts off with a pre-procedure consultation and design (that includes colour, style and other options) of your lip enhancement. Once a client approves the design, your artist will apply numbing cream for a more comfortable experience. 
The whole process takes approximately 2-3 hours and your lip embroidery can last anywhere between 2 to 5 years (best case scenario). 
We love that The Brow and Beauty Boutique uses top-of-the-line quality, organic plant-based pigments which will not deteriorate over time. Best of all, their skin pigments will not cause skin irritation for even sensitive skin types!  
Not forgetting the boutique's ambience, which is elegant and exudes luxury, so you can feel comfortable throughout your experience. Their staff is always friendly and eager to serve and artists are extra patient with all of their customers. 
Every individual customer comes with a unique facial aesthetical profile, we all know this.  But, The Brow and Beauty Boutique understand and acknowledged this important factor at an elevated level.  The team is patient and able to understand, assess and recommend the best colouring shades, shape and enhancement as per your facial profile. 
The Brow & Beauty Boutique, 371 Beach Road (CityGate) #01-46 S199597. Phone: (+65) 8829 7701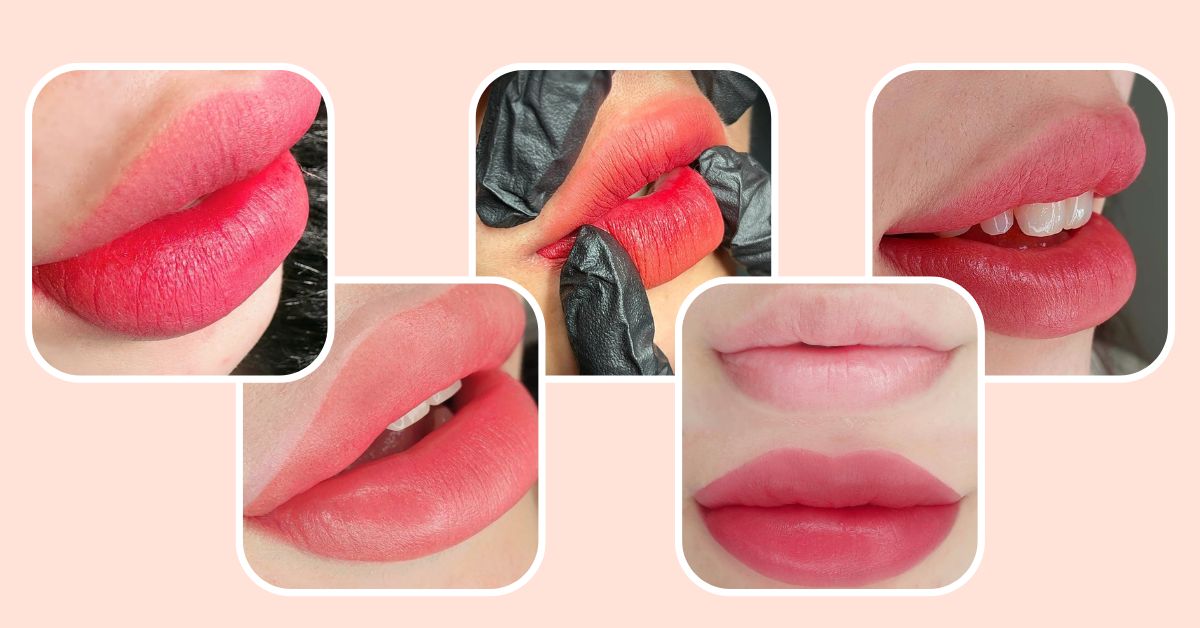 Are you on the hunt for a premier salon that excels in a diverse range of lip blush embroidery treatments, each tailored to suit your individual preferences? Your search concludes at Jo Artysan, Central Orchard Road's eminent lip blush haven, where they specialise in creating a bespoke look, just for you.
At Jo Artysan, they offer an extensive range of lip blush treatments. Whether your aim is to add a subtle touch of colour, correct darker lip shades, accentuate lip contours, enhance fullness, redefine lip shape, or even embrace trendy ombre styles, they're here to turn your lip goals into reality.
Renowned as a trailblazer in semi-permanent makeup throughout Singapore, Jo Artysan takes pride in introducing you to the latest global beauty techniques from around the world. Their team of highly skilled artists is passionate about accentuating your individual aesthetic beauty. Many clients praise the experience, comfort and virtually painless treatment, that comes with a mere three-hour time commitment. Imagine going to bed and waking up with irresistibly stunning lips!
Concerned about finding the perfect shades for your skin and lip tone? Jo Artysan is a favourite among both locals and expats, known for its commitment to personalisation. They meticulously match your lip embroidery to your specific skin tone and preferences. Trust the experts to guide you in selecting the most flattering shades, providing honest advice tailored to your features. Notably, they prioritise your health and safety, and if you're not a suitable candidate for lip blush treatment, they won't proceed.
Additionally, they offer high-quality, certified vegan lip pigments which are stable and long-lasting, ensuring your investment remains impeccable over time.
But that's not all! Jo Artysan extends its expertise beyond lip blush, offering a range of semi-permanent makeup services, including brow embroidery, eyeliner embroidery, hairline embroidery, and eyelash extensions and cater to both men and women!
Eager to discover more? Schedule a private consultation with their friendly experts today to craft a personalised treatment that accentuates your natural beauty to perfection.
Jo Artysan. 111 Somerset, Triple One Somerset #02-44 - #02-48 Singapore 238164. Reach out to them via WhatsApp at (+65) 8889 2880.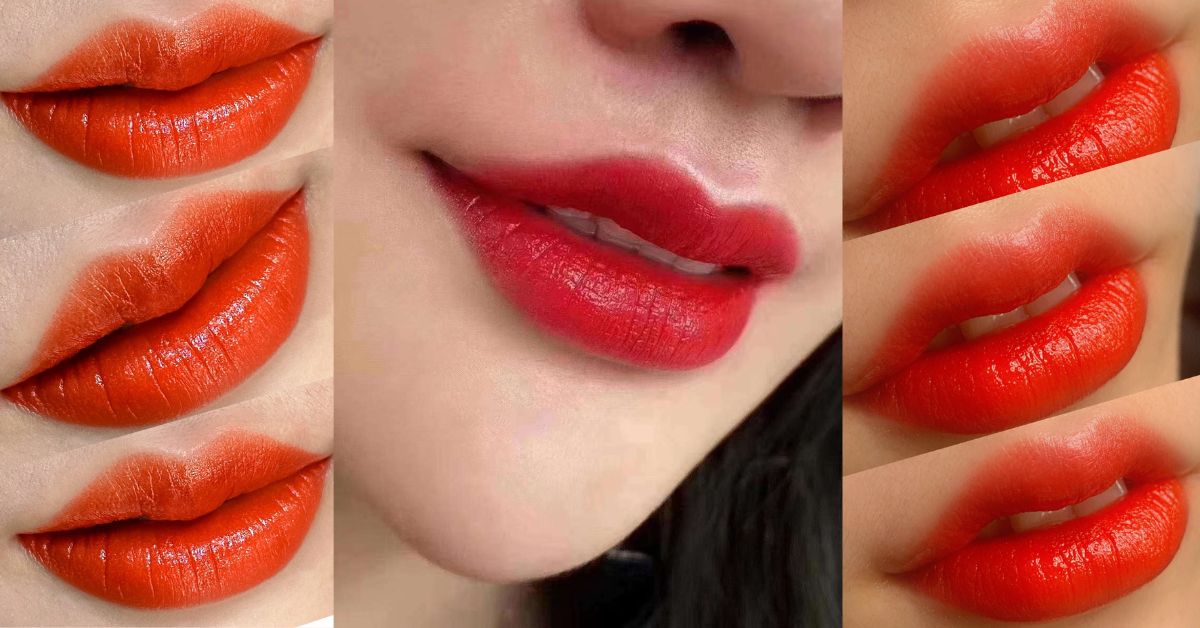 If you are looking for an effortless look without the hassle of reapplying lipstick every few hours, lip embroidery is for you. Lip embroidery or lip blushing is a semi-permanent makeup technique that deposits colour pigments onto the lips to enhance them further. 
Highbrow is a long-standing top salon for all things eyebrow embroidery and is also an expert at the art of lip embroidery or lip blushing. 
Similar to their best-selling eyebrow embroidery service, lip embroidery allows for a personalised salon treatment using organic, and skin-friendly pigments that last between 1-2 years giving you the shade that you love. 
Typically, customers try lip embroidery to further enhance their lips, brighten darker lips or add a subtle colour to their natural lip colour and forego makeup altogether. Regardless of your reason, Highbrow can walk you through the process and help deliver the right hint of pink, red or whatever colour you are after - with natural-looking results. 
Your consultation at Highbrow will begin with a shade analysis of the available colours in the salon, as well as those that will compliment your skin tone. After this, expect numbing cream to be applied to your lips, and an outline drawn to enhance the shape of your natural lips.
Then follows the embroidery stage which may be done in several layers to achieve your desired colour level.  
As with your eyebrow embroidery, Highbrow recommends returning for a touch-up after 3 months. The best part, you can flaunt your lips with a natural shade every morning, and add gloss or shimmer when it's time to go extra! 
Promo Alert: Now get 1 LitePlus+ LED Mask free with every lip embroidery service. Achieve glowing skin while flaunting your new lip blush! *Limited time only.
Highbrow, Orchard Gateway, The Star Vista and Capitol Piazza. Call (+65) 8798898
Always wanted to achieve the natural cherry lips that your favourite Korean celebrities are wearing? You may want to try out Brow Meister's Korean lip tinting.
As one of the best salons for eyebrow embroidery and semi-permanent makeup in Singapore, Brow Meister specialises in Korean Lip Tinting. Founder Min Kim has been trained and certified in Korea and is the person to turn to for Korean expertise in the field. 
Lip tinting at Brow Meister focuses on altering both colour and shape of your lips through their latest Microblading procedure. The process involves depositing pigments using the PMU machine and creating gorgeous, natural and younger-looking lips that everybody loves. 
Unlike lip embroidery, this lip tinting imbues lips with a flattering tint, similar to a stain or balm. Fully customisable, you can choose your lip shade and also increase its pigmentation level for pale or ageing lips. You can even get your colour corrected or any uneven pigmentation sorted at Brow Meister. 
At the end of the procedure, you as a client will feel more confident with baring your 'natural,' product-free lips.
The goal of a lip blushing procedure is to avoid having to apply lip gloss or colour on a daily basis. But don't worry, after getting a lip blush, you can still wear lipsticks and lip colours to switch up your look.
If you have always admired the natural Korean cherry lips everyone dreams of, Brow Meister's Korean lip tinting may just be the answer you have been looking for.
Make your appointment via WhatsApp at (+65) 8205 1954 or Instagram at @brow_meister.
Brow Meister. 362 Joo Chiat Road, Singapore 427607

Lip Embroidery on your mind? If you are searching for a top-league semi-permanent makeup artist that can take your lips to the next level of gorgeousness - you need an appointment with Master Artist Jenny Xu. 
As a Facial Sculpture Expert, Jenny has won awards and certifications the world over and is known to be meticulous and detailed with all of her face embroidery works. She has completed more than 10,000 eyebrow embroidery and lip embroidery services, and is a standalone expert in all things semi-permanent. 
Jenny believes that lip embroidery can enhance your natural shape and definition, by bringing colour and symmetry to the lips. You don't need to worry about overdone lips here. Jenny is trained to match your expectations and facial profile to the best solution for your lips. Her lip embroidery services are priced at $2782 and are as premium in their service and skill!
Her lip tinting method adjusts the composite colour of your lips. The beauty of this technique is that the resulting colour is more soft and natural, and looks neat. The effect is better than lipstick, because the lip surface has the natural lustre of the skin, without the heavy feeling of the surface layer. Somewhat like the transparent skin texture on your natural lips.
Want that trendy hint of a Korean lip tint? Ask Jenny for the most flattering shades for your skin type and she will be able to advise the way forward. Jenny welcomes everyone - including men to try her semi-permanent makeup services such as lip embroidery, eyeliner embroidery, hairline embroidery or the much-loved eyebrow embroidery. Just schedule a consultation with this friendly expert and watch as she enhances your natural features - to look your best! 
Jenny Xu. 16 Ipoh lane. Singapore 438620. (Parking available on site). Instagram @jennyxuhj. Facebook. Email: [email protected]. Whatsapp: (+65) 9716 1920. Google Reviews. ​
Known within the expat circle as the eyebrow master, Elena is Singapore's leading semi-permanent makeup artist. Her skills vary across other beauty services like eyeliner and lip embroidery too. 
To see an example of her stunning work, simply check out her social pages and you will find that her mastery and techniques go beyond the usual. 
50% of successful lip embroidery begins with the perfect lip outline drawing and Elena does just that. Detailed and meticulous, she takes the time to ensure even coverage and absorption. Her movements are soft and light making sure that there is never a sight of blood during the process.  
It is however a case of fastest fingers when booking an appointment with Elena. We recommend not waiting too long!
Elena Beauty. 501 Orchard Road ‌Wheelock Place, #04−11, ‌Fusion Medical & Aesthetics, Singapore, 238880. Phone: +(65) 8247 5488
BrowArt Studio is a leading semi-permanent makeup studio in Singapore that specialises in creating and shaping hyper-realistic features. They provide the best cosmetic enhancements while taking into consideration your original face shape and profile.
Attentive and detailed, their lip embroidery service ensures both safety and quality and the whole process lasts about two to three hours. They clean your lips to remove any dead skin cells and lay a piece of cotton pad, which is changed throughout the process, to prevent any pigments or numbing cream from entering your mouth. 
Collagen fluid and anti-inflammation cream are applied before the process to get rid of wrinkles and keep any swelling from occurring. 
They also advise which lip colour suits you the best so do book a consultation with them.
BrowArt Studio. 290 Orchard Road, Paragon Medical Lobby F, #17-11. Phone: +(65) 6702 0768
Award-winning with over 40 years of experience and 100,000 satisfied customers, Beauty Recipe is no doubt one of the more frequent beauty salons in Singapore. Their fully-trained team of experts follow precise and efficient methods to achieve your desired results. 
Their Nano lip embroidery uses pigments that contain no heavy metal content or chemicals. These Nano pigments have smaller particle sizes, allowing easier absorption into the surface of the lip causing minimal breakage of the skin. 
And with the Nano's organic nature, you do not need to worry about skin sensitivity issues. Beauty Recipe also makes its own organic tinted healing Vitamin E lip balm for your aftercare.
They have three stores currently in Singapore so head down to the nearest one or sign up now to get a special promotion price.
Beauty Recipe. Multiple locations, islandwide. 
Isabella Aesthetics prides itself on delivering the latest beauty techniques from around the world. Their team of highly skilled and trained technicians are dedicated to their craft helping you bring out your beauty confidence. 
Their Aquarelle Lip Embroidery is proven to form that luscious lip look while brightening and evening out your tone. This procedure is non-invasive and also utilises 100% plant-based pigmentation to prevent any harmful chemicals from damaging your lips. An organic anaesthetic is administered so that you feel minimal discomfort during the process. 
The secret embroidery technique of working down into the middle of the lips is what creates that smooth blended look here. 
Isabella Aesthetics. 6 Scotts Road Scotts Square, #B1-24, Singapore 228209. Phone: +(65) 9188 0153 
Esta Hsu is a professional bridal hair and make-up artist in Singapore. Her journey started during her university days helping her friends whenever they had events. With their support and acknowledgement of her talent, she finally opened her beauty salon. 
Pigments used are of the highest standard in the industry with an almost pure formula that is not seen as "foreign objects" by the body allowing a clean and stable absorption into the skin. Done by a certified artist from Korea, the process is meticulous and detailed. Even on oily skin, the colour is true to its tone. 
Their Sakura lip embroidery package includes one fine-tune session so it's super worth every dollar.
AESTA Makeup. 7500A Beach Rd, The Plaza, #09-321, Singapore 199591.
MasterA Beauty is great for those who are looking for a more private and personalised beauty service. This studio is located within a condominium and provides a range of beauty services. 
With international certifications from Europe, USA and Korea, MasterA Beauty ensures quality professional service at competitive and affordable prices. The pigments and tools used are also of high standards and safety. 
Book your slots in advance as they usually run out quickly!
MasterA Beauty. Blk 50 Hume Avenue Summerhill Condominium Singapore 596229. Phone: +(65) 9782 5079