Hot brow alert! If you've been looking forward to ditching those extra five minutes on your eyebrow makeup, this list was made for you. A great alternative to fussing over eyebrow kits, mascaras and setting powders; eyebrow embroidery is the quickest way to get those brows looking sharp! Set some time aside and book with these top notch talents in Singapore that promise you brows that look done - but not overtly so.
Here's presenting the top salons in Singapore for microblading and eyebrow embroidery.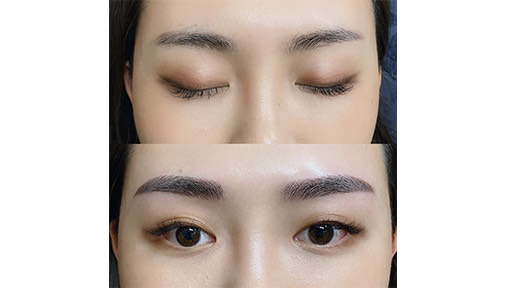 Leaders in the art of eyebrow embroidery, Highbrow are our go-to for anything related to our brows. Bringing the latest products, tools and trends straight from Korea – the epicentre of eyebrow embroidery, they've made quite a name for themselves as the leaders in this trade.
Their Brow Enliven 7D technique uses thin lines meaning there's room for a lot of eyebrow filling following the natural eyebrow growth direction. With the second layer of dye colour, each line can achieve a uniform colour - giving it a more natural and even look. Apart from technique, it is also equally important to use the right products and dyes, and this is why Highbrow work with organic dyes, no artificial chemicals and one-time tools only.
Need to fix a botched up eyebrow job? Known for their corrective brow works, Highbrow are definitely the ones to turn to for fixing what you don't like. Correcting a bad eyebrow embroidery without laser requires special skills and substantial brow hands-on experience, which Highbrow are known for. With a number of clients travelling from across the world (some as far as Peru!), to get their eyebrow fix, there's no wonder that Highbrow are the go-to's for this art. Multiple island-wide locations mean they are easier to get to as well.
Eyebrow embroidery that's safe and managed by the experts, this is indeed the way to super powerful brows!
Highbrow, The Star Vista, Capitol Piazza and Parkway Parade. Call (+65) 87988988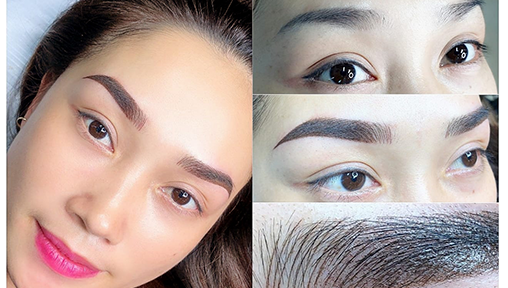 On a mission to help women wake up beautiful (and sleep in longer), Dreamlash are known for their gorgeous and natural-looking lash work in Singapore. What you don't know perhaps, is that they are experts at semi permanent makeup too.
Apart from designing a pair of brows that is suitable to your face contour, part of the skill in eyebrow embroidery also comes from choosing the right pigment. Dreamlash creates natural looking eyebrows using organic plant-based pigments that do not turn red, green or blue overtime. With a lasting power of 1.5 to 2 years (yes!), their eyebrow embroidery works can really deliver bang for your buck.
So whether it's the famous powder mist or microblading brows you are after, the team at Dreamlash will ensure you get what suits you best. Should you need some extra help with makeup, they also offer eyeliner embroidery, a procedure that makes your eyes look brighter and more alert-looking. Add that to the mix, and you can easily sleep in for an extra 15 minutes in the morning. Now, who wouldn't love that!
Dreamlash, Citylink Mall and Compass One. Whatsapp (+65) 88098846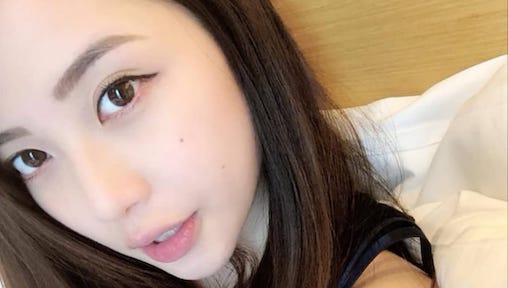 Are you ready to become the most beautiful version of YOU? Located in the heart of Orchard Road, award-winning boutique, Jo Artysan offers professional and bespoke services that are tailored to be as unique as you.
If you're looking for a powdery misty gradient finish for a makeup-ready look, go for the Ombre Powder Brows ($450). For a super natural finish, try the Microblading Brows ($490) as this service uses hair-like strokes to mimic natural brow hairs.
Get the best of both worlds with Jo Artysan's advanced technique and achieve the most natural and fuller defined brows with Microshading 9D Brows ($550). To achieve an ultra natural and defined brows, go for Artysan Signature Brows ($690) where brow artists create hyper realistic hair-like strokes that are carefully implanted, leaving a feathered outline enhancing your brows.
Specialising in crafting super natural brows that are set to last up to 2 years, Jo Artysan's brow artists see only 3 to 4 brow clients who usually comes through referrals. Prioritising quality over profit, hundred of clients leave Jo Artysan feeling happy, beautiful and satisfied. With highly skilled brow artists, who are trained internationally, at your service be assured that your microblading process is pain free and comfortable!
Jo Artysan, 111 Somerset, Triple One Somerset #02-44 - #02-48 Singapore 238164. Whatsapp (+65) 8889 2880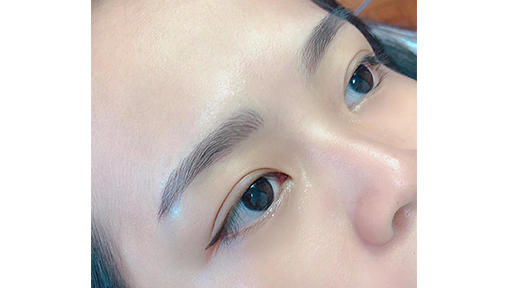 Ever since K-Beauty became popular in Singapore, Min Kim has been seeing people around her going for Korean eyebrow embroidery but with failed results. This spurred Min to open her own home-based salon, Brow Meister, specialising in Korean eyebrow embroidery. Having been trained and certified in Korea, Min wants to showcase what real Korean embroidery is to Singaporeans.
Brow Meister provides 6D embroidery and misty brows services and on top of that, also has services such as lash lift, eyeliner, hairline semi perm makeup, in which if you combine any two semi perm makeup, you will get to enjoy $100 off from the total price.
Swearing by looking natural and experiencing no downtime, you do not have to worry about having unnatural looking eyebrows as Min is here to help you achieve and sculpt the best natural-looking and envy-worthy eyebrows. If you are looking to pamper yourself during your birthday month, stop by Brow Meister's salon for an eyebrow embroidery session as you get to enjoy $88 off.
If you're a first time customer, enjoy 10% off if you follow Brow Meister on Instagram. You can make your appointment via WhatsApp at +65 9021 2357 or Instagram: @brow_meister.
Brow Meister, Bleu @ East Coast, 562 Upper East Coast Road, Singapore 466581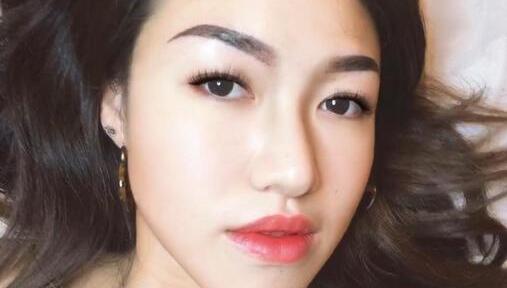 A renowned one-stop beauty concierge, Isabella Aesthetics offers beauty services that help you achieve what you desire. 
The dexterous artists at Isabella Aesthetics will start off by discussing your eyebrow preferences and style before immaculately blending the colour while keeping your facial morphology into consideration. With highly trained technicians at your service, get ready for a flattering look once you walk out the door! 
Once the arched shape is finalized, a topical cream is applied to your eyebrow area to prevent discomfort. The microblading procedure is then adhered to artistically draw the eyebrows that you've always desired. The fine strokes add realism and the vacant spots are carefully filled by adding hued shade to the skin, resulting in an impeccable, characteristic look. 
If you are going for a natural subtle look, the Korean Suji Microdotting Eyebrow Embroidery is perfect for you. For a more defined look, you should try the Korean Spin Roller Eyebrow Embroidery. 
Experience the power of beauty with Korean 9D Micro Hairline Eyebrow Embroidery, recognized for the creation of a fuller, balanced look for your brows that subtly enhance your natural features. Also, known as eyebrow weaving, this treatment is the most natural and hyper real in the cosmetic market space at present.
Enjoy a 50% discount for an eyebrow embroidery session at the Scotts Square outlet today.
Isabella Aesthetics, Jurong Point and Scotts Square. Whatsapp (+65) 8298 9291. 

Lash Regrowth first started in 2016 and as Singapore's first and only salon in Singapore specialising in regrowth services for natural eyelashes, eyebrows and hair growth, Lash Regrowth takes pride in providing natural lash growth services which are comfortable and pain-free with no downtime. 
Choose Natural Misty Brows which is suitable for those who prefer natural powdered brows similar to drawing eyebrows with an eyebrow pencil; or Microblading Brows which is suitable for those who have sparse brow hair. The Microblading technique creates define strokes which resemble real hair. 
Lash Regrowth also offers Brow Regrowth Treatment, a treatment that stimulates hair follicles to promote the natural growth of your own eyebrow hairs. Using the latest technology and plant stem cells products from Germany, the stainless microchip machine and stem cell serum are used to remove dead cells, activate follicles so the serum can penetrate into the follicles effectively. 
Try the Brow Regrowth Treatment before your eyebrow embroidery session as they complement each other, making your brows look more defined. Be assured that the treatments are reliable and effective, and are deemed safe even for expecting and breastfeeding mothers. With no pain, downtime and side effects, achieve thicker and denser eyebrows 6 weeks after one session. 
Enjoy one eyebrow embroidery session at S$288 and a brow regrowth treatment at a trial price of S$68 (up to S$380) when you book an appointment at (+65) 8261 3088 today.
Lash Regrowth, Clarke Quay Central, 6 Eu Tong Sen Street, #04-66, Singapore 059817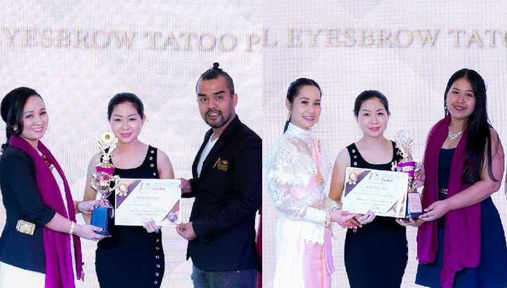 Located in the Bugis Street precinct is Thuy Nail and Beauty Salon. Founded in August 2018, Thuy Nail and Beauty Salon is led by beauty director, Katy, a qualified multiple award-winning eyebrow embroiderist. Her top awards include 2018 Champion of ASEAN Health & Beauty Eyebrow Embroidery (Vietnam) and 2017 2nd Runner-up of the 14th K-Beauty Jeju World Festival.
Katy specialises in Microblading, with professional certificates and awards in Traditional, 3D, 6D, 6HD Feather touch, and 7D-9HD eyebrow embroidery. She is a renowned consultant who has a masters degree in correction and camouflaging permanent makeup, hence helming her forte in customising the design to suit different individuals' need is impeccable. Thuy has also attained an advanced micro and derma pigmentation award and will teach customers how to care for their new eyebrows after the procedure.
At Thuy Nail and Beauty Salon, it is very straightforward; what you ask for is what you get! Simply convey your needs to Katy, and she will propose a design to suit your facial features before initiating the eyebrow embroidery.
With Chinese New Year just around the corner, slots are filling up fast so be sure to book your appointment today. To enjoy their ongoing promotion, simply follow them on Facebook. 
Quote "Vanilla Luxury" when booking via WhatsApp at (+65) 8458 8807 for a free consultation and 50% off all packages inclusive of 1 free top-up. Special Price for Vanilla Luxury readers (after discount) as followed: 3D-5D S$300; 6D-7D S$350; 7D-9HD S$500. 
Thuy Nail and Beauty Salon, 3 New Bugis Street, #03-88, Singapore 188867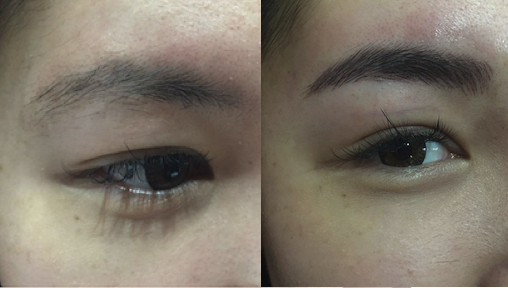 Did you know that eyebrow embroidery can hugely transform your face? The experienced staff at leading Eyebrow Embroidery Salon, Browart Studio believe that brows are one of the most prominent features of our faces - and hence need that much extra care, expertise and detailed handling.
Browart Studio have provided Eyebrow Embroidery for Singapore for years and have a great reputation to match - they've worked with actresses and celebrities on eyebrows, permanent eyeliner and lip embroidery too! Exceptional designing with natural looking brows, the staff at Browart Studio keep abreast with the latest beauty trends and techniques. 
Aside from designing brows that match your face shape and enhance your features, the eyebrow embroidery at Browart Studio will ensure these last a long time using a high number of fine strokes providing an intricate and natural looking result. The process starts with the technician analysing the structure and condition of your current brows along with the expectations of the design. The technician will then suggest options of shapes to the client and draw out the shape to bring that visualisation to life. 
For those sensitive to pain, you'll get a numbing cream applied on your brows and after 15 minutes to let it kick in, the beautician will choose the best suitable colour for your hair and skin type and start the procedure. The actual process of embroidery takes place with a small scalpel and tiny needles, but unlike eyebrow tattoos only penetrate the upper most layer of your skin - so don't worry about long lasting injuries or scabs. The whole process takes 1 hour and with the help of the local anaesthetic there is no pain involved. 
The best part? There is literally no downtime at all! Natural looking eyebrows that give immediate results without the need to hide from everyone for the initial few days. That's Browart Studio for you!
Browart Studio, 290 Orchard Road, Paragon Medical Lobby F, #17-11. Singapore 238859. Call (+65) 6702 0768 / (+65) 9824 4400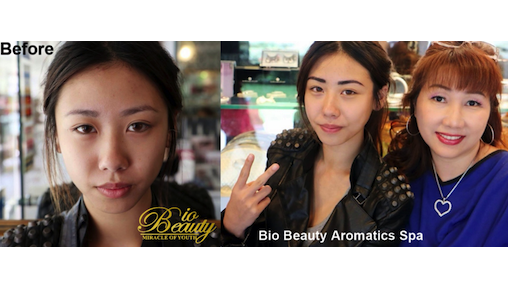 Founded by Celebrity Eyebrow Professor Irene Teo, Bio Beauty Aromatic Spa is known for its Feng Shui Eyebrows and Men Power-Up Eyebrows. As a pioneer in the beauty industry, Irene specialises in Eyebrow Embroidery, Eyebrow Microblading, Eyeliner and Lips Tattoo Embroidery for the last 20 years in Toa Payoh.
Irene's key focus is her Feng Shui Eyebrow Embroidery where she gives a free consultation on how to improve your love, luck and career by making minor changes to the features on your face; such as the shape of your eyebrows.
Known for her Feng Shui Eyebrow Embroidery and Microblading, Irene has done the eyebrows of local celebrities including Singapore Social Netflix star Mae Tan, Zhang Yao Dong, Bong Qiu Qiu and more.
Irene's apprentice Jocelyn Wang has over 15 years of Eyebrow Embroidery and Jocelyn specialises in Eyebrow Embroidery for men by using strokes which are much more natural as compared to a woman's eyebrow.
Prices start at $188 for Eyebrow Embroidery, $588 for Men Power-Up Eyebrows and $888 for Feng Shui Eyebrow Embroidery by Celebrity Eyebrow Professor Irene Teo at Bio Beauty Aromatic Spa.
Bio Beauty Aromatic Spa is located at 73 Lorong 4 Toa Payoh #01-597 Singapore 310073. Call (+65) 6258 9418 or Whatsapp (+65) 9841 1448 / (+65) 9185 5270.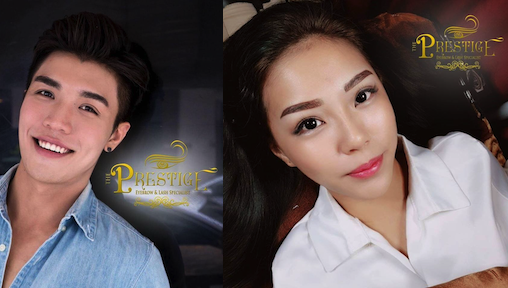 Celebrating its 8th anniversary, The Prestige Eyebrow & Lash Specialist has won many beauty awards including the "Top Eyebrow & Lash Bar in Asia" by The Aesthetics and Beauty Magazine to "Top Eyebrow Salon in Singapore" by Fave.
Helmed by Celebrity Eyebrow Professor Irene Teo, The Prestige Eyebrow & Lash Specialist has been featured in many magazines, newspapers and on Mediacorp Channels and Channel U. It is also frequented by many Singaporean Celebrities, Socialites such as Kim Lim and Frances Low, YouTubers and Influencers such as Sylvia Chan, Aiken Chia from Night Owl Cinematics.
The Prestige Eyebrow & Lash Specialist is the first eyebrow and lash bar in Singapore to focus on men's eyebrows and eyelashes. From services such as eyebrow embroidery for men, eyelash extensions for men, eyelash perm for men as well as face and eyebrow threading. It is common to see famous personalities such as actor Zhang Yao Dong, Lawrence Wong, socialite Benjamin Khoh and bodybuilding winner Jason Chee getting their eyebrows done.
Prices for Microblading and Eyebrow Embroidery are listed on The Prestige Eyebrow & Lash Specialist website and Facebook page. They have packages for Eyebrow Embroidery at $688 for 2 sessions, $888 for 3 sessions or $1288 for 5 sessions. Their popular Russian Eyelash Extension has a first time trial price of $88 and their popular Men Power-Up Eyebrow Embriodery is priced at $588.
If you would like your eyebrows to be personally done by Celebrity Eyebrow Professor Irene Teo and Eyebrow Director Jocelyn Wang, their charges are slightly higher. You will need to state your request when making your microblading or eyebrow embroidery appointment.
The Prestige Eyebrow & Lash Specialist is located at Suntec City Tower 2, #02-488, Singapore 038938. Call (+65) 6822 3395 or WhatsApp (+65) 8686 1681.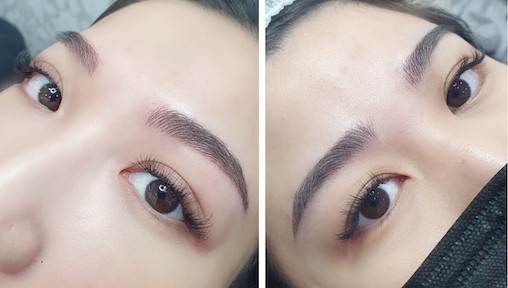 Need a professional studio that can design the most suitable eyebrow embroidery for your face shape? Lebellbrow Studio provides professional consultation and advice on enhancing the most important feature on your face - your eyebrows. As winners of the Best Eyebrow Tattoo Artist of Asia 2018 and K-beauty Olympic 2018  and 2019 for 6D Microblading and Microshading, Lebellbrow comes with the right expertise to manage brows across shape or skin type. You can also look forward to honest and affordable prices here, just read through the positive reviews for their studio and you'll know this is the right place for eyebrow embroidery in Singapore. 
If you've heard horror stories of pigment turning purple or all shades of red, know that Lebellbrow Studio uses only high-quality nano pigment for embroidery to ensure that it will not change to an unpleasant shade over time. Thanks to their specialised technique you are sure to have a pleasant and comfortable experience without pain or consequent swelling after the eyebrow embroidery. There's also minimal downtime involved. 
Aside from their popular eyebrow embroidery, Lebellbrow studio provides eyeliner, lips and hairline embroidery services as well as lash extension, BB Watershine and LED treatment. They are also known to run training courses for those looking to learn.
Lebellbrow Studio. 9 King Albert Park, #02-03, KAP Mall, Singapore 598332. WhatsApp (+65) 96916050, (+65) 90087833 or email [email protected]