Have you thought of celebrating an event with a posh picnic? Whether it's a birthday, anniversary, proposal or simply a tea party, these professional picnic planners have got your back.
While some of them are skilled in the beautiful styling and decor of the picnic itself, others provide the picnic basket full of goodies of your choice, and some offer both. The location is also up to you whether you want the beach, garden or rooftop. Generally, everything is prepared in advance. All you have to do is show up at the venue and have a good time!
1. For Special Occasions - Plan B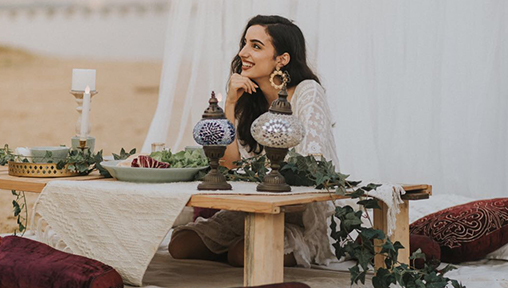 Plan B is a team of events and decor stylists, specialising in bringing elegant, chic and memorable events, tailored to your occasion. Pick your theme, backdrop and menu. Then just show up and have fun at your personalised picnic! Classic themes include Girls Day Out and Date Night, while premium themes offered are The Secret Garden, The Mediterranean Coast and The Bohemian Sanctuary.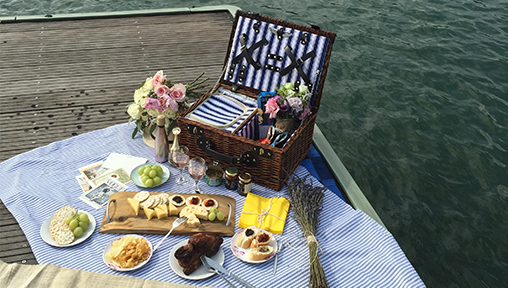 Inspired by the 1996 film 'Bed of Roses' by Mary Stuart Masterson and Christian Slater, Heaven's Bloom started out with the belief that everyone deserves a little surprise. Seeking to bring a smile amidst not so fun time with flowers, the team expanded to Heaven's Bloom & Baskets. Through their all-inclusive picnic basket offering, they aim to provide an opportunity for deeper connections with loved ones. Take the fuss out of picnic preparation and focus on having good conversations and indulge in meaningful sharing.
3. For Family Picnics - Casa Verde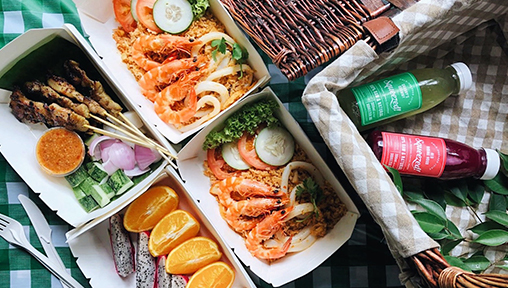 If you're looking for a more affordable alternative, rent a picnic basket from Casa Verde at the Singapore Botanic Gardens. They offer two sets; the local set includes seafood nasi goreng and chicken satay while the normal set includes pizzas, deep fried winglets and a salad. The sets also come with cold-pressed juices and fresh fruits, so get a basket and enjoy a relaxing picnic in Singapore's most beautiful gardens.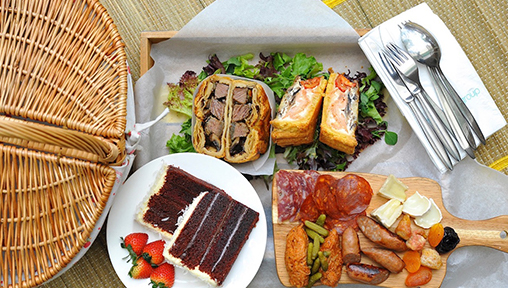 Picnic on the lawn in the heart of town? Head down to Prive at CHIJMES where they offer two different picnic baskets great for serving two. The Light & Luscious Basket includes a Superfood Bowl, Penne with Pesto Chicken, Croque Monsieur, and Honey Yoghurt. The Whole & Hearty Basket includes Meatballs with Tomato Stew, Cajun Chicken Burger, Field Mushroom Madness Pizza, and a Peanut Butter & Cream Cheese Pie. The picnic comes with a mat, bottled water, cutlery, and condiments.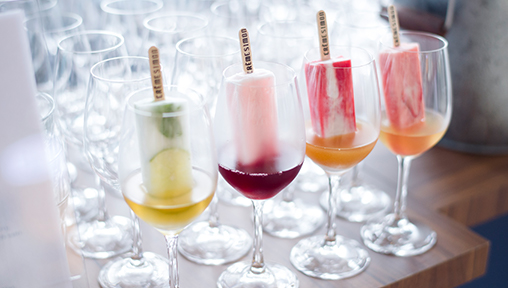 The Shake Affinity mainly specializes in mobile beverage catering solutions with novelty offerings such as speciality popsicles, tea or Moscato pairings, le petit cocktails as well as fruity and floral medley infusions. However, they also offer a picnic basket package.
Avoid the hassle of getting all your favourite beverage, food, dessert and snacks together with their one-stop mobile solution to bring everything together. Simply let them know your desired theme for decorations, preferred cuisine and beverage. You can even opt to hire a mobile cocktail bar as well as a professional or Instax photographer to capture intimate moments.