F&B
12 Best Middle Eastern & Mediterranean Restaurants in Singapore
Published Date
: 27 Oct 2023 10:00

We embark on a flavourful journey to uncover the best Middle Eastern and Mediterranean restaurants in Singapore
Singapore's culinary scene is a vibrant tapestry of diverse flavours and cuisines, and among the most beloved and sought-after options is Middle Eastern and Mediterranean cuisine. From the tantalising kebabs to the delectable mezzes and sweets, this region's fare has captured the hearts and palates of locals and visitors alike.  
Here's our 12 best Middle Eastern and Mediterranean restaurants in Singapore: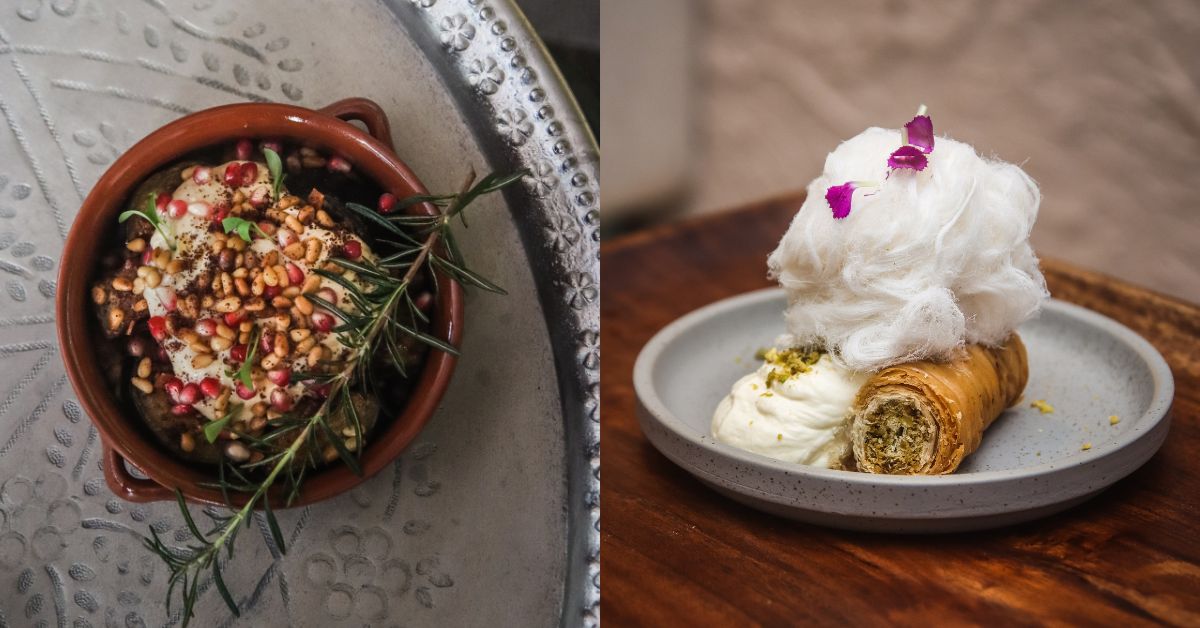 Ummi Beirut teams up with acclaimed Chef Greg Malouf to introduce a contemporary take on Lebanese cuisine to Singapore. "Ummi" which means "my mother" in Arabic, expresses a mother's love by sourcing only for the best ingredients and cooking each dish from scratch. But there is nothing motherly in terms of the decor, which exudes the glamour of Beirut.
Freshness is central to Lebanese cuisine and the sumac, Aleppo pepper, pomegranate molasses and rose water are from the souks of Beirut. Fresh herbs are from local farms while meats are flown in from Australia. 
We broke bread together starting with Malouf's Mezza and could not get enough of their Silky Hummus with Lentil Dressing ($24) although we would most certainly opt for the Silky Hummus with Spiced Lamb and Pine-Nuts ($32) the next time around as that is soulfood. The Eggplant Fatteh ($32) is a must-order and it is layered with fried eggplant, chickpeas, yogurt, crisp Arabic bread and nuts. Salmon Bastourma ($32) is another unique mezze made with Malouf's spiced cured salmon with green chilli sauce.
For mains, Ummi Saayadiya ($48) a farmed sea bass with caramelised onion rice, crisp onions, nuts, and coriander is perfect to share as well as their Butcher's Mixed Grill ($68) which includes the lamb cutlets, lamb kofta, beef kebabs and skewered chicken tawook, charcoal vegetables, served with toum sauce.
Do not skip the house-made Baklava ($20) that has almond-hazelnut stuffing, orange blossom, lemon curd cream leaving you wanting more. Ask for Lebanese wine recommendations as Ummi Beirut not only carries the popular Chateau Musar but many other Lebanese wine labels.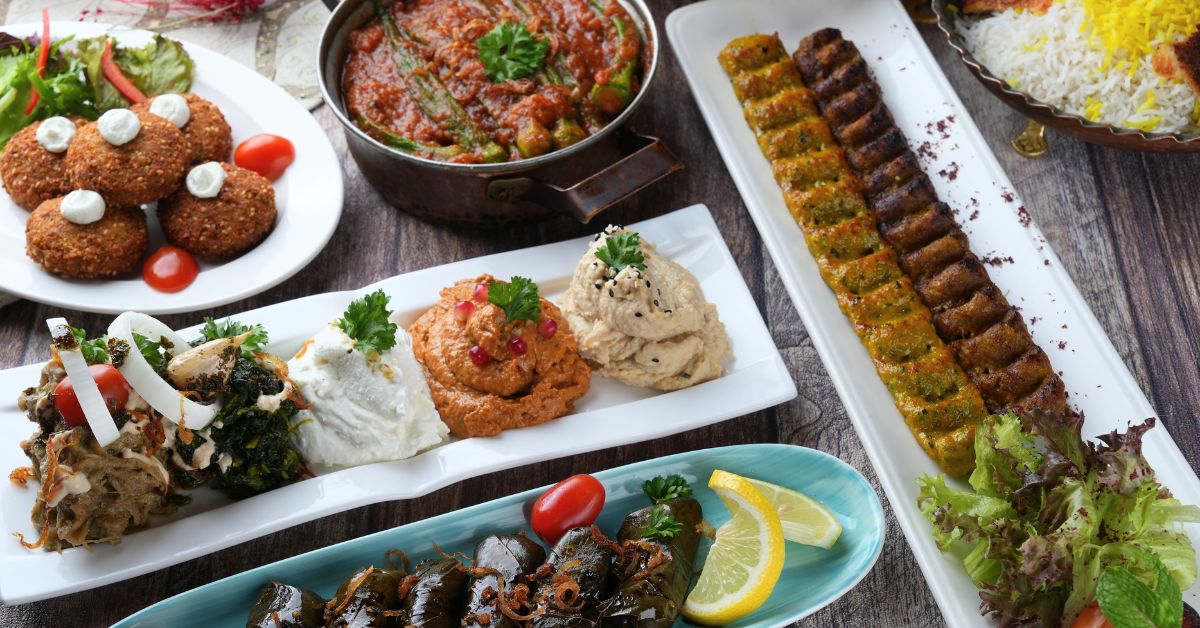 As the pioneer Middle-Eastern restaurant in Singapore, Shabestan is the go-to place for Middle-Eastern food in Singapore, with a menu that is simply a treasure trove for Persian delicacies. As one of the best restaurants in Robertson Quay, you'll be greeted by the aromatic fragrance of authentic Persian herbs and spices the minute you step foot into the restaurant.
Widely known as an award-winning Middle-Eastern restaurant in Singapore, the team at Shabestan is dedicated to offering customers the most authentic experience with their traditional Persian cooking techniques. Your visit there will not be complete without ordering their signature handmade kebabs which are grilled over fire for the ultimate smokey and scrumptious taste.
Shabestan also offers various vegetarian and gluten-free options, so there is sure to be something for everyone, even the pickiest eaters.
VL's Tip: Shabestan celebrates a decade of culinary excellence, a journey that commenced a decade ago and has been brimming with significant milestones, cherished memories, and unforgettable culinary experiences.
Join the celebration on Friday, November 10th, 2023, as Singapore comes together to celebrate this extraordinary milestone from 6.30 to 9.30 pm. At just $110 per person, the lavish buffet includes an extensive spread of our Shabestan's dishes. From succulent kebabs to delicate desserts, live performances and a lucky draw. Come Dress to Impress in Black and Gold! Keeping with the theme of grandeur and celebration, all our guests are requested to dress in black and gold.
Remember to book your spot for an unforgettable night! Shabesta is located at 80 Mohamed Sultan Road #01-13, The Pier @ Robertson Singapore 23901.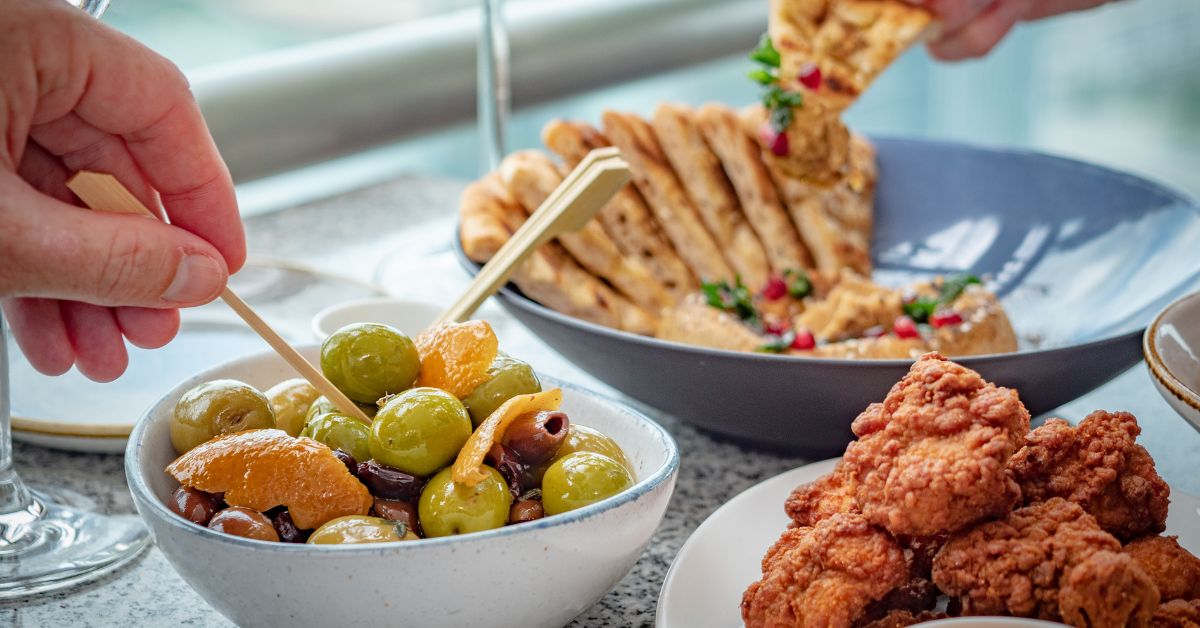 Everyone knows of Artemis but the Artemis Sky Bar is the chic Mediterranean rooftop bar perfect for a night out of mezze and cocktails. Known for their yummy Espresso Martinis, which come in two variations, Artemis Sky Bar has a menu that is best to share which includes must-order platters such as their Trio of Dips which comes with Cumin Hummus, Sun Dried Tomato Babaganoush, Tamarasalata, served with Spiced Flat Brea. Other sharing options include their Crispy Fried Artichokes – a true delicacy, delicate and bursting with flavour, Salted Cashew Nuts with Smoked Paprika, Marinated Olives and the list goes on. Additionally, Artemis Sky Bar keeps its Burrata starter dynamic, changing it with the seasons. Presently, it's adorned with "Baharat" Spiced Roasted Eggplant, Red Pepper Purée, and Marcona Almonds, offering a fresh and ever-evolving culinary experience that captures the essence of Mediterranean dining at its finest.
For the mains, the Grilled Octopus, prepared "Alla Siciliana" Style, offers a taste of Sicily's approach to seafood, expertly harmonising the succulent octopus with the creaminess of Stracciatella cheese. Hints of green olives, caper leaves and a sprinkle of basil further elevate the dish, creating a symphony of flavours. For the vegetarians or for those who believe meatless can be equally marvellous, the Greek Mushroom Pie is a revelation. Portobello and Shiitake Mushrooms are cocooned in Filo Pastry and presented on a bed of Baby Kale with Feta and Hazelnuts – adding to the menu of gourmet.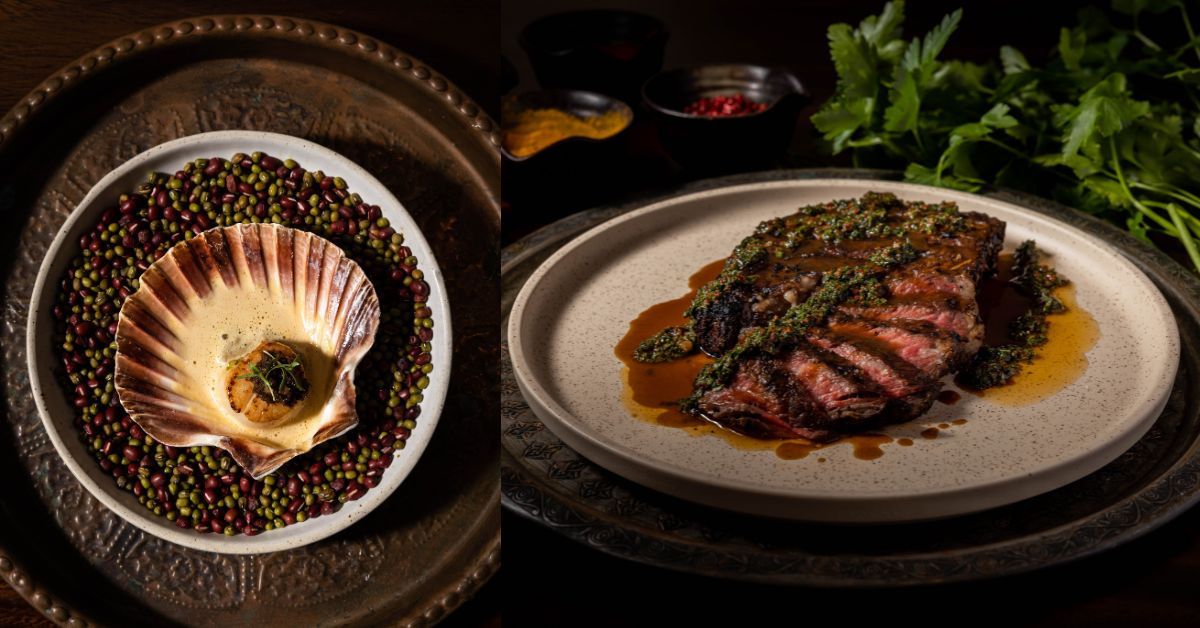 Fat Prince stands out as the premier venue for an enthralling dining experience in Singapore's thriving culinary scene. Head Chef Simon Bell's vibrant and inventive take on Middle Eastern food captivates diners at this Middle Eastern-inspired restaurant. Fat Prince gives diners a world of flavours, freshness, and flames with a cuisine that highlights a new progressive food concept. Chef Simon's ingenious personality combines the warmth and hospitality of Middle Eastern cuisine with his Australian culinary discovery, resulting in an unforgettable gastronomic trip.
The menu offers a feast of flavours and freshness, with carefully curated dishes that marry the richness of Arabian culinary heritage with unexpected ingredients. The Sanchoku Ribeye, with its 24-hour dry ageing process and 12 spice-rub marinade, showcases the boldness and robustness that meat lovers crave. Finished with a delightful combination of beef jus, herb sauce, lemon, pul biber, and pomegranate molasses, it offers a tantalizing burst of flavours.
To complement the outstanding cuisine, Fat Prince's bar team takes guests on a captivating journey with their cleverly concocted "koktails." Inspired by the Middle East and adapted in a fresh way, these cocktails are a true testament to the restaurant's innovative spirit. With full-proof, half-proof, and zero-proof options, the "koktails" are flavour-forward, refreshing, and perfectly balanced, showcasing the expertise and creativity of the talented bar team.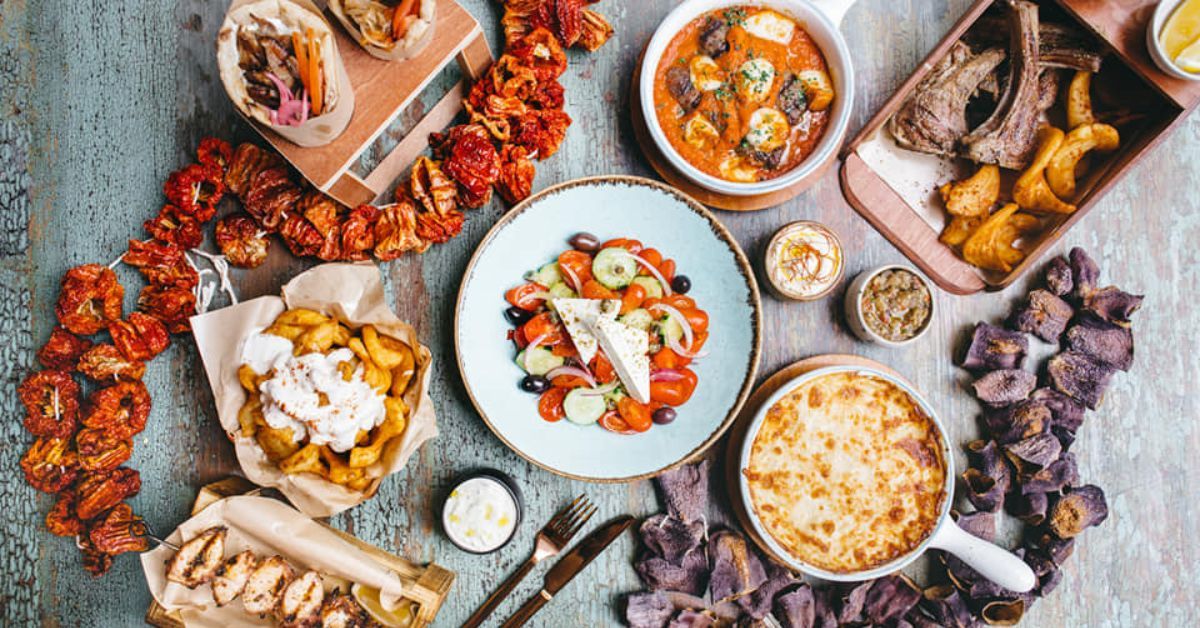 If you're in the mood for some delectable Greek cuisine, look no further, Fotia will satisfy your cravings for all things Greek. Head Chef Sofia Beleri hones over a decade of culinary experience in Athens into an array of flavourful dishes showcasing the best of Mediterranean cuisine. 
Start off your meal with their signature refreshing artichoke salad featuring the freshest ingredients such as arugula & baby spinach, crispy fried artichoke hearts with a sweet fig vinaigrette and pomegranate, paired best with a bottle of wine of course. 
What would Greek food be without pita and hummus? The Mediterranean dip platter is a must-get along with their mixed combo platter featuring the most tender beef and lamb skewers as well as chicken kebabs.
And who can forget dessert? You cannot leave without finishing off your hearty meal with the crowd favourite, crispy and warm Kunefe that is best complemented with a scoop of sweet vanilla ice cream.
Located at 28 Duxton Hill, Singapore 089610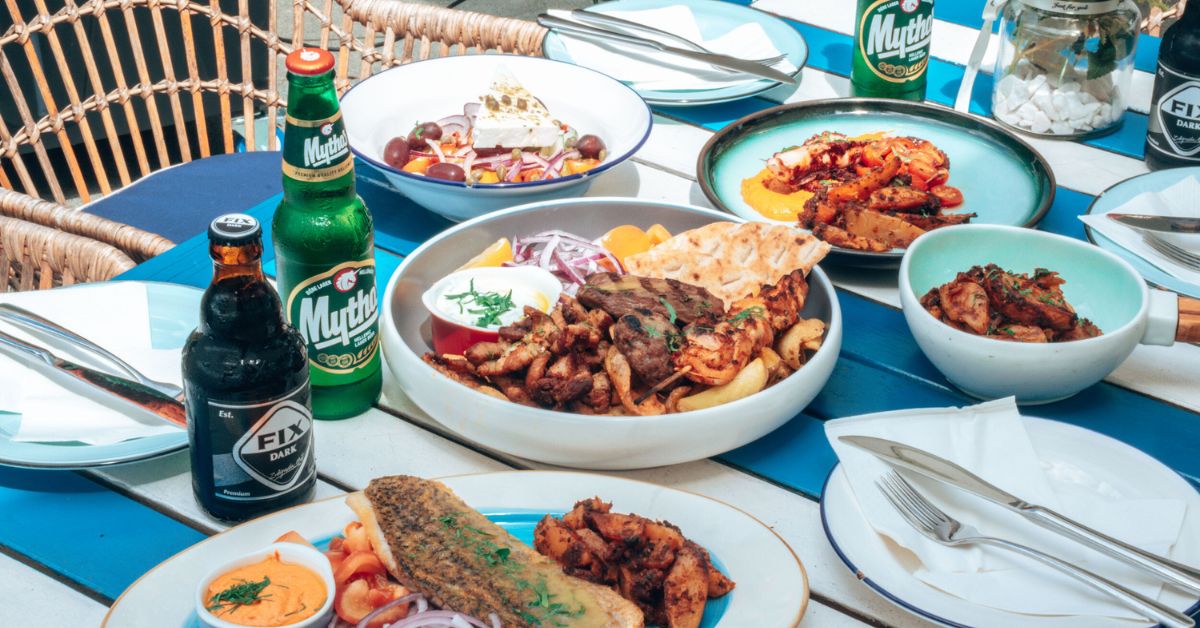 Indulge in delicious Mediterranean fare and grilled seafood at Clarke Quay's best Greek restaurant & Café by the Singapore River, Zorba the Greek Taverna. Nestled along the picturesque Singapore River in Clarke Quay, the Greek restaurant transports you to the idyllic landscapes of Santorini with every bite. Greek classics meet Zorba magic, delivering generous, comforting and insanely delicious dishes that embody the spirit of Mediterranean hospitality. Weekends beckon with your usual brunch options like Shakshuka and Greek Pancakes or opt for the hearty Hestia's Feast. Offering a tempting array of flavours, the Hestia's Feast comes with generous servings of Honey & Sundried Tomato Chicken Sausage, Bacon, Grilled Portobello Mushroom, Feta Cheese, Roasted Tomatoes, Caramelised Onion, Avocado and Eggs of your choice.
For a perfect date night or gathering with friends, Zorba is the go-to destination. If you are seeking a refreshing salad option, the best-selling Greek Salad may be the perfect option as it comes with Capers, Tomato, Cucumbers, Bell peppers, Feta & Olives. Further indulge by getting yourself the Grilled Whole Squid, slow-grilled to perfection over charcoal and served with a zesty lemon touch. End off the night on a sweet note with a classic – the Baklava, filled with an abundance of chopped nuts and topped with a drizzle of honey syrup and vanilla ice cream.
Located at 3A River Valley Rd, #01-01C to 01D Block A Clarke Quay, Singapore 179020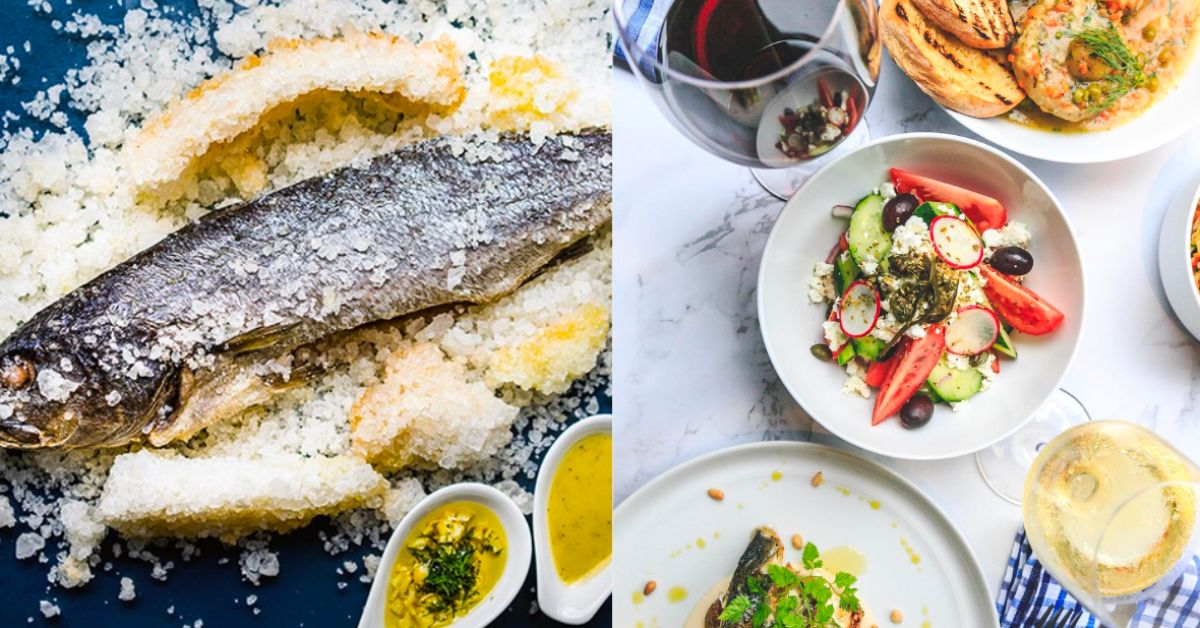 At Alati, you can look forward to witnessing their dedication to deliver the freshest flavours from the Aegean Sea straight to your plate. With a focus on creating modern Greek cuisine, the menu has been carefully curated by a renowned celebrity chef, combining tradition with innovation to offer a fresh and exciting perspective on Greek gastronomy. Whether you're a vegetarian or a seafood enthusiast, our menu has something for everyone. 
From the delightful vegetarian options like the Halloumi salad with crispy halloumi, to crispy eggplant patties topped with Tahini sauce in the Melitzana keftes, vegetarians will be spoilt for choice. As for the seafood lovers, it will be almost a crime to miss out on Alati's salt baked fish. Sourced fresh from the skilled hands of Aegean Sea fishermen, Alati's selection of fresh fish are flown in from the Aegean Sea two to three times per week! A must-try, the Salted Baked Fish is encased in a salt crust, preserving the succulence of the flesh while crisping up the skin for effortless removal once the crust is cracked. With the staff helping to crack and debone the fish, it only adds on to the fuss-free and enjoyable eating experience. 
To conclude your dining experience, the Greek Fried Donuts demand your attention. Crafted with house-made yeast, these deep-fried spheres boast a wonderfully crispy exterior and a slightly doughy center, designed for dunking into a delectable mix of dark chocolate and authentic Greek honey. The same exquisite thyme-infused honey is artfully paired with these fried donuts, allowing the delicate floral undertones of the honey to shine through. The dark chocolate sauce adds a rich, slightly bitter dimension, while the velvety vanilla ice cream provides a lusciously creamy contrast.
Located at 73 Amoy St, Singapore 069892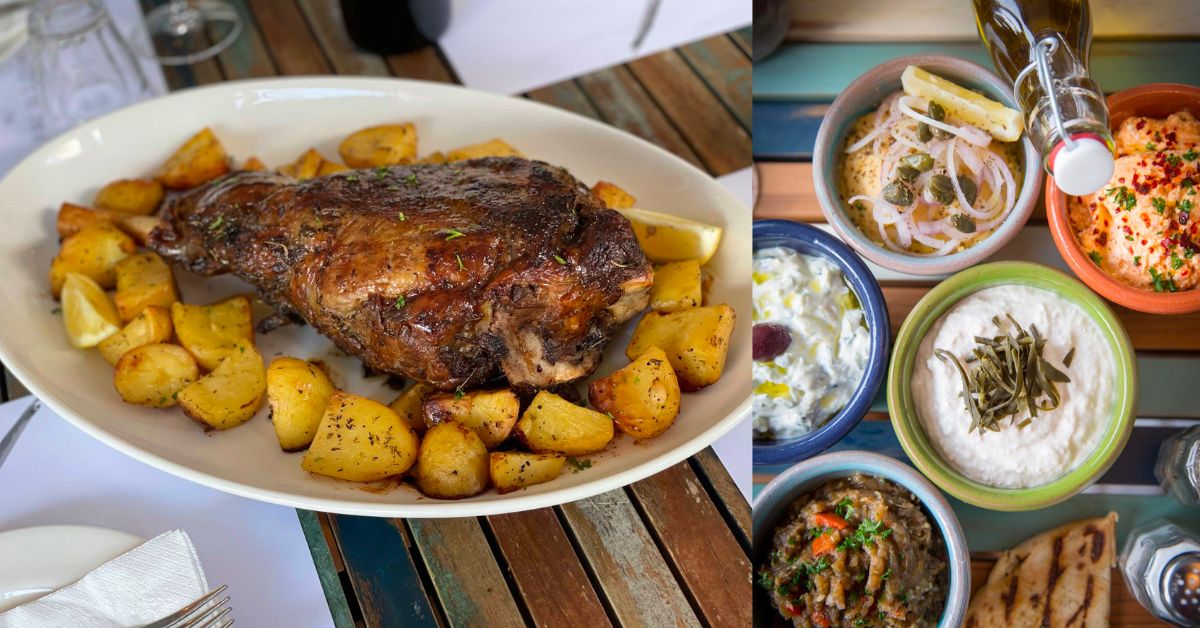 BAKALAKI Greek Taverna offers an enticing gateway to Mediterranean delights. With its vibrant ambiance and menu featuring upscale Greek cuisine, this bright and breezy taverna is a standout addition to Singapore's culinary landscape. The restaurant's commitment to authenticity shines through as they source traditional ingredients from genuine Greek suppliers. 
Their seafood specialities, deeply rooted in Mediterranean traditions, resonate with generations of food enthusiasts. What sets BAKALAKI Greek Taverna apart is not just its food, but also its exceptional selection of Greek wines and beers, creating an immersive Mediterranean experience. 
Don't miss the feta saganaki, a harmonious blend of sweet and savoury, and the Xiphias, where the grilled swordfish skewers showcase the freshness and tenderness of Mediterranean seafood. The Yiaourti, a deceptively simple dish, surprises with its velvety yoghourt generously drizzled with honey – striking a perfect balance of flavours. Whether you dine in or explore their deli for Greek treasures, BAKALAKI Greek Taverna captures the essence of Greece, making it a must-visit culinary destination in Singapore.
Located at 38A Martin Rd, Singapore 239072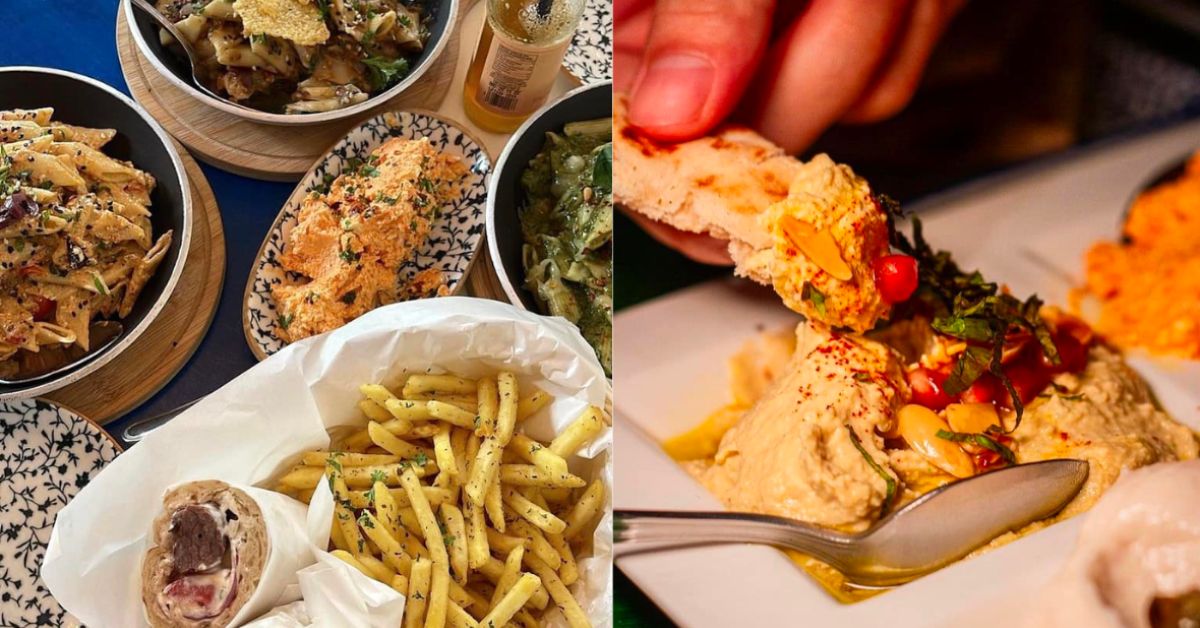 Experience a quick escape to Greece, whether amidst the lush foliage of Dempsey Hill or along the lively streets of Siglap, at Blu Kouzina. Here, the art of Greek dining unfolds in the embrace of good food, fine wines, and warm hospitality. It is a culinary journey that begins with the finest ingredients, crafting Mediterranean flavours that are distinctly delicious. 
With a history dating back to 2010, Blu Kouzina holds the distinction of being one of Singapore's oldest Greek restaurants, celebrated not only for its delectable Mediterranean cuisine and Greek wines but also for its unique Hellenic products. Their promise to deliver only the most authentic of Greek cuisines shows as their ingredients are air-flown from Greece and they even make their very own olive oil!
One highlight on their menu is the Harissa, a dip that blends Spicy Tomato, Greek Yoghurt and Walnuts to create a creamy, earthy, and perfectly balanced flavour. The Prawn Manestra is a must-try, featuring succulent grilled prawns nestled amidst orzo pasta, all luxuriously bathed in prawn broth and EVOO with a dash of garlic and onions to harmonise the rich and satisfying flavours. The orzo pasta, resembling silky rice with a delightful bite at its core, proves to be the perfect canvas to trap and deliver bursts of umami-rich sauce in every mouthful, making it an exquisite dining experience worth trying.
Located at 10 Dempsey Rd, #01-20, Singapore 247700 (Dempsey Outlet)
Located at 907 E Coast Rd, #01-01, Singapore 459107 (Siglap Outlet)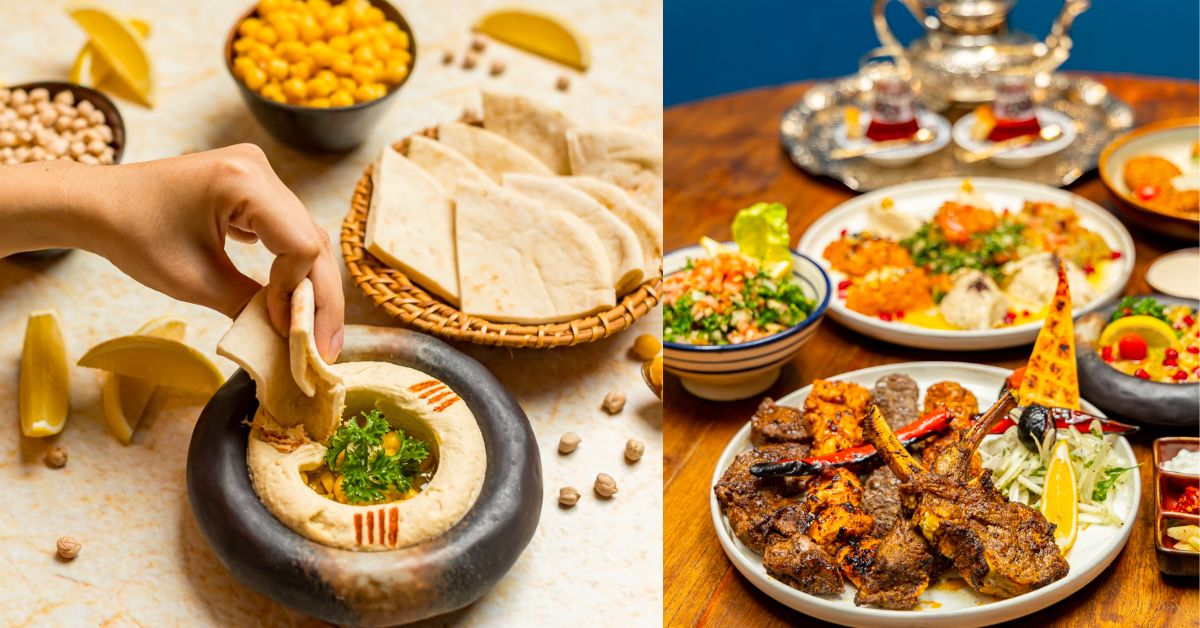 Located in the middle of the CBD, Kazbar is your go-to destination for exceptional food, relaxed gatherings, and unhurried conversations. With the delicious contemporary Middle Eastern cuisine characterised by the warmth of hospitality and top-notch service, it is no wonder Kazbar is one of the most popular Middle Eastern restaurants in the CBD area. The distinct flavours of charcoal-grilled meats, fresh ingredients and aromatic spices, directly air-flown from the Middle East, will tantalise your senses as you enjoy your meal.
For those working in the CBD, you will be glad to know that Kazbar offers fantastic lunch deals, making it an ideal midday escape. Their Set Lunch menu has a wide selection and is priced at S$28.00++. It comes complete with a starter of Homemade Hummus and Babaganoush served with pita bread, along with your choice of coffee, tea, or soft drinks. The hummus is a creamy delight while the babaghanoush boasts citrusy relish, creating a perfect pairing with the warm and fresh pita bread. The Shish Taouk Set presents flame-grilled chicken cubes, saffron rice and salad, all tender and expertly marinated, with harissa and yoghourt side dips to elevate the balance. As part of their monthly specials, be sure to drop by on Wednesdays for a special treat: Kazbar's Famous Sangria. Available as a 1-for-1 offer, all day long, it's the perfect midweek pick-me-up!
Located at 25 Church St, #01-03, 25 Capital Square 3, Singapore 049482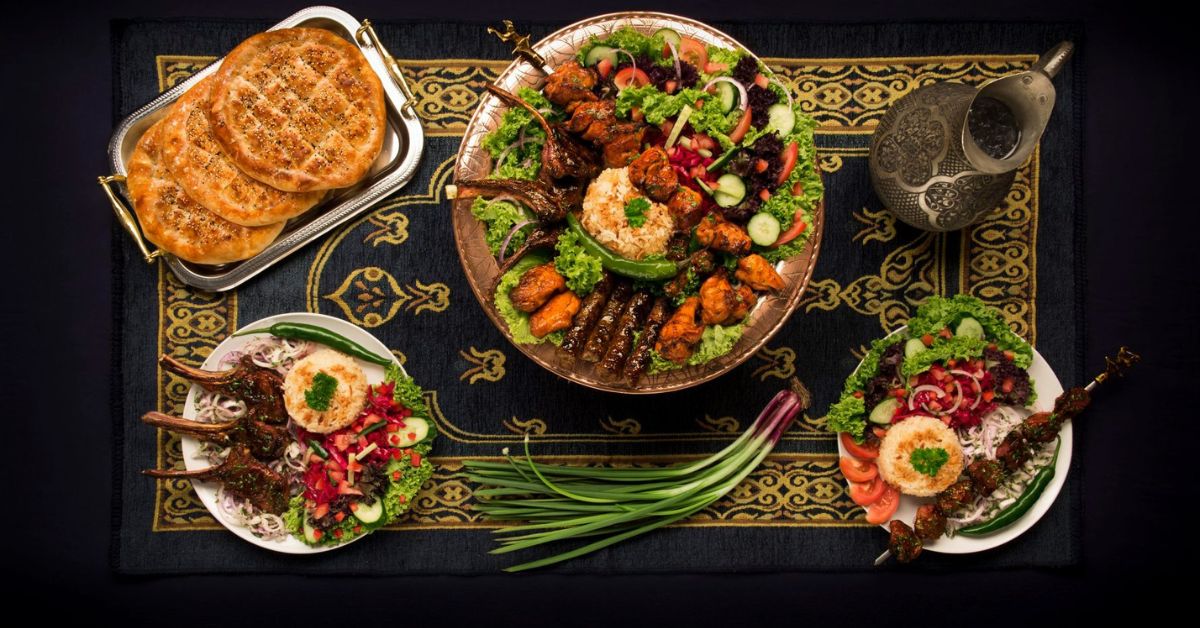 Situated in the charming Arab Street enclave in Kampong Glam, Alaturka is a quaint and lovely Turkish restaurant that takes pride in its commitment to uncompromising quality. With an impressive culinary journey of 18 years – starting in May 2005, they have consistently offered well-sourced, made-from-scratch interpretations of classic dishes and innovative creations within Turkish Mediterranean cuisine. 
Awarded the Michelin Guide Singapore Bib Gourmand in 2016, Alaturka continues to elevate Singapore's dining scene with an authentic taste of Turkey. Their unwavering ethos revolves around crafting dishes of the highest standard, from freshly ground meats to smoking their own eggplants and preparing dough daily – every detail meticulously cared for to ensure a perfect bite.
The Karisik Platter is a crowd-pleaser, offering succulent, delectable kofte, lamb chops, and juicy chicken – a dish that bursts with moistness and taste. As the meal concludes, the unique dessert, Kunefe, steals the show with its sweet, crunchy exterior and a gooey, indulgent centre, leaving your taste buds with a real treat. 
15 Bussorah St, Singapore 199436
When it comes to the most satisfying pita in Singapore, Miznon is top of mind. With a focus on generous portions and a no-nonsense approach to quality, their use of quality, fresh ingredients bursts through in every bite. Not forgetting, their extensive selection of Israeli wines also adds a unique touch to the experience. 
The pitas, a perfect balance between fluffy and sufficiently dense, are a canvas for mouthwatering fillings.  Even the pickles are a pleasant surprise – light, crunchy, and perfectly balanced in acidity and sweetness. The lamb and fish offerings are equally delightful, well-seasoned, and irresistibly tasty. Out of the pita, the Mushroom Hummus, rich with earthy and charred flavours, complements the creamy hummus beautifully.
What truly is unique about Miznon is the Miznon experience. For S$79++ per person, you get the ultimate Israeli feast. Your table becomes a canvas of Israeli market flavours. You choose your favourite pita and drink, and they handle the rest – from the music to the vibe, it's all specially curated for you, making it the perfect choice for a shared dining experience that's unlike any other. If you have more than 8 pax, remember to make a booking beforehand to not miss out on the Miznon experience! 
Located at 6 Stanley St, #01-01, Singapore 068725