F&B
15 Best Restaurants in Robertson Quay Singapore
Published Date
: 27 Mar 2023 14:50

Robertson Quay Food Guide: Discover the Finest Restaurants in Robertson Quay Singapore. Choose from Italian, Persian, French, Japanese, and more
A popular spot for both tourists and locals alike, Robertson Quay is the perfect place to catch a magnificent view of the riverside in a tranquil ambience. When it comes to dining, Robertson Quay isn't short of food options as well. With a wide array of cuisines from Italian, Persian, French, Japanese, and more. Whether you are looking for a romantic dinner or a night out with friends, Robertson Quay offers plenty of choices for everyone.
Look no further with our list of Best Restaurants in Robertson Quay Singapore.
15 Best Restaurants in Robertson Quay Singapore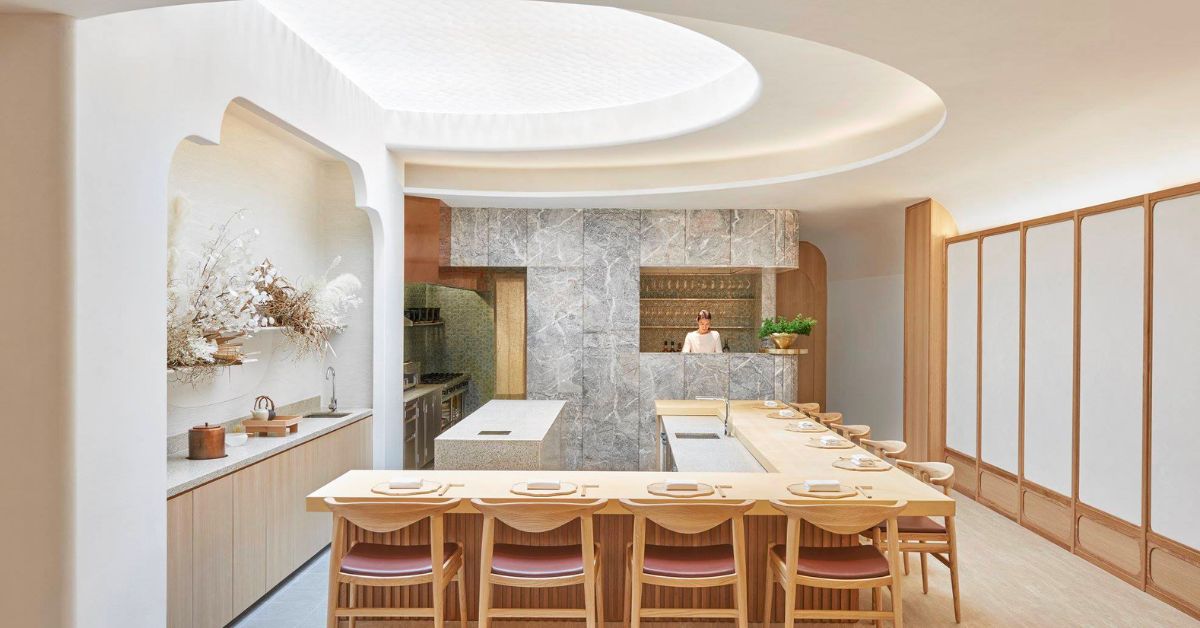 Esora is a Japanese fine dining restaurant situated in a heritage shophouse along Mohamed Sultan Road. Led by Head Chef Takeshi Araki and Chef de Cuisine Noboru Shimohigashi, this Japanese restaurant adopts the kappo-style of dining. At Esora, their dishes focus on modern Japanese cooking which is influenced by a deep appreciation for the natural world. As passionate storytellers, the chefs at Esora present each dish with a personal and intimate narrative of nostalgia, seasonality, and culinary passion. 
What's more, Esora offers a unique tea-pairing programme which is the first of its kind in Singapore. With a goal to expand both palates and minds, the tea selection here is an elegant expression of nature's essence and pays homage to those who have dedicated themselves to perfecting the art of tea brewing. 
Esora. 15 Mohamed Sultan Rd, Singapore 238964.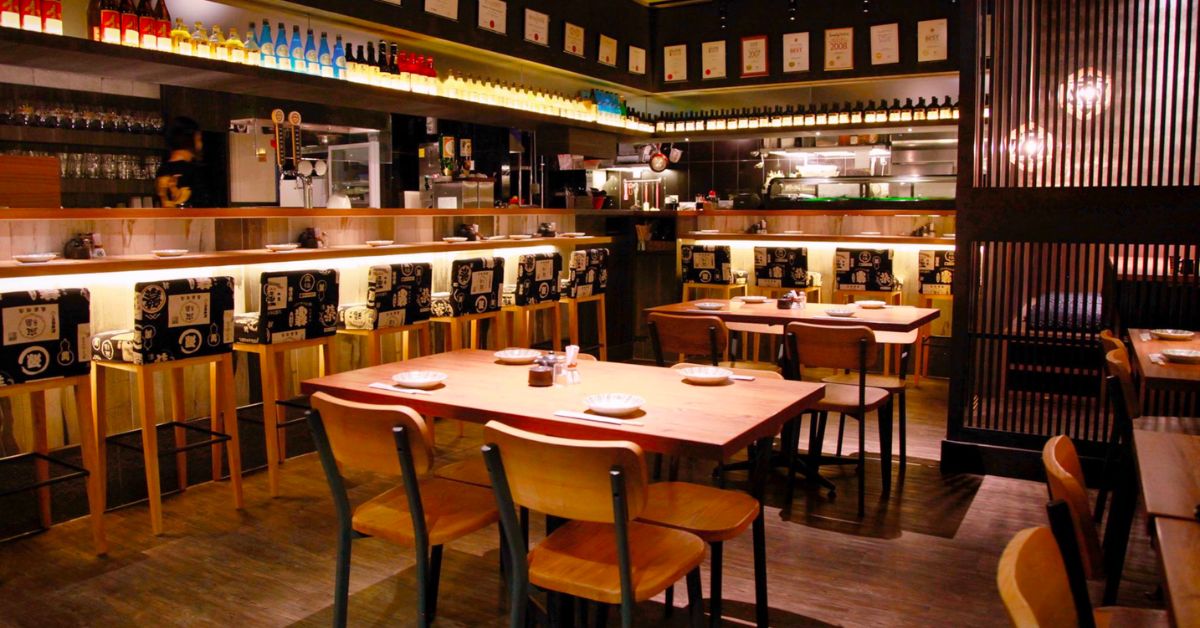 Located in Robertson Quay, Shunjuu Izakaya is located at the unpretentious hideaway right in front of the Singapore River. Shunjuu Izakaya is where you can enjoy alfresco dining of Japanese cuisine with a riverfront view. 
This Japanese cuisine restaurant serves an exciting menu of Japanese favourite casual cuisine, Sumiyaki, which is also known as charcoal grill.
Diners can enjoy Japanese Tapas and the fun experience of ordering many small dishes and indulging in them. Complement the meal with the restaurant's wide selection of 60 Japanese sake options on the menu. 
Shunjuu Izakaya. 30 Robertson Quay, #01-15 Riverside View, Singapore 238251.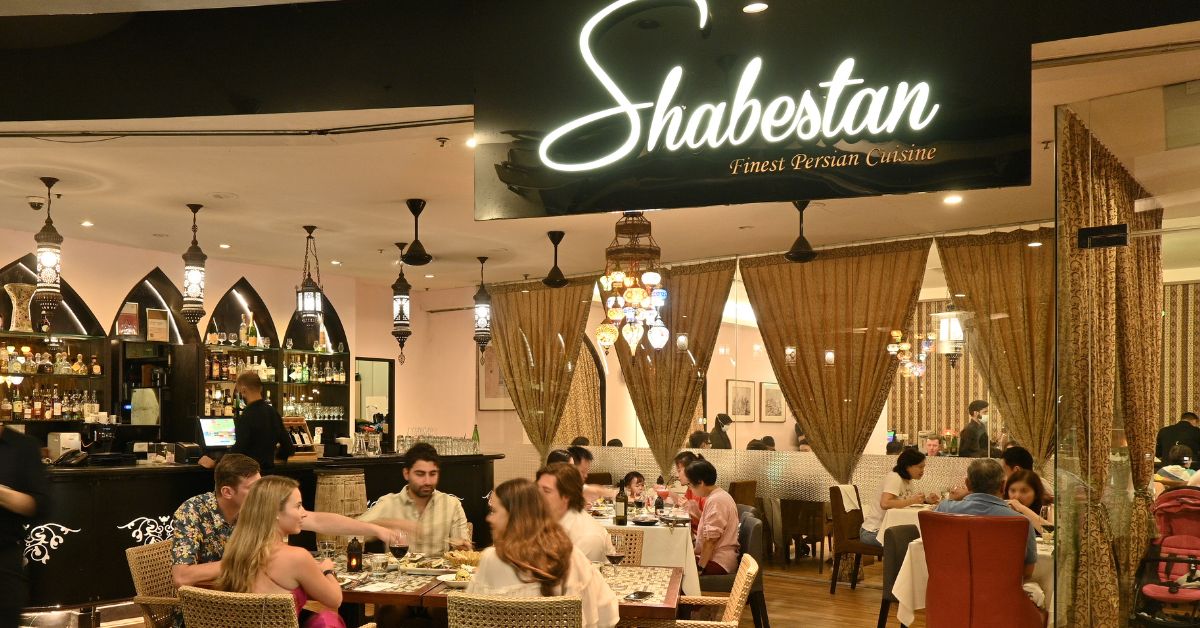 Located in the heart of Robertson Quay, Shabestan is a multi-award-winning Persian restaurant in Singapore. Established in 2013, Shabestan is where you can enjoy the finest Middle Eastern Cuisine in Singapore. They present their menu offering Persian dishes that use authentic Persian spices, herbs and cooking techniques. With a wide variety of Middle Eastern mezze, Iranian-style soups and healthy salads, mains including charcoal grilled kebabs, Persian stew and rice dishes, as well as desserts. 
If you're looking for lunch menus in the area that is a bang for your buck, Shabestan also offers a Healthy Persian Executive Set Lunch that is available daily from 12 to 3 pm. Priced from $48 per person, this 3-course menu features ancient Persian remedies comprising natural herbs, spices and food ingredients which have been used as medicine for centuries. 
Additionally, if you want to enjoy afternoon tea while chilling by the outdoor seating area at Riverside Point, Shabestan has the perfect option for you. Introducing Shabestan's Food and Tea Pairing menu which features a wide variety of desserts, coffee and tea. Choose from their artisanal and single-origin teas or speciality brews which go from $13 per pot, coffees, and Middle Eastern desserts with options for both sweet and savoury. 
What's more, indulge in the flavours of the Middle East this Ramadan as the restaurant introduces their latest menu, Sham-e-Bahaar Menu 2023. Celebrate the season of Ramadan as this menu is available for dinner every day from 22 March to 21 April, priced at $119++ per person.
Shabestan. 80 Mohamed Sultan Road #01-13. The Pier @ Robertson. Singapore 239013. Tel: +65 6836 1270 | Book here.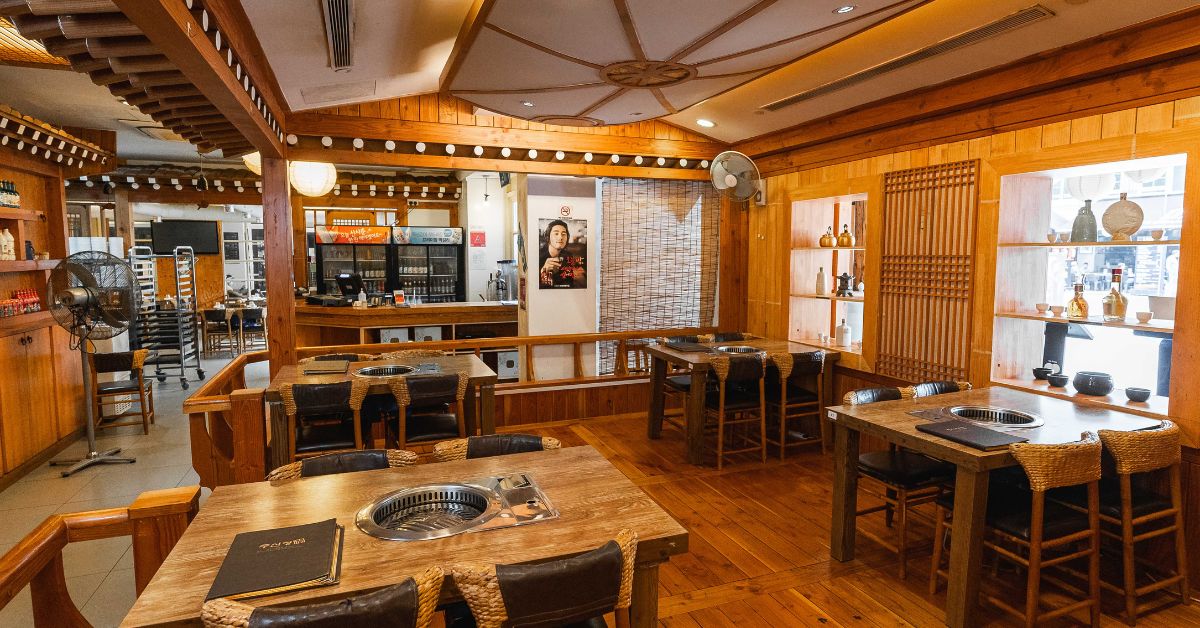 One way to tell if a Korean barbecue restaurant is good is whether they use a charcoal grill, and this restaurant is the first to introduce this in Singapore! Known as the first Korean charcoal barbecue restaurant in Singapore, Ju Shin Jung was established with a vision to deliver authentic Korean cuisine to locals and the Korean community in Singapore. Throughout the years, they have built a loyal customer base for their delicious food and exceptional service. 
At Ju Shin Jung, their amazing food and service have earned them a devoted following from both the Korean expat population and locals, making them a top choice for Korean dining. They offer a lunch special menu with delightful Korean dishes, special BBQ sets, and even a BBQ buffet menu with unlimited meat as well as a main dish of choice for those looking to indulge. 
Ju Shin Jung. Robertson Walk, 11 Unity St, #01-30/31, Singapore 237995.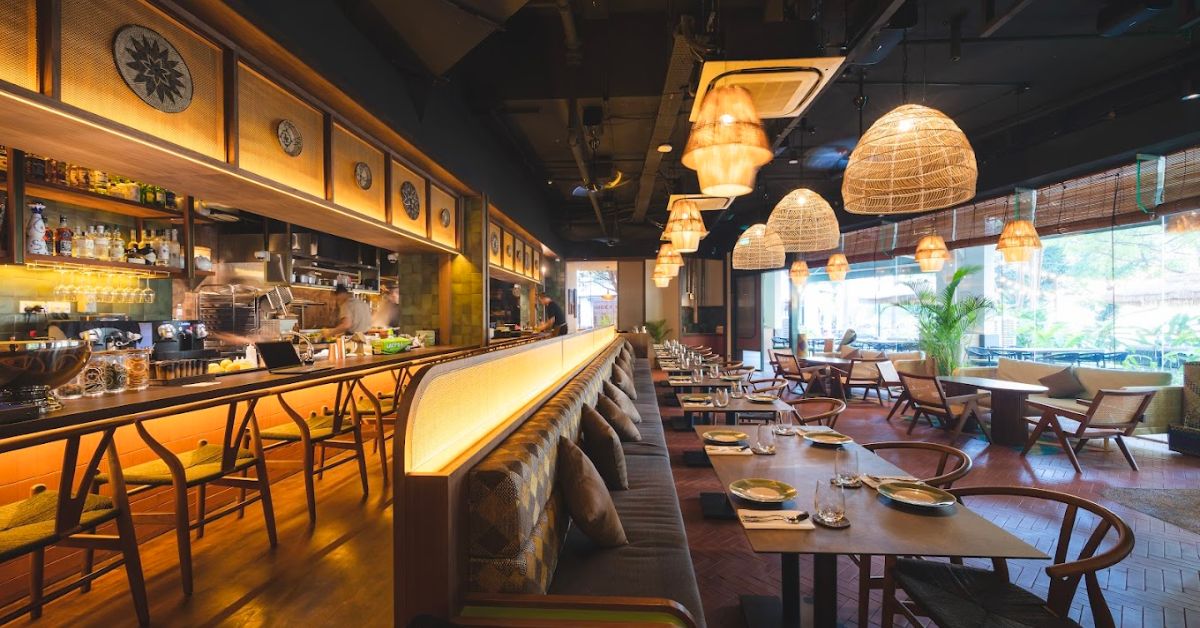 Kubo is a Filipino restaurant with Chef Kurt Sombero cooking over Pugon - a traditional brick oven. 
Some of our favourites from the menu include hearty dishes such as the signature Inasal Mid-wings which are smoked and grilled chicken mid-wings with atchara and annatto sauce. We also enjoyed the Pork Cheek Chicharron Crunchy Spanish which is pork jowl with smoked housemade plum ketchup and pickled cauliflower florets on the side. 
The Bistek is also one of the must-haves on the menu, comprising 250g of roasted secondary beef cut seasoned with calamansi and soy sauce for an enjoyable combination of flavours.
When it comes to Filipino cuisine, we can't forget their iconic desserts. At Kubo, their signature Halo is a traditional Filipino dessert that is served with a contemporary touch. It contains a refreshing Ube sorbetes (ice cream), creamy coconut, and light meringue, which come together to provide a unique and earthy flavour profile.
Kubô. 80 Mohamed Sultan Rd, #01-12 The Pier at Robertson, Singapore 239013.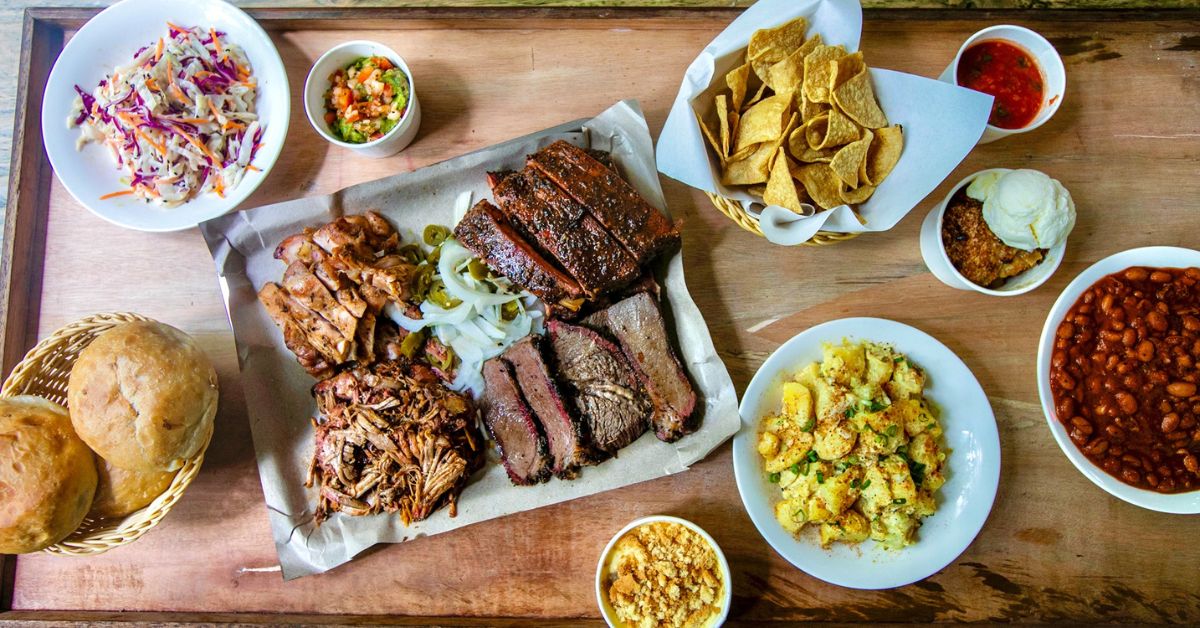 Decker Barbecue is Asia's first authentic Texas barbecue located at The Quayside in Robertson Quay. They take pride in the simple premises of honest cooking and authenticity and aim to bring Singapore an experience akin to what one would find in Texas. At Decker Barbecue, you can expect to indulge in high-quality meats, the timeless tradition of low and slow smoking, honest pricing, and warm Southern hospitality. 
What makes their barbecued meats so amazing is that they use a secret seasoning blend as well as the only A.N. Bewley smoker in Asia to cook them just like how pitmasters do in Texas. With a laid-back atmosphere, excellent food and drinks, and great tunes, visit Decker Barbecue for the most genuine Texas-style barbecue one can find in Singapore.
Decker Barbecue. The Quayside, 60 Robertson Quay, #01-17, Singapore 238252.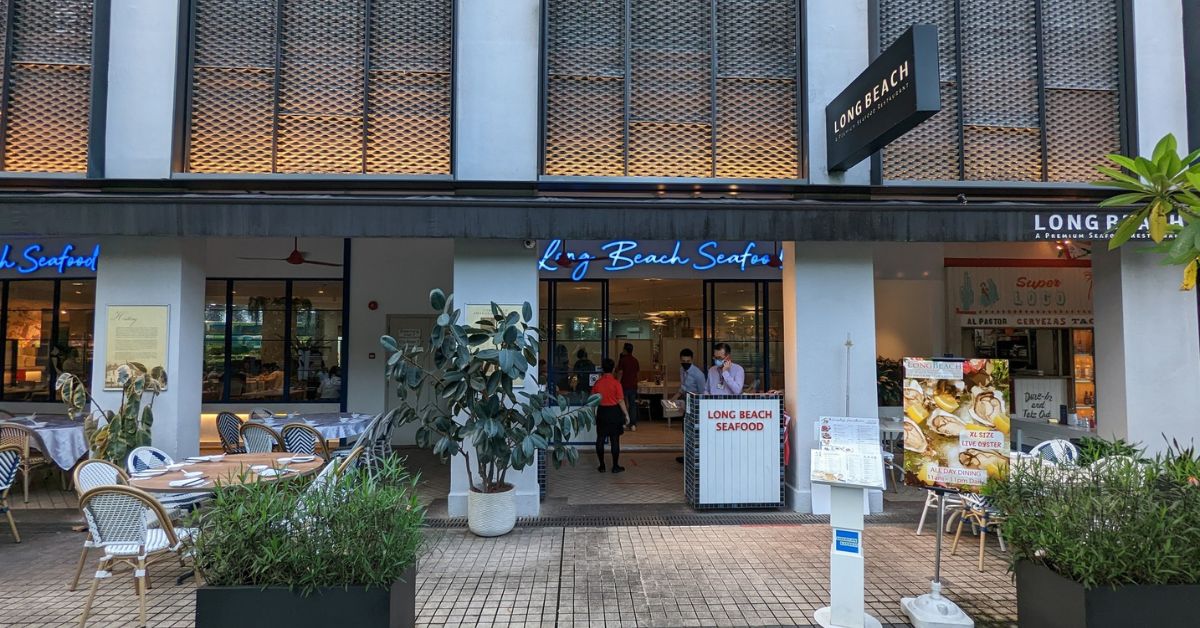 Enjoy romantic dining by the river and indulge in the greatest seafood delights at Long Beach @ Robertson Quay. A household name and one of the most popular seafood restaurants with the longest history, Long Beach Seafood is dedicated to serving premium seafood and exotic seafood delicacies in Singapore. 
Look forward to savouring a vast array of Long Beach's award-winning premium seafood delicacies in the comforts of their minimalistic air-conditioned interiors and alfresco setting. The restaurant houses a variety of signature dishes which guarantee a mouthwatering experience for all. Must-try dishes include their Air Flown Live Alaskan King Crab, a quintessential dish with its delicate and sweet flesh cooked in a mix of local flavours, diners can enjoy a taste like no other. 
Long Beach @ Robertson Quay. 60 Robertson Quay, #01-14 The Quayside, Singapore 238252.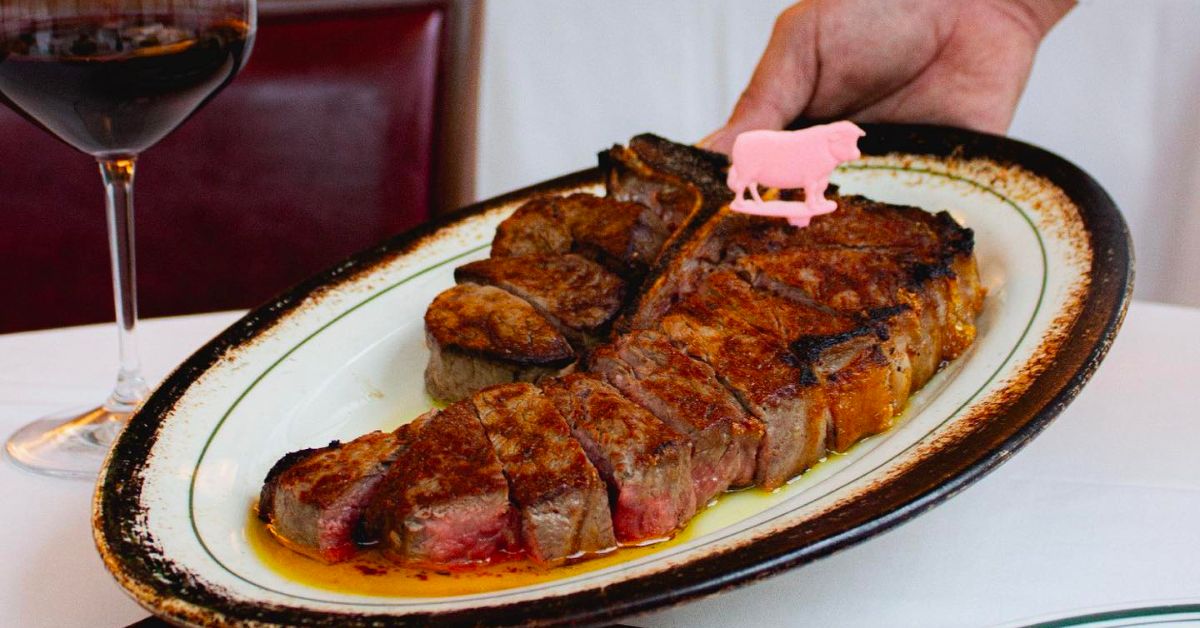 Known for their USDA Prime Black Angus Steaks, Wolfgang's is one such steakhouse in Singapore that has stuck to traditions for generations and gained a fan following. Their meat is dry-aged on-site for 28 days, a method that has proved to increase the intensity of flavour and texture, producing steaks that are tender and succulent.
Wolfgang's Steakhouse's most recommended dish is their Porterhouse Steak, a must-have, their steaks that have been dry-aged on-site for 28 days and are served on a hot plate with sizzling butter, guaranteeing an indulgent meal ahead. The Porterhouse Steaks are made for sharing, so grab your fellow steak lovers and prepare for a massive feast!
Speaking of a feast, the upcoming holiday season calls for a specially curated Thanksgiving Menu dedicated to all things Turkey. Wolfgang Steakhouse offers a Thanksgiving menu and is inclusive of a refreshing Caesar salad, drizzled with inhouse vinaigrette, caesar dressing and croutons.
The main star of the show on this menu is, of course, the roasted turkey breast served with equally delicious sides such as Corn Pudding, Stuffing, Gravy and Cranberry Sauce etc. A slice of filling pecan pie seems fitting at the end of the meal, a perfect Thanksgiving celebration to be savoured and experienced with loved ones.
Truly one of the best combinations of steaks and ambience can be found at Wolfgang's Steakhouse, so head down to their outlet at Intercontinental Singapore and be taken aback with their steaks and meats!
Wolfgang Steakhouse. 1 Nanson Road 02-01 InterContinental Singapore, Robertson Quay, 238909.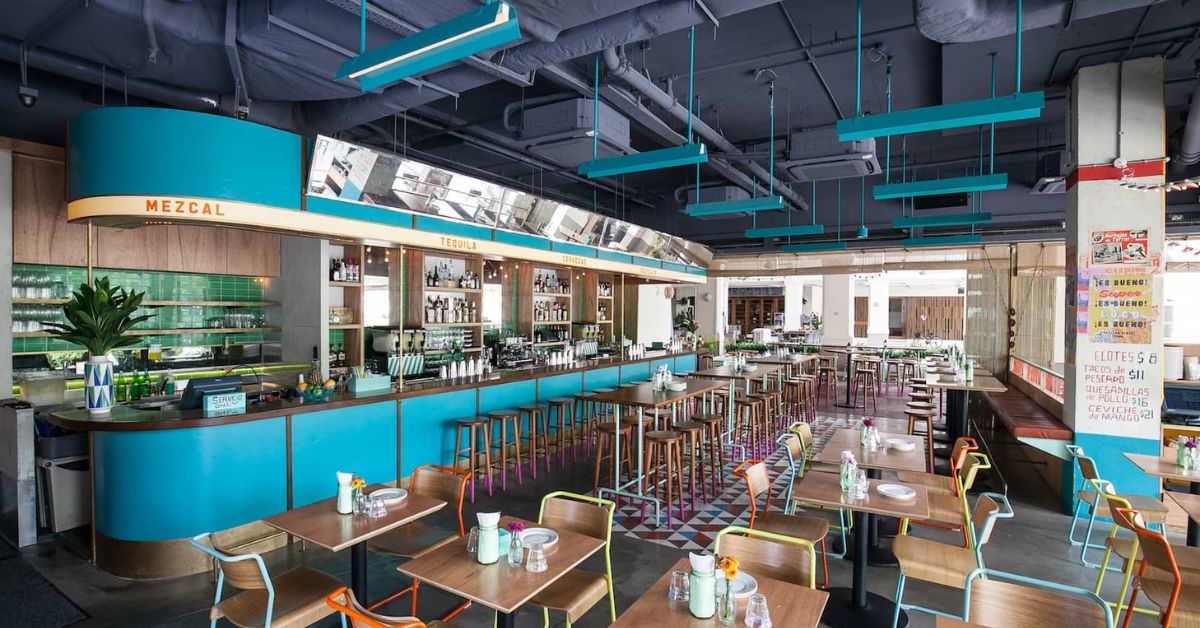 Head down to Super Loco Robertson Quay to enjoy Mexican cocina by the Singapore River. This lively cocina and bar is located on the waterfront promenade and serves authentic-inspired contemporary Mexican dishes to satisfy both locals and visitors alike. Started by the same team behind Lucha Loco, this 200-seat cocina bar is papered with vibrant street posters seen in the energetic neighbourhoods of Mexico City.
The food menu combines some favourites from Lucha Loco such as their signature Elotes (Mexican street corn); Mango & Snapper ceviche and Taco de Pescado (fresh grilled snapper taco). Additionally, plenty of new dishes like the Atun Crudo and Ceviche Yucatan are available too. What's more, the bar features some of Lucha Loco's most popular cocktails such as the Passionfruit Smashito and Mexican Mule, as well as a number of new additions such as Blood Orange & Guava Margarita and Sparkling Sangria. 
Super Loco. 60 Robertson Quay, The Quayside, #01-13 Singapore 238252. 
Located at InterContinental Robertson Quay, Publico Ristorante is where you can enjoy Italian fare with vibrant music and a riverfront view. With interiors designed by New York firm AvroKO, this award-winning restaurant and bar boast a multi-sensory culinary experience where you can enjoy contemporary Italian fare highlighting provenance and seasonality. 
Publico Ristorante brings a little slice of Italy to Singapore with its menu of authentic Italian dishes. Some of their must-try dishes include the wood-fired pizzas, and homemade pastas, as well as grilled meats. In addition, complement your meal with their refreshing handcrafted cocktails and selection of wines.
Publico Ristorante. 1 Nanson Road, Singapore 238909.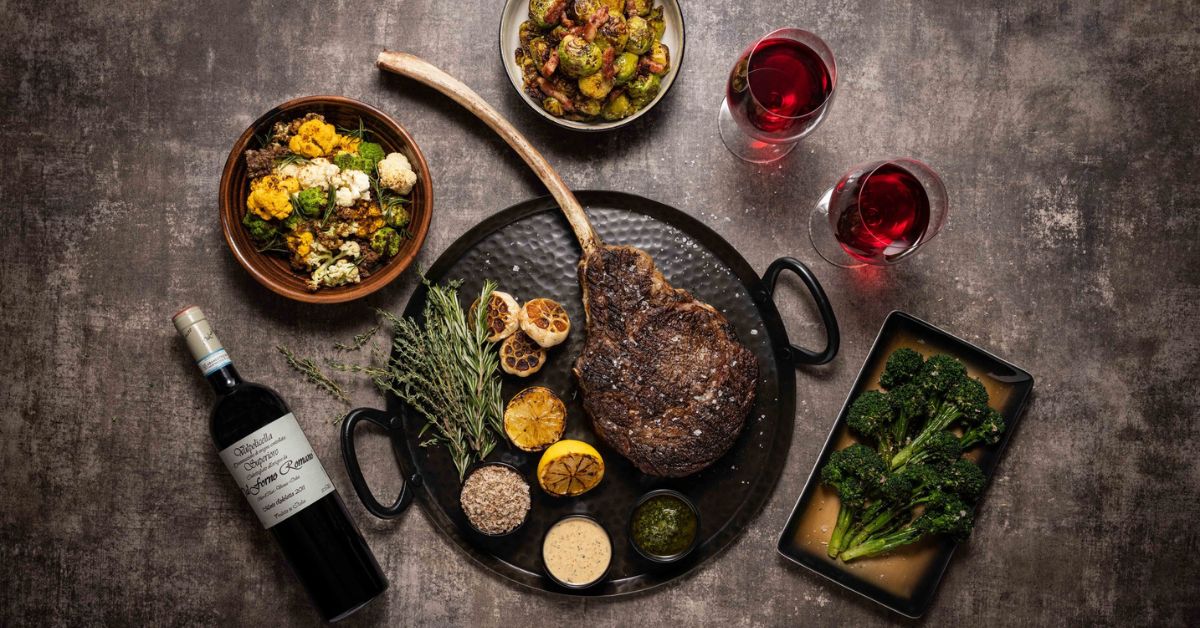 Bistecca Tuscan Steakhouse serves traditional Tuscan sharing steaks and authentic Italian cuisine in the heart of Robertson Quay. Housed in a heritage century-old shophouse, this special steakhouse contains a warm Italian farmhouse feel with exposed brick walls and wood panelling. 
The restaurant's signature dish, Bistecca alla Fiorentina, is a thick-cut, char-grilled T-bone steak to share. It is cooked to perfection in traditional Tuscan style over a high-temperature wood-fired grill. Diners can expect a charred crust yet a tender and juicy centre for an indulgent steak experience. What's more, their F1 Wagyu beef is pasture-raised in the King and Kiewa Valleys of Australia, and organic grain-finished under the highest ethical standards. Additionally, seafood served in the restaurant is sustainably sourced.
Bistecca Tuscan Steakhouse. 26 Mohamed Sultan Rd, Singapore 238970.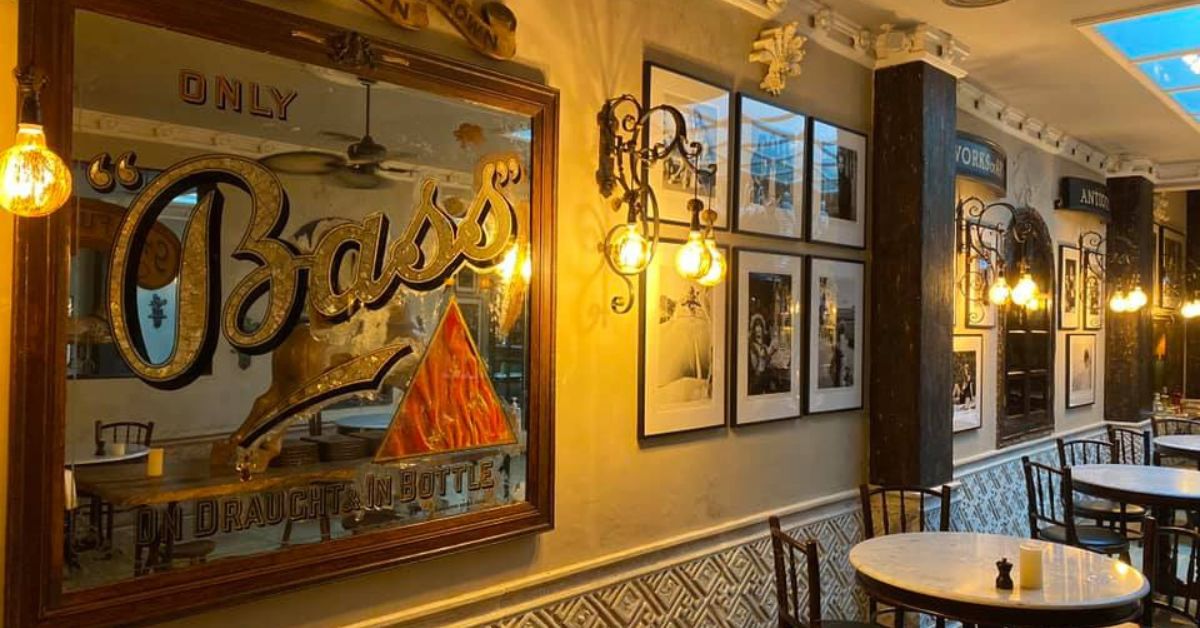 Inspired by colonial Singaporean heritage, The English House is an institution and a home for people who appreciate an antiquated era of classical food and drink. This restaurant speaks elegance and simplicity, and is orchestrated and conducted by England's greatest chef Marco Pierre White.
Enjoy the finest British comfort dishes in a warm ambience decked with glimmering candles, intimate shadows, and walls embellished with the iconic English greats. Some notable dishes to try include their beef wellington and fried haddock with chips. Finish your meal on a good note with their bread and butter pudding to comfort the heart and soul.
The English House, By Marco Pierre White. 28 Mohamed Sultan Rd, Singapore 238972.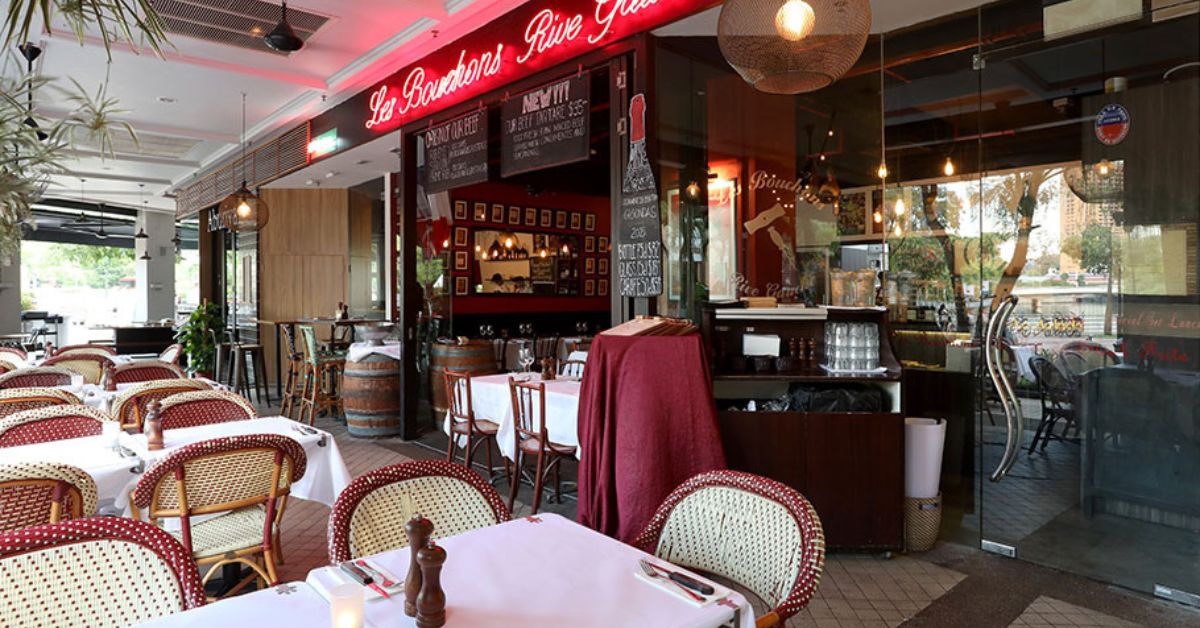 Head down to Les Bouchons Rive Gauche for a lively atmosphere, mouthwatering grilled meats and quality French wines. Established in 2002, Les Bouchons is one of the first restaurants in Singapore to serve French Steak Frites "Steak and Fries". Helmed by Chef Mickaël Cornac and his capable team, Les Bouchons owns a reputation for delivering consistency and quality food and wines at a great value throughout the years.
Wine and steak are always a perfect combination. Here at Les Bouchons, they offer one of Singapore's best wine lists, including a diverse selection of New & Old World Wines, from small producers to well-known vineyards. They serve predominantly French wines but also some of the greatest wine selections from other parts of the world too. 
Les Bouchons Rive Gauche. 60 Robertson Quay, #01-02, Singapore 238252.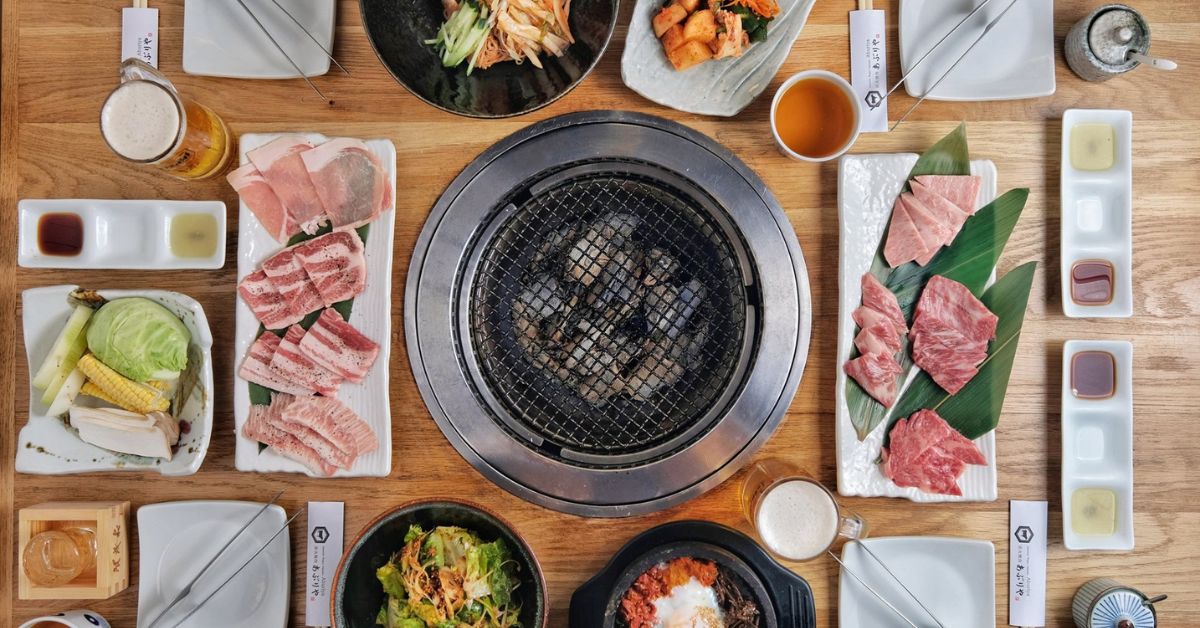 The heart of Robertson Quay is where you can find the Japanese restaurant that names itself the champions of true Japanese Wagyu beef. Aburiya prides itself in delivering the perfect yakiniku experience. 
Here you can enjoy the most tender and finest quality grilled meats possible. Their specialty meats include the Japanese Wagyu which is from farmers across Japan. If you're up for a treat, they also serve Oyster Blade, which is a very rare cut that is priced by beef lovers for its complex flavours! Alternatively, go for the Tokusen Kazoru Mori which is a platter perfect for sharing, containing 3 premium wagyu and other meat types and vegetables. 
Aburiya. #01-03 The Quayside, 60 Robertson Quay, 238252.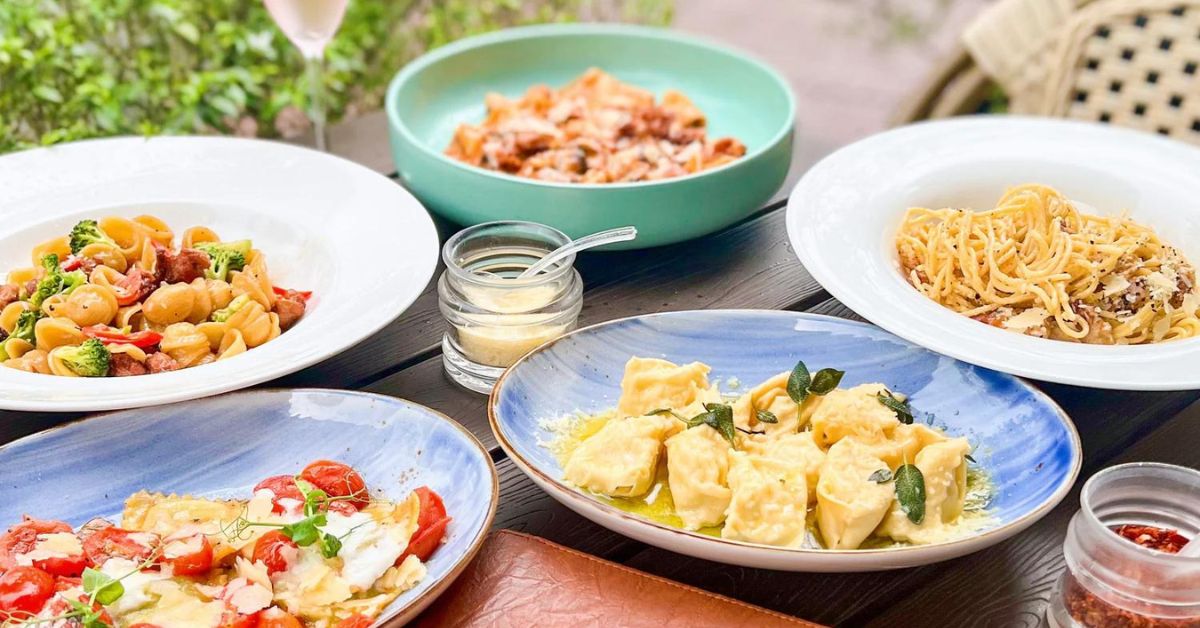 Bella Pasta is one of the best alfresco dining spots at Robertson Quay to catch stunning views of the riverfront. This restaurant provides the perfect setting to enjoy authentic Italian dishes paired with their selection of wines and handcrafted cocktails. 
At Bella Pasta, they believe in keeping their dishes simple yet naturally flavorful, in true Italian style. Unlike its much-loved sister restaurant Bella Pizza, Bella Pasta carries a much more extensive menu with a wide selection of pasta favourites, charcoal grilled meats and seafood, all prepared with the same comfort and authenticity enjoyed at their sister restaurant. If you're craving for their pizzas, do not fret as they can still be enjoyed here upon request. 
Bella Pasta. 30 Robertson Quay #01-09 Riverside View Singapore 238251.