Few culinary pairings are as perfect as wine and cheese. For those like me, who are fans of both wine and cheese, finding the perfect pair is one of life's simple pleasures. Wine and cheese pairing possibilities are endless. There are the classics and then there are the experts who take into consideration texture, acidity, fat and tannin.
Have no fear, these places make the choices simple for you with their expertise and personal recommendations.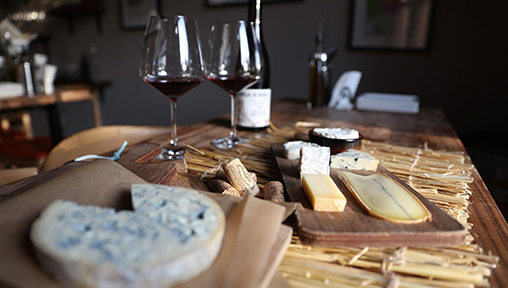 Nestled on the second floor of shophouses, 13% Gastro Wine provides you with a cosy and comfortable environment to enjoy wine and gourmet food. With all three outlets - Kampong Glam, Telok Ayer and Killiney Road - the founders aimed to remove any pretence and the high price tags usually associated with speciality wine places. Each outlet features an 8-meter mosaic bar and special Iberico and cheese counters.
The wine bar is stocked with curated wines mostly from boutique vineyards and family estates in Europe including France, Spain, Italy, Germany, and Portugal. There are also wines from New Zealand, Chile, USA and Australia. Pair these wines with a simple menu of imported cheeses from France and comfort food made from freshly from their Mediterranean kitchen.
Perfect for groups of families and friends, they offer sharing portions of delectable modern European dishes such as savoury tatins, charcuterie, and rillettes. Occasionally, 13% Gastro Wine also hosts casual masterclasses with international winemakers and experts from the industry.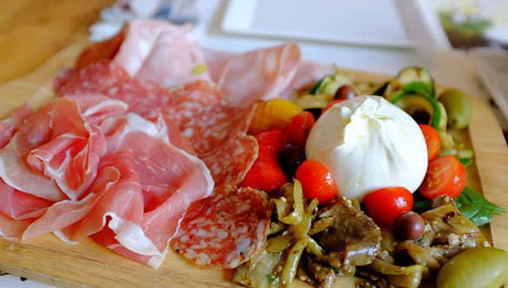 Wine and cheese by the Singapore River. There's a romantic evening right there. D.O.P Mozzarella Bar and Restaurant, located at Robertson Quay, as the name suggests, specialises in mozzarella cheese. From the fertile plains of Campania Region, where the owner, Luca Iannone is from, comes the unique Mozzarella de Bufala d.o.p.
Luca has selected the very best farms that milk their own herds and produce a superior mozzarella with the characteristic porcelain white shine, milky texture and distinctive taste. The menu was created and is constantly refreshed with the following principle in mind - serving only fresh and authentic Italian products.
One of the recommended pairings is white wine from the Greco di Tufo Wine region with handmade burratina, Italian cold cuts and grilled vegetables. So, make sure to try that out! Their Happy Hour runs from 12pm to 8pm daily.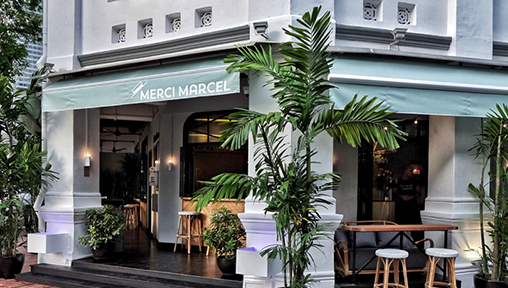 Merci Marcel delivers a fresh take on contemporary French gastronomy to Club Street. Its daily rotational wine-by-the-glass and cheese menus offer you a day-to-night eclectic dining experience. The light-filled venue is a great setting for sumptuous lunches, business meetings, and casual coffee sessions.
Merci Marcel is committed to sourcing superb wines that truly reflect the land they are grown on. Through months of laborious search for wineries which share the core values of quality small batch production, the brand is proud to introduce an expansive wine list consisting of over 100 exclusive reds and whites from producers all over France.
Inspired by neo-bistro French cuisine, the new dining menu uses the freshest ingredients spanning from quality meats, seafood, herbs and spices. Unique farm cheeses from France are air flown on a daily basis, you can choose your preferred cheeses to go along with your food and wine. Popular crowd pleasers including the Ravioles de Royans, a French speciality layered with Switzerland Tête de Moine cheese, Croque Marcel, Organic Snapper Ceviche and Duck Rillettes remain as signatures on the menu.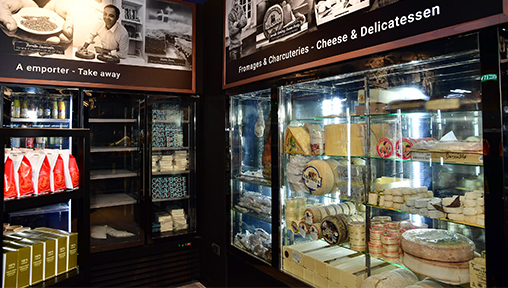 So France, Le Bistro-Epicerie, is a discovery of the French art-de-vivre and one of the world's finest bistronomy. Artisan produce and world-renowned wines from the rich terroirs and, particularly from the Nouvelle-Aquitaine south-west region of France, are brought in exclusively to deliver the 100% French experience to customers in Singapore.
Located in the lively precinct of Bugis at the Duo Galleria, So France comprises a bistro, wine bar, gourmet store and event space for wine tastings and masterclasses. Lovers of French food and wine, immerse in and enjoy a completely French ambience, whether it is filling baskets with gourmet artisan goodies, sipping a refreshing aperitif or gorgeous Bordeaux wine at the wine bar, or indulging in the crème de la crème of French pastries, cheeses, charcuterie, wines, oysters and more.
An excellent pairing recommended at So France is the Chateau Kirwan Margaux 2012, paired with the 24-months aged Comté cheese made from cow's milk. If your prefered drink is red wine, then this is the combination for you.