With face masks in Singapore here to stay, you're sure to be looking for those that work for special occasions - weddings, bridal masks, occasion wear and formal attire! Lace, satin and silk masks can work across a range of formal occasions and there are plenty of brands that are now offering to make these for you. Here's a roundup of our favourite bridal and occasion wear face masks to buy in Singapore: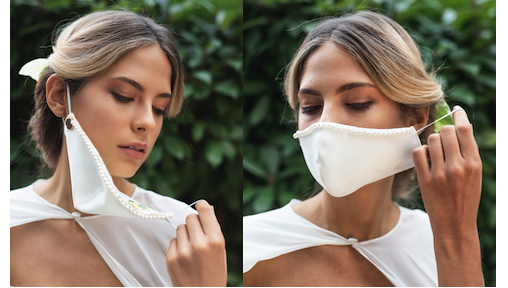 As face masks are mandatory even during wedding solemnization, Italian fashion brand AL.MA.LU decided to create a special Bridal Capsule collection and add bespoke and handmade Bridal Face masks to their collection. Founder Martina Calabresi actually wore these to her own wedding in March this year!
From intricately embellished lace masks to reversible groom's masks to customize masks with your choice of embroidery, with AL.MA.LU you can find the perfect complement to your wedding outfits!
Both pretty and safe: AL.MA.LU wedding face masks are available in white, off white, lace and elegant styles for social distancing weddings for the bride, her bridal party, bridesmaid and guests.
With her Italian design Made in Singapore Martina creative director of AL.MA.LU guarantees a selection of top quality materials and the "perfect touch" to create the whole face mask set for your wedding party. You can now get married safely while staying fashionable!
*Every mask is unique because they are handmade. Do not hesitate to contact Martina directly at [email protected] and create your own bridal mask design!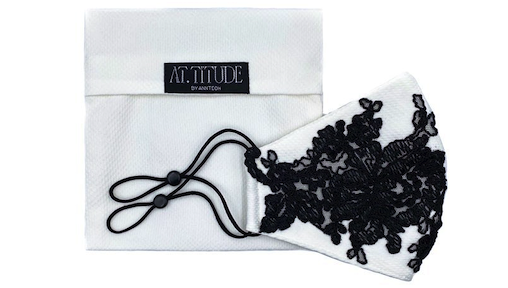 Designer Ann Teoh is known across Singapore for wedding dresses, ladies couture and bespoke services. AT.TITUDE, her second line, is a much sought after semi-formal ready-to-wear limited collectable pieces for women of all ages. Offering a range of beautifully crafted masks in different fabrics and styles, you are sure to find an appropriate bridal mask or one for occasion wear on here.
We love this monochrome mask that is a 100% white cotton hand-stitched black French cord lace lined in a white silk blend and comes with a matching white cotton pouch. The mask is in Washable Fabric and has a  filter pocket as well as a PM 2.5 Carbon Filter. Elastic Strings come with Loop Locks so you can adjust the size as per your convenient fit. Other options include plain silk and lace features in both bright and neutral colours.
Sold on THE LABEL SG, an online platform for fashion designers based in Singapore where you can find and sell homegrown collections. Buy local and wear your Singapore spirit with pride!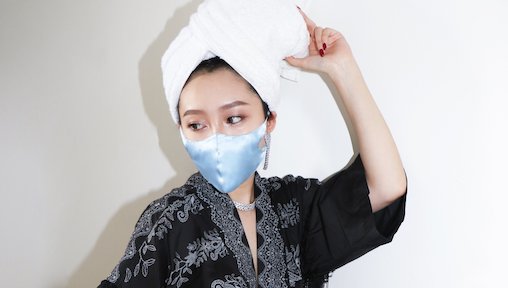 Fashion Designer Lisa Von Tang sells dreamy silk masks that are not only perfect as bridal masks but also for occasion wear, a visit to the mall or drinks with the girls! The face masks created by Singaporean brand, Lisa Von Tang, has received critical acclaim from editors across the globe, with International celebrities sporting the popular LVT silk face masks such as Gizele Oliveira (Victoria's Secret model with 1.3M Followers), Gala Gonzalez, and Solenn Heusaff. 
For bridal masks, their Face Masks in washed silk are a great choice! Luxuriously comfortable face masks that are contoured for a flattering fit and lined with 100% Fine Oxford Cotton that is incredibly soft on the skin.
The silk masks by LVT come in sixteen colour options: thirteen colours in 100% silk colours (Monogram Lime, Monogram Black Gold, Lavender Rose, Sangria, Olive, Rebel, Angel, Scarlet, Washed Indigo, Tomato, Cobalt Blue, Teal or Fuchsia), a classic Poly Silk (Black), and two in upcycled natural linen (Navy and Grey). 
Want a bridal mask to match your kimono? The Face Mask in Angel Silk is a beautiful, soft colour option to consider!
All facemasks also come with a dust bag that keeps them safe when you're dining!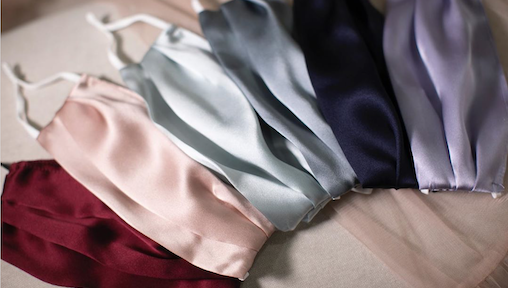 As a new age store offering luxurious contemporary gowns and high fashion labels - in the form of fashion rental, Style Lease has a strong presence in Singapore for those looking for the perfect dress for weddings or special occasions. Some of the brands that Style Lease carry include Halston Heritage, Badgley Mischka, Adrianna Papell, Manning Cartell and Elle Zeitoune. 
As an extension to their fashion line-up, the silk and satin face masks from Style Lease are all the rage in Singapore!  Made from 100% Silk Charmeuse, their masks are incredibly luxurious to the touch and can be used as bridal masks, for celebratory occasions or simply as the choice of fabric to wear every day. Silk being hypoallergenic in nature, does not irritate the skin or increase moisture around the face - making it the perfect material to be worn in sunny Singapore!
The masks by Style Lease come in gorgeous colours and with adjustable straps, a nose bridge wire and a hidden filter slot. So whether you are looking for a bridal mask to match your dress or face masks for occasion wear, there's sure to be a shade of silk in their collection that'll make you feel and look glamorous!
Style Lease are advocates of sustainability and giving back too! The masks are locally made using fabric from pattern off-cuts to reduce wastage and proceeds from the sale of masks are donated to the Migrant Workers Assistance Fund. Orders can be placed via their website, Instagram page or through this Google form.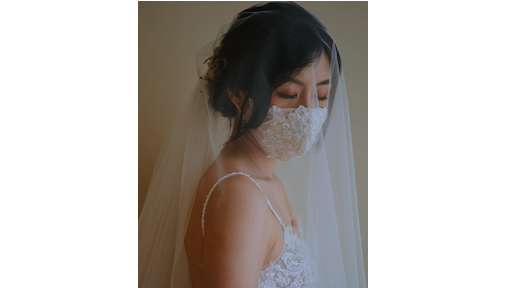 Bespoke wedding gown makers, Caramel & Co are known to make every gown and suit with love in Singapore. They are also known for their made to measure dresses and gowns that work for special occasions. Catching onto the safe distancing and mask wearing trend, this boutique brand too has launched bridal face masks that are worth every cent!  
With a base made in 100% silk material, every mask is reinforced with a protective layer, with filter pockets. The silk material used is smooth and gentle on the skin, at the same time maintains a beautiful structure, unlike other silk masks that can begin to look limp. Brides get a bespoke piece with the same lace as their gowns, to ensure a seamless look. For brides who do not get their gowns from Caramel and Co, there are a couple of lace options with every piece as unique due to the placement of laces.  Order yours today at [email protected]
Image credits: @blocmemoirephotography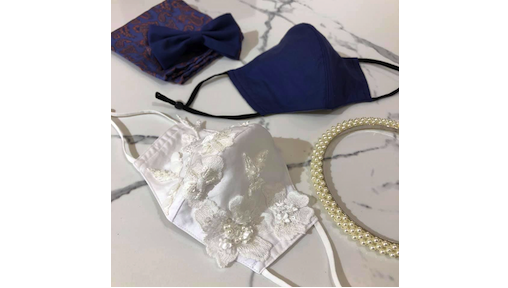 As a bride or groom to be, you've probably heard of Artisanal Flair. With a brand motto of providing a personal and comprehensive styling experience for both wedding partners, Artisanal Flair is a great stop if you are starting your wedding shopping. 
They now have introduced bridal masks to their collection - with different styles made in Japanese cotton satin with tulle or French lace overlay. We particularly love this Silk Organza floral mask that is made with soft, breathable and luxurious silk organza and hand-sewn with sweet pastel floral lace.  Grooms too can look handsome and safe on their wedding day with the ultra comfortable and breathable sartorial Japanese cotton masks from Artisanal Flair! Made with soft, breathable Japanese cotton and available in classic colours for styling versatility, you can even choose to make it personal by adding a hand-embroidered monogram or special motif.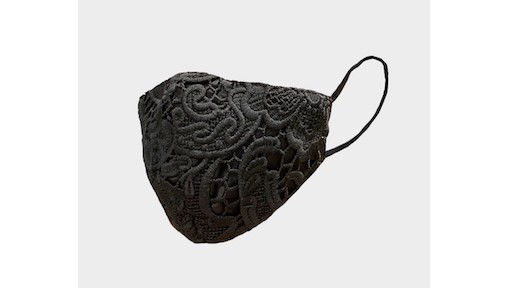 Fashion Designer Jo Kilda has recently launched a series of Silk Face Masks that can double up as bridal masks or to match any of your occasion wear. Allergic to rough fabric? Made entirely out of 100% raw silk and satin silk lining, these silk face masks are not only gentle to the skin but they also reduce breakouts in the form of maskne.
We love this Guipure Lace Black Mask that is made with gorgeous Guipure Lace along with a satin silk lining - both fabrics repurposed from Jo Kilda's fabric archive. 
10% of all sales from these Silk Face Masks will go to Dayspring, a home for teenage girls who have undergone emotional and physical abuse.