Acne, pimples, zits and now 'maskne' or face mask related acne. If you thought, you'd left acne behind in your teenage years, the humidity, hormones and compulsory mask wearing are probably proving you wrong. For acne-sufferers, maskne or mask-induced breakouts or those who get an odd pimple that they shouldn't be bursting, we've rounded up the top acne treatments and skin care products that will be a handy add-on to your usual beauty routine. 
Take heed, and choose between these facials, anti-acne treatments, masks, spot treatments, moisturisers and more.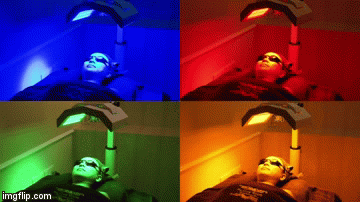 Face masks causing you to break out or perhaps you have acne and pimple-prone skin that needs extra TLC now that you are wearing a mask often? The Premium Maskne Facial Package by My Cozy Room gives you the advantage of an Anti-Acne LED Facial as well as Coolight therapy and skin care products to take home - so your acne treatment lasts longer than just while at the salon. Their Award-Winning Premium Anti-Acne LED Facial Treatment is specially catered for individuals who are facing severe acne or congested skin caused by face masks - MASKNE.
LED Light Therapy is effective in clearing very stubborn acne. The bacteria that cause the redness and inflammation of acne can be killed by exposing your skin to different types of light, specifically blue LED light. The light penetrates deep into the skin, stimulating your acne-causing bacteria -making them work against each other and self-destruct, leaving you with clearer, acne-free skin. Known for the best Extraction Facial in Singapore, My Cozy Room specializes in a gentle and relatively less painful acne extraction treatment, giving you acne-free and clarified skin! 
This Maskne Facial package also comes with a complimentary Coolight therapy to soothe your skin, & BABOR Purifying Ampoule to be used in your facial treatment, which contains an active concentrate for problematic, impure skin. But that's not all, instead of investing in separate skin care, you get to take home 3 x full sized acne home care rituals free of charge. Step 1, Dr. Spiller Hydro-Marin® deeply cleanses, clarifies and hydrates the skin with marine ingredients.
Herbal Active Complex Acne Cream,  provides pure active ingredient power for blemish-prone skin, enhances skin renewal for a balanced, clear complexion. And the Acne Drying Lotion is especially effective at drying up pimples, healing inflammation and effective for troubled skin.
Psst...First-time customers residing in Singapore can enjoy this Maskne Facial Package for $388 only (U.P. $840)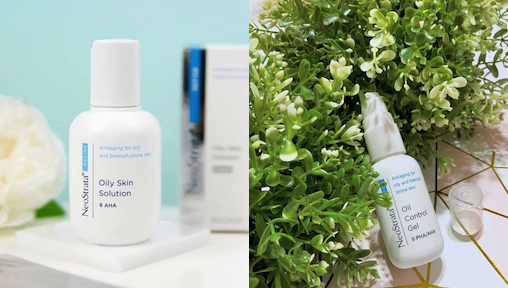 NeoStrata is a scientifically advanced, clinically proven skincare brand recommended by doctors worldwide to target a wide variety of skin types and skin conditions. It's Refine Range specifically helps troubled skin types such as those with oily or acne-prone. They utilize the exfoliation power of Glycolic and Mandelic Acids, along with NeoGlucosamine®, to help clarify surface texture for smoother and healthy skin.
NeoStrata's Oily Skin Solution makes for a great toner for acne and pimple-prone skin types. Containing Glycolic Acid, an Alpha Hydroxy Acid (AHA), that gently exfoliates, clears clogged pores and removes excess surface oil, sebum and other lipids present on blemish prone skin. Repeated use may even reduce the appearance of fine lines and wrinkles!
Dermatologist developed and suitable for oily and acne prone or combination skins, this formulation contains 8% Glycolic Acid to get the job done.
For those looking to buy a lightweight oil-free moisturiser, the NeoStrata Oil Control Gel hydrates while absorbing oil to create a velvety matte finish, minimizing the appearance of pores and controlling shine - all while it smoothens out your skin. Gluconolactone gently exfoliates the surface of the skin while Mandelic Acid controls oil and fights P. acnes bacteria. Bonus points for being fragrance- free, non-comedogenic which ensures it doesn't block your pores and even non-acnegenic, meaning it is less likely to cause acne or make your pimples worse!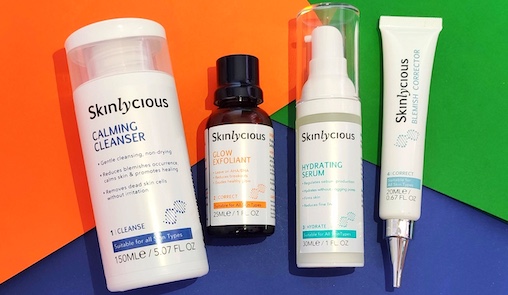 Homegrown hero Skinlycious, is a local skincare brand created for those battling acne and pimples, by Jasmine Kang—who herself suffered from different forms of acne for over 14 years. Armed with her personal experience and research as well as her biomedical science and pharmaceutical background, Jasmine created these products that are scientifically-backed, with an emphasis on clean beauty.
Sans the nasties and any fragrances, the Skinlycious range of products work in synergy to build up the skin lipid barrier while rebalancing the skin, so as to effectively tackle the root causes of acne without dryness. Other than selling anti-acne skincare, Skinlycious also educates users on how to achieve clear skin holistically, such as identifying possible trigger food and or something in their general lifestyle. Skinlycious addresses a range of acne problems across all age groups - tweens and teens to over 40s, and this is made easy via an online quiz that in turn helps you pick the right skin solutions.
Need help on where to start? Skinlycious offers mini kits for their best-selling kits, a simple 3-step routine distilled down to tried-and-tested active ingredients that address the root causes of acne. This trio of products restores balance and renews your skin at the same time - shrinking acne, lightening red/brown marks, reducing redness, shrinking pores, regulating oil production and exfoliating to uncover healthy, glowing skin. Mini kits even come with 30 Days Money Back Guarantee!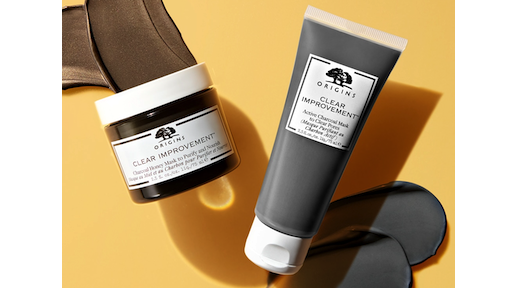 Maskne and acne mean you have lingering impurities on your skin! Make way for Bamboo Charcoal, the power ingredient in Origins Clear Improvement™ mask line, that is a fine, highly porous powder that also acts as nature's 'magnet' to draw out dirt, oil and impurities from pores. And you know what clean pores stand for - radiant, bare-faced and selfie-worthy skin! 
The Clear Improvement™ Active Charcoal Mask unclogs pores for a perfectly pure look. It deeply detoxes, absorbs environmental toxins and dissolves impurities. Formulated with Bamboo Charcoal and White China Clay, this charcoal mask acts like a magnet to deep clean and draw out deep-dwelling pore-cloggers, impurities and debris.
Afraid your charcoal mask may leave you with dry skin? For those with dry skin types, the Clear Improvement™ Charcoal Honey Mask will purify and nourish to reveal beautifully supple complexion. A gentle purifying mask that deeply detoxes while nourishing your skin, leaving it feeling comfortably clean, clear and conditioned. Formulated with the same Bamboo Charcoal, it actively deep cleans and draws out impurities and debris while Golden Wildflower and Fermented Honey nourish your skin.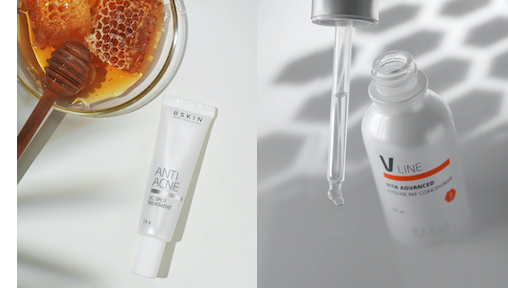 Tackle mask acne with BSKIN, founded by Singaporean Su-Mae Chia, a local entrepreneur who was inspired by her personal struggle with acne to create a range of bee-derived and propolis-based skincare. Acne, when improperly treated, can cause skin damage and leave permanent scars. BSKIN has formulated blemish-care products with highly effective and safe actives to address blemish-prone skin holistically.
The newly launched BSKIN Anti-Acne 3C Spot Treatment ($38 for 15g) uses a formula that incorporates BSKIN's 6CORE Anti-oxidant system, a powerful blend of potent acids and vitamins, along with proven blemish-bursting actives to rapidly calm and repair active inflammations. It clears blemishes-causing bacteria and removes excess sebum and impurities by melting stubborn clogs. At the same time, it calms irritated and inflamed skin by soothing and offering relief to affected areas. Finally, it cares for affected areas by preventing scarring and pigmentation.
Their BSKIN Vita Advanced Intense PAF Concentrate ($158 for 30ml) is an award-winning serum power packed with vitamin C. This serum contains an astonishing 20% concentration of stabilized L-Ascorbic Acid and infuses the skin with proprietary PAF complex that spurs on collagen production and stimulates cell repair for that youthful glow and the ultimate boost of vitality.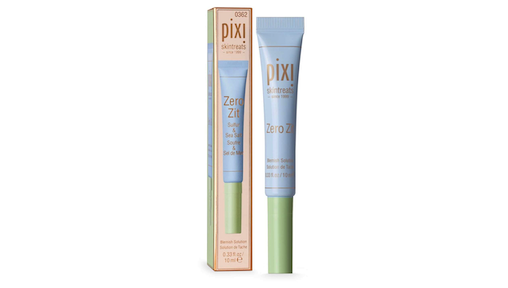 Battle your blemishes and maskne with Pixi Zero Zit that allows for spot treatment - a boon for acne sufferers. Enriched with fortifying and effective ingredients, Pixi's relieving solution targets redness and swelling to calm and comfort unsightly spots.
Added Sea Salt gently cleanses to purge the affected area of unhelpful bacteria, while multi-functional Sulphur Oil works to dry out the spot, absorbing excess sebum oil that may be causing acne breakouts in the process. A natural Salicylic Acid, Wintergreen Leaf Extract soothes the blemish to help alleviate feelings of pain and discomfort.
Gentle and lightweight, the active formula of Pixi's Zero Zit, quickly absorbs into skin without leaving a sticky residue – perfect for applying under makeup, on spots that need direct attention.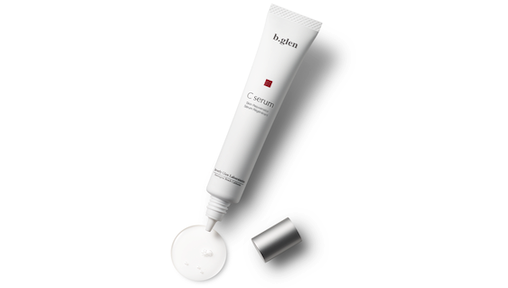 Want to stop sebum and oil production that leads to acne and acne scars? A solid Vitamin C serum should be on your shelf! With a whopping 1.3 million tubes sold since 2010, b.glen's Vitamin C serum comes with many benefits. Pure Vitamin C helps to promote collagen production, prevents wrinkles and sagging, and also suppresses sebum to prevent acne. But be aware that Vitamin C is known to be a very unstable ingredient! If you've tried Vitamin C products before and they didn't work, it could be due to poor penetration, unstable ingredients or lack of absorption. What makes b.glen's Vitamin C different is its QuSome® tech to solve these issues.  QuSome® that stabilizes pure Vitamin C and allows it to penetrate deep into the skin. We love the warm sensation you get on the application of this vitamin C - sort of to say, it's working! Include this product as part of your regular regimen and needless to say, you'll experience a rebirth of your acne and pimple-prone skin.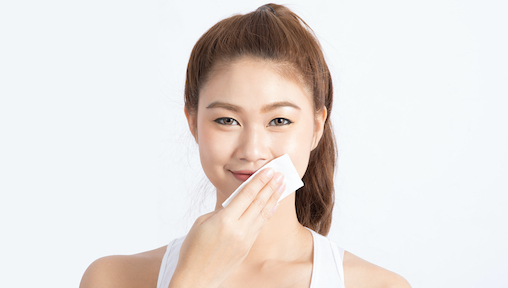 Wearing a mask? One of the key reasons for Maskne or mask induced acne is leftover makeup too! Bifesta has launched an all new Sebum Micellar Makeup Remover Wipes formulated for combination to oily skin. Infused with ingredients such as Green Tea Extract to tone and refresh your skin as well as Hyaluronic Acid to moisturise your skin, these wipes do not only remove makeup thoroughly but cleanses your skin from sebum and dirt.
Loaded with antioxidants, Green Tea Extract has anti-inflammatory and antimicrobial properties which are effective at toning and refreshing the skin. By flushing out toxins in the skin, it also helps to reduce the appearance of blemishes and scars, improving overall skin complexion.
Hyaluronic Acid penetrates the skin to bind water to skin cells and does an excellent job at boosting hydration and retaining moisture. 100% oil-free and alcohol-free, Bifesta Sebum Micellar Makeup Remover Wipes are hypoallergenic and do not leave the skin dry or sticky. Bifesta Sebum Micellar Makeup Remover Wipes are suitable for those with sensitive skin.
Bifesta Sebum Micellar Makeup Remover Wipes come in a handy travel size ($3.50 for 10 sheets) and a full size ($14.50 for 46 sheets) and is sold at Watsons, Guardian, Fairprice, Don Don Donki and Welcia‑BHG.