Born in the United Kingdom, Vix Harris is an artist and textile designer who now works as a teacher in Singapore. She spent her early childhood in Kenya and Malawi as a child and was always surrounded by African memorabilia at home which has greatly influenced her art.
Vanilla Luxury: Share with us a little bit more about your background?
Vix Harris: Well, I've been creative and obsessed with art from a very young age and never really thought about doing anything else. Luckily, my parents were supportive and more than happy for me to do art at A-level and then go on to do a foundation course in Art & Design and then a degree in Textile and Fashion Design. However, after graduating (from Winchester School of Art in the UK), I found it difficult to find work and decided to travel instead. This led to me becoming an English language teacher, which has been my main source of income for the last 17 years. In 2012 while I was working in Vietnam, I decided to start drawing again and that was the beginning of my return to creativity.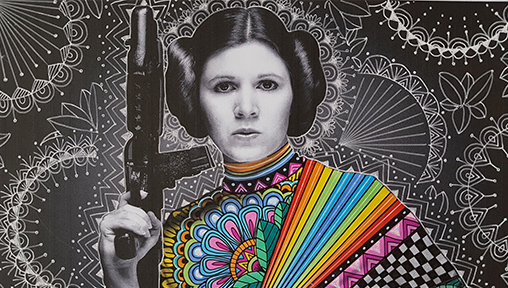 Vanilla Luxury: What inspired you to launch #50RebelWomen in 2016?
Vix Harris: I had started drawing again after a really long break but wasn't very confident about what I was producing and wanted to get better. I knew that this meant drawing more regularly and sticking to some kind of timetable so that I was holding myself accountable. I thought a long-term project would be good to ensure that my skills improved, and it had to be something I could share with others to inspire them. I decided to complete one portrait a week for 50 weeks of a woman I admire along with some information about her background and what she'd achieved and a motivational quote, and then I shared the designs on my Instagram and Facebook accounts.
Vanilla Luxury: Tell us more about the recurring motifs used in your art?
Vix Harris: The recurring motifs kind of happened accidentally. All of my work is drawn spontaneously without planning anything out beforehand, and about halfway through my Rebel Women project, I realised that a lot of my designs had similar patterns and motifs. I tend to draw the leaves first, which fit the curves of the image, and they represent my love of nature and the connection between the natural world and womanhood. The rainbows often seen in my art represent hope for a brighter future, especially in the context of feminism and women's rights, and my belief in equality and support for the LGBTQ community. Finally, some of the women I feature have what I call 'power lines' emanating from their mouths or bodies, which express the power of a woman speaking her truth and refusing to be silenced.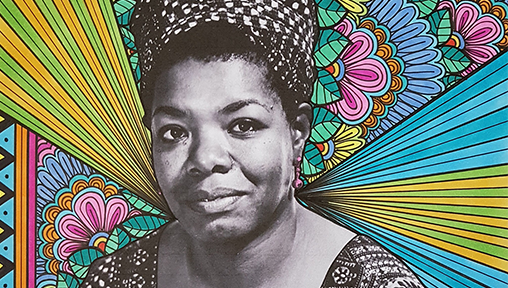 Vanilla Luxury: In your opinion, how can art celebrate and empower women?
Vix Harris: I think art can draw attention to issues in subtle and striking ways - it can make people stop and think but also bring beauty to a subject that might have been previously ignored. I think my art celebrates women by surrounding them with lush, colourful flowers and patterns which puts them firmly in the spotlight instead of sidelining them and their achievements. Art can draw people in and grab their attention in a way that other forms of media can't, and it has no boundaries. It's accessible to everyone and is a great tool to raise awareness and educate. Representation matters and I think that seeing women of all walks of life centred and celebrated empowers others and builds self-esteem and self-belief.
Vanilla Luxury: What can we look forward to in 2019?
Vix Harris: Great question! I've been reflecting a lot on my #50RebelWomen project and feel like I want to take it further. I'd like to get into creating more digital art (which I've kind of resisted because it would take me out of my comfort zone) and use other techniques like collages to create some new pieces. I feel like I've learnt a lot over the last 12 months about women who are doing incredible things in the world right now and would like to include some new faces. I'm also looking forward to more collaborations with other artists and would love to include more of my own photography in my work. Plenty to get excited about!