The great vast land of Ladakh, with varying landscapes and colours of nature playing hide and seek with you, is truly a piece of magic. Barren deserts, green woods, turquoise lakes, pristine white snow and dramatic blue skies - all come together in a beautiful melange of artistry, painted by God's own hands!
Given its altitude of over 11000 feet and the rugged barren terrain, Ladakh is popularly perceived fit for adventure enthusiasts and backpackers alone. But if you like your vacations peppered with indulgence, Ladakh has some of the most exquisite experiences to choose from. Right from glamping under the stars to experiencing Ladakhi royalty, we have listed down the most exotic stays for you.
1. The Ultimate Travelling Camp (TUTC), Chamba Camp – Thiksey: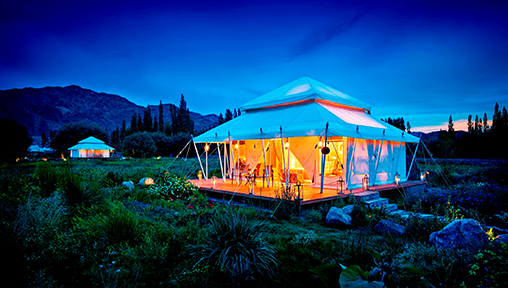 TUTC, Chamba Camp – Thiksey (Images shared by their team)
A rare but perfect blend of the nomadic lifestyle with the indulgences of a truly luxurious stay, Champa Camp is India's ultimate glamping destination. Overlooking the Thiksey Monastery, nestled amidst magnificent Himalayas, the camp offers some of the most pristine views of the region. Each of the centrally heated tents come with exquisite colonial furnishings, a four-poster bed, Persian rugs, chandeliers and a private outdoor patio. For the adventure seekers, the camp staff also organises hikes, rafting expeditions, polo matches and charming picnic lunches. With a 24-hour personal butler, a fully stocked mini bar and bespoke gastronomical delights on order, we have no reason to complain!
Book well in advance as the camps run only from May- October and are usually sold out. Packages start at USD 1100 / night for 2.
2. The Lchang Nang Retreat, Nubra Valley: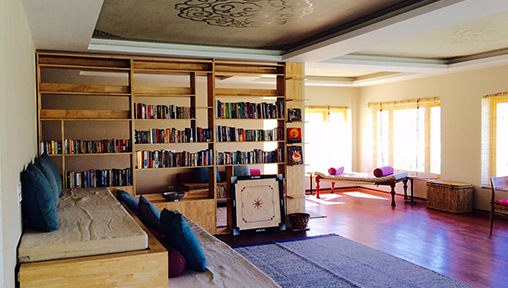 Lchang Nang Retreat (Image shared by their team)
Tucked amidst the spectacular Nubra Valley, the mighty Siachen river flowing past its boundaries, Lchang Nang Retreat promises to be a divine experience soaked in local heritage. Lchang Nang, meaning "House of Flowers" is an eco-friendly retreat spread over 20 acres of apple, elm and oak orchards and runs entirely on solar power. Each of the seventeen cottages, inspired by Ladakhi architecture, is built of mud and stone with intricate artwork and retro furnishings adding an elegant touch. The retreat boasts of a sumptuous kitchen, serving only the freshest produce sourced locally each day. With a private garden and sit-out in every cottage, you can spend your days gazing onto the Karakoram Range revelling in its serenity.
The retreat operates from 1st May to 31st October and tariffs start at USD 200 for a double room.
3. Stok Palace Heritage Hotel, Leh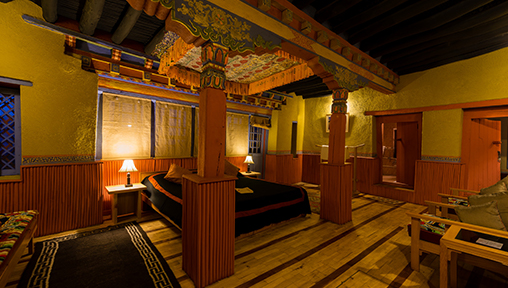 (Stok Palace, Image Shared by their team)
Built in 1820, this 200-year old palace is the Royal abode of Jigmed Namgyal – the current scion of the Namgyal dynasty. With only six suites open for guests, enjoying the hospitality of Ladakhi royalty is definitely a rare privilege. The entire palace is replete with regal luxury, the charming courtyards still reminiscent of an era gone by. The heritage hotel has also recently inaugurated Chulli Bagh, a complex of three ethereal cottages, set amidst apricot and walnut trees within the palace grounds.
While the Palace suites are open from May to September, you can enjoy the Chulli Bagh throughout the year. Room tariffs start at USD 250 for a double room.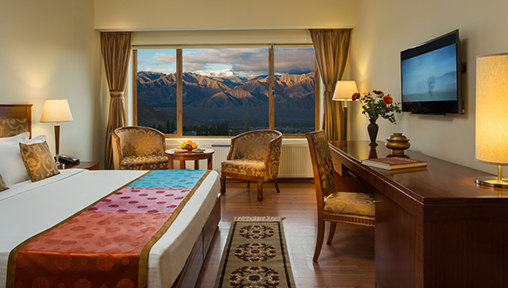 The Grand Dragon Ladakh (Images Shared by their PR Team with Permission to post)
The highest level of luxury on the roof of the world - a promise this five-star hotel never ceases to fulfil. Just about a decade old, The Grand Dragon is one of the first and the most opulent luxury hotels in Ladakh. The expansive rooms and suites are aesthetically designed with intricate Ladakhi detailing and furnishings. Located in the heart of Leh city, rooms welcome you with panoramic views of the Leh Palace, Stock mountains or the Shanti Stupa. Their multi cuisine restaurant offers a lavish spread suited for all taste buds. The hotel is ideal for the leisure traveller, looking to explore the main city and erstwhile capital of the Kingdom of Ladakh.
Open throughout the year, room tariffs start at USD 240 for a double room.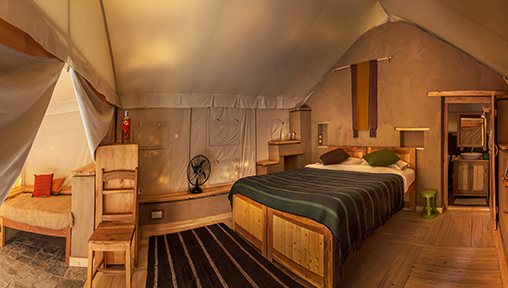 Nimmu House (Images shared by their team)
A homestay like no other, Nimmu House is the biggest house of Nimmu village with 30 rooms and even 2 Buddhist temples within its complex. While only 4 of the rooms are open for guests, the expansive property also features five garden tents overlooking a sprawling orchard of apricot, walnut and apple trees. Perfect for those who love to connect with nature - you can choose from yoga classes in the garden, hike upto the Indus river or just spend your day at the house stable full of yaks, dzos and goats. The house, over a century old is ideal, for those seeking the off beaten path sprinkled with local heritage.
Packages start at USD 200 for a couple and all reservations include breakfast and dinner.