Twinpalms MontAzure is a member of Small Luxury Hotels of the World and features 46 beautifully appointed Suites, Private Pool Suites and Penthouses. The brand new property is located directly on the Northern end of Kamala Beach. The west-facing location of Twinpalms MontAzure ensures that you can catch a glimpse of stunning sunsets when the skies are clear. Here are some of the reasons why Twinpalms MontAzure is the luxury hotel or holiday home for the affluent.
Conveniently Located at Kamala Beach
About a 45-minute car ride from Phuket International Airport, Twinpalms MontAzure offers a complimentary shuttle service for all guests to Twinplams outlets. Twinpalms MontAzure is a mere 15 minutes walk from the lively entertainment in Patong Beach. A visit to Surin Beach takes 5 minutes, a dinner at Palm Seaside is a 10 minutes' drive away and a visit to enjoy the ambience and nightlife at Catch Beach Club on Bang Tao Beach takes just 15 minutes.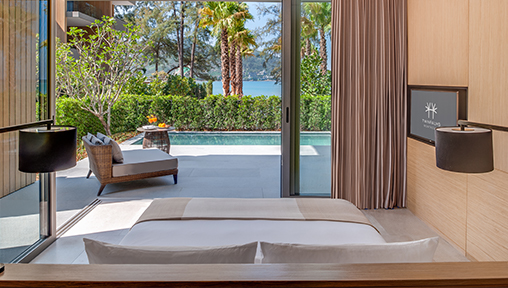 Accommodation
Twinpalms MontAzure Suites have either sea, pool or mountain views. Open-air balconies and spacious rooms offered by Twinpalms MontAzure is ideal for families or friends who are travelling together. Travelling can be exhausting, the luxurious suites and penthouses offer a cosy place to recharge during your getaway.
Infinity Pool Facing the Sea
One of the best parts of Twinpalms MontAzure in Phuket is their infinity pool that overlooks the sea. You can swim, bask in the sun, sip cocktails by the pool or just hang out with friends. We loved hearing the sound of the waves crashing onto the shores while relaxing by the infinity pool. 
Multiple Dining Options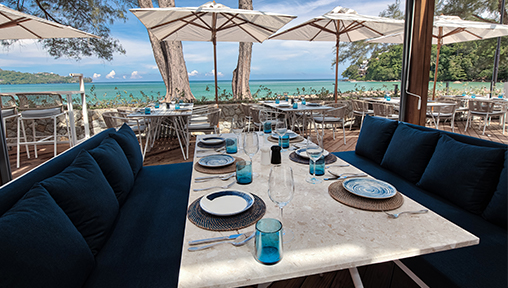 Shimmer
Sip on fancy cocktails, fine wines at Shimmer Beachfront Restaurant and enjoy the splendid view of the sea. Offering vibrant and tasty Southern Thai cuisine, get to enjoy fresh fish, seafood and local vegetables in a chic setting. For a truly indulgent feast, do not miss out on their Saturday Shimmer Brunch. Featuring Boston Lobsters, Wagyu Steak, Foie Gras and a wide array of lavish dishes. Choose from half a bottle of either rosé, white or red wine per person.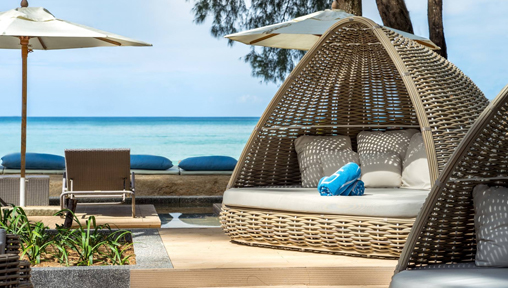 Just a minute's walk from Twinpalms MontAzure, HQ Beach Lounge is the place to just kick back and relax in Phuket. Chic and classy, get the perfect tan as you chill on their comfortable cabanas. Whether you're in for a light lunch or a relaxed dinner by the sea, HQ Beach Lounge & Restaurant has a delectable menu to indulge in their fresh and succulent salads, flavourful seafood, magnificent pasta, light grills and many more.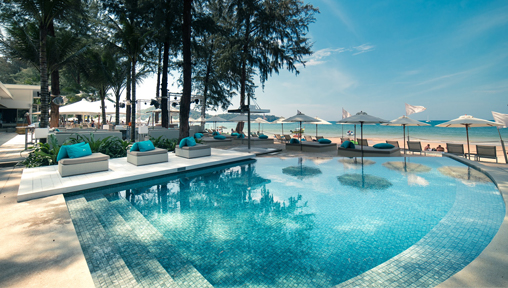 Where it's day or night, Catch Beach Club is less than a 15 minutes drive from Twinpalms MontAzure and Twinpalms Phuket. A paradise for both foodies and party lovers, enjoy champagne and wine while nibbling on some delicious bites from the newly opened raw bar. Whether you're craving for local Thai cuisine or international western fare, Catch Beach Club's buffet has over 50 dishes to choose from including a barbecue meat and seafood. Catch Beach Club is known for hosting year-round weekend parties featuring International DJs and dancers.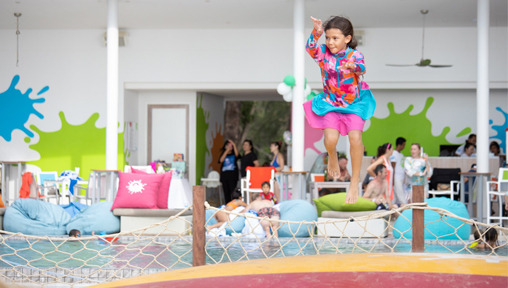 Beside Catch Beach Club is Catch Junior, which intends on making every child's dream come true. Catch Junior consists of activities where children can bounce, jump, play, climb, splash, create and befriend other children from all over the world. Should you choose to unwind in peace, A Catch Junior ChildMinder is also available for hire to watch your kids while you take a break. Catch Junior hosts a kid's brunch every Saturday and Sunday from 12 PM to 4 PM. Adults enjoy complimentary admission and can choose their preferred dishes from the dining menu.