F&B
TWG Tea Launches 3 Award Winning Green Teas
Published Date
: 16 Nov 2017 10:00

TWG Tea Launches 3 Award Winning Green Teas
TWG Tea has just launched Japan's award-winning Hon Gyokuro Teas, so sacred that each harvest yields only 2 kilograms of leaves and are reverently referred to as the Jewel of Dew.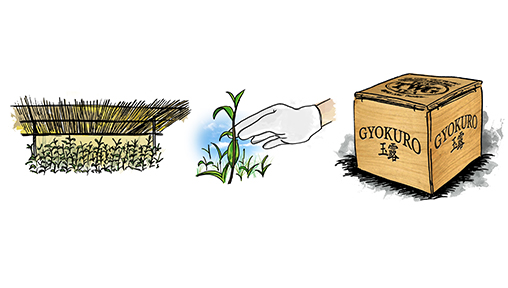 Step 1: Growing Gyokuro
Cultivated with love and care, the tea plants are sheltered at least 17 to 25 days before harvest with hand braided rice mats known as Komo. Gently shading the tea plants from the harsh sunlight, these mats allow chlorophyll levels to develop and produce deep, jade hued leaves and an infusion rich in grassy notes known as Ooi-ha. As Komo are made from natural materials, they provide an excellent source of nutrients for the tea plant when rainfall extracts minerals from the mats.
Step 2: Harvesting Gyokuro
Harvesting takes place only once a year in early May, where the tea leaves are all hand picked directly from the delicate tea plant and processed within the same day. Available in extremely limited quantities, each harvests yield less than 5 kilograms every year.
Step 3: Maturing Gyokuro
Gyokuro is stored in a wooden tea box known as Cha-Bako, where it is left to rest after the processing stage. In October, a small percentage of the harvest is set aside and sent to competitions.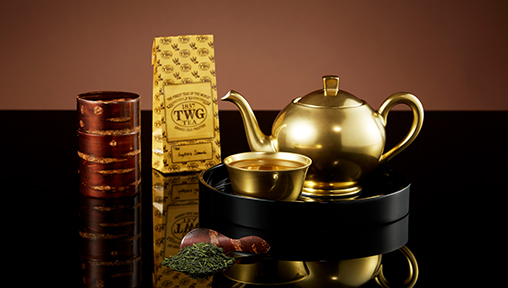 Imperial Gyokuro, SGD $250.50 per pot / $1,210 per 50 grams
One of the rarest teas in the world and the winner of numerous prizes and competitions, the Imperial Gyokuro cultivated by one of Japan's most renowned tea planters in Yame. Painstakingly cultivated under handmade rice straw mats for 17 days, this tea absorbs generous quantities of precious minerals. This glossy, jade-coloured tea grows very slowly, but in consequence, develops a brilliant sweetness and concentrated flavour.
Gyokuro Hisui, SGD $164.50 per pot / $779 per 50 grams
Cultivated by the Master of Gyokuro, an exceptional craftsman with 56 years of experience. He has achieved some of the most sought-after teas of Japan, the last in a great line of tea planters. Covered with hand braided rice mats called 'Komo' for 25 days, this Hon-Gyokuro is harvested by hand just once a year resulting in sea-green leaves of incredible intensity in chlorophyll. Rich and enveloping with thick and heady notes known as 'ooi-ka', this tea is of extraordinary quality.
Gyokuro Minami, SGD $156.50 per pot / $738 per 50 grams
The Gyokuro Minami is cultivated in Hoshino village according to traditional methods kept secret for four generations. Sheltered for 19 days to produce a grassy bouquet, the needle-like leaves are luminescent and emerald green and yield a heady biscuity flavour when infused which quickly deepens into a gentle sweetness. This award-winning garden produces only 5 kilos of this quality Gyokuro every year.
Gyokuro Samurai SGD $24 per pot / $77per 50 grams
Looking for a more affordable option? Recognised by tea connoisseurs worldwide, Gyokuro Samurai yields an exquisite nectar boasting a tannin-free infusion with the sweet scent of fresh grass.
These teas are available in limited quantities at TWG Tea Salons & Boutiques in Singapore and Canada.
G is the Editor-in-Chief of VanillaLuxury.sg and covers all topics that interest her. When not focusing on the latest luxury trends or crafting marketing strategies for her clients, she is busy honing her PR skills through hosting events. Follow her on Instagram at @GursheelDhillon for a peek into her daily escapades.