The earthy aroma, distinct flavour and one-of-a-kind taste that has a special kick to it, so special that whenever someone says truffle - we eagerly wait with our mouths wide open.
July is known to be truffle month and to celebrate this special month, most restaurants are celebrating by creating special dishes with truffle flavours. Vanilla Luxury, on the other hand, is sticking to the classics.
If there is one truffle dish that truly brings out its great flavours, it is the truffle fries. We went down on a little truffle trail, tasting the best of Singapore's truffle fries and narrowing down the choices for you. Our main criteria? Consistent flavours - whether it be in the fry itself or the dip that goes with it. Here is our of the best truffle fries in Singapore:
PS. Cafe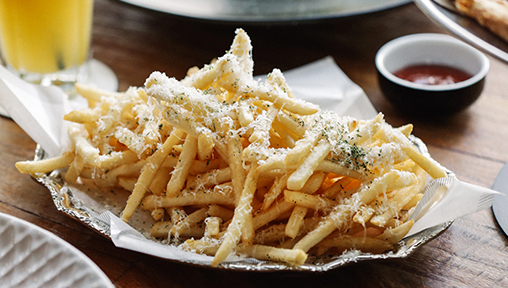 PS. Cafe is hands-down the most popular place for truffle fries in sunny Singapore! Maybe it has something to do with the fact that they were one of the first ones to have truffle fries on their menu, way before the craze had hit Singapore! These fries are fried to perfection and generously topped with truffle oil, parmesan cheese and is big enough to be shared by 2 -3 people.
You might be interested to know that PS.Cafe on Ann Siang Hill runs regular 'Truffle Thursday' nights in celebration of the glorious ingredient. Guests of Truffle Thursday will be given free-flow Truffle Fries when they order drinks and food. Find out more at https://www.pscafe.com/event-calendar/.
PS. Cafe | various branches in Singapore
The 1925 Microbrewery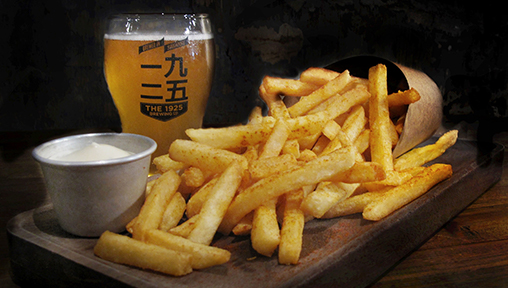 You may have not heard of this secret gem located in Joo Chiat. For all truffle lovers, make sure to add this to your list! The 1925 Microbrewery has a truffle fries made with whole baby potatoes, served with bonito, aged feta, and smoked fish powder! Pair their truffle fries with one of their brewed beers to cap the night.
The 1925 Microbrewery | 261 Joo Chiat Rd, Singapore 427515
SPRMRKT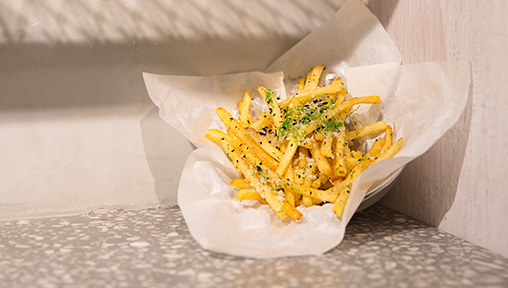 This one is going to be worth every single dollar you spend. SPRMRKT's signature truffle fries features US Idaho potato shoestring fries, tossed in truffle oil and blitzed dehydrated kelp. Definitely a must-order the next time you visit SPRMRKT.
SPRMRKT | various branches in Singapore
Wildseed Bar at The Summerhouse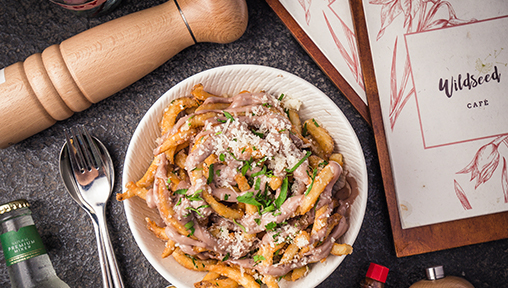 If you have a liking for curly fries, imagine truffled curly fries? Sounds like heaven doesn't it? Wildseed Bar at The Summerhouse offers this little piece of heaven! Their version of truffle fries features curly fries topped with home-made truffle mayonnaise, grated parmesan and chives.
Wildseed Bar at The Summerhouse | 3 Park Lane, Singapore 798387
Froth
Froth is definitely more popular for their one-of-a-kind fusion dishes and quirky combinations of flavours such as their lobster sandwich and taro waffles, but one dish not to miss in this little cafe is their truffle fries. No meal in Froth is complete without having their crispy truffle fries on the side. 
Froth | 2 Finlayson Green Level 2, Singapore 049247
Dancing Crab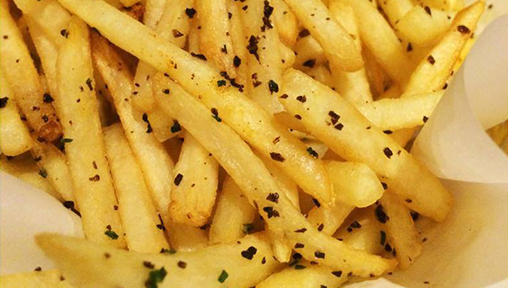 Crispy thin potatoes, fried to golden perfection and the aroma of truffle - there is something about that combination that sounds so appetising. Dancing Crab, the restaurant that serves American style seafood in Singapore, is also home to one of the best truffle fries in town!
The Dancing Crab | Various branches in Singapore
Supply & Demand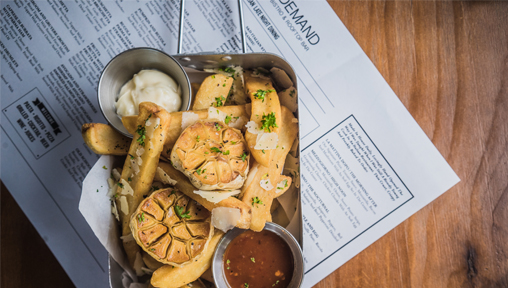 Supply & Demand definitely have a loyal fan base for their mouth-watering Garlic Truffle Fries. Imagine huge chunks of fries, splattered with truffle oil, garnished with shaved parmesan and garlic bits and lastly, served with a spicy homemade dip. Their truffle fries are a must-indulge! 
Supply & Demand | 8 Raffles Avenue #01-13 Esplanade Mall, Singapore
Have a place in mind that serves better truffle fries than these do? Let us know!