beauty
Top Hair Colours To Flaunt This Season, Available At Singapore's Leading Hair Salons
Published Date
: 08 Sep 2022 10:00

Here's a glimpse of the trendiest hair colour you should be sporting this season
Are you getting bored of your current hairstyle and looking to spice things up? Finding the best hairstyle and colour that can reflect your personality and style can do wonders for a re-jig. Sporting hair colour that is well-suited for you will also help accentuate your features and boost your confidence. 
Continue reading for a glimpse of the trendiest hair colour you should be trying right now. And where better than the best salons in Singapore for your next hair transformation! 
Trend alert! Smokey (or foggy) hair colours will be the go-to shades in the upcoming years, especially in Asia. 
Why, you might ask? That's because the majority of Asian skin tones are less compatible with neon and vivid hair colours. These bold hair colours typically dull the wearer's complexion unless heavy make-up is worn. 
There's also merit in using Japanese dyes as opposed to European or American brands to better create these gorgeous grey shades. That's because Japanese dyes contain the colour grey to de-saturate pigments – creating a foggy or smokey effect. These grey tones also help neutralise the warm pigments – that are predominant in Asian hair – making tresses less brassy and more well-suited towards Asian complexions. Say hello to brighter and even skin, today! 
Now here's the best news! Japanese dyes are now available at Singapore's leading hair salon, Chez Vous! 
If you're keen on sporting these beautiful shades, ask for Chez Vous' Hair Defence Technology to be incorporated during your visit. Chez Vous' Hair Defence Technology is the most effective multi-step cocktail plex treatment in the market today. It's the first combination therapy proven to minimise hair damage by up to 50% caused during the bleaching and colouring process. Yes, your hair will thank you later!  
This combination therapy fortifies the different molecular levels of the hair, not just one! Read more about this treatment in our review here. 
What's more, Chez Vous is currently running a promotion which includes haircut, bleaching, colour and Hair Defence Technology* at $455 + 7% G.S.T. Book right away! 
*Exclusive to Chez Vous Hair Salon (Main Outlet) only. 
Chez Vous. #05-05 Ngee Ann City Podium (Takashimaya), Singapore 238872.
Call (+65) 6732 9388 to book an appointment, or log on to chezvoushair.com for more information.
No hard-selling, a passionate and experienced hair designer team and ambience as relaxing as a spa, make Do. My. Hair Salon one of the best hair salons in Singapore. Known for its affordable prices, and highly Instagrammable decor, they lead the way with hair trends, including those for hair colour. 
If you are confused about which hair colour to flaunt this season we recommend a consultation with Do.My.Hair Salon's hair designers. Offering a variety of options including Maji Fashion for high visibility, fashion colours or the best-selling iNOA by L'Oréal Professionnel hair colour, they will find the right match for your hair and style expectations. 
If you are after products made especially for Asian hair, then take a look at Primience, the ultimate hair colour formula developed for our hair. 
As Shiseido Professional's signature professional colour dye range, Primience is based on makeup and skincare technology and designed especially for Asian hair types and skin tones. Available in a wide range of colours, it maintains the hair's silky texture even after colouring thanks to its proprietary S-hyaluronic acid ingredient that keep cuticles hydrated. 
If you prefer trendy, neutral-tones with a smoky finish, opt for ULTIST by Primience, which comes with an innovative Color-in-Core Technology to lock colour into the core. 
It minimises damage to allow for repeated colouring while its Micro Oil-in Formula allows colour dyes to travel into the hair core effectively. Furthermore, ULTIST colours lower the loss of hair strength that typically comes with hair colouring via its Amino Micro Veil Technology. 
Need more inspiration? Just speak to the friendly hair designers at Do.My.Hair Salon to curate your next statement colour - one that you will want to flaunt!
Do. My. Hair Salon. 181 Orchard Road, Orchard Central #04-13. Singapore. Phone (+65) 9722 8268
Airtouch Balayage has taken the world (especially Asia) by storm. If you've been looking for #hairinspo on Tik Tok or Instagram, you'll definitely see tons of Airtouch Balayage pictures and videos on your feed. Without a doubt, this is the biggest hair colour trend that's currently raging in all major fashion capitals - Tokyo, New York, Taipei and Shanghai!
The Airtouch Balayage hair colour trend started to gain traction 2 years back. This technique is unique in that it uses air, versus traditional teasing and backcombing, to achieve a seamless blend of colours. To attain this, hair is parted into sections and highlighted in foils. It is like a crossbreed between Balayage, Sombre and Highlights.
Why is Airtouch Balayage Hair Colour Trend So Popular in Asia? Traditional freehand or Balayage techniques do not lighten Asian hair effectively. That's because Asian hair tends to contain darker and warmer melanin. Airtouch Balayage, on the other hand, saturates sections of the hair in bleach and seals them in foils. Thus, enabling effective lightening.
Moreover, this hair colour trend looks equally good whether customers prefer to wear their hair straight or curled, unlike conventional Balayage. Bonus: Your hair will still look great after fading to a blonde base!
Keen to change up your look? Where else to try out this Airtouch Balayage hair colour trend than our favourites at Chez Vous: HideAway! 
Get access to their exclusive Promo Bundle by quoting promo code - #MoreTreatmentPlease when booking an appointment to enjoy one more round of Advante Water Treatment after the colour service. The following is included: 
1 X Haircut
1 X Airtouch Balayage with Bleach
1 X Toning
1 X Advante Water Pre-service Treatment
1 X Advante Water Post-service Treatment
1 X BondPro Protective Hair Shots
All for just $399 + 7% G.S.T. for all hair lengths!*
Chez Vous: HideAway.  #14-04, 391B Orchard Road Ngee Ann City Tower B (Takashimaya), Singapore 238874.
Call (+65) 6219 3558 to book an appointment, or log on to chezvoushair.com/hideaway for more information.
This leading, one-of-a-kind hair salon in Singapore offers tailored and customised services to each of its customers. Be U Hair Design prides itself on providing the utmost quality of products and hair salon service in the city. Along with bringing out the best version of you, they also take the time to educate customers about hair care. Take, for instance, their most popular hair service - hair colouring. 
Did you know that the colour of your hair should be based on your skin tone? Be U Hair Design advocate that knowledge of cool or warm skin tone can help to choose the right hair colour for you. How do you do that? From checking the colour of your veins on your wrist, the type of jewellery that suits you and other tips and tricks, their team will be able to assess what skin tone you have and what hair colour charts would suit you. 
If you have a particular hair colour trend that you would like to try, ask them! Be U Hair Design keeps up with the latest catwalk looks and will integrate these elements into your balayage, highlights or other hair colour techniques. 
Best of all, this affordable hair salon in Singapore also offers 100% organic hair and scalp treatments for customers who suffer from mild to severe scalp conditions. 
Each visit to Be U Hair Design allows you to "Be U" or yourself. The hairstylists here will take your lifestyle, face structure and other elements into account before recommending a style that works for you. Make time for that appointment today!
Be U, Be Yourself!
Be U Hair Design. The Centrepoint, 176 Orchard Road, #01-33J. Phone: (+65) 6909 3250
If you have been following closely, Picasso Hair Studio has been at the forefront of Singapore's hair innovation scene for a while. A salon that uses data and metrics to derive the best (golden) ratio for your hairstyle, they are known artists at perms, hair colours, hair cuts and plenty more. 
When it comes to hair colours, Picasso Hair Studio are predicting that Balayage Highlights is what you should be donning this season! 
Balayage Highlights are hand-painted highlights that have been taking the lead as one of the most sought-after colouring techniques since 2016. With the twist given to this highlighting technique in the last few years, Picasso Hair Studio has also re-invented the way Balayage Highlights is being applied to the hair. 
The studio refers to this invention as a Multi-Dimensional Balayage which makes the balayage highlights pop creating a dimensional effect. Take heed though, depending on the colour you choose, you may require one to two rounds of bleaching. 
The best part? This technique of Balayage, not only looks good on curly hair but also on straight hair! Prices range from $319 -$489 including a haircut, bleaching and any design of colour. 
Bugis: 662 North Bridge Road singapore 188798. Phone (+65) 62910691
Novena: 1 Goldhill Plaza #01-49 Singapore 308899. Phone (+65) 6224 0221
Have a 'peek-a-boo' moment with the latest Ear Loop Peakaboo Highlight with Black Hair Salon. As its name suggests, your hair around the ear loop will be highlighted with the dye colour of your choice. It is not hard to figure out why this highlight is so popular as you can adjust your look with minimal effort. Simply hide your dyed hair when you are feeling subtle or pull your hair back to let the dyed streaks shine and stand out. 
You will be relieved to know that the Ear Loop Peakaboo Highlight is extremely low-maintenance and is easy to experiment with. Without causing much damage to your hair, get yourself striking dyed streaks to impress and dazzle the crowd. If you have trouble picking the colours, rest assured as the friendly stylists at Black Hair Salon will provide professional suggestions and explanations. With your highlighted streaks being a stark contrast to the rest of your hair, the colours are sure to pop and catch the eyes of many. 
Any first-time customers at Black Hair Salon? 
Head over for your hair makeover with 15% off any Chemical and Treatment services, and 10% off Hair cut services! 
Black Hair Salon. Capitol Singapore, 13 Stamford Road #B2-44, Singapore 178905
Phone: (+65) 68359976 or Whatsapp: (+65) 88939593
Go bold and don the colours of precious jewels on your head! Inspired by the vivid colours of gemstones, Blow + Bar offers the Jewel Tones (S$130 and up) dyeing service to colour your mane into any colour of your choice. Transform your hair with a wide range of colours – emerald green, pastel purple or bold dark blue. Taking pride in their artistry, the talented team of stylists at Blow + Bar aim to help you live out your wildest hair colour fantasies.
For those seeking something more subtle and natural, check out Blow + Bar's Sunkissed Colour – Balayage. (S$230 and up) Featuring bespoke freehand painting techniques that give a softer hair colour with a multi-highlight effect, Blow + Bar's Sunkissed Colour Collection is suited for anyone seeking for a sun-kissed look. Through the contouring of your hair, the Sunkissed Colour – Balayage frames your face beautifully. Each session starts an in-depth consultation to curate your look with the stylist helping you find the one that suits your skin tone, lifestyle and hair texture the best. Regrowth-friendly and low-maintenance, the Sunkissed Colour- Balayage leaves you worry-free about the possibility of frequent touch-up sessions. 
7 Rodyk Street, The Watermark Condominium #01-32, Robertson Quay Singapore 238215. Phone: (+65) 6238 7338
140 East Coast Rd, Singapore 428830. Phone: (+65) 6440 0316
Want to colour your hair but are afraid that it may not suit you? Colors Hair Singapore's got your back with their hair customisation service to ensure you get the best results! With the team's extensive experience, skills and knowledge, you can feel free to add a splash of colour to your hair after the detailed consultation session. Dedicated to their craft, their team of Japanese stylists will make sure you find your desired hairstyle and hair colour that best suits you. 
Go for the Freestyle Colouring Technique if you are up for a twist from your usual hair dye session! Ranging from avant-garde concepts to natural wispy looks, Colors Hair's stylists are able to customise your hair colouring process according to your hair quality and preference. Taking your lifestyle into consideration, they are also well-versed in recommending hair colours that will allow your post-hair care and styling to be simple and convenient. Open to any proposals, you can collaborate with the stylists to accomplish a unique and artistic look with the Freestyle Colouring Technique. Enjoy a transparent and comfortable hair makeover experience and allow your freshly dyed hair to speak for you!
288 River Valley Road #01-01, Singapore 238329. Phone: (+65) 6235 0226 
Blk 531 Upper Cross St, #02-62, Hong Lim Complex, Singapore 050531. Phone: (+65) 8359 6430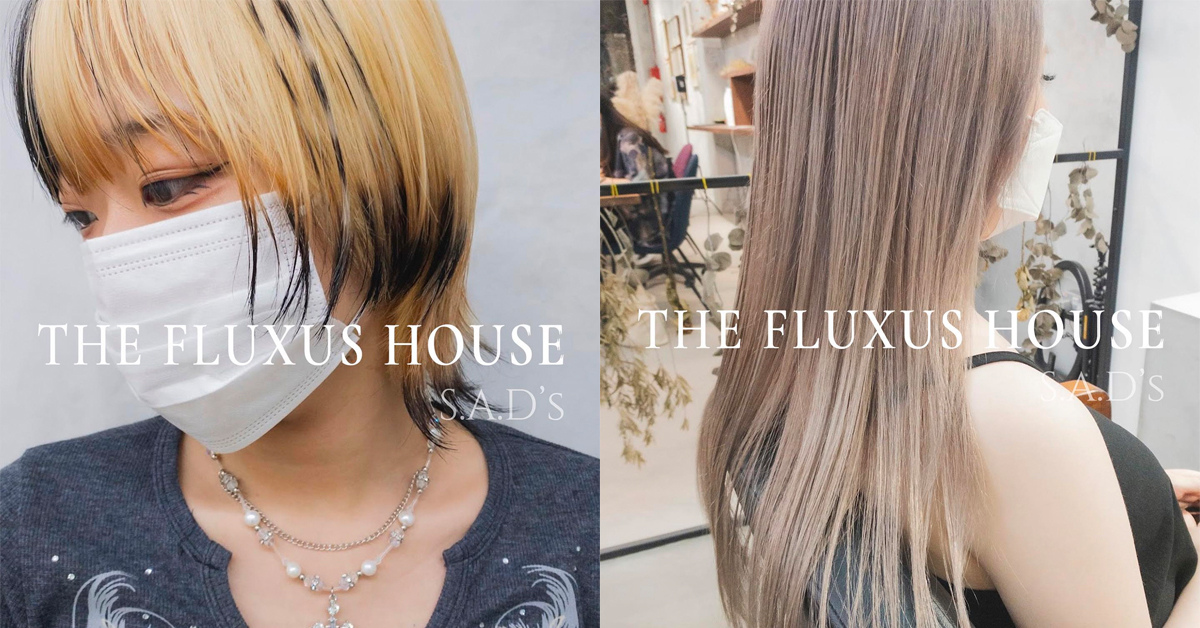 ​The Fluxus House
With a goal to be a safe space for aspiring local artists and art students, The Fluxus House is the perfect place to go if you are looking for an artistic hair design. With its passion to break stereotypes and conventions, you will definitely receive compliments on The Fluxus House stylists' fun and artistic delivery of hair designs. 
Opt for the one-time (S$160 to S$200) or two-time (S$280 to S$320) Care Bleach depending on the colour you would like to dye your hair. Using only the least damaging bleach – 'care bleach', you won't have to deal with all the frizz and hair damage that comes along after a makeover.  With the stylists proficient in designing colours to produce soft beige colours or vibrant glamorous colours depending on your preference, you can go for the Full Head of Highlight 3D Colours! (S$230 to S$280) Accompanied with the 'care bleach', your highlights will stay as bright and fresh for an extended period. 
The Fluxus House. 23 Teo Hong Rd, Singapore 088332. Phone: (+65) 92307657 or book online.