beauty
Top Barbers in Singapore for that Perfect Grooming Experience
Published Date
: 26 Jan 2021 10:00

We've rounded up a list of the top barbers in Singapore so you don't have to look for the best around town!
Looking for a barber in Singapore? We have rounded up a list of the top barbers in Singapore to save you from the hassle of having to search for one. From a trim, shave, cut and even indulgent facials, these barbers in Singapore will give you the complete grooming experience.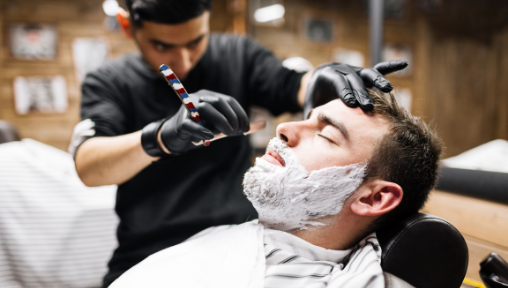 When it comes to choosing the best barber in Singapore, Hair Mafia & Co. Barber Shop is uniquely skilled. Not only do they have barbers that are proficient in the art of barbering and a traditional wet shave, but the brand is also behind the leading training academy for barbers in Singapore. The owner is a member of the British & American Barber Association and their courses are the one and only internationally accredited barber training in Singapore.
What started off as a business fueled by the lack of a proper Barber Training Academy in Singapore, has branched out to Hair Mafia & Co establishing their first barber outlet in the historic enclave of Joo Chiat. This barbershop is set in a loft of a conservation shophouse featuring an F1 theme. Clients can enjoy a quality haircut, a traditional wet shave, as well as indulge in hair and scalp treatments.
Want an exceedingly great shave? Try their Traditional Cut Throat Wet Shave. A traditional hot and cold towel wet shave, it used only organic products from start to finish, with all the pre and post-shave blends, made in-house using the finest ingredients. 
Hair Mafia & Co Barber Academy and Barbershop also sell a range of luxe men's grooming and hair care products like shampoos, beard oils, pre-shave oil, post-shave oil, and pomades! We would highly recommend taking the time to pamper yourself by booking an appointment right away.
Hair Mafia & Co. Barber Academy & Barber Shop. 178 Joo Chiat Road #02-01 Attic Singapore 427449. Phone: (+65) 6864 9612 / 9423 1999. Email: [email protected]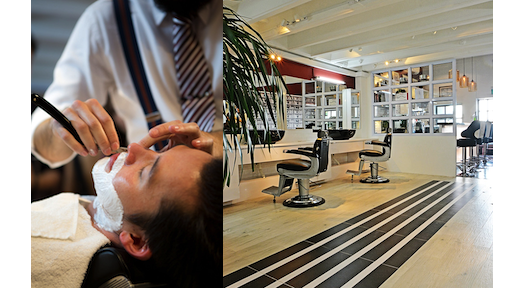 If you've heard of Jermyn Street in London, you'll know that they are famous for their history of grooming men for centuries. With its Singaporean avatar, Jermyn Street has now brought the high-end barber experience along with the ambience of an exclusive gentlemen's club. 
Inspired by the rich patrimony of its London parallel, Jermyn Street offers the right atmosphere for men to come and be groomed, and unwind after a day's work. And you can expect just that! A bar-like setting, with indulgent grooming options thrown in, you can choose to sit in a corner, drink in hand or book yourself a treat for all senses.
Whilst you get the traditional trim and shave at this posh, rather lavishly done up corner, you also can enjoy luxury facials designed for men using Dermalogica, a professional-grade skincare brand.
The Luxury Facial is an in-depth facial service that helps to refine and hydrate, which immediately provides nutrients and vitamins to soothe the skin from environmental stresses. You'll start off with a power cleanse along with steaming so the pores are softened. This is followed up with microdermabrasion using an ultrasonic cleanser machine that will refine pores and encourage cell turnover. Post a gentle extraction, and Nano cold mist to soothe the skin right after, you'll get a face massage and face mask. Finally, you'll have skin that is hydrated using Dermalogica moisturiser and sunblock.
Within 60 minutes, you can walk out looking like a new(ish) man, relaxed and having accessed one of the most exclusive barber experiences in Singapore.
Book before you go! 108 Amoy St, Singapore 069928. Phone: (+65) 6220 4010

Lauded as the world's oldest barbershop, the London-based barbershop once served the Duke of Edinburgh himself. The bespoke barbershop exudes a timeless classiness with its dark leather fittings and barbers dressed in crisp uniforms. Expect to be groomed in the classic style as well, with razor-blades for shaving and the whole shindig. For a truly classy barber experience in Singapore, visit
9 Ann Siang Road, Singapore 069690. Phone: (+65) 6223 5263

 
Sultans of Shave, the brainchild of three good friends, Lewis, Derrick and Ting Xi, who conceived the idea fresh out of University. Sultans of Shave is a barbershop in Singapore that caters to the modern urban man with a taste for the finer things. The bespoke barbershop in Singapore not only boasts lavish fittings but a sleek bar and lounge area featuring custom-made couches, not to mention the fact that it sells stylish menswear as well.
Multiple locations.

While O'Boy might not be a barber in the truest sense of the word, this wondrous product deserves a feature on this list. In 2015, the co-owner and founder of the hair pomade, that was ranked 'Best Pomade' in the Men's Health Grooming Awards 2014, Chris Seow, opened a barber service subsidiary. Prior to its success, Chris co-founder Mr Ton Barber from Thailand opened Autocutt Barbershop in 2013.
Autocutt offers a one-of-a-kind service for its customers. Customers can get a regular hair cut, or a hair tattoo, a hot towel shave or styling, all while being allowed to play their favourite music during their treatment. Services range from $15 to $35, depending on the type of treatment. O'Boy, of course, is a primary feature amongst the fine selection of products. O'Boy has been specially developed to cater to Asian hair needs and style trends for the fashion-conscious male.
Multiple locations.

Our final top barbers in Singapore spot goes to Grease Monkey Barber Garage. Its exterior resembles a Motorcycle-warehouse, with its impressive collection of grunge-style metal fixtures and vintage bikes and chairs. Much like the stylish fittings, haircut prices can be a little steep but are definitely worth it because of the effort that goes into the styling. Grease Monkey can also be found with pop-up booths at various festivals (Neon Lights for example), where purchases of a certain type of rum can get you a free haircut! A simple cut and wash is $45 and other haircuts range between $34-$38. If you're a regular, it's $30 a pop.
15 Mayo Street, Singapore 208312.