Pool parties have become a huge deal around the world. Vegas, Ibiza, Goa and Boracay have all become famous for their pool-side events. Naturally, Singapore too did not let this pass and jumped on the bandwagon.
Deciding what to wear to a pool party could be tricky. You want to look good, but you also want to be comfortable and take into account the fact that you are going to be in and out of the water. If the thought of being pool-party-ready is stressing you out, worry not. From sunglasses to sunhats, Vanilla Luxury brings you a guide on how to dress for a pool party:
LOOK # 1: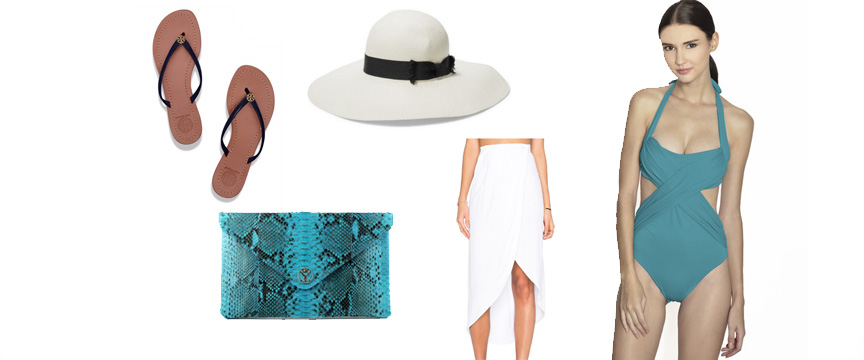 Get the look: Swimsuit - August Society; Skirt - Revolve Clothing; Clutch - House of Sheens; Slippers - Tory Burch; Sunhat - Sensi Studio
Bare those legs for a perfect sun tan! This one-piece swimsuit from August Society could be covered up with a skirt from Revolve clothing and accessorized with matching shoes, hat and an oversized clutch. This look is ideal for those who are looking to hop in and out of the pool.
LOOK # 2: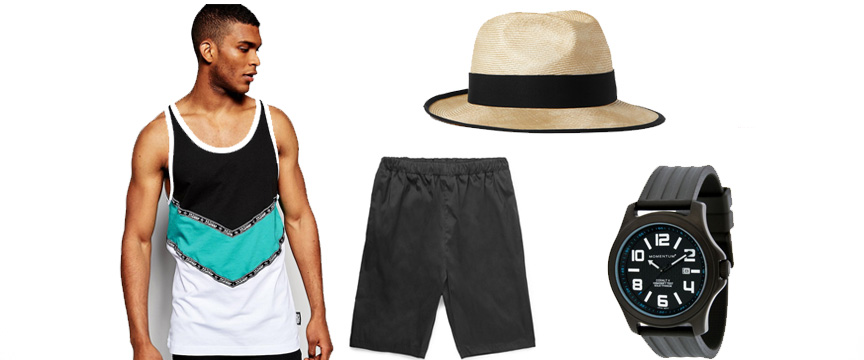 Get the look: Singlet - Jaded London; Shorts - Christopher Kane; Watch - Momentum; Hat - Junya Watanabe
For the gentlemen, you can play it casual with jersey shorts and a singlet. Top it all off with a waterproof watch from Momentum and a straw hat by Junya Watanabe.
LOOK # 3: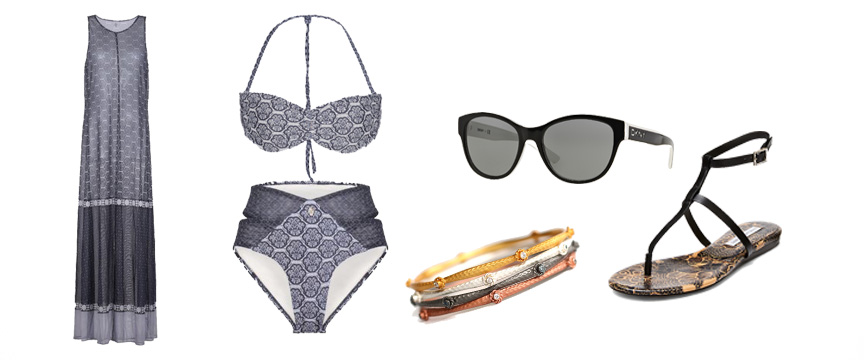 Get the look: Bikini - K.Blue; Dress- K. Blue; Bangles - Lustre Jewellery; Sunglasses - DKNY; Flats - Dianne Von Furstenberg
What could be more perfect for a pool party than this long slitted dress by K.Blue. Pair it up with a bikini in similar prints and accessorize with bangles, sunglasses and these gorgeous flats from DVF and voila! You're good to go.
LOOK # 4: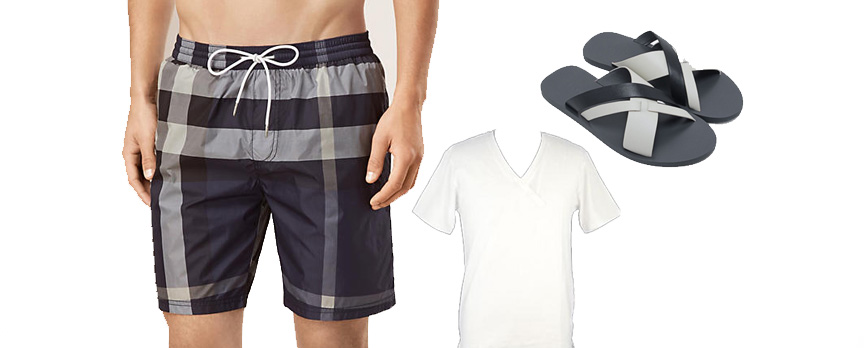 Get the look: Shorts - Burberry; Tee - Club Monaco; Slippers - Pedro
Flaunt that perfect chest and get ready to hop in the water with these swimming trunks from Burberry. Throw in a plain white tee and slippers to go with it and you have an outfit that's all ready.
LOOK # 5: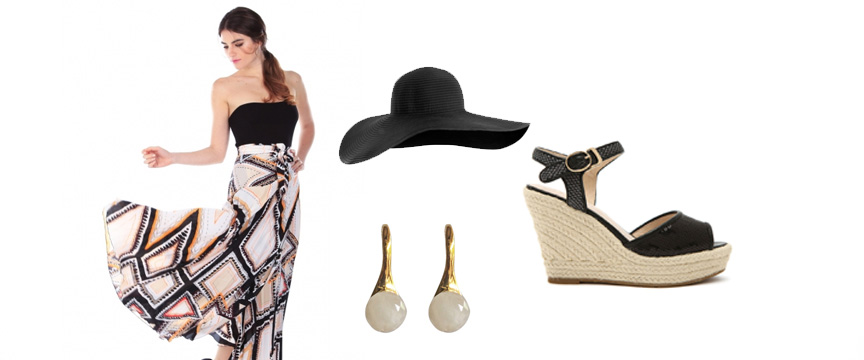 Get the look: Dress - Pleatation; Earrings - Lustre Jewellery; Shoes - Pazzion; Hat - Global Babe
Keep it classy with a maxi wrap dress accessorized with wedges, earrings and a sunhat - this is the perfect get-up if you plan to sit by the pool and grab a drink or two.
LOOK # 6: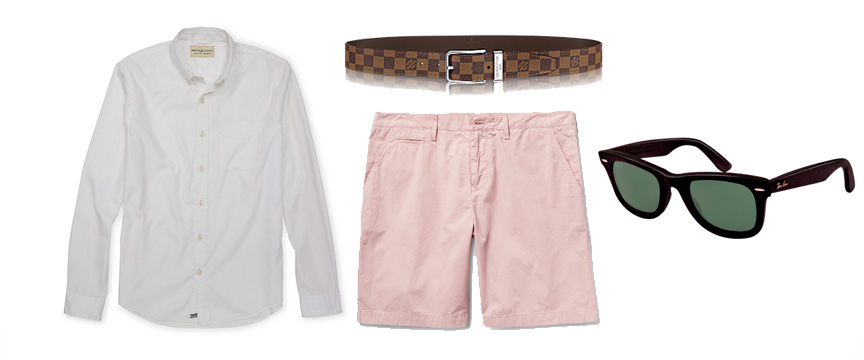 Get the look: Shirt - Ralph Lauren; Shorts - Burberry; Belt - Louis Vuitton; Sunglasses - Rayban
If your definition of a pool party does not involve soaking up then keep it cool and casual with coloured shorts and a plain white polo. Add in a belt and sunglasses to further elevate your look.