F&B
Best New Restaurants and Menus in Singapore
Published Date
: 30 Mar 2023 10:00

Looking for the best new restaurants and menus in Singapore? Discover the hottest finds and start indulging in these tried & tasted restaurants today
New year, which also means new restaurants and menus in Singapore's vibrant F&B scene to explore! If you struggle with choosing where to eat for every meal, fret no more. We've rounded up exciting new restaurants and menu launches at some of our best restaurants and new menus in Singapore. 
Bookmark this page and stay up to date with our list of the best new restaurants and menus in Singapore.
Best New Restaurants and Menus in Singapore: March 2023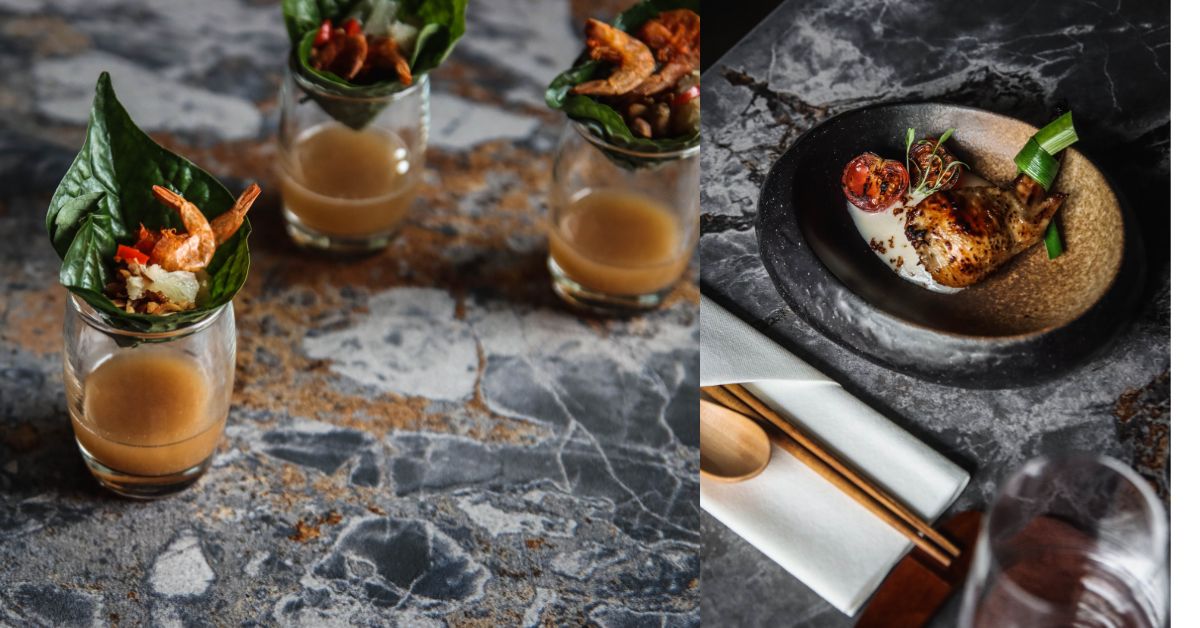 Restaurant Chedi, a contemporary Thai restaurant located in Jalan Besar along Hamilton Road, formally opened its doors this year and flaunts all things understatedly sophisticated. Their 8-course tasting menu ($148++) changes throughout the year to offer diners new entry points into Thailand's diverse regional cuisines. Look forward to the chefs' deft balance of hot, sour, salty and sweet — the hallmarks of Thai cuisine — coming to the fore in each dish. 
Our favourites include the Miang Kham, a snack popular in Chiang Mai and Chiang Rai. Served in a wild betel leaf presented on a shot glass, of a drink made with tamarind, palm sugar and soda water to cleanse the palate after. Sweet, sour, salty, spicy - the flavours surprise as much as they entice!
The Tom Kha Gai is a considered rethinking of the iconic Thai broth. A chicken wingette is painstakingly tunnel-boned before it is stuffed with peppery chicken and mushroom glutinous rice as well as foie gras, baked, and then served with a cold espuma dip. 
You can't leave without trying the Tub Tim Krob, Simple, understated and deeply satisfying, every bit of this dessert is house made! A coconut ice cream topped with toasted coconut, and house made red ruby, it makes for the perfect ending to that incredibly satiating meal.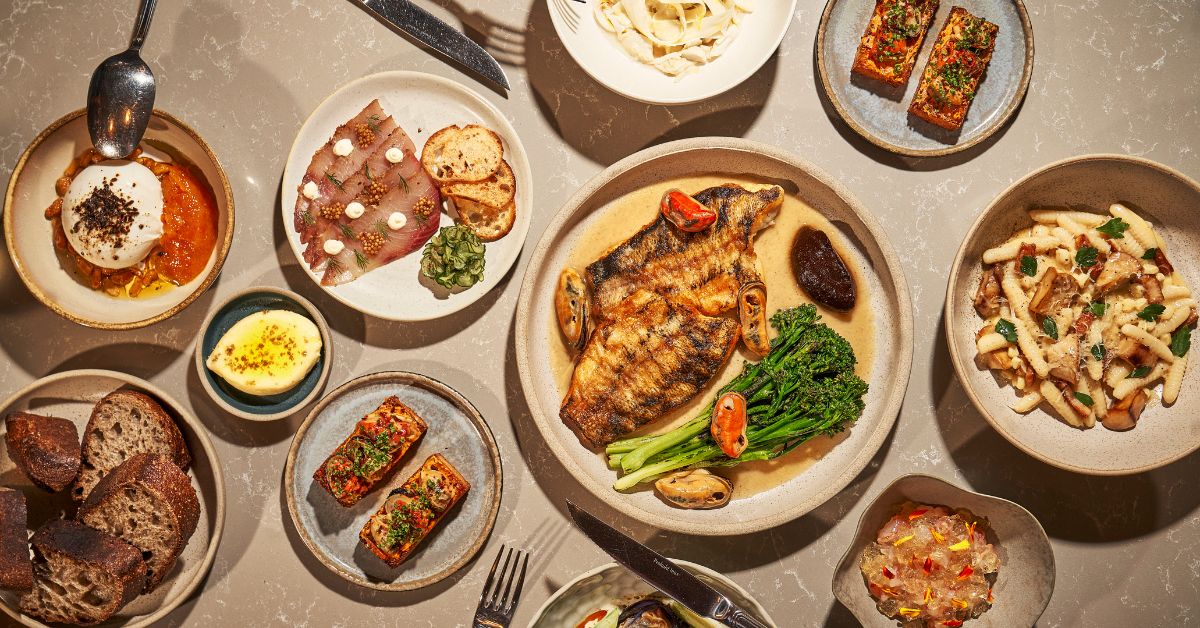 Modern seafood restaurant Humpback returns with a new menu and refreshed space. With a seafood-centric cuisine featuring the best seasonal seafood, a blend of European cooking methods and Japanese influences. Additionally, the ample wines and welcoming hospitality that is the hallmark of Jigger & Pony Group. 
When you visit Humpback, the Oyster Platter is a must-have. With three varieties to choose from including the Blue Pool, Hama Hama, and Summerstone - try all of them for the ultimate indulgence. 
We can't have enough of the Mussel Toast with Spicy Nduja. Toasted brioche fingers with plump, juicy Australian mussels which are tossed in a smoked oil, and topped with vinegar gel, fennel flowers and chives to lend tang and freshness.
The Ricotta Cavatelli with Swordfish Bacon and Chitose Corn, although Humpback's only pasta offering, did not disappoint. We were surprised to know that it is fried with swordfish belly bacon. The Cavatelli is handmade in-house daily and cooked in its creamy base of corn stock with oyster mushrooms and Chitose corn. 
The Toasted Castella Cake with Crème Fraîche Ice Cream and Soy Caramel was a delightful finish. A warm treat that is topped nicely with a hint of acidity, umami flavour, and savouriness.
Best New Restaurants and Menus in Singapore: February 2023
Chef Tariq Helou may just be 28 years old but his Japanese, Chinese-Singaporean and Lebanese descent has him serving up cuisine with character. Some signature dishes remain throughout the year, in particular the Cold Ebi Somen, which has been on Chef Tariq's menu since 2019. His winter menu at Fleurette begins with his signature chilled dashi-dressed Somen topped with raw Botan Ebi and anointed with Prawn Oil is a riff on a dish his grandmother often made for him. "It is my personal take on Singaporean Prawn Mee," said Chef Tariq. This dish was paired with Yamashiroya 1st Class Junmai Daiginjo, a sake that offers a fresh take on the ancient Kimoto brewing method.
We thoroughly enjoyed his rendition of Madai Sea Bream with Coriander Shari, his hand rolled sushi with Akami Tuna with Avocado, Obsiblue Prawn En Gelée. Fleurette's Miso Cured Foie Gras with Madeira, Black Truffles and Onions was accompanied with Setchu Maizo Junmai Ginjo Snow Aged. Freshly squeezed Junmai Ginjo sake brewed with 100% Miyama Nishiki is hand-salted by a local farmer, and is freshly bottled. This sake is then buried under the snow and matured for 90 days to achieve a fine and well-rounded taste.
The seasonal Chawanmushi, topped with Katsuobushi stock and Fleurette's "Special Reserve" Caviar, was paired with the "newspaper" sake, a no-name sake wrapped with newspaper that has limited production and is hard to find. The pan seared Hokkaido Scallops served with a Sambal Beurre Blanc and garnished with pickled pearl onions and finger lime added a Singaporean touch to the dish. 
Beyond the exquisite cuisine, attention is paid to every detail, from the thoughtful service and wine list curated by Chef Tariq himself, to the vessels and cutlery that make all the difference to the dining experience. Before our Guinea Fowl was served, we were presented with a set of handmade knives by French cutler Roland Lannier set in a wooden knife box specially made for Fleurette by Alvan Koh of Singapore-based Mokko Wood Studio.  This dish was paired with Mukai Ine Mankai from Kyoto, one of the most unique sake made with ancient red rice. It has a complex cherry and vanilla aroma with a unique sweet yet tart cherry and pomegranate flavours topped with a savoury, umami rich palate. 
Every meal at Fleurette ends with fresh-from-the-oven Madeleines laced with the scent of Tahitian vanilla honey. A quenelle of freshly churned vanilla ice cream, drizzled with Spanish extra virgin olive oil and strewn with delicate flakes of snow salt turn this classic combination into something truly special.
The winter menu is until 27th February 2023 and is priced at $298++ and opt for the sake pairing at an additional $198++.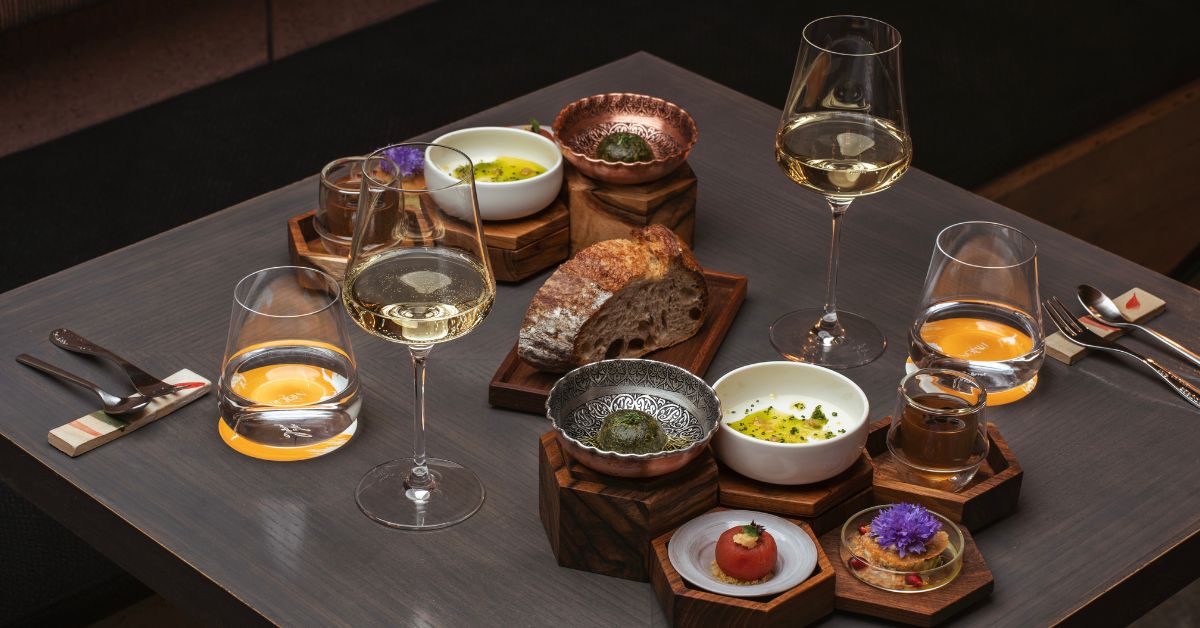 Michelin-starred restaurant Nouri, helmed by Chef Ivan Brehm, has unveiled a new weekday lunch menu showcasing their DNA of Crossroads Cooking that changes every week. Priced from $68++, this lunch menu features dishes that highlights the most seasonal from their farms and purveyors and is created collaboratively by their team. The new menu focuses on cultural commonalities and the spread of gastronomic ideas across the world. 
For snacks, we had their housemade Rye Sourdough and Vegetable Broth. Our starter was their Hamachi and Citrus which reminded me of a ceviche made with a citrus cured yellowtail kingfish, fish collagen emulsion, topped with Oscietra caviar. Our mains were the Pumpkin Barramundi which was cooked in turmeric, drizzled with pumpkin hazelnut, pumpkin puree and foam.
A must-add on is their Chocolate Fish Ball which is a burst of a rich chocolate sorbet, ikan bilis, wild pepper leaf and colatura di alici. Diners can also opt to add on wine pairing for $90++ or sake pairing for $105++ as it honestly is such a vibe. We highly recommend you make your reservations in advance as it was full despite the lunch menu being relatively new and is only available from Wednesdays - Fridays.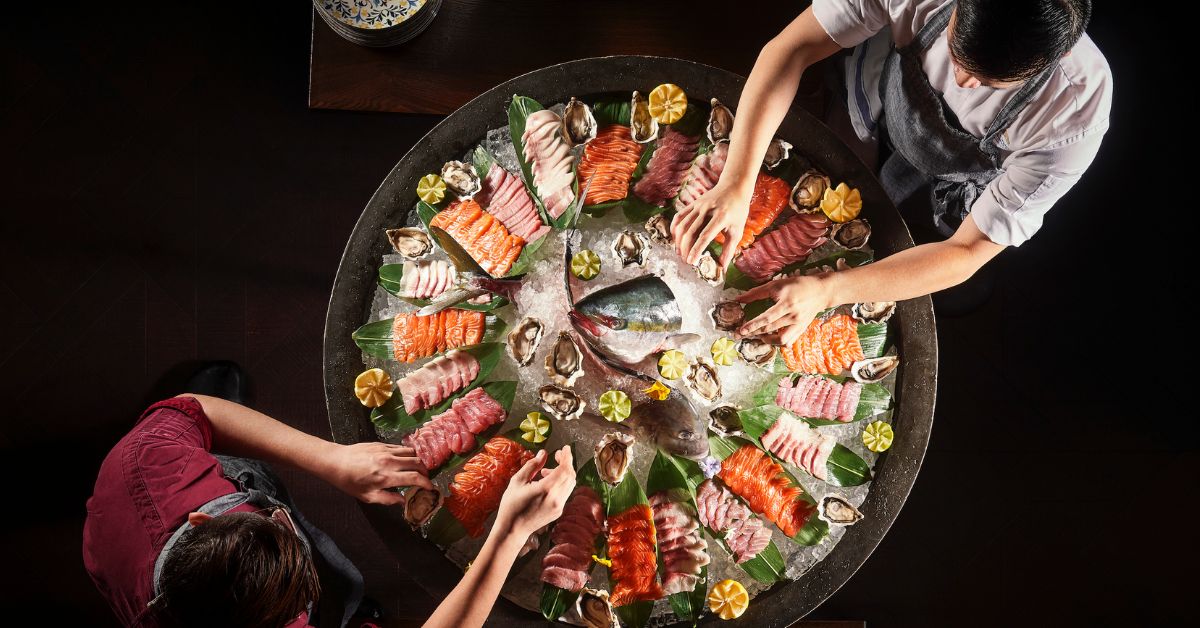 When it comes to the best boozy brunches, the first thing we look at is the label of champagne served. We couldn't be happier that 15 Stamford has chosen to serve Telmont Champagne but it gets better. You can top up for the option of Billecart Rose Champagne or Billecart Blanc de Blanc. We walked into a lavish spread of sushi, premium cheese, artisanal cold cuts, freshly shucked oysters, blue mussels, crayfish, tiger prawns, baby lobsters - you name it. 
You get to make your own pasta with 7 different base options and we opted for the Black Truffle Cream which was soulful. Another must-try is their Pan Seared Foie Gras topped with Banana Rum Marmalade. Their Grill Section was certainly worth a visit, offering premium cuts such as Wagyu Beef Hanging Tender, Angus Beef Ribeye, Pasture Fed Lamb Leg, Pork Belly Char Siew, Spit Roasted Red Snapper and more. 
Desserts include ice creams, chocolate fondue, meringue, financier, cakes, macarons and more. We loved the idea of having a live harpist that added so much more to the ambience. Priced from $188++ to $268++, 15 Stamford Tropical Sunday Champagne Brunch starts from 12pm - 3pm. 
Capitol Kempinski Hotel | 15 Stamford Rd, Singapore 178906
If you love Thai cuisine, Sarai is a must-dine at Thai restaurant in Singapore. Isan-born Chef Lisa has elevated Thai cuisine in Singapore by beautifully crafting dishes that exudes familiar Thai flavours and is aromatic with every bite. Their new set menus are priced from $58++ for lunch which showcases classical Thai dishes well-loved by the royal family.
For starters, we had Nam Prik Ma Kae, which was a tomato chilli dip with endives, Thai cucumber and jicama. Tod Mun Hee Plee, a banana blossom cake with a spicy dip and Moo Ping, her homemade grilled pork marinated with Thai herbs.
Mains that stood out was the Tom Klong Pla, a smoked barramundi soup with sweet leaf bush which went very well with the Pla Hmug Nun Na Naw, the steamed squid stuffed with roe sac with chilli lime garlic sauce that was simply divine. We could not resist the Panang Nua Yang, the Grilled Australian Wagyu Sirloin drizzled with aromatic panang curry sauce. 
We ended our meal with Jelly Bi Tuey, a lovely Pandan Panna Cotta with coconut foam and sesame wafer.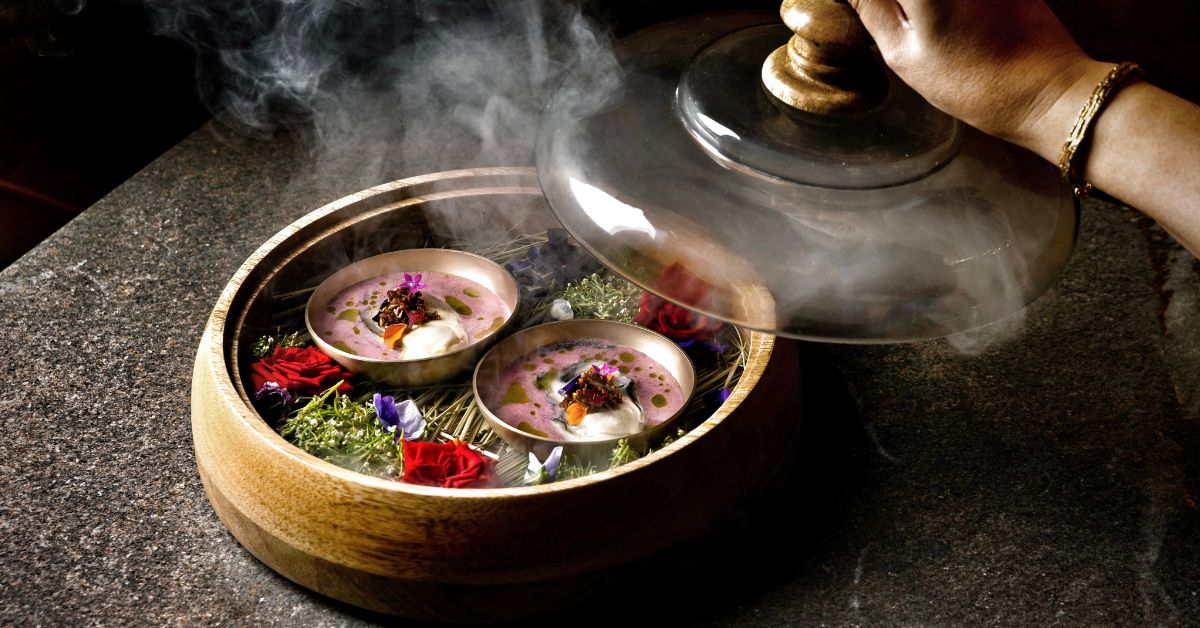 Ahāra, is derived from the Sanskrit word used in ancient ayurvedic philosophy to define food as the root of all well-being.
Located in the buzzing Keong Saik Road dining enclave, Ahāra is chef-owner Vikramjit Roy's rock ballad to India. Through both food and art, Roy's first restaurant in Singapore, is a reflection of his roots and culinary journey that has taken him across the seas from India to Japan.
The backbone of the Kolkata-born chef's success is his desire for culinary knowledge that has led him to train in multiple countries and in widely divergent schools of culinary thought. 
He spent five years working alongside Masaharu Morimoto, whom he considers his mentor. Respected for his dedication and passion, Roy played pivotal roles in the Japanese Iron Chefs cutting edge establishments in NewYork and Napa Valley before turning his attention to the international celebrity chef's restaurants in India.
Guests may choose from 9-course, Explore ($248++) or 16-course Expedition($338++) menus. Both are carefully paced to lead diners towards Roy's Intended Crescendo of comfort and soulful satiation. The Explore menu introduces guests to Ahāra's signatures, opening with a well-paced series of snacks.
We tasted the 9-course menu and dishes that stood out to us were Chef's Hay Smoked Oysters with Sol Kadhi, Uncooked Wagyu Shammi Tartlet, Bombay Toastie, Yakhni Scallops, and of course, The Grandeur and Chef's Rose Phirni. The Grandeur was accompanied by condiments such as housemade Fenugreek White Butter, Dal Makhani and Walnut Raita that speaks to your soul.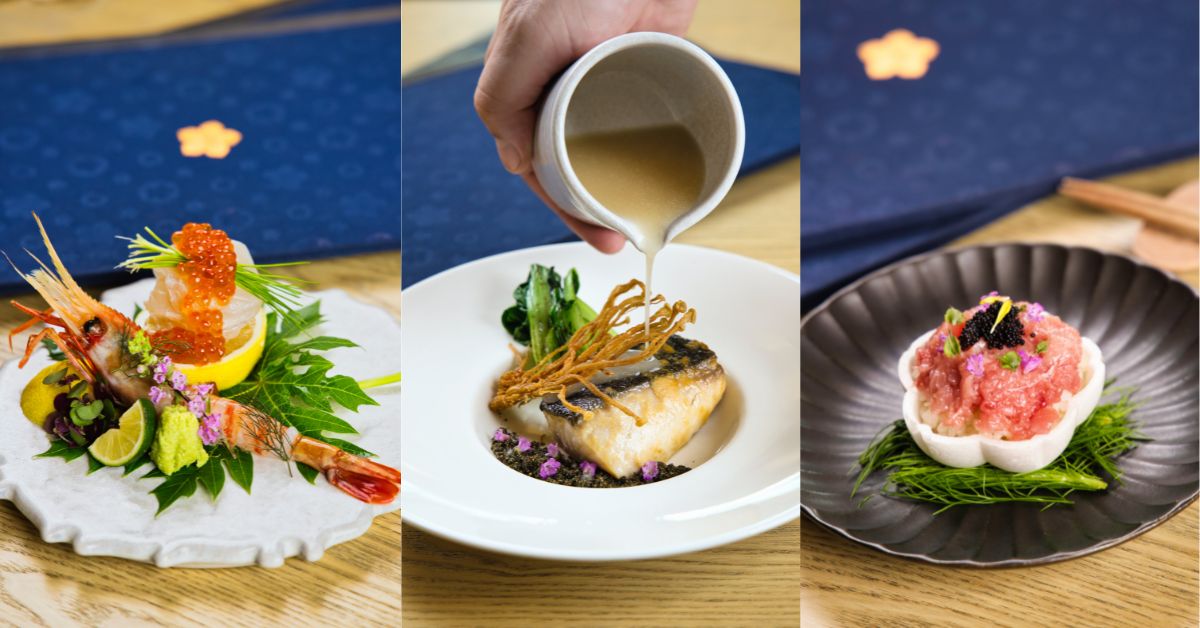 If you're looking for affordable omakase, check out NOKA by Tippling Club. Located on the 7th floor of Funan's rooftop, this modern-Japanese restaurant is led by Chef Ryan Clift who is renowned for his innovative cuisine and cocktails at Tippling Club. At NOKA by Tippling Club, you can find a selection of spirited small plates and omakase dishes with immense flavours, along with an impressive range of Japanese whisky highballs and artisanal sake. Their newly launched omakase lunch menu is priced at $80++ per person and here is what we tasted.
To start off, we had the Scallop Snow Crab, the Hirame (Flounder) and Amaebi (Sweet Shrimp). These dishes contain greens which are harvested from the restaurant's very own edible garden. 
What stood out to us was the Gindara Saikyo Miso. A fresh cut of black cod paired with an irresistible sauce made from deep-fried cod bones that were boiled for up to 7 hours. Served with puffed wild rice and deep-fried enoki for a play of textures.  
Next, the Unagi Rice Cracker was served open, just like a classic hand roll, with eel, kyuri (cucumber), sushi rice, and a sushi rice cracker seared in a salamander oven. Followed by the Negitoro Monaka which was served in a flower-shaped monaka (rice cracker) shell loaded with fatty minced bluefin tuna, diced wasabi and avocado atop sushi rice, topped with black tobiko. To finish off the omakase, seasonal fruits were served. 
Lunch omakase is available at NOKA by Tippling Club at $80++ per person, on Tuesdays to Fridays. Dishes served may vary due to seasonality as ingredients are flown in at least twice weekly.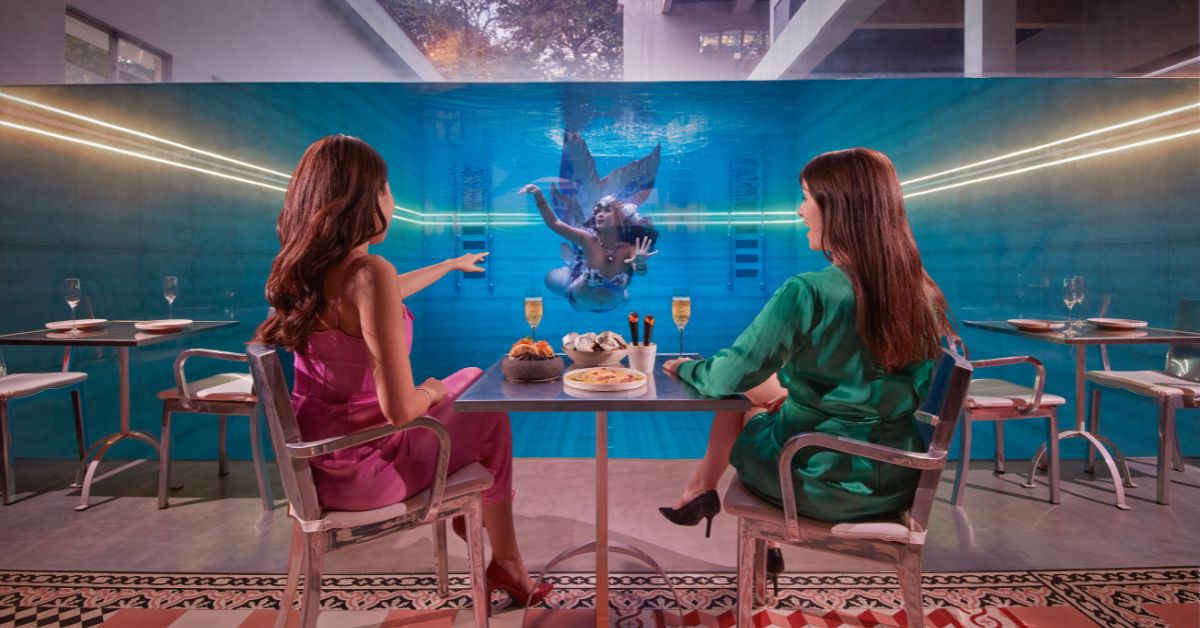 Dive into the Fish Pool at The NCO Club for fresh seafood dishes and amazing mermaid performances. Yes, you've heard that right. As part of The NCO Club's entertainment schedule, guests can get to witness nightly underwater performances by Singapore's first mermaid, Syrena. At Fish Pool, guests can dine next to an impressive Olympic-standard diving pool and enjoy a vibrant raw bar concept that serves seafood in three different ways: crudo, ceviche, and sashimi. Paired together with their bar menu which features a unique assortment of drinks inspired by tropical tastes. 
The newly launched menu is inspired by the restaurant's unique feature of guests sitting underwater against the glass to witness the mermaid show. A raw bar seafood paradise with Asian, European and Latin American flavours. The restaurant's hallmark dishes include the Otoro & Chutoro, a Japanese sashimi-style dish composed of two high-quality pieces of Bluefin tuna belly. Additionally, the Red Prawn is a European-style crudo dish made with finely sliced Argentinian red prawns, basil pesto, lemon, and olive oil for delectable umami flavours. Furthermore, their South American-style raw fish ceviche is produced with white fish that has been cured in lime and topped with onions, coriander, and coconut leche de tigre. 
Non-seafood alternatives are also available such as the Foie Gras which is served with grape and nut jam and toasty brioche, and Stracciatella, a soft core of burrata cheese served with a blend of pickled tomatoes, ponzu, shiso, and puffed rice. 
Fish Pool offers a creative selection of handmade cocktails that features tropical artworks with elements from the ocean, forest, and mountains. The menu is full of character with drinks crafted from a mix of Japanese whiskies and sakes, such as the Ocean Inspiration, which mixes Japanese single malt whiskey, tropical house mix, and oyster saline tincture with the Fish Pool spirit. Another noteworthy drink is The Mori Ne Geijutsu, which is created with Kiku-Masamune Junmai Kaujiyo sake as a base and has powerful fruit aromatics.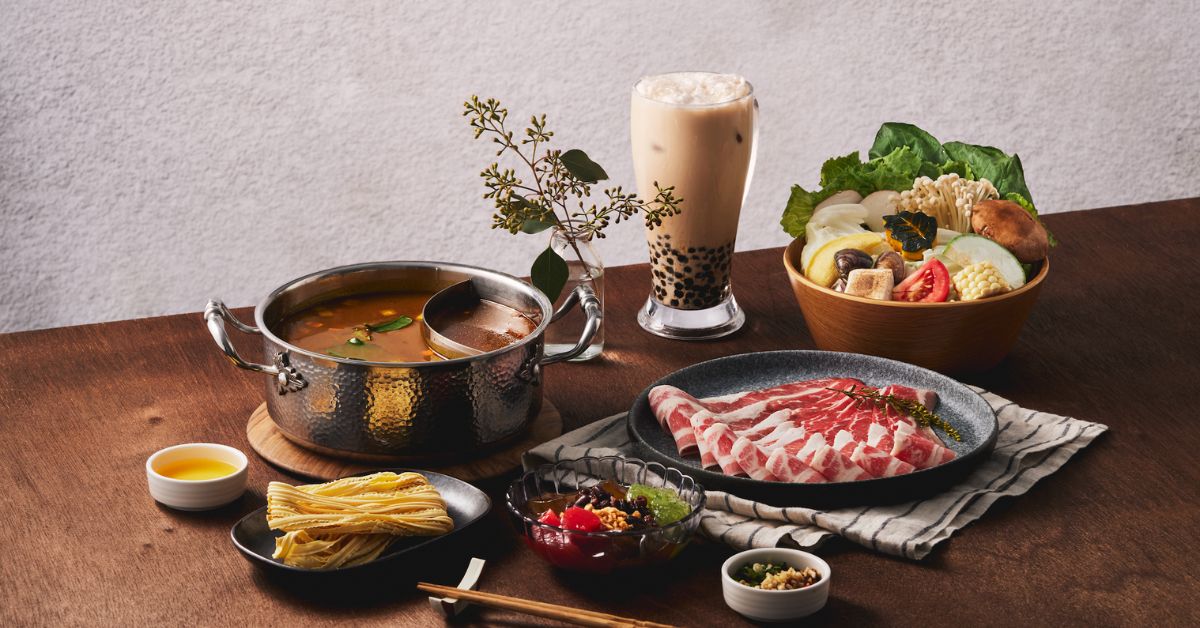 Popular Chinese hotpot chain Xiabu Xiabu opens its first overseas outlet in Singapore. Xiabu Xiabu is known for its individual hotpot and bar-style dining style. With over 1,000 outlets across China and plans to expand with more outlets across Singapore, you can guarantee they are indeed well-received. The restaurant is conveniently located at Bras Basah, seats 72 guests, and is covered in earthy tones of sand and light wood accents for a cosy and intimate ambience.
At Xiabu Xiabu, they serve individual hotpot sets that are affordable yet customisable to your liking. The set menu starts from $28 and comes with a vegetable platter, meat platter of choice, rice or noodles, tea, and access to their condiments bar and ice slushie bar. Not forgetting to mention, they serve bubble tea too!
Their soup is served in a dual-pot style and comes with the Mushroom Soup Base. Consisting of King Trumpet mushrooms, white button mushrooms, and Blaze mushrooms, this soup base is extremely rich in flavour and was a pleasant surprise to us. For your soup of choice, choose from 5 unique broths including their must-try Golden Sauerkraut Soup and the comforting Stew Pork Tripe and Chicken Soup. Alternatively, classics such as Tomato Soup are available as well. 
For meats, you can expect to find a wide array available like chicken, beef, lamb, pork, seafood, and even a mushroom platter is available for vegetarians. We can't forget about sauces when it comes to hotpots. The Xiabu Xiabu Sesame Dipping Sauce is their signature and is a must-try when you are there. Made from finely-ground groundnuts combined with white sesame for a rich and creamy texture. 
Ala-carte menu items are also available to add to your hotpot sets. Signature items include the Spain Pork Belly ($9.80), USDA Choice Ribeye ($22), Fuzhou Balls ($9) and Prawn Paste ($10). For bubble tea lovers, finish off your meal by enjoying the classics including Da Hong Pao Bubble Tea ($5.80) and Pu Er Bubble Tea ($5.80). They even serve options with coconut and oat milk which feature an interesting touch
Best New Restaurants and Menus in Singapore: January 2023
Tippling Club has launched the latest continuation of their menu: A Guide to Modern Drinking, Volume III - 6 Decades of Music. Each drink pays homage to an artist and their music. Sip away while listening to the curated playlist available from the menu. 
Crafted by head bartender Arathorn Grey, the menu highlights six decades of music with a wide selection of 31 drinks. Championing exotic, uncommon ingredients, blended together with contemporary techniques. Each drink delivers a different song, vibe, or emotion of each song. The menu comprises hits from the 1940s up to the 1990s. Different genres over the years mean a wide variety of unique-tasting cocktails. 
The menu takes guests first to the 1940s, the decade of swing, jazz, blues and big bands, with three cream-based cocktails. Moonlight Cocktail by Glenn Miller (S$26) — a song about a romantic picnic under the stars — is a gin-based milk-wash cocktail made with mango, apple brandy, almonds and topped with a steamed brioche bun piped with elderflower Chantilly cream to evoke the mood of the song. The 1950s brought a rock n' roll revolution, celebrated with King Creole by Elvis Presley (S$22), a fun low ABV take on a tropical cocktail with homemade banana liqueur, creole bitters and an absinthe mist, playfully recreating a flying kiss from the King himself. Learnin' The Blues by Frank Sinatra (S$26) is a nod to Franks' Italian heritage and his drink of choice: Jack Daniel's on the rocks. To elevate the simple drink, Arathorn spent two weeks treating a barrel-aged cask with ruby port, before ageing the blend of rye whisky, amontillado sherry and Punt E Mes, giving the drink a full-bodied flavour. 
The 1960s swing in tiki-style with Savoy Truffle by The Beatles (S$26); a boozy tropical cocktail that features a blend of butternut squash, cognac, truffle-infused gin and rum. A unique decade of musical innovation, the 1970s brings a haunting yet calming drink, Gold Dust Woman by Fleetwood Mac (S$39), a champagne cocktail made with Lord Ryan's Gin and a gold-plated ice block.
Cocktails inspired by music from the MTV era of the 1980s include the  'king of pop's Man In The Mirror by Michael Jackson (S$24) a clear martini-style cocktail made with bergamot, Nicaraguan rum, hops and sudachi. Drinks to celebrate the 1990s era of pop, rap and alternative music include Funky Monks by Red Hot Chilli Peppers (S$24), inspired by both the song and artist, offers a fiery blend of Rhum Agricole — a funky rum distilled from sugarcane juice — ginger, blackcurrant and soda for a  drink that packs a punch.
For true indulgence, cocktails from The Louis XIII Experience (S$150 each) are served in Louis XIII baccarat crystal glasses, with highlights including Barbotage, a balance of Louis XIII, champagne and orange oils. You can also have it as a pair (S$280) and hear the melodious chimes of the crystal glasses.
Tiffin Room has been a part of Raffles Hotel Singapore's history since 1892, serving wonderful North Indian food with rich flavours and authentic delicacies. Dishes are selected by Chef de Cuisine Kuldeep Negi and served in iconic custom-made copper tiffin boxes. 
Serving North Indian cuisine, enjoy Tiffin Room's magnificence and heritage with freshly ground spices and Indian beers to complement the occasion. They cater to both vegetarians and Jains. 
From 5 to 19 January 2023, Tiffin Room presents Tandoori Festival which offers a variety of flavours, distinct aromas, and textures that can only be obtained by using the charcoal-fired traditional clay oven. Using a slow-cooking process adds an intensified smoky note and in-depth flavours.
Starting with popular street snack, Bhel Puri Cone, crispy puffed rice infused with tamarind chutney, for a tangy, crunchy treat. Thereafter, look forward to tantalising creations from the tandoor, showcasing the versatility of flavours and textures achieved with this ancient culinary technique. Malai Salmon Kebab comes with grilled Norwegian salmon marinated with cheese and yogurt. 
Followed by tantalisingly smoking main courses with Kalmi Kebab, tandoori-grilled chicken thigh complemented with masala green peas and sesame seed chutney; Angara Kebab Chilli Naan, tender lamb loin cubes marinated with piquant green papaya paste and accompanied with spicy naan; and Jhinga Jaitoon Seekh Kebab, a delectable kebab showcasing freshly grilled minced prawn and red snapper, paired with bell peppers and spiced bread.
Finishing off with the Tandoori Grilled Apple Jalebi with Coconut Kulfi that is baked in the tandoor to develop a smoky hint, before it is fried. Paired with refreshing homemade coconut ice cream on the side.
Wine pairing is available at S$98++ per guest. With cuvees specially handpicked by Raffles Hotel Singapore's sommeliers. 
Hop on to an auspicious Year of the Rabbit with Mandarin Oriental Singapore and enjoy a feast of Cantonese delicacies with Cherry Garden. 
Singapore Chinese restaurant Cherry Garden serves a varied menu of Cantonese food with an aesthetic modern flair. The menu constantly features authentic Cantonese cuisine made with fresh, seasonal ingredients. With a wide wine list of old and new world wines and a large assortment of Chinese teas.
From 16 January to 5 February 2023, toss to abundance with Cherry Garden's Lunar New Year Set Menus. Enjoy a heartwarming reunion with their five unique Yu Sheng platters! Choose from Prosperity Yu Sheng with Arctic clam, salmon and crispy fish skin, or the Triumph Yu Sheng, topped with a lavish mix of caviar, black truffle, sweet shrimp and salmon. Bring on a year of prosperity and wealth once you try the main dishes of their Lunar New Year delicacies! Try their luxurious Chicken soup which is packed with American ginseng, fish maw, conpoy, Chinese mushroom and sliced abalone.
Greenwood Fish Market is a retailer and family owned and run restaurant providing fresh western style seafood cuisine. Opened in 2003, Greenwood Fish Market has become a popular go-to restaurant for fresh seafood. 
Usher into the Lunar New Year with new seafood catering platters from Greenwood Fish Market. Suited for up to 15 pax, indulge in their lavish feasts which include fresh seafood, local delicacies, and more. 
Go all out with the GFM Ultimate Party Pack ($1,388) which comes with yu sheng, wellingtons, seafood, desserts and even 2 bottles of exclusive German Riesling. Available from 5 Jan to 15 Feb for islandwide delivery and pickup. 
Have a celebratory Lo Hei when you dine in at Greenwood Fish Market from from 20 Jan to 15 Feb. The Salmon Yu Sheng ($98++) or Lobster & Salmon Yu Sheng ($138++) is catered to 4-6 pax and available at all Greenwood Fish Market outlets.