Top baby gifts to buy in Singapore! When it comes to babies and mums-to-be, do you draw a blank? Shopping for newborns may seem a daunting task but with these baby gift options below, you'll be a favourite in no time. From sustainable baby essentials, personalised baby gifts, hampers and swaddles to the cutest gift concierge services, here are the top baby gifts in Singapore, you should buy.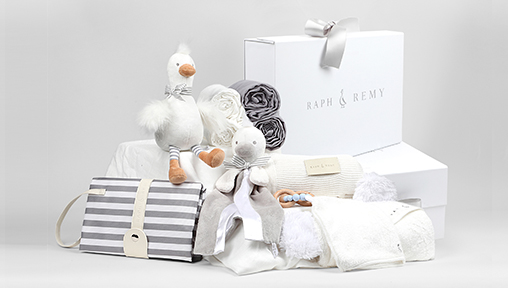 RAPH&REMY - Premium Baby Gifts
Looking for the perfect gift for a baby or mama-to-be? RAPH&REMY is a premium baby gifting brand that sells luxuriously silky, soft and breathable baby products that they are sure to love! Offering sustainable and stylish baby essentials and personalised baby gifts, that are specifically designed with our tropical climate in mind, you'll love the way their gifts arrive - gorgeously packaged!
All RAPH&REMY apparel and textiles are made with bamboo, an all-natural material that is kind to our body and to our earth. As an eco-friendly, sustainable and renewable resource, bamboo is three times more absorbent and softer than cotton and keeps babies feeling fresh and odour-free - perfect for Singapore's warm climate.
Want to make that gift an extra bit special? To add a unique touch and personalise an item for a child, check out RAPH&REMY's range of baby gifting ideas and pre-made gift sets. From teethers, organic bamboo blankets, crowd-favourite premium bamboo zippies, swaddles, hooded towels and mitts to baby comforters, plush toys and even baby's first outfit complete with a bow!
You can shop the label http://www.raphandremy.com/, or browse their collection in stores at Tanglin Mall, TANGS at Tang Plaza, Robinsons The Heeren and Motherswork Great World City.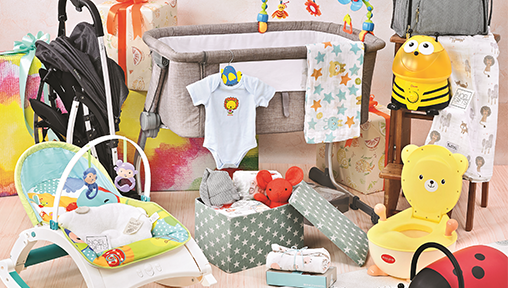 Noel Gifts - Baby Gifts and Hampers
When you can't think of what baby gifts to buy in Singapore, trust the experts at Noel Gifts for adorable and convenient online options. With over 45 years of industry experience, Noel Gifts is a one-stop gifting solution with a wide variety and range of baby gifts. From travel essentials, toys and organic clothing, to practical daily-use items like diapers and bottles, you can be rest assured there's something for everyone here!
And if you are looking to put in a bit of love for the amazing new mom, Noel Gifts' Nourishing Mum hamper comes with nourishment options for tired mommy too. Better still, it's great value at under $100!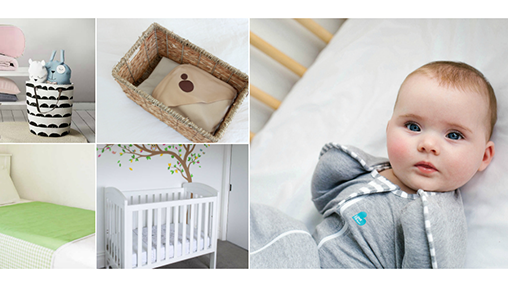 Bambino - Maternity, Feeding and More
Started and endorsed by a mum, Bambino is an online store that brings quality and unique baby products to Asia that are otherwise hard to find. You can find a wide variety of options on their site, ranging from feeding, going out to even maternity gifts if it's a baby shower present you are after. They also sell gift vouchers, starting as low as $10, which can help new mums and dads make their own shopping choices.
The nicest baby gift you can give to new parents though is one of baby sleep! The Love to Dream Swaddle Up range comes highly recommended with patented wings and allows babies to sleep in a more natural position - with their arms up. This enables self-soothing via sucking and hence leads to longer sleep routines. Intended for use from day one, the Swaddle Up range will make for a great baby gift and help lay a strong foundation for sleep, right from the start. And don't worry, the Swaddle Up Lite 0.2 TOG at Bambino is lighter than the original, hence being ultra-breathable, and perfect for our warm weather.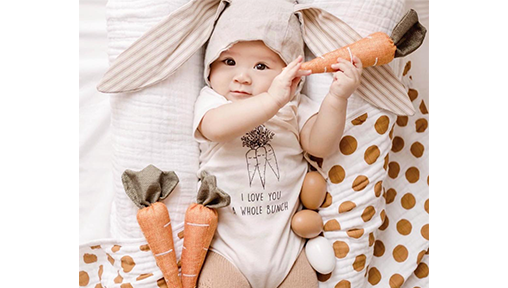 MOMO + BUBS - Baby Gifts and the Softest Swaddles
MOMO + BUBS was started as a passion project to sell beautiful, premium quality bed linen and other nursery essentials in a range of timeless and dreamy colours. These little luxuries for tiny ones make for perfect and snuggle-worthy baby gifts.
Their range of muslin swaddles are an essential for new parents and are wonderfully versatile and deliciously soft! The wraps can be used for newborns to keep them snug, as blankets during the day, as covers for the stroller and when nursing baby, or just to line strollers, cots or the floor. Basically, anywhere a baby rolls, spits up or drools!
Made with 100% organic cotton muslin of a high yarn count for extra softness, and containing no formaldehyde, these generously sized swaddles come in sets of 2 and in colours that will have your heart singing.
All essentials at MOMO + BUBS are made with love and practicality, and are machine washable, with minimal or reusable packaging. And if you need another reason to buy their swaddle sets, they donate $10 for every set to Singapore Children's Society as a means of giving back. Gorgeous, practical and generous baby gifts in Singapore - we love!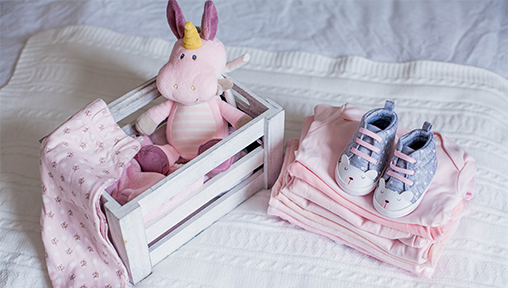 Okimochi Box - Baby Gift Hampers and Boxes
No time to think or shop and need someone to take care of a baby gift entirely? Okimochi Box is a surprise gift-giving service with a simple premise. Give the company enough information about the recipient, and they'll happily curate together a gift box filled with things the recipient will actually like (and use).
Their Baby Boxes go one notch higher as they curate for both baby and the new mom - deservedly so! A surprise for both you and the recipient, these boxes come with quality and functional items (no food unless requested) and in adorable, Japanese - style packaging.
Know exactly what you want but no time to buy it? Try the Okimochi Gifting Concierge service then. Simply tell them what you want and the gift curators at Okimochi will get on the job. Reviewed as some of the sweetest gifts ever received, Okimochi Box are specialists in what they do, and beautifully at that.
Gush-worthy and practical, we promise you'll love what you see.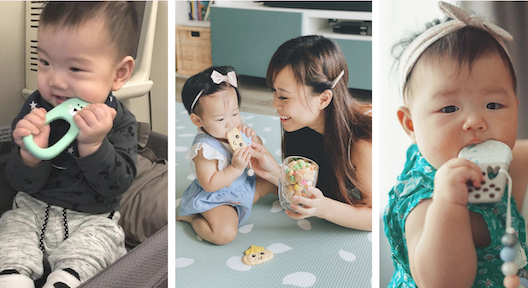 Little Bearnie - Instagram worthy Baby Accessories
Looking for a unique baby gift? Little Bearnie, is known to create designs and products for babies that stand out in a sea of mass-market brands. From teethers, swaddles, baby gift bundle sets to bibs and educational toys, Little Bearnie is a homegrown brand that has got all your baby gifting needs covered. 
Known for their Instagram-worthy teething accessories, Little Bearnie's collection of teethers, teething necklaces, teething bangles and personalised teething clips are a rage with new mums in the city. All of these stylish teething accessories are made using 100% food-grade silicone and toxin-free materials.
If you want something that will really stand out as a baby gift, buy their unique Gem Biscuit Teethers exclusively designed by Little Bearnie and a reflection of Singapore's local culture. But that's not all. You can choose from pretty fruits, lions, sushi or the adorable Cutie Shiba amongst a host of other uniquely designed teethers and teething accessories. 
If you'd like to add a little gift for the mommy to be, consider choosing from Little Bearnie's range of beautiful and may we say affordable teething necklaces. Available in a host of pastel colours, these Silicone Teething Necklaces are handmade using a mixture of high quality and curated silicone beads material. They make great designer add-ons to mummy's collection of jewellery and can also be used as a chewable teether to soothe baby gums!
Check out Little Bearnie's modern teething accessories at www.littlebearnie.com or at Mothercare outlets, Nichebabies, Bumwear and Tadbebe
At Lovingly Signed, they create special 1st moments for newborn babies and their mummies. Having a baby is one of the most special moments in your life and Lovingly Signed believe that every baby should be celebrated. They're proud to provide people with beautifully embroidered keepsake gifts that are sure to be cherished forever. 
Each of these delightful baby gifts come exquisitely embroidered with the baby's name, and gift wrapped in a lux gift box. These gifts are the perfect way to welcome a newborn into the world.
What's more, Lovingly Signed offer free local delivery (2 to 3 working days), a free handwritten gift card with a message of your choice, and a free lux gift box with any order! For international orders, they ship them via DHL express to anywhere in the world.
The range of personalized baby shower gifts, newborn baby hampers and personalised baby gift boxes are lovingly put together to create the perfect combination of all things a new parent and baby could need to celebrate their first year of life.
You can shop the whole range of baby gifting ideas and products at www.lovinglysigned.com.sg.
Kaiby Box - Unique Baby Gift Boxes
Want to send a baby shower gift that stands out from the crowd? Take a look at the unique baby shower toy gift box by Kaiby Box.
Kaiby Box is a Singapore baby gift company that delivers gorgeous baby and toddler toy gift boxes to help parents take the guesswork out of the baby's learning journey. A wide variety of curated toys is packed into a super-cute turquoise-colour box which is perfect for gifting.
You can look forward to the baby play with an adorable baby newspaper, shake a little grey rabbit rattle and start his or her learning journey through the baby cloth books. For a more special gift, you can even personalise the gift box by adding a personalised wooden toy with the baby's name.
Need a last-minute gift? If you need a baby gift urgently, you can also have your gift box delivered with Kaiby Box's same-day delivery service. And for those who like to plan things ahead of time, you can schedule a delivery date up to 30 days in advance!
Free delivery is also available for all orders, with no minimum order required. What's more, international delivery is also available for overseas mummies.
Check out Kaiby Box and their lovely toy gift boxes at www.kaibybox.com or at Shopee today!
Gift Hampers Singapore is Singapore's premium online shop for gift hampers, including their wonderful and practical selection of baby gifts and hampers! 
The experienced team has spent years arranging for perfect gift sets, ensuring that each one of these contains treats and essentials. Perfect for simple occasions, baby showers or when you want to indulge your loved ones, these baby gift hampers are sure to please.
Try the Celebrity Baby gift hamper! Celebrating the life of a new little one in your life, this Celebrity Baby gift hamper is a luxury gift full of essentials for the new baby in your life. Ideal for any occasion, this hamper includes a pillow and a clothing set, a romper, mittens and a bib are also excellent additions to the gift.
Another popular choice is the Lots of Love Deluxe Baby Hamper. Every baby deserves to be welcomed in style, and this gift hamper allows you to do just that. This deluxe gift hamper is beautiful from the outside in, offering a huge assortment of high-quality presents from a fun feeding bottle set to a pull-string toy. Baby, whether a boy or a girl, will love the baby bath, clothes set, and neck cushion.
Gift Hampers Singapore offers FREE delivery to most of Singapore! 
Want more? You can now get 10% off baby hampers between 1 November 2021 - 30 April 2022. Promotion is only valid for purchases via https://bit.ly/newbornhamper using promo code GHVLNB10. 
Shop now at gifthampers.com.sg. For any enquiries, email [email protected] or WhatsApp (+65) 8668 7574.
* Promotion is exclusive to Vanilla Luxury readers only. Promotion is not valid in conjunction with other discounts, rewards and promotions. Gift Hampers Singapore reserves the right to amend the terms and conditions without prior notice.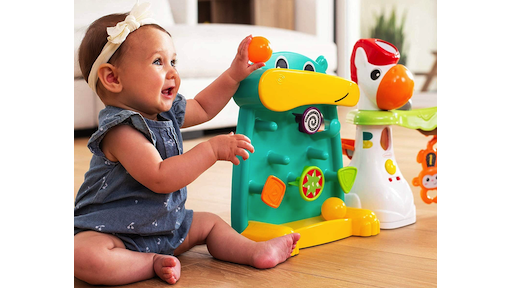 Lamkins - Toys, Baby Gift Bundles and More
Known as one of the best stores for baby gifts, infant toys and gear in Singapore, Lamkins was amongst the first few brands to pioneer exceptional online shopping for kids in the city. Selling a range of infant and preschool toys, reading systems, walkers, playmats, character toys, gifts and accessories for newborns and other playthings from the world's best-loved brands, you'll be sure to find a gift for a baby on here.
Need some help? You can't go wrong with some of the better known international brands such as Bright Starts, Fisher-Price and Skip Hop and their selection of Ride Ons, Gyms and Playmats or Bouncers and Rockers. 
A great way to be a part of a child's growing years is to buy something related to bedtime or making meals more fun! Lamkins carry a range of cots and bedtime toys and cot mobiles.
To make things easier, Lamkins also houses a collection of Baby Shower Gift Bundles, that cover a range of essential early baby toys and are easy on the pocket too!
If you still don't know what to buy, just opt for their gift vouchers that are available in a range of price options($5-200) and have the mum-to-be purchase what they most need!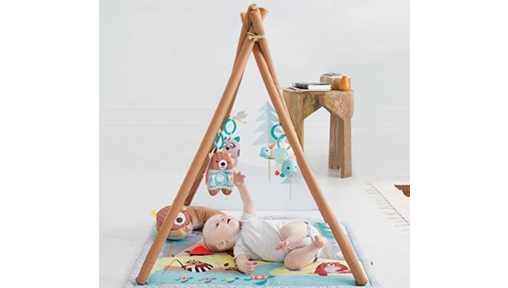 Agape Babies - Skincare, Food and Baby Toys
If you are after plenty of choice and product variety when it comes to baby gifts in Singapore, we'd recommend a visit to Agape Babies. This online store carries over 250 brands and 5000 products in its portfolio. Ranging from skincare, carriers, organic baby food, toys and plenty more; there's enough to ensure you find a suitable gift for a baby!
But, if you would have us make your task simpler, just pick the Skip Hop Camping Cubs Activity Gym. This cosy, nature-inspired play space has ample room and exploration fun for curious little bubbas.
Outdoorsy looking with its wood-grained structure, the super-cute play gym by Skip Hop is bound to please both parent and child!
And there you have it - these are the top baby gifts to buy in Singapore! Simply choose, click and send it for that cutie.