F&B
SoGoodK: Your One Stop Shop For Korean Delicacies
Published Date
: 02 Nov 2023 10:00

SoGoodK is the go to place for premium Korean delicacies including Korean Caviar, Jeju Sea Urchin Roe and even Korean marinated crabs!
The brainchild of Olivia Lee, SoGoodK is a one-stop destination for delicious Korean delicacies.  With an aim to introduce artisanal Korean brands and superior products into Singapore's market, SoGoodK brings the finest quality of authentic Korean products. From Korean alcohol to seafood specials, SoGoodK offers an extensive list of delicious Korean produce. 
To introduce these exclusive Korean finds to Singaporeans, SoGoodK is holding a physical pop-up event at Takashimaya, Basement 2 from now till 30th November 2022.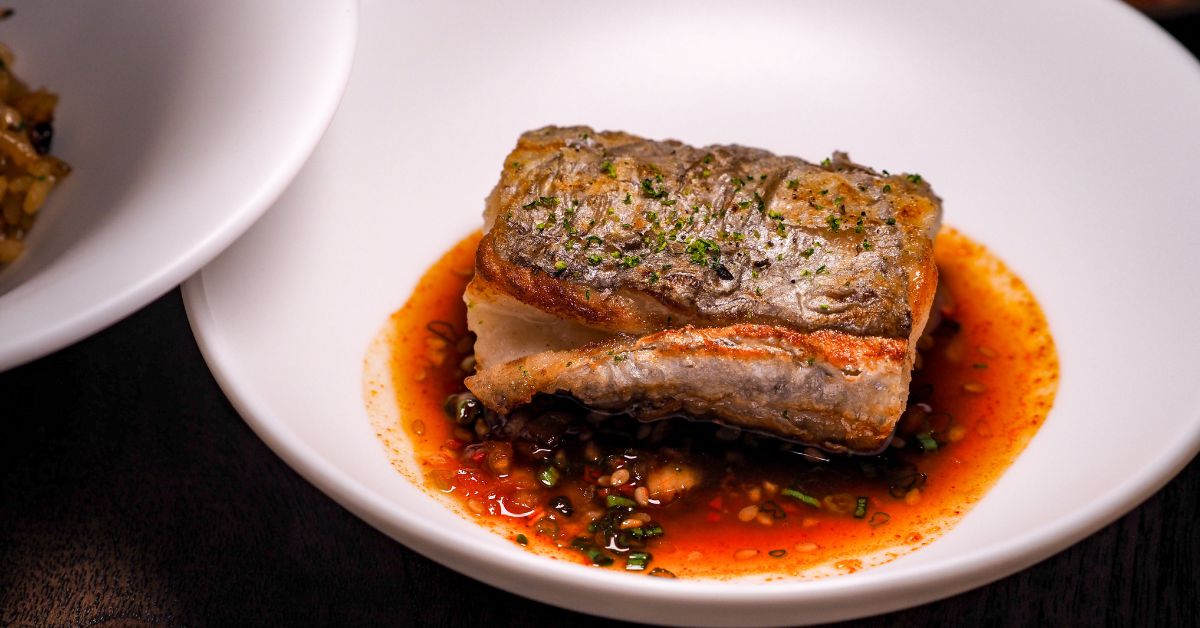 SoGoodK recently launched their B2B wholesale programme on their website. This move aims to make these premium Korean ingredients more accessible to restaurants, businesses, and food enthusiasts. SoGoodK collaborated with one-michelin star restaurants NAE:UM and Meta, as well as Jigger & Pony and curated an extraordinary 6 handed dining and drinking experience using the finest ingredients from Korea. 
Dishes that stood out were the Songi Claypot Rice which used two different types of Korean rice cooked with Burdock root and Songi Mushroom, a Korean pine nut mushroom mixed with crumbles of garlic, shallots, spring onion and butter. The Galchi Gui, a Jeju Beltfish, was pan-fried with citrus spicy sauce. Even the Persimmon and Date with Jujube Ice Cream was just divine. 
Uno Jang from Jigger & Pony crafted 5 different Korean inspired cocktails including his spin of red wine, called The Claret Red, where flavour and sweetness were extracted from the sweetest grapes, blended with Tokki Soju Gold that is aged in American Oak. 
Here are our favourite finds from SoGoodK: 
Made with Fresh Siberian Sturgeon Caviar and sea salt, Korea Caviar is highly considered one of the finest ingredients due to its flavour and rarity. Nicknamed "The Jewel of the Sea", these sturgeon are grown in Mount Jirisan which is Korea's cleanest area and is filled with minerals. 
Sturgeons are professionally raised in an eco-friendly facility without the use of antibiotics or aquaculture medicine. Low in fat and packed with protein with no additives or preservatives added, Korea Caviar leaves a slightly nutty aftertaste and a savoury mouthfeel with a subtle salty hint which balances the overall taste. Korea Caviar is beautifully packed and available in 3 different sizes starting from $138.
Female divers, also known as Jeju haenyeos, within the province are a family of spirited and determined divers who carefully harvest and select Jeju Sea Urchin in order to preserve that sweet and creamy natural taste. On Jeju Island, Sea Urchin is known to be a valuable and signature dish served to guests during special occasions like wedding days.
Rich in minerals like Vitamin B1, B2 and Zinc, Sea Urchin is good for rejuvenation and alcohol detoxification. Other benefits of the Jeju Sea Urchin Roe include supporting the process of recovery after childbirth, improving vision and preventing night blindness. It can also be used in porridge which is especially healthy for the elderly and children. Another popular recipe for the Jeju Sea Urchin Roe is to have it in seaweed soup! 
One of SoGoodK's best-selling items is their marinated soy sauce crabs or Ganjang Gejang. A traditional delicacy in Korea, this popular dish is made by marinating fresh raw crabs in soy-based brine. The plump and juicy crab meat can be eaten by squeezing it out from the shell directly.
The crab meat and roe are best enjoyed with warm rice topped with seaweed flakes, chopped green onions and egg yolk, the full authentic Korean soy crab experience. It can also be mixed with sesame oil, sesame seeds and seaweed to savour that full umami-packed flavour. A special promotion is going on where 1 box comes with 2 female crabs filled with roe and 3 shrimps for $138.
For spice lovers, these marinated crabs also come in a spicy variation. Known as Yangnyeom Gejang, raw crabs are marinated in a sweet and spicy sauce made with chilli powder. While Ganjang Gejang is loved for the roe, Yangnyeom Gejang is preferred for having an abundance of meat.
This is because male crabs are mainly used for Yangnyeom Gejang. These bigger-sized crabs are farmed in the autumn season when they are the meatiest. This dish can be enjoyed similarly to their Ganjang Gejang. A box is $138 and it consists of 6-9 crabs.
Another marinated seafood that SoGoodK offers is their marinated abalone or Ganjang Jeonbok Jang. This dish is made by marinating fresh raw abalone from Wando in a special soy sauce brine. SoGoodK specially curated their marinated seafood dishes from Ilmi Ganjang, a restaurant with over 40 years of soy sauce marinated crab experience. 
Best enjoyed with steamed rice topped with seaweed and/or vegetables, the chewy texture of the abalone mixed with the flavours of the soy sauce creates a savoury combination that will have you going for seconds. Consisting of a generous number of abalone (10-11 pieces), one box goes for $120.
Another SoGoodK best seller is their Dried Persimmons. Made from the finest persimmons from the Sangju region, these dried persimmons or Gojjam are naturally dried for 60 days and free from pesticides. Sanju persimmons are sweeter and contain many nutrients like Vitamin A and C. 
This delicious snack has a thin outer skin and a jelly-like interior. The outside of the fruit is lightly laced with white flecks of sugar as they dry. Each dried persimmon is individually packed to enjoy as a healthy snack at any time. It can also be used when cooking to sweeten any dish or as a garnish. Their Sangju Dried Persimmons come in new premium packaging and can be bought in a set of 18 or 24 pieces for $100 or $120.
Representing the top 0.5% of the finest Korean Red Ginseng, the Heaven-grade Red Ginseng Cheon Sam is the most precious of them all. Boasting the best properties in terms of size, shape and colour, this Red Ginseng is flawless with no surface cracks or scratches and has a firm and dense structure. 
Heaven-grade Ginseng is most valuable due to its rarity, and it contains a large number of active ingredients. Acting as a natural health booster, Ginseng provides a good source of energy and is recommended for those who are easily exposed to respiratory diseases or for seniors who are suffering from weak bones. SoGoodK also has Ginseng jelly sticks which are great for your children's immunity.
Forming a collaboration with ANJU Restaurant, SoGoodK offers the finest collection of premium unique Korean alcohols. Their best-selling Korean alcohol is the Champagne Makgeolli. A must-share and a great party starter!
This award-winning Ehwa Baekju Champagne Makgeolli goes through a process of natural fermentation and carbonation to bring out the best sparkling fizz. Mild to the palate yet complex in taste, Ehwa Baekju Makgeolli combines sweet, bitter, sour, salty and Umami flavours. It contains 100% rice and 6% alcohol. One bottle is 940ML for $83. Different types of Makgeolli are also available.
On top of their premium products, SoGoodK carries other affordable products such as their Jeju Yoghurt (Original and Hallabong flavour) for $6.50, Korean Meal kits and Korean Seaweed. Visit their website for more or head down to their physical pop-up store before it ends.