If you're ever planning to visit Fiji, a stay at the Sheraton Resort and Spa, Tokoriki Island, should be on your travel list. This luxury resort is on a tropical island in the idyllic Mamanuca islands group. Think white sandy beaches of Fiji to lush tropical gardens, it is indeed a beautiful slice of paradise that awaits you.
Upon arriving at the resort, we were greeted with the Sheraton Tokoriki team singing beautiful Fijian songs while garlands of fresh flowers were adorned on us. We were welcomed with a glass of coconut and mint champagne and some delicious cupcakes. Here's the view from the reception that left us in awe.
The Sheraton Tokoriki Resort is meant for sheer indulgence and relaxation. There is a game room available and a list of activities to choose from such as Kayaking, Scuba Diving, Snorkeling, or visit the spa at an additional cost. We were more than happy to spend our time relaxing by the pool. The resort has curated a list of local activities in the evenings for guests to participate in.
We were lucky enough to experience Kava Tasting in the evening with other guests who were all tasting Kava for the very first time. It was funny to witness the various reactions as it was indeed an acquired taste.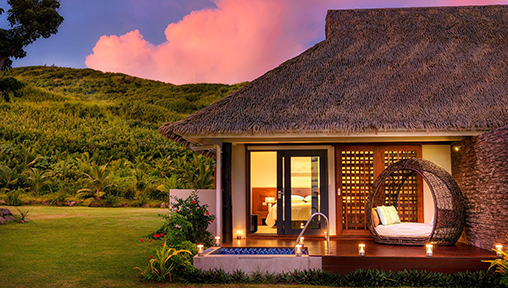 The Sheraton Tokoriki Resort offers 7 types of accommodations to choose from and if you're looking for some romantic time in paradise, we would recommend booking the rooms with a plunge pool. As our villa overlooked the ocean, we enjoyed the fresh island breeze in the day and night. We absolutely loved the walk-in rainforest shower with coconut scented bath amenities. Nothing beats having a great night sleep in the Sheraton Signature Sleep Experience beds. And yes, their complimentary wireless high-speed internet worked perfectly throughout the resort.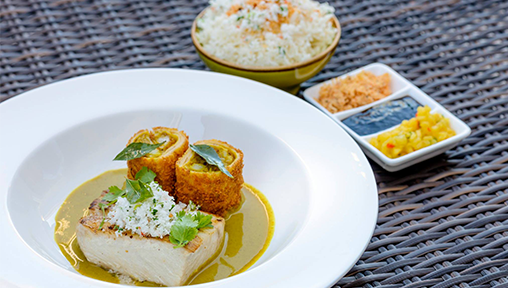 As you're literally on a private island, your dining options would be within the Sheraton Tokoriki Resort itself. We loved having our lunch at Waitui House Restaurant which boasts a magnificent view of the ocean in the day. The serve up fresh seafood and international cuisine and the menu changes every two days. We enjoyed delicious Tandoori dishes at The Reef Bistro in the evening. We had a really romantic dinner with a roving band entertaining diners. There is also a Sala Bar in the middle of the resort with serving refreshing cocktails. Do try the different types of Fijian Rum available.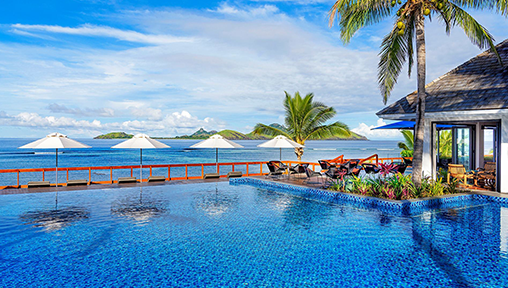 You can either choose to take the South Sea Cruise Ferry from Port Denarau, a Water Taxi or even a Helicopter. The team at Sheraton Tokoriki Island assisted us with our booking transfers and we chose to the South Sea Cruise Ferry as we really enjoy being in the ocean. We were more than happy to stand on the rooftop and soak up the sun and the breeze.