With the current heightened Phase 2 measure, dine-ins have been stopped till 13 June 2021 and we have all been advised to stay at home and work from home. You can still treat yourselves to a delicious meal and #SaveFnB with restaurants that offer island wide food delivery in Singapore.
While ordering home delivery, let's all be mindful that it is a tough time for the F&B industry. The restaurants and deliverers are trying their best to accommodate our needs while putting food on the table. So, let's be kind and patient.
Whether you are craving Asian food, a gourmet burger, authentic Italian pasta or fresh seafood, here's a list of our favourite restaurants in Singapore that offer island wide food delivery.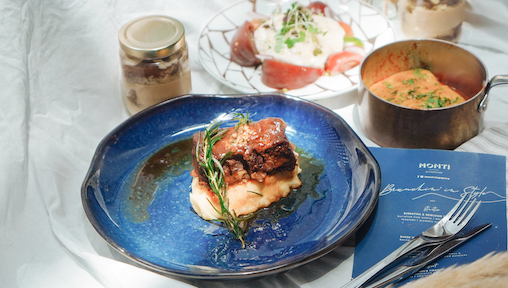 1-Group's 1-At-Home is the perfect platform to bring preferred 1-Group dining experiences right to your doorstep. From celebrations, cocktails and workplace lunches to Gastro gifts and Pleasure Parcels, 1-Group has curated the best offerings for any occasion.
From "Brunch in Bed" with Monti and Bee's Knees to "An Oriental Affair" by Mimi, enjoy dishes from 1-Group's Signature Dining category. On top of these, enjoy private dining and drinking experiences in the comfort of your home, with the AISA ON THE MOVE 8-course menu by Chef Ace Tan, who is available to cook up a storm in your kitchen with his assistant.
For something lighter, choose chef-curated noshboxes and meal bundles from Zorba, The Summerhouse, UNA, Monti, Mimi, Wildseed and Bees Knees. The menu features Taramasalata, Grilled Beef Souvlaki Skewers, Kelong Prawns, Laksa Linguine, Salmon Quinoa and more.
In addition to the above-mentioned offerings, try 1-At-Home's artfully designed selection of fresh bakes of sweet treats and carefully curated savoury parcels with the Pâtisserie & Gastro Gifts.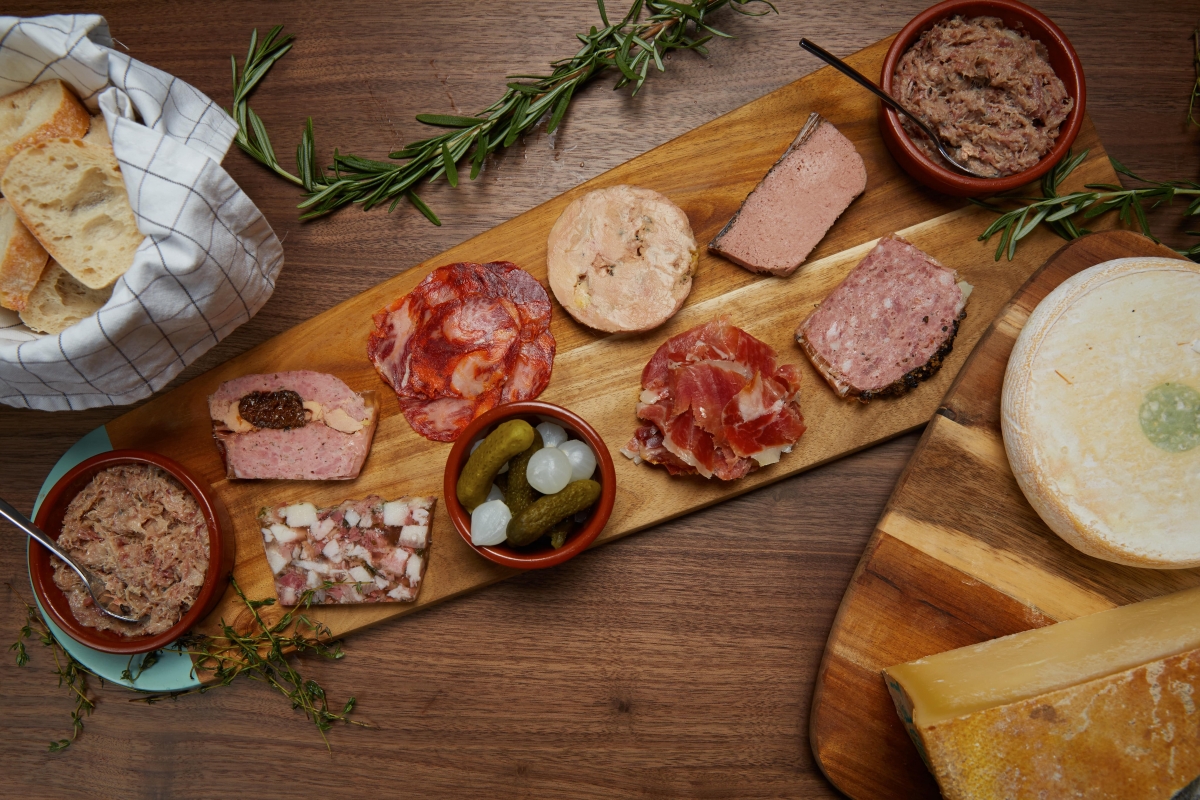 13% Wine Bistro is now delivering both bites, wines, beers and spirits should you feel like indulging a little in the comfort of your homes. Whether it's a mixed tray of cheese, terrines, rillettes or foie gras. Co-Founder Lucas shares pairing their homemade Foie Gras with a white wine from Rhone Valley (Condrieu Corps de Loups 2016 or Yves Cuilleron Condrieu les Chaillets 2016) made from Viognier grapes, which brings peachy, apricot, quince flavours, very crispy and long finish.
You can also pair their sautéed parsley mushrooms funfair with a juicy medium body red like an Anjou Cabernet Franc Le Cochet from Chamboureau estate or an Old vineyard Syrah from Lebanon from 2013 vintage (Domaine des Tourelles, vieilles vignes syrah du Liban).
For food delivery, call (+65) 6224 6885 or (+65) 9231 2401. Order wine delivery online or call (+65) 9116 5753.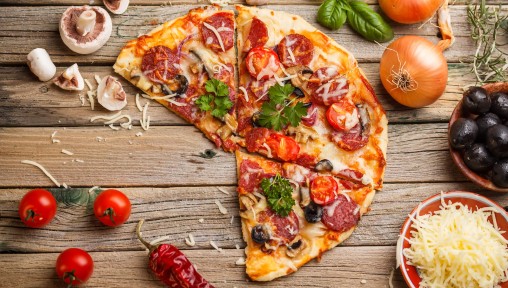 Al Capone's has been a local restaurant and bar frequented by many in Singapore. They have just launched a takeaway and home delivery menu which includes a mix of dishes from Al Capone's and their Bollywood Rock Cafe, Rocking Rickshaw. Offering all-day breakfast, bento boxes and bundles, it is an extensive menu to choose from. We highly recommend you to check out their S$100 bundles which include both alcohol and food.
You can visit Al Capone's Facebook page and Rocking Rickshaw's Facebook page for more information. For self pick up from their Upper East Coast outlet, you can contact (+65) 6242 1335. For S$15 island-wide delivery, you can WhatsApp (+65) 8742 8865.
Home-grown German restaurant Brotzeit has been serving us authentic German dishes for the last 14 years. Whether it's dinner for 2 or more, Brotzeit has both platters and a-la-carte options for you to choose from their website. 
You can choose to order their platters or classic bundles which includes their famous Sausages, Crispy Oven-Roasted Pork Knuckles, Ribs, Cheese Spätzle and more. They are one of the rare few with desserts on their menu which includes a Warm Chocolate Cake or an Apple Strudel.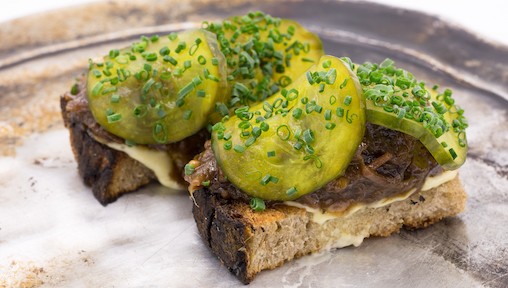 Run by Chef-Owner Dave Pynt, Burnt Ends is one of the most exciting restaurants in Singapore to dine at. Known for their barbecued dishes, popular items for island-wide delivery or takeaway include their Peri Peri Chicken, Burnt Ends Sanger and Beef Marmalade.
The Burnt Ends Sanger is their Signature Pulled-Pork Sandwich, built with their homemade brioche bun, topped with mild cheddar cheese and oven-baked till it melts, filled with 12-hour slow-cooked Pulled Pork Shoulder, Chipotle Aioli, Coleslaw and Pickled Jalapenos. Pair your Burnt Ends meal at home with a glass of wine and you have a great evening ahead of you.
Order food delivery online, available island wide from Monday to Saturday only.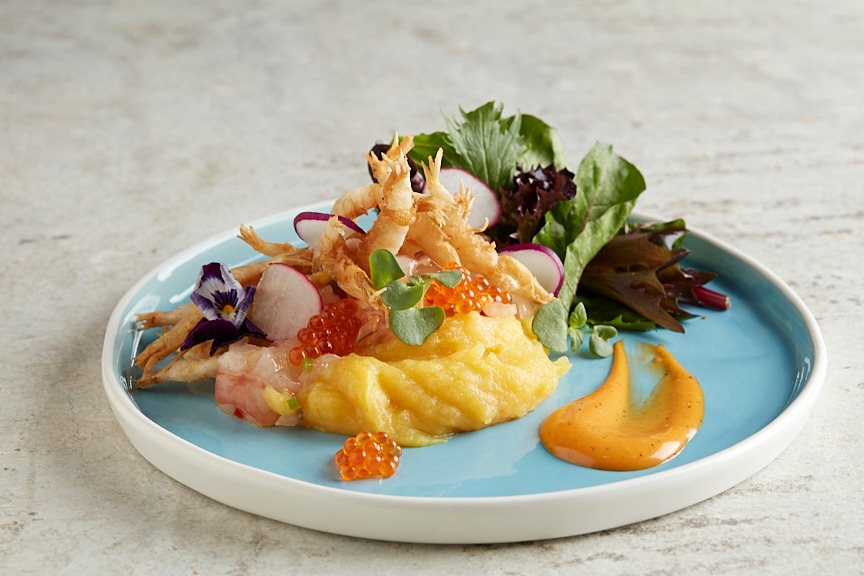 Crowned as Peru's national dish, Ceviche Classico is a classic recipe featuring the market's seasonal selection of fresh fish marinated in white tiger's milk, lime, and chilli, topped with sweet potato and onions. Another truly authentic Peruvian dish is the Causa Chupe that is made with potato, Peruvian yellow chili, marinated prawns, "chupe" mayo, and crispy Shiro Ebi. Canchita's Arroz Con Mariscos is made with crayfish and seafood rice tossed with Peruvian panca chili, crab butter, white wine, and tomatoes. End your meal with Alfajores, a traditional Latin American dessert that sees Dulce de Leche sandwiched between delicately crumbly butter cookies, served with pineapple compote.
Spotlighting the quality and diversity of Latin American spirits, classic Peruvian cocktails are presented with a twist. Hailed as Peru's signature spirit, imbibe on the pisco-centred Chilcano, mixed with turmeric ginger, citrus, and bitters. A sure hit with the more adventurous tipplers, Gin & Chica comprises a blend of gin, spiced purple corn, green apple, and simple rich.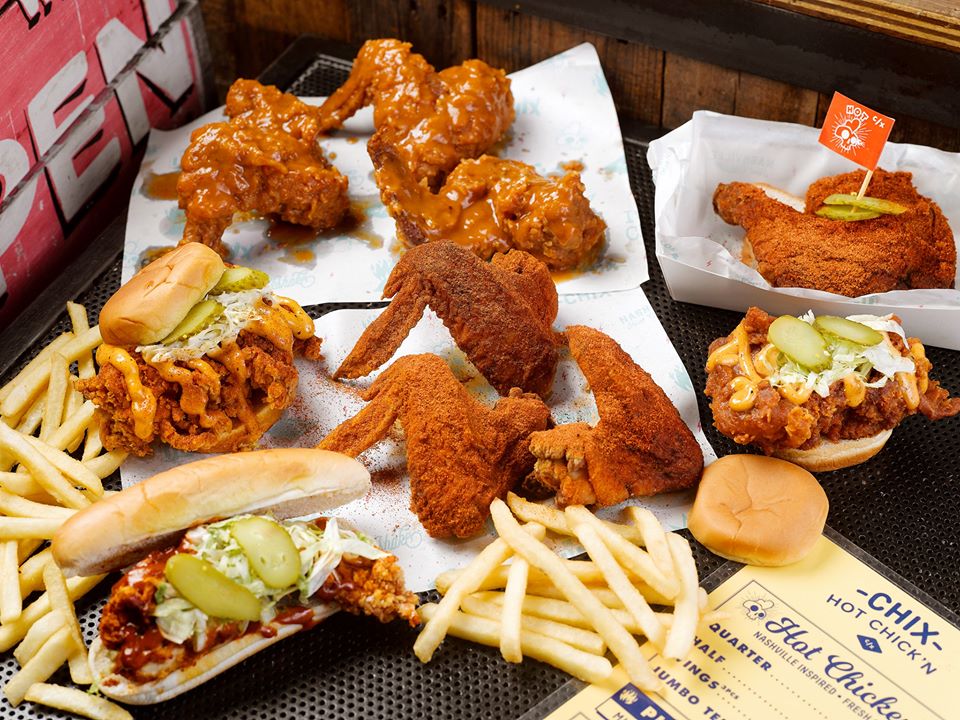 One of our favourite places for fried chicken in Singapore, Chix Hot Chicken dishes out Nashville Hot Chicken in 3 different levels. Please be warned that their Insane Hotness is lethal as they use the hottest organic dried peppers. We highly recommend their Soul Slider, their Hot Chicken and The Melt. No meal is incomplete without their tangy slaw and fries.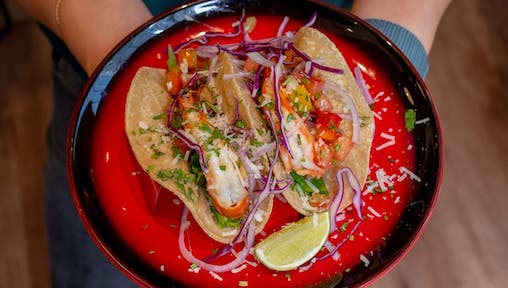 Cuba Libre Singapore has launched a new Latin American Food Delivery Menu as Cuban Chef Alex Moreno adds new dishes such as Ceviche with Plantain Chips, Guacamole Bites with Cajun Shrimps, Paella de Mariscos and more.
Chef Alex Moreno's signature dishes will remain on the menu - Sandwich Cubano which is a hearty sandwich with roasted pork, smoked ham, bacon, gherkins, mozzarella cheese served with Cuban bread, his Havana Burger that uses a roasted beef sirloin steak instead of a regular beef patty, Ropa Vieja and Mojito Chicken that are his unique recipes.
Joining Cuba Libre Singapore is a brand new Indian Pop-Up Kitchen delivering Samosas, all things Chilli - Chilli Chicken, Chilli Fish, Chilli Paneer, Biryani - Chicken Biryani, Lamb Biryani and Vegetarian Biryani, Noodles - Hakka Noodles, Cheese Noodles, Chilli Garlic Noodles.
Cuba Libre is on Grab food, Foodpanda, Deliveroo and also does in-house islandwide delivery with a minimum order of $30 from 11 am to 9. 30 pm daily. Don't be surprised if you see Executive Chef Alex at your door as he's doing personal deliveries within 2km of Cuba Libre Frasers Tower!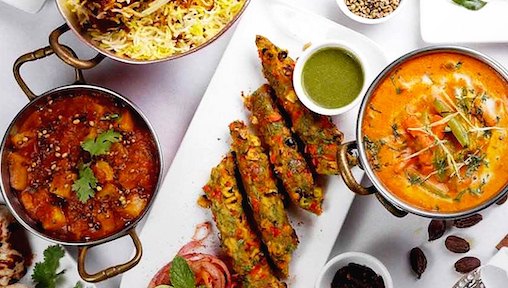 Dial-A-Curry has been delivering North Indian Cuisine to both locals and expats in Singapore for the last 24 years. They are the team behind Maharajah Restaurants located in Orchard Road and Boat Quay. 
As Indian cuisine can take hours to prepare, Dial-A-Curry offers a quicker and hassle-free dining experience. Popular dishes include Garlic Naan, Butter Chicken, Prawn Tandoori and Rogan Josh. Dial-A-Curry offers island-wide food delivery with vegetarian and non-vegetarian options.
Order online or call (+65) 6463 0001.
Taking centre stage are Fairmont Exclusives' handcrafted signatures from four establishments across Fairmont Singapore and Swissôtel The Stamford. Foodies, take your pick from a selection of perennial culinary favourites, including Szechuan Court's oven-roasted duck (S$36); SKAI's signature crab cakes (S$16.50); Prego's Ravioli of Scallop, Norwegian Cod and Broccoli (S$24.50); and Asian Market Café's signature chilli crab sauce (S$7.45).
The restaurants' offerings also extend to sauces and condiments that are made from scratch, perfect as an accompaniment to whip up fast, convenient and delicious meals.
In the mood for Mediterranean food? Greek restaurant FOTIA makes a delicious Kunefe dessert; simply add a scoop of vanilla ice cream from your freezer and enjoy a mouthful of goodness.
Other highlights on the menu include their flavourful Greek Salad with San Marzano cherry tomatoes, purple onions, Florina peppers, cucumber, kalamata olives and feta cheese; as well as their cheese platter - manchego, mourica al vino, goat cheese, feta cheese, dry figs, carrots, and squid ink breadsticks with thyme greek honey - which is a perfect accompaniment to go with wine!
WhatsApp (+65) 9455 1004 to place an order.

We not only love their Hot Dogs but their selection of unique spirits. Known for their delicious Danish Hotdog and their stiff Negronis, Fung Kee Hot Dogs delivers both food and drinks island-wide. We absolutely recommend trying their Kronan Swedish Punsch to spice and sweeten your day. 
Fung Kee Hot Dogs has recently crafted a series of burgers priced at S$12 with flavours such as Teriyaki Salmon Steak Burger, Crispy Pork Burger, Ayam Penyet Burger, Classic Cheese Burger and they're looking for suggestions to create a Mystery Singapore Burger.
You can visit their Instagram page for more details. WhatsApp (+65) 9838 0436 to place your food delivery order.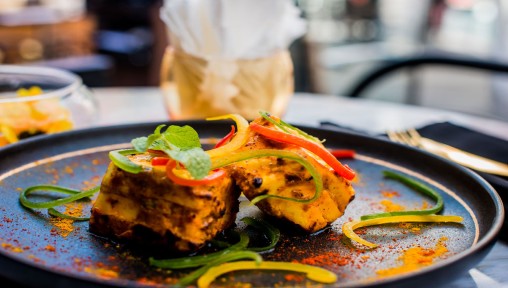 You can order your favourite North Indian dishes from Modern North Indian Restaurant Gabbar. Catering to both vegetarians and non-vegetarians, Gabbar has an extensive menu for you to choose from. Whether you're craving for some Aloo Kulchas, Lachcha Paratha, Dal Makhani, Tikkas or Kebabs, Gabbar can now deliver these delicious dishes to you. They are also offering an all-day brunch menu featuring Kolkatta Pani Puri, Bomaby Grilled Sandwich, Patiala Chicken Roll and more.
Order food delivery online from 11am to 10pm. 10% off for self pick-up!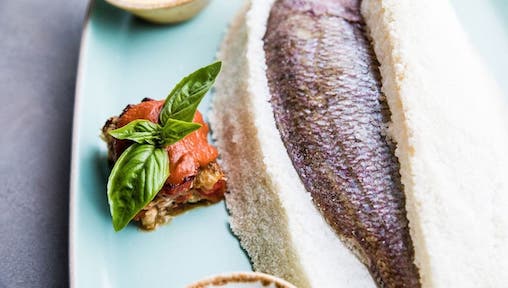 Gattopardo Ristorante Di Mare is a seasonal seafood restaurant with Sicilian-style cooking. Sicily cuisine is influenced by it's a deep-rooted history and culture, celebrating the multi-racial influences in Sicily from Greek, Spanish, French and Arabic.
Looking for a feast to share? Get the Sicilian Family Menu for 2 that comes with Sicilian Seafood Salad with Salmoriglio Dressings (Tiger Prawns, Hokkaido Scallop, Tuna), Anneletti Baked Pasta with Wagyu Beef Ragu, Gattopardo Signature Salt Baked Seabass (800g) with Sicilian Caponata, Roasted Spring Chicken with Roasted Vegetables and Citrus Mustard Jus, and Sicilian Cannoli with Sheep Ricotta Mousse and Candied Fruits.
Order food delivery online, available from Thursday to Sunday, 11.30am to 8.30pm. Call (+65) 9325 8843 for more information.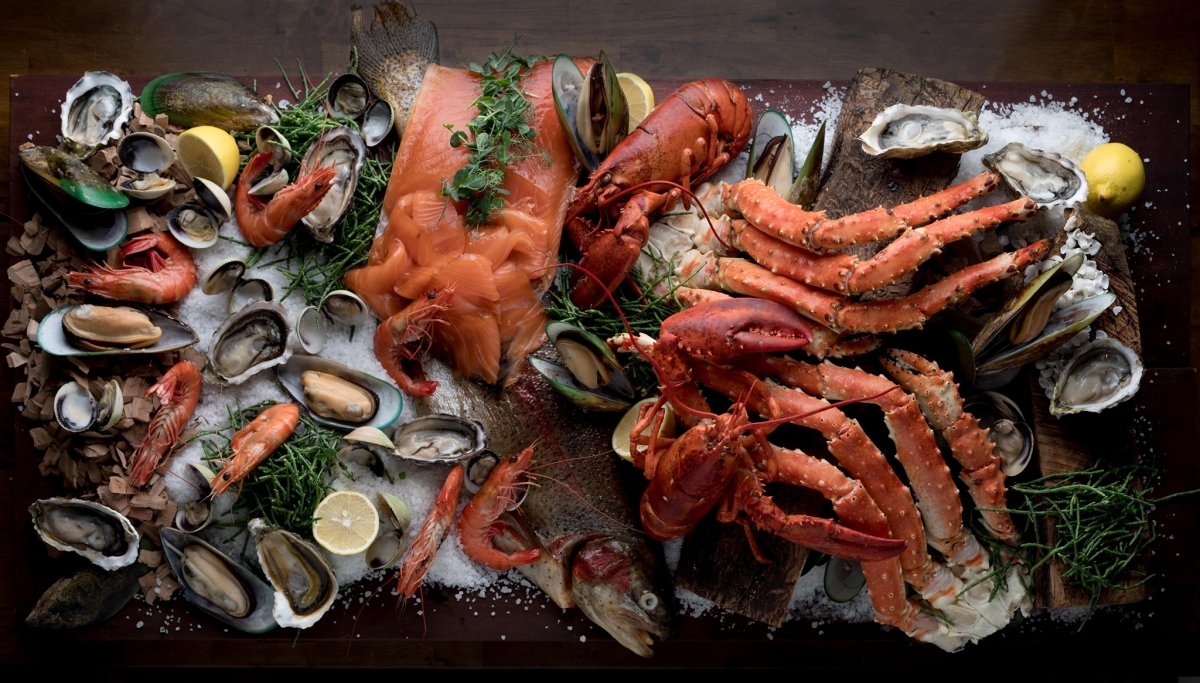 Known for their fresh seafood, you can now satisfy your seafood cravings by ordering from Greenwood Fish Market. Whether you're craving for some freshly shucked oysters, sashimi, fish and chips or their signature seafood platter, Greenwood Fish Market delivers islandwide. They have added more dishes to their delivery menu which includes several different types of seafood pasta and platters for families to share.
Greenwood Fish Market is celebrating National Fish & Chips Day by giving their Fish & Chips a makeover with new choices of Black Cod and Tusk Fish from 1 to 30 June 2021. These featured catches are lesser-known in the Fish & Chips world and make an exciting alternative to their popular S$11.50 takeaway House Fish & Chips.
Order food delivery online or check out their fish market for fresh seafood to be delivered right to your doorstep.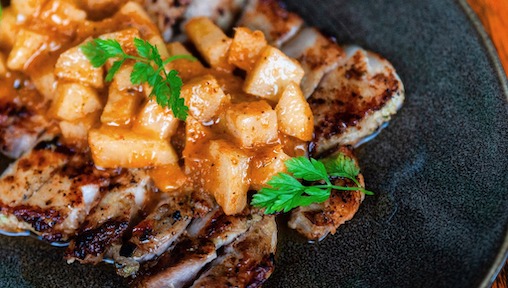 Lime House Caribbean offers fine-ding and traditional Caribbean dishes, from slipper lobster cocktail and Caribbean fish cakes to baby back ribs and the famous Signature Jamaican Jerk Chicken. Enjoy the likes of Tribjam Curry Goat made from Gandma's secret recipe, cheesy home-made macaroni balls, mouthwatering Guava Sofrito Pork Chop, and lots more.
Order food delivery online, available daily from 12pm to 9.30pm. S$10 delivery fee and free delivery for orders above S$50.
Marriot Bonvoy's portfolio of hotels and resorts in Singapore are now on GrabFood, offering customers a world of premium dining at their fingertips.
Across the Island Marriott Bonvoy features 17 participating restaurants on GrabFood's platform. They include Yan Ting and Brasserie Les Saveurs at The St. Regis Singapore; Colony and Summer Pavilion at The Ritz-Carlton, Millenia Singapore; Akira Back, Beach Road Kitchen and Madame Fan at JW Marriott Hotel Singapore South Beach; The Kitchen Table and SKIRT at W Singapore – Sentosa Cove; Crossroads and Wan Hao at Singapore Marriott Tang Plaza Hotel; Seasonal Tastes and Cook & Brew at The Westin Singapore, Li Bai and The Dining Room at Sheraton Towers Singapore; Sky22 at Courtyard by Marriott Singapore Novena and Four Points Eatery at Four Points by Sheraton Singapore, Riverview.
From international fare such as Argentinian Grass-fed Sirloin, Spaghetti Bolognese and Grandma's Beef Ribs to a taste of East and West with curated bento sets, to a myriad of local delights baked Boston Lobster in XO Sauce, Bamboo Shoot Steamed Prawn Dumpling, Fried Rice with Crab Meat and Dried Scallop, Beef Tenderloin in White Pepper Sauce, Nasi Goreng, Hainanese Kurobuta Pork Chop, Penang Fried Kuay Teo and many more beloved classics, these restaurants offer a multitude of options for everyone to choose from.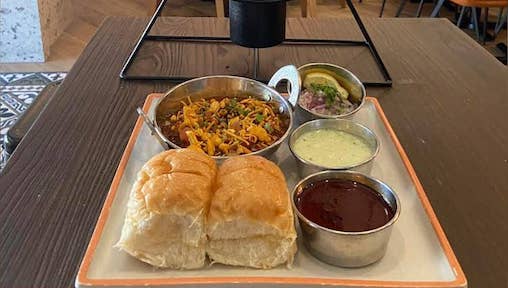 Yes, Indian restaurant Masalaa Bar is bringing you breakfast in bed! Starting with their power-packed Misal Pav, Masalaa Bar is all set to offer new breakfast sets every week. Also, on the tables is a variety of affordable and tasty [email protected] specials coming up every single week.
Masalaa Bar is keeping it bright and delicious with the best fun, Indian food on the island with island wide delivery.
Call (+65) 6282 4648 for home food delivery or order online via GrabFood, Deliveroo and foodpanda.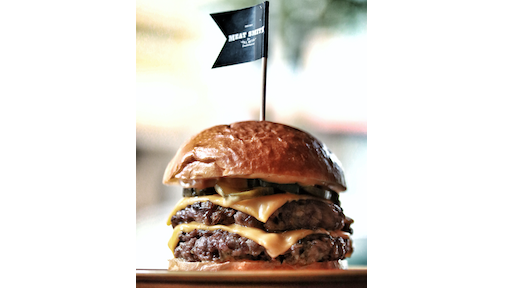 Missing your barbecue? Fret not as Meatsmith now offers island wide food delivery. Treat yourself to high-quality meats cooked using smoke, char and the grill at this American smokehouse. We highly recommend the Meatsmith Cheeseburger, Pastrami Sandwich and Brisket.
Meatsmith Little India serves an American barbecue with an Indian twist. The menu combines the technique of slow cooking and barbecue, using wood and fire to grill, smoke, char, roast and burn the best ingredients from the local Tekka market and around the world. We highly recommend their Veal Brisket Chapati, Crab & Tobiko Briyani and their Kerala Beef Short Rib.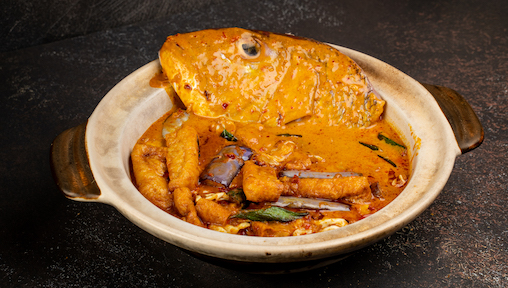 If you're having a craving for Chinese cuisine or what we Singaporeans refer to as "Tze Char", look no further than New Ubin Seafood. Founded 30 years ago, New Ubin Seafood now has 3 locations across Singapore - Chijmes, Tampines and Zhongshan Park and delivers island wide. Known for serving authentic Singaporean food with Asian and Western influences, you can now order their Foie Gras Satay, Crispy Pork Jowl, Har Cheong Kai, Oyster Omelette, Salted Egg Squid, Spicy Mala Chicken and more.
Under the same group, you can also order food delivery from Garang Grill which offers fierce, bold charcoal flavours that are truly Singaporean, made possible by a traditional Spanish Mibrasa charcoal oven.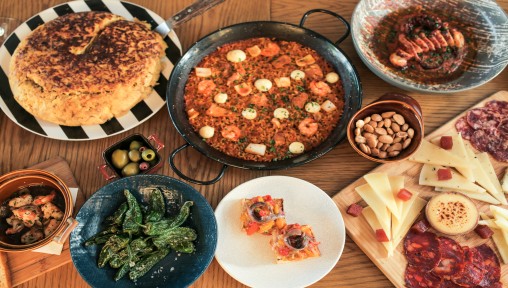 Next Door Spanish Cafe makes one of the best Paella in Singapore. Many of you would have tasted Chef Houssein's Paella at his pop-up fiestas. Chef Houssein has recently opened his restaurant at East Coast Road offering a selection of Tapas, Charcuterie, Quesos, Paella and Desserts. We highly recommend his Squid Ink Paella, Paella Mixta, Meatballs with Mashed Potatoes, Lamb Rack and Jamon Iberico.You can Whatsapp (+65) 8168 4009 for their food delivery menu and to place your orders.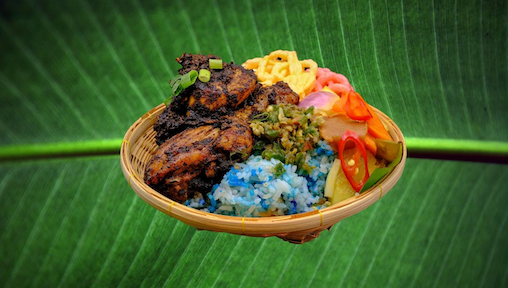 Nusantara Singapore now brings your favourite Beef Rendang Bowl, Ayam Kicap Buah Keluak Bowl, Belimbing Lamb Bowl, Sayur Lodeh and more to you with island wide food delivery in Singapore. 
Popular breakfast items include Nusa's Lontong, Mee Siam Santan, Dry Laksa, and Mee Rebus. If you're a fan of Sambal, we have 6 different types of hand-pounded Sambal including our signature D24 Durian Sambal Tempoyak.
Must-try snacks include Mashed Banana Fritters (Jemput Jemput), Roti Boyan, Potato Curry Puff and Sardine Curry Puff. Nusantara Singapore has both Vegan and Vegetarian options available for island-wide delivery.
Minimum order S$30 and free delivery above S$100.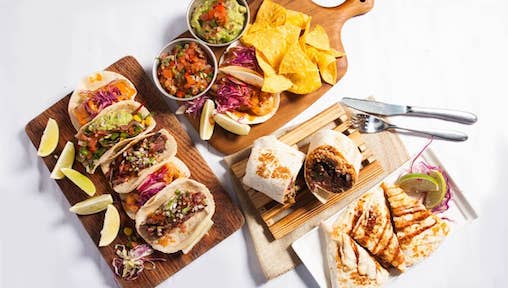 Singapore's favourite authentic Mexican taqueria has created an at-home package that is sure to liven your spirits and they deliver 24-7!
Available for food delivery, their DIY tacos come with a choice of fillings ranging from their signature grilled fish, chorizo sausage, shrimp, and mushroom. We highly recommend the Chipotle Aioli Sauce or pickled Jalapenos as a side dish. All you have to do is heat up the tortillas, build your tacos, and you are good to go. 
No Mexican meal is complete without Margaritas. Papi's Tacos also delivers a pre-mixed Margarita with Tequila with flavours like Classic, Strawberry, Spicy Mango, or Grapefruit.
Call (+65) 6258 0701 for more information or if you are unable to book a delivery timeslot.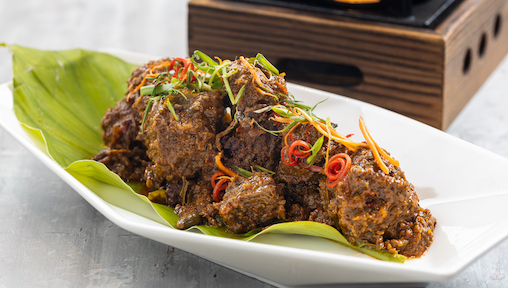 Permata Singapore, the latest Nusantara Buffet concept at Gedung Kuning, now offers island wide food delivery in Singapore. Whether it's his Kerabu Salads, Nasi Bunga Telang, Ayam Percik, Wagyu Beef Redang, Belimbing Lamb or hand-pounded sambals, Executive Chef Firdauz Nasir and his culinary team have managed to re-create 50 Nusantara dishes available for island wide home delivery. 
With a minimum order of S$30, Executive Chef Firdauz Nasir and his culinary team will prepare the dishes of your choice fresh upon order. So as not to compromise the quality and taste of the dishes, customers are encouraged to place their orders at least 3 hours in advance from 8am - 9pm.
You can call (+65) 9082 9941 or place your orders online.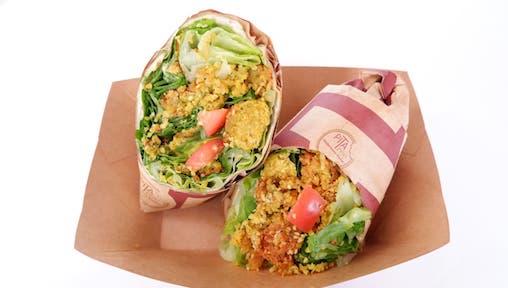 Pita Tree offers island wide delivery of Mediterranean food in Singapore. Our most popular dishes starting from $10, a must-try is our Meditterean Cheese Dip, Spicy Eggplant Dip, Falafel, Grilled Chicken Kebab, and Lamb Kofta Wrap.
You can choose to take-away from our Pita Tree Kiosks located outside Forum The Shopping Mall, or order from any of these delivery platforms - Foodpanda, Grabfood, Deliveroo and SgDelivery.Online.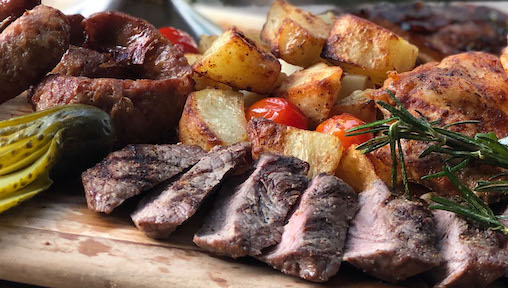 Craving a home-style Italian meal? Italian restauarnt Ricciotti has got you covered with an extensive menu of authentic Italian food - from Chilled Angel Hair Pasta and 24 different types of thin crust pizzas to fresh oysters and Chef's Special Grilled Premium Wagyu Striploin. They've also got Antipasti, Salads, Soups, Rissotto, and a range of handcrafted desserts.
Order online and have this Italian fare delivered fresh to your doorstep. Free Delivery for orders above S$100.
Offering an array of wholesome and soulful food, the RITUAL has added new mouth-watering dishes to its menu such as Ritual Nasi Padang and Grandma Lee Chicken Congee. For those who are vegetarian or gluten intolerant, the RITUAL provides both plant-based and gluten-free options, such as the Vietnamese Grassfed Sirloin Salad and Homemade Swiss Rosti which can be served with Impossible Meat instead.
Those with a sweet tooth can indulge in the RITUAL's selection of deli and pastries such as the recently added in-house special Nutella Croffle and Fudge Brownies.
Use the promo code "RITUALTRIBE" for a 10% discount during checkout.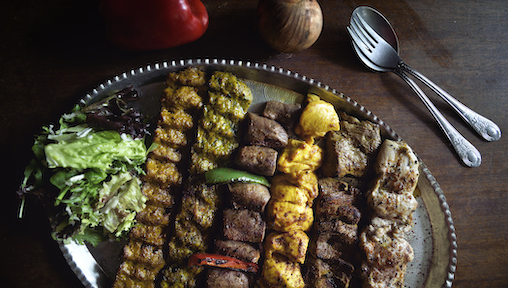 Shabestan is an award winning Middle Eastern restaurant in Singapore that delivers island-wide. You can enjoy their famous mezzes such as their Falafel, Muhamara, Borani Esfanaj and Kashk-e-Bademjan.
Known for their charcoal grilled kebabs, Shabestan's Kebabs Platter is one of their best-sellers or you can opt for individual portions of their Shandiz, Lamb Kubideh, Shah Pasand Chicken, and Tekeh Masti. Duck lovers, you have got to try their Koresh-e-Fesenjan Ba Ordak that is a Caspian style braised duck in pomegranate and walnut sauce, served with Persian rice.
With over 50 dishes to choose from, Shabestan is able to cater to most dietary needs including gluten-free, vegans, vegetarians, and non-vegetarians. 
Shabestan is available for takeaways and orders can be placed online from 12.30pm - 9pm daily. Minimum order S$30 and free delivery above S$100.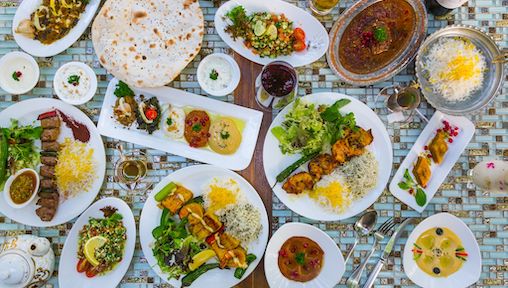 SgDelivery.Online now allows you to order your favourite Kebabs and Persian Stews from Shabestan, Mediterranean Mezze and Wraps from Pita Tree with the option of adding on wines priced competitively to enhance your dining experience at home. 
Priced from S$30 to S$145, must-try wines include Fontanafredda Le Righe Gavi di Gavi that is an Italian wine that pairs well with seafood, Toi Toi Sara's Rose, which was crafted in honour of the vineyard owner's wife that goes beautifully with our chicken kebabs, and Bennati Valtramigna Amarone della Valpolicella that is a delicious treat with red meat. 
Minimum order S$30 and free delivery above S$100.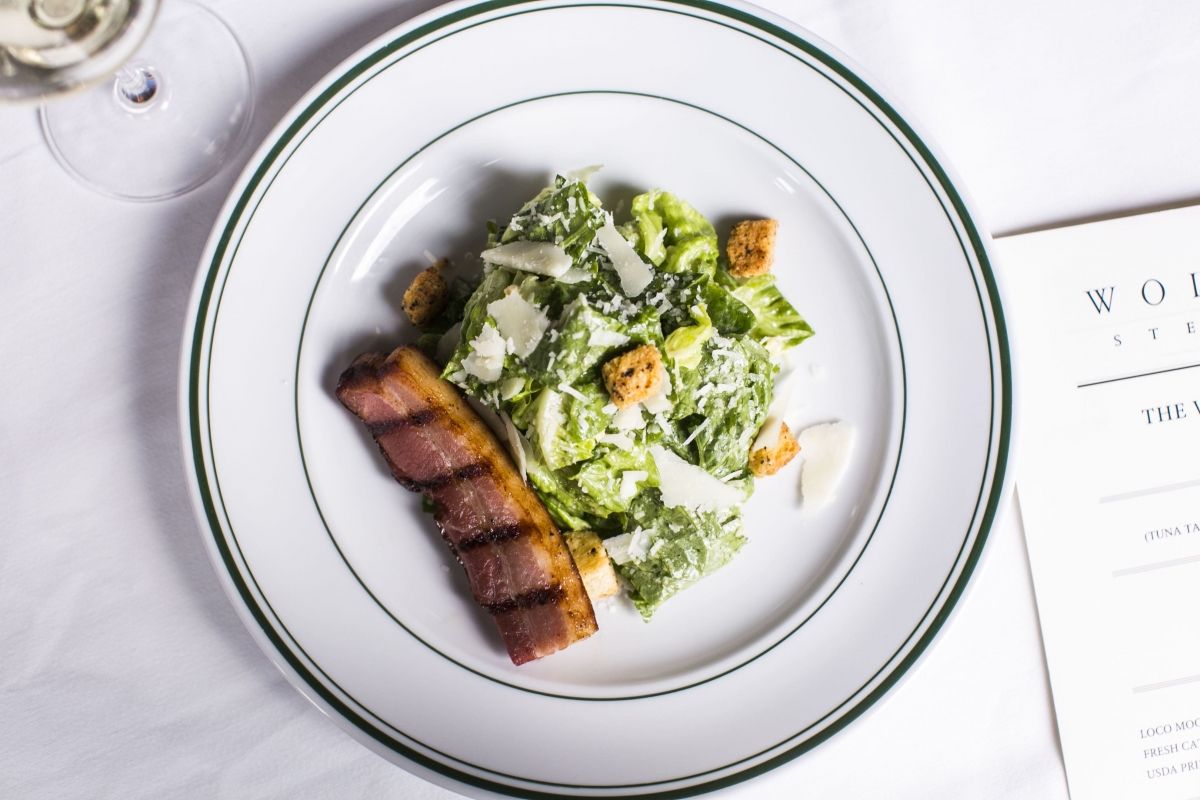 Wolfgang's Steakhouses has debuted a new delivery service which includes a range of fresh, healthy salads alongside comforting Steakhouse favourites such as their esteemed USDA Prime Porterhouse Steak for the ultimate at-home dining experience.
Orders can be made online or by calling (+65) 6887 5885 or WhatsApp (+65) 8870 9070.