Whether you are following a plant-based diet or looking to cut down on your meat consumption, we've got your back with choices of vegan and vegetarian burgers, healthy snacks, as well as a list of restaurants of various cuisines in Singapore that deliver food islandwide.
Artemis Grill has relaunched its popular Circuit Breaker delivery and takeaway services. Offering modern, Mediterranean inspired dinner packages Island-wide Wednesday to Sunday, 5pm onwards.
The Vegetarian Menu starts from S$88 for 3 courses for two people. Starter choices range from Baby Gem Lettuce Hearts with Caramelized Hazelnuts and Gorgonzola Dressing, or Strawberry and Freekeh Salad with Feta Cheese – both of which can be ordered vegan.
Mains include Vegan Quinoa Falafel, Cherry Tomato and Almond Tart and Cavolo Nero Fusilli pasta. Complement these with a sharing side such as Cauliflower Couscous, Wild Rice Pilaf or Beetroot Tartare, all of which can be selected vegan. Finally, delight in dessert to share such as Vegan Coconut Rice Pudding or Almond and Rhubarb Tart.
Order online.
Gabbar (North Indian)
You can order your favourite North Indian dishes from Modern North Indian Restaurant Gabbar. Catering to both vegetarians and vegans, Gabbar has announced its vegan brunch menu offering exciting dishes such as Kolkata Pani Puri, Saboodana Wada, Samosa Chaat, Paneer Roll, and Noodle Poha.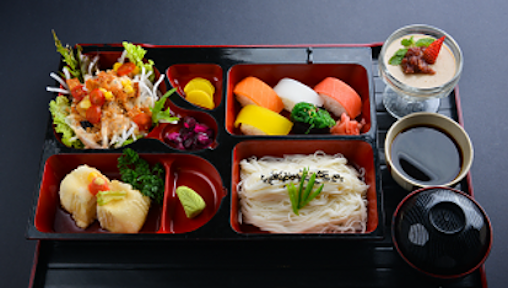 At Herbivore, the food is vegan friendly as no eggs are used in preparing the food, nor use of garlic and onions. You'll find all the classic Japanese fare including sashimi, sushi, maki rolls, bento sets, ramen and more.
Order online for self pick-up. Call (+65) 6333 1612 or text (+65) 9081 0078 for delivery.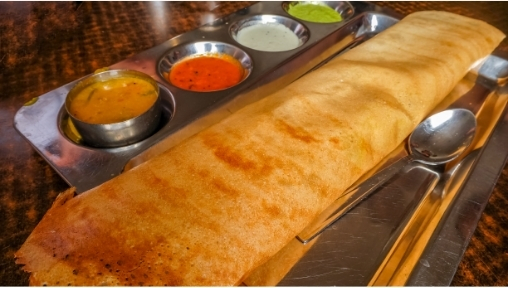 A household name in Singapore, Komala Vilas is one of the oldest Indian restaurants in Singapore. Famous for their delicious Dosai, there are a few varieties on offer - plain dosai, paper dosai, masala dosai, onion dosai, rawa dosia and lots more.
There are also set meals available including vegetable briyani, idly sambar, pongol, and kothu parotha.
Order online.
Lotus Vegetarian Restaurant (Asian)
Looking for your favourite local dishes but fully vegetarian? Lotus Vegetarian Restaurant has all you need! The menu features Signature Chicken Rice, Blue Pea Flower Nasi Lemak, Homemade Satay, Signature Laksa, Tom Yam Fried Kway Tiao, Rojak and more.
The restaurant also offers handcrafted dim sums - Steamed Beancurd Rolls, Mala Crystal Dumplings, Veggie BBQ Soya meat Buns amongst others.
Order online.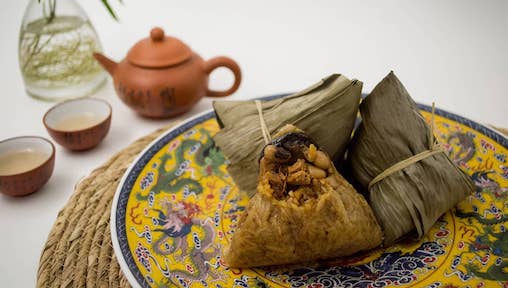 Your one-stop shop for all your vegetarian cravings. Vegetarian food prepared with love, with no MSG, garlic, onion, or wine.
Aside from regular menu items that are available for distance-charged delivery, Nature Cafe is also offering set meals for lunch and dinner where you can select four dishes from these categories: soups, tofu, vegetables, deep fried snacks and special delights. The last category consists of Lion's Mane Mushroom, Crispy Chicken, In House Cod Fish, and Teochew Fish.
Also on offer for a limited time now are their Lion Mane Mushroom Dumplings.
Order online.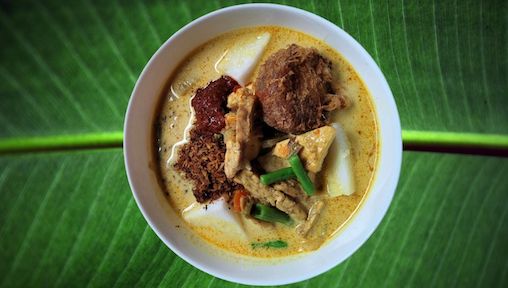 Singaporean Muslim Executive Chef Firdauz Nasir has created Vegan and Vegetarian dishes to share Nusantara cuisine with both locals and expats in Singapore. He has created a selection of Vegan Lontong Bowls, Vegan Rice Bowls, Vegan Nasi Sambal Goreng Bowls and even a Vegan Curry Puff and Roti Boyan! 
Nusantara Singapore is on Grabfood, Foodpanda and Deliveroo. You can also order directly via https://www.nusantara.sg/order.
Permata (Nusantara Cuisine)
Permata Singapore is giving you all the local flavours, vegan style with dishes such as vegan lontong plate, vegan nasi sambal goreng, vegan nasi sayur lodeh, and vegan rice plate with blue pea rice. Get the yummy bergadil (potato cutlet) on the side!
For an alternative meat experience from Oakwood Premiere, savour classic dishes interpreted with plant-based ingredients for guilt-free satisfaction. Notable mains include the Enchil-'Nada's and the Pasta 'Bolognese' — both familiar fares featuring flavourful homemade Impossible Bolognese. Wrapped in soft tortilla, drizzled with soy béchamel and topped with slices of vegan cheese, enjoy a Mexican flair with the Enchil-'Nada's.
Also on the vegan menu are Vegan Fish Fingers or Crispy Nuggets made with Quorn protein; 100% plant-based Impossible Burger with vegan cheese; and Roasted Cauliflower Steak with Grilled Portobello Mushrooms.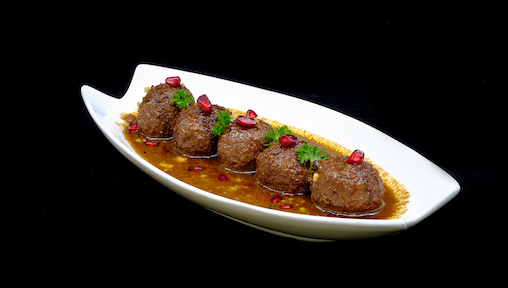 Shabestan is a multi-award-winning Persian restaurant in Robertson Quay that now offers island-wide food deliveries and takeaways. Understanding the growing demand for vegetarian and vegan dishes, our culinary team has put together a menu to cater to various dietary needs.
Popular dishes include Falafels, Zeytooneh Parvadeh, Mirza Ghasemi, Ghormeh Sabzi, and an Impossible ™ Fasenjen. 
Orders can be placed online via https://www.shabestan.sg/order. The minimum order is S$30 and free delivery for orders above S$100 from 12 pm - 9 pm daily.
Boasting an extensive vegetarian menu, Thanying Restaurants offers classic Thai dishes such as Tom Yam Soup, Green Papaya and Mago Salads, Red and Green Curries with mixed vegetables, Phad Thai and more. Love your greens? Choose from Stir-fried Kang Kong, Kai Lan, Mixed Vegetables with shitake sauce, and Basil Beancurd.
Don't forget Thai desserts! The menu features Glutinous Rice with Mango and Steamed Tapioca with Coconut Milk. 
Order online.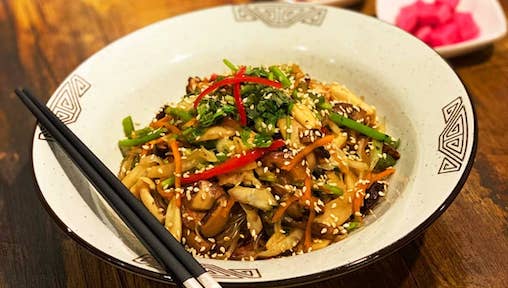 The Boneless Kitchen is a social enterprise that offers exciting plant-based dishes inspired by Korean cuisine. The 100% vegetarian fare, created from the highest quality and freshest plant-based ingredients, includes dishes such as the Soondubu Jjigae with extra smooth tofu and thick flavourful broth; handmade Kimchi Mandu dumplings with over 15 ingredients wrapped to create a flavour bomb; and the colourful mouth-watering Kimbap could have you swearing off meat altogether.
WhatsApp (+65) 84576464 for home delivery.
Love your Impossible meats? The Line at Shangri-La has an Impossible Burger on its delivery menu with plant-based cheese, veganaise, toasted avocado bun, fresh lettuce, tomato slice, pickled cucumber and caramelized onions
Also on offer are Palak Paneer (cottage cheese) cooked in spinach curry, served with papadum, mixed pickles and yoghurt raita; Dal (yellow lentil) with red chilli and served with naan or basmati rice; as well as Vegetarian Bee Hoon with carrot, cabbage, choy sum, beansprout, mushroom, deep-fried bean curd and vegetarian oyster sauce.
Order online.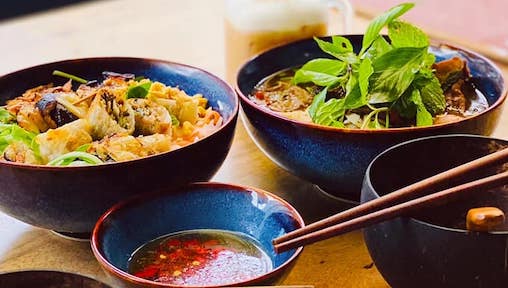 This fully vegan casual restaurant sources sustainable ingredients to create a modern, convenient, affordable yet ethical menu.
Their signature dish, The Kind Pho, is a simple light-hearted soup served with silky flat rice noodles in a deliciously spiced umami broth topped with shredded marinated "no chicken " seitan, sweet frizzled grilled oyster mushrooms, sprouts, fresh herbs and lime. Looking for something spicier? Excite your taste buds with the spicy fermented No Crab Noodles with tomato-based soup, silky tofu, finest mushroom served with wholegrain vermicelli topped with tangy lime and aromatic herbs.
You'll also find vegan versions of other Vietnamese classics such as rice paper rolls and BÁNH MÌ (sandwich).
Whatsapp (+65) 9711 7572 for islandwide delivery.
Singapore's first and only plant-based restaurant awarded the Michelin Guide Bib Gourmand for 4 consecutive years since 2016, Whole Earth elevates plant-based cooking.
You'll find slow-cooked Nonya Curry, handmade Yam Treasure Ring, Nutty Buah Keluak and more.
Whole Earth is also offering a 7-course menu for the entire family, comprising of their signature dishes including Penang Rendang, Sambal Mixed Vegetables, Enchanted Forest - braised monkey head mushrooms with broccoli, Harmony Tofu made of OmniMeat, and 5-Spice Ngor Hiang.
Order online.